Kitchen Gardening
Prolific Pole Beans
Pole beans are tender, flavorful, prolific, and easy to grow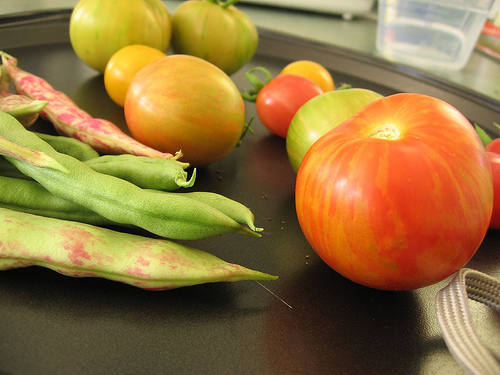 I love green beans (Phaseolus vulgaris) fresh from the garden and lightly steamed—with butter, if you must have the whole truth. Like many gardeners, I enjoy trying my hand at various vegetable varieties and always add several new -to-me varieties to the garden each year. Beyond the obvious darlings of the kitchen garden (tomatoes), I love planting various green bean varieties. I don't like to discriminate, yet while I'll grow any type of bean; the pole beans are my favorites.
Some may disagree, but I find that the pole varieties have a sweeter, more tender flavor than their bushy cousins, plus I get about twice the amount of harvest from them. This is because bush beans flower and produce fruit all at once (much like determinate tomato plants) and the pole beans just keep climbing and producing (like indeterminate tomato plants).
Unlike the bush varieties, pole beans require some kind of climbing support, such as a trellis, netting, or fence. In fact, I've planted them at the base of my hoop compost bins, which end up hiding the unattractive wire with blossom-covered vines and dangling pods. I have also created a tepee using four tall poles lashed together at the top, with legs spread out and the beans planted at the base of the poles.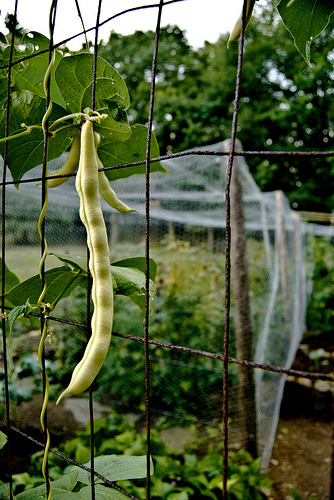 Growing pole beans
Beans can be started indoors several weeks before the last frost date, but they do so well planted directly in the garden that I don't bother starting them early. Plant your seeds about 1 inch deep (or twice as deep as they are long) once the soil reaches 60 to 70°F (the warmer the better). If you're planting them at the base of a trellis, plant them about 3 inches apart from one another. When I'm building a teepee, I plant the seeds a couple of inches apart in a circle around the base of each pole.
They enjoy a fairly nutritional soil (not necessarily excessively fertile) that's situated in an area that receives full sun. I always toss compost into the area where my seeds will be planted, and after the seedlings are several inches tall I add mulch. Seeds should be watered lightly until the seedlings pop up. Once the seedlings emerge, keep the soil moist at all times.
Pole beans should be watered moderately, but once they begin to flower, kick up the watering a notch until the beans are harvested. Speaking of harvesting, bean production will be at its best if you collect your green bean bounty regularly. Pole beans tend to stay tender on the vine longer than bush beans, but for the best flavor don't push it.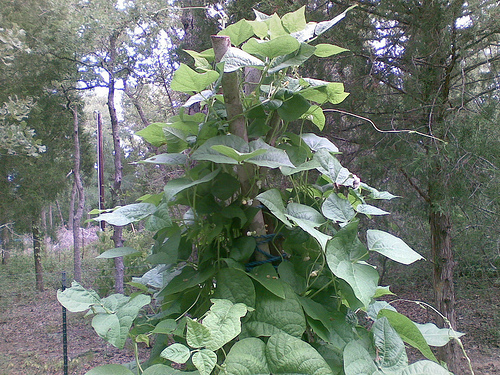 Pole bean varieties
Here's a list of some delicious pole bean varieties to try in your garden this year. If you've grown one or more of these varieties before, please leave a comment below telling us where you are and how the variety did in your little corner of the gardening world.
Lazy Housewife—Introduced in 1810, Lazy Housewife was said to be the first stringless green bean. Delicious and very productive. (75 to 80 days)
Rattlesnake Pole—This variety will grow to 10′ tall and produces 7″-10″ dark green pods with purple streaks. Great plant for hot zones and sandy soils.  (73 to 90 days)
Purple Podded Pole—Prolific producer with 5- to 7-inch-long stringless, purple pods. While cooking, the pods turn bright green. (68 days)
Blue Lake Stringless—Blue Lake produces 6-inch-long pods that are prolific producers, setting pods from the top of the plant all the way to the bottom. (63 days)
Scarlet Runner—Best grown in cooler weather than most pole beans enjoy. It produces gorgeous, ornamental blossoms, and vines reach 10 feet tall. (80 days)
Romano Pole—This is a gourmet bean variety with thick, tender, and stringless pods. (70 days)
Trionfo Violetto Pole—Stringless, with beautiful lavender blossoms and leaves with purple veining. Produces purple pods that turn green while cooking. Nutty, sweet flavor. (60 days)
Kentucky Wonder Pole—One of the most popular pole beans for home gardens. It's a heavy producer with good flavor (66 days)
View Comments