Kitchen Gardening
Pole Beans
For reliability and yield, you can't beat pole beans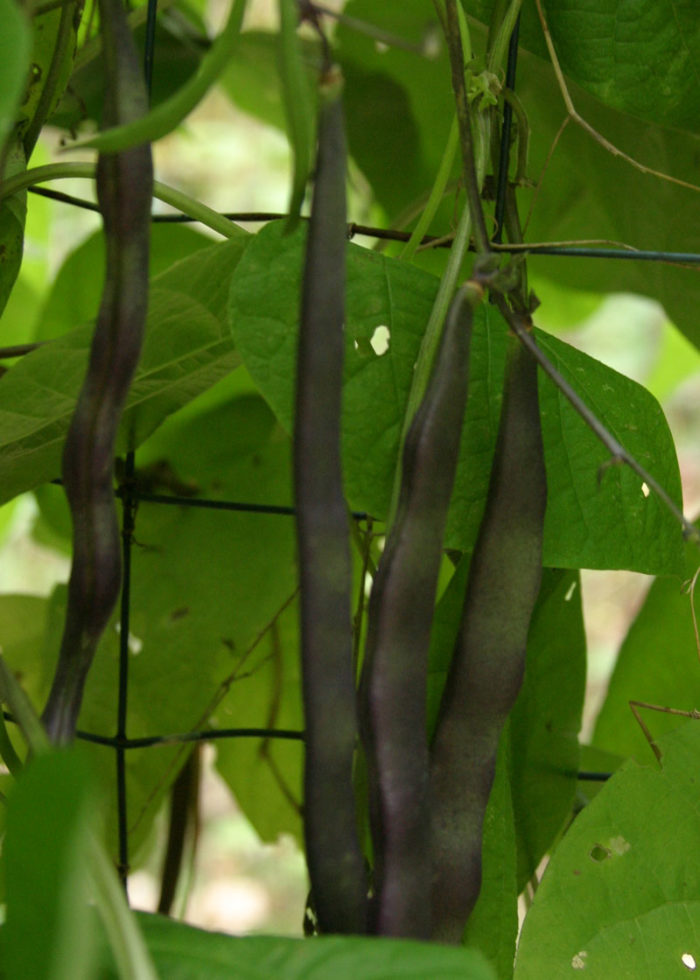 For reliability and yield, you can't beat pole beans. You'll need some kind of support, of course, so that's a little extra work, but the trade-off is more exposure to sunlight and ease of picking. And because they grow up rather than out, they use space efficiently. If you plant them on the northern edge of your garden or garden bed, you can plant lower-growing and/or earlier-maturing crops in front of them.
Pole beans need support

Pole beans grow tall (really tall) if they have something to twine around. You can plant them in hills around a central pole, or in a row under a wire or vertical netting. My bean supports are lengths of welded wire fencing. I sometimes extend them vertically with saplings and string, but this isn't entirely necessary; the vines will just flop down over the top of the fencing and continue to grow and produce. Other possibilities are tipis made of saplings (these are especially fun for children), cages, wires, and wooden trellises.
Time your planting to avoid pests
Bean seeds should be planted after the last killing frost when the ground has warmed up a bit. Here in Connecticut, I used to plant beans in mid-May. The vines would grow well initially, but then Mexican bean beetles turned the leaves to lace. Eventually, I stumbled on an easy way to avoid the problem: plant later in the season. I now plant the seeds early to mid-July, along with the same fencing that supported the snow peas and snap peas earlier in the season. No beetles appear, and we enjoy a bountiful bean harvest from late August to frost.
Three varieties
I grow my beans for the fresh pods, not to dry the seeds, which would require a much larger planting than I have space for. I currently grow three types: Romano, Rattlesnake, and Blue Coco.
| | | |
| --- | --- | --- |
| Romano pole bean | Rattlesnake pole bean | Blue Coco pole bean |
Romano is a vigorous, productive variety, with flat pods that have something of a buttery flavor. Rattlesnake is a bit more exotic. Also a vigorous grower, it produces pods that are long and slender, with characteristic purplish streaks and blotches. Blue Coco is new to my garden. It's a French heirloom that dates back to the 18th century, and I ordered seeds on a whim. The vines grew more slowly than the other two varieties, but by the end of the season, they had more than caught up. The beans are a very dark blue/purple, and I find them much tastier than Royal Purple Burgundy beans.
Unfortunately, Rattlesnake and Blue Coco lose their coloring when cooked. For maximum visual impact, serve them raw in salads or add them to veggie platters.
Sources for pole bean seeds
You can buy bean seeds almost anywhere you can buy seeds, but not everyone offers a wide selection of pole beans and heirloom beans. For that (and for the varieties mentioned here), I'd suggest Fedco Seeds, Pinetree Garden Seeds, or Seed Savers Exchange.
View Comments