Kitchen Gardening
How to Grow Chives
Flowers are only one of the reasons to grow this delicious herb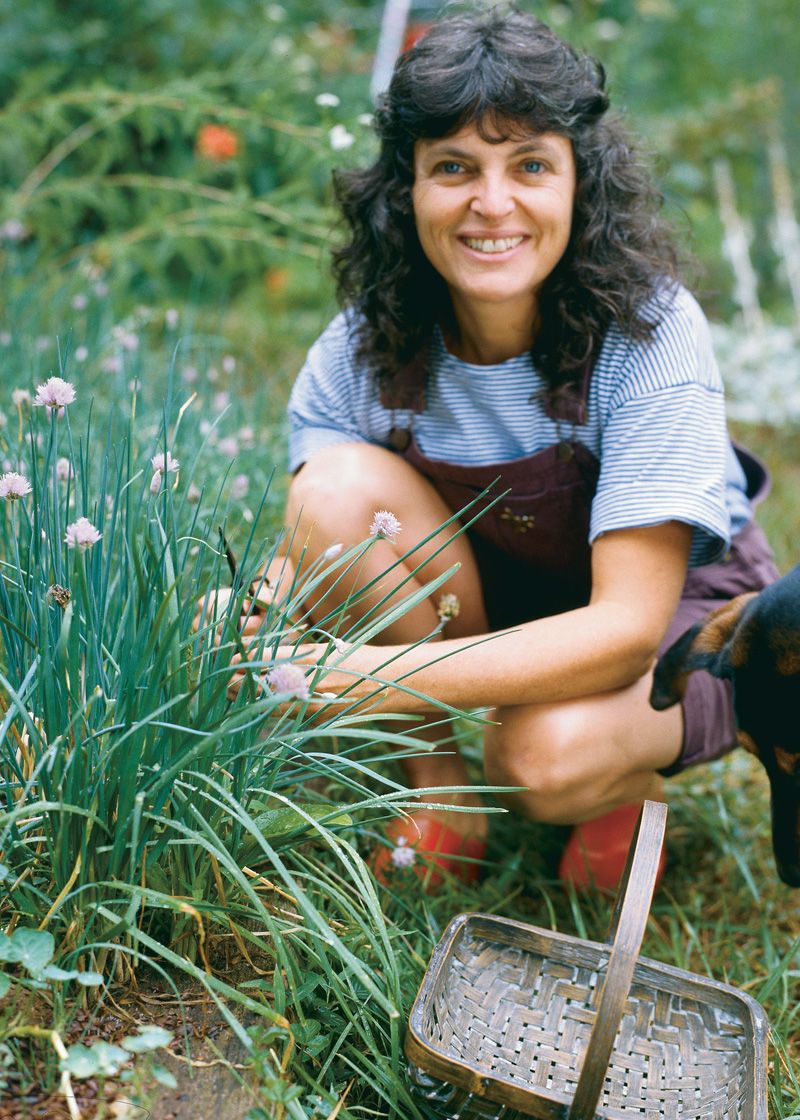 In March, bright green chives poke from the ground like stretching arms, bearing the news that spring is here. Later, the purple buds of the common chive pop above the waving sea of green to delight me with some of the first edible flowers of the season. Then in July the first snowy white blooms of garlic chive appear.
Flowers are only one of the reasons to grow chives. Their flavor, with the sweetness of an onion and the hint of new garlic, adds a pleasing touch to many dishes.
Because of their versatility, chives are found in cuisines around the world. For the French, they are an integral ingredient in fines herbes, and are used to season all manner of egg dishes, sauces, and lightly cooked vegetables. English farmhouse cheeses feature chives, and they are used in salads and tea sandwiches. German cooks incorporate them in sauces served with meat and fish. Italians put them in summer green salads and pair them with tomatoes.
In Russia, chives are used with fermented cream and milk and with beets and lamb. In the Middle East, they're added to sauces and sprinkled over spicy stews. Persian cuisine uses both common and garlic chives in herb salads, meat sauces, and soups. In Asia they are used in soups and as a garnish.
Blanched garlic chives are a delicacy in Japan. As the chives mature, the soil is mounded up around them, so they grow white, except for the tips, which are pale green. These white chives are mild, imparting just a hint of allium flavor.
They're an uncommonly carefree herb
Given the appeal of this tasty herb, I was happy to discover it doesn't need much care in the garden. I planted chives in my first herb garden many years ago, and they've been with me ever since. The slender, dark-green leaves of both common and garlic chives thrive on my continual snipping for culinary pursuits. The flowers attract bees and butterflies. They also attract me and others as well; I've divided and passed around chives to more gardeners than I can count.
Both the common chive and the garlic chive are hardy perennials. The common chive, Allium schoenoprasum, has narrow tubular leaves 10 in. to 15 in. long. The flower stalks reach 18 in. to 24 in. when they bloom from mid to late May. The 1-in. flowers are spherical and a lovely lavender when they first open, purple with a dark pink center when fully unfurled.
There are a few different cultivars of A. schoenoprasum available. I have grown 'Grolau' and 'Profusion', a sterile cultivar trademarked by Richters. 'Grolau' and another cultivar called 'Forsgate' have lovely, bright pink flowers. The flowers of 'Profusion' do not set seed, which means they last longer and stay tender.
The garlic chive, A. tuberosum, has flat broad leaves 12 in. to 15 in. long and can reach 2½ ft. when in bloom. Starting in mid to late July, this showy plant produces abundant, pure white umbels, with each flower cluster measuring 2 in. to 2½ in. across.
| | |
| --- | --- |
| The flat stem of the garlic chive (left) contrasts with the tubular stem of the common chive (right). | |
One plant leads to another
To get started, buy chive plants from a garden center or herb supplier, or get some from a friend. Chives like average soil, very good drainage, and four to six hours of sun. They don't require a lot of water—once a week if they're in the ground and there's no rain, or two to three times a week if they're in a pot. They're not bothered much by pests either.
Chives don't thrive on neglect, but it's certainly easy to keep them content. Occasional feedings of fish emulsion make them vigorous. They spread rapidly and can become overcrowded; where there's one plant at the start of the season, there will be a cluster of plants at the end. If the leaves start to yellow, divide the plants into 1-in. clumps in the spring or fall.
After the summer bloom, cut chive plants all the way back to encourage new foliage. In warmer climates like Florida's and Southern California's, chives will grow year-round, albeit slowly. In cold climates, move potted chives indoors onto a cool windowsill without a lot of sun.
---
A chive by any other name
"To know one's onions" means to be on top of things, to be competent. But does anyone really know the nomenclature of onions, or their kin—chives? Are common chives (Allium schoenoprasum) and garlic chives (Allium tuberosum) members of the amaryllis family (Amaryllidaceae) or the lily family (Liliaceae)? Amaryllis. Lily. Amaryllis? The answer to this identity crisis depends on your source of information, with votes coming in for both families. For us, the final say comes from Hortus Third, which says the onion clan belongs in the amaryllis family.
View Comments