Design
Tropical Inspiration for Shade Containers
Add flair to low-light areas using unique houseplants and perennials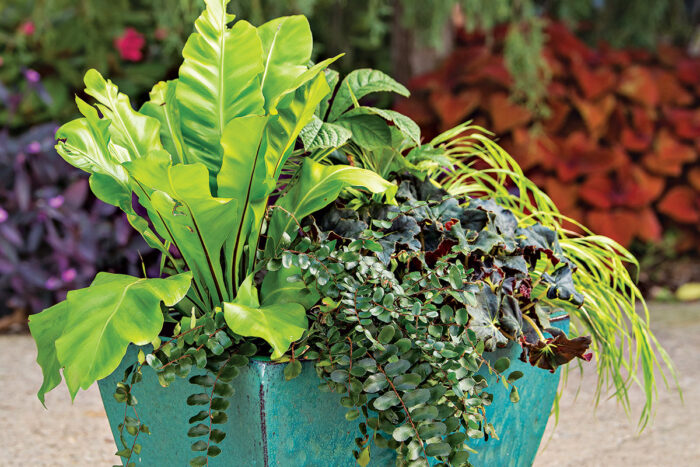 It's easy to ignore the shady corners of our gardens and focus on areas with the most light, especially when it comes to creating warm-season containers. Many of us get frustrated or bored with the limited options in the shade annuals section at local garden centers. However, lightly shaded locations are the perfect places to get creative and try something new. Empower yourself to explore arrangements that include unique selections such as shade-loving perennials and tropical houseplants. Many houseplants are understory plants in their native jungles, which means they love bright, indirect light; this makes them perfect for shade containers. Get inspired with the following examples that showcase the wide range of options that are available just beyond the annual aisle.
---
Find five care tips that will keep your shade containers looking full and luscious all season long: How to Get Season-Long Performance Out of Your Shade Containers
---
Bright hues shock in the shade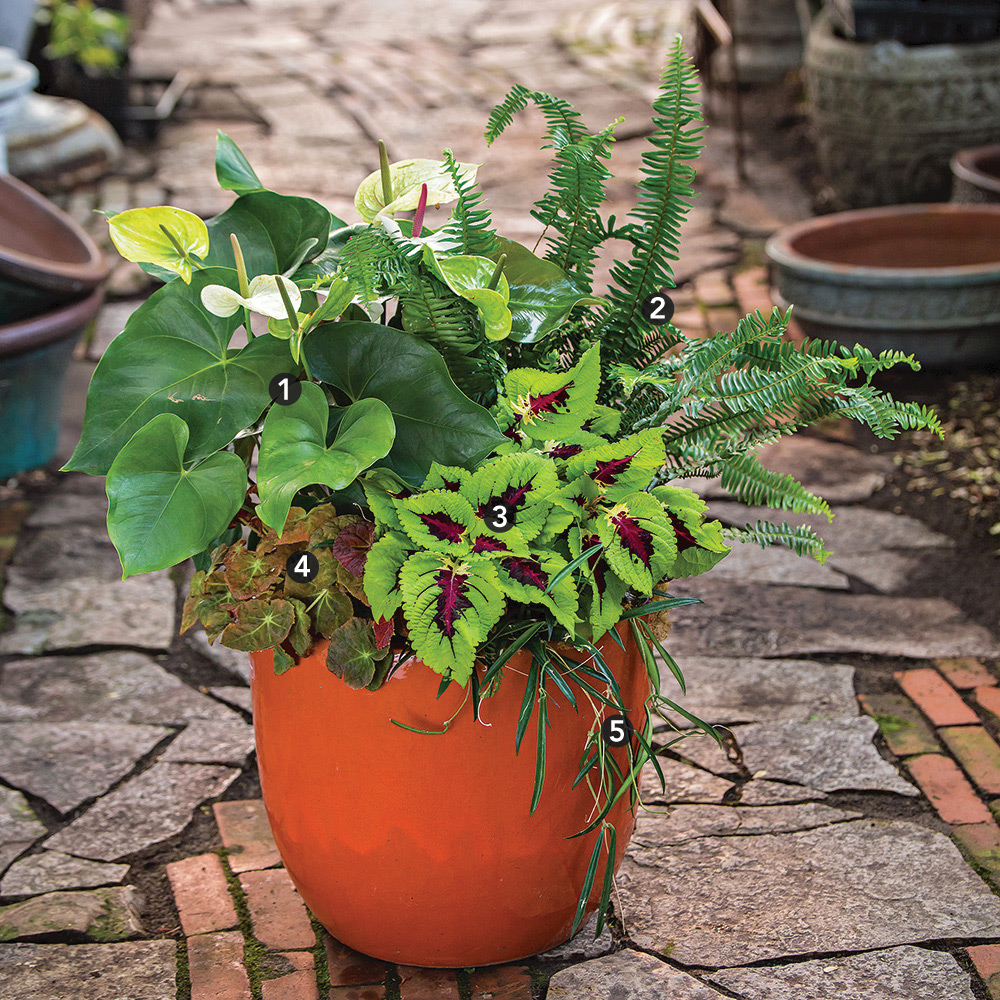 You don't have to give up flowers when planting in the shade. Think outside the box with tropical options such as 'White Heart' flamingo flower, which adds a pop of eye-catching white here. Also, focus on adding color in other ways—for example, Kong™ Rose coleus's chartreuse and hot pink foliage. We were able to pack in even more color by layering the plants, specifically tucking 'Madame O'Reilly' begonia and other colorful trailing plants under the larger leaves. Since these plants are shade tolerant, you eliminate the usual risk of taller plants shading out their understory neighbors.
'White Heart' flamingo flower (Anthurium andraeanum 'White Heart', Zones 10–12)
Kimberly queen fern (Nephrolepis obliterata, Zones 9–11)
Kong™ Rose coleus (Plectranthus scutellarioides 'Kakegawa CE14', Zones 9–12)
'Madame O'Reilly' begonia (Begonia 'Madame O'Reilly', Zone 10)
Wax plant (Hoya linearis, Zone 11)
Foliage comes first with contrasting textures and forms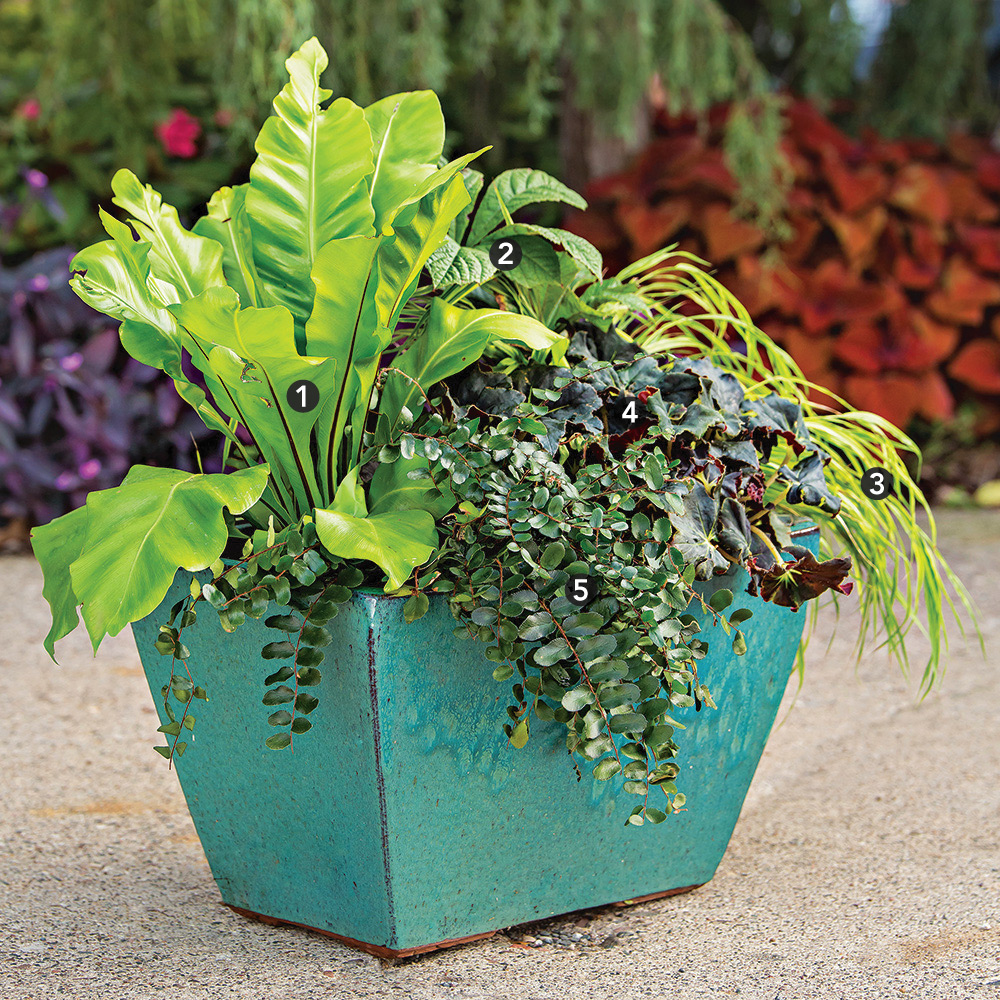 Going green doesn't have to be boring! Choosing plants from across the green spectrum allows this container to look lush without feeling flat. Beyond the bright pops of lime green provided by bird's nest fern and 'Aureola' Japanese forest grass, the unique, contrasting shapes and textures combine to pique your interest. The subtle variety of forms, from the trailing button fern to the gentle vertical reach of bird's nest fern and fingerleaf rodgersia, creates movement from top to bottom without sacrificing fullness. The elements are united by their color and full, dense habits, but their unique leaf shapes and textures create a breadth of interest and contrast.
Bird's nest fern (Asplenium nidus, Zones 11–12)
Fingerleaf rodgersia (Rodgersia aesculifolia, Zones 5–8)
'Aureola' Japanese forest grass (Hakonechloa macra 'Aureola', Zones 5–9)
'Brad Thompson' begonia (Begonia 'Brad Thompson', Zone 10)
Button fern (Pellaea rotundifolia, Zones 9–11)
Thick, glossy leaves reflect low light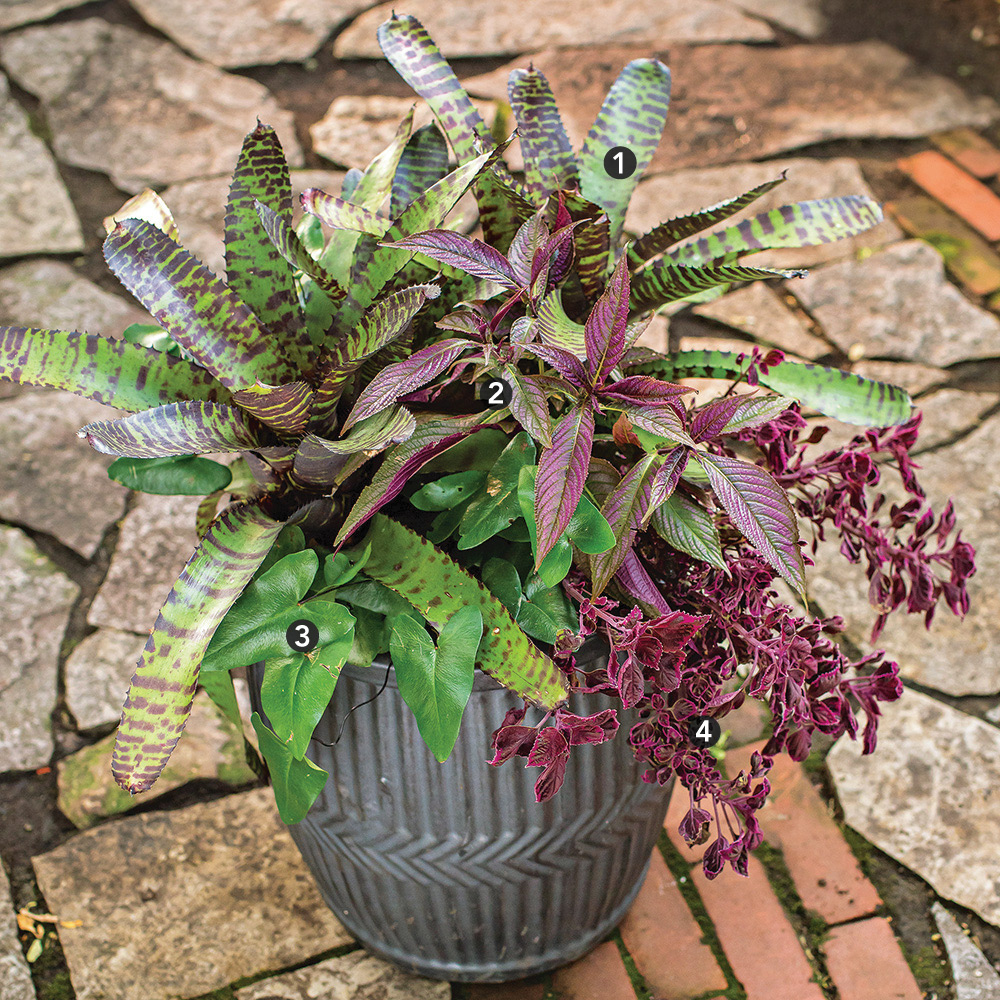 Place containers in indirect light to create the perfect microclimate for heart ferns, bromeliads, and other delicate beauties. These light-sensitive plants are often passed over for more traditional options, but they will quickly become favorites on a covered porch or in another protected area. Working within a coordinated palette of cool purple and rich green allows a seamless pairing of unique 'Dragon' bromeliads with consistent favorites such as dark purple 'Swinging Linda' coleus and glossy green Persian shield for an arrangement that highlights the best of the familiar and the unusual.
'Dragon' bromeliad (Neoregelia 'Dragon', Zones 9–11)
Persian shield (Strobilanthes dyeriana, Zones 8–11)
Heart fern (Hemionitis arifolia, Zone 10)
'Swinging Linda' coleus (Plectranthus scutellarioides 'Swinging Linda', Zones 9–12)
---
Tip: Life after containers
Perennials and tropical plants can have a life after their time in mixed containers. Hardy perennials can be transplanted out into your garden late in the season for you to enjoy again the following year, and any tropical plants can be potted up for use as houseplants after the growing season is over.
---
Mix architectural forms for instant drama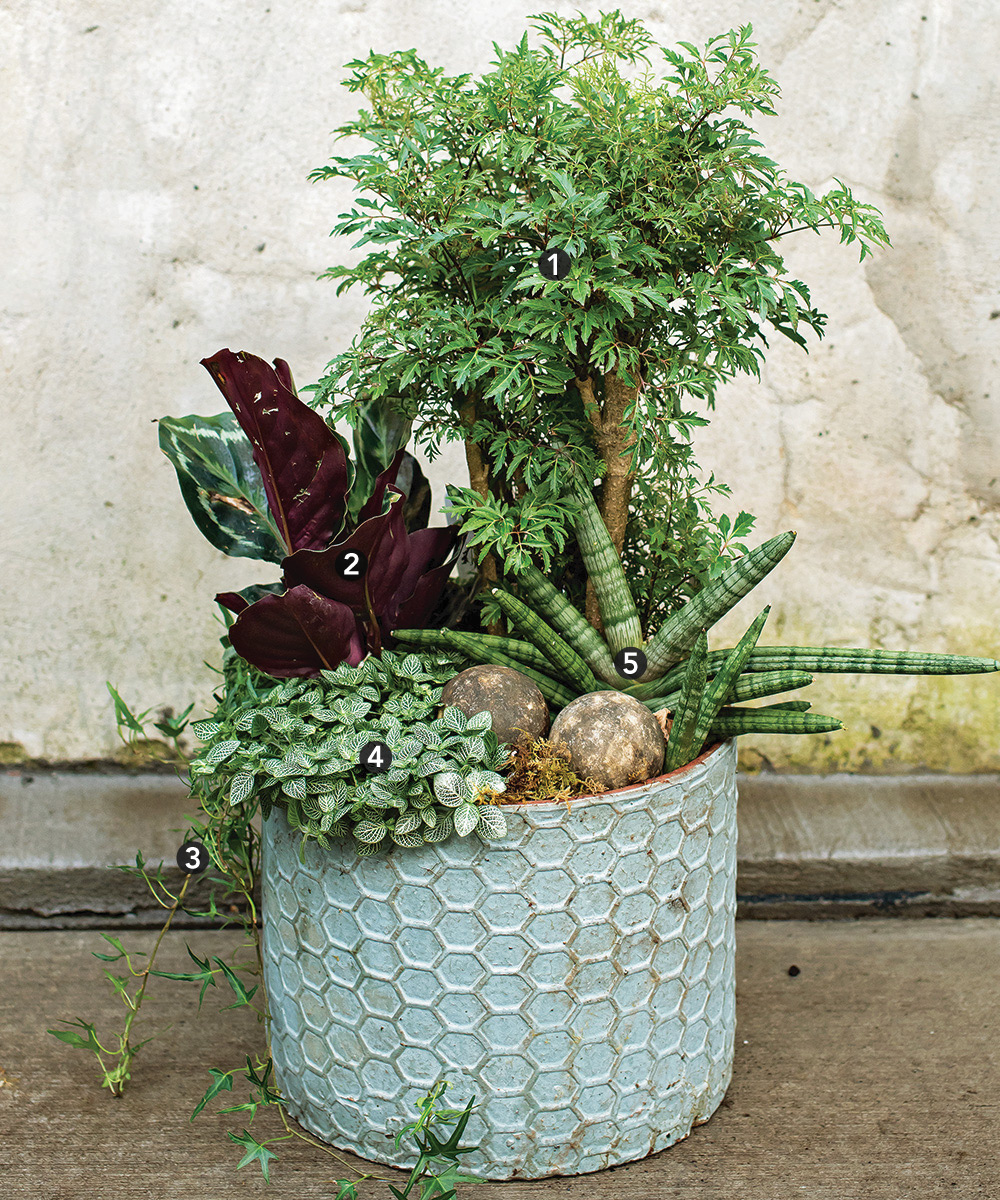 Make a style statement with your container design. Here, architectural forms, geometric accents, and a hexagon-patterned container create a structured feel with a muted color palette. The scale of the nerve plant against the much larger ming aralia produces the feeling of a tropical jungle in miniature. 'Medallion' prayer plant and starfish snake plant add bold statement foliage, balancing the lacy texture of the ming aralia, nerve plant, and ivy. Each element is strong on its own, and bringing them together allows these distinct forms to meld into a sweeping sculptural arrangement with a bold character.
Ming aralia (Polyscias fruticosa, Zones 11–12)
'Medallion' prayer plant (Calathea roseopicta 'Medallion', Zone 10)
'Needlepoint' English ivy (Hedera helix* 'Needlepoint', Zones 6–10)
Nerve plant (Fittonia albivenis, Zone 11)
Starfish snake plant (Sansevieria cylindrica 'Boncel', Zone 10)
Interesting texture begs for a touch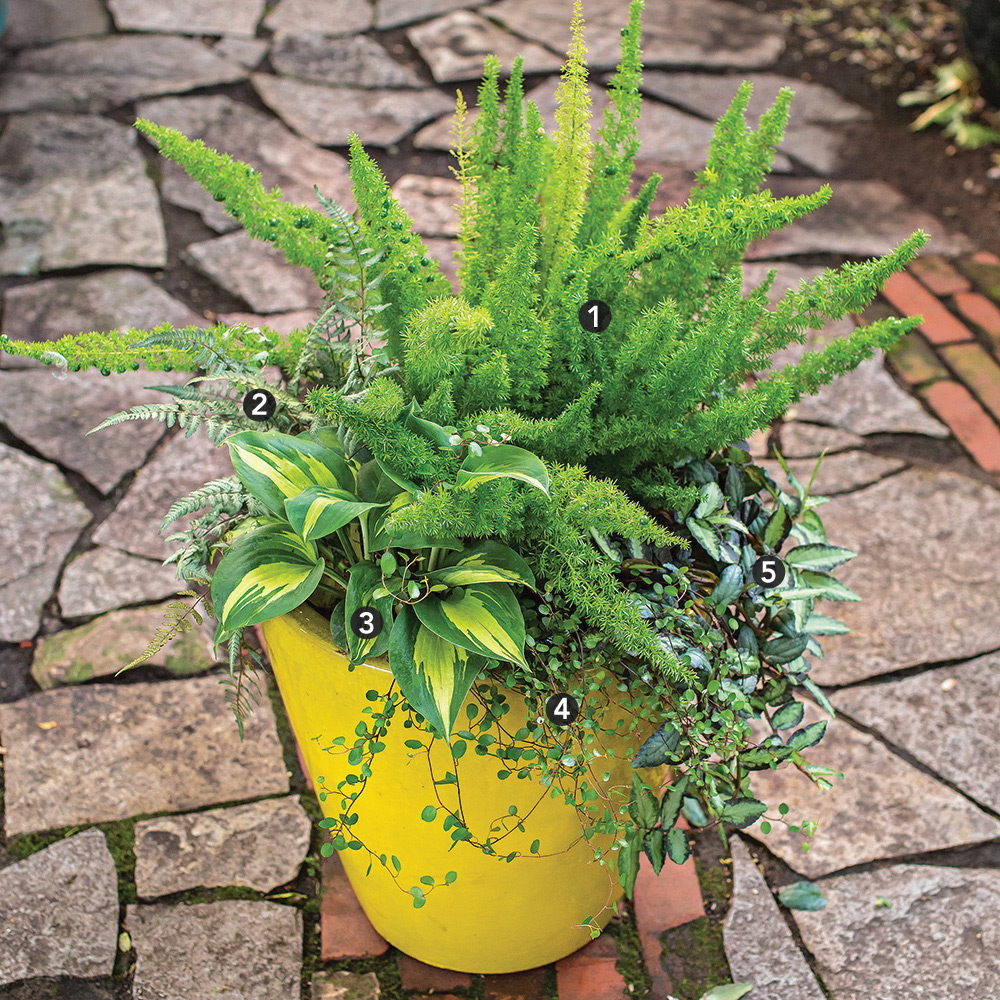 Even before you plant, choosing the right container can help to inspire you and set the mood. If you are struggling to bring life to a dark corner, a brightly colored container like this one will ensure that you start your design off on the right foot. For this bold container, we chose plants with lush mid-green tones such as Japanese painted fern and trailing watermelon begonia and then planted them with citrus-colored plants such as lime green foxtail fern and chartreuse, variegated 'Dream Queen' hosta. The muted color palette allows textured foliage, such as that of the foxtail fern, to play a key role.
Foxtail fern (Asparagus densiflorus 'Myers', Zones 9–11)
Japanese painted fern (Athyrium niponicum var. pictum, Zones 4–9)
'Dream Queen' hosta (Hosta 'Dream Queen', Zones 3–9)
Creeping wire vine (Muehlenbeckia axillaris, Zones 7–9)
Trailing watermelon begonia (Pellionia repens, Zones 10–12)
Burgundy and chartreuse battle for dominance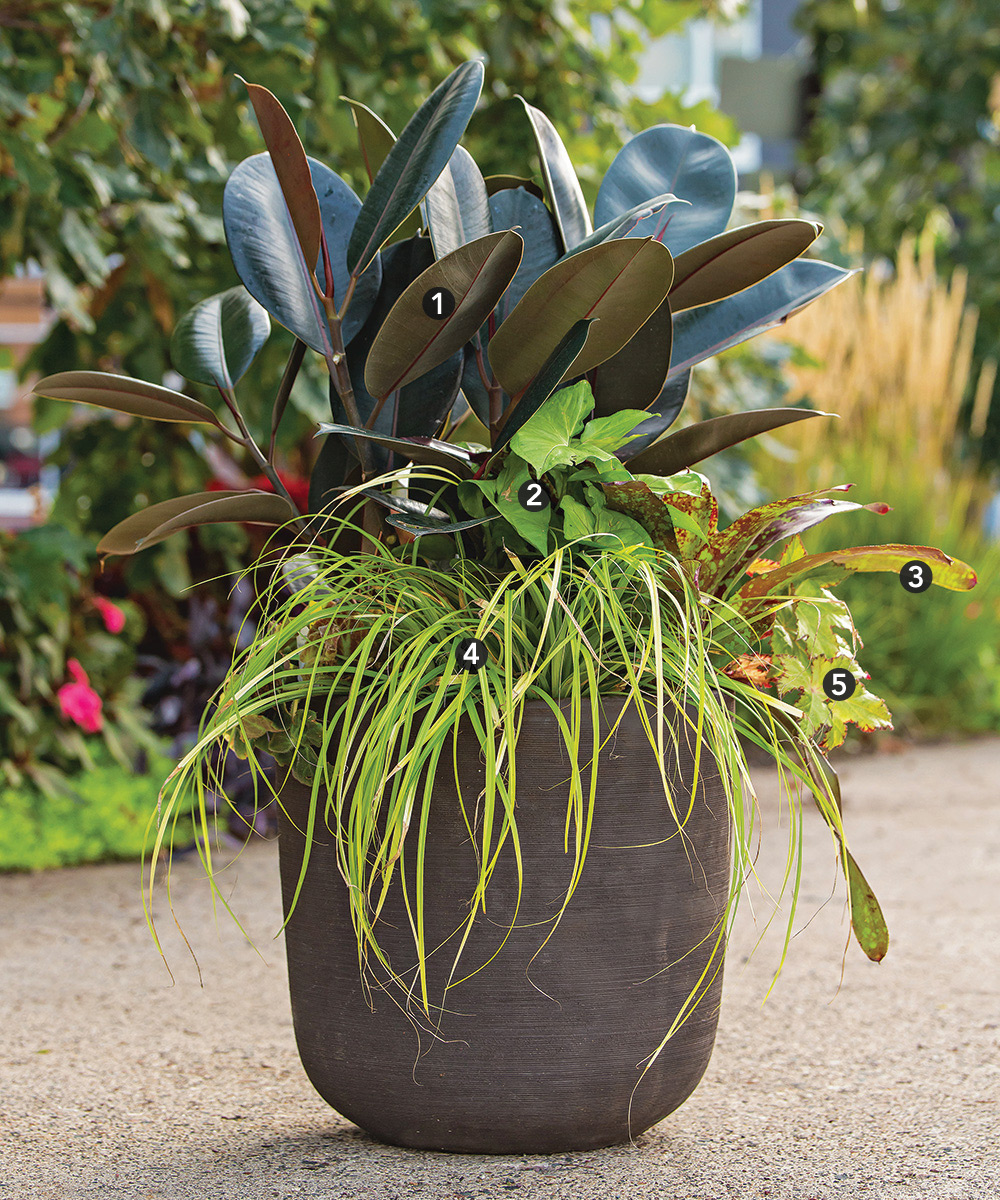 Playing with texture, form, and color is as fun in the shade as it is in the sun. The large, dark leaves of 'Burgundy' rubber tree balance this earthy brown container display, creating a perfect frame for the brighter colors at the center of the arrangement. 'Everillo' Japanese sedge and 'Hannibal Lecter' bromeliad mirror each other in their draping forms, but their contrasting textures ensure continued visual interest. Chartreuse foliage from 'Everillo' Japanese sedge provides drama all season long and creates a bright focal point that beckons you to stop and look, even when the pot is placed in a shady corner.
'Burgundy' rubber tree (Ficus elastica 'Burgundy', Zones 10–12)
'White Butterfly' arrowhead plant (Syngonium podophyllum 'White Butterfly', Zones 9–11)
'Hannibal Lecter' bromeliad (Neoregelia 'Hannibal Lecter', Zones 9–11)
'Everillo' Japanese sedge (Carex oshimensis 'Everillo', Zones 5–10)
'Little Beaver' begonia (Begonia 'Little Beaver', Zone 10)
Frame a bold centerpiece with delicate spillers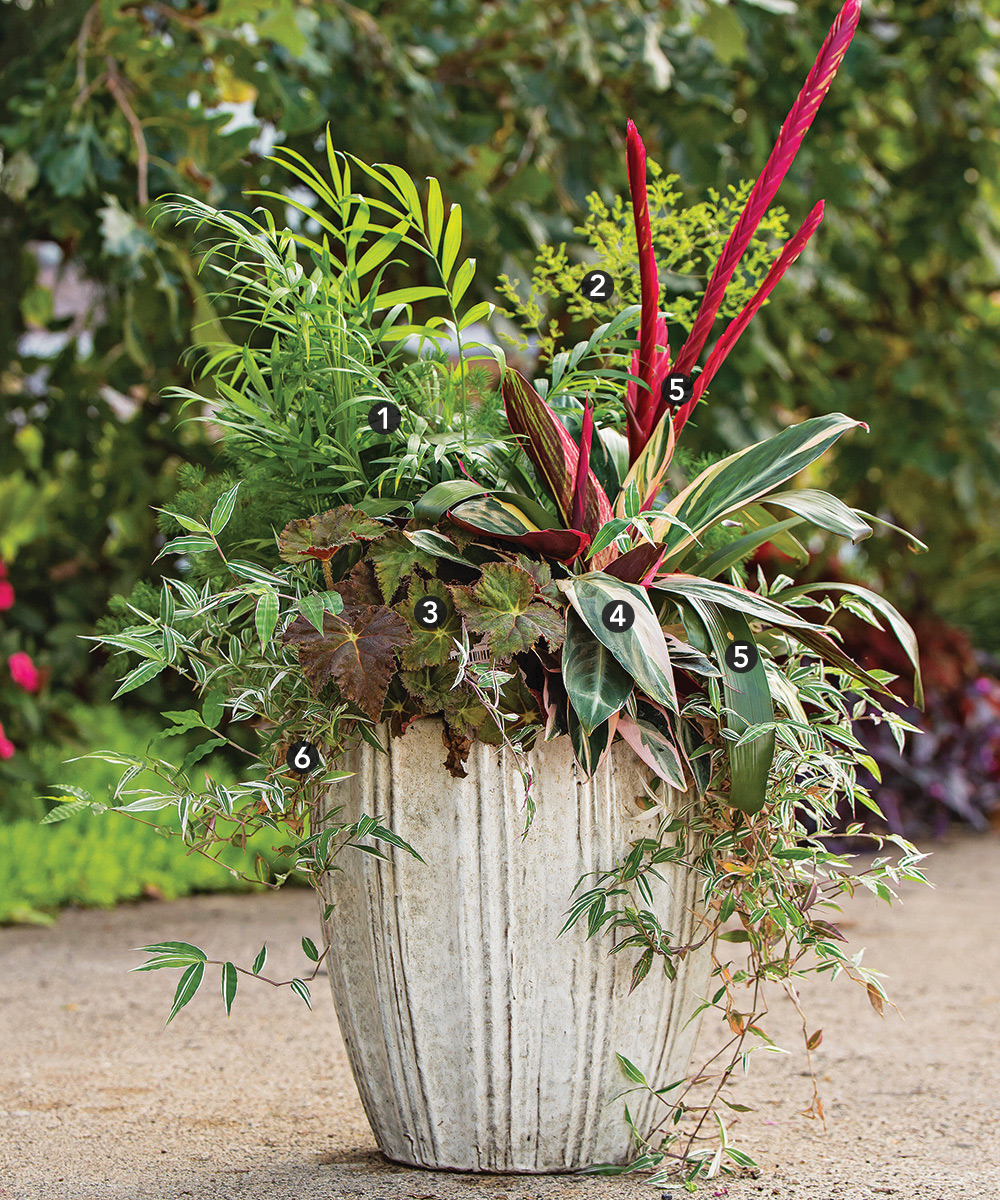 The spectacular and bold foliage of 'Triostar' stromanthe and the dramatic height and color of a blooming 'Albertii' bromeliad bring a tropical feel to this container. These plants also contrast with the delicate and airy textures of supporting players such as variegated basket grass, 'Chameleons Way' begonia, and ming asparagus fern, creating a pleasing visual balance in the arrangement.
Parlor palm (Chamaedorea elegans, Zones 10–11)
Ming asparagus fern (Asparagus retrofractus, Zones 9–11)
'Chameleons Way' begonia (Begonia 'Chameleons Way', Zones 10–11)
'Triostar' stromanthe (Stromanthe sanguinea 'Triostar', Zones 10–12)
'Albertii' bromeliad (Vriesea 'Albertii', Zones 10–12)
Variegated basket grass (Oplismenus hirtellus 'Variegatus', Zones 9–11)
---
*Invasive alert: English ivy (Hedera helix)
This plant is considered invasive in AK, AL, AR, CA, GA, IN, KY, MD, NC, NJ, OR, PA, SC, TN, VA, WA, and WV.
Please visit invasiveplantatlas.org for more information.
---
Scott Endres, Derrik Gagliardi, and Laura Mathews are designers and horticulturists at Tangletown Gardens in Minneapolis.
Photos: Tracy Walsh
View Comments