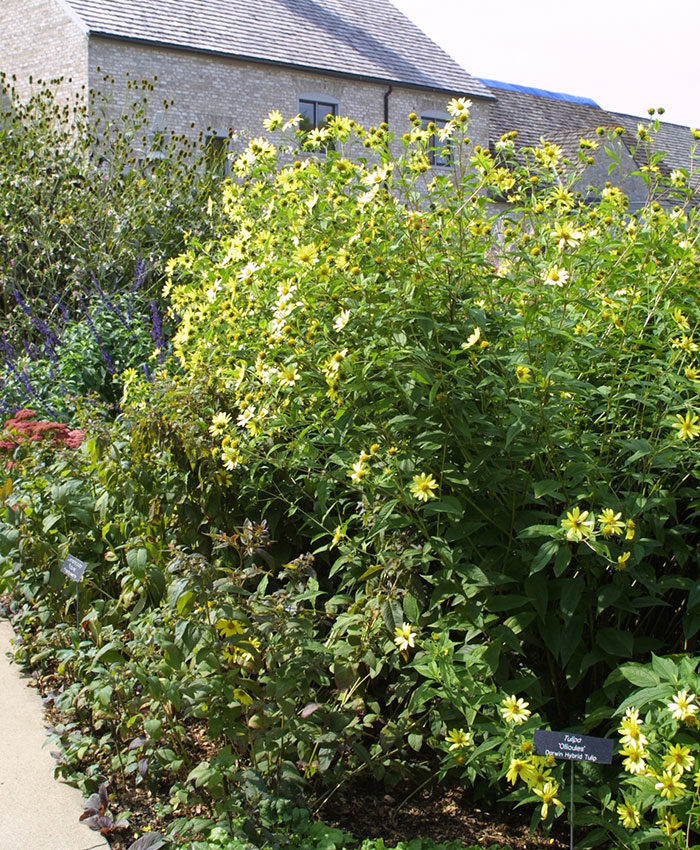 Plants bred for compact size and short stems are great for containers and tight spaces, but don't be afraid to let your garden grow up. Even in the smallest gardens, textural layers that include tall annuals, biennials, and perennials can make a space feel bigger by shifting scale and perspective while providing a sense of enclosure and privacy. Tall plants also make excellent focal points.
Give tall plants some protection from wind, and consider the following strategies to keep them from toppling under the weight of their own blooms:
Encourage branching by pinching apical meristems (give them the Chelsea chop) in early summer. Flowers may be smaller and slightly delayed, but a sturdier structure is worth it.
Raise the stakes. Position supportive crutches next to plants in early summer, and tie stems as they grow using loose loops. To keep your garden looking natural, use forked branches saved from winter tree pruning.
Celebrate the diagonal. Let tall plants lean into and grow through shrubs and cantilever over the garden.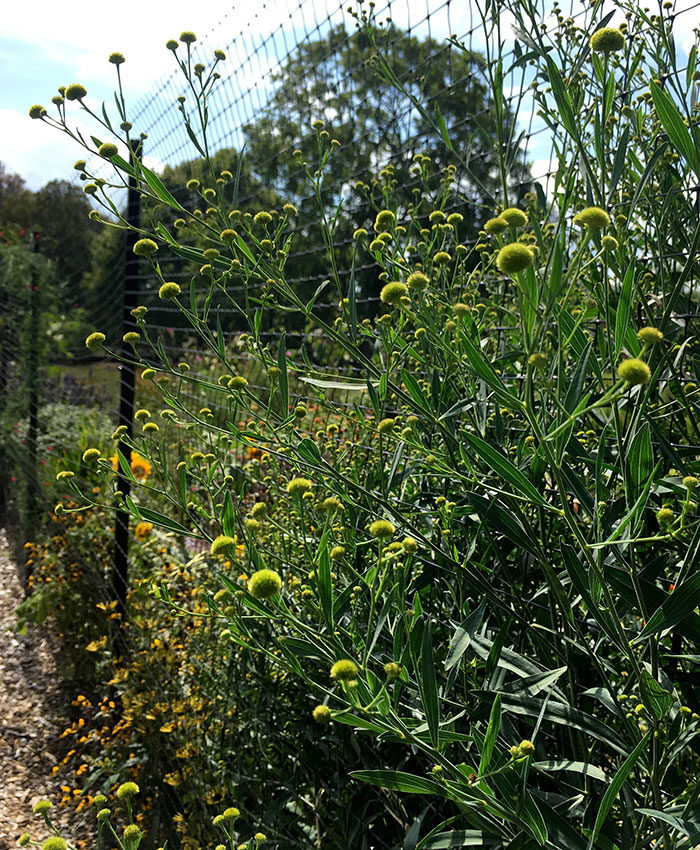 'Nally's Lime Dot' boltonia (Boltonia asteroides 'Nally's Lime Dot', Zones 5–9) is a spreading perennial that puts on a subtle display of half-inch green polka dots (which are actually daisies without petals) on 4- to 6-foot stems in late summer. Top-heavy stems arch and lean, so give them the Chelsea chop and lighten the load by picking stems for flower arrangements, and/or give them the companionship of a sturdy shrub.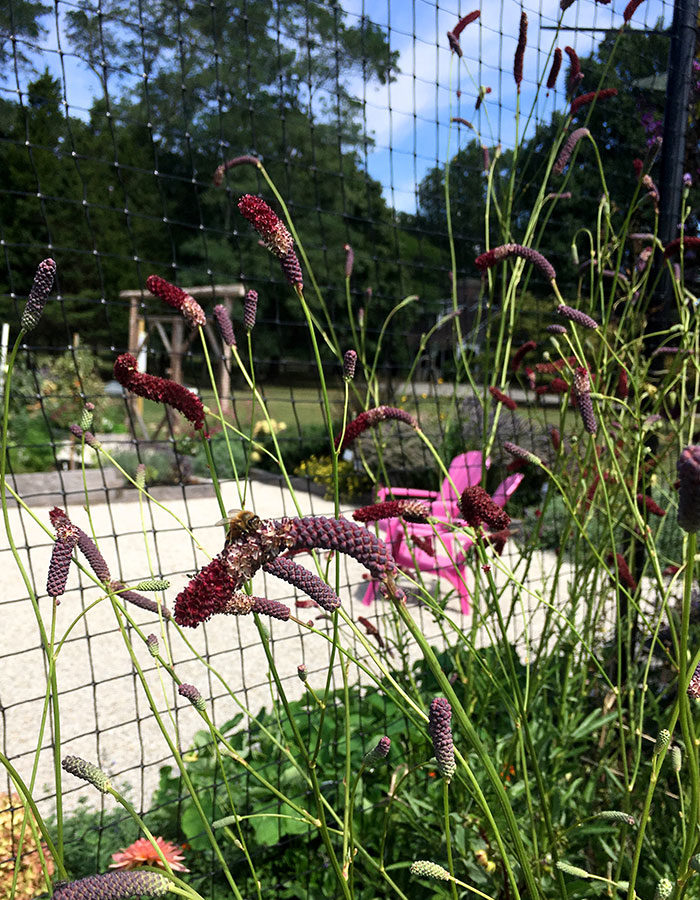 Burnet's (Sanguisorba tenuifolia, Zones 4–8) slender stems grow from basal mounds of pinnate foliage. In late summer, catkin-like knobs of tiny burgundy flowers—beloved by bees, butterflies, and flower arrangers—catch the light and every breeze. Plant them in full sun and moist soil near a fence or bracketed by shrubs for support. Allow flowers to fade to dusty pink seed heads, and expect some rhizomatous spreading and self-sowing.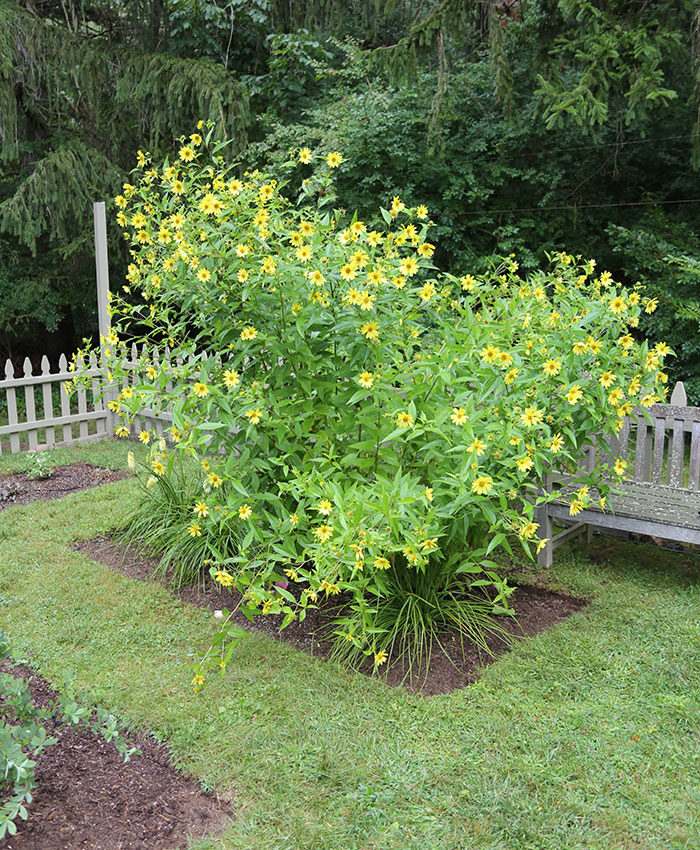 'Lemon Queen' helianthus (Helianthus 'Lemon Queen', Zones 4–9), a 4- to 6-foot-tall perennial sunflower that thrives in full sun and benefits from the Chelsea chop to encourage extra branching and flower power. Chopped or not, masses of butter-yellow daisies will attract butterflies and other pollinators in late summer.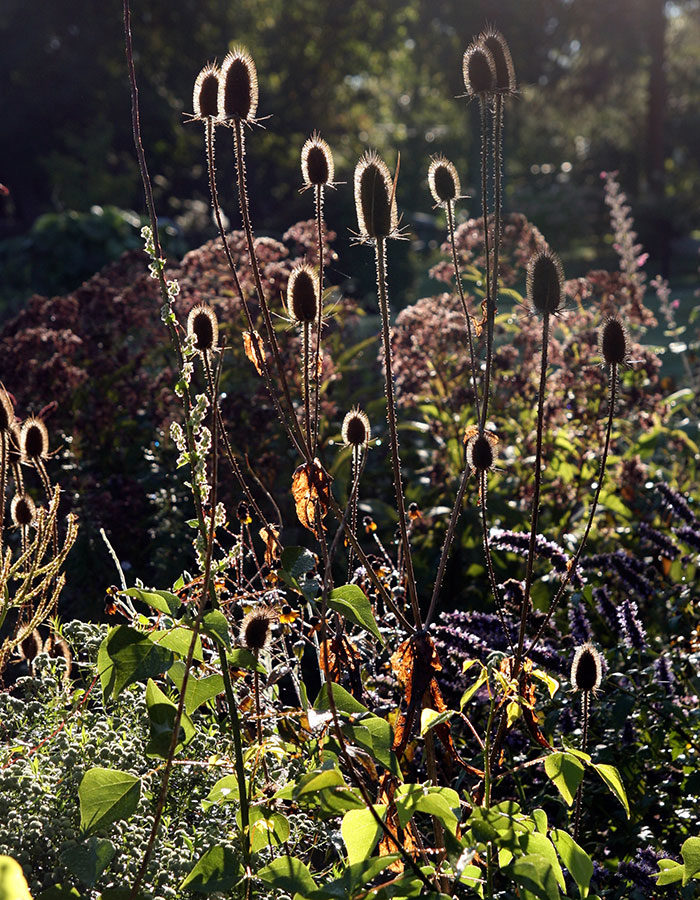 Common teasel* (Dipsacus fullonum, annual) is a wickedly spiny 4- to 6-foot-tall biennial sculpture. Midsummer flowers open in rings around pale green cones, attracting bees and butterflies, and cupped leaves give birds a place to drink. The whole plant bakes brown as seeds form and will stand through winter. Every seed tossed by the breeze and goldfinches will germinate, which is why it is on some states' invasive lists. To prevent takeover, keep plants a few feet away from the garden's edges, and compost spent stems at home. Thinning can always be done with a gloved hand or hoe. Just leave a couple to spike in next year's garden.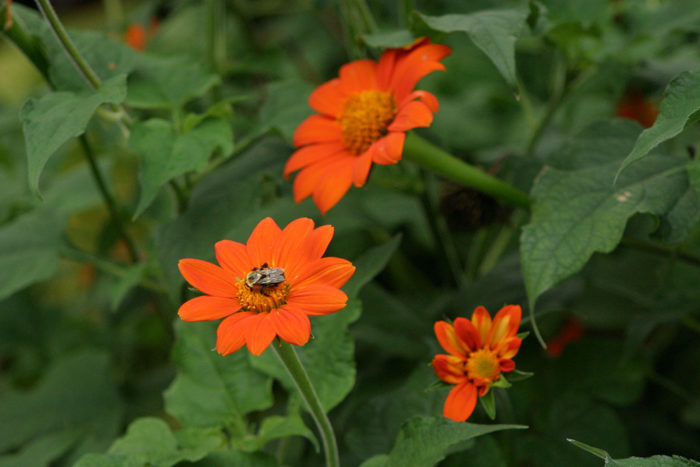 Mexican sunflower (Tithonia rotundifolia, annual) requires serious real estate. A few seeds direct-sown in full sun after the last frost will grow into a forest of moleskin-soft foliage and brilliant orange daisies flickering with butterflies. Trim branches for flower arrangements, and deadhead to prolong the late summer extravaganza.
See my previous regional report for more information on how to do a Chelsea chop.
*Common teasel may be invasive in some areas. Check the USDA's page for information on common teasel in your state.
—Kristin Green is author of Plantiful: Start Small, Grow Big with 150 Plants That Spread, Self-Sow, and Overwinter, and gardens in Bristol, Rhode Island.