Southeast Regional Reports
Great Rose Varieties for Growing in Containers
These compact, charming options are perfect for pots in a hot, sunny climate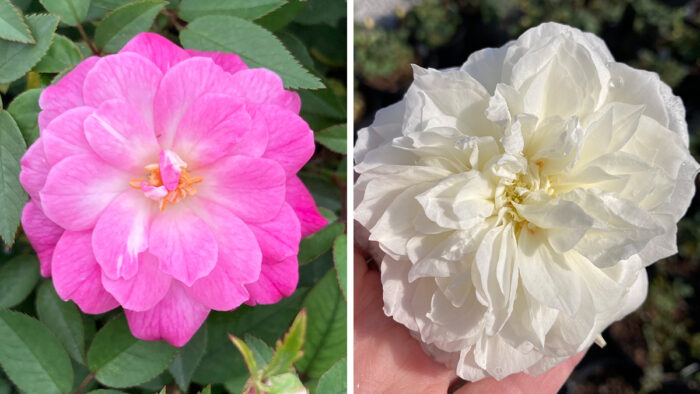 Every gardener needs to grow at least one rose (Rosa spp. and cvs., Zones 2–11), although sometimes the only sunny spot in the yard is a concrete patch. Most roses can be grown in a container for at least a little while, depending on the size of the container. The best way to tell if your plant has outgrown its container is based on water. If you water it in the morning and it's wilted in the evening, you are out of space. Roses need room to be able to grow. Most of them produce flowers on new growth—so no new growth, no flowers. These roses stay small enough to remain in a 16- to 18-inch container for years and are fine with the heat and sun that our southern climate dishes out.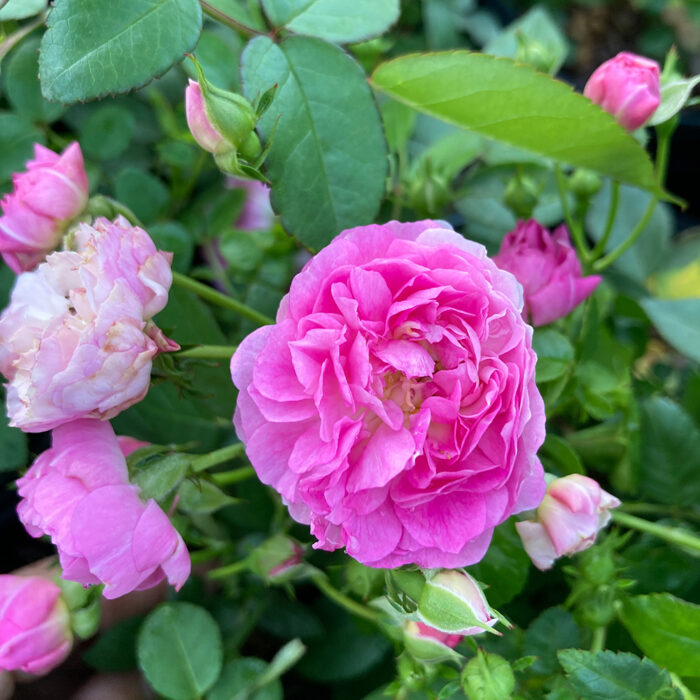 'Sweet Pea' rose
'Sweet Pea' (R. 'Sweet Pea', Zones 6–11) is a small rose that rarely reaches 2 feet in height. It grows wider than it is tall. The double flowers look almost fluffy and are a blue shade of pink. Lightly fragrant, the flowers appear in clusters from early spring until hard frost, which here in the Southeast usually means Christmas roses.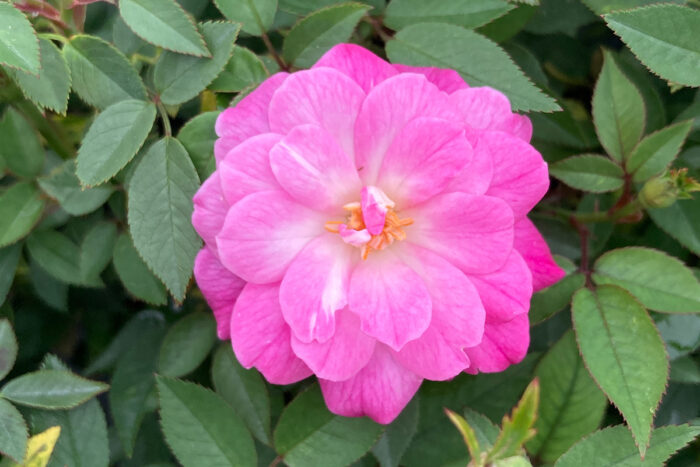 'Rouletti' rose
'Rouletti' (Rosa 'Rouletti', Zones 6–11) is a very small China rose with tiny leaves and little beautifully shaped roses. This selection only reaches about 18 inches tall and forms a bushy upright shrub. A very tough rose, it is disease resistant and drought tolerant. The tiny prolific flowers appear throughout the growing season, darker pink when the weather is cool and lighter pink in the heat.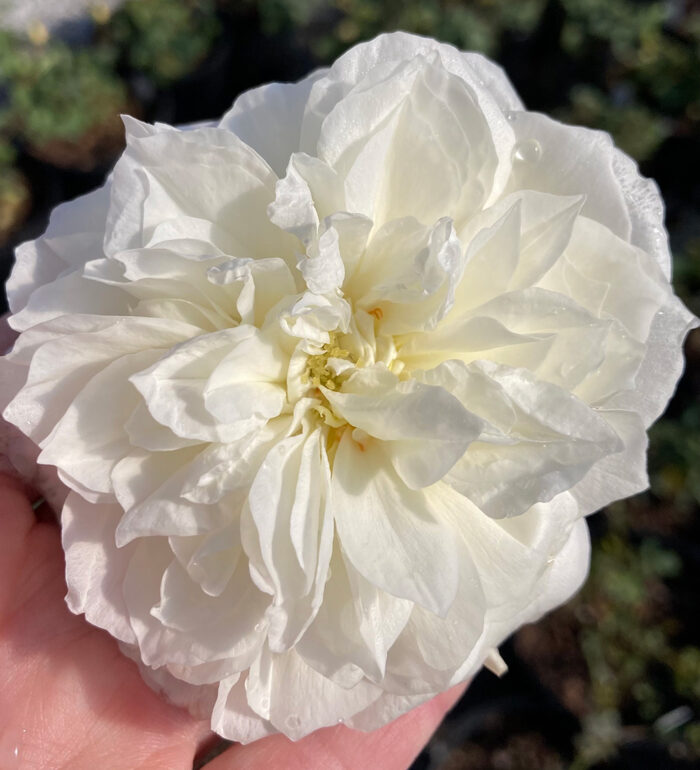 'Kronprincessin Viktoria' rose
'Kronprincessin Viktoria' (Rosa 'Kronprincessin Viktoria', Zones 6–11) has beautiful fully double flowers that are 2 to 3 inches across. A creamy white, the flowers have a fabulous fragrance. Slow growing, this shrub rarely reaches 3 feet in height. This Bourbon rose is the white sport of 'Souvenir de la Malmaison' rose (R. 'Souvenir de la Malmaison', Zones 6–11). In our southern gardens, this means occasional black spot. The flowers and fragrance are worth the bother. It blooms from early in the spring until hard frost.
'Cecile Brunner' rose
The beautiful pink rose buds of 'Cecile Brunner' rose (Rosa 'Cecile Brunner', Zones 5–11) are so pretty it is often called the sweetheart rose. The small double roses are delightfully fragrant and held in clusters, which make them quite showy for their size. The climbing version of 'Cecile Brunner' is a giant, but the shrub version gets about 3 feet tall. Reliable and fairly easy to grow, 'Cecile Brunner' produces flowers from spring to frost.
'Katharina Zeimet' rose
The small foliage and white flowers of 'Katharina Zeimet' (Rosa 'Katharina Zeimet', Zones 5–11) make a lovely addition to the garden. Although the blooms look delicate, this is actually one tough rose. It is easy to grow and quite resistant to disease. The small double white flowers are sweetly fragrant. A determined bloomer, it is rarely without flowers. It only gets to about 2 feet tall and has a rounded growth habit.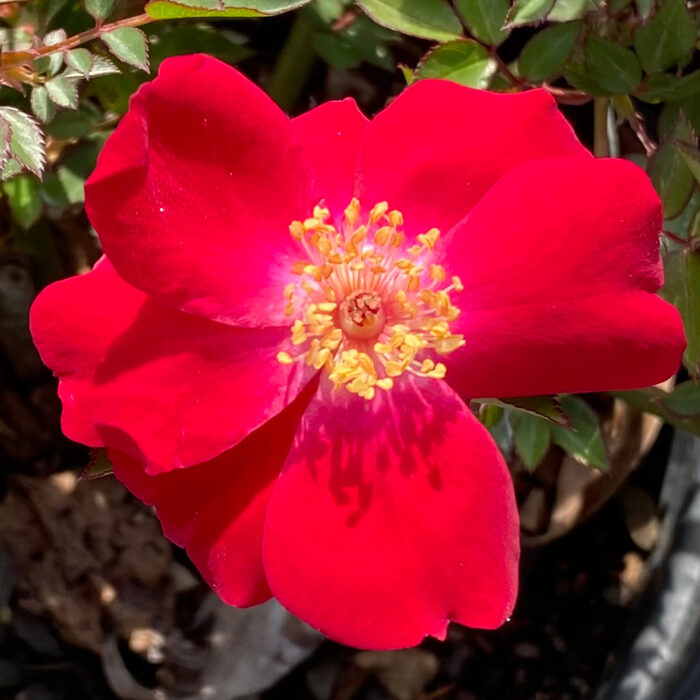 'Martha Gonzales' rose
'Martha Gonzales' (Rosa 'Martha Gonzales', Zones 7–11) is a found rose, named after the gardener growing it. The bright red, single flowers open up flat to reveal white to yellow centers. Pollinators, especially honeybees, are very attracted to this rose. A small grower, it rarely reaches above 2 feet tall but can get to 3 feet. Here in the South, it blooms prolifically from midspring until frost.
For the best performance, roses need sun—so pick a sunny spot for your pot with at least five hours of good light. Remember to fertilize potted roses on a regular basis to keep them flowering. Also, be certain your pot has drainage holes, since roses would rather not sit in soggy soil.
—Jason and Shelley Powell own and manage Petals from the Past, a garden center in Jemison, Alabama.
Photos: Shelley Powell
View Comments