Roses Are Plants Too!
How to Overwinter Potted Roses Indoors
One option for ensuring they live from year to year in a container is moving them inside in winter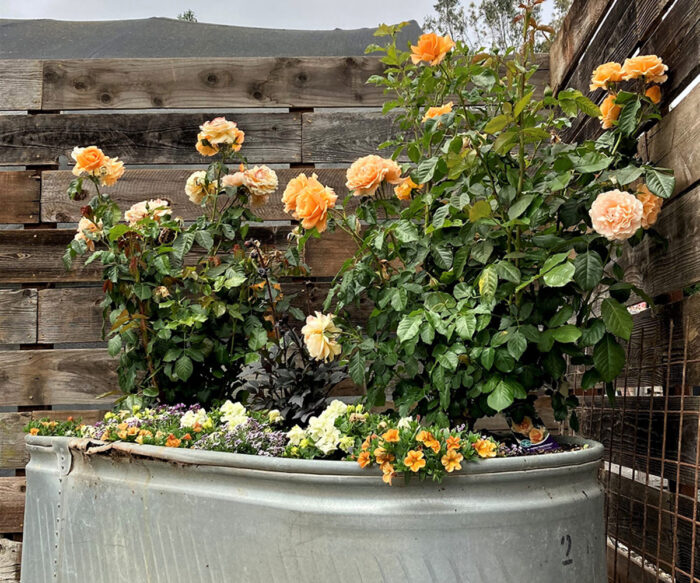 A lot of the newer (and older), smaller roses are great for growing in containers on your patio, deck or even out in your garden. I've always felt they look terrific with plants like herbs spilling out the sides.
But if you live in a climate that gets a real winter, what do you do with the container and the rose when those cold north winds come blowing through? If you leave the rose outside it will likely die from the cold, but since roses need full sun you can't bring it inside. Or can you? Yes, you can and you should.
Dormancy is when to make the move
During winter a rose is totally dormant, and because of this it doesn't matter if it's in the sun or not. Now I don't advocate shutting it in a dark closet, but an unheated room with some natural light is perfect, such as a garage near a window. You might be asking, "But why unheated?" Because you want the rose to stay dormant during winter, and placing it in a heated room will wake it up. And once woken up it will need sunshine, but it's too cold to put the rose outside.
Simply wait for the rose to go naturally dormant, and when that first deep freeze is forecast, like 25°F (–4°C) or below, go ahead and bring it inside.
Tips of while it's inside
Once the rose is inside don't let the soil dry out, but don't water it regularly either. Since the rose is dormant, it won't be taking up water. Just make sure the soil remains slightly moist and you'll be fine.
Place it back outside after the weather has regulated
Come spring when the rose starts to wake up, take it back outside. If you get an unexpected late spring freeze, bring it back inside or just throw a blanket over it.
Roses in containers are a wonderful sight in any garden, and even if you live in a cold climate, keeping them for years is a snap if you are ready to move them in when the temps drop.
View Comments