Design
Fire and Ice: Finalist Photos from the 2009 Container Challenge
We asked each participant to create a container design based on a theme of either ice or fire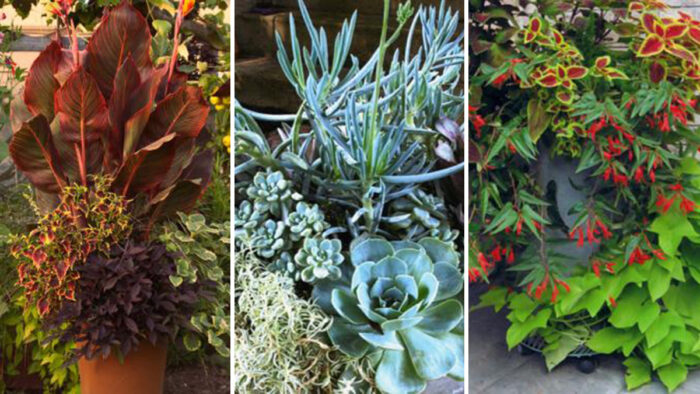 For the 2009 Container Challenge, we asked our readers to create a container design based on a theme of either ice or fire. The idea was to show that plantings can actually change not only the look but also the feel of a space. A collection of silver plants, for example, can make a patio seem cool and calming, while an explosion of hot colors can turn up the heat and excitement.
The finalists featured here successfully demonstrated this theory. Thanks to all who entered. The readers of Fine Gardening continue to astound and impress us. To see more finalists, check out this article from Fine Gardening #133.
The winner: Todd Holloway, Vancouver, British Columbia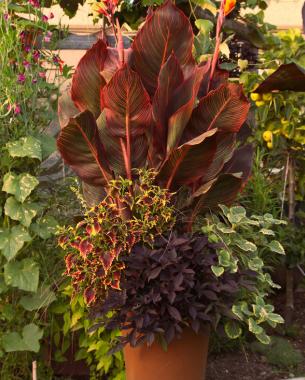 We chose this design for our winner because it's easy, incredibly effective, and simply stunning. Tropicanna® canna is a no-brainer for a hot container. Its orange- and red-striped flame-shaped leaves and hot tangerine blooms are a blaze of fire. The fiery leaves of the 'Sky Fire' coleus in this combo are just as hot, while the deep red mass of the sweet potato vine is the perfect pairing to add some weight. The creamy tips of the plectranthus leaves can either be seen as a cooling influence or a white-hot accent. Congratulations, Todd!
Tropicanna® canna (Canna 'Tropicanna', Zones 8–11)
'Sky Fire' coleus (Solenostemon scutellarioides 'Sky Fire', Zone 11)
Leatherleaf sedge (Carex buchananii , Zones 6–9)
'Lemon Twist' plectranthus (Plectranthus 'Lemon Twist', Zones 10–11)
'Blackie' sweet potato vine (Ipomoea batatas 'Blackie', Zone 11)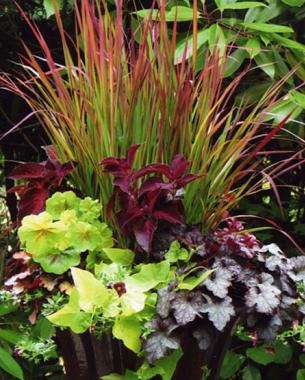 Fire: Julie Davis, Edmonds, Washington
Japanese blood grass (Imperata cylindrical 'Rubra', Zones 5–9)
'Peach Flambe' heuchera (Heuchera 'Peach Flambe', Zones 4–9)
Dolce® Licorice heuchera (Heuchera 'TNHEU044', Zones 4–9)
'Kingwood Torch' coleus (Solenostemon scutellarioides 'Kingwood Torch', Zone 11)
Geranium (Pelargonium cv., annual)
'Colorburst Chocolate' calibrachoa (Calibrachoa 'Colorburst Chocolate', annual)
'Margarita' sweet potato vine (Ipomoea batatas 'Margarita', Zone 11)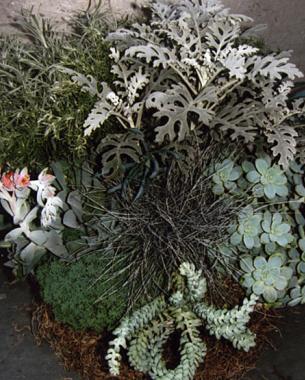 Ice: Terry Hunter, Minot, North Dakota
'Silver Dust' dusty miller (Senecio cineraria 'Silver Dust', Zones 8–11)
Silvermound (Artemisia schmidtiana, Zones 5–8)
Blue chalksticks (Senecio serpens, Zone 11)
Donkey's tail (Sedum morganianum, Zone 11)
Blue fescue (Festuca glauca, Zones 4–8)
Sedum (Sedum cv., Zones 3–9)
'Topsy Turvy' echeveria (Echeveria runyonii 'Topsy Turvy', Zones 10–11)
Sedum (Sedum clavatum , Zones 9–11)
Ice: Christina Salwitz, Renton, Washington
'Hakuro-Nishiki' willow (Salix integra 'Hakuro-Nishiki', Zones 5–7)
'Powis Castle' artemisia (Artemisia 'Powis Castle', Zones 6–9)
Silver dollar gum (Eucalyptus cineria , Zones 8–11)
White flowering tobacco (Nicotiana × sanderae cv., annual)
'White Nancy' spotted deadnettle (Lamium maculatum 'White Nancy', Zones 4–8)
'Pink Marshmallow' fuchsia (Fuchsia 'Pink Marshmallow', Zones 10–11)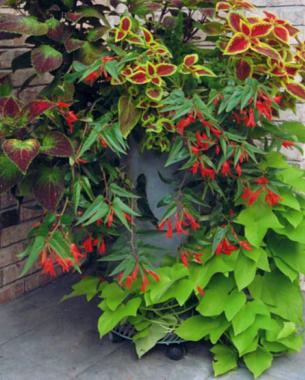 Fire: Susan Stork, Jefferson City, Missouri
'Florida Sun Jade' coleus (Solenostemon scutellarioides 'Florida Sun Jade', Zone 11)
'Wizard Mix' coleus (Solenostemon scutellarioides 'Wizard Mix', Zone 11)
Foxtail fern (Asparagus densiflorus 'Meyersii', Zones 9–11)
Bonfire® begonia (Begonia boliviensis Bonfire®, Zones 10–11)
'Margarita' sweet potato vine (Ipomoea batatas 'Margarita', Zone 11)
Ice: Christy Erikson, Lake Forest Park, Washington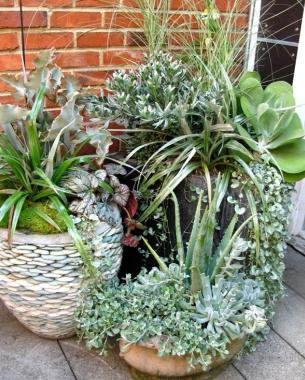 Large black planter (back right)
'Morning Light' miscanthus (Miscanthus sinensis 'Morning Light', Zones 4–9)
'Silver Falls' dichondra (Dichondra argentea 'Silver Falls', Zones 10–11)
Paddle plant (Kalanchoe thyrsiflora, Zone 11)
'Searchlight' flowering maple (Abutilon 'Searchlight', Zones 8–11)
Silverbush (Convolvulus cneorum , Zones 8–11)
Astelia (Astelia nervosa var. chathamica , Zones 8–9)
River rock planter (left)
Astelia (Astelia nervosa var. chathamica , Zones 8–9)
Rex begonia (Begonia cv., Zone 11)
'Silver Falls' dichondra (Dichondra argentea 'Silver Falls', Zones 10–11)
Felt bush (Kalanchoe beharensis, Zone 11)
Canberra grass (Scleranthus biflorus, Zones 9–11)
Vintage cement planter (forward right)
Aloe (Aloe vera, Zones 10–11)
Echeveria (Echeveria cv., Zones 10–11)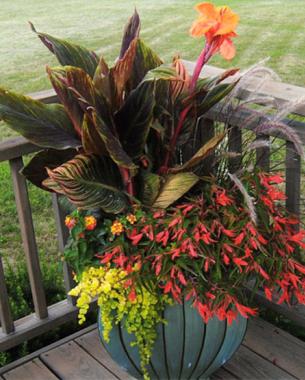 Fire: Roxanne McKim, Manchester, Michigan
Tropicanna® canna (Canna indica 'Phasion', Zones 8–11)
'Red Riding Hood' dwarf purple fountain grass (Pennisetum setaceum 'Red Riding Hood', Zones 9–10)
'Lucky Red Hot Improved' lantana (Lantana camara 'Lucky Red Hot Improved', Zone 11)
Bonfire® begonia (Begonia boliviensis Bonfire®, Zones 10–11)
Golden creeping Jenny (Lysimachia nummularia 'Aurea', Zones 4–8)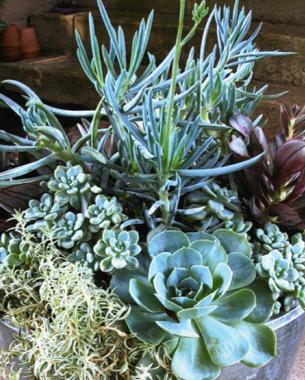 Ice: Cheryl Hopkins, Tipp City, Ohio
Ghost plant (Graptopetalum paraguayense, Zone 11)
Painted echeveria (Echeveria nodulosa, Zone 11)
Blue Wren™ echeveria (Echeveria Blue Wren™, Zone 11)
Blue chalksticks (Senecio madraliscae, Zones 10–11)
Sedum (Sedum cv., Zones 3–9)
View Comments