Kitchen Gardening
Great Pepper Varieties to Grow in Pots
From hot to sweet, these options are best when it comes to growing in cramped quarters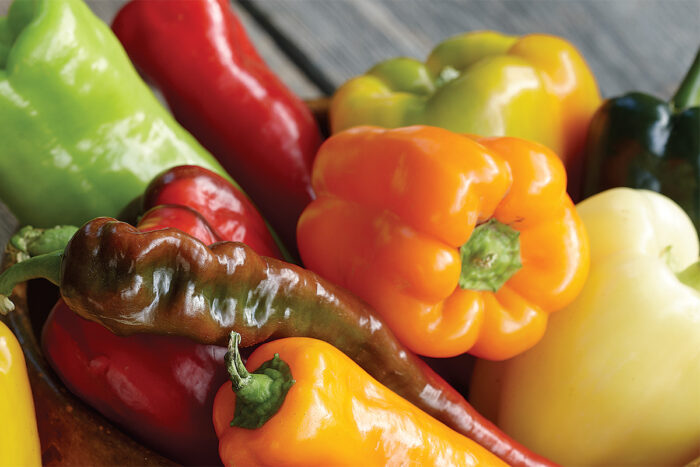 The pepper harvest season is in full swing. Whether hot or sweet peppers, each kind can be clipped from the plant when the fruit reaches its mature size. The difficult part is waiting for them to ripen to their nice deep color. For some varieties, it can take a month or more for the peppers to color up to their final red, yellow, orange, or brown color.
That's why I planted several of each of six different peppers in my container garden this season. I can start harvesting and enjoying the peppers on one plant while waiting for the other peppers to ripen to their rich jewel tones.
Here's the annual pepper roundup for this season, in case you'd like to add a few to your garden next year.
Top-performing pepper varieties for growing in pots
'Escamillo' is a 2016 All-America Selections (AAS) national vegetable winner. These large sweet peppers are on their way to ripening to a brilliant golden yellow. The plants are especially productive, even in containers, with large perfectly shaped fruits. 'Escamillo' has a great taste for eating fresh in salads or roasting on the grill.
'Fresno' is one of my all-time favorite hot peppers. These fruits ripen to a brilliant red earlier than other peppers and have the best balance of heat and flavor I've found in a pepper of this size. They're good eaten raw, but the flavor intensifies when roasted. I plan to grow more containers of these next season.
'Jalapeño' peppers are a must for any pepper lover. These peppers start to produce early and will keep growing until the weather turns cold. I've used jalapeños for just about everything—sliced as a condiment for noodle bowls, roasted and chopped for salsa, stuffed with cheese and fried, pickled in brine, and even candied.
'Rachel' is a jalapeño-type pepper that has extra firepower. I bought one of these plants at the Baker Creek Spring Planting sale. 'Rachel' is a pepper named for the daughter of the farmer who created it. These peppers are light green and grow upright on tall plants.
'Lemon Drop' is another pepper I picked up at the Baker Creek sale. This plant is proof that it pays to try a few new pepper varieties every season. The plant itself is almost 3 feet tall, and it's loaded with these bright green peppers that are about 3 inches long and slightly cone-shaped. With time they'll ripen to bright yellow. 'Lemon Drop' has high heat with a fruity taste that will be great for pickling or drying and grinding into a seasoning.
'Ghost' pepper is one of the peppers at the top of the heat scale. It's my first time growing these slightly scary-looking peppers, and I'll need to take extra precautions for handling them. Once they ripen to red and get their full mango-like taste, they'll be ready to use in small quantities for salsas and sauces.
View Comments