Kitchen Gardening
How to Grow Lettuce in a Container
Leafy edibles come out of the pot much cleaner than when they're grown in the ground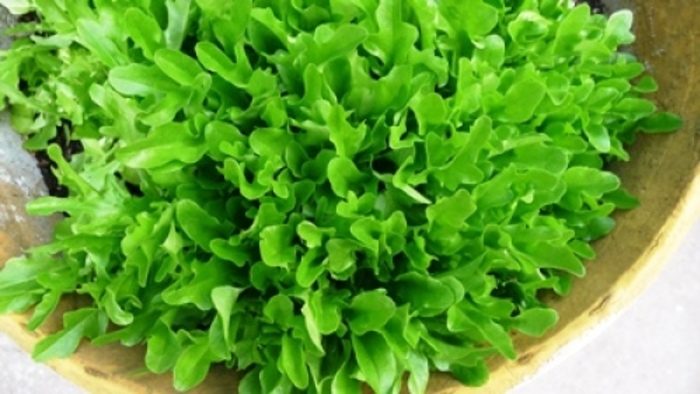 When All-America Selections announced one of its edible winners a few year ago, I couldn't understand its name. After all, what gardener would want to grow and eat 'Sandy' lettuce? After harvesting the first few batches of tender, oak-leaf type lettuce, I've changed my mind.
I planted the trial batch of seeds AAS sent in a large container, and it was only about 45 days until I was clipping the baby greens and using them in garden-fresh salads. There really isn't anything sandy about this lettuce. In fact, that's one of the benefits of planting any greens in containers. I've found that container-grown lettuces, arugula, kale, and other leafy edibles come out of the pot much cleaner than when I've grown them in the garden bed.
Here are some other advantages of growing lettuce in containers.
Ease of planting
The containers that spend the winter outside are ready to plant, just as soon as the potting soil thaws and warms enough for cool-season planting.
Containers fit in small spaces
Even if you have a small vegetable garden space, there's probably room to squeeze in a lettuce container—or two.
Simple sprinkling
The lettuces I prefer to grow are the cut-and-come-again kind. It's super simple to sprinkle a packet of lettuce seeds over the top of the soil, pat them in, and then lightly cover them with more soil. The 'Sandy' lettuce could have also been sown for loose (6- to 8-ounce) heads if I would have spaced the plants about 10 inches apart.
Painless protecting
I haven't had any insects or birds find the big lettuce bowl on the patio this year, but they have in the past. That's when I've tossed a piece of row cover cloth over the container and used landscaping pins to tie it down.
Easy to maintain
Because the containers are on the patio, it's a simple task to step outside, check to see if the soil is dry, and then fill the watering can.
Handy to harvest
The lettuce container is just steps from the kitchen door. It's no problem to grab the scissors, snip a bunch of baby-size greens, and then toss them in a colander for a quick rinse. Rarely do I find any grit or soil clinging to the leaves. I could also let 'Sandy' lettuce mature and grow into small heads that would be just as easy to harvest.
AAS says 'Sandy' is a slow-to-bolt lettuce and that it has good disease resistance to powdery mildew.
Because it takes only a month or so from seed to leaf for this lettuce, there's time to plant another batch before the heat of summer takes hold. Even then, 'Sandy' might do well growing under cover with a little bit of cooling shade.
View Comments