Kitchen Gardening
Grow Heirloom Sweet and Hot Peppers in Your Vegetable Garden
When you choose to grow heirloom peppers, a whole new world is opened up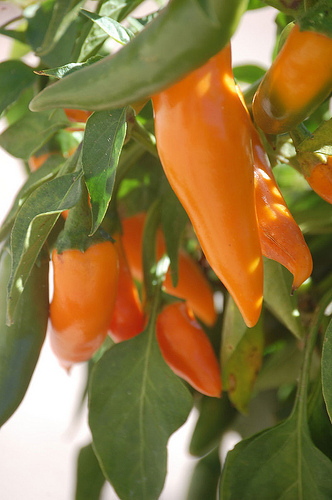 Peppers are second only to tomatoes as the darlings in the home vegetable garden. They range from sugar-sweet to biting hot, and are second to none as far as versatile veggies go. Just like all of the other vegetables out there, when you choose to grow heirloom sweet or bell peppers, a whole new world is opened up to you.
In the kitchen, heirloom peppers show up in a multitude of colors, shapes, sizes, and flavors that their hybrid cousins can only hint at. There's no end to the culinary dishes that peppers end up; they're cooked, canned, pickled, frozen, and can double as an ornamental plant, to boot. Pepper plants are easy to grow, perfect for small spaces, and adapt well to container life making them accessible to anybody living anywhere.
Their colors range from brown, green, orange, and red to yellow, purple, and lavender. Many varieties change color as the fruit matures on the plant and the flavor changes right along with it. So don't forget to experiment with them in the kitchen during various color stages. Of course, one of the best things about heirloom varieties is that they are open-pollinated and will produce pure seed should you choose to save them.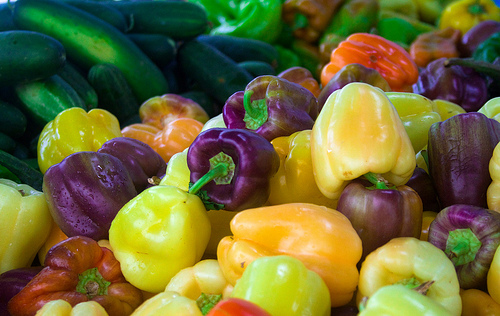 Heirloom Pepper Varieties
'Alma Paprika'—An excellent variety for drying and grinding into paprika or eating fresh. The peppers start out creamy white and ripens to orange and then red when mature. It's a sweet pepper with a very slight warmth to it.
'Ashe County Pimento'—This bright-red, non-bell pepper has incredibly sweet flavor, and is wonderful for fresh eating, canning, roasting, or cooking.
'Black Hungarian'—These guys start out black and eventually turn red. They're 4 to 6 inches long and are mild with a smoky flavor. The plant is extremely ornamental as the flowers bloom lavender and the green leaves have purple veins.
'Buran'—This is a Polish heirloom and is sweet whether it's harvested green or red.
'Carmagnola'—This heirloom sweet pepper is famous all over Italy. It's bright red and yellow fruit is sweet, meaty, and wonderfully bell-scented.
'Candlelight'—These 1-inch tapered fruits make a lovely container variety. They change color from green to yellow, then orange, and finally, to bright red when mature. Doubles as an ornamental.
'Chervena Chushka'—This is a Bulgarian heirloom that's traditionally used as a roasting pepper, but it's just as nice as a sweet pepper for fresh eating. It's been described as sweet as candy.
'Chocolate Beauty'—This sweet pepper starts out dark green in color than ripens to a rich chocolate when mature.
'Coban Red Pimiento'—This is a rich, small bell pepper from Guatemala and is delicious used fresh or cooked. It's also a very pretty variety.
'Doe Hill Golden Bell'—This is a pre-1900 heirloom that produces flattened, bright orange bell peppers. It makes a wonderful salad pepper, as the flavor is sweet and fruity.
'Doux D'Espagne' ('Spanish Mammouth')—This is a pre-1860s heirloom pepper. The fruit is 6 to 7 inches long and is cone-shaped, sweet, and flavorful. It's terrific for salads or cooking.
'Mini Chocolate'—This Ohio heirloom produces teeny-weeny miniatures of a bell pepper that begin green, then ripen to a rich chocolate. The short, full bushes are perfect for growing in containers.
'Napoleon Sweet'—This bell is 7 to 8 inches long and has a sweet but mild flavor. It's an early producer that steadily offers a tasty fruit until frost.
'Orange Bell'—This is a big (3½ inches by 4 inches), thick-walled, sweet bell that ripens to orange. It's a later-maturing variety, but the flavor is one of the very best among the orange bells.
'Orange Habanero'—This may not be as intense as the infamous 'Ghost' pepper, but it is about 50 times hotter than a jalapeño. The light green fruits end up wrinkled and a mature orange-red.
'Sweet Chinese Giant'—This sweet pepper is 6 inches by 4 inches and changes from green to brilliant red. It's also an early producer.
Heirloom Seed Companies
Here's a small list of the wonderful seed companies that make heirloom vegetable varieties available to the world.
While each one of these peppers would thrill any gardener, the amount of days necessary for them to produce fruit should be considered when you're looking for a variety for your area. Wise choices will lead to success, so be sure that you know your growing zone, and check the seed company for the number of days needed for the fruit to fully mature.
View Comments