Kitchen Gardening
How to Grow Peppers
These 10 pepper varieties are a sure bet for the timid, the fearless, and all those in between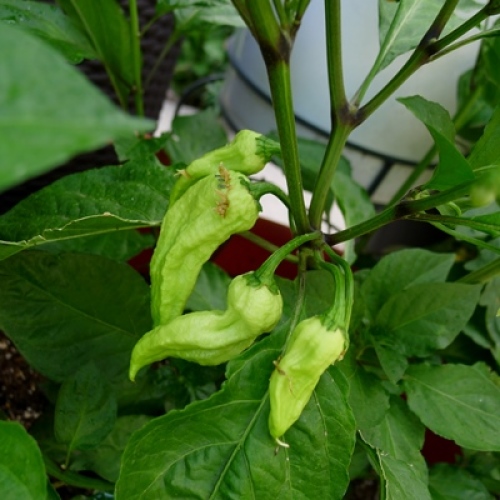 I've never met a pepper I didn't like. Hot, sweet, fried, or dried, I'm crazy about them all. That's why I plant at least a dozen different pepper varieties in my garden every season. There will always be several jalapeno plants, but each year I enjoy adding new-to-me varieties.
I've been known to pick a pepper plant just so I could grow enough to prepare a single recipe: 'Holy Mole'!
I'm drawn to peppers because they're versatile in the kitchen and grow in so many different sizes, shapes, and colors. There are baby bell peppers, slender green Thai chilis, long red paprika peppers, and even black edible ornamentals.
Then, of course, there's the thrill of the unknown when taking that first tantalizing bite. If a pepper has ever made you cry or cause steam to vent from your ears, that's nature's way of letting you know you've had too much capsaicin.
Capsaicin is the flavorless, tasteless alkaloid compound that stimulates the pain receptors in your mouth. Pure capsaicin registers between 15,000,000 and 16,000,000 heat units on the Scoville scale; bell peppers have 0. Because capsaicin is manufactured in the pepper's ribs, you can put out some of the fire by removing the pepper's seeds and veins before eating.
Peppers are one of the easiest plants to grow, even for beginning gardeners. In most areas, garden centers start stocking pepper transplants in spring. Choose healthy-looking plants and give them plenty of room to grow in the garden. If planting in containers, use one plant per 5-gallon container.
When starting plants indoors from seed, allow at least eight weeks for seeds to sprout and become garden ready. Then take them outside to get acclimated before planting them in the vegetable bed or container garden.
Peppers grow best in full sun and a rich, well-drained soil. Mulch around the base of the plants, keep soil moist, and fertilize about every four to six weeks. Peppers are ready to eat whenever they reach their preferred size, although if left on the plant they'll ripen to brilliant and delicious little gems.
No matter where your taste buds fall on the Scoville scale, there's a pepper for you. Here are 10 varieties from mild to wild to help you get started.
Mild
'Orange Giloba' and 'Red Yardenne': These two sweet bell peppers have no heat, but plenty of color to light up the garden.
'Patio Red Marconi': This sweet pepper grows on compact plants and ripens to a bright crimson.
'Tequila Sunrise': The name perfectly describes the striking color of these sweet peppers with a slightly sexy shape.
Medium
'Anaheim': The familiar long green pepper is usually roasted for savory Southwestern dishes.
'Cayennetta': Grow this pepper and get two plants in one—it's an attractive ornamental, and it produces flavorful peppers.
'Hungarian Paprika': This sweet, spicy pepper is meant to dry and grind into a splendid seasoning.
Fiery
'Mariachi': An All-America Selections winner in 2006, 'Mariachi' is a hot pepper that ripens beautifully from a creamy white to vivid red.
'Royal Black': Small dark-red-to-purple hot peppers grow on plants with equally stunning dark foliage.
'Fresno': Tasty, hot fruits grow pointy end up on medium-size plants and ripen from green to orange to fire-engine red.
Suicidal
'Bhut Jolokia': With a Scoville rating of 855,000, the ghost pepper is the hottest commercially cultivated chili. Plant and eat at your own risk.
View Comments