Mark Weathington, director of the JC Raulston Arboretum at NC State University in Raleigh, North Carolina, discusses several small shrub varieties that provide big interest in a petite package as well as the benefits of selecting the right-size plant for a certain space:
"Rest assured, even if space is limited there are many compact shrubs that will provide color, interest, and excitement. Selecting the right-size plants will ensure that you don't have extra work trying to keep them from swamping their neighbors. Consider each plant a critical piece of the whole, and don't hesitate to move something around or remove it entirely if it isn't fulfilling its role."
Aside from picking a shrub you know will stay small and considering how it will fit among its neighbors, it is also important to know whether a certain shrub grows well in your region. Find four small but mighty shrubs for the Southern Plains below, and discover more compact shrubs in Mark's article Compact Shrubs That Provide Color, Interest, and Excitement.
More:
Additional gardening information for the Southern Plains region
See the best compact shrubs for the other regions
---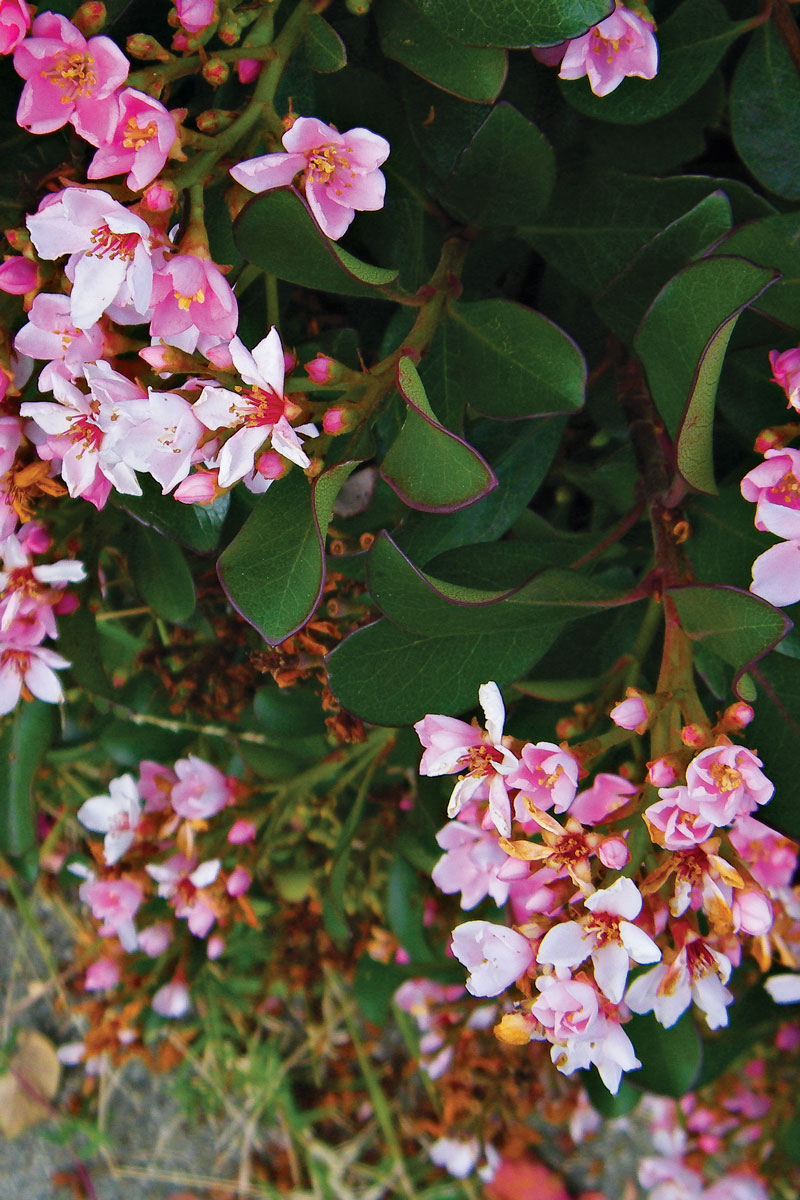 1. 'Dwarf Pink' Indian hawthorn 
Name: Rhaphiolepis indica 'Dwarf Pink'
Zones: 7–10
Size: 3 feet tall and 3 feet wide
Conditions: Full sun to partial shade; well-drained soil
Native range: China
'Dwarf Pink' Indian hawthorn is an outstanding shrub that can withstand reflective heat from driveways and sidewalks and is forgiving when busy gardeners forget to water. Its tidy globose-like growth habit and showy, dark green foliage make it an impressive addition to anyone's plant palette. And if that weren't enough, 'Dwarf Pink' reliably blooms in the heat of late spring, smothering the periphery of the shrub in pink fragrant flowers; this cultivar also blooms intermittently throughout summer, giving plant enthusiasts more bang for their buck. An evergreen, this gem provides winter beauty (bronze-red foliage during cold weather) when many other shrubs are defoliated.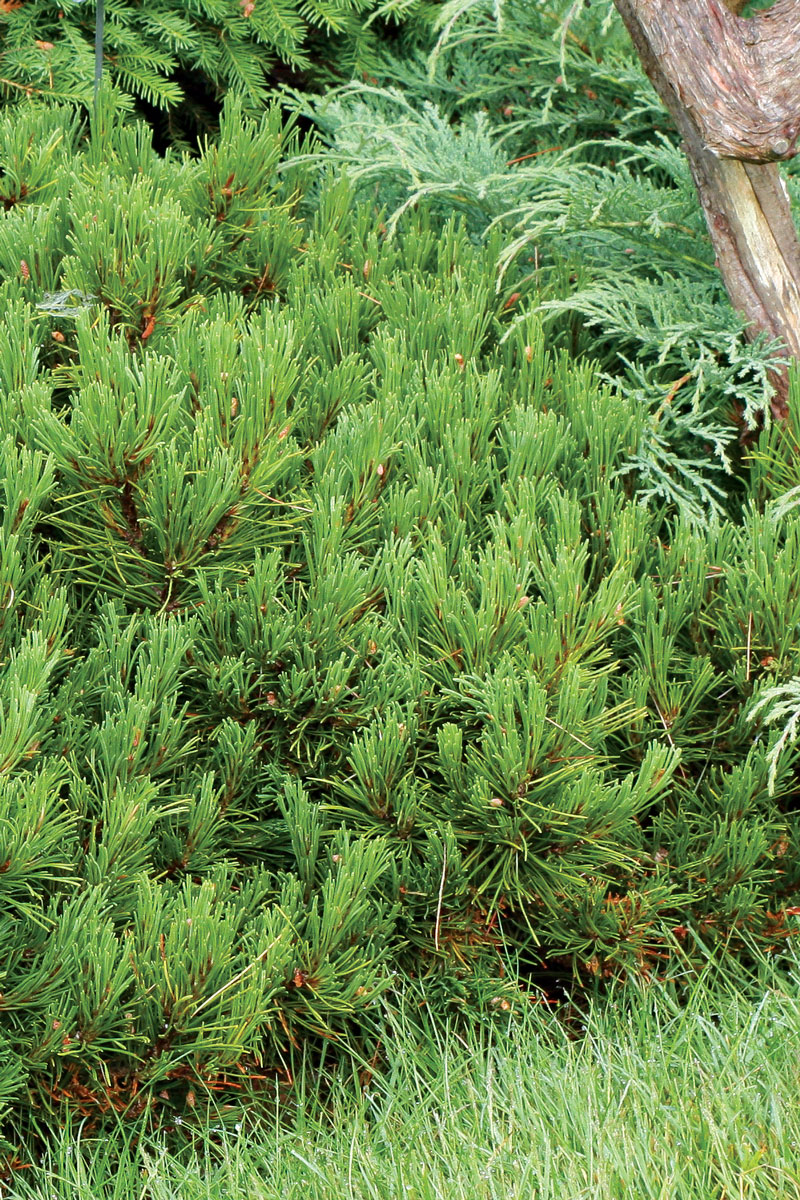 2. Dwarf mugo pine
Name: Pinus mugo var. pumilio
Zones: 2–8
Size: 5 feet tall and 9 feet wide
Conditions: Full sun to partial shade; moist, well-drained soil
Native range: Central and Southern Europe
This diminutive variety is not only better behaved in cramped quarters than the straight species, but it also retains greater symmetry throughout the years, making it more predictable for gardeners. Because dwarf mugo pine is evergreen, it is nearly as showy in the dead of winter as it is during the growing season. Its widespread availability and tolerance for colder climates makes it readily accessible and easy to cultivate in most of the country short of the Deep South. Grow it in middle to foreground areas of your borders, in foundation plantings, or even in rock gardens. This shrub grows slowly enough that it also is a viable candidate for large planters.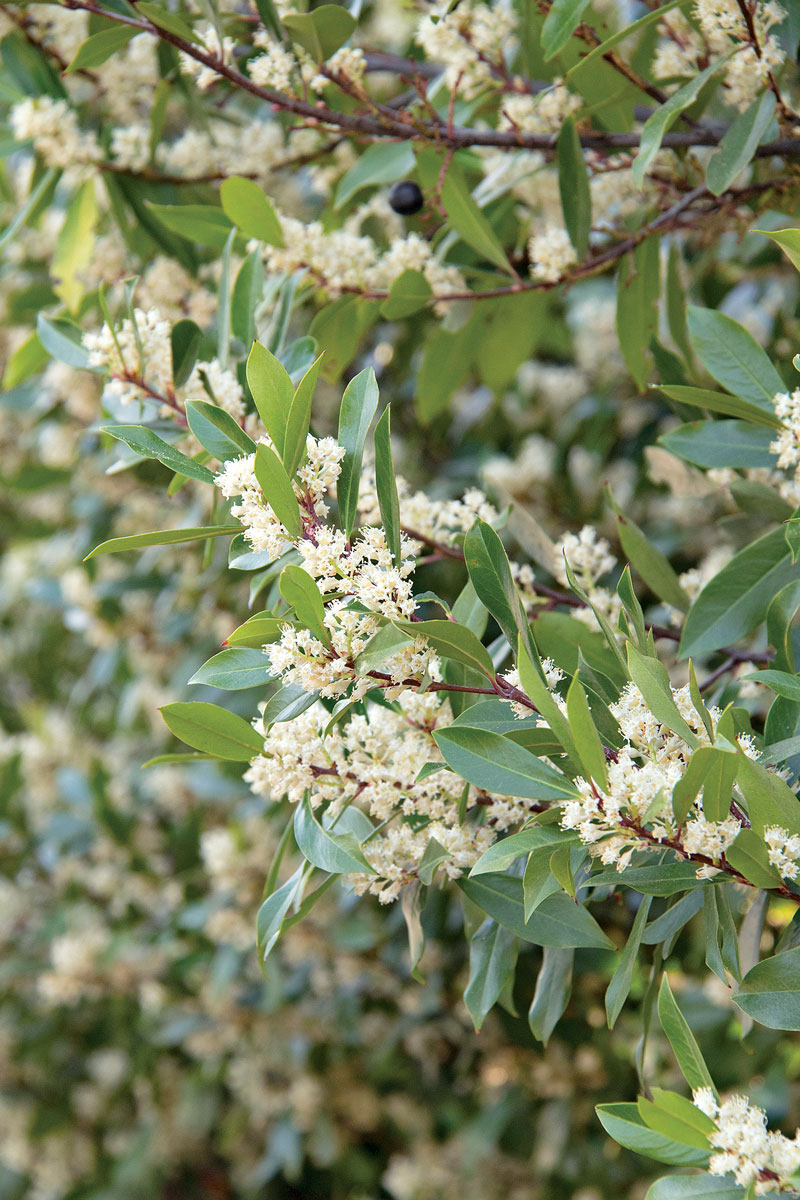 3. Bright 'n Tight

™

Carolina Laurel 
Name: Prunus caroliniana 'Monus'
Zones: 7–10
Size: 10 feet tall and 8 feet wide
Conditions: Full to partial shade; moderately moist; lighter soil
Native range: Southeastern United States
An indigenous broadleaf evergreen, this variety satisfies a number of demands from gardeners seeking year-round curb appeal. Given its glossy sheen, it is showy 365 days based on its foliage alone, which, when bruised, emanates a maraschino cherry–like fragrance. Bright 'N Tight™ has a trimmer silhouette than most cherry laurels and has striking, fragrant white flowers in spring followed by small black fruit. Use this shrub alone or closely planted for a broadleaf hedge that makes an outstanding living fence. Cherry laurels are wonderful for providing shelter to birds and other animals. They're also great pollinator hosts.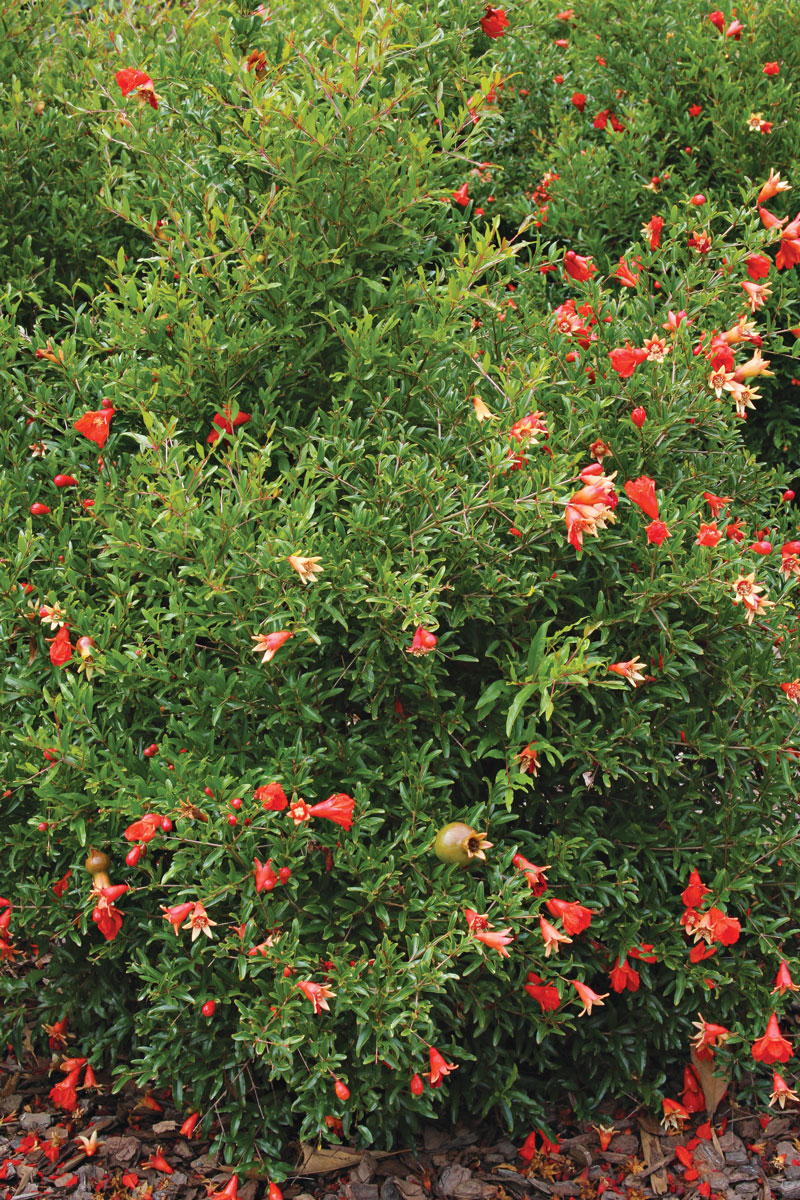 4. Dwarf pomegranate
Name: Punica granatum 'Nana'
Zones: 7–10
Size: 3 feet tall and 3 feet wide
Conditions: Full sun to dappled shade; well-drained soil
Native range: Iran
This tough-as-nails shrub is more cold hardy than other pomegranate varieties. Couple this with the fact that it is not fussy about soil conditions, and you suddenly realize this plant can be used in a number of settings both for aesthetics and utility. Dwarf pomegranate looks great as a standalone specimen, en masse, or even planted as a small hedge. Northern gardeners can grow this variety as a houseplant. The glossy foliage, which is semi-evergreen in Zones 8 and warmer, is an outstanding reddish orange. Fragrant flowers appear throughout summer, followed by attractive, though essentially inedible, orange-red fruits. Dwarf pomegranate is a crowd-pleaser any way you slice it.
---
Mike Schnelle is an extension specialist at Oklahoma State University in Stillwater, Oklahoma.