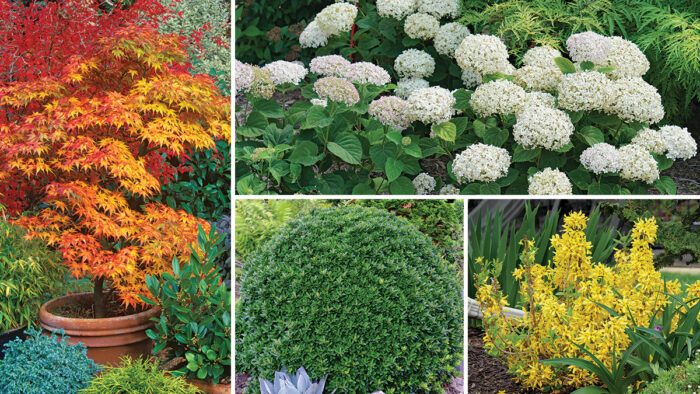 Today's landscapes tend to be small. Even where space is available, many gardeners tend to have other interests and obligations that leave them with less time to cultivate a large space. Creating diversity, interest, and excitement is more critical in a smaller garden, because each plant must contribute to the overall aesthetic and hold its own without requiring much time or effort.
Rest assured, even if space is limited there are many compact shrubs that will provide color, interest, and excitement. Selecting the right-size plants will ensure that you don't have extra work trying to keep them from swamping their neighbors. Consider each plant a critical piece of the whole, and don't hesitate to move something around or remove it entirely if it isn't fulfilling its role. See the best compact shrubs for your region.
Distinctive forms add interest in every season
---
'Mikawa Yatsubusa' Japanese maple has elegant architecture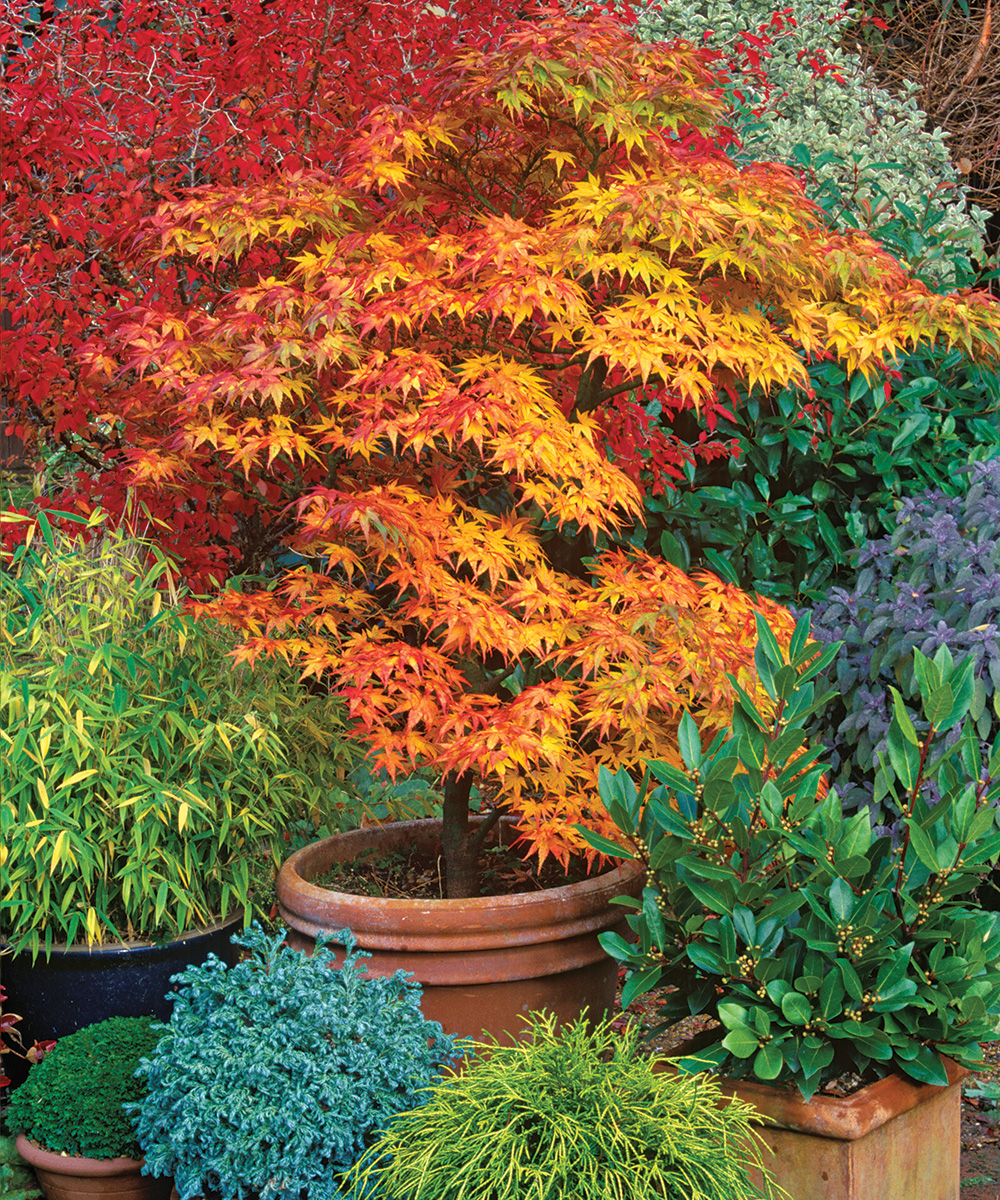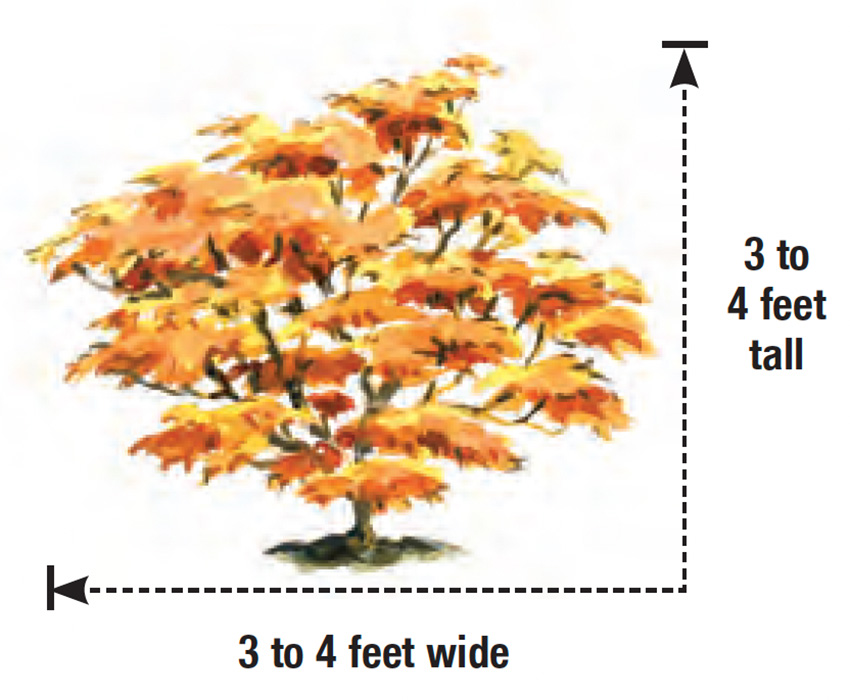 Name: Acer palmatum 'Mikawa Yatsubusa'
Zones: 5–9
Conditions: Full sun to partial shade; rich, moist, well-drained soil
Native range: Japan
Among the many thousands of Japanese maple selections (some of which could be considered either small trees or large shrubs), there is probably a cultivar for every location. Where space is a priority, one of my favorites is 'Mikawa Yatsubusa'. This plant is among the smallest of the group, with tightly overlapping green, star-shaped leaves. Fall color (pictured) is a blaze of gold, red, and orange like a miniature bonfire. The architectural winter branching can be nearly as lovely as the plant in full leaf. I grow this as a container plant in mostly full sun, but it tolerates most light conditions other than deep shade.
Stonehenge® yew has a slender profile and a small footprint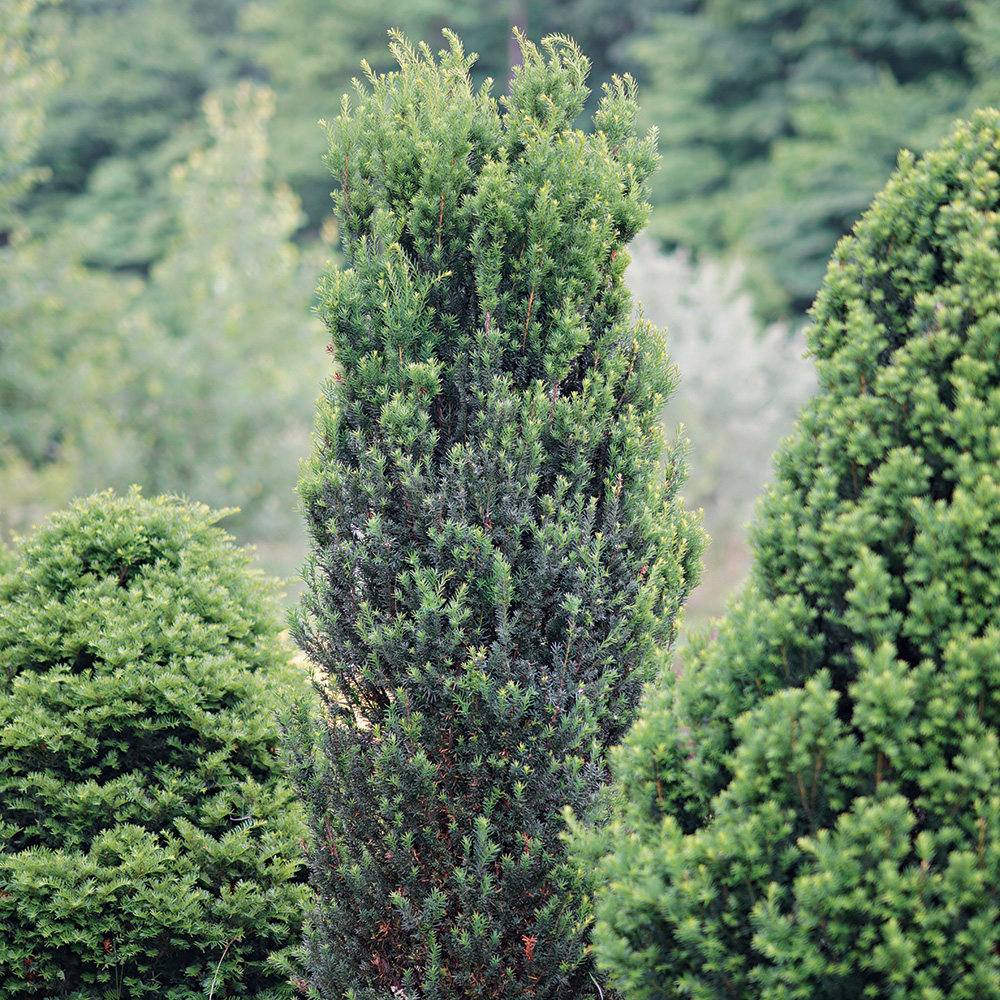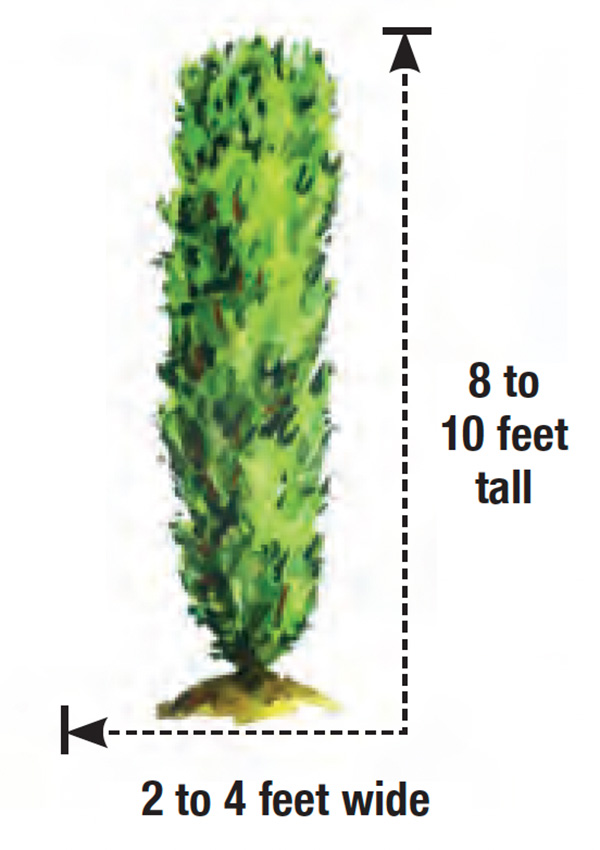 Name: Taxus × media 'SMNTHDC'
Zones: 4–7
Conditions: Full sun to full shade; average to moist, well-drained soil
Native range: Hybrid of English and Japanese species
Lack of space does not necessarily preclude some height. Indeed, a small landscape filled with 3-foot-tall plants could be quite boring. Vertical accents such as Stonehenge® yew add interest without taking up much space. This sturdy, upright, evergreen conifer grows only a few feet wide, creating a column of green in the landscape. It is great as an accent, narrow hedge, or focal point where it will draw the eye. Like other yews, this is an easy plant to grow in either sun or shade.
'Royal Ruby' Japanese leucothoe is graceful and evergreen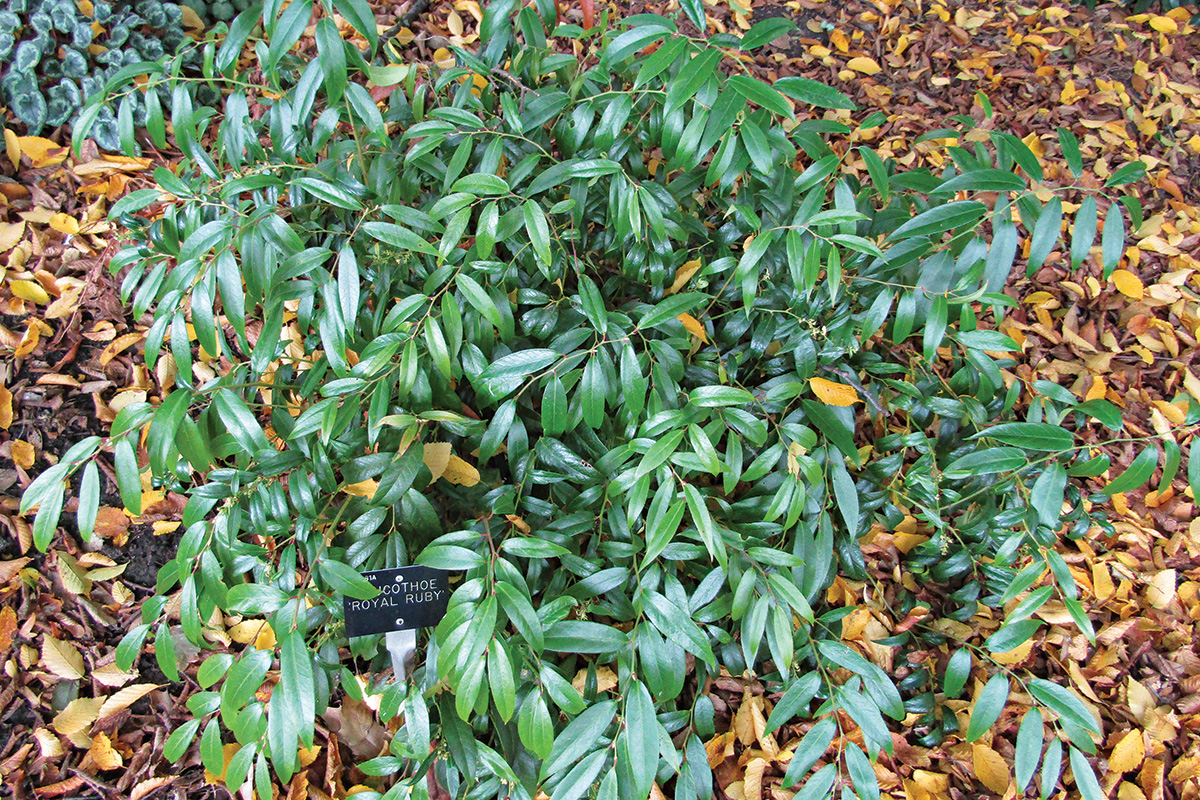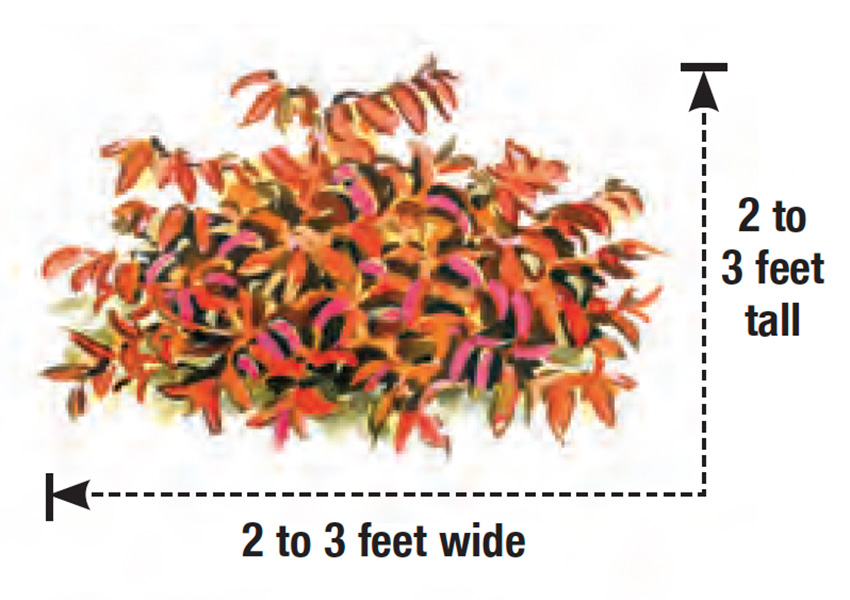 Name: Leucothoe keiskei 'Royal Ruby'
Zones: 6–10
Conditions: Partial shade; moist, acidic, well-drained soil
Native range: Japan
Japanese leucothoe is less well known than some of its relatives in the heath family, though the genus is found in both the eastern and western United States and across much of Southeast Asia. 'Royal Ruby' Japanese leucothoe is a small, exceptionally graceful evergreen plant that deserves more use, especially in small gardens. The new growth in spring emerges coppery red to bright burgundy. Its clusters of small, bell-shaped white flowers are lightly fragrant. The foliage becomes green during the growing season and then changes to burgundy to plum in fall and winter. The graceful, arching stems look especially good planted on slopes and hillsides.
Eye-catching flowers brighten a small space
---
Sugar Baby® forsythia is like sunshine on a cloudy day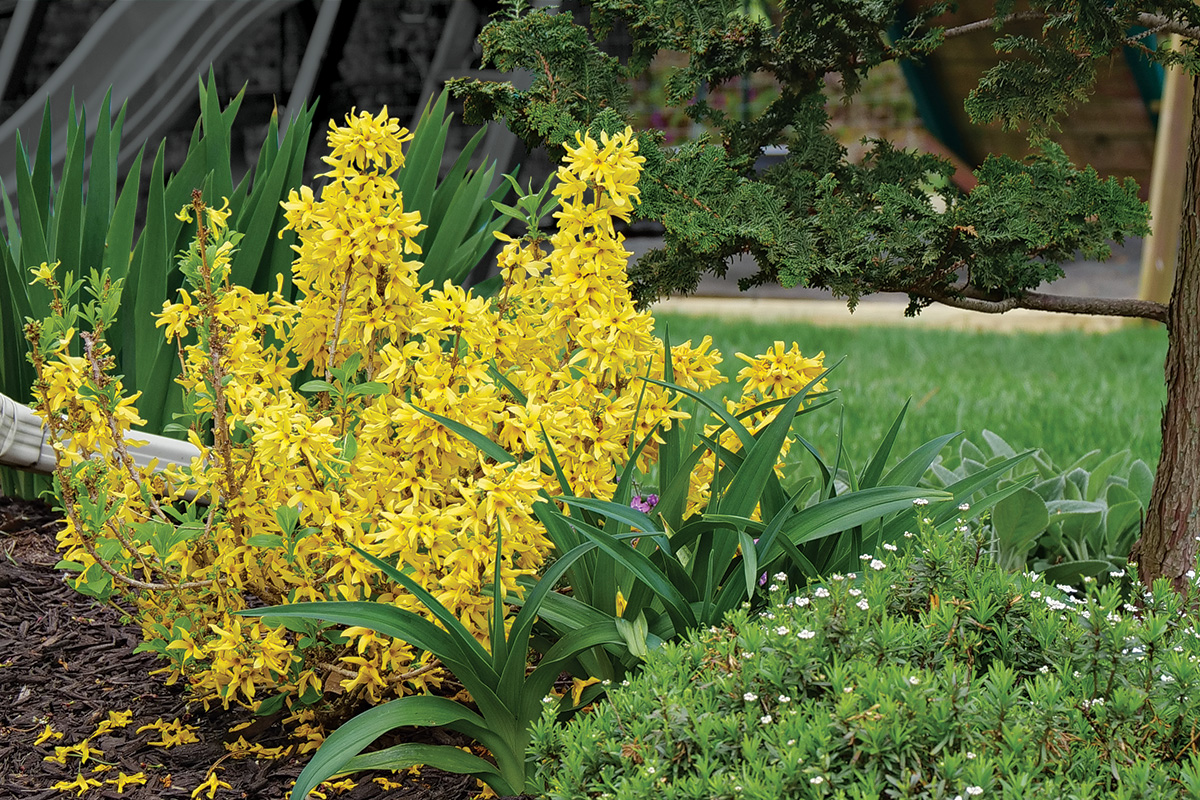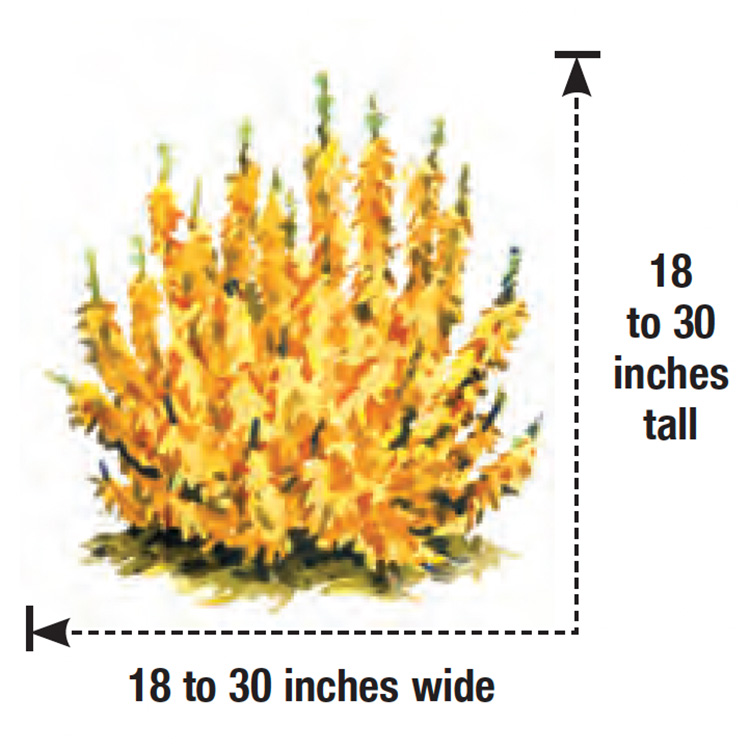 Name: Forsythia × intermedia 'Nimbus'
Zones: 5–8
Conditions: Full sun; well-drained soil
Native range: Hybrid
The glorious gold flowers of forsythia are a mainstay of the spring garden, but older forms tend to be more rambunctious than a small garden can contain. Sugar Baby® forsythia takes that cheery spring color and combines it with a diminutive form that does not require pruning to keep small. I have found that the plants really thrive when I cut out some of the oldest stems every year or two. Common instructions say to prune forsythia immediately after flowering, but I actually like to prune a few older stems in late winter to bring indoors. Placed in water, the forced flowers bring a bit of spring to the house as much as a month early.
For unusual spring color, plant 'Swamp Hobbit' anise shrub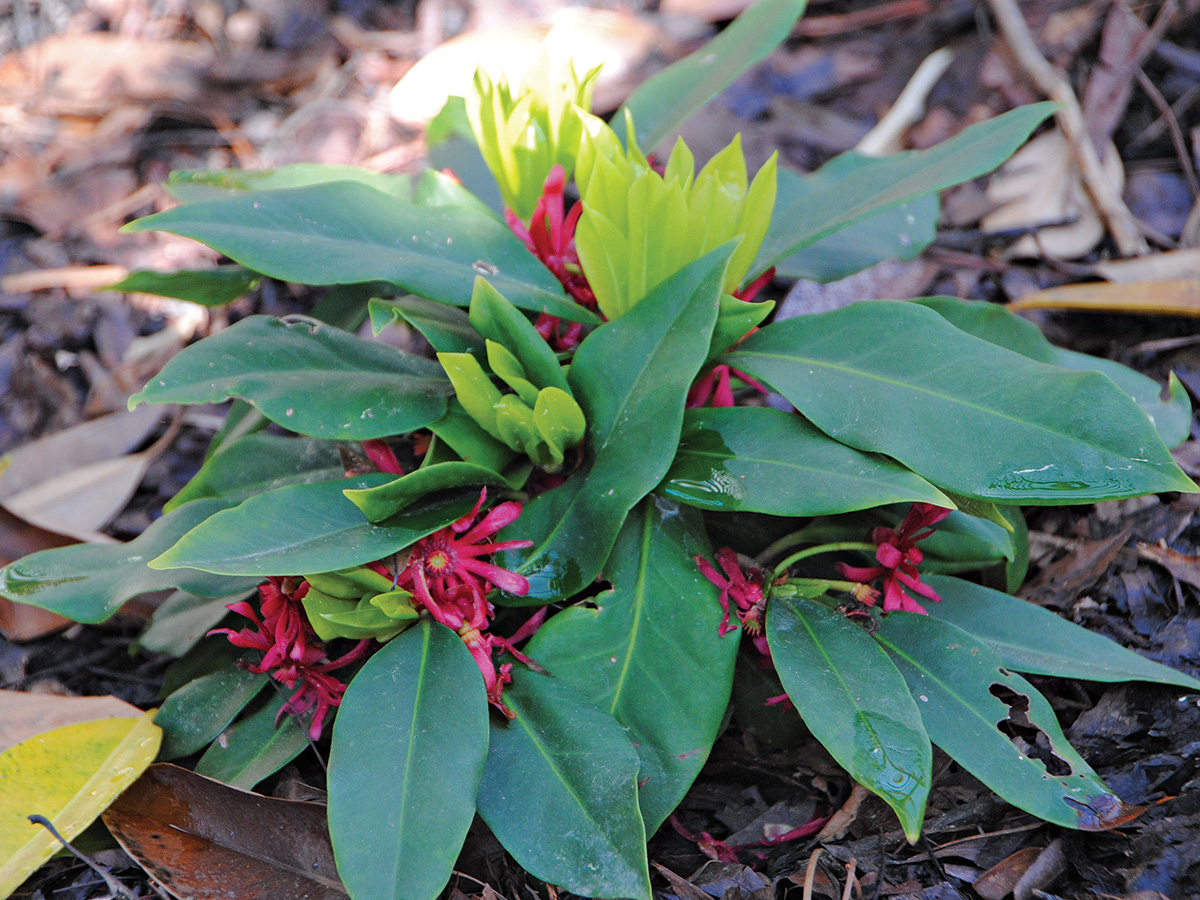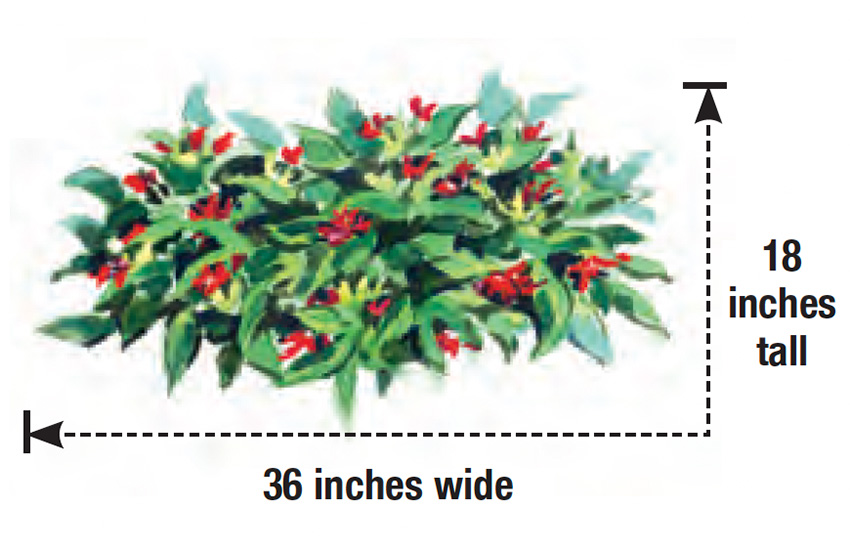 Name: Illicium floridanum 'Swamp Hobbit'
Zones: 6–9
Conditions: Full sun to partial shade; adaptable to most soil types
Native range: Southeastern United States
Plants that are exceptionally deer resistant are worth their weight in compost, and some of the best evergreen shrubs in this category are anise or star-flower shrubs (Illicium spp. and cvs., Zones 6–10). Most species and selections are much too large for smaller gardens, but 'Swamp Hobbit' anise shrub, a form of our native southeastern species, fits right in wherever you need it. It has full-size deep green leaves that are aromatic when crushed and provide the perfect backdrop for its large red flowers in spring. Use this adaptable shrub to provide structure in a perennial bed, or plant it in a mass to act as a woody ground cover. It is drought tolerant once established.
'Raulston Hardy' small-leaf viburnum is impressively adaptable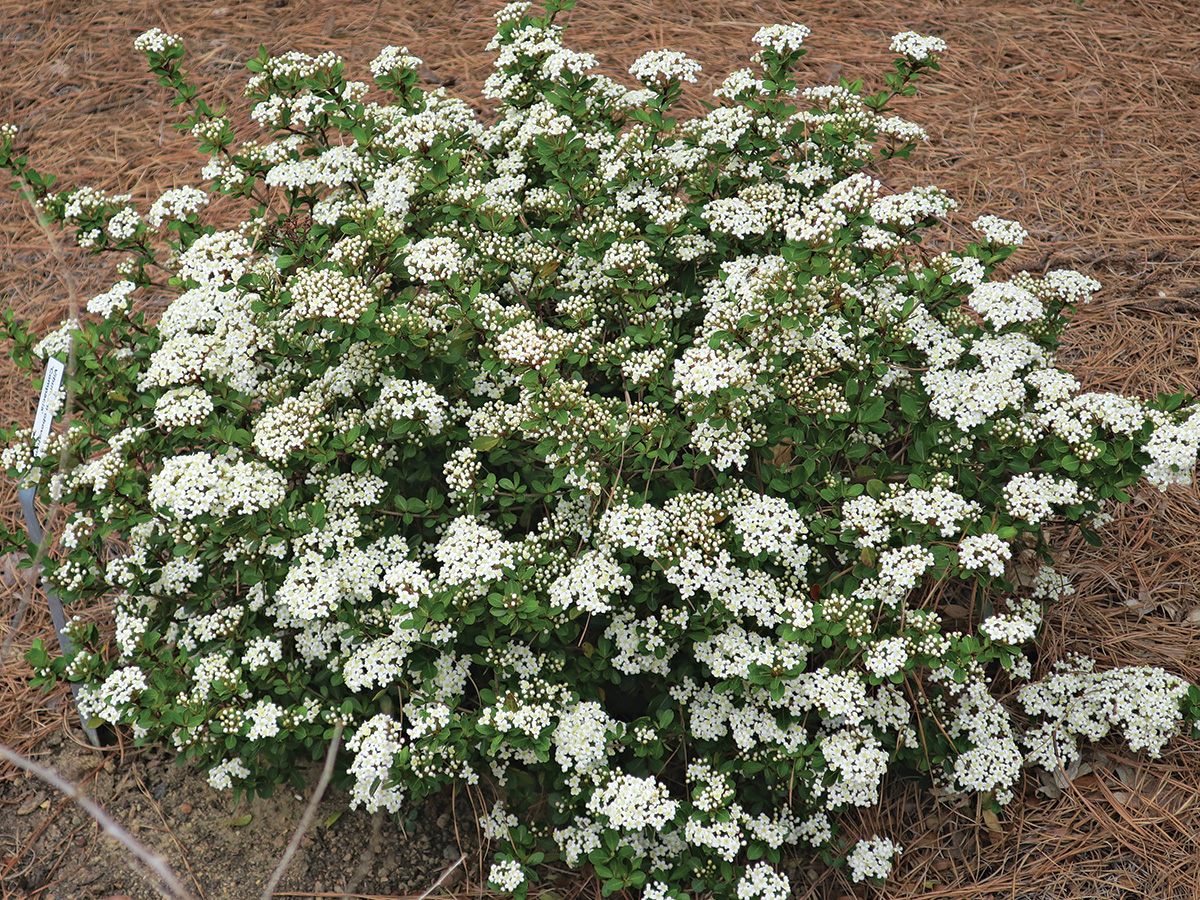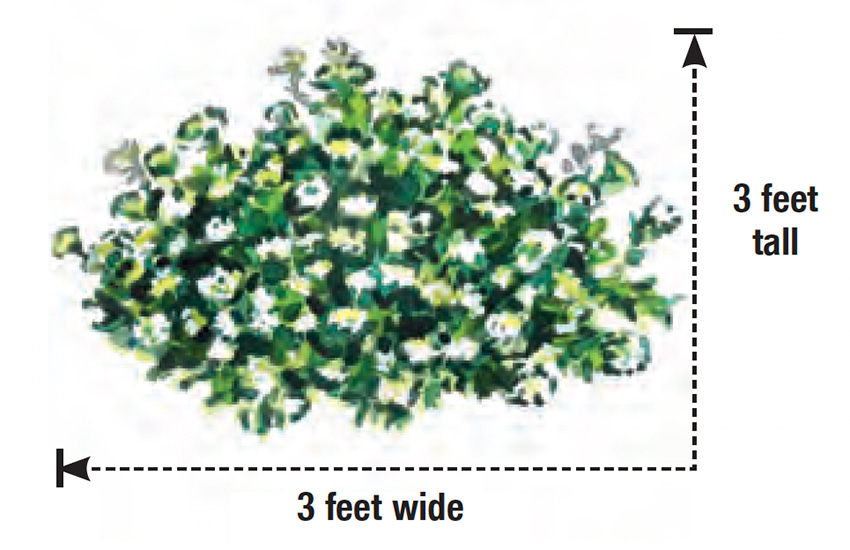 Name: Viburnum obovatum 'Raulston Hardy'
Zones: 6–10
Conditions: Full sun to full shade; wet to dry soil
Native range: Southern United States
The straight species of small-leaf viburnum (Viburnum obovatum, Zones 6–9), a Deep South native, is an open, rangy plant with petite leaves and white spring flowers. It never made much of an impression on me until our region experienced a 100-year drought. Viburnums were among the shrubs that were hardest hit, but this species didn't skip a beat. An unnamed dwarf form that we were evaluating at the JC Raulston Arboretum proved to be the most evergreen of the bunch during a particularly cold winter and so was named 'Raulston Hardy'. It often begins to flower a bit in October and continues throughout winter until it explodes in bloom in April. The foliage takes on plum tints as the temperatures drop, and plants can become deciduous in a particularly cold winter. As it ages it can sucker in lighter soil to form a colony that's perfect for stabilizing banks.
Invincibelle Wee White® smooth hydrangea offers classic blooms on a small frame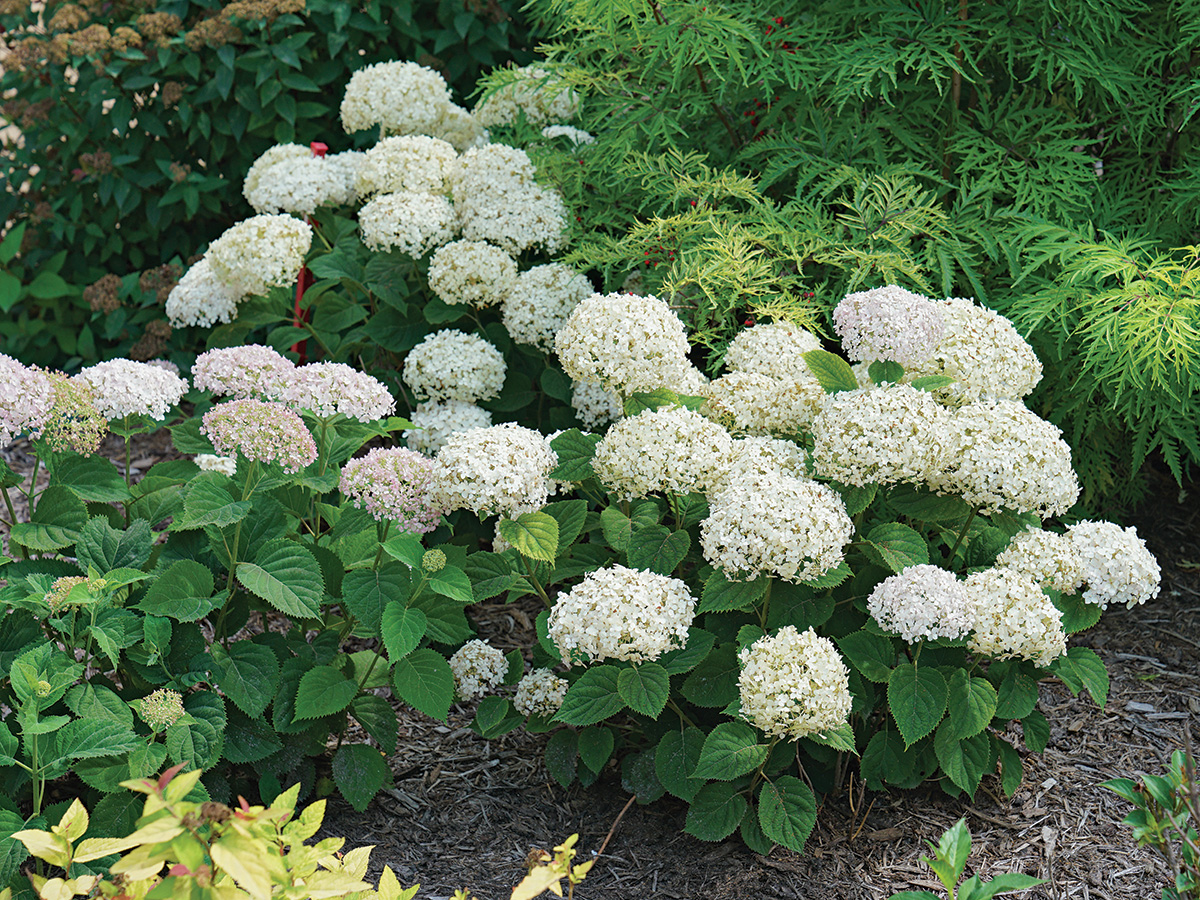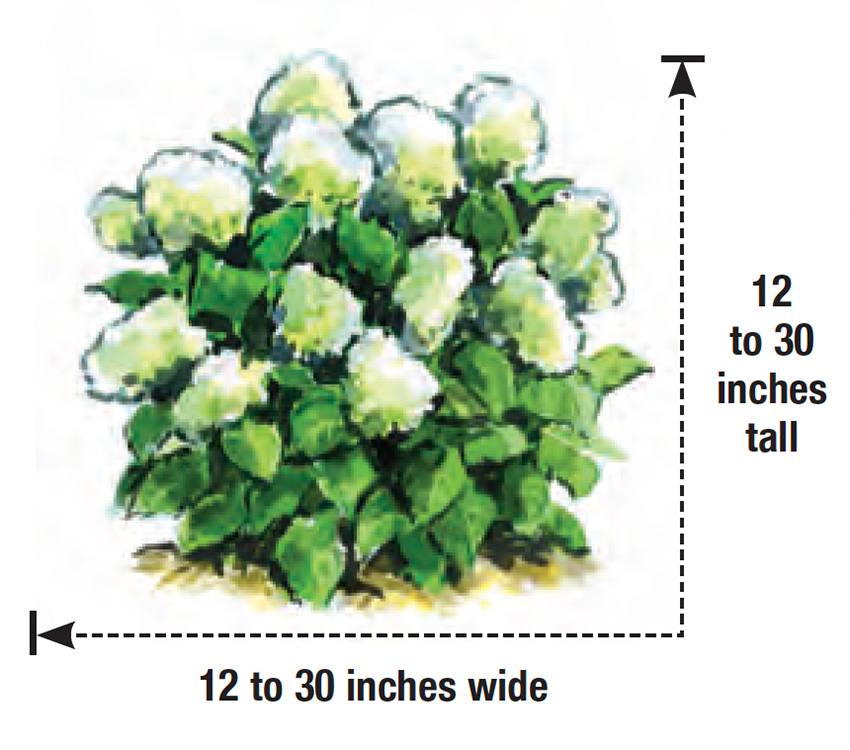 Name: Hydrangea arborescens 'NCHA5'
Zones: 3–9
Conditions: Partial shade; average to moist soil
Native range: Eastern United States
After years of being seen as the inferior cousin to the brash bigleaf hydrangeas (Hydrangea macrophylla, Zones 5–9), our native smooth hydrangea is finally getting the recognition it is due. Invincibelle Wee White® smooth hydrangea takes all we love about the classic 'Annabelle' and shrinks it down. Big clusters of white flowers held on sturdy stems top the shrub in early to midsummer. Best of all, there's no confusion when it comes to winter pruning. This species can be cut back hard each winter or left alone, and it will still flower well. I trim it back by a third or more in winter for a dense, well-branched structure and plenty of flowers. I find that deer tend to pass it by in favor of other shrubs, but your results may vary.
Refined foliage takes a design to the next level
---
Laced Up® elderberry sends up sprays of fine burgundy foliage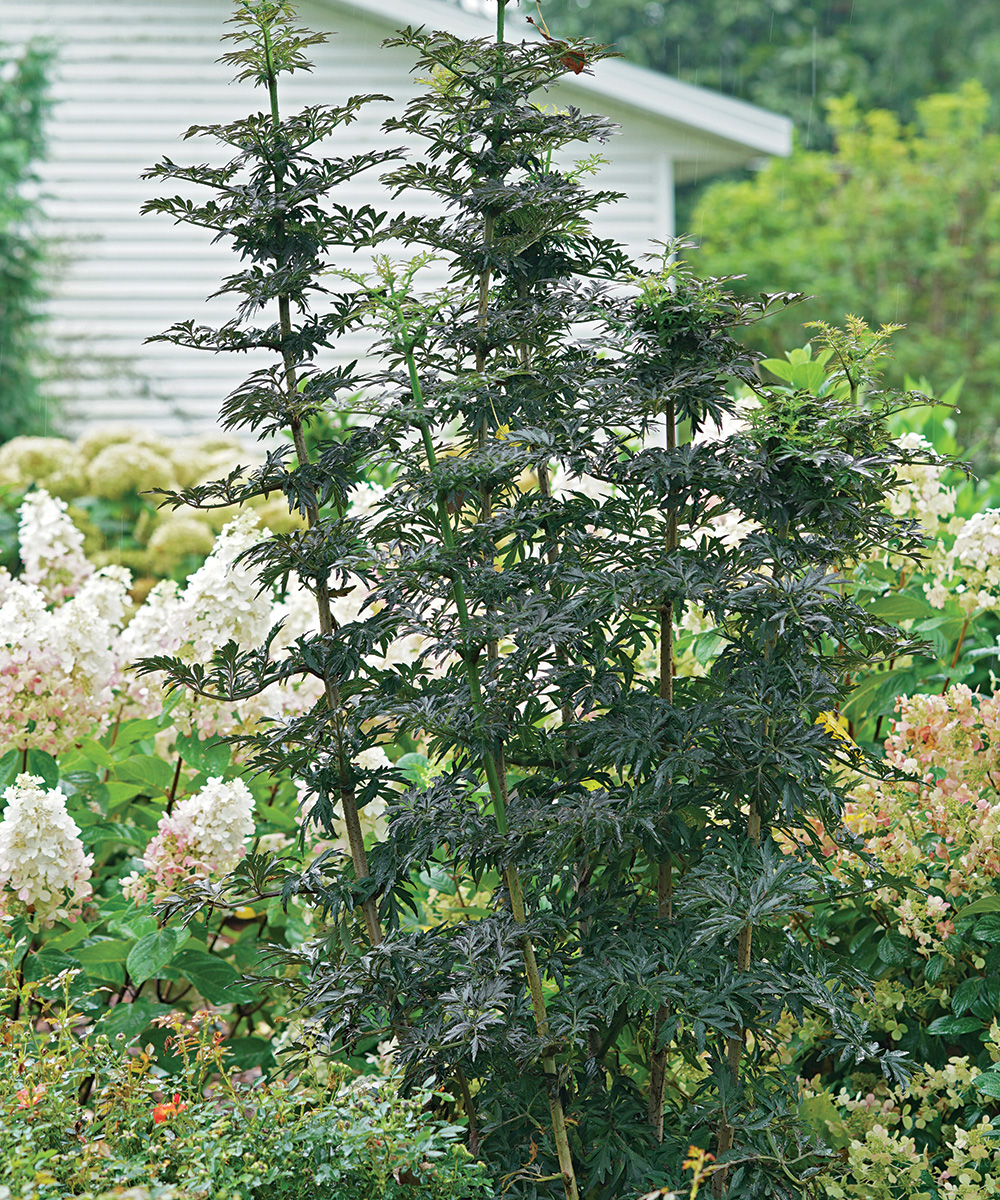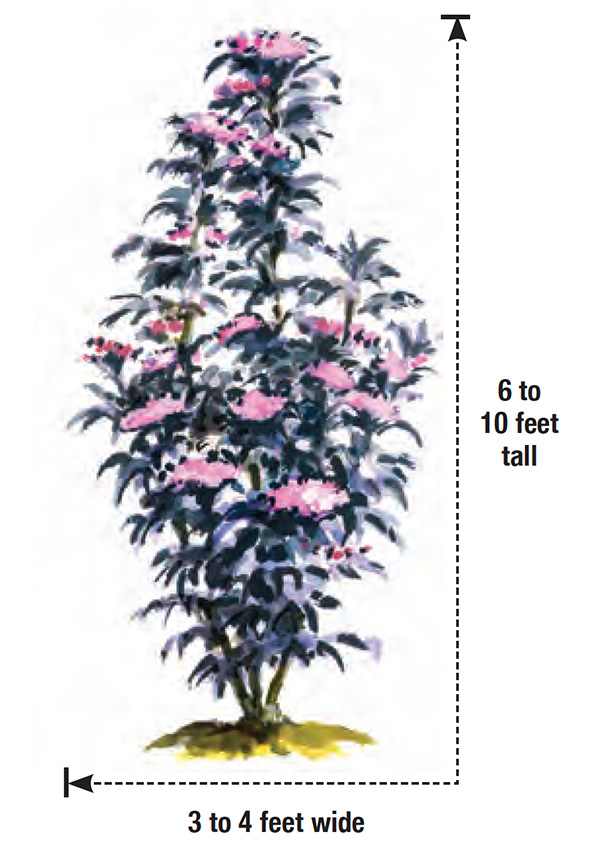 Name: Sambucus nigra 'SNR1292'
Zones: 4–7
Conditions: Full sun to full shade; average to moist soil
Native range: Europe, southwestern Asia and northern Africa
If you desire flowers and interesting foliage, Laced Up® elderberry might be just the ticket. This dramatic elderberry grows up to 10 feet tall with a narrow habit. The foliage emerges deep burgundy-black, and the flat clusters of pale pink flowers open in early summer. Prune just after flowering, if needed, to ensure flowers for the following year. If other forms of black elderberry are in the vicinity, expect clusters of tart fruit as well. Plants are best grown in sun to light shade in areas that do not experience long periods of intense summer heat.
Brighten a shady spot with 'Kokonoe-yama' mountain hydrangea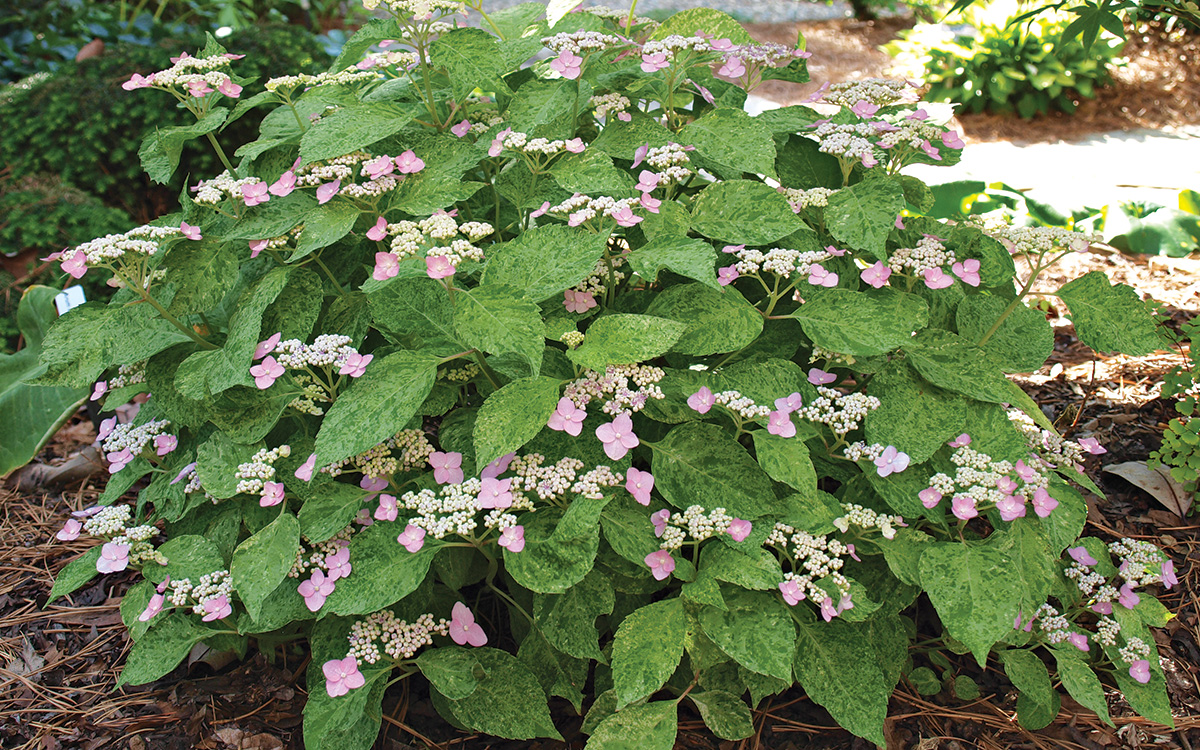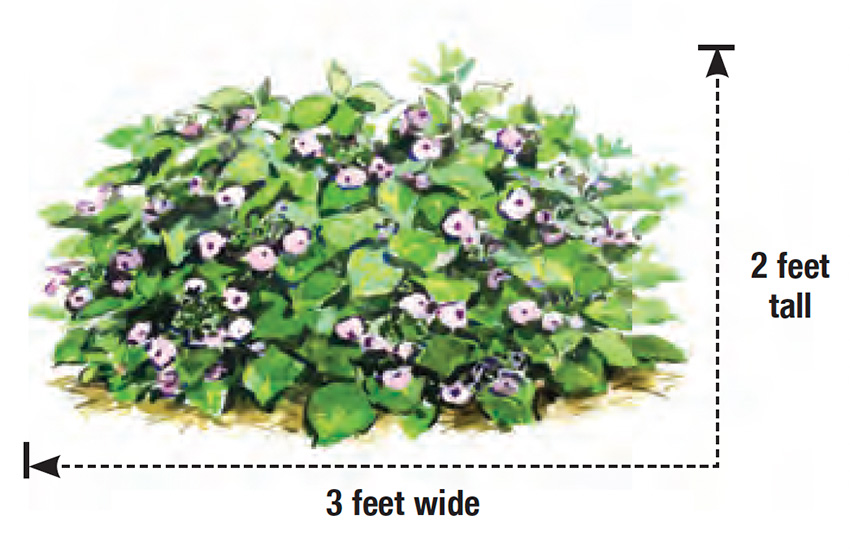 Name: Hydrangea serrata 'Kokonoe-yama'
Zones: 5–9
Conditions: Partial shade; rich, moderately moist, well-drained soil
Native range: Japan
'Kokonoe-yama' mountain hydrangea is another small hydrangea with a big impact. This dwarf selection has a subtle yet beautiful variegation pattern, with foliage that appears to be dusted with white stippling across its surface. The lacecap flower heads range from pale pink to pale blue as the acidity of the soil increases. We find this lovely plant to be the perfect bright background for dark-leaved perennials. In nearly a decade, I have not seen it grow much larger than a few feet tall and wide.
'Oscar' Yaupon holly maintains a tidy habit without pruning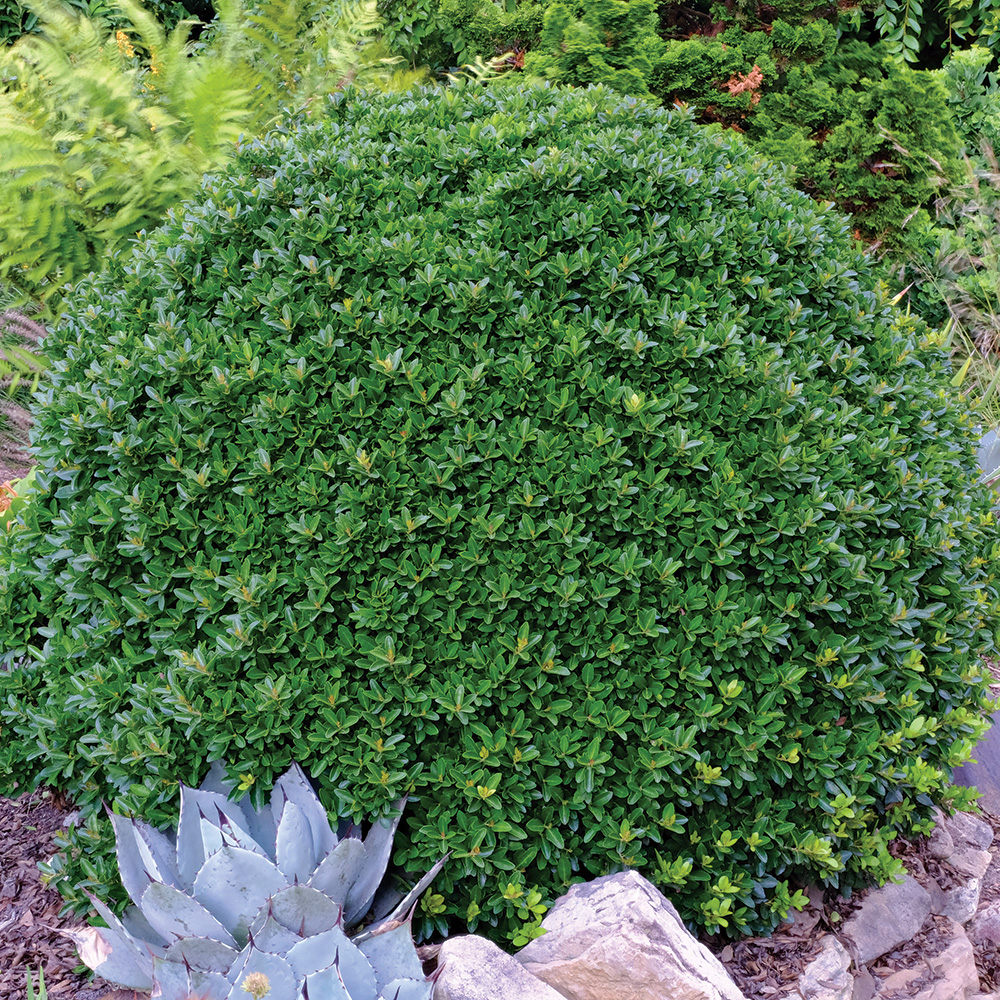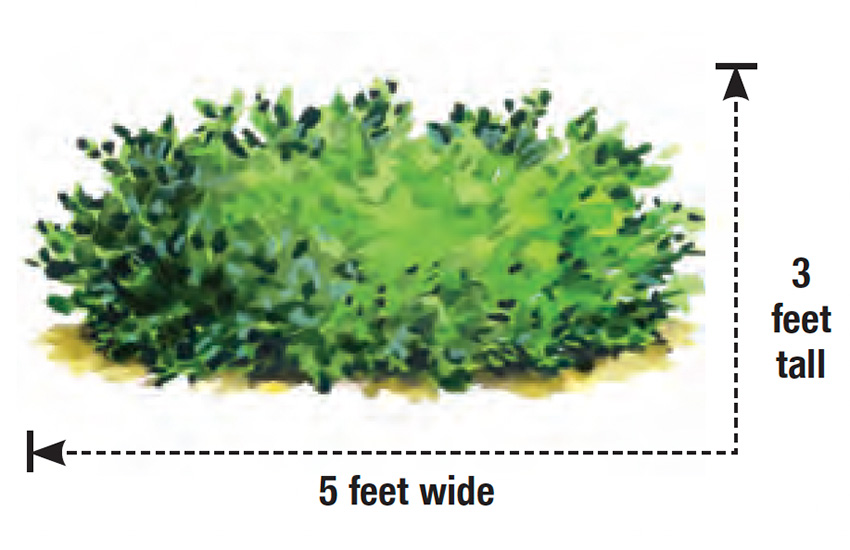 Name: Ilex vomitoria 'Oscar'
Zones: 7–10
Conditions: Full sun to partial shade; average to wet soil
Native range: Southeastern United States
Yaupon hollies are among the most adaptable native shrubs we grow. They tolerate most soil types, grow in both sun and shade, and can be sheared into any shape or left to grow into large shrubs or small trees. For those with less space, 'Oscar' Yaupon holly is a very diminutive selection that makes a round, dense shrub that grows slightly wider than it is tall. Its small size, uniform habit, and evergreen foliage make it an ideal replacement for boxwoods (Buxus spp. and cvs., Zones 4–9) and other shrubs that require regular pruning regimes.
---
Why choose a shrub instead of a perennial?
Often the space a dwarf shrub occupies could be filled with an herbaceous perennial instead. When either plant fits the bill, why include a shrub, which might be more expensive? Here are a few reasons.
Shrubs can help support perennials that may flop if not staked.
They also provide a backdrop for airy flowers that could get lost without a contrasting background.
Shrubs can serve as a framework for restrained vines
Every shrub in my garden has at least one and often two small vines planted at its base. I usually stick to vines that can be cut to the ground in winter for easy cleanup, such as gloriosa lilies (Gloriosa superba, Zones 8–10).
Shrubs provide year-round presence
Whether evergreen or deciduous, they provide continuity and cohesion through all the seasons. Flowers come and go, but woody plants anchor the garden. The sense of permanence they provide is reassuring, while they also allow for more playfulness and experimentation with the ephemeral beauty of herbaceous annuals and perennials.
---
Mark Weathington is the director of the JC Raulston Arboretum at NC State University in Raleigh, North Carolina.
Illustrations: Elara Tanguy
Sources