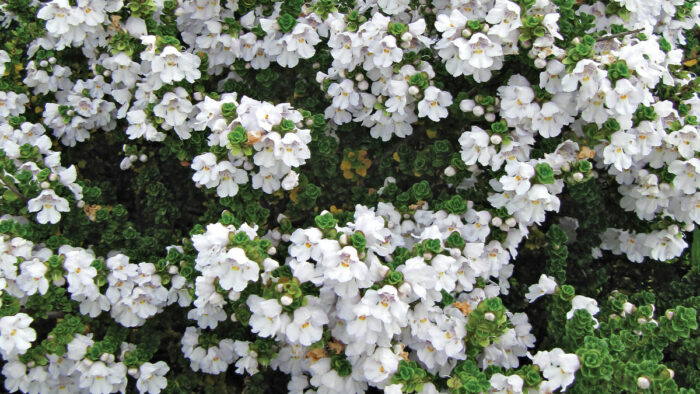 Mark Weathington, director of the JC Raulston Arboretum at NC State University in Raleigh, North Carolina, discusses several small shrub varieties that provide big interest in a petite package as well as the benefits of selecting the right-size plant for a certain space:
"Rest assured, even if space is limited there are many compact shrubs that will provide color, interest, and excitement. Selecting the right-size plants will ensure that you don't have extra work trying to keep them from swamping their neighbors. Consider each plant a critical piece of the whole, and don't hesitate to move something around or remove it entirely if it isn't fulfilling its role."
Aside from picking a shrub you know will stay small and considering how it will fit among its neighbors, it is also important to know whether a certain shrub grows well in your region. Find four small but mighty shrubs for the Northwest below, and discover more compact shrubs in Mark's article Compact Shrubs That Provide Color, Interest, and Excitement.
More:
Additional gardening information for the Northwestern region
See the best compact shrubs for the other regions
.
---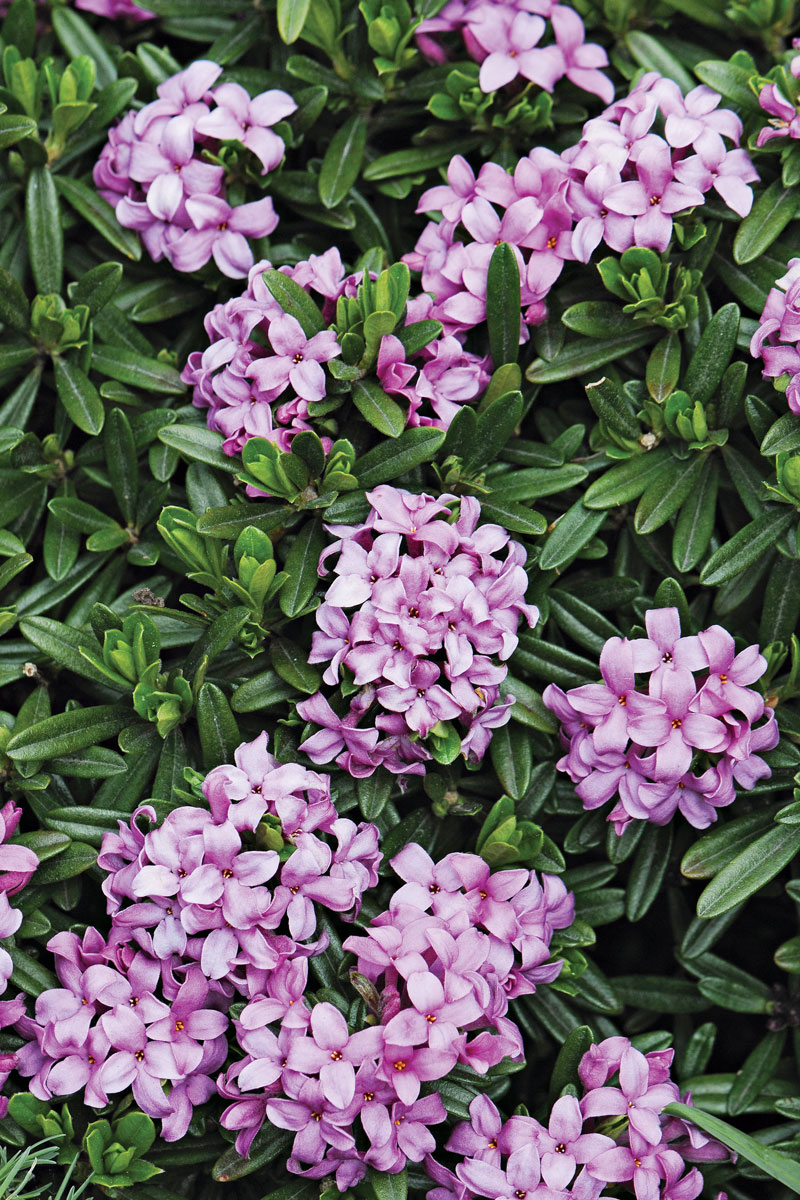 1. 'Lawrence Crocker' daphne
Name: Daphne × medfordensis 'Lawrence Crocker'
Zones: 6–9
Size: 18 to 24 inches tall and 24 to 36 inches wide
Conditions: Full sun to partial shade; consistently moist, well-drained soil
Native range: Garden hybrid of European species
In early spring, a profusion of powerfully fragrant, reddish purple flowers smothers this compact daphne in color. As an added treat after the prolific spring bloom, 'Lawrence Crocker' will rebloom well into summer. This wonderfully carefree evergreen shrub has tiny forest green leaves that highlight the flowers and provide a neat appearance. It seems to resent growing in a container, so it is best planted in the garden even when young. Avoid wet or heavy clay soil, and water it occasionally during prolonged dry weather. It requires no fertilizer once established.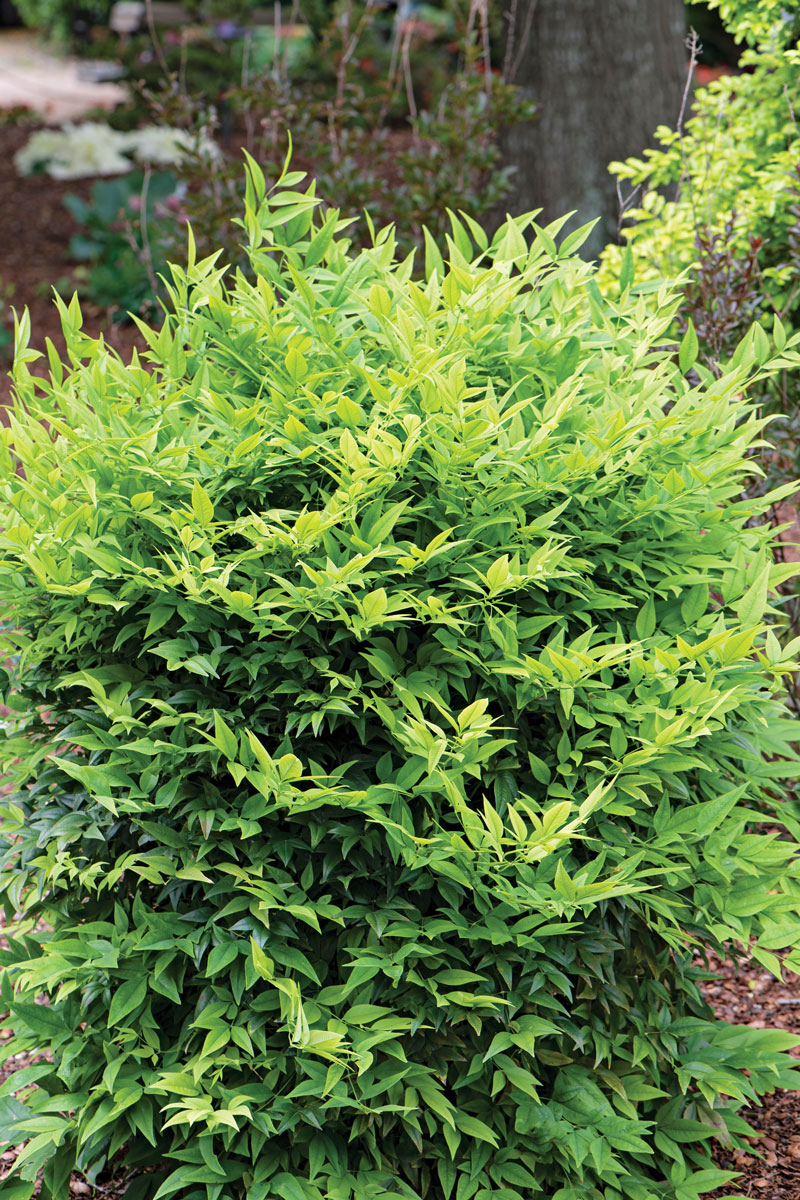 2. 'Lemon-Lime' heavenly bamboo
Name: Nandina domestica* 'Lemon-Lime'
Zones: 6–9
Size: 3 to 4 feet tall and 3 feet wide 
Conditions: Full sun to partial shade; well-drained soil; tolerant of clay or sandy soil 
Native range: Eastern Asia to Japan
We can never have too many small, compact shrubs, and beautiful evergreen foliage is a nice bonus. With its citrus yellow leaves, 'Lemon-Lime' heavenly bamboo is a must-have plant. The delicate-looking, lacy leaves emerge chartreuse, then gradually deepen to a vibrant green. If 'Lemon-Lime' is planted in sun, the new growth will remain sunshine yellow through the growing season. This makes an excellent contrast to the many red and bronze leaf forms of compact heavenly bamboo and would be lovely mixed with them in a mass planting. This selection rarely flowers, giving it a perfect tidy look year-round, and is resistant to deer and rabbit damage.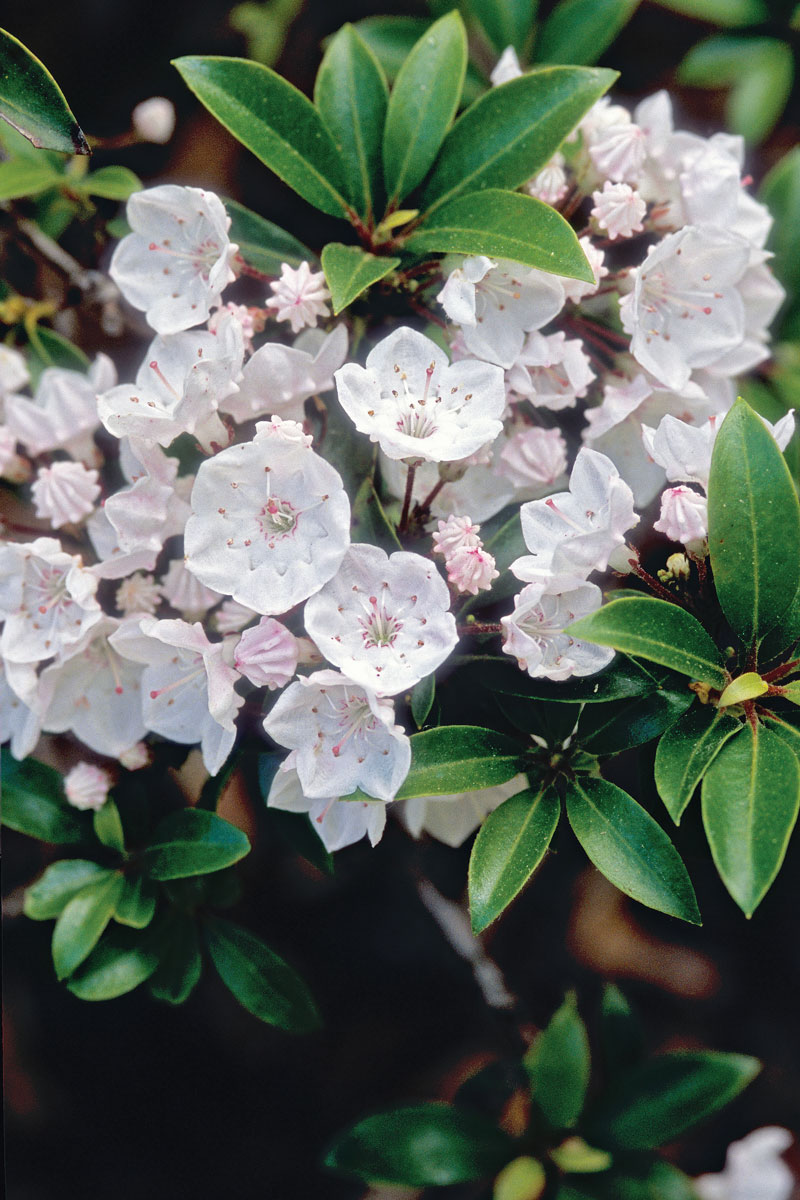 3. 'Elf' mountain laurel
Name: Kalmia latifolia 'Elf'
Zones: 5–9
Size: 3 feet tall and wide
Conditions: Full sun to partial shade; consistently moist, well-drained soil
Native range: Eastern North America
Even without flowers, this slow-growing, charming evergreen shrub would be well worth growing, but it does flower and is quite beautiful. Related to rhododendrons and azaleas (Rhododendron spp. and cvs., Zones 4–9), 'Elf' mountain laurel blooms later in the season and for a longer time. As the flowers develop, they form clusters of light pink balloon-like buds above the foliage that eventually open to pure white cup-shaped flowers. Against the shiny evergreen leaves, they sparkle in their brilliance and are a great way to welcome the transition from spring to summer.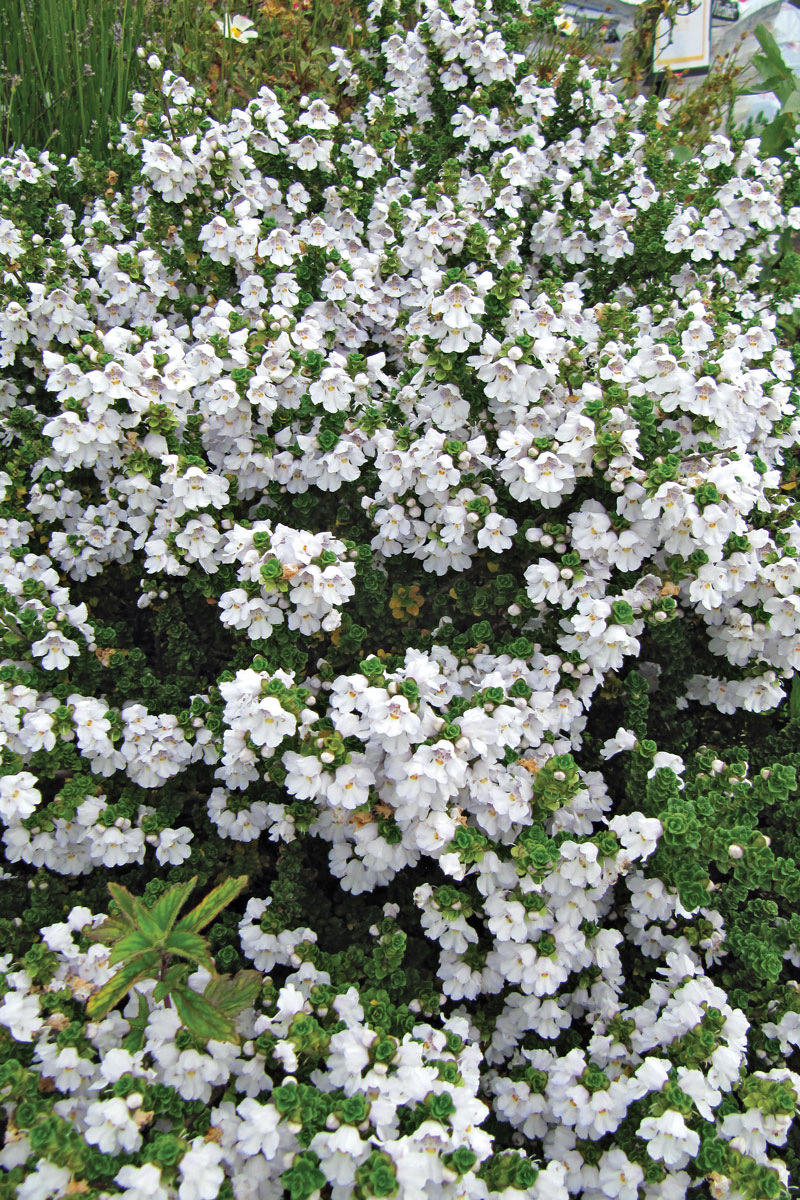 4. Alpine mint bush
Name: Prostanthera cuneata
Zones: 7–10
Size: 2 to 3 feet tall and 3 to 4 feet wide
Conditions: Full sun to partial shade; well-drained soil
Native range: Australia 
This charming mountain shrub brings the Land Down Under to the gardens of the Pacific Northwest. Alpine mint bush is a low-growing evergreen with tiny dark green leaves tightly packed along its stems. When you brush against it, a soothing minty fragrance fills the air. This is an excellent choice for planting in rockeries, in front of a garden bed, or along a pathway where the aromatic foliage can be enjoyed. In late spring, the small, pink-blushed white flowers dotted over the plant add a sparkling effect against the shiny green leaves. Once established, it only requires occasional watering during prolonged dry periods.
---
Richie Steffen is executive director of the Elisabeth C. Miller Botanical Garden in Seattle.
*Invasive alert: Heavenly bamboo
This plant is listed as invasive in AL, FL, GA, MD, MO, and SC.
Please visit invasiveplantatlas.org for more information.