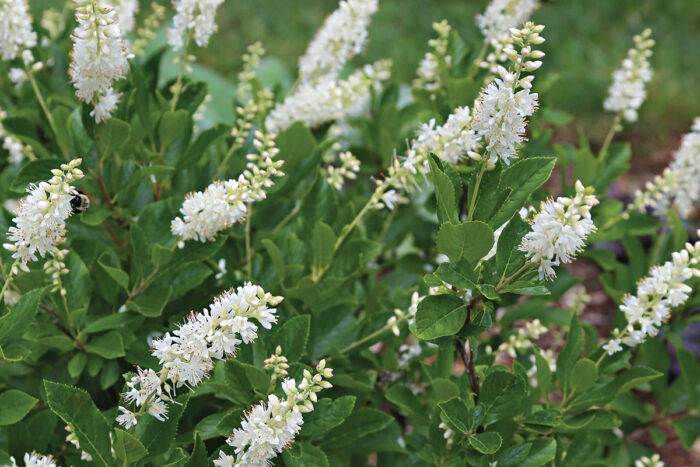 Mark Weathington, director of the JC Raulston Arboretum at NC State University in Raleigh, North Carolina, discusses several small shrub varieties that provide big interest in a petite package as well as the benefits of selecting the right-size plant for a certain space:
"Rest assured, even if space is limited there are many compact shrubs that will provide color, interest, and excitement. Selecting the right-size plants will ensure that you don't have extra work trying to keep them from swamping their neighbors. Consider each plant a critical piece of the whole, and don't hesitate to move something around or remove it entirely if it isn't fulfilling its role."
Aside from picking a shrub you know will stay small and considering how it will fit among its neighbors, it is also important to know whether a certain shrub grows well in your region. Find four small but mighty shrubs for the Northeast below, and discover more compact shrubs in Mark's article Compact Shrubs That Provide Color, Interest, and Excitement.
More:
Additional gardening information for the Northeast region
See the best compact shrubs for the other regions
---
1. Invincibelle Mini Mauvette® smooth hydrangea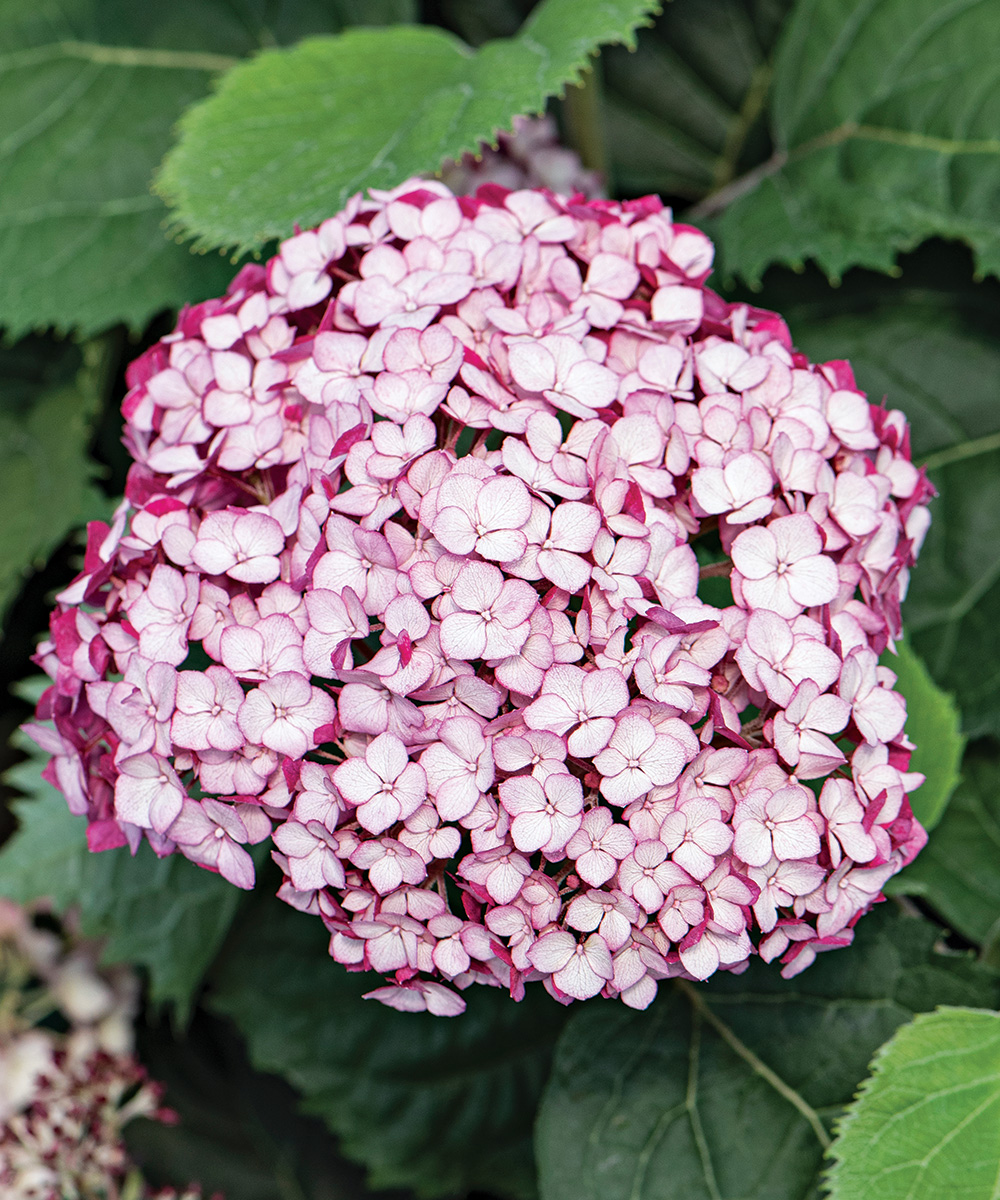 Name: Hydrangea arborescens 'NCHA7'
Zones: 3–8
Size: 30 to 36 inches tall and wide
Conditions: Full to partial shade; moist, well-drained soil
Native range: Eastern United States
You can expect multiple softball-size globes comprised of tiny, densely packed, deep mauve-violet florets from this smooth hydrangea. The blossoms appear continuously on top of new stems, starting in early summer and often continuing to develop until frost; each flower head turns a paler pink as it ages, eventually taking on tawny tones by autumn. The stiff stems of Invincibelle Mini Mauvette® are covered with textured 3- to 8-inch dark green leaves that provide attractive contrast and rigid support for the flower clusters. This recently introduced cultivar offers a revolutionary color. Smooth hydrangeas set their flowers on new growth, so you can prune liberally each year.
2. Celtic Pride® Siberian cypress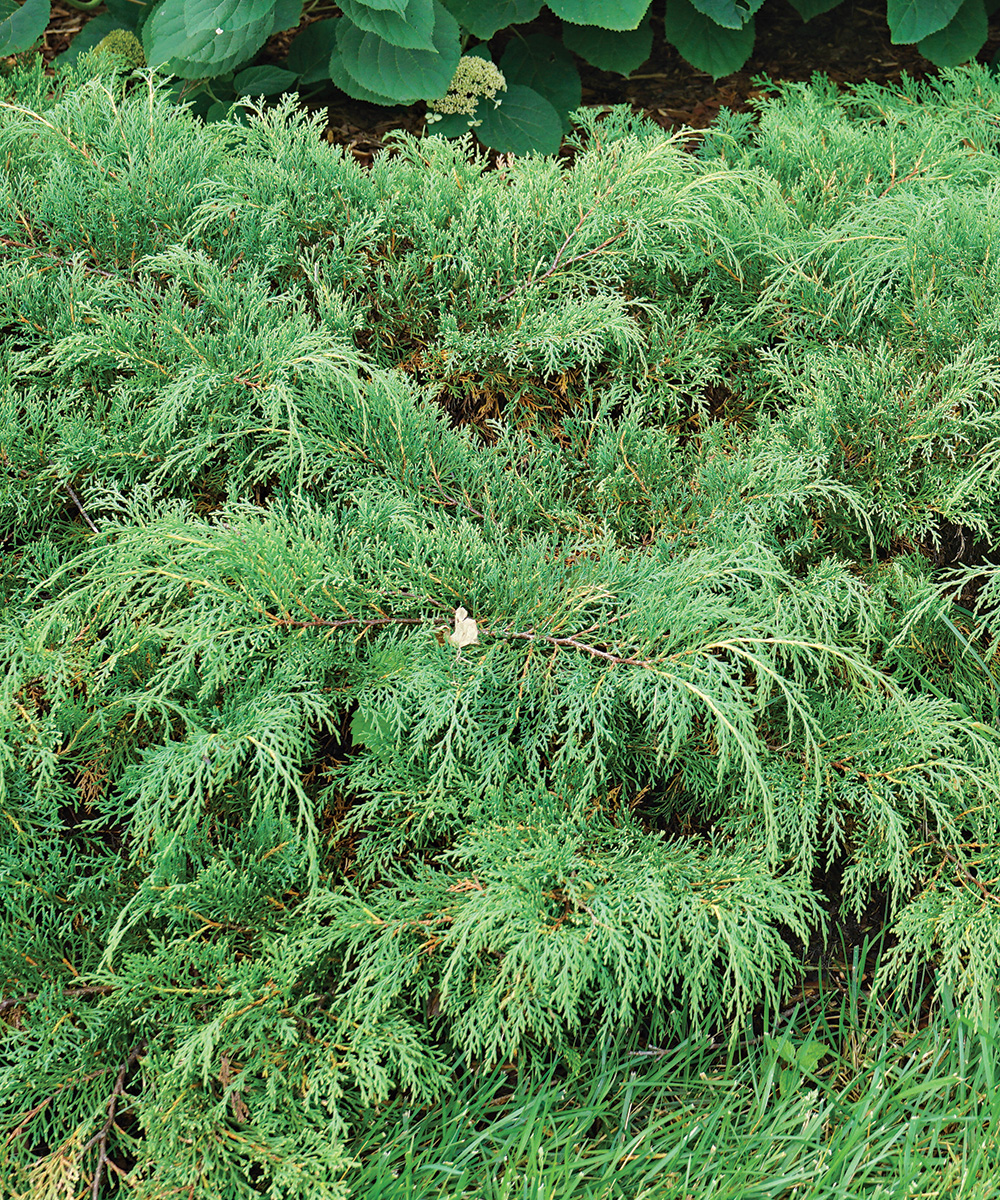 Name: Microbiota decussata 'Prides'
Zones: 2–7
Size: 1 to 3 feet tall and up to 6 feet wide
Conditions: Full sun to full shade; well-drained soil
Native range: Mountains of southeastern Siberia
This Siberian cypress grows similarly to ground-cover junipers, but it is more shade tolerant and more deer and pest resistant. Soft-textured, horizontally mounding branches of fresh green foliage expand into an attractive three-dimensional carpet. With the approach of winter, the foliage color of Celtic Pride® transforms into a unique plum-russet-bronze that creates an appealing contrast with other conifers, ornamental grasses, and fruiting shrubs. It doesn't appreciate wet soil, particularly in winter, but it has excellent tolerance for dry conditions once established. This is a great choice for a rocky garden slope, where its undulating fernlike branches hug contours and boulders, changing color with the seasons. Prune in spring to control its spread and enable new growth to quickly arch over exposed branches beneath.
3. 'Purple Gem' rhododendron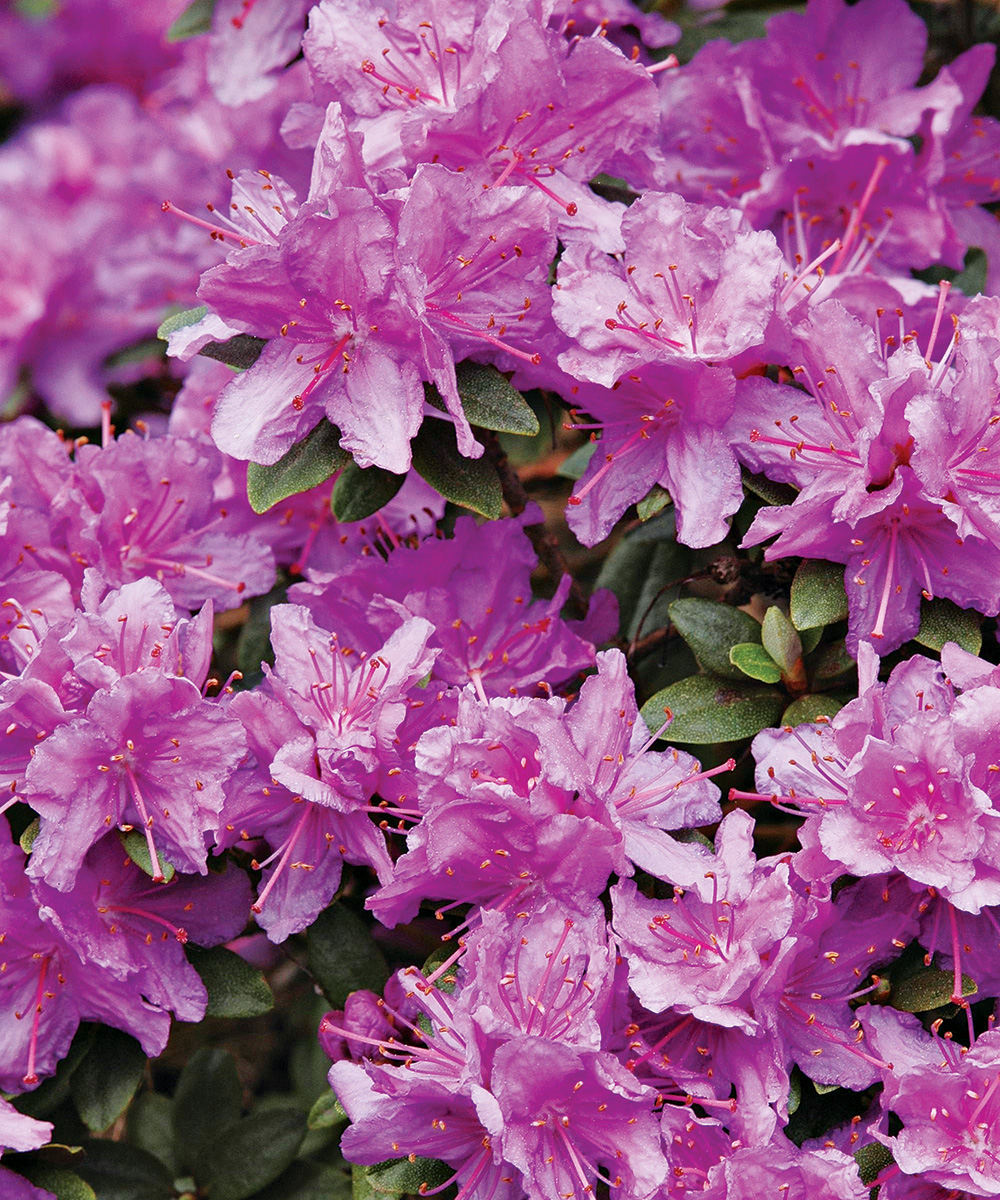 Name: Rhododendron 'Purple Gem'
Zones: 4–8
Size: 4 feet tall and wide (in 10 years)
Conditions: Full sun to partial shade; rich, acidic, well-drained soil
Native range: Hybrid
Abundant small clusters of violet-purple flowers crown each branch of this shrub in early to midspring. Glossy gray-blue leaves emerge as the blooms fade, progressing to rusty olive green for the warmer months and then changing to bronze in winter. As a bonus, the leaves are aromatic when bruised. The foliage color changes are most pronounced in a sunny site. 'Purple Gem' does not tolerate standing water around its roots, and if the soil is too alkaline, chlorosis can cause the leaves to turn yellow. Even though they are compact and slow growing, most small-leaf rhododendrons eventually become leggy. Fortunately, they respond well to light or even to severe cutting back to manage size and shape.
4. 'Hummingbird' summersweet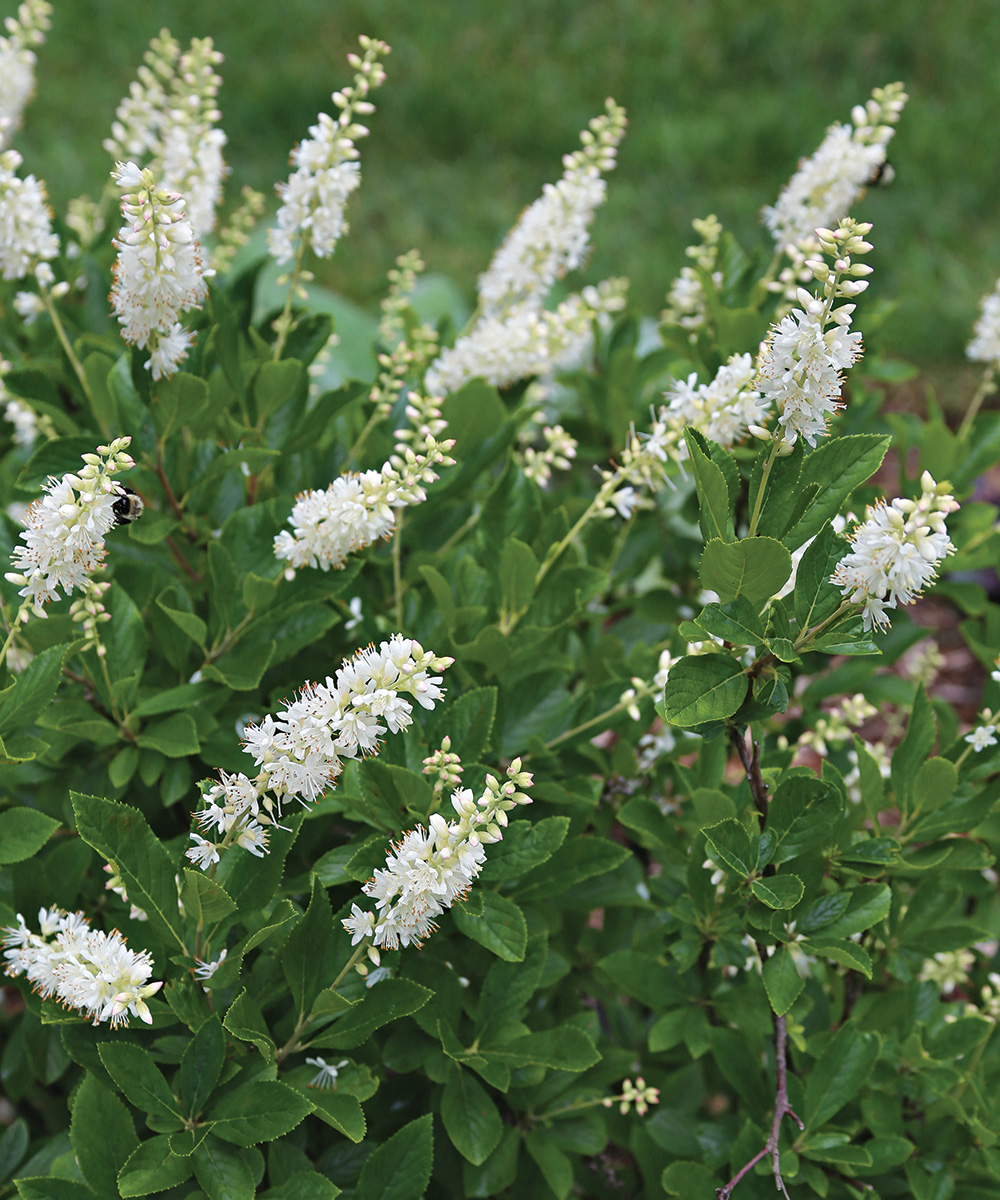 Name: Clethra alnifolia 'Hummingbird'
Zones: 3–9
Size: 2 to 4 feet tall and 3 to 5 feet wide
Conditions: Partial to full shade; moist, acidic soil
Native range: U.S. East Coast and west to Texas
Summersweet is a common name that aptly describes the unique, lingering fragrance this compact jewel adds to our late-summer outdoor enjoyment. White bottlebrush flower spikes cover each stem starting in midsummer and attract pollinators for a month or more. The glossy 3- to 4-inch-long dark green leaves of 'Hummingbird' change to yellow and golden brown before dropping in fall. Growing less than 6 inches each year, this low-maintenance, mound-shaped cultivar is well suited to small-space gardens. Since it sets its flowers on new growth, it is best pruned in late winter to shape it and to remove unattractive branches.
---
Wayne Mezitt is a plant breeder, a Massachusetts Horticultural Society board member, and the chairman of Weston Nurseries in Hopkinton, Massachusetts.