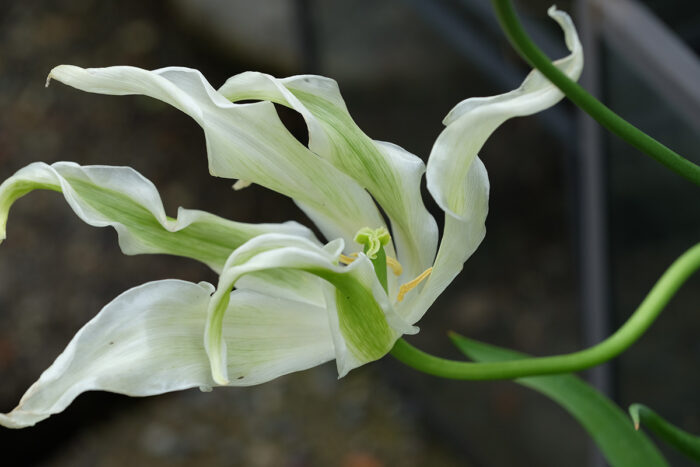 The changing sunlight and temperatures in September in the Pacific Northwest are a signal for some that it's time to start wrapping up the garden. But it is also a signal for many gardeners to think about spring and next year's garden. It's the time of year when fall bulbs are shipping and ready to be sunk into the soil. There are many online sources for bulbs, often shipping direct from the Netherlands. Getting an order in early is very important if you are looking for unusual colors, rare bulbs, or species bulbs. However, it is not out of the question to stumble upon fantastically unique bulbs at a local garden center.
I love the season for bulb planting and planning, and I love searching out the best, newest, or oldest heirloom forms of bulbs to include in my own garden and those that I work in. Here are a few standouts that have garnered a spot in my planting schemes recently.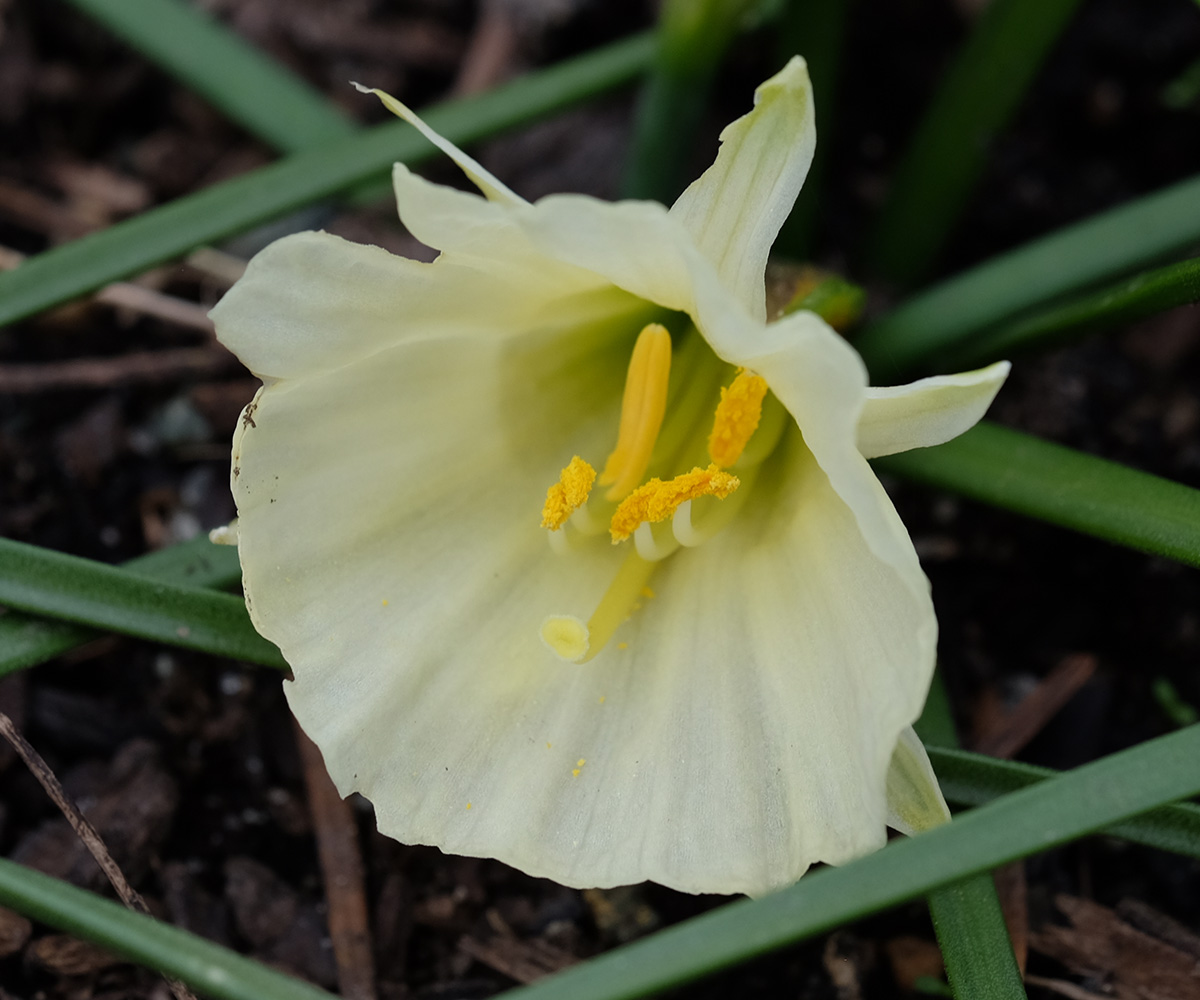 Deer-resistant daffodils in different colors and forms make spring plantings more interesting
Daffodils (Narcissus spp. and cvs., Zones 3–9) are very popular spring bloomers here in the Northwest due to their cheery dispositions and deer resistance. Happy in full sun to partial shade, the varieties are endless, with new ones coming out each year. A recently acquired new favorite of mine is 'White Petticoat' (Narcissus bulbocodium 'White Petticoat', Zones 4–9). This selection belongs to a group of daffodils commonly called hoop petticoat daffodils (because the corona, or cup, resembles the old-fashioned hoop petticoats used to hold dresses into shape). 'White Petticoat' has lovely white blooms and grows to about 8 inches in height; it forms a decent-sized clump in just a few years. Grasslike foliage appears first, followed by the flowers. 'Julia Jane' (Narcissus romieuxii 'Julia Jane', Zones 5–9) is another hoop petticoat variety with lovely pale-yellow blooms.
New to me, but by no means a new variety, 'Polar Ice' (Narcissus 'Polar Ice', Zones 3–8) is a rare award-winning daffodil with blizzard-white petals and a tiny, ruffled lemon-yellow cup that matures to white with a green eye. This scented G. Lubbe heirloom, which predates 1936, is known to be a good naturalizer and is deer and rodent resistant. It tops out on stems that grow 16 to 18 inches tall.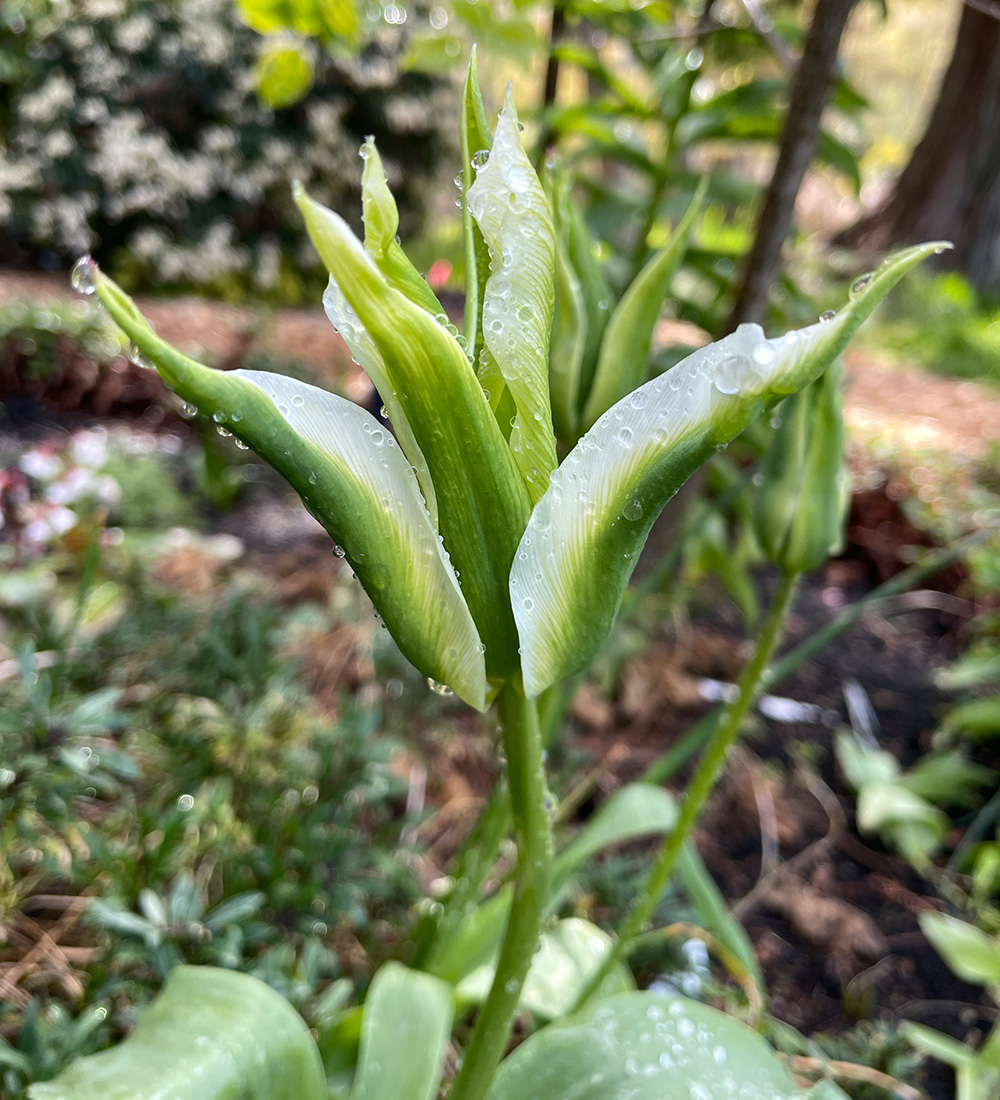 Tulips with a twist enliven spring beds and containers
Tulips (Tulipa spp. and cvs., Zones 3–8), with their graceful petals and beautiful colors, are always a welcome sight in spring in the Northwest. I usually put mine into pots and leave them outside by the greenhouse. I love enjoying them up close and personal after I have added them to a display of other spring bloomers by the main entry door to the house. They're on my "not to be missed" list, as they last in containers outside far longer than they do as cut flowers in the house. After blooming, the plants can be moved back to the greenhouse area and left to die back naturally.
'Greenstar' (Tulipa 'Greenstar', Zones 3–7) is a phenomenal hybrid that's on my must-have list. A Viridiflora tulip, it has bold green flames that are more prominent than many other selections in this tulip group. After opening chartreuse-white with verdant green flames that are backlit lemon-yellow, it matures to bright white with green flames and yellow accents. Its tapered petals extend into outstretched arcs like choreographed starbursts atop up to 18-inch-tall stems. Blooming for a month in a cold spring, they constantly change as I walk by them in the garden.
Fire flame or Turkish tulip (Tulipa acuminata, Zones 3–8) is a newly added species to my spring bulb lineup. A prized rare heirloom dating back in cultivation to at least the early 1800s, it has a wild form with uniquely narrow yellow flower petals that are variably edged and prominently tipped with scarlet. Each flower opens with its pointed petal tips upward and touching, as if in prayer. As the flowers mature, they open to a wonderfully unruly form on 14- to 16-inch-tall stems.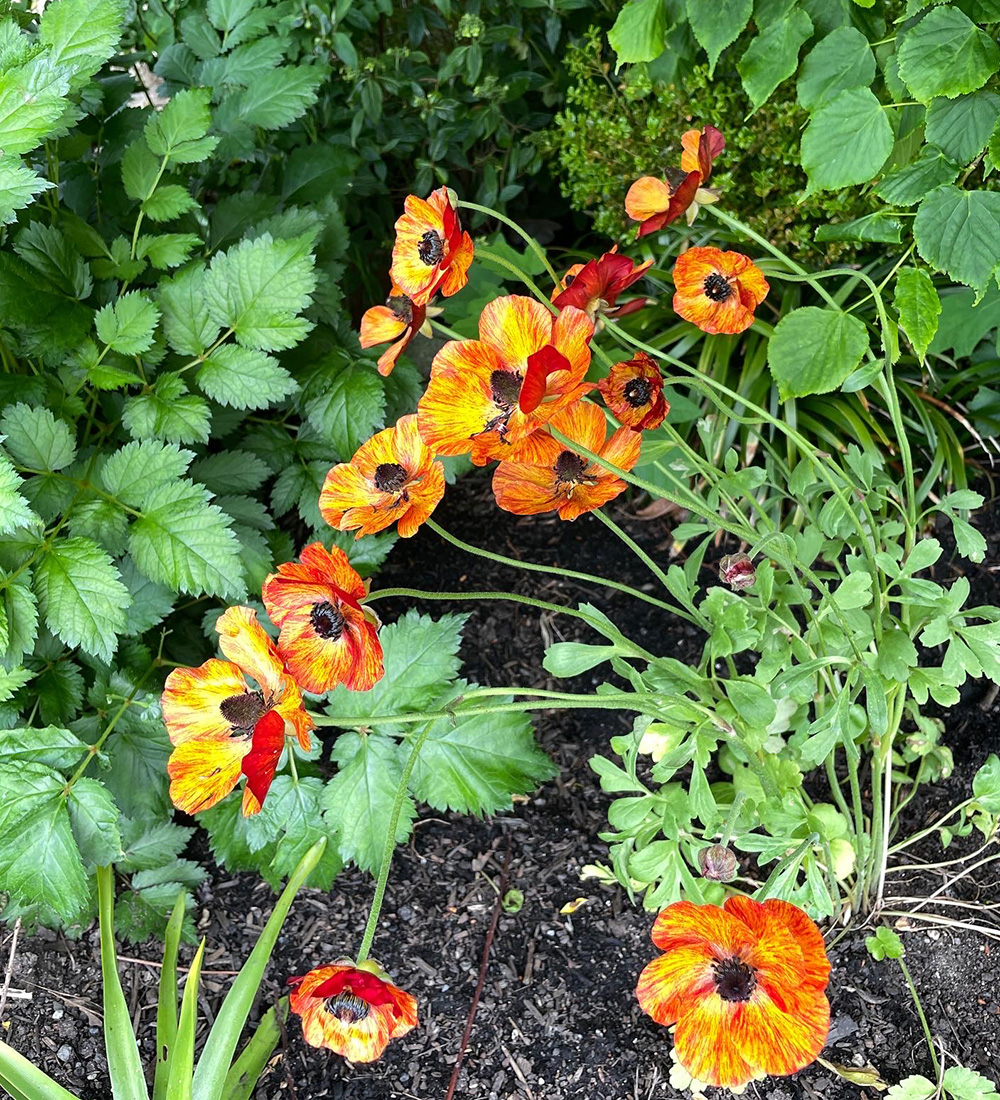 Add bulbs that bloom in summer and fall to your fall shopping list too
When planning for spring-flowering bulbs, it's also a good time to consider bulbs that bloom during other times of the year. In the summer when you want to add those great alliums (Allium spp. and cvs., Zones 3–9) to the garden, they will not be available in nurseries, so order them in fall. Unusual summer-flowering foxtail lilies (Eremurus spp. and cvs., Zones 5–8) and fall-blooming ivy-leaved cyclamen (Cyclamen hederifolium and cvs., Zones 5–7) are also wonderful additions to the garden and are available by mail order now. And if you haven't tried them yet, consider adding ranunculus (Ranunculus spp. and cvs., Zones 4–11) bulbs to your shopping list. Two drool-worthy ones I enjoy including in late spring and summer in my garden are Tecolote® 'Café' (Ranunculus 'Café', Zones 8–11), which has gorgeous terra-cotta and golden blooms, and Elegance® 'Bianco Striato' (Ranunculus asiaticus 'Bianco Striato', Zones 8–10), which has striking white flowers edged in purple.
If you're interested in different ways to display and grow bulbs, check out Fall Bulb Planting: Everything You Need to Know for a Spectacular Spring Show.
—Susan Calhoun is the owner of Plantswoman Design in Bainbridge Island, Washington.
Photos: Susan Calhoun