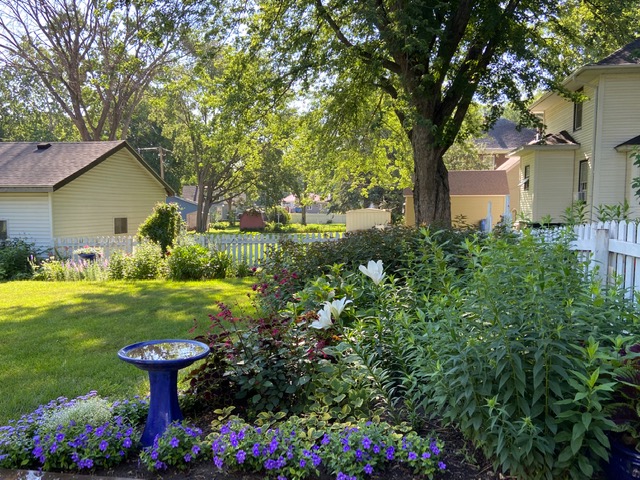 I just scrolled again through Keith's Zone 3 photos (Return to Keith's Zone 3 Garden) of his garden full of hot-colored annuals and perennials. So vibrant! Hmmm . . . For a moment I dreamed about taking on a new color palette in the upcoming growing season, but realistically, I know I'll revert to the mostly blue, lavender, and green that I love. Even my garden accents are blue. My name is Kathy Schreurs, and I garden with my husband around our 130-year-old house in Sheldon, a Zone 4b corner of Iowa.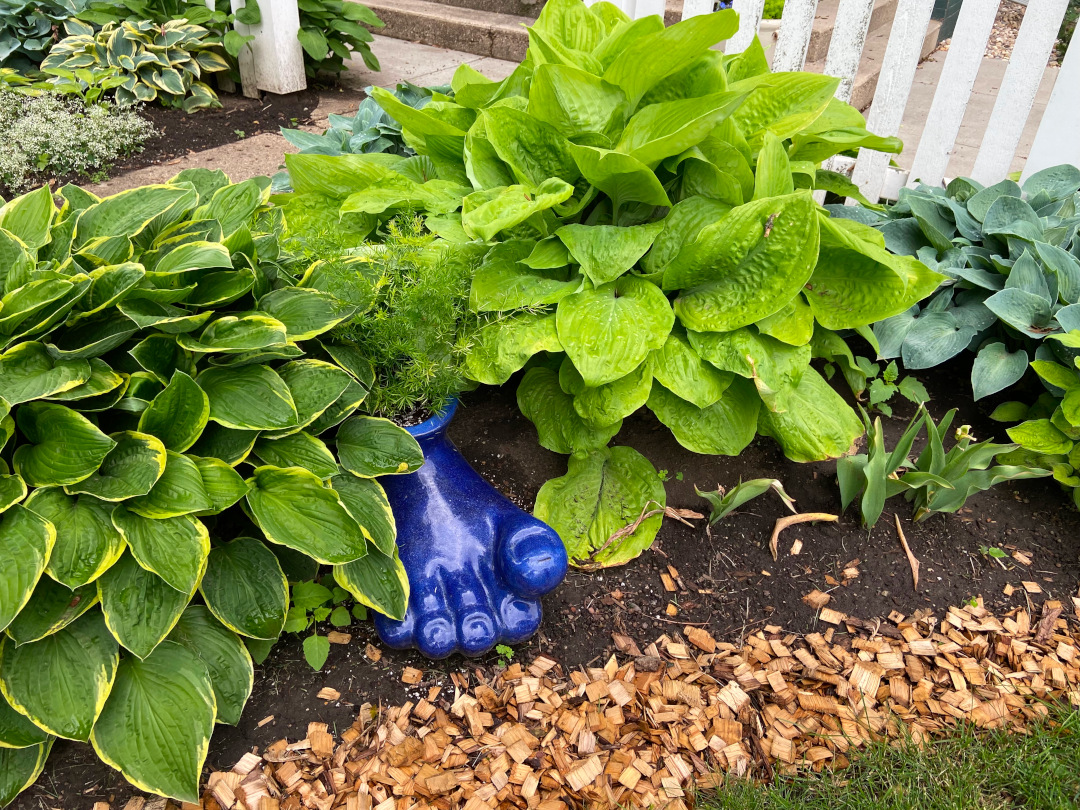 My family members were a little surprised when I brought Blue Foot home a few years ago. (So was I, honestly.) It's very heavy and doesn't move around much. This past summer it hung out in our front border, surprising guests and piquing the curiosity of the kids next door.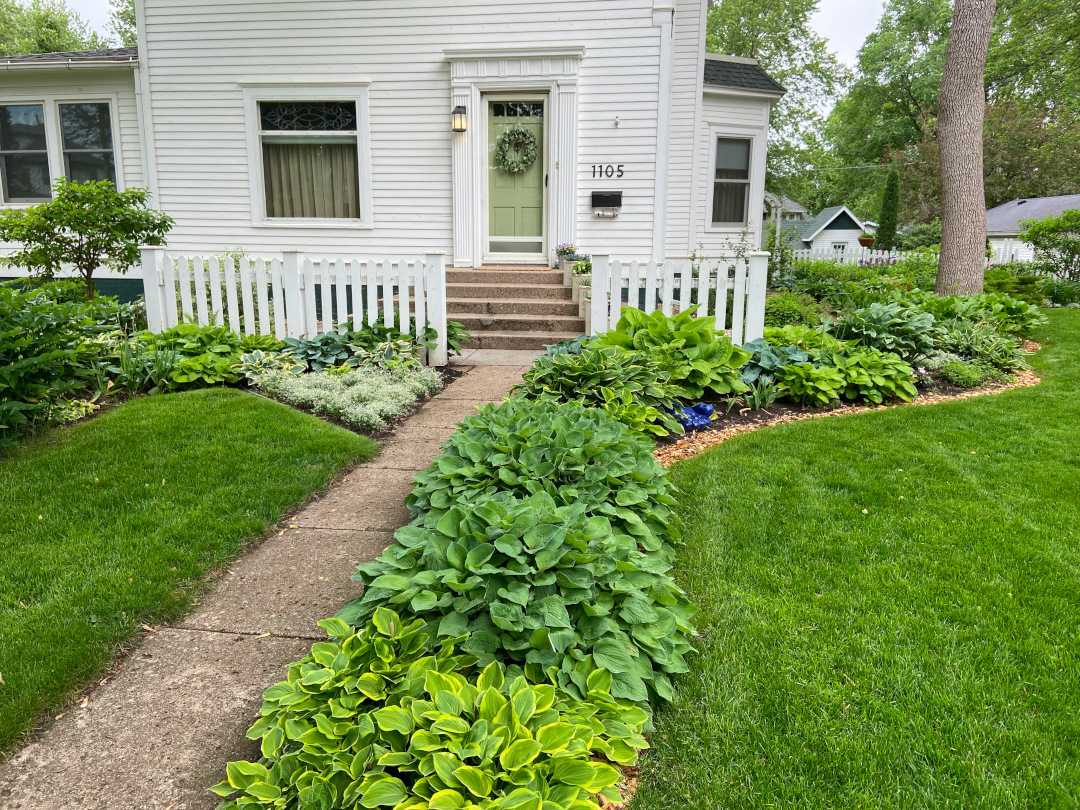 The (mostly) hosta front border was one of the first flower beds I planted on the property, a few years after we bought it 25 years ago. The area in front of the picket fence was added later. The wedge of white to the left of the sidewalk in front of the house is a small bed of 'Diamond Frost' euphorbias (Euphorbia hybrid, annual). I like to spread those around the borders and buy them by the flat. Recently I've been experimenting with the other Diamonds in the PW series ('Mountain' and 'Snow', but my heart belongs to the first, 'Frost'.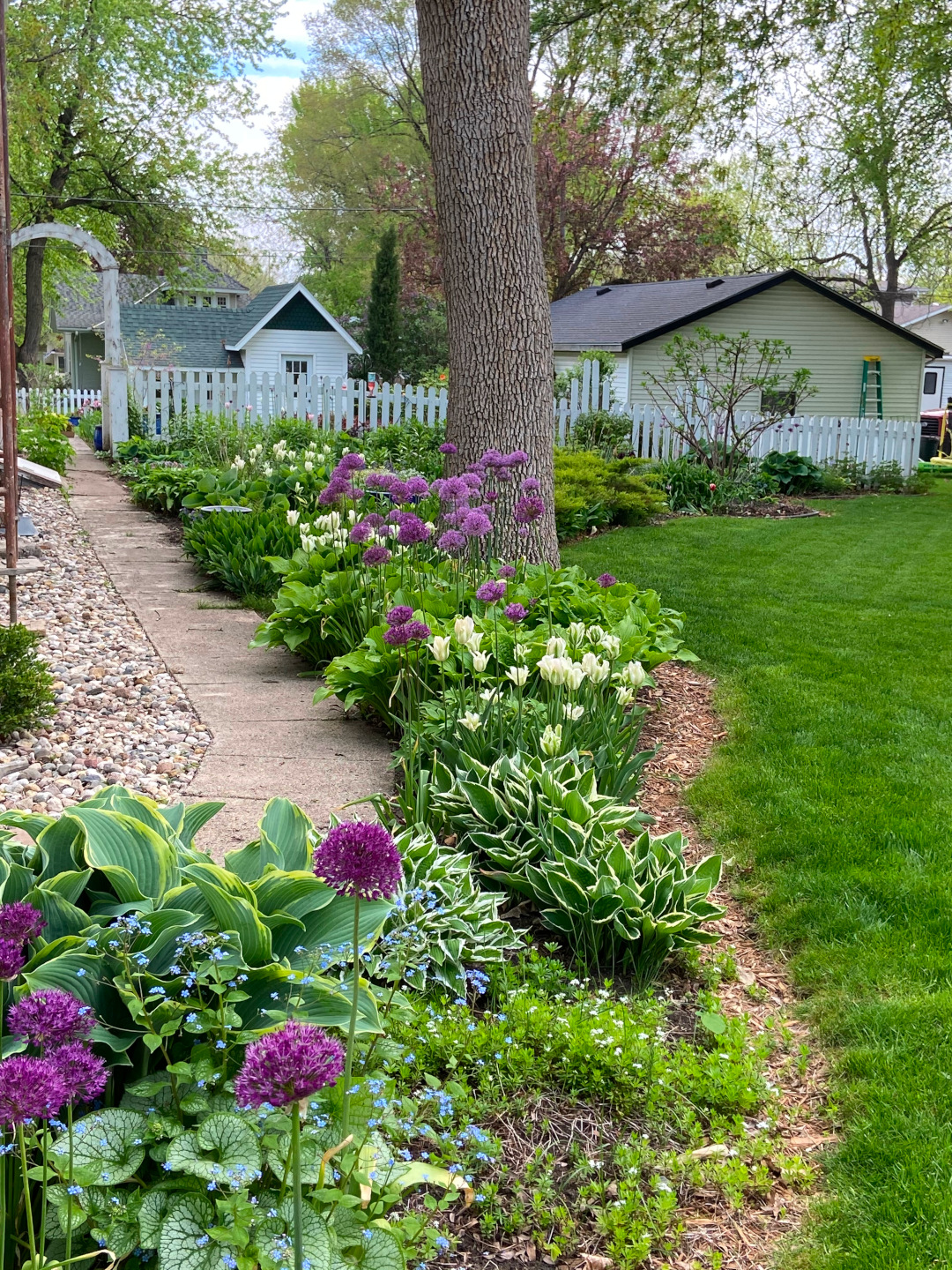 In the spring this area erupts with tulips and alliums. Tulipa 'Spring Green' (Zones 3–8) is my favorite tulip variety, and I'm happy that it returns year after year.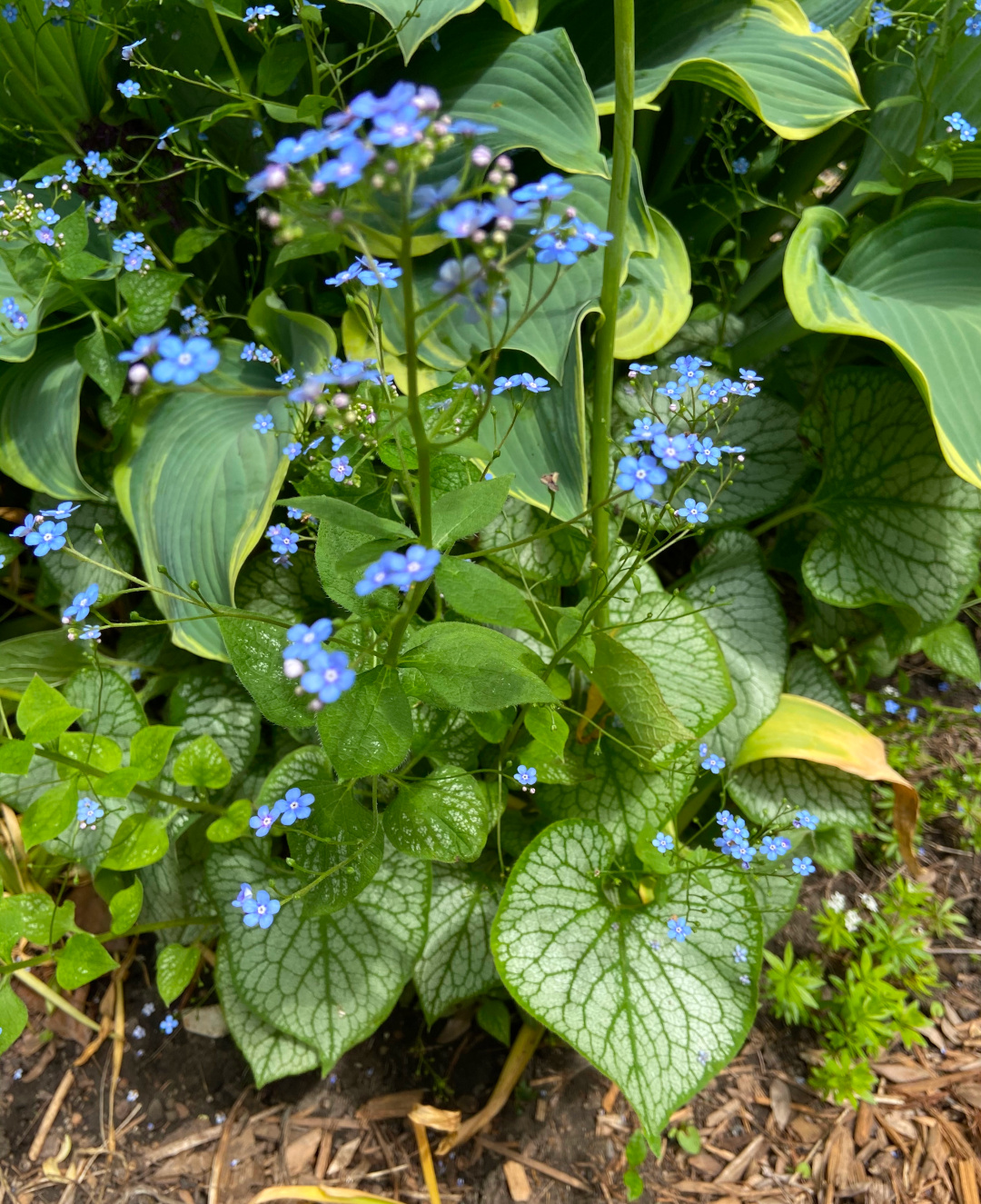 An especially harsh late winter in 2022 took its toll; our 'Jack Frost' brunneras (Brunnera macrophylla 'Jack Frost', Zones 3–8) and sweet woodruff (Galium odoratum, Zones 4–8) didn't survive. Gardeners are optimists, right? I replaced them this past summer.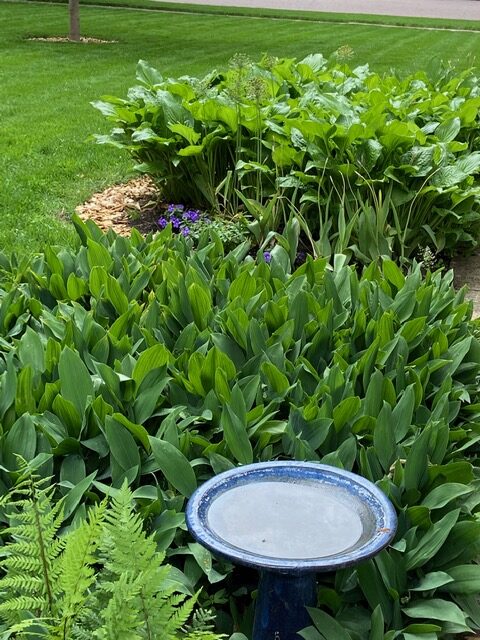 We enjoy many varieties of songbirds that either migrate through or nest in our backyard. They appreciate the multiple birdbaths we maintain. This small one lords it over an ever-growing patch of lily of the valley (Convallaria majalis, Zones 3–8). I look the other way—both of my grandmothers contributed to my first pips—and now that they are gone, the little bells in June are sweet reminders of them.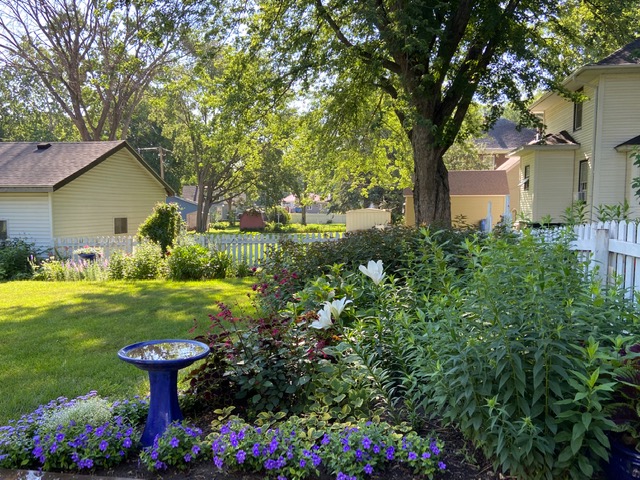 Another birdbath stands at the corner of a small bed outside our back door.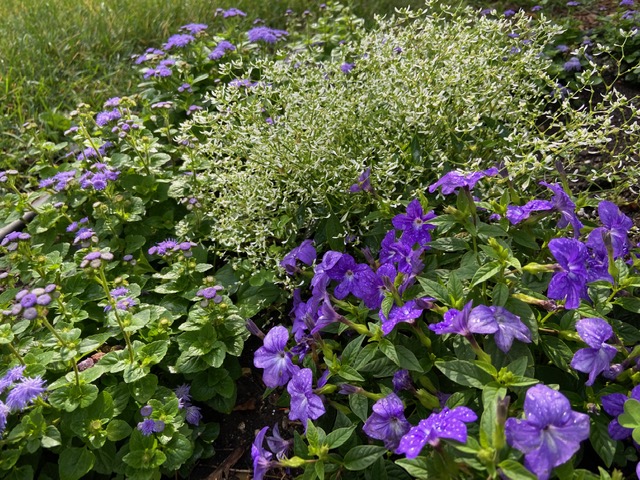 Browallia 'Endless Illumination' (Zones 9–11 or as an annual) in the shade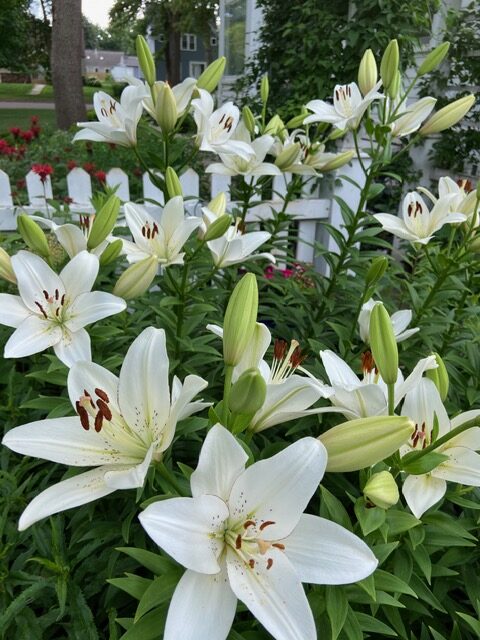 'Eyeliner' Asiatic lilies (Lilium 'Eyeliner', Zones 5–8) in early July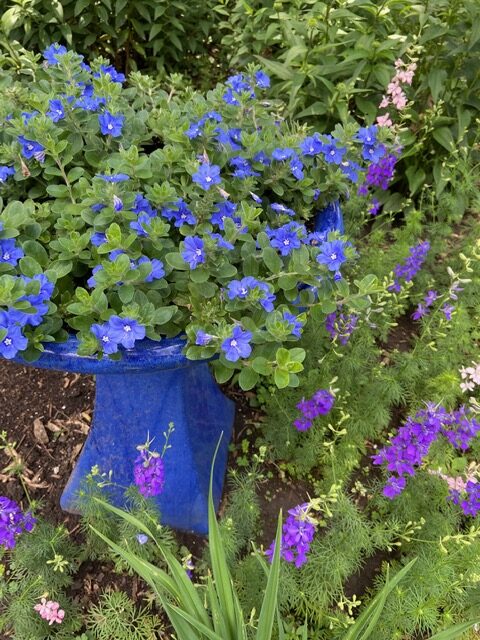 I planted evolvulus (Evolvulus 'Blue My Mind', Zones 9–11 or as an annual) in a cracked birdbath this past season. It 'Blue My Mind' all summer! (My husband drilled additional holes for drainage.)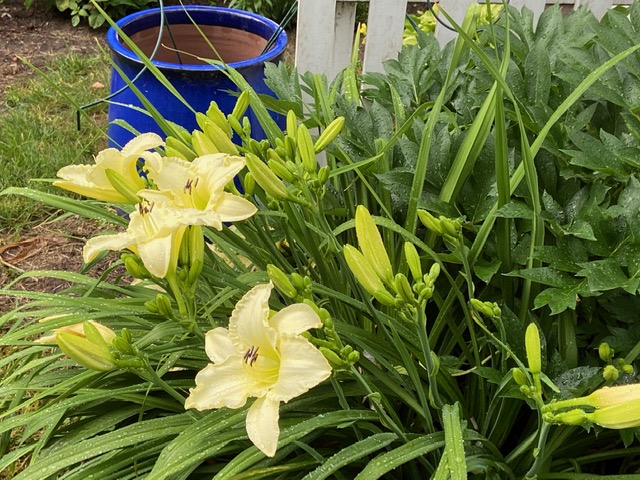 This blue pot is kept company by daylilies (Hemerocallis hybrid, Zones 3–9) in July near our garden shed. The lemon-scented daylily has been with us for about 20 years, and I don't remember its name. It has been divided several times. Its original home was where our garden shed now stands.
Kathy sent so many great photos that we're going to do two days in her garden, so come back tomorrow for more!
Have a garden you'd like to share?
Have photos to share? We'd love to see your garden, a particular collection of plants you love, or a wonderful garden you had the chance to visit!
To submit, send 5-10 photos to [email protected] along with some information about the plants in the pictures and where you took the photos. We'd love to hear where you are located, how long you've been gardening, successes you are proud of, failures you learned from, hopes for the future, favorite plants, or funny stories from your garden.
Have a mobile phone? Tag your photos on Facebook, Instagram or Twitter with #FineGardening!
Do you receive the GPOD by email yet? Sign up here.