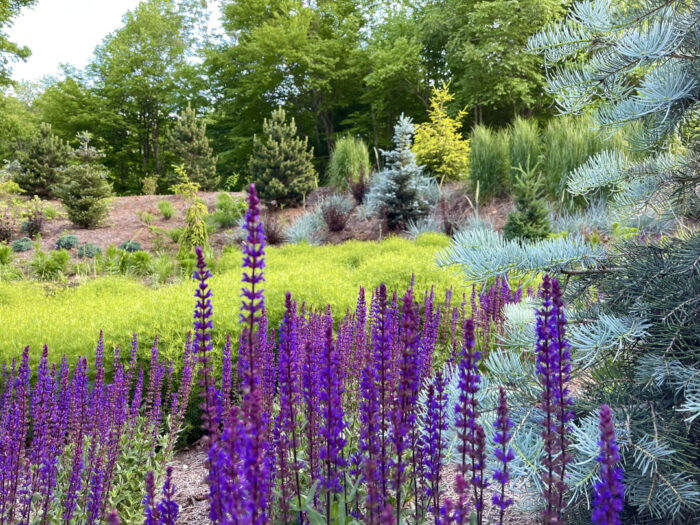 Today Jay Sifford, an award-winning landscape designer in North Carolina, is sharing his home garden.
For the past two years, I've been realizing a dream that I've had since childhood: a mountain home and garden. I fell in love with western North Carolina and bought property at 3,300 feet, just two hours from my weekday home in Charlotte. My mountain garden is Zone 6b; the Charlotte garden is Zone 8a. I call my mountain house and garden "Rhodwood," named for the 500 or so mature rhododendrons on the property. I also have a stream with rapids out back. The house is a dogtrot—that is, two separate sides with a common roof and a breezeway in the middle. It is stained black, with a black metal roof. I felt that a black house would be a moody yet perfect backdrop for my garden.
The front yard had to be cleared for the septic field, so I took this as an opportunity to have my first-ever full-sun garden. I've designed them for others over the years but have never had one for myself. I had to be prudent in selecting plants with root systems that would be compatible with septic fields. I'm a city boy, so there was a huge learning curve!
Here are some photos of the front garden. It's a stylized meadow, envisioned as a large canvas. I placed a seating area at the low point and had to build a berm along the road to keep water from running across the septic field. I love conifers, so I planted the perimeter of the garden with those. As I always tell my clients, I love trees that raise arthritis to an art form, so the funkier and more contorted they are, the more I love them. The conifers provide structure; the grasses and perennials provide kinetic movement, color, and texture, and they attract wildlife. I planted large masses in a distinct pattern, then "muddied" the lines a bit. Major players are 135 'Karley Rose' pennisetum (Pennisetum orientale 'Karley Rose'), 85 'Caradonna' salvia (Salvia nemorosa 'Caradonna', Zones 4–8), 110 'Zagreb' coreopsis (Coreopsis verticillata 'Zagreb', Zones 3–9), 50 mountain mint (Pycnanthemum sp.), 160 Liatris, 200 Camassia and 50 Rudbeckia. Minor players run the gamut.
Over the past year and a half, coinciding with the pandemic, my garden has grounded me and become a passion—and frankly, a very good friend.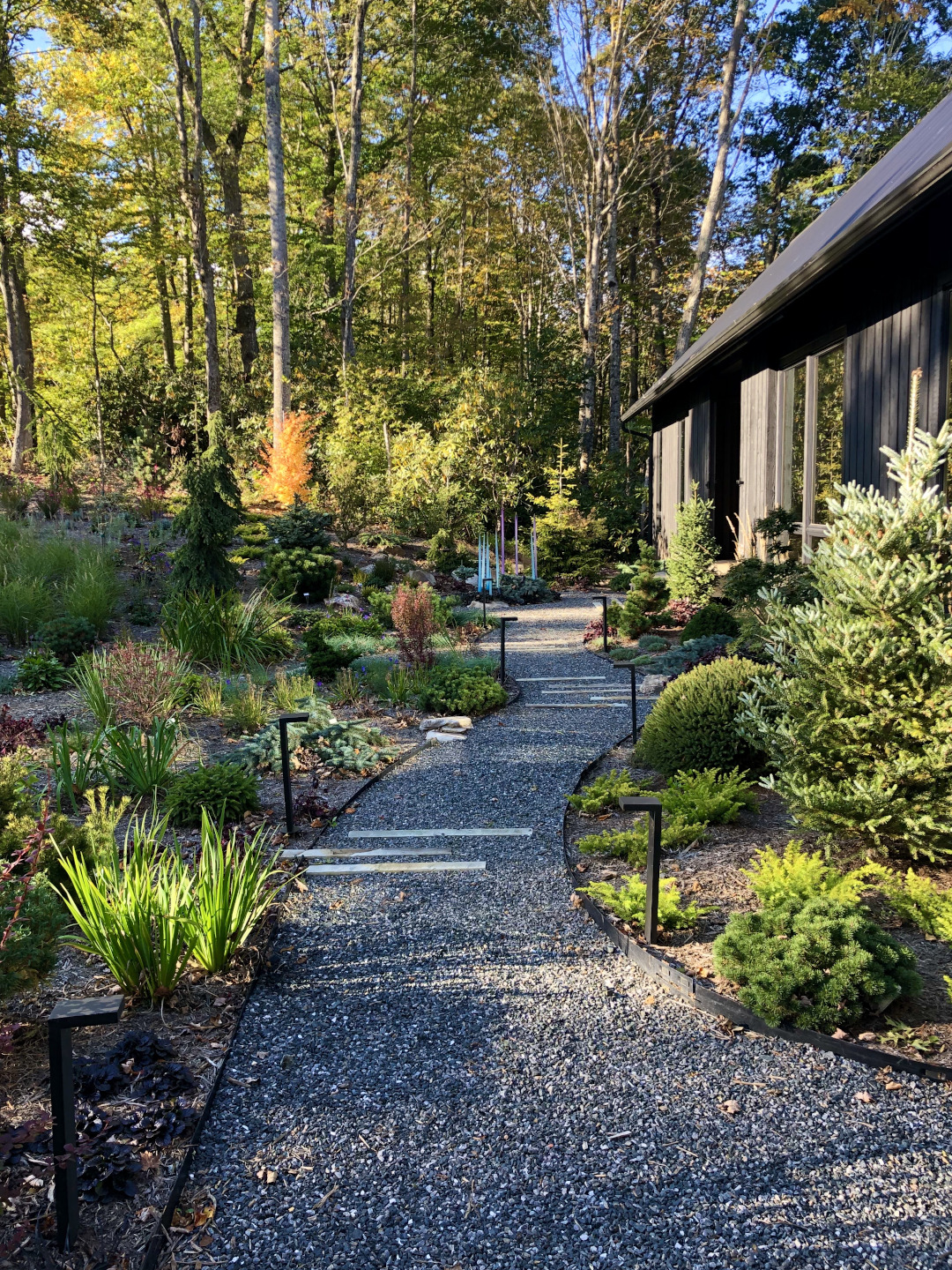 When building the front pathway I used an industrial grade gravel and inserted stone planks and boulders to create rhythm.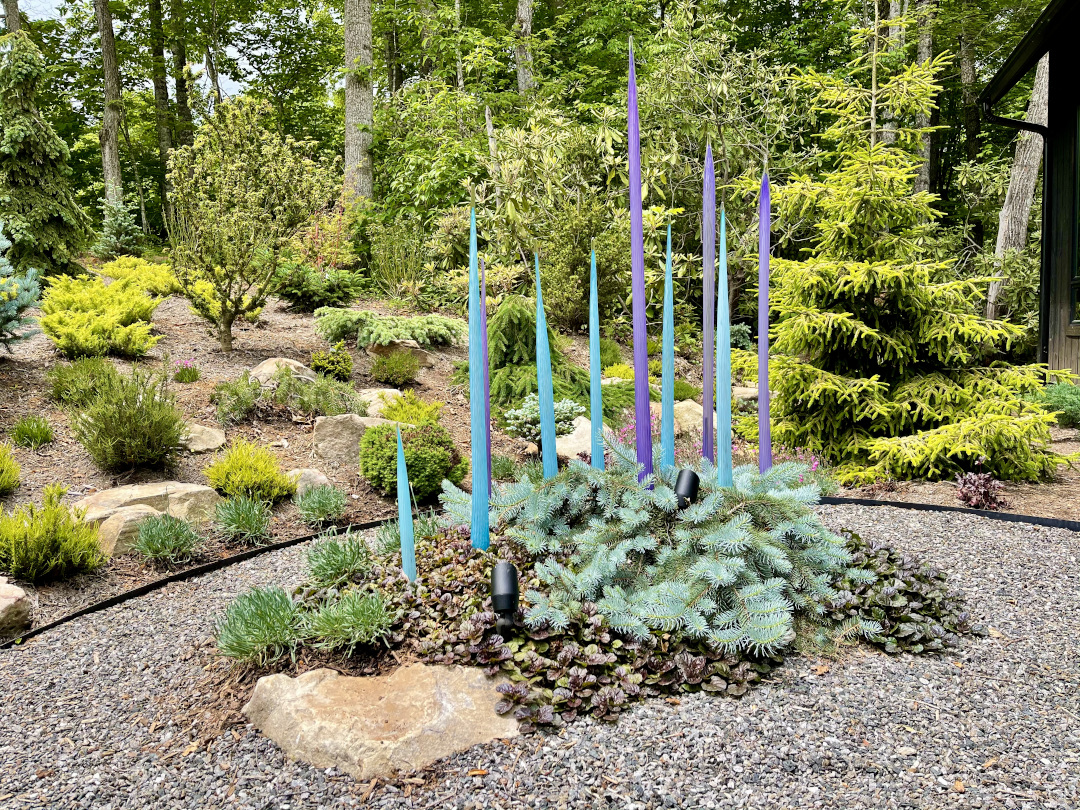 On axis with the entryway and the dogtrot, I have built a small island with blown-glass spears, a prostrate blue spruce, and 'Black Scallop' ajuga (Ajuga reptans 'Black Scallop', Zones 4–9). Since the house is black, I went heavy on dark foliage for continuity and drama.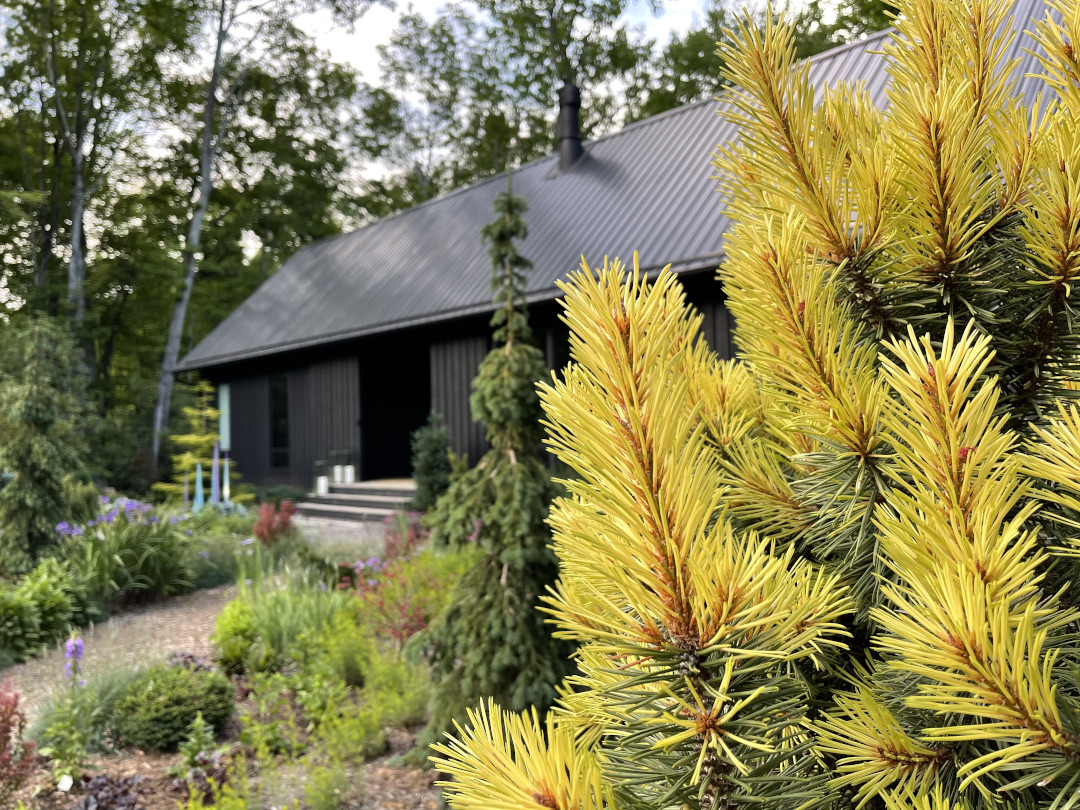 View of the dark house with some of the conifers.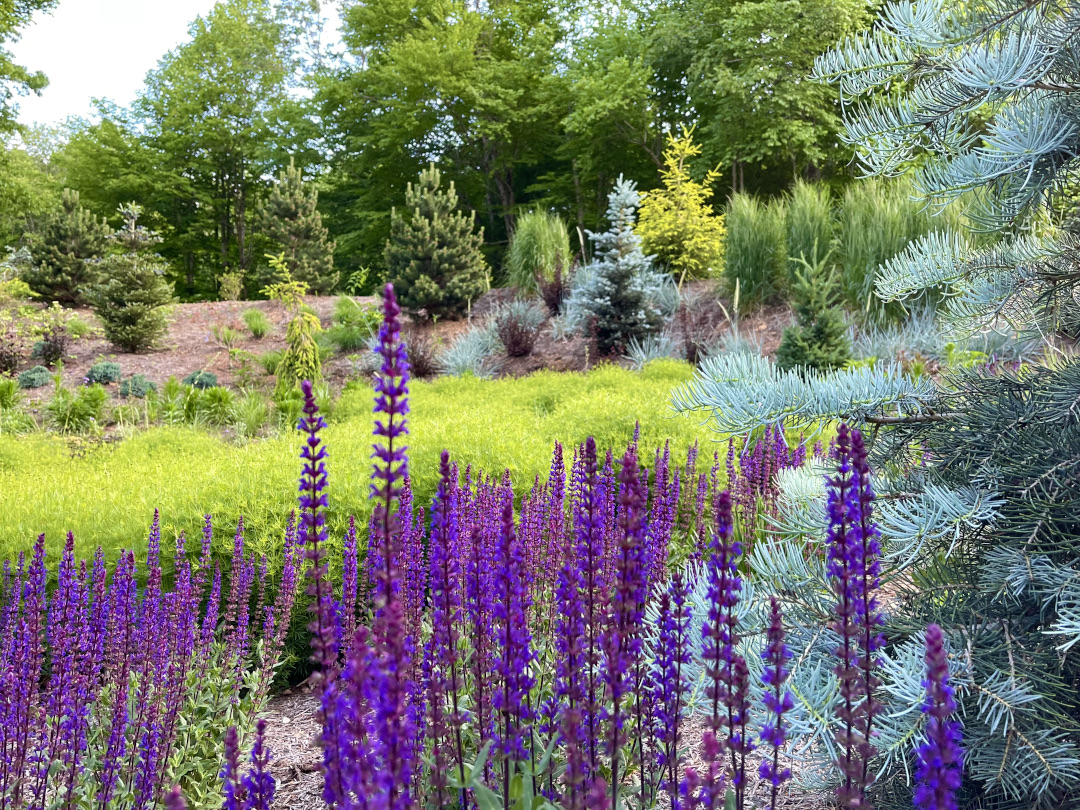 Purple spikes of 'Caradonna' salvia.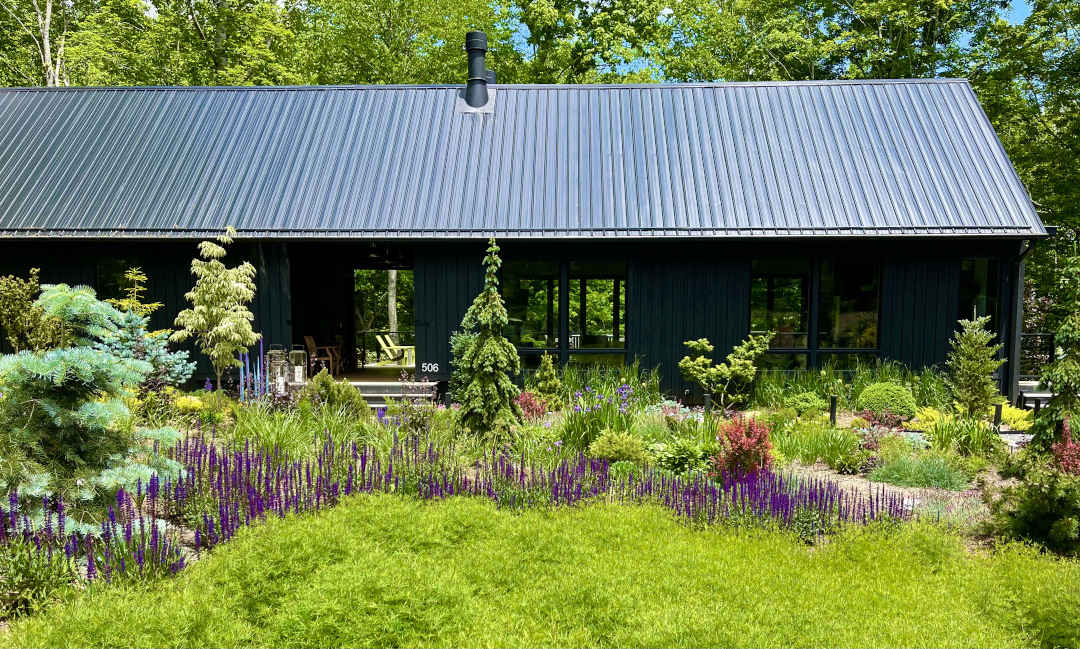 A line of 'Caradonna' salvia marks the beginning of a huge mass of 'Zagreb' coreopsis. The coreopsis isn't in bloom yet, but the delicate foliage is already beautiful.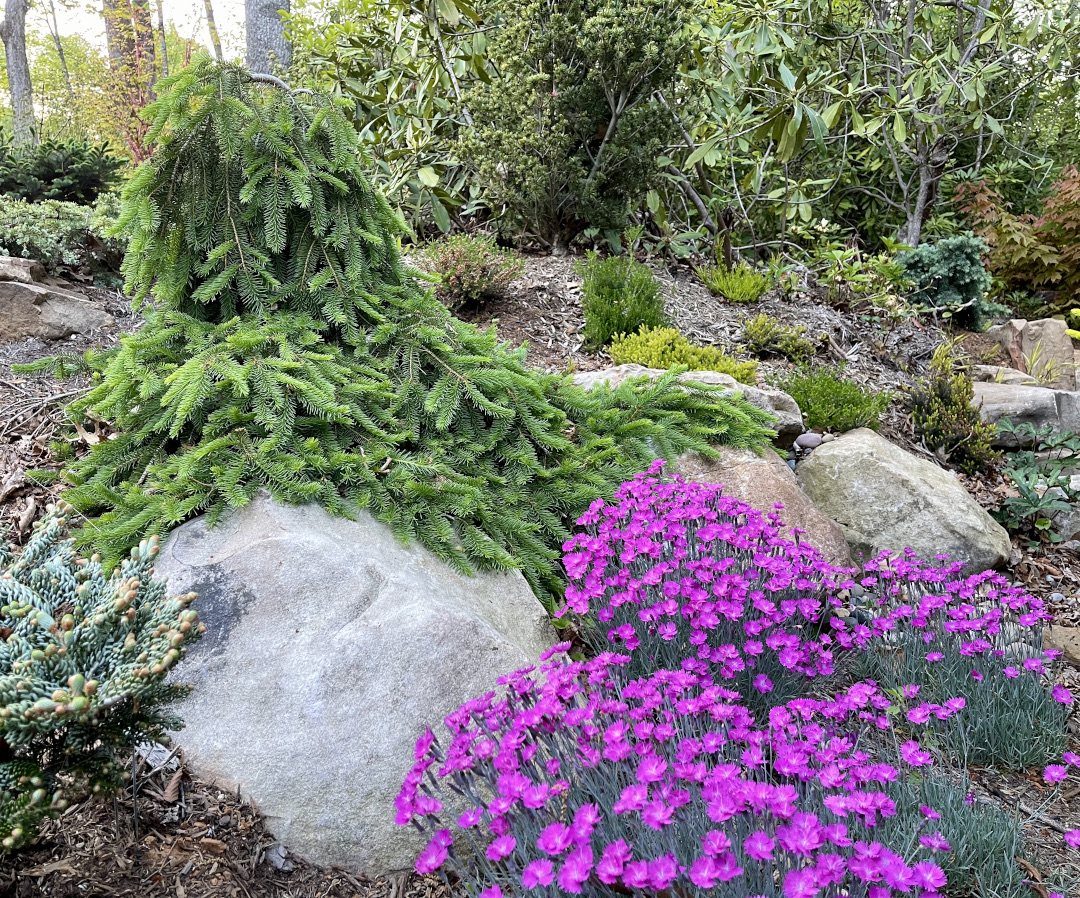 A twisted, trailing conifer tumbles over rocks.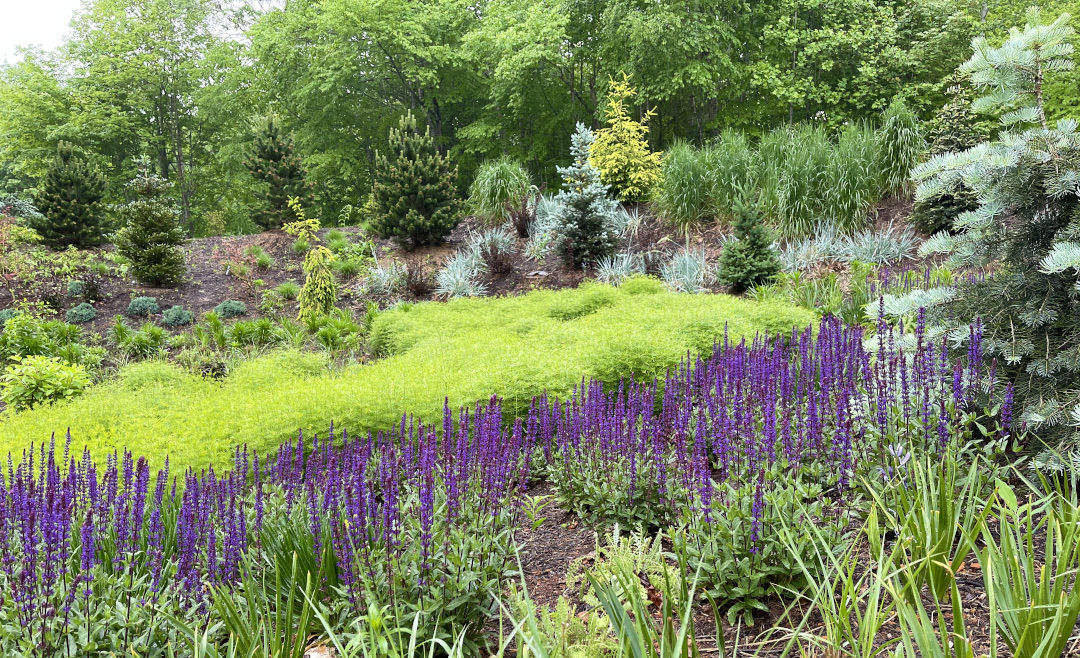 Another view of the 'Caradonna' salvia and 'Zagreb' coreopsis working together beautifully.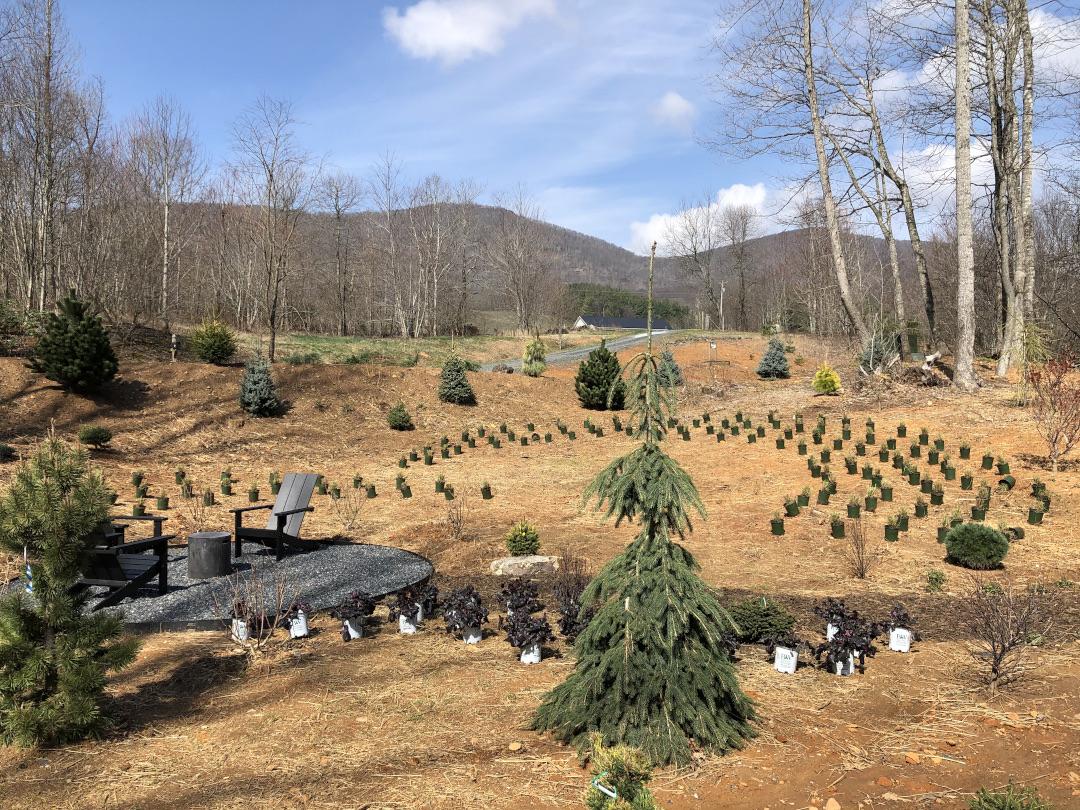 Plants are laid out and ready to be planted as the new garden is established.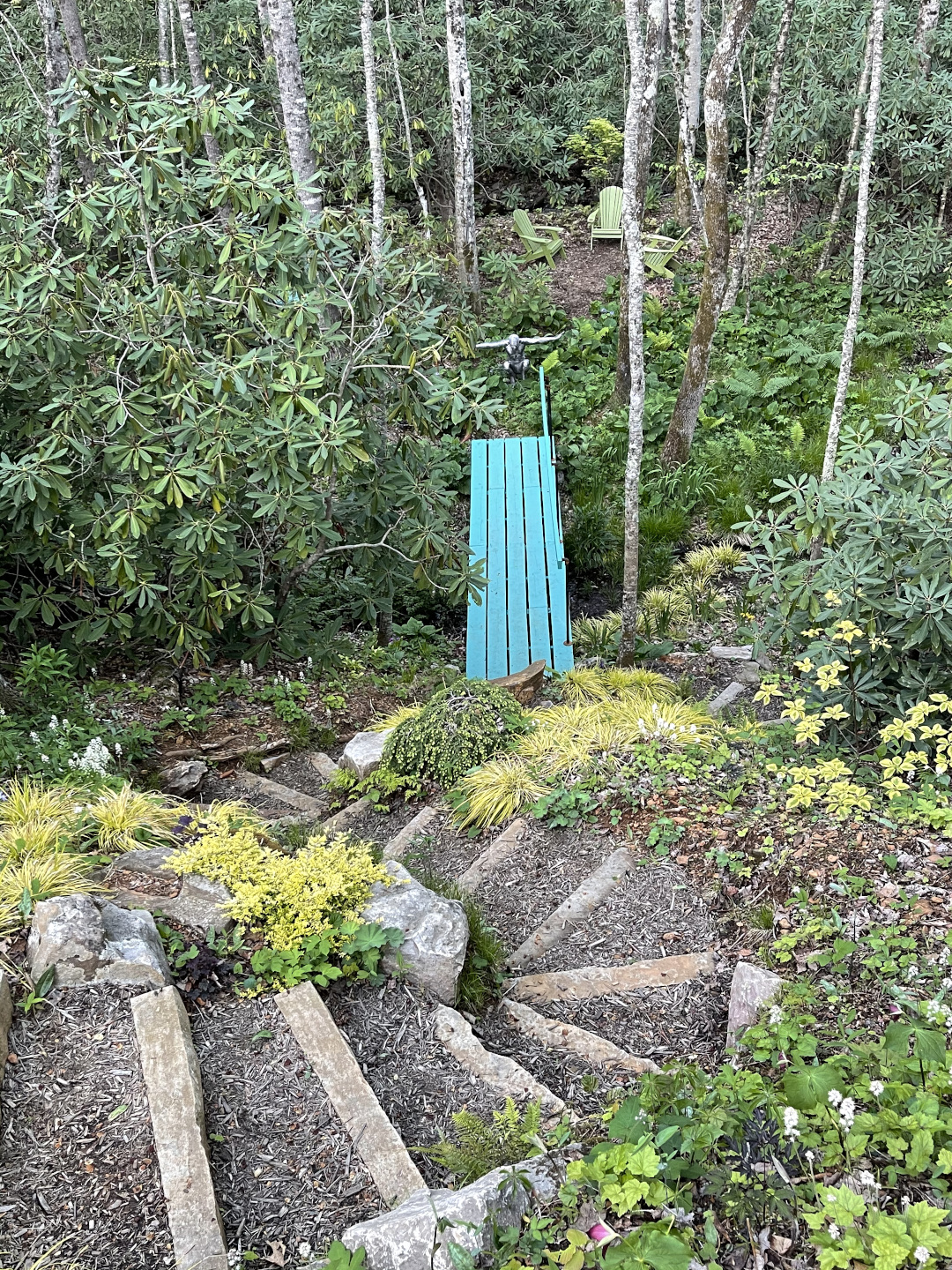 These steps lead down to the back garden, the shady counterpart of the front garden. The back space consists of a very steep slope, two natural bogs, hundreds of rhododendron, and a stream with rapids. I've carved out several seating areas, each with a different mood. The slope mandated carving out a set of switchback steps. This gave me the opportunity to plant a vibrant garden on the slope. Boulders and roots hold the garden in place. At the bottom of this switchback, we had to build a boardwalk to make the space walkable. At the far end of the boardwalk, an aluminum sculpture of a crouched swimmer greets you. I felt like the piece was appropriate, as he seems to me to be filled with anticipation and ready to dive into a sea of green shapes and textures. There's also a smaller foot bridge that crosses the bog on the far end to access a pathway that runs parallel to the stream.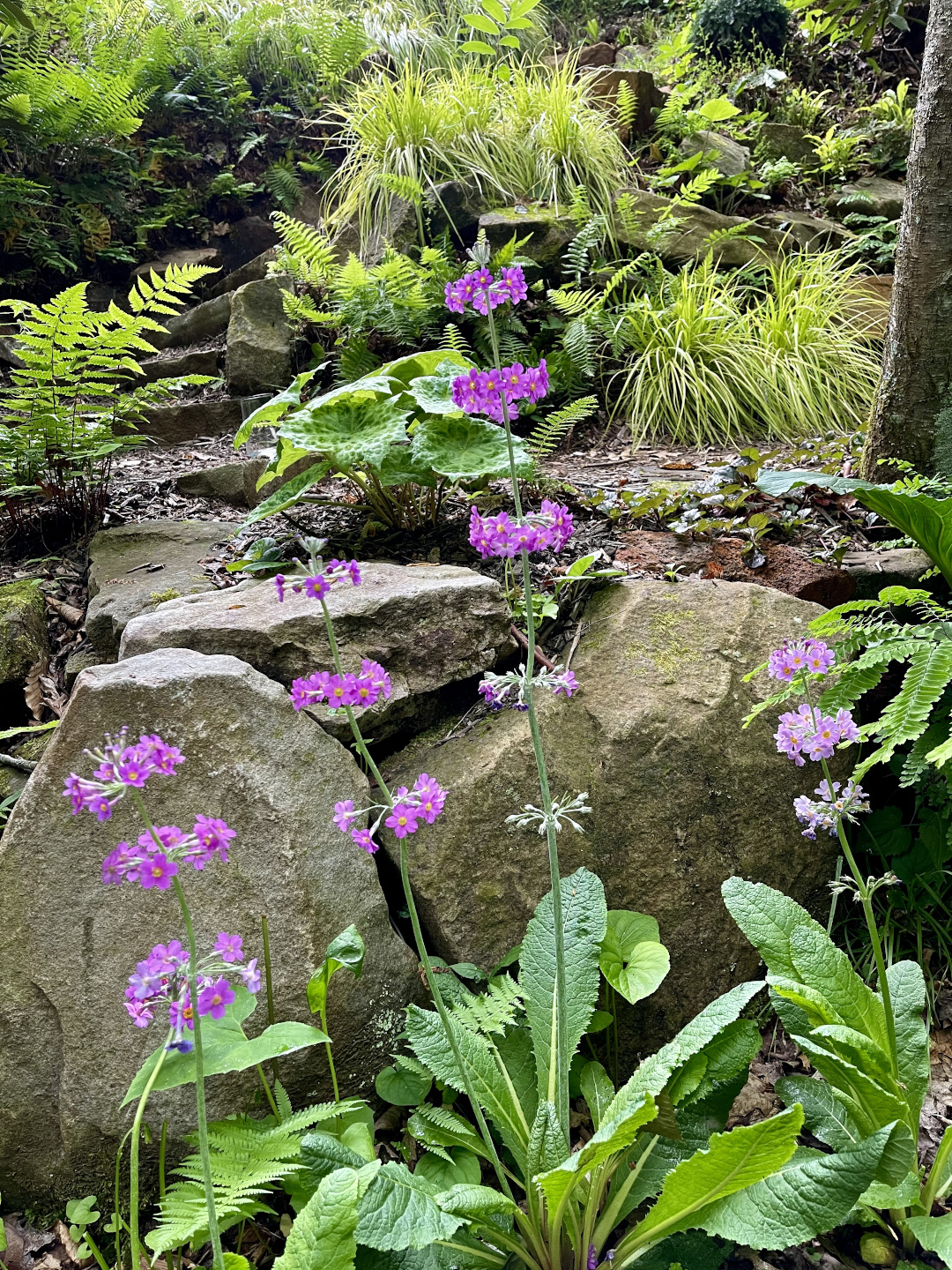 I've always wanted to grow Japanese primulas (Primula japonica, Zones 4–7) but never could in my Charlotte garden. They are right at home at the edge of the bogs.
Have a garden you'd like to share?
Have photos to share? We'd love to see your garden, a particular collection of plants you love, or a wonderful garden you had the chance to visit!
To submit, send 5-10 photos to [email protected] along with some information about the plants in the pictures and where you took the photos. We'd love to hear where you are located, how long you've been gardening, successes you are proud of, failures you learned from, hopes for the future, favorite plants, or funny stories from your garden.
If you want to send photos in separate emails to the GPOD email box that is just fine.
Have a mobile phone? Tag your photos on Facebook, Instagram or Twitter with #FineGardening!
You don't have to be a professional garden photographer – check out our garden photography tips!
Do you receive the GPOD by email yet? Sign up here.