Shade gardeners may not believe this, but they don't have it so bad. Gardeners stuck with full sun covet the plants that can grow in low-light areas. They crave a serene woodland path. Some colors bleach out or look garish in full sun, and in the heat of summer everyone wants to be in the shade.
The easiest approach to shade seems to be to find one plant that grows well and use it over and over again. While that approach certainly works, there is no reason to be limited to such monotony. The following pages offer some ideas for how to make a shady spot more interesting and diverse. The trick is to see beyond the specific plants used and try to understand why they work together. With that understanding, seek out the plants that will work in your situation and put them together in ways that rival combinations in any sunny spot.
Take advantage of partial sun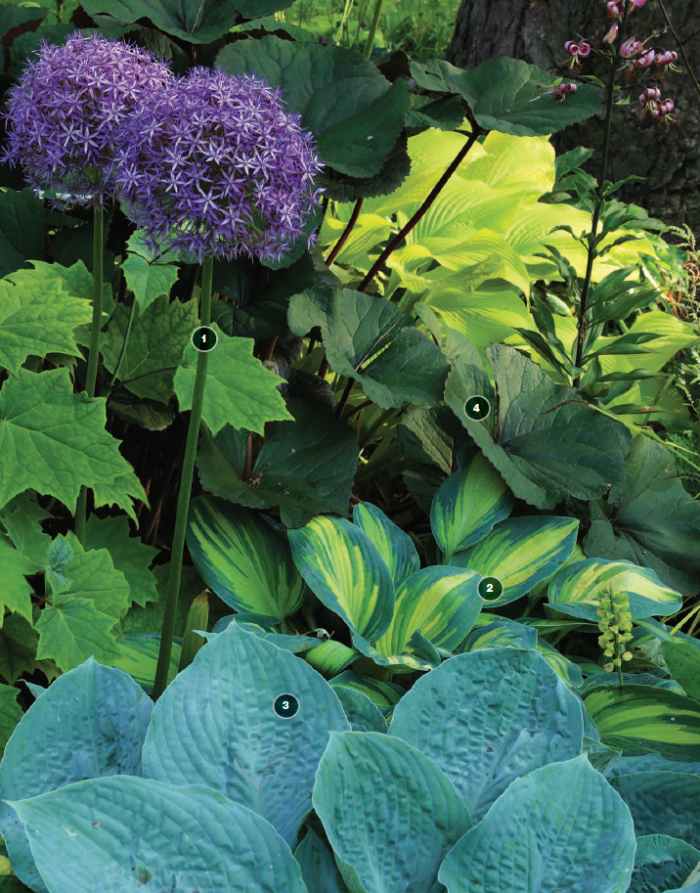 Many sun plants can take some shade. Blooms might be fewer or the plants might decline over time, but some plants, like alliums, are inexpensive. Tucking some in amid hostas yields a stunning effect and is worth the time and effort.
1. 'Globemaster' allium (Allium 'Globemaster', USDA Hardiness Zones 5–10)
2. 'June' hosta (Hosta 'June', Zones 3–9)
3. 'Silver Bay' hosta (Hosta 'Silver Bay', Zones 3–9)
4. Ligularia (Ligularia cv., Zones 4–8)
—Designed by Janice Becker for her garden in Deerfield, Illinois
Same color, different texture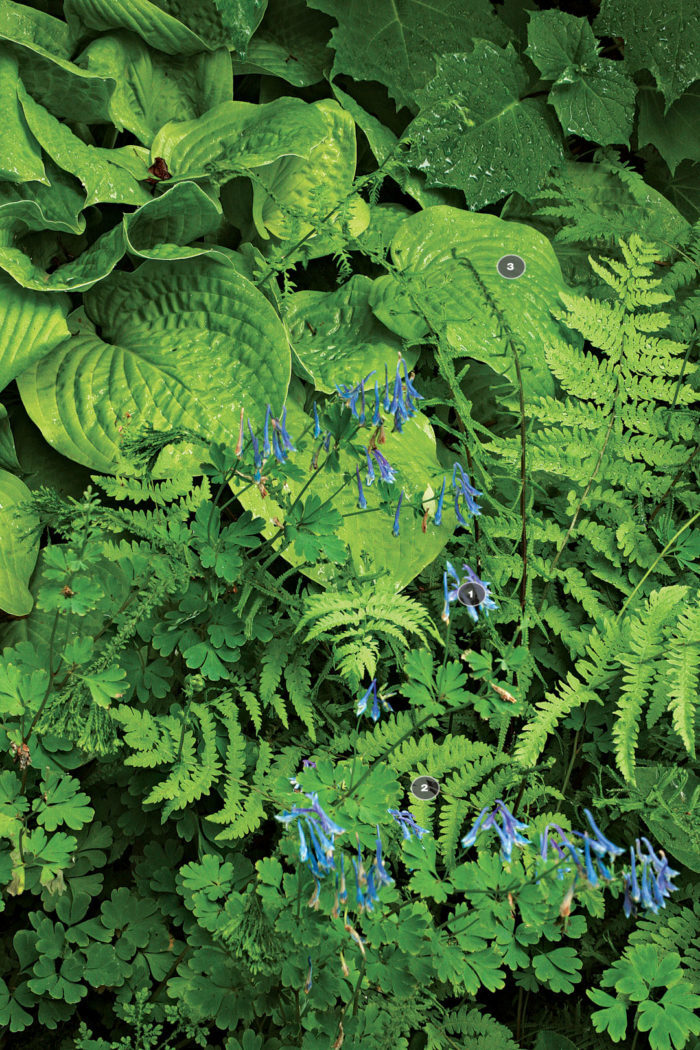 The textures of the hosta and the fern couldn't be more different, but their colors are a perfect match. The similarity is emphasized by the contrasting blue blooms of the corydalis.
1. 'Blue Panda' corydalis (Corydalis flexuosa 'Blue Panda', Zones 6–8)
2. Chinese lace fern (Selaginella braunii, Zones 8–11)
3. Hosta (Hosta cv., Zones 3–9)
—Designed by Barbara Weirich for her garden in Benton Harbor, Michigan
Make sure the star has a good supporting cast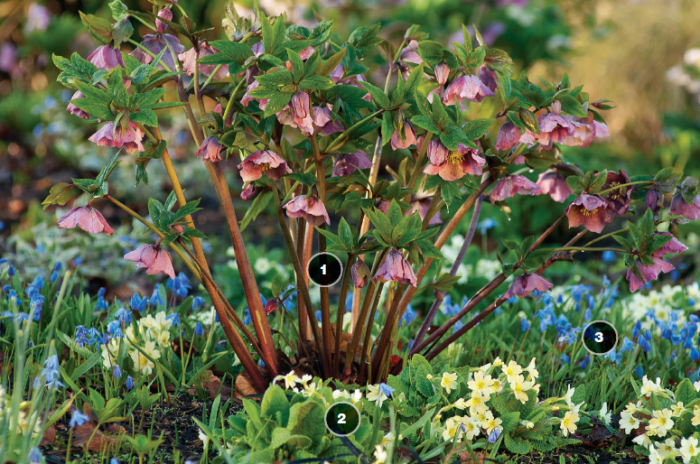 The role of a supporting cast is to make the star look better. The pastel colors surrounding this hellebore bring out the smoky tones in its flowers. And the diminutive stature of its neighbors make the hellebore seem all the more prominent.
1. Hellebore (Helleborus hybridus, Zones 4–9)
2. Primrose (Primula vulgaris, Zones 4–8)
3. Siberian squill (Scilla siberica, Zones 4–9)
—Winterthur Museum, Garden & Library, Wilmington, Delaware
 Go easy with the variegation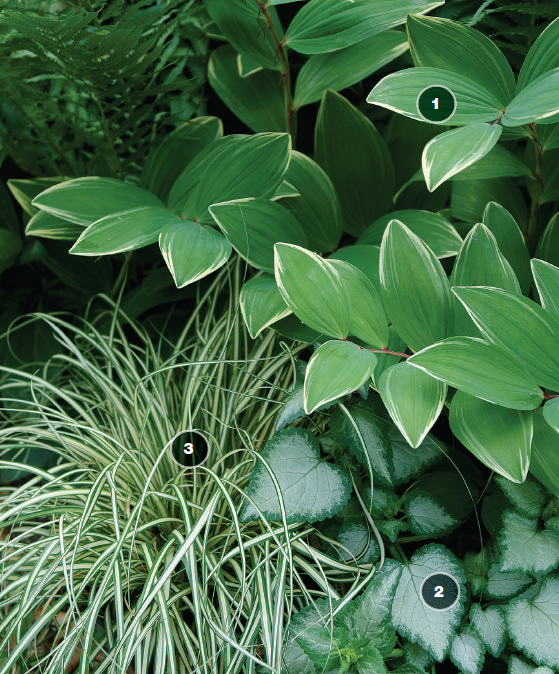 Too much variegation in one place can be garish. The lamium provides the biggest splash of color, and the grass is a big pop, too. But its wispy texture keeps it from being too strong. The Solomon's Seal connects and calms everything with its thin white edges.
1. Variegated Solomon's Seal (Polygonatum odoratum var. pluriflorum 'Variegatum', Zones 3–8)
2. 'White Nancy' lamium (Lamium maculatum 'White Nancy', Zones 4–8)
3. 'Evergold' sedge (Carex oshimensis 'Evergold', Zones 5–9)
—Designed by Nancy Ondra for her Pennsburg, Pennsylvania garden
Use one plant to bring it all together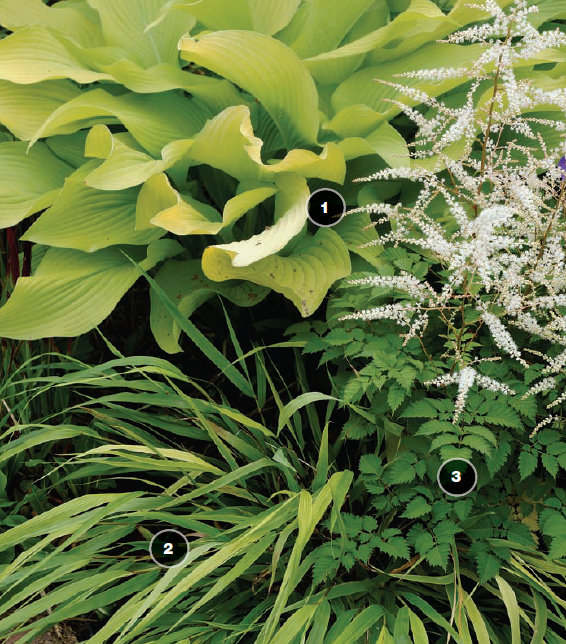 The large, dark ligulia foliage has little in common with the blades of the Japanese forest grass. But the yellow corydalis creates harmony with its lobed foliage echoing the scalloped edges of the ligularia leaves, and its yellow flowers picking up on the color of its grassy neighbor.
1. Yellow corydalis (Corydalis lutea, Zones 5–8)
2. 'Othello' ligularia (Ligularia dentata 'Othello', Zones 4–8)
3. Japanese forest grass (Hakonechloa macra 'Aurea', Zones 5–9)
—Designed by Janice Becker for her garden in Deerfield, Illinois
Yellow was made for the shade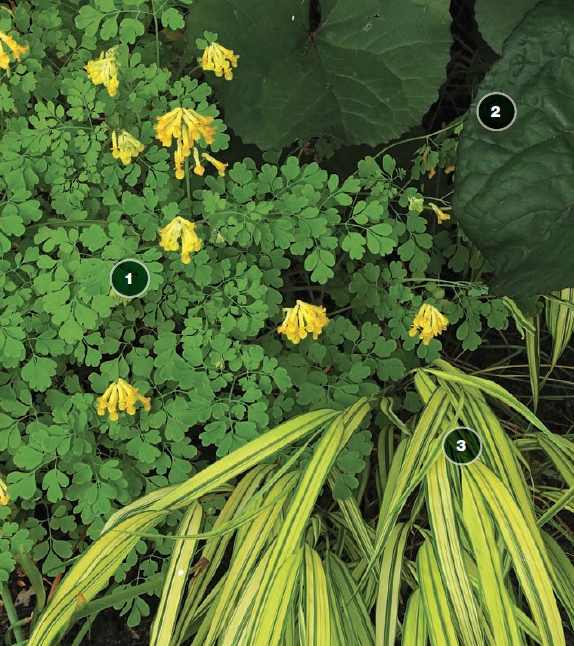 Yellow or gold foliage in full sun often makes a plant look burnt out or sickly, but in shade, it makes plants glow. Add a dash of white, as with this goatsbeard, and a shady spot will get a whole lot brighter.
1. 'Sun Power' hosta (Hosta 'Sun Power', Zones 3–9)
2. 'Beni-kaze' Japanese forest grass (Hakonechloa macra 'Beni-kaze', Zones 5–9)
3. 'Misty Lace' goatsbeard (Aruncus 'Misty Lace', Zones 3–7)
—Designed by Nancy Ondra for her Pennsburg, Pennsylvania garden
---
How to Put Plants Together
Picking out plants is easy—and fun. Making them work with one another can be tricky (but still fun). The key is to find some quality, such as color, habit, form, or texture, that connects most of the plants in the scene. Then add or highlight different attributes to make the design more interesting. In the area below, you might be smitten with the cool light fixture or the water feature, but a closer look shows how the plantings hold together without these noteworthy elements.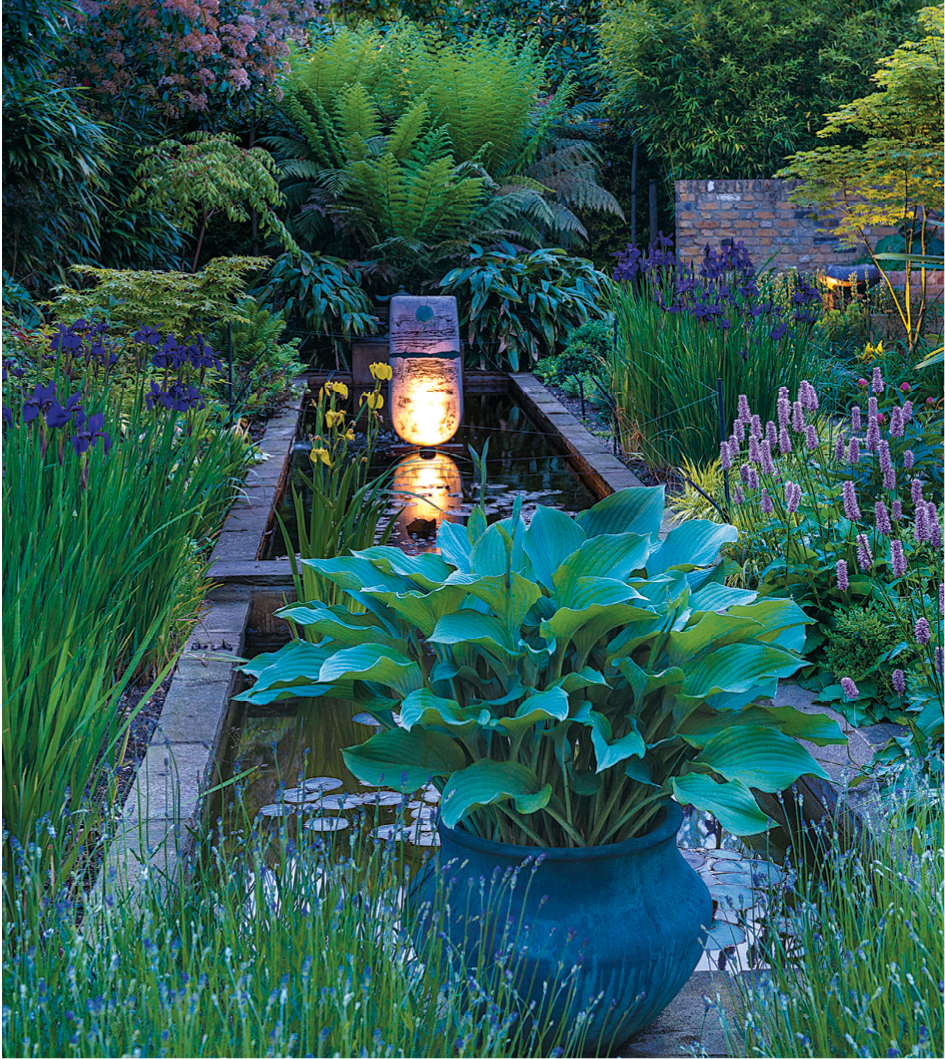 Create contrast
The hosta (Hosta cv., Zones 3–9) adds a dose of contrast by daring to go out as much as up and by having bigger, broader leaves than anyone else around.
Establish harmony
The upright habit of 'Superba' bistorta (Persicaria bistorta 'Superba', Zones 3–7) (right side of photo) matches that of many of its neighbors, while the color of its blooms form a nice trio with the Siberian iris and the soon-to-flower lavender (Lavandula spp. and cvs., Zones 5–10).
Ensure unity
Repeating a characteristic, such as an upright habit, creates a sense of unity. This quality is strengthened by reusing a particular plant, like 'Caesar's Brother' Siberian iris (Iris sibirica 'Caesar's Brother', Zones 3–8) (dark purple blooms throughout).
---
Photos, except where noted: Danielle Sherry