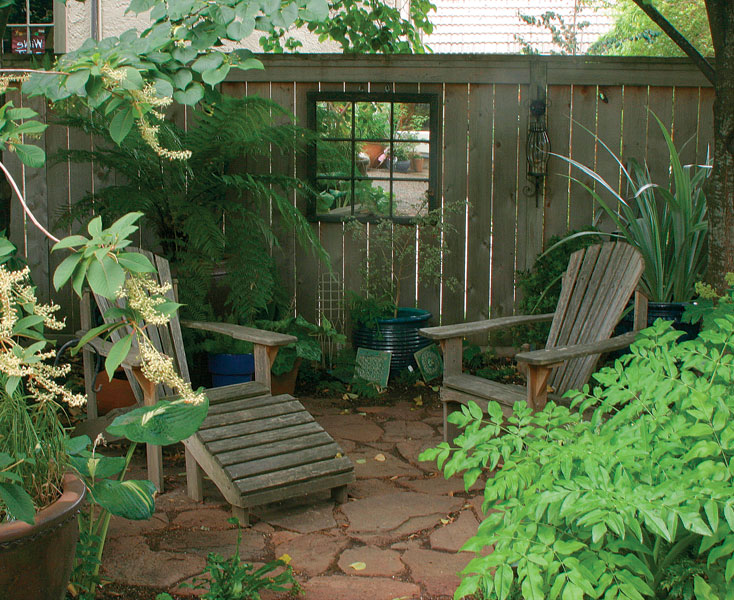 An artfully decorated fence forms the backdrop for the author's cozy outdoor seating area.
Photo/Illustration: Brandi Spade
On the hottest days of summer, my husband and I gravitate to a pair of comfortably worn Adirondack chairs in our secret garden—a cozy backyard spot under the shelter of two linden trees. What draws us into that part of the garden? What makes one seating area more inviting than another?
People are drawn to and congregate in the open spaces of a garden. As the designer, you decide where to place these areas and how to furnish them; think of the design as a road map laid out for visitors: Come this way. Have a seat. Relax. By thinking about how the different parts of your garden and the seating areas will be used and by how many people, including how they'll be furnished, you'll be able to create living areas that work for you over time. Whether you are starting from scratch, have inherited a square slab of concrete next to the back of your house, or are starting over with seating areas that got plunked here and there in the leftover bits of your garden, the result will be a useful, inviting space that functions as an outdoor extension of your home.
1. Set boundaries to define your seating area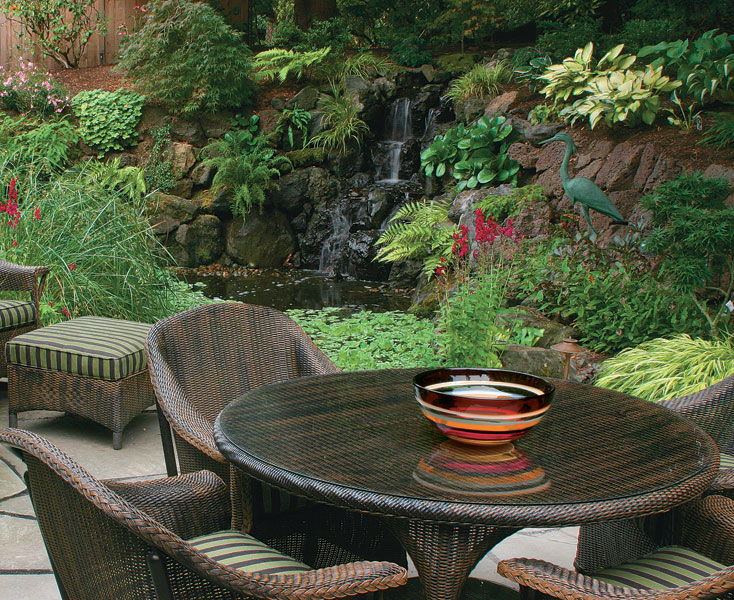 Make choices that suit your space. For large spaces, a water feature and plenty of plants can make a great backdrop.
The size and amount of privacy provided in an outdoor seating area signals how a space will ultimately be used: Keep it small and intimate for a secluded retreat, or go large and open for social affairs. Boundaries are what establish this framework for your seating area. Space permitting, you'll want to have large- and small-scale seating areas because the odds are that you'll find uses for both.
One of the easiest and most cost-effective methods of establishing boundaries is to take advantage of existing structures, such as your home or garage, to define the perimeters of a seating area. You can also create boundaries using plants or built elements, such as fences, arbors, trellises, or screens.
For large properties, you can employ a number of boundaries. In small spaces, however, you'll only be able to choose one or two to implement, so they'll need to pull their weight. Make them aesthetically pleasing and functional. For especially small seating areas, try freestanding screens or trellises that take up little room. Boundaries are necessary not only for establishing the size and purpose of a space but also for hiding unwanted views, framing desirable views, and adding character to a space.
For those living on lots adjoining tall neighboring homes, boundaries can provide privacy from above. You can easily do so by adding a strategically placed umbrella. For a more permanent, inviting means of privacy, try a pergola that can later be draped with vines. A few purposely placed trees or large shrubs will also do the job once they've matured a bit. In addition, the overhead canopy provided by a tree or pergola can work to bring a seating area down to a comfortable scale. Wait, however, until after you've installed your hardscaping (including the next step, flooring) to incorporate these planted boundaries.
2. Choose flooring to suit your space and budget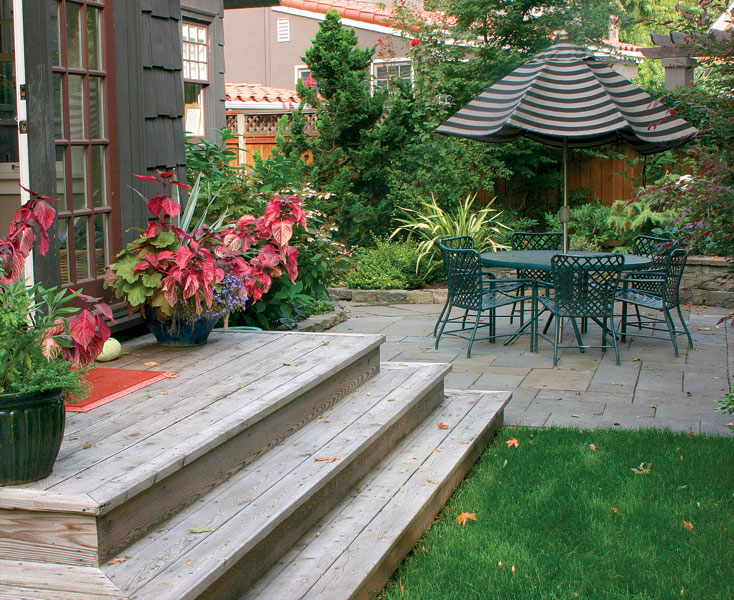 When you look for flooring, consider more than just looks. The stone used here has an attractive natural appearance but is also practical, giving the metal furniture a flat, stable surface to rest on.
Photo/Illustration: Brandi Spade
Once you've decided on a size and the general boundaries for your seating area, you're ready to install hardscaping, including one of the most important elements: flooring.
When selecting materials for the floor of a seating area, there are many options to choose from, including stone, brick, pavers, concrete, and gravel. In terms of making your selections, let the intended use and your budget be your guides.
When setting a budget for materials, I encourage clients to put their hardscaping dollars into their most lived-in areas. I'm a fan of using stone whenever possible because it feels natural and, if properly installed, provides a wobbleproof surface for furnishings. It's often, however, on the higher end of the price continuum. Concrete is a great alternative to stone. It is typically less expensive per square foot (sometimes costing even less than pavers), easily adapts to irregular shapes, and lends itself to creative designs and finishes.
Gravel is probably the cheapest flooring option. It may not seem appealing, but you can easily dress up your gravel patio by including crisp edges to define the area. Steel edging, pavers, or brick set on edge are a couple of ways to establish clean lines while adding visual interest. Avoid using gravel directly outside of entry points to the home, however, because it can easily get tracked inside. With gravel, as with stone, you'll likely have to weed out seedlings that blow in and germinate in the cracks, but this is typically an easy chore.
Though one flooring material can do the job, you don't have to limit yourself. A mix of materials can be effective in reinforcing your underlying design concept. Use materials wisely, however, so as not to create a chaotic feel. Small gardens, especially, need a streamlined palette of textures and materials. Using brick to edge a flagstone or concrete patio, for instance, can be an effective combination of materials that lends unity to your design (photo, facing page).
Before making your final flooring selections, consider the area's eventual use and likely furnishings. Furniture with slender feet, like those of metal chairs, require paving with more tightly spaced joints for stability. Traction is also important. Brick, as well as concrete and stone, can be slippery when wet or mossy. Make your final decision based not only on your style and budget but also on the practicality of the materials in your living space. Then, get busy installing it.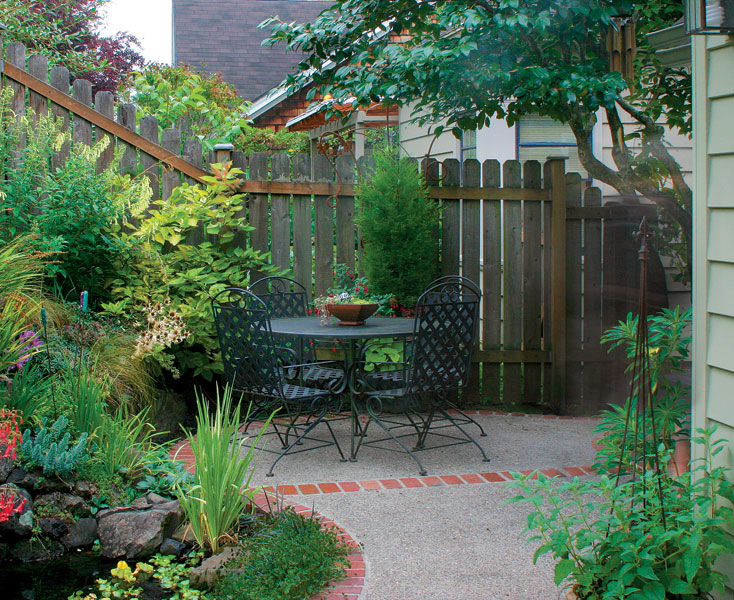 Edging a seating area with a second flooring material, such as brick, such as brick, can give you the opportunity for a little artistic creativity while also emphasizing the lines of your design.
Photo/Illustration: Brandi Spade
3. Softening hard edges invites the garden in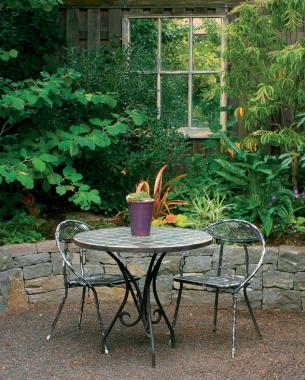 Once you've set boundaries and installed functional flooring, you might find that these built elements need to be softened or deemphasized to lessen the contrast between hardscaping and garden surroundings. It's important, however, to only soften and not eliminate the underlying lines of boundaries and flooring; their presence ensures that a seating area feels organized and purposeful.
One method of softening hard lines and edges is to begin incorporating any planted boundaries that you decided on during the first phase. Even though these plants were chosen previously, waiting until this point to plant them allows for the possibility of changes in your hardscaping plans during construction. When incorporating these plant screens, even where space is constrained, resist the tendency toward a long, straight, narrow border lining the edge of your seating area. It's almost always too narrow to accommodate the plants you want to use for screening, not to mention the plants you want to use for eye-catching appeal. Enlarge the depth of your beds, instead, by bumping out sections using angular shapes or generous curves in strategically located areas, especially where you need big plants to go. For people in small spaces and urban settings, this allowance for enlarged beds is especially important for creating softness.
For challenging narrow areas within the border, where you simply don't have any room to play with, there are ways to create softness without taking up a lot of space. Plants can be trained against fences and walls to create living green walls. Similarly, using plants with narrow upright growth habits, such as 'Sky Pencil' Japanese holly (Ilex crenata 'Sky Pencil', USDA Hardiness Zones 5–7) can create a living, soft division of space without requiring a lot of room. (Japanese holly is considered invasive in Virginia.)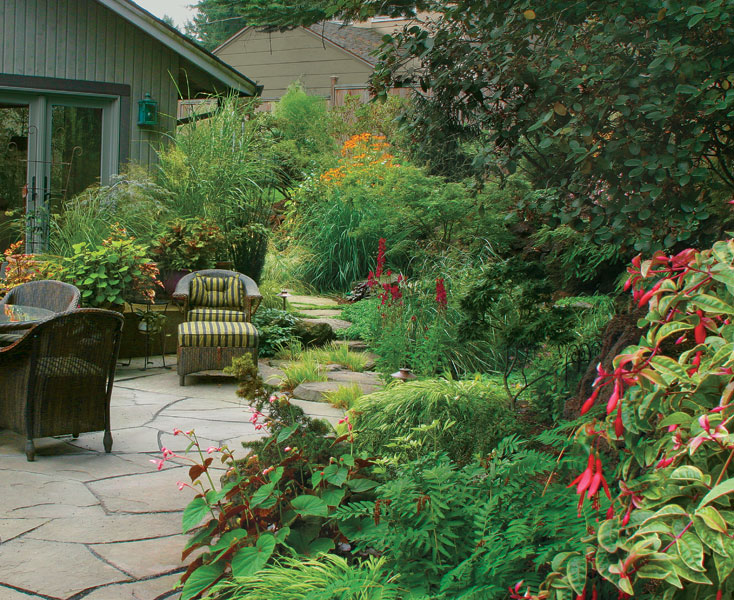 This patio makes use of potted plants to soften a short stack of angular stairs, while a border with plenty of curves makes room for big plants that provide screening.
Photo/Illustration: Brandi Spade
Another way to enliven stark walls and fences, especially at the narrow points within the border, is by creating an illusion of expanded space. I install faux windows, their panes replaced with mirrors to reflect the surrounding green space. If a seating area abuts a wall with a window, you can use window-box plantings to soften the space. Also, try accessorizing with decorative container combinations that add color, texture, and movement while softening the edges and corners of patios and vertical edges of fences and walls. All these elements act as a natural decor, transforming a simple seating area into a cozy and inviting outdoor living space.
One of the most gratifying things I hear from clients who have undergone a garden transformation that includes the addition of functional seating areas is that they feel as if their house has gotten bigger and that they're using their outside spaces more than before. Operation alfresco accomplished.
Great plants for seating areas
Don't stop with plants for boundaries. Use them to set the right mood, tickle the senses, or add seasonal interest. Best of all, most of the plants listed in the charts below deliver in more than one category.
| | | |
| --- | --- | --- |
| Fragrant plants | Latin name | Zones |
| Oyama magnolia | Magnolia sieboldii | 6–9 |
| Paper bush | Edgeworthia chrysantha | 6–10 |
| 'Silk Road' lily | Lilium 'Silk Road' | 3–8 |
| 'Stained Glass' hosta | Hosta 'Stained Glass' | 3–8 |
| 'Summer Ice' daphne | Daphne × transatlantica 'Summer Ice' | 6–8 |
| | | |
| --- | --- | --- |
| Soft and touchable plants | Latin name | Zones |
| 'Aureola' Japanese forest grass | Hakonechloa macra 'Aureola' | 5–9 |
| Scented geranium | Pelargonium spp. and cvs. | 9–11 |
| Sunset hyssop | Agastache rupestris | 4–9 |
Edible plants
Latin name
Zones
Basil
Ocimum basilicum and cvs.
annual
Blueberry
Vaccinium spp. and cvs.
2–8
'Negronne' fig
Ficus carica 'Negronne'
(considered invasive in California, Florida, Indiana, and North Carolina)
6–9
Strawberry
Fragaria spp. and cvs.
4–9
| | | |
| --- | --- | --- |
| Unusual plants | Latin name | Zones |
| 'King Tut' papyrus | Cyperus papyrus 'King Tut' | 10–11 |
| Plumose soft shield fern | Polystichum setiferum 'Plumosomultilobum' | 6–9 |
| Spiral aloe | Aloe polyphylla | 9–11 |
| | | |
| --- | --- | --- |
| Colorful long bloomers | Latin name | Zones |
| Flowering maple | Abutilon spp. and cvs. | 8–11 |
| Hardy fuchsia | Fuchsia magellanica and cvs. |  6–9 |
| Hydrangea | Hydrangea spp. and cvs. | 4–9 |
| | | |
| --- | --- | --- |
| Plants with structural or winter interest | Latin name | Zones |
| 'Aztec Pearl' choisya | Choisya 'Aztec Pearl' | 8–10 |
| 'Fastigiata' plum yew | Cephalotaxus harringtonii 'Fastigiata' | 6–9 |
| Japanese stewartia | Stewartia pseudocamellia | 5–8 |
| Osmanthus | Osmanthus delavayi | 7–9 |
|  'Tall 'n Tough' Japanese mock orange | Pittosporum tobira 'Tall 'n Tough' | 9–10 |