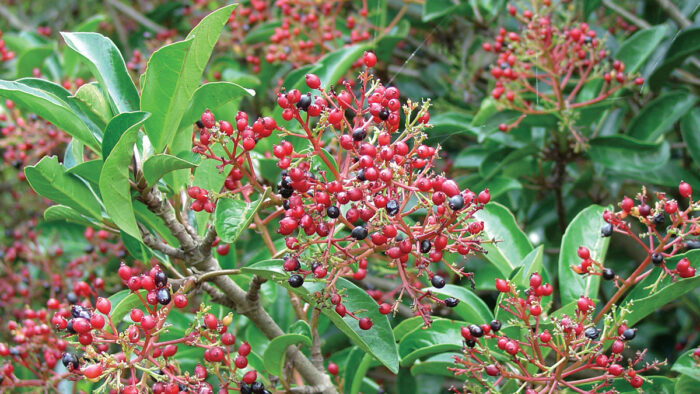 In an episode of Fine Gardening's podcast, Let's Argue About Plants, the hosts discuss the importance of evergreen plants, and the particular perks of broadleaf evergreens:
"The key to any successful four-season garden is evergreens. Conifers are great, but they can be pricey and slow to bulk up. Broadleaf evergreens, on the other hand, bulk up quickly and are generally affordable. The only drawback is they can be boring. In fact, most gardeners think only of rhodies and hollies when it comes to this classification of plants."
Don't be fooled by the common varieties, there is much more to this plant category than one might think while walking around the local garden center. To help shed light on some fabulous, underappreciated broadleaf evergreens, we had regional experts pick their top four. Below, you'll find great picks for the Southern Plains. To discover more fantastic evergreens, check out LAAP Episode 26: Broadleaf Evergreens.
---
---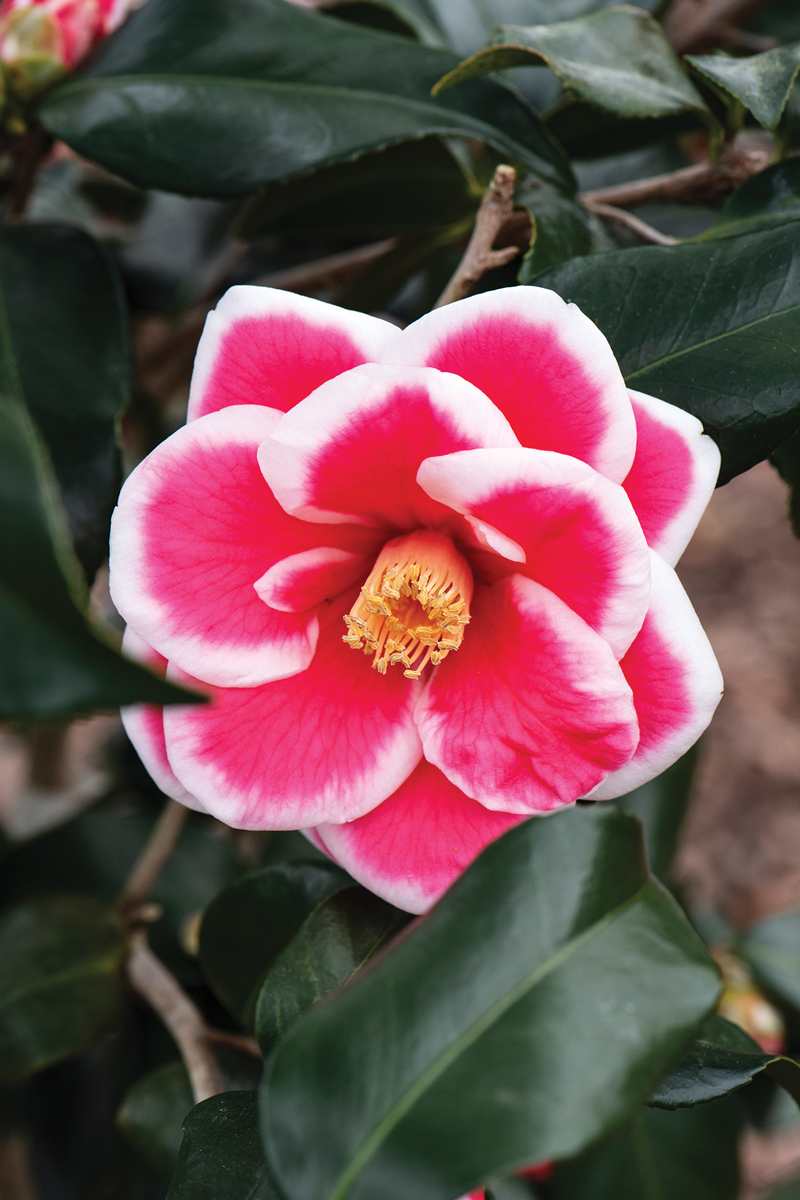 1. Christmas Carol
™

camellia
Name: Camellia 'Green J-039'
Zones: 7–9
Size: 5 to 7 feet tall and 3 to 5 feet wide
Conditions: Partial to full shade; well-drained, semi-acidic soil
Native range: Hybrid 
Camellias have always been a staple in older estate gardens, but many new varieties have come onto the market that fit better in smaller landscapes. Christmas Carol™ is one that has been doing well in our ­region. This camellia, a hybrid between C. sasanqua and C. japon­ica, takes the best from both worlds with large blooms that can withstand the heat and a flowering period that goes from autumn through winter. The blossoms on Christmas Carol™ really catch the eye with their dark pink petals that fade to a clear white margin. The deep green foliage with a semi-weeping look adds a unique touch to a garden but is also a great backdrop for other plants to stand out against. Many gardeners put this camellia in a patio container for a fun pop of color during the holidays.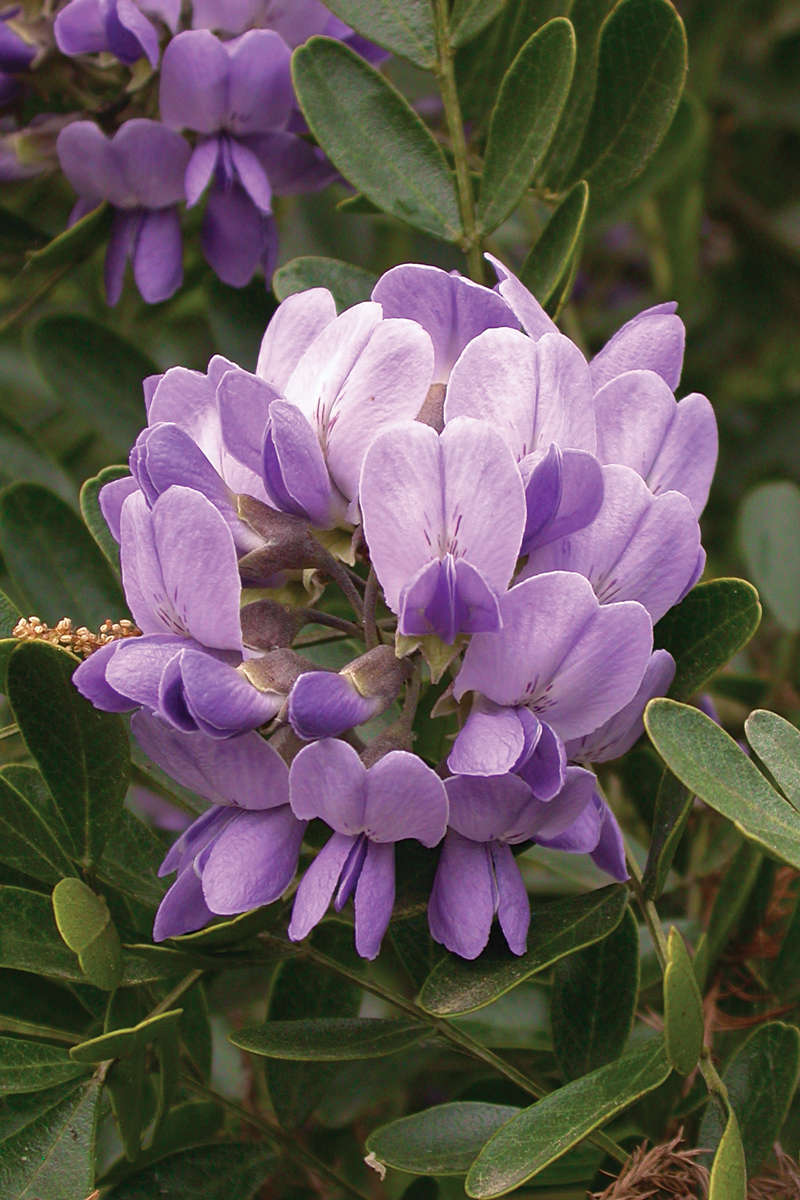 2. Texas mountain laurel
Name: Sophora secundiflora
Zones: 7–10
Size: 15 to 20 feet tall and 8 to 10 feet wide
Conditions: Full sun; well-drained, alkaline soil
Native range: Texas, New Mexico 
Texas mountain laurel is known for its remarkable flowers and interesting seedpods. It is a staple in Southern gardens due to its being able to thrive in poor alkaline soils and its extreme drought tolerance. This plant can be trained into a small tree or left as a shrub. Its gorgeous purple blooms, reminiscent of wisteria (Wisteria spp. and cvs., Zones 5–9), give off an amazing grapelike scent that attracts bees and butterflies. The foliage is a deep dark green that really makes the flowers and silvery seedpods pop. Be careful with this plant, however, as the flowers and seeds are both poisonous.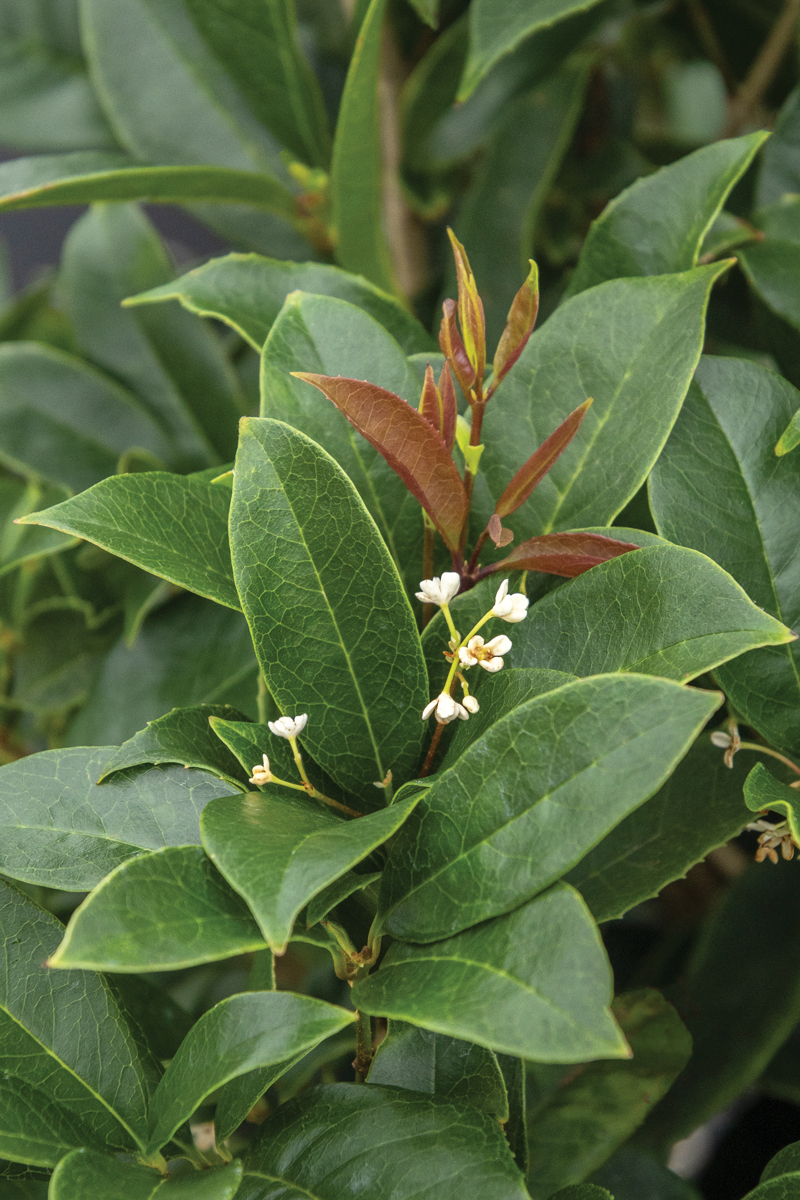 3. Sweet olive
Name: Osmanthus fragrans
Zones: 7–9
Size: 20 feet tall and 6 to 8 feet wide
Conditions: Full sun to partial shade; well-drained soil
Native range: Asia
Sweet olive is a large upright shrub or small tree. The small inconspicuous white to yellow blooms pack a punch with a delicious aroma that lasts from fall through spring. This plant can adapt to all types of soil, including clay, and can be neglected once established. Sweet olive has deep, dark green leaves. It is easy to hedge into a screen but is slower growing than other screening shrubs such as hollies (Ilex spp. and cvs., Zones 2–9) or viburnums (Viburnum spp. and cvs., Zones 2–9), so keep that in mind if you are looking for instant gratification. In deep shade Osmanthus looks a little thinner and might need to be pruned to help with branching and growth, while in full sun it has a very dense branching structure and only needs to be pruned if you are trying to maintain it within a certain space. I cannot recommend this plant enough for anyone who wants something evergreen but with the benefit of fragrance.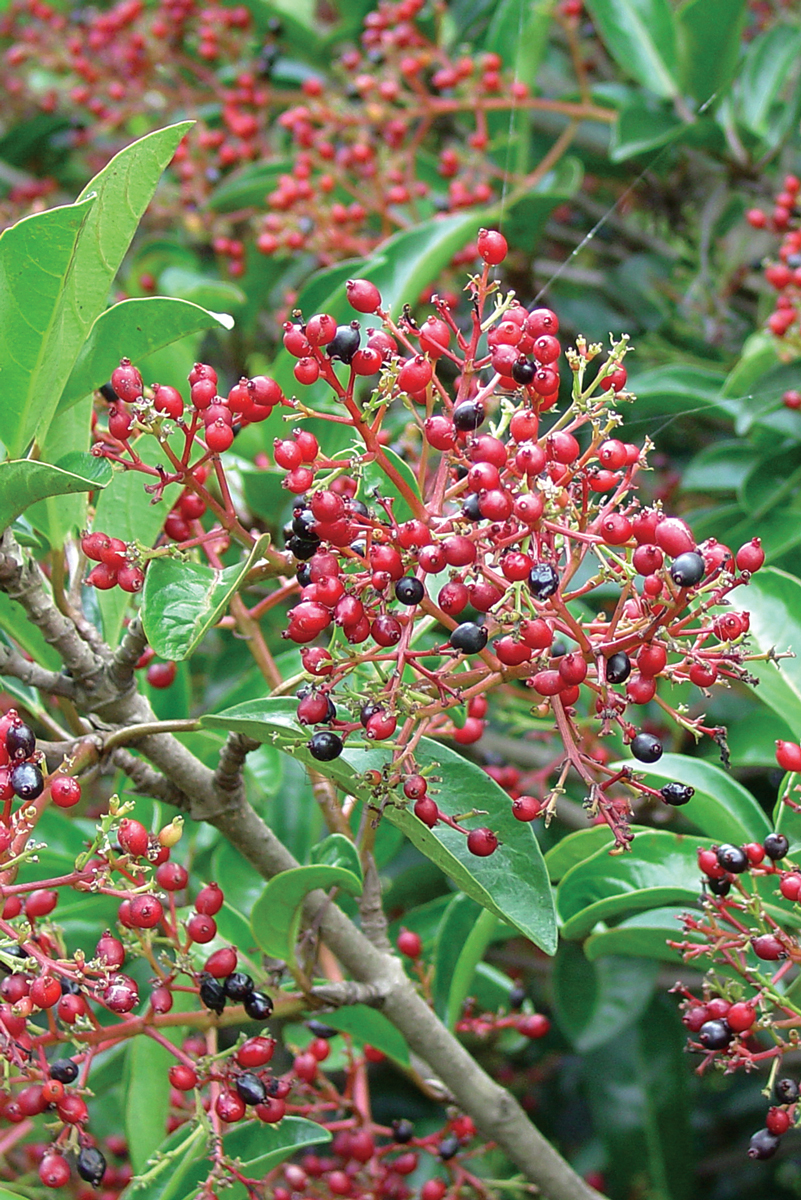 4. 'Chindo' sweet viburnum
Name: Viburnum awabuki 'Chindo'
Zones: 7–11
Size: 12 feet tall and 8 feet wide
Conditions: Full sun to partial shade; well-drained soil
Native range: Taiwan, Japan
Known for its extremely lustrous green foliage, 'Chindo' sweet viburnum is a great addition to any garden that needs a good backdrop or screen. Unlike the sweet ­olive, this is a faster-growing shrub. However, it can ­suffer some foliar damage in the coldest winter weather. If that happens, make sure to give it time to bounce back before assuming it's a goner. This plant likes well-drained soil and is drought tolerant and deer resistant. Mostly grown for its foliage, it does have small white flowers and red berries throughout the season.
---
Megan Proska is the director of horticulture at the Dallas Arboretum in Texas.
Click here to find plant picks, garden tips, and more for the Southern Plains.