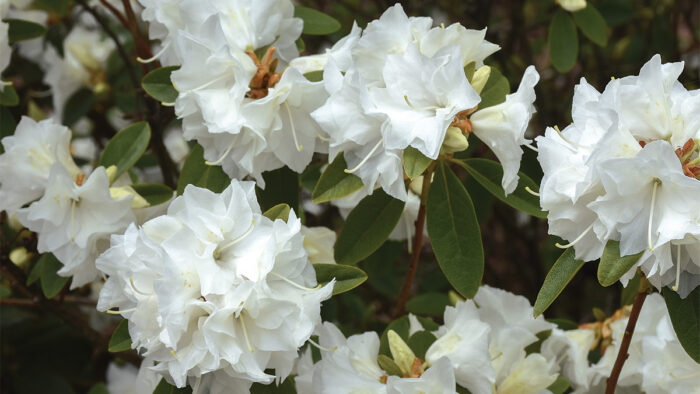 In an episode of Fine Gardening's podcast, Let's Argue About Plants, the hosts discuss the importance of evergreen plants, and the particular perks of broadleaf evergreens:
"The key to any successful four-season garden is evergreens. Conifers are great, but they can be pricey and slow to bulk up. Broadleaf evergreens, on the other hand, bulk up quickly and are generally affordable. The only drawback is they can be boring. In fact, most gardeners think only of rhodies and hollies when it comes to this classification of plants."
Don't be fooled by the common varieties, there is much more to this plant category than one might think while walking around the local garden center. To help shed light on some fabulous, underappreciated broadleaf evergreens, we had regional experts pick their top four. Below, you'll find great picks for the Northeast. To discover more fantastic evergreens, check out LAAP Episode 26: Broadleaf Evergreens.
---
---
1. 'Karenoma' andromeda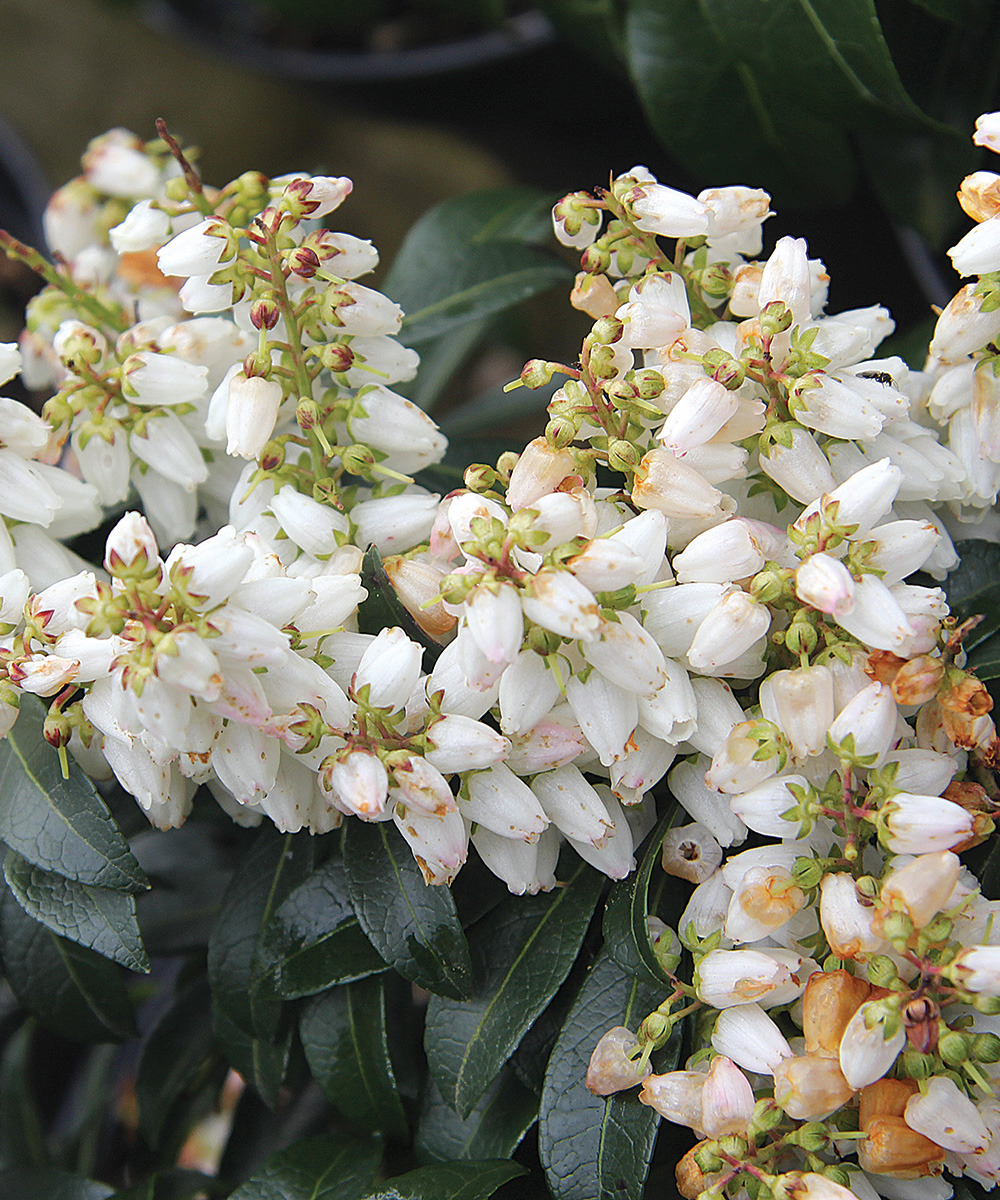 Name: Pieris 'Karenoma'
Zones: 5–8
Size: 4 feet tall and wide
Conditions: Full sun to partial shade; acidic, well-drained soil
Native range: Hybrid of eastern North American and Japanese species
This is an uncommon interspecific hybrid between our native mountain andromeda (P. floribunda) and Japanese andromeda (P. japonica), and it combines the best features of both. 'Karenoma' is slow growing and small in stature. Its soft pink buds open to multiple chainlike clusters of tiny white flowers that are held on upright panicles and arch outward without becoming pendulous. Deer resistant and compact, it features bronze-red new growth and rounded, dark green leaves more like P. floribunda. It is easy to maintain, even in the smallest garden.
2. 'Tiddlywinks' mountain laurel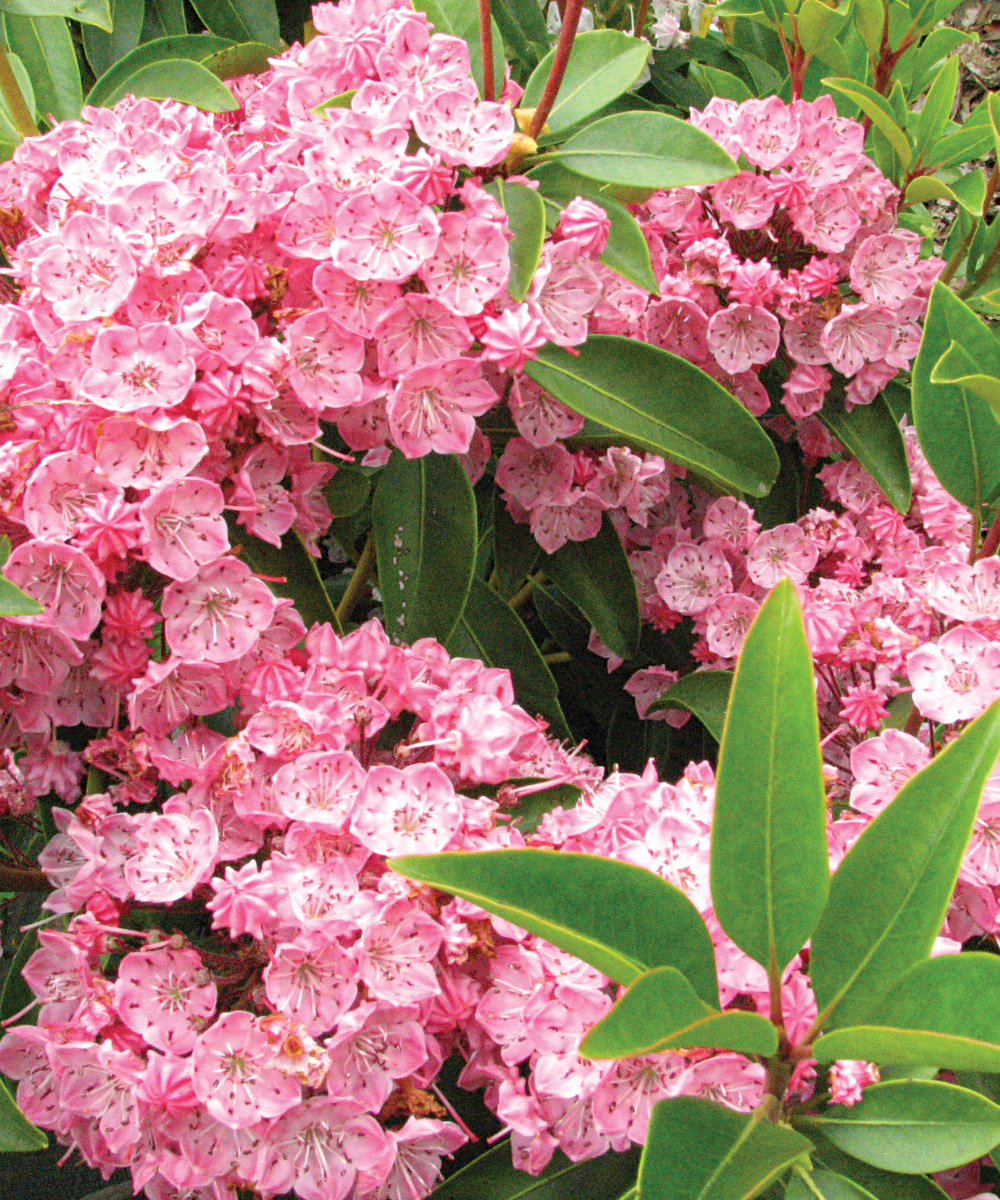 Name: Kalmia latifolia 'Tiddlywinks'
Zones: 5–9
Size: 3 feet tall and wide
Conditions: Full sun to partial shade; acidic, well-drained soil
Native range: Eastern North America
Among the first of nurseryman Richard Jaynes' series of little-leaf mountain laurels, 'Tiddlywinks' was released in the 1980s and is still one of the best. Dark pink flower buds usher in our summer season, opening to full-size, soft pink flowers that last for weeks. Compact and slow growing, 'Tiddlywinks' matures to a fraction of the normal stature of the species. In addition, its glossy, leathery-textured dark green leaves are only about half the size and are densely clustered at the branch tips. It's ideal for a smaller garden or for planting in a decorative container.
3. 'Dee Runk' columnar boxwood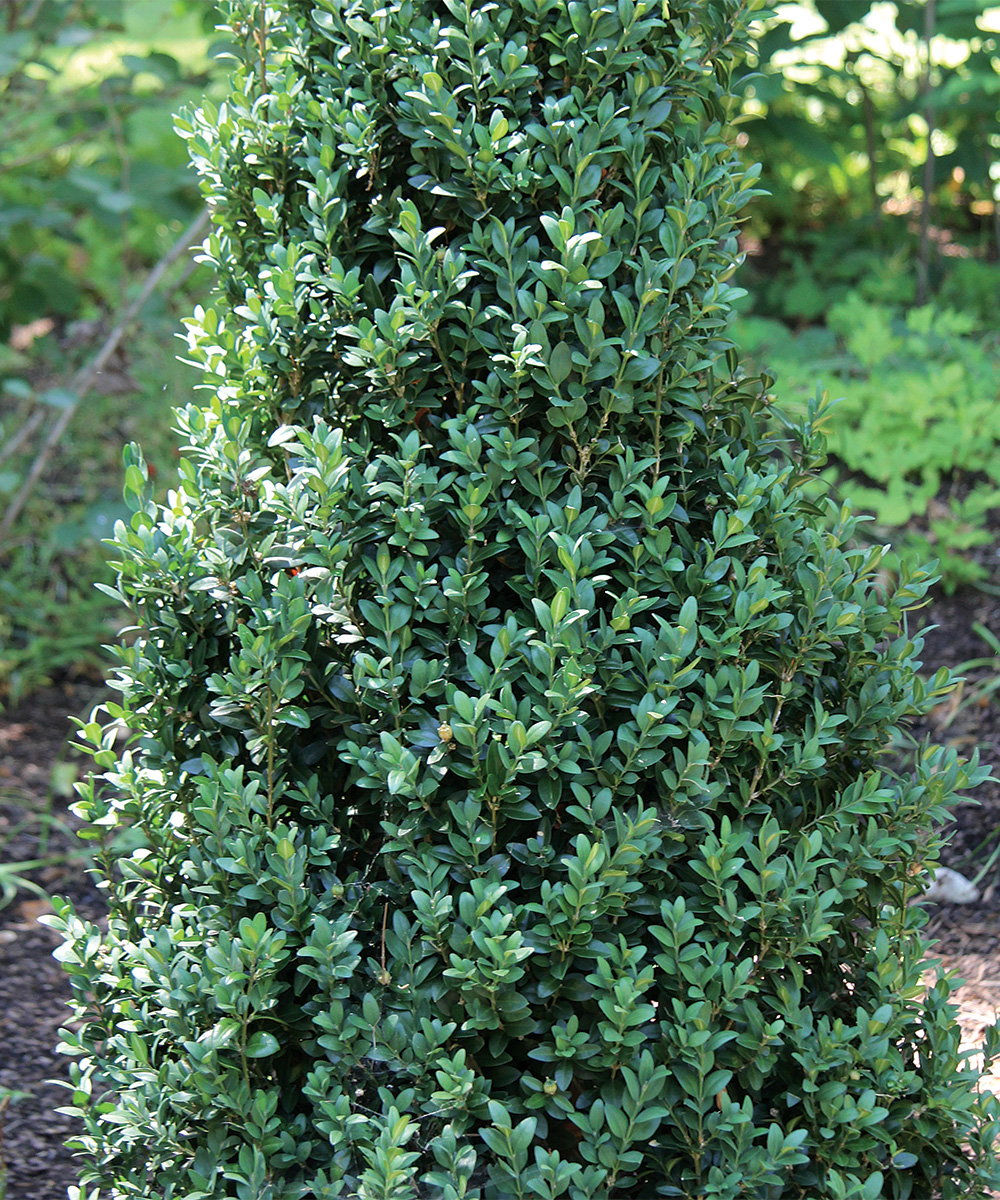 Name: Buxus sempervirens 'Dee Runk'
Zones: 5b–8
Size: 8 to 10 feet tall and 2 to 3 feet wide
Conditions: Full sun to partial shade; moist, well-drained soil
Native range: Southern Europe, western Asia, northern Africa
Lots of gardens can be enhanced by including a slender vertical element or architectural accent. Many folks turn to a cadre of narrow-growing Japanese holly (Ilex crenata, Zones 5–8) cultivars for this purpose, but I've found 'Dee Runk' boxwood to be better adapted to more-challenging sites and also less susceptible to deer browsing, with lower maintenance requirements. Try to buy plants with a strong central leader, and periodically trim any side branches that might compete for height, since winter snow and ice accumulations can cause side branches that parallel the main leader to splay.
4. 'April Snow' rhododendron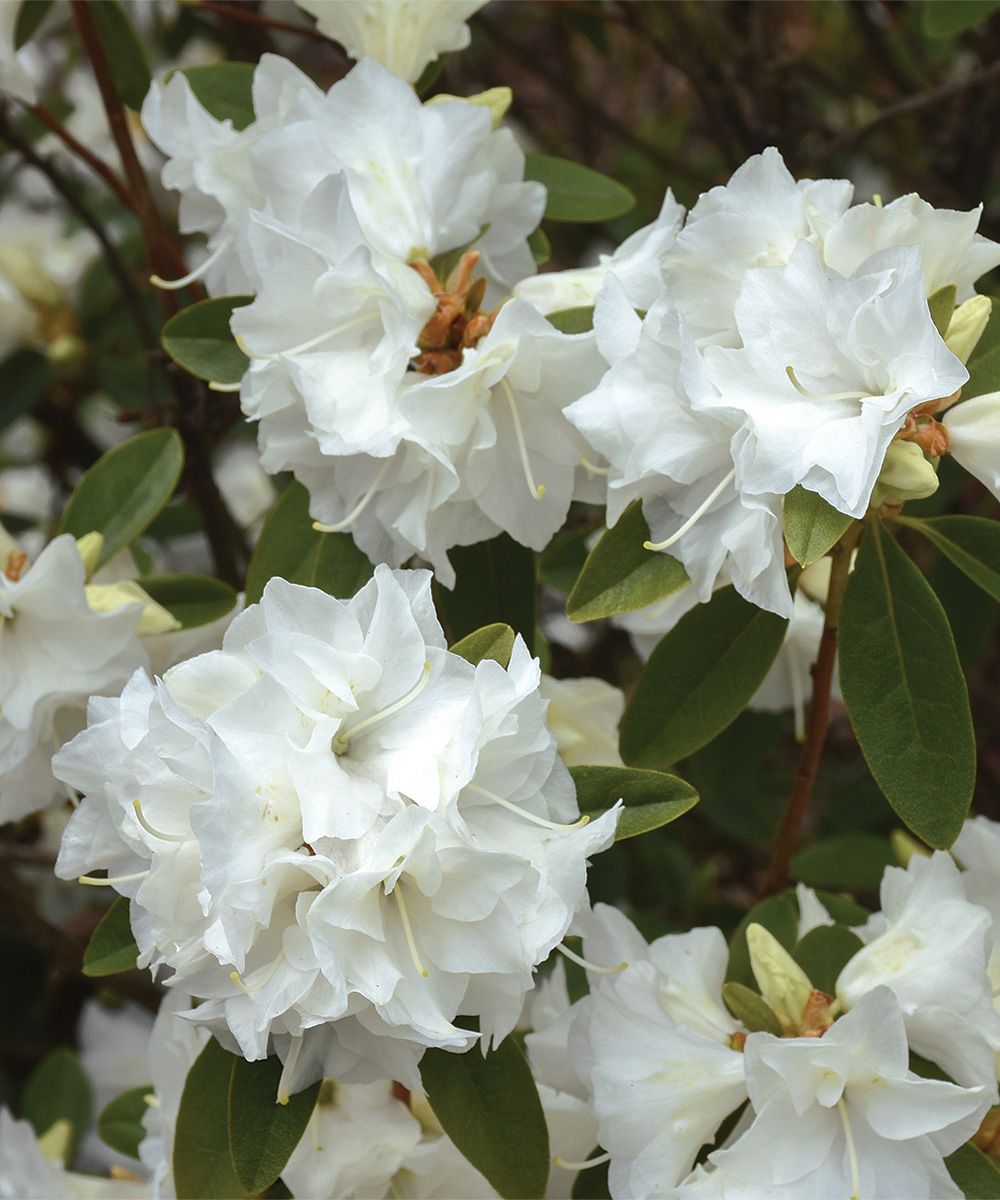 Zones: 4–8
Size: 4 feet tall and wide
Conditions: Full sun to partial shade; acidic, well-drained soil
Native range: Hybrid of eastern North American and eastern Asian species
With lime-green, aromatic winter foliage, 'April Snow' sports distinctive yellow-green stems. In spring, these branches are tipped by clusters of flower buds that expand to cream yellow, then open to pure white, pointed flowers. With similar parentage and breeding legacy, 'April Snow' could be considered "the white PJM rhodie." It is slow growing, wide and compact, hardy, and well suited to small gardens as a focal point at the front of a border. Touching its leaves releases a distinctive but intense, spicy, clove-like fragrance. Ed Mezitt created this multigenerational hybrid in 1978 using parents from Asia and North America, leveraging the best features of its heritage and creating a true jewel for your garden.
---
Wayne Mezitt is a plant breeder, a Massachusetts Horticultural Society board member, and the chairman of Weston Nurseries in Hopkinton, Massachusetts.
Photos: millettephotomedia.com
Click here to find plant picks, garden tips, and more for the Northeast.