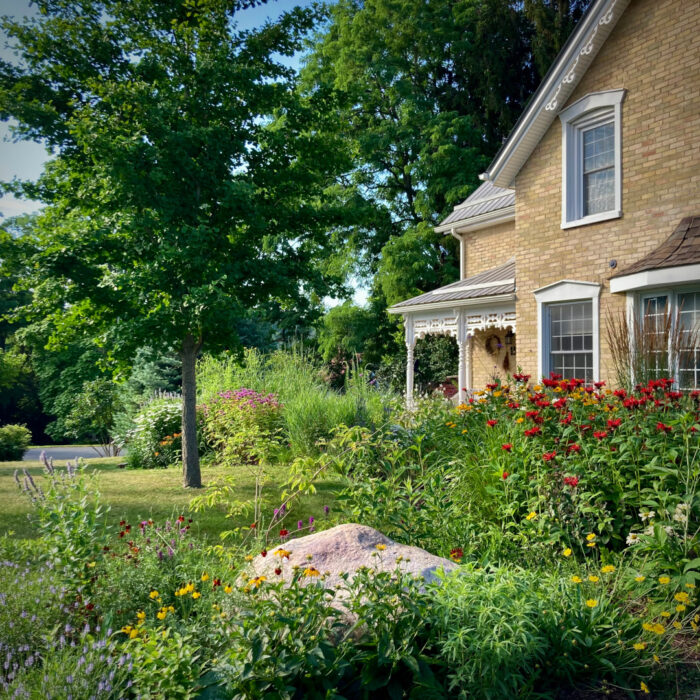 Today we're visiting with Kat Kinch.
We found our new home early in the pandemic, when lockdowns made clear that our well-loved bungalow was too small for our future. A yellow brick beauty built in 1869 came up for sale just down the street, and we jumped at the chance to be the next stewards of a beautiful part of our small town's heritage.
Our new/old home came with established beds in front, a perennial border in the backyard, a pond, and a woodland shade area under massive Norway spruces. While I initially took a lighter touch in the back and around the pond, the front garden was where I made the biggest change right away. The front window was lined with three matching spirea, an old nemesis shrub for me, and the border along the front walk was shaded by a sprawling thorned locust and housed a mixture of hostas, some perennials, and single specimen shrubs including invasive burning bush (Euonymus alatus, Zones 4–8) and tick-harboring Japanese barberry (Berberis thunbergii, Zones 4–8). We had the locust taken down, which allowed the ginkgo tree (Ginkgo biloba, Zones 3–8) alongside it to take off and also opened up a lot more sunny planting. Out came the spirea, burning bush, and barberry, replaced with Baptisia, Gaura, the reliably hardy lavender 'Munstead' (Lavandula angustifolia 'Munstead', Zones 5–8), local tall grasses, and multistemmed serviceberries (Amelanchier canadensis, Zones 4–8). The prior owners loved annuals, and their self-seeded borage (Borago officinalis, annual) and abundant pink cosmos (Cosmos bipinnatus, annual) returned and were very welcome).
I also expanded the front border, using a no-dig style of bed preparation. I layered yard waste bags over the lawn and then added deep layers of mulch. Doing this in early spring as soon as the snow melts or ahead of winter in the fall effectively kills the grass underneath by planting time in May/June. I edged around the new beds after the thaw using a half-moon edger. The new beds are loaded with pollinator-friendly plants: green-headed coneflower (Rudbeckia lacinata, Zones 3–9), thimbleweed (Anemone virginiana, Zones 2–8), false sunflower (Heliopsis helianthoides, Zones 3–9), prairie coneflower (Ratibida columnifera, Zones 3–9), scarlet bee balm 'Jacob Cline' (Monarda didyma, Zones 4–9), hoary vervain (Verbena stricta, Zones 4–7), blue vervain (Verbena hastata, Zones 3–8), Verbena bonariensis (Zones 7–10 or as an annual), swamp milkweed (Asclepias incarnata, Zones 3–7), butterfly weed (Asclepias tuberosa, Zones 5–9), whorled milkweed (Asclepias verticillata, Zones 4–9), New Jersey tea (Caenothus americanus, Zones 4–8), spotted bee balm (Monarda punctata, Zones 3–8), anise hyssop (Agastache foeniculum, Zones 4–8), yarrow (Achillea millefolium, Zones 3–9), black-eyed Susan (Rudbeckia fulgida, Zones 3–9), catmint (Nepeta, Zones 3–8), nodding onion (Allium cernuum, Zones 4–8), smooth rose (Rosa blanda, Zones 3–8), and many others. Wild strawberry (Fragaria virginiana, Zones 5–9), nasturtiums (Tropaeolum majus, annual), and garden strawberry (Fragaria × ananassa, Zones 5–9) are used as edible ground covers throughout, and prairie dropseed (Sporobolus heterolepis, Zones 3–9), little bluestem (Schizachrium scoparium, Zones 3–9), switchgrass (Panicum virgatum, Zones 5–9), and 'Karl Foerster' grass (Calamagrostis × acutiflora 'Karl Foerster', Zones 5–9) add structure in late summer and fall. It is abundant and drought tolerant. (I only water brand-new plantings.) The dense vegetation needs only modest weeding, mainly to maintain crisp edges and to control the locust suckers from the removed tree.
In just two growing seasons we have seen so much wildlife: ruby-throated hummingbirds at the scarlet bee balm, otherworldly great black digger wasps on the spotted bee balm, clouds of tiny pollinators on the yarrow, leafcutter bees and bumblebees on the anise hyssop, swallowtails and monarch butterflies on the milkweed, a viceroy butterfly at the asters, a duskywing butterfly amid the false indigo, goldfinches perching on the verbena and feasting on the cosmos seeds, and chickadees and juncos hopping through the grasses. We have had glimpses of moths in the flowers after dark, as well as a fox wending its way through the path at night.
We love living in a heritage house that has been restored and inhabited happily, and I have loved building up a welcoming front garden that is filled with plants that belong to this place (and invited friends who play nicely). Like many of us, my idea of "home" deepened and changed in the pandemic, and making our outdoor space a rich haven for tiny, quiet creatures is now a forever part of our home.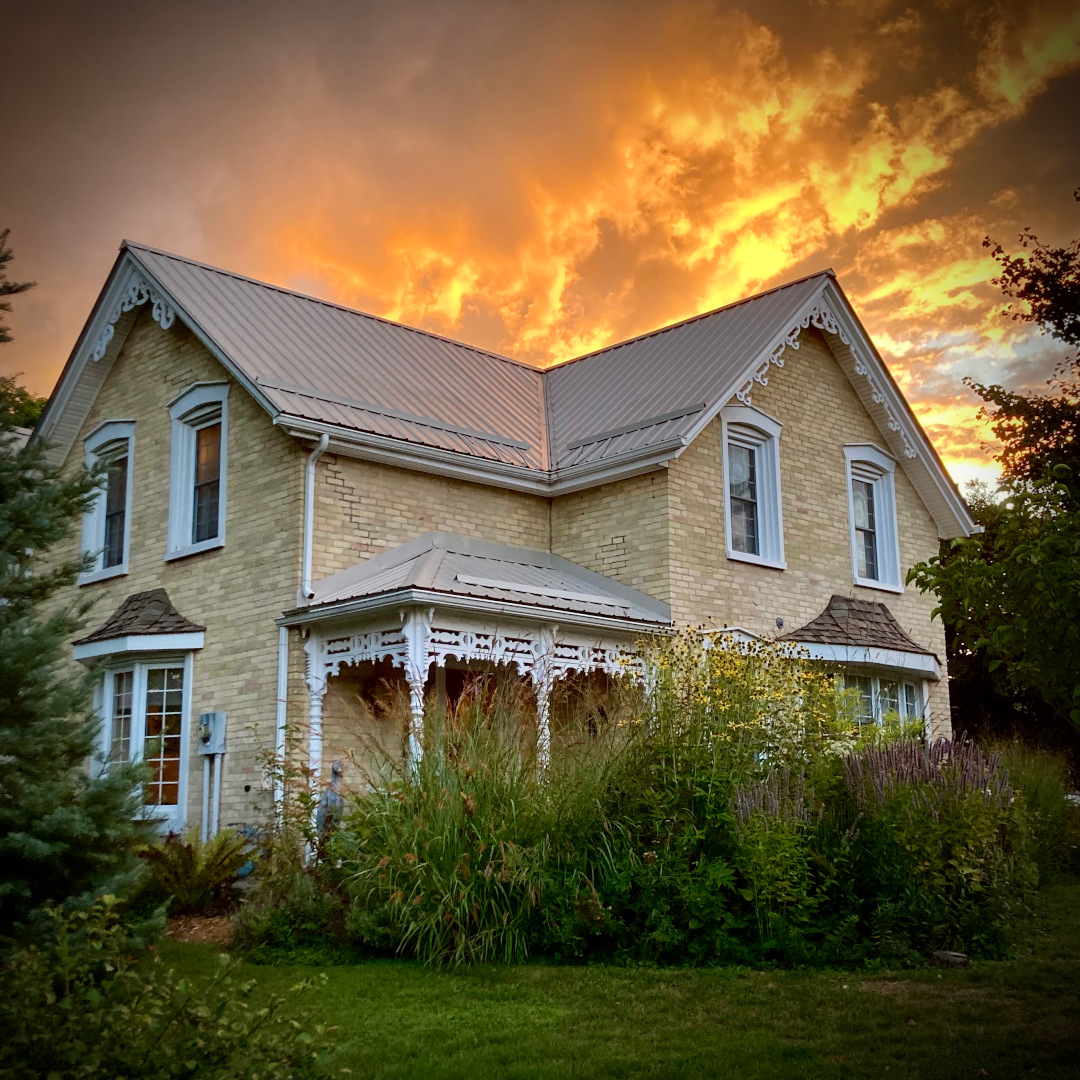 The new home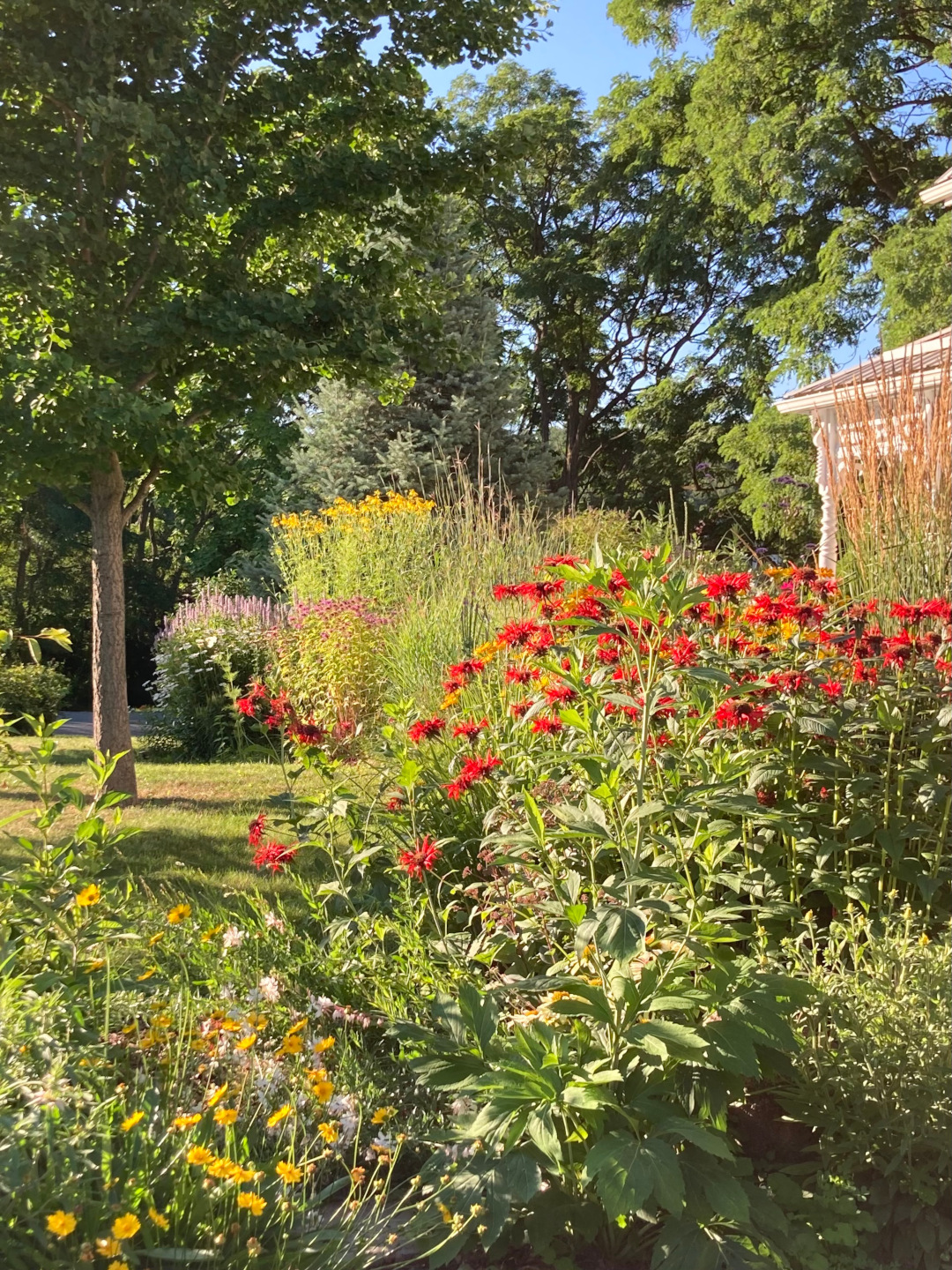 Abundant beds are full of life, with the scarlet bee balm taking center stage.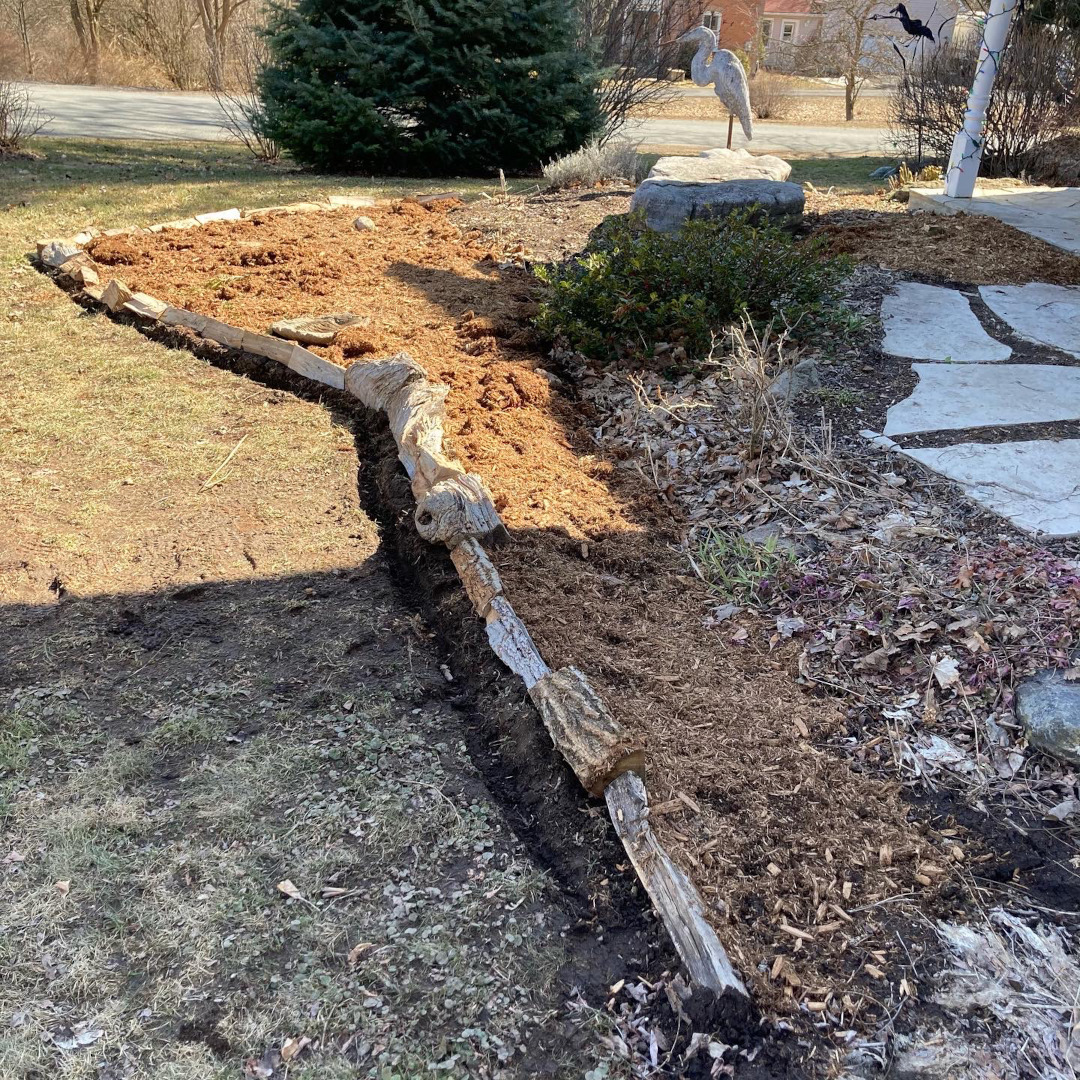 Preparing the new beds
A monarch butterfly caterpillar munches on the whorled milkweed.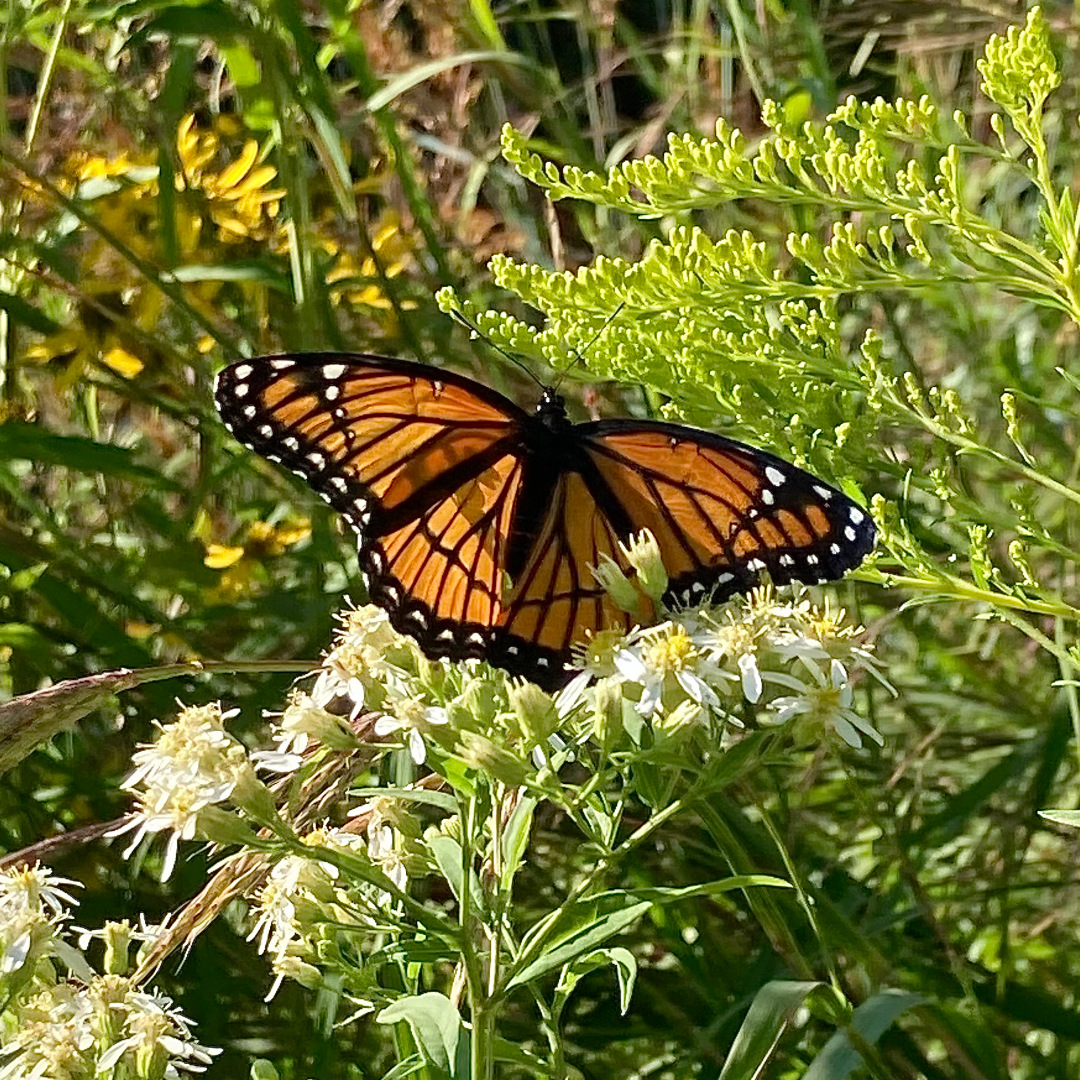 A monarch butterfly adult enjoys a little nectar snack.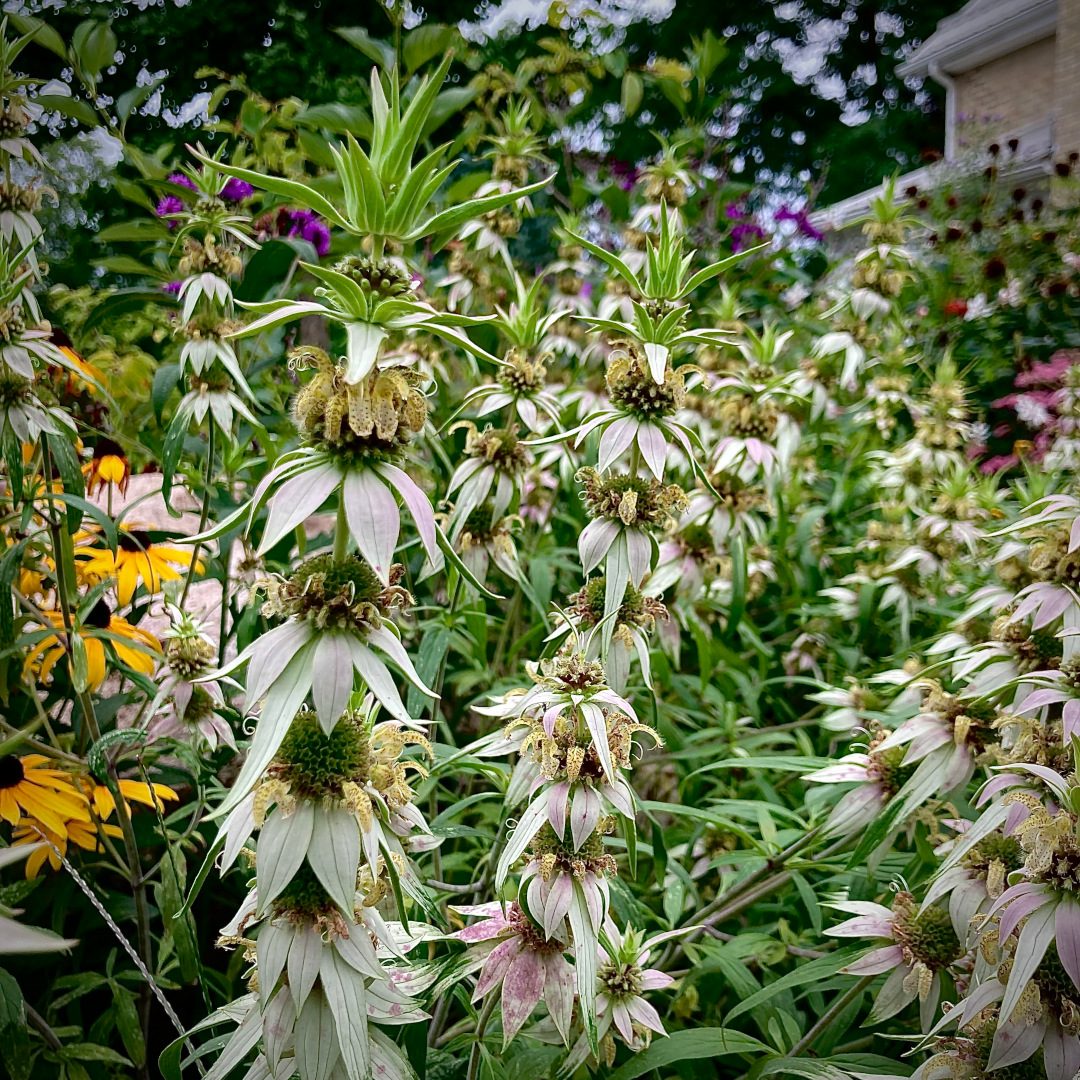 Spotted bee balm, with small, yellowish flowers and large, showy pink-white bracts.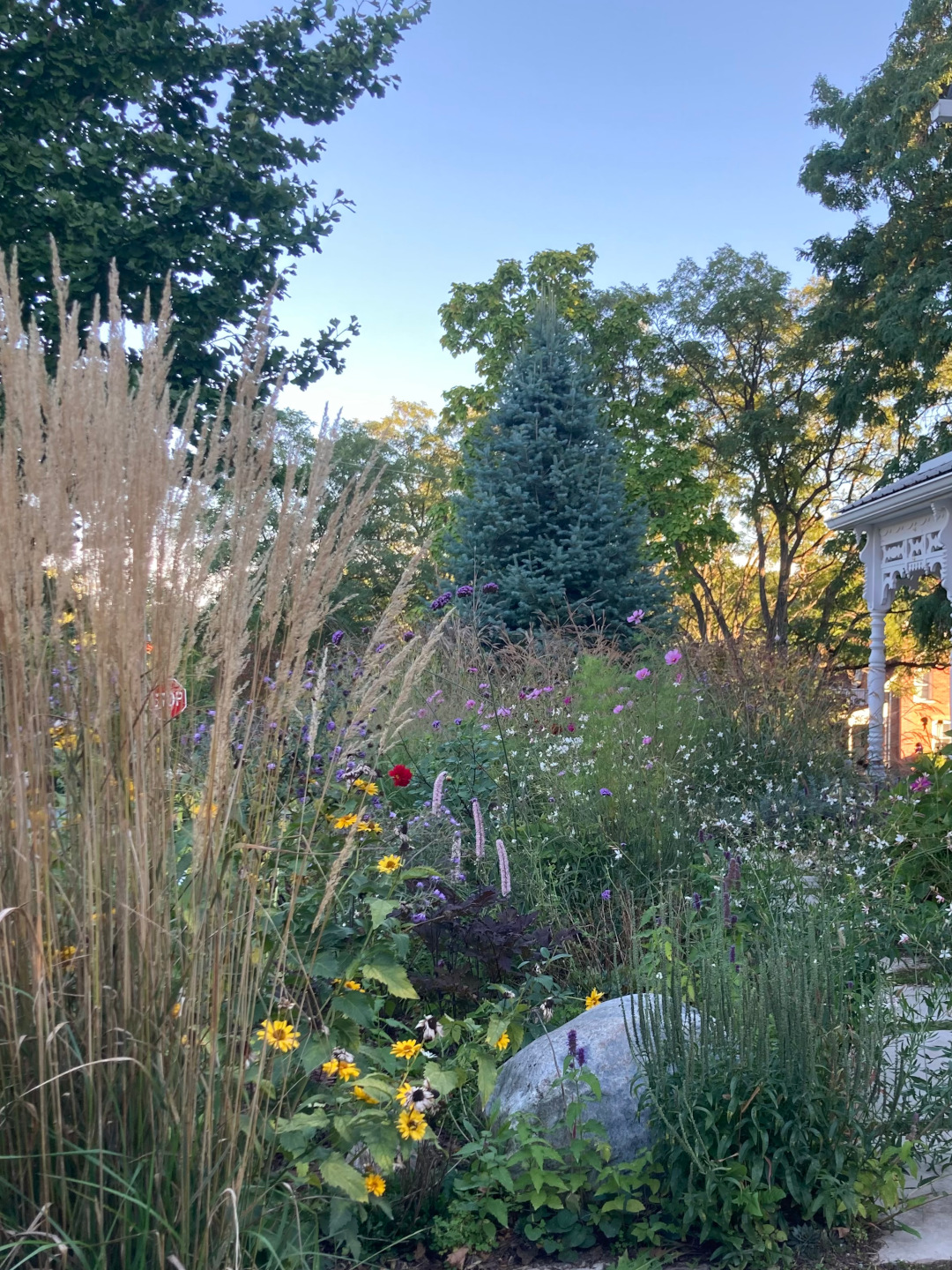 'Karl Foerster' grass gives structure in the late-season garden.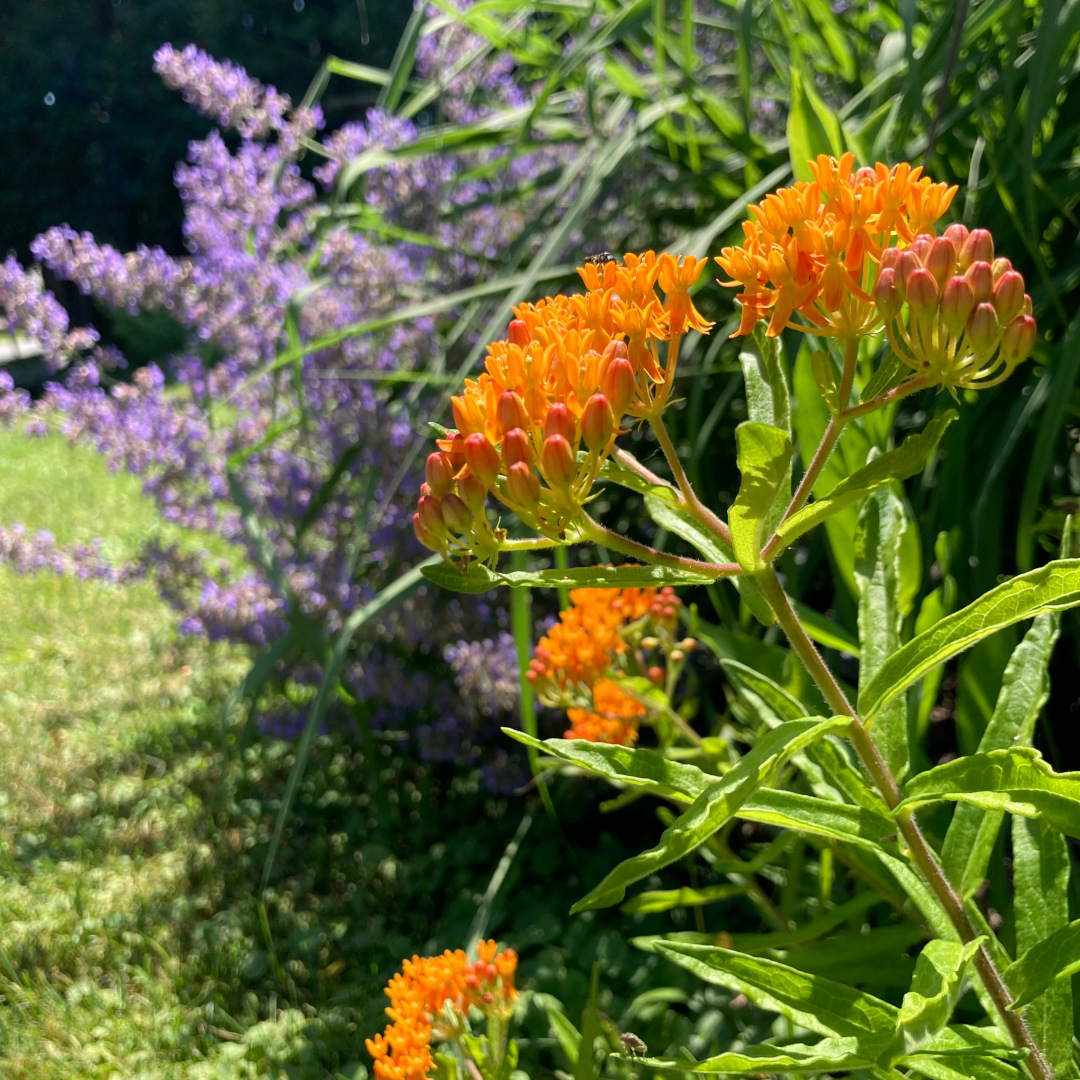 Butterfly weed in full bloom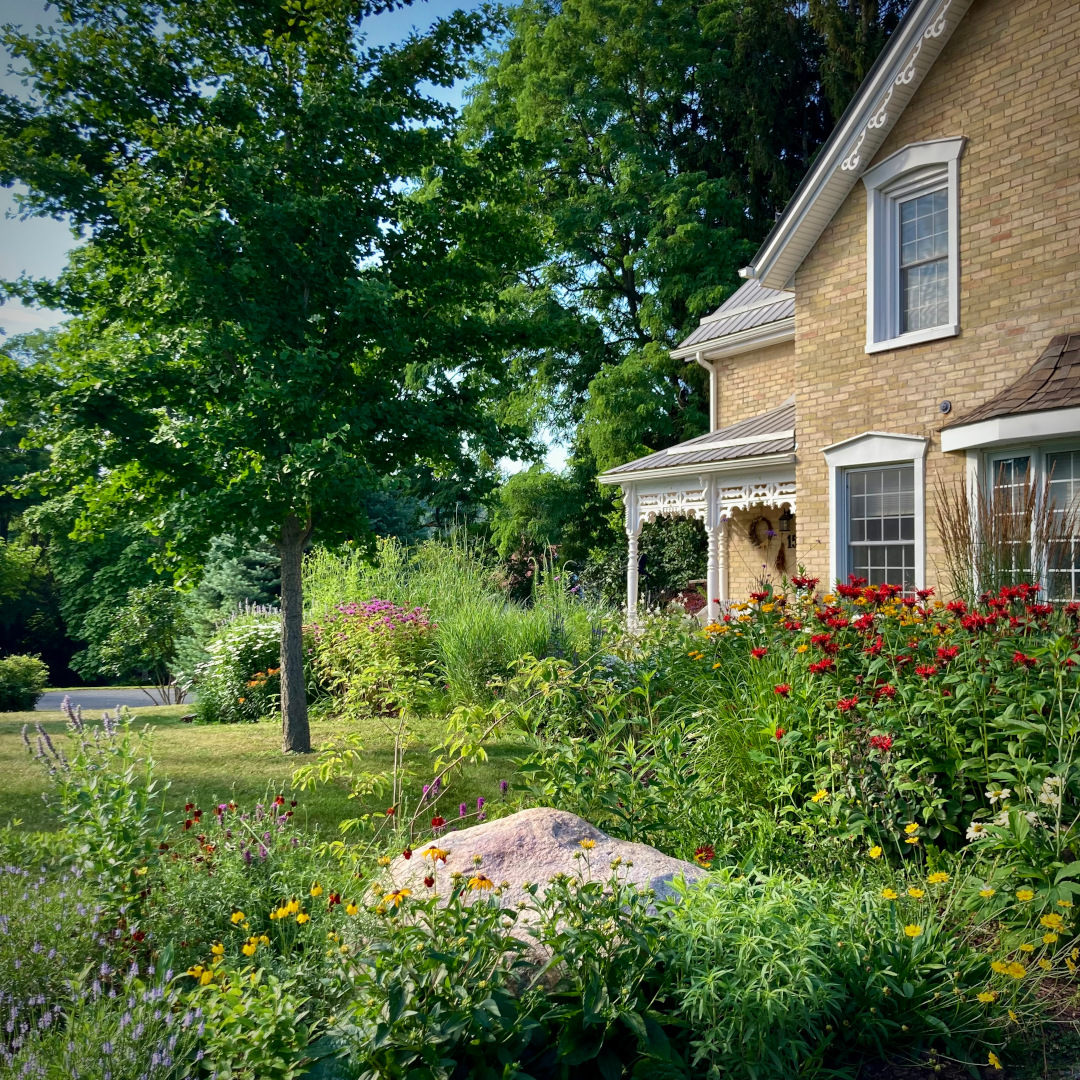 View of the new garden around the house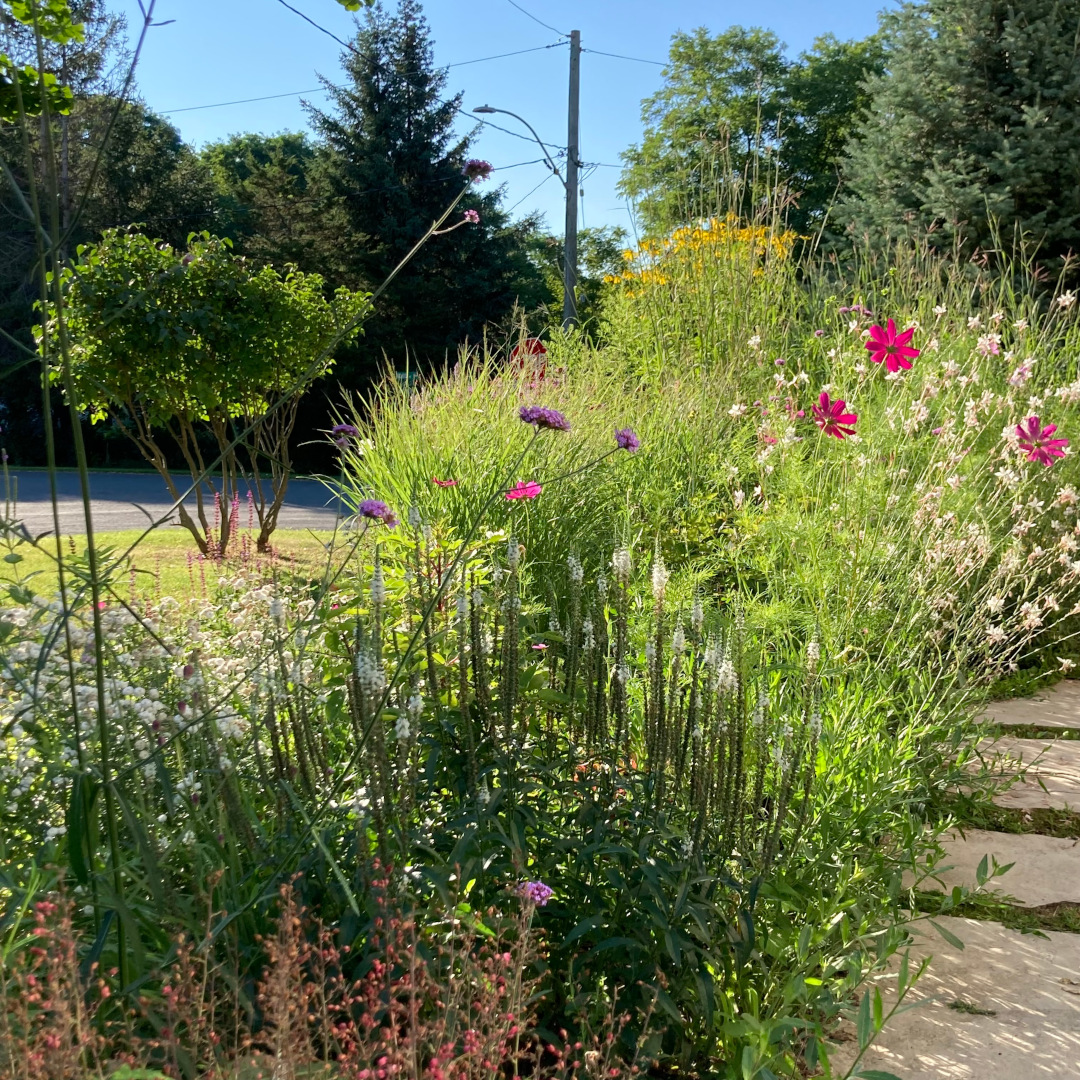 Inherited self-sown cosmos join the new plantings.
Have a garden you'd like to share?
Have photos to share? We'd love to see your garden, a particular collection of plants you love, or a wonderful garden you had the chance to visit!
To submit, send 5-10 photos to [email protected] along with some information about the plants in the pictures and where you took the photos. We'd love to hear where you are located, how long you've been gardening, successes you are proud of, failures you learned from, hopes for the future, favorite plants, or funny stories from your garden.
Have a mobile phone? Tag your photos on Facebook, Instagram or Twitter with #FineGardening!
Do you receive the GPOD by email yet? Sign up here.