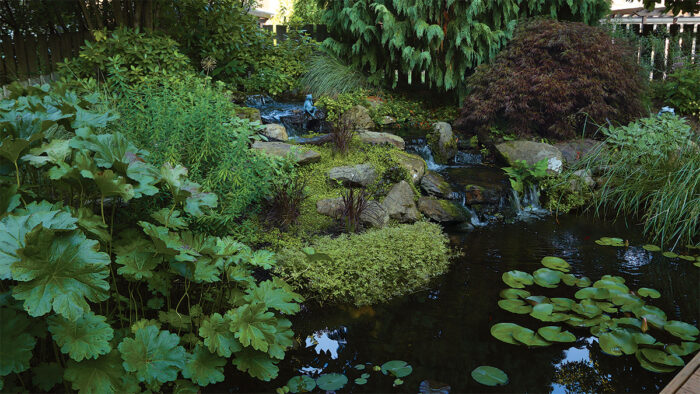 In her article Building a Backyard Retreat, Sabrena Schweyer shares how she went about transforming a small, ordinary backyard into a place for the homeowners and their guests to connect, heal, and celebrate. Here, she describes in broader terms what makes a garden a sanctuary, and she shares her design for an ecological pond like the one that anchors that garden.
Distilling the essence of a garden sanctuary
While spatial design and vibrant ecosystems provide the foundation for most gardens, it is the essence of a garden that elevates it to a sanctuary. Begin with intention. Visualize the mood, style, and experiences that you would like to create. For this garden, we envisioned a safe and nurturing place where the family could be in tune with the joy of nature. Here are some additional tips for creating a highly personal, spiritually enriching landscape.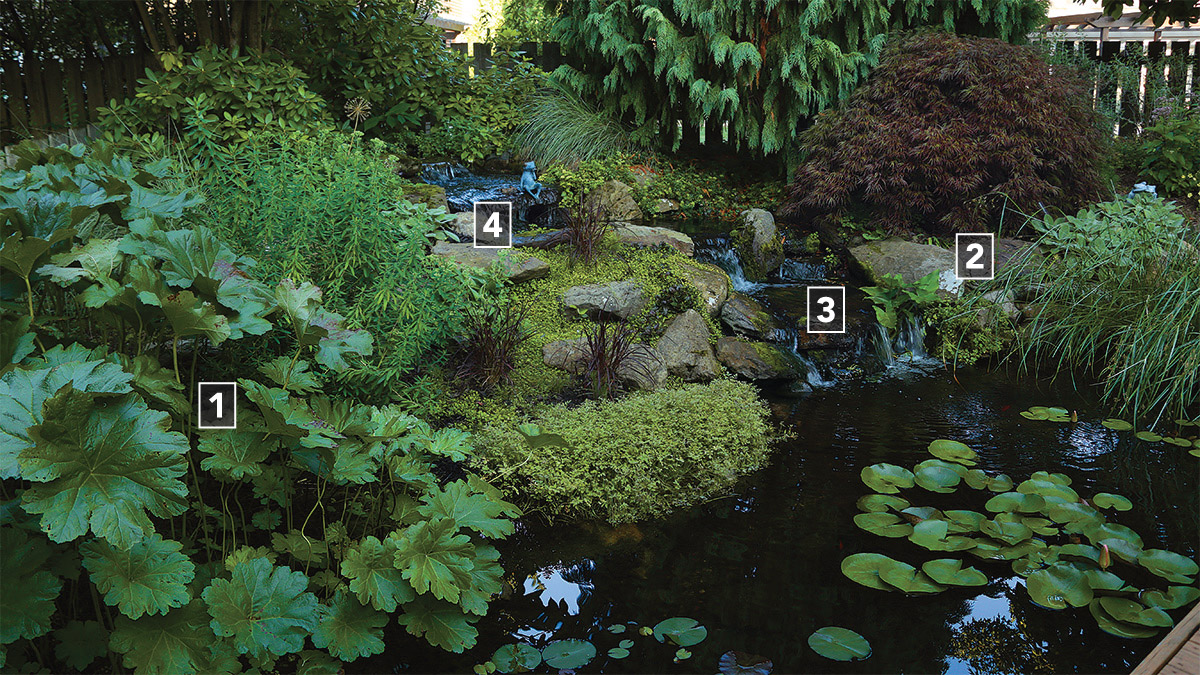 1. Design for rewarding daily interactions
Try to provide a sequence of blooms throughout the seasons, and consider plants with exceptional foliage texture and color for seasonal interest, such as this astilboides (Astilboides tabularis, Zones 5–7) and 'Garnet' cutleaf Japanese maple (Acer palmatum var. dissectum 'Garnet', Zones 5–8).
2. Create destinations
Even in a small space, you can include delightful places to sit and focal points that invite daily journeys of discovery. This garden incorporates sensory elements that draw people in and make sections of the garden feel separate and intriguing.
3. Enthrall the senses
Attract birds, butterflies, and other awe-inspiring creatures. Create a cocoon with sound; bird and frog songs resonate with hope, while splashes from a fountain refresh the spirit. Scent taps into our memory and emotions, so be sure to include plants with fragrant flowers and foliage.
4. Express your personality
Plantings, furnishings, and art provide an opportunity for self-expression. Playful frog art lightens the mood of this garden, while a column fountain is an iconic element that defines the character of the space.
The basics of building an ecological pond
Instead of relying on chemicals, this pond design takes advantage of natural processes to keep the water clean. Here are some of the key components that make it work.

1. A waterfall helps with aeration
Water is pumped from the pond and flows through a filter to the top of the waterfall. Oxygen is mixed in as it spills back into the pond.
2. Bacteria mange waste
Fish waste and other nutrients are broken down by natural bacteria in the gravel bottom of the stream and pond.
3. Plants also clean the pond
Aquatic plants help to capture and recycle waste.
4. A pump prevents stagnation
A skimmer collects water from the pond surface, and a properly sized pump keeps water cycling through the system.
5. Bog areas act as natural filters
A shelf creates space for additional aquatic plants, and consistently wet soil at the pond margins supports wetland plants and beneficial bacteria that absorb excess nutrients.
---
Sabrena Schweyer and her husband, Samuel Salsbury, own and manage Salsbury-Schweyer Inc., a sustainable landscape design and development group based in Akron, Ohio.
Photo and illustration: Carol Collins