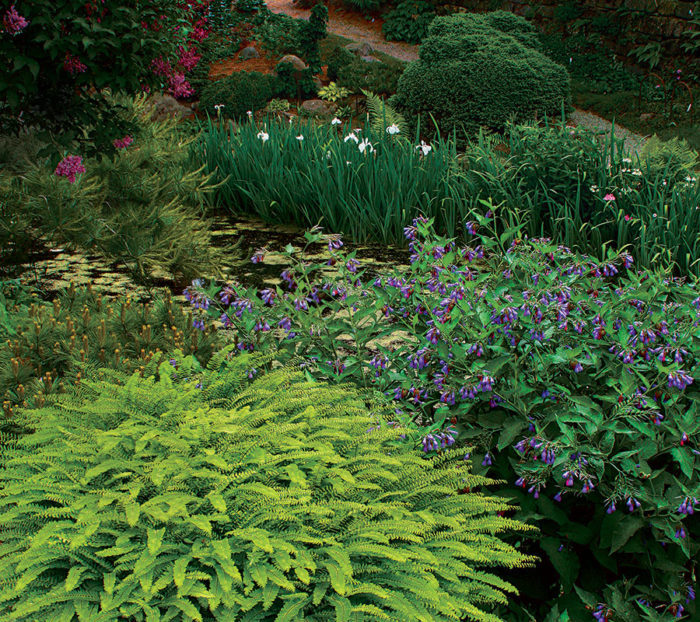 When Don and Lela Avery hear comments on how lovely their garden is, they remind visitors that they have grown a lot of plants but have also seen a lot of plants die over the past 30 years. The couple started propagating plants when they lived on the California coast in the 1970s. When they moved to Vermont nearly 10 years later, with a pickup truck full of tools and two young children, Don and Lela immediately turned a rotting porch into a greenhouse and built a few cold frames so that they could sell vegetable starts and flower seedlings at the local farmers' market.
Over the years, the small nursery they started in Morrisville, Vermont, grew fewer and fewer bread-and-butter plants and more and more noncommercial, esoteric plants. The couple also discovered along the way that some plants not usually recommended for their Zone 4 conditions would actually thrive there. And so their gardens developed over the decades, along with their plant discoveries. Some call their landscape a collector's garden—but it's not, really. "We have friends who collect plants obsessively with no concern for the aesthetic arrangement of the plants," says Don. "The beauty of the garden, to us, is more important than the collecting obsession." Their garden is one that, instead, lets the plants decide the design. In other words, the couple always puts the plants first, which ensures that the landscape almost never looks tired or lacks interest.
Make gardenworthy plant choices, but don't be afraid to admit failure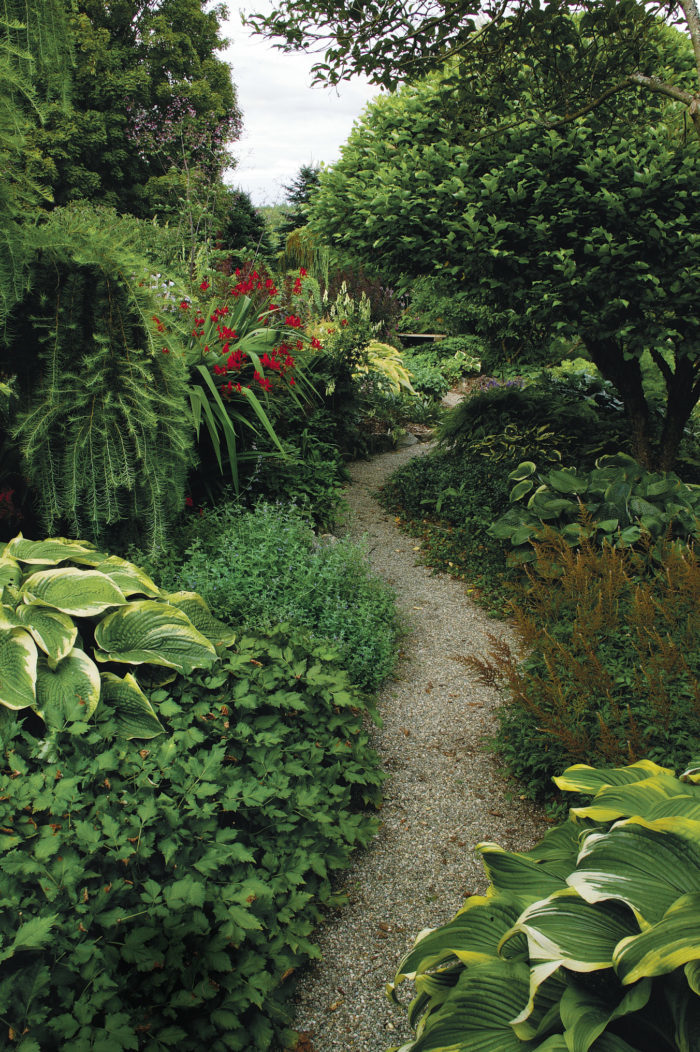 Don and Lela define a "gardenworthy plant" as one that earns its presence in the garden over the long term. They like color but prefer plants that have interesting foliage texture or good architecture/form. Plants that possess these qualities earn their keep month after month and year after year. This group can include common, old-fashioned plants, such as 'Elegans' hosta (Hosta sieboldiana 'Ele­gans', USDA Hardiness Zones 3–9) or 'Lucifer' crocosmia (Crocosmia 'Lucifer', Zones 6–9), or exquisitely obscure plants, such as showy lady's slipper or climbing fern.
These plants might seem as if they have nothing in common, but as you wander along the narrow paths of Don and Lela's garden, all those plants from disparate corners of the world blend together. There are no uncomfortable jolts or off-putting surprises. There are also no obvious transitions from the bog to the alpine tufa wall and onto the woodland area. To achieve this well-blended look, they make sure each of their carefully selected plants is paired with a partner that highlights the plant's best attributes—either its texture or architecture. In short, the plant placement is a series of well-suited marriages. Whether it's the texture or form that connects one plant to the next, there needs to be some common thread for a pairing to feel right. For example, white pine (Pinus strobus, Zones 4–9) and northern maidenhair fern (Adiantum pedatum, Zones 3–8)—a conifer and woodland perennial—don't seem to have much in common on paper, but their similar fine texture makes them a perfect pairing.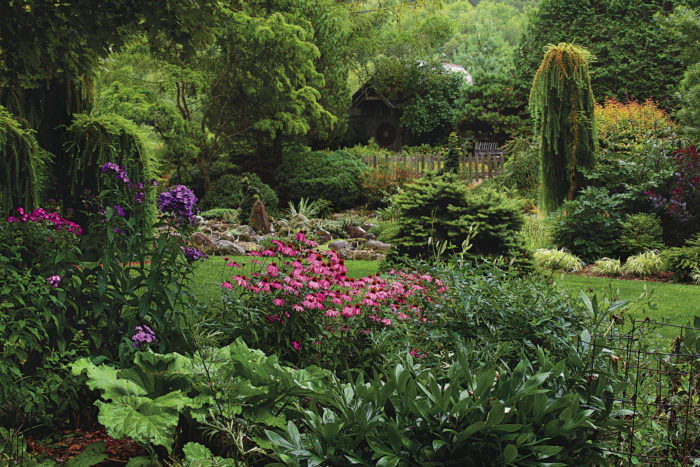 Picking great plants is all well and good, but inevitably, some plants die. The Averys used to be obsessed with Siberian iris (Iris cvs., Zones 3–9) and roses (Rosa spp. and cvs., Zones 2–11), but the plants became bug infested, so the couple gave them up. So what do they do when a plant that they painstakingly selected and placed disappears? They look at it as an oppor­tunity because it opens up space for another great plant. This is when Don will go to the nursery, select a plant that he's vetted as gardenworthy, and wander around with the new plant in one hand and a trowel in the other, trying it out in various vacant spots to determine if it fits in with its neighbors. If it doesn't look or feel right in any spot, he concedes defeat and takes the plant back to the nursery. One downside of creating a garden whose focus is entirely plant driven is that there are simply too many good plants. "For about 10 years, we have had a pact not to increase the footprint of the garden," Don says. So the only chance that the Averys have to plant something new is when something dies.
Provide a means to view the plants up close and from afar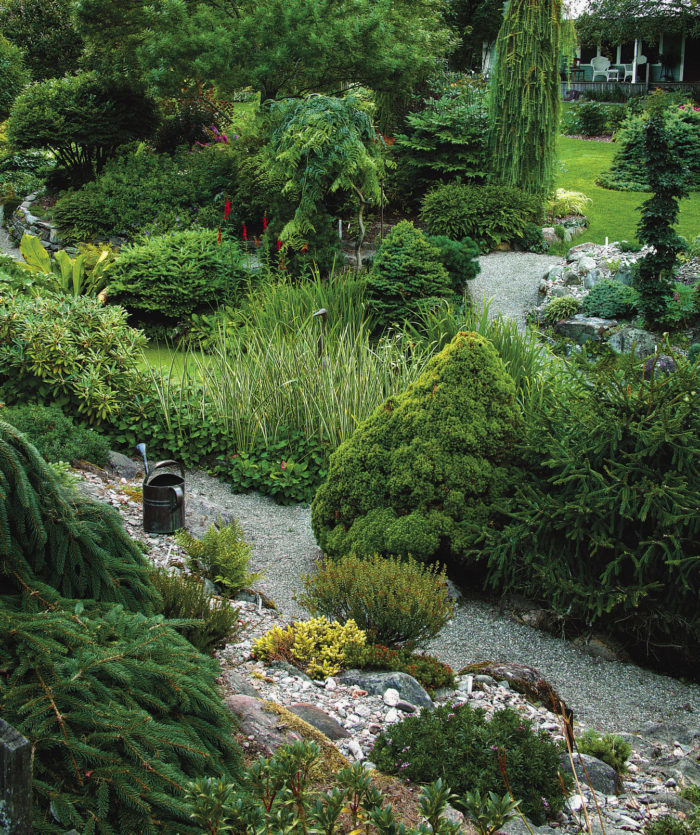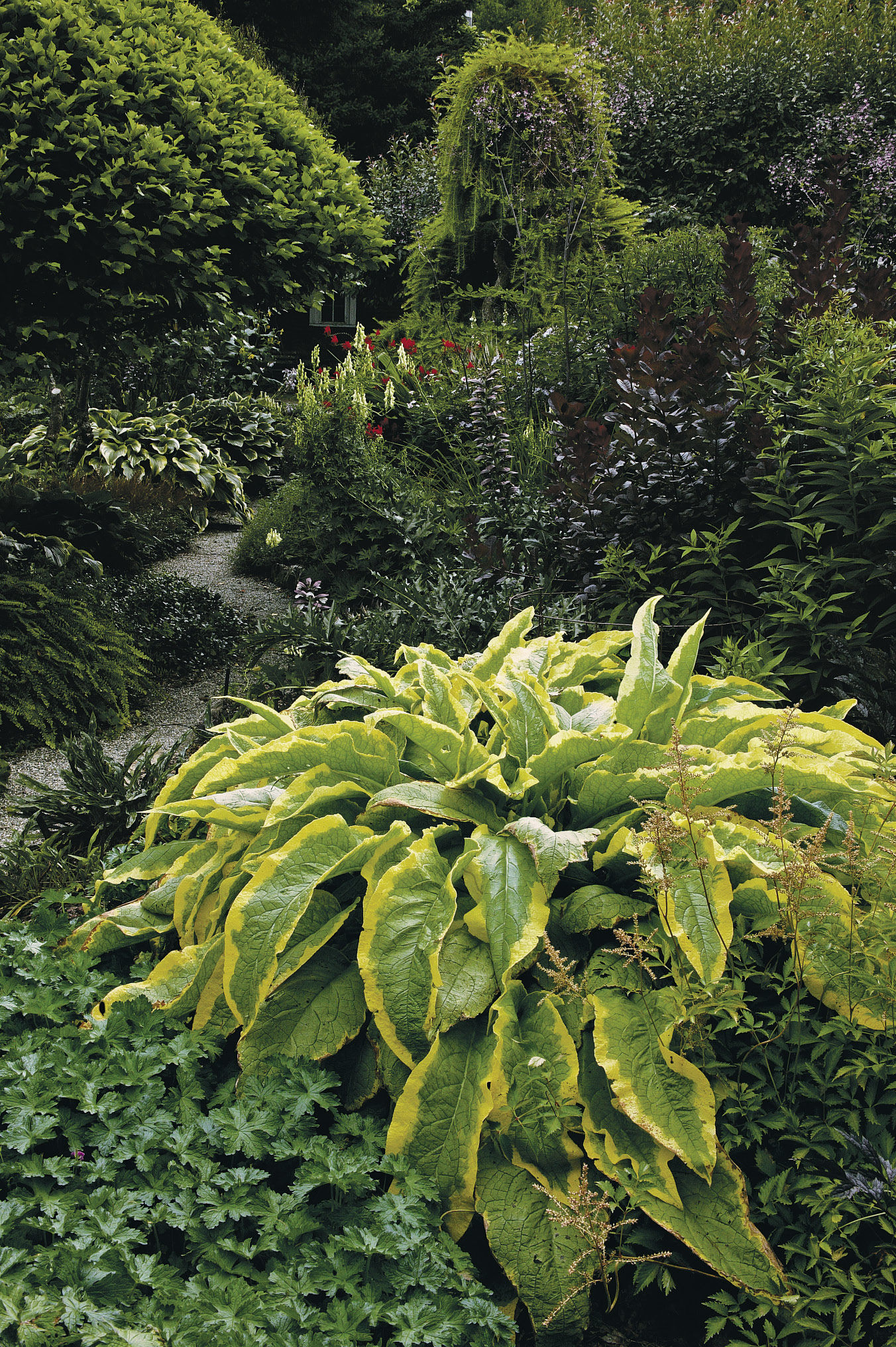 "For many years, we didn't have health insurance, but we had magnificent gardens," Don says. The gardens were the priority in the couple's life, and the plants were the priority in the beds. The Averys eventually realized that health insurance was important to their well-being and that pathways were important to the garden's well-being. After all, if there were no way to travel into the garden, how could you appreciate the nuances of each special plant? The paths were also a way to define the serpentine sweep of the beds. Decades ago, the paths started out at the proper width to accommodate leisurely elbow-to-elbow viewing; over the years, however, the plants have taken over, and there are now only single-file, graveled paths. This is actually a blessing because, when you are inside the garden, the outside world is obscured. It feels as if you are on a different planet—unless, that is, you trip over a miniature rhododendron that's taking over the walkway.
Just as important as the pathways that allow visitors to travel through the garden was providing a spot to view the garden from a distance. Much of the garden can be viewed from a central lawn, which was installed many years ago. This viewing area also provides a place for the eye to rest by breaking up the unending array of plants. The lawn is only 30 feet wide by 150 feet long, but that is more than enough space to fulfill its main objective. That's not to say that the few not-so-dwarf conifers at the edges of the turf aren't just dying to take over the space. But knowing that the lawn is an important design element, the couple has kept the plants in check in that specific spot.
A garden that makes the plants the main focus isn't the easiest to maintain. There are at least two solid weeks spent in fall cutting back and mulching. Significant time and money is spent maintaining the paths, too. Despite this garden not being created out of any specific principles of design—"Only in rare moments have we ever put any plans on paper," Don says—it's an ongoing, dynamic expression of who Don and Lela are, thanks to the plants they've chosen.
---
Gardenworthy Plants that You Might Not Know
Some of the plants that Don loves most aren't well known. That's a shame because these beauties have a strong set of eye-catching attributes that would enhance nearly any landscape. Here are a few standouts that are worthy of a second glance.
'Perry's Golden' Norway spruce
Name: Picea abies 'Perry's Golden'
Zones: 3 to 8
Size: 4 feet tall and 2 feet wide
Conditions: Full sun; well-drained soil
An irregular, more or less upright bush with striking lemon yellow new growth for about six weeks in the spring, 'Perry's Golden' Norway spruce is eye-catching from 50 yards away. It is a moderate grower, putting on about 6 inches of new growth per year. Like many spruces, deer seem to ignore this needled gem.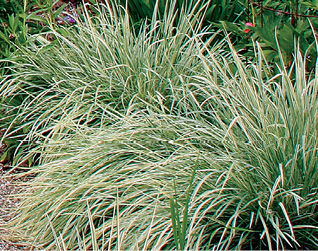 Bulbous oat grass
Name: Arrhenatherum elatius ssp. bulbosum 'Variegatum'
Zones: 4 to 8
Size: 1 foot tall and wide
Conditions: Full sun to partial shade; well-drained soil
You can expect discrete clumps of neat green leaves with broad white edges with bulbous oat grass. Unlike other oat grasses, this variety is tolerant of dry soil in full sun. Weird rattlesnake-like bulbs proliferate at the crown, which is how the plant got its common name.
Climbing fern
Name: Lygodium palmatum
Zones: 4 to 8
Size: Climbing up to 6 feet
Conditions: Partial to full shade; moist, acidic soil
This unusual fern is native to the East Coast. Soft, lacy fronds like to clamber up neighboring shrubbery. Climbing fern is often difficult to establish but worth the effort because, once it gets going, it can make large showy colonies.
Molly the witch
Name: Paeonia mlokosewitschii
Zones: 4 to 8
Size: 2 feet tall and wide
Conditions: Partial shade; moist, well-drained soil
The beautiful fuzzy red shoots of this peony emerge in early spring, followed by pink stems and glaucous foliage with masses of single, pale yellow flowers. Molly the witch can be hard to find, but that doesn't make it any less spectacular.
'Heronswood Globe' katsura
Name: Cercidiphyllum japonicum 'Heronswood Globe'
Zones: 4 to 8
Size: 8 to 15 feet tall and wide
Conditions: Full sun to partial shade; moist, well-drained soil
'Heronswood Globe' katsura is noted for its dense, globular, compact habit. Although it is often described as a dwarf selection, it can eventually get quite tall, topping off at 15 to 20 feet. The leaves emerge reddish purple in spring (pictured); mature to medium green with a slight bluish tinge in summer; and turn shades of gold, orange, and red in fall. The fallen autumn leaves smell like maple sugar.
Showy lady's slipper
Name: Cypripedium reginae
Zones: 2 to 7
Size: Up to 3 feet tall and 18 inches wide
Conditions: Partial shade; moist soil
Showy lady's slipper is found in rich fens throughout the Northeast. Its large white pouch veined with pink appears in midspring. When well situated, this stunner can make a jaw-dropping clump with dozens of blooms. "Showies," as the Averys like to call them, appreciate extra fertility from a yearly application of aged manure or compost. The soil should be loose enough to easily push your fingers down several inches.
---
Danielle Sherry is a senior editor.
Photos: Danielle Sherry; courtesy of Don Avery