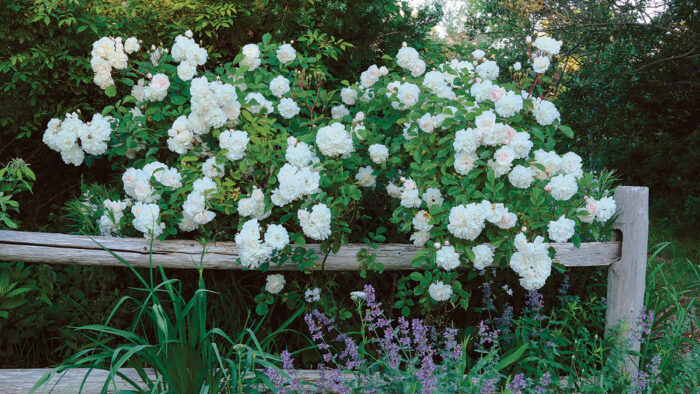 Roses are quintessential garden treasures that evoke romantic images of Sissinghurst and other iconic British landscapes. Here in the United States, however, they have developed a bit of a bad reputation. Many gardeners have an outdated impression of roses (based on memories of their grandparents' beds of hybrid teas) and consider them to be high-maintenance, disease-prone divas that require endless fuss to keep them blooming well and looking decent. But this doesn't have to be the case! There are many well-behaved, beautiful-smelling roses that require relatively little care to look fantastic.
When we planted our garden, we knew we wanted to integrate roses because they were a natural fit with our cottage-style borders. We were particularly interested in heirloom varieties because of their fragrance, disease resistance, and old-fashioned charm, but we eventually included some species roses and modern hybrids as well. All told, we've experimented with more than 100 varieties of roses over the last two decades. We've culled the poor performers (and some have culled themselves)—those that succumbed to disease and others that simply failed to thrive. Currently our garden includes around 75 different varieties. The following are nine of our favorite roses that you'll never regret planting.
More on growing roses:
A Simple Approach to Pruning Roses
Two Steps for Pruning Climbing Roses
Landscaping With Antique Roses
---
3 Shrubby Rose Options With Excellent Form
This category serves as a catch-all for several different types of roses. Most share one trait: a well-defined—not too big or too tall—habit.
'Claire Austin' English rose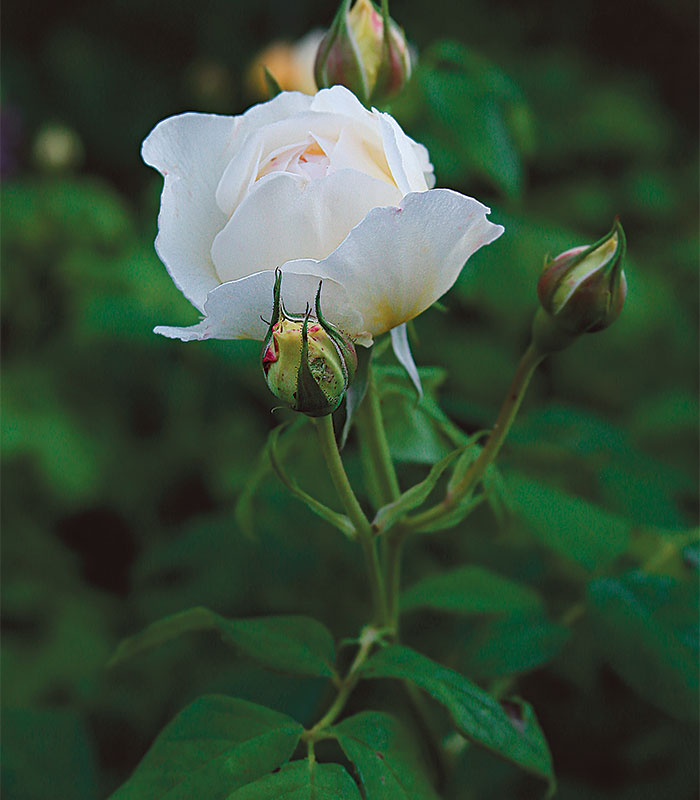 Name: Rosa 'Claire Austin'
Zones: 5–9
Size: 4 feet tall and 3 feet wide
Conditions: Full sun to partial shade; average, well-drained soil
Key attributes: Unique fragrance; perpetual bloom (into late fall); great for cutting
We grow about a half-dozen varieties of David Austin hybrid roses primarily for cutting; of these, 'Claire Austin' is the top performer. It stays perfectly healthy and suffers no winter dieback in our Zone 7 garden. The fully double flowers are white complemented by light, creamy yellow undertones. This plant comes into bloom a bit later in the rose season (late June on Cape Cod), and then the display continues nonstop—through the end of November if the weather cooperates. Where space allows, shrub roses the size and scale of 'Claire Austin' look best when planted in groups of at least three. David Austin describes the fragrance of this rose as "myrrh." We can't say we know what myrrh smells like, but to us the scent is of a classic old rose with a spicy anise or licorice overlay.
'Ispahan' damask rose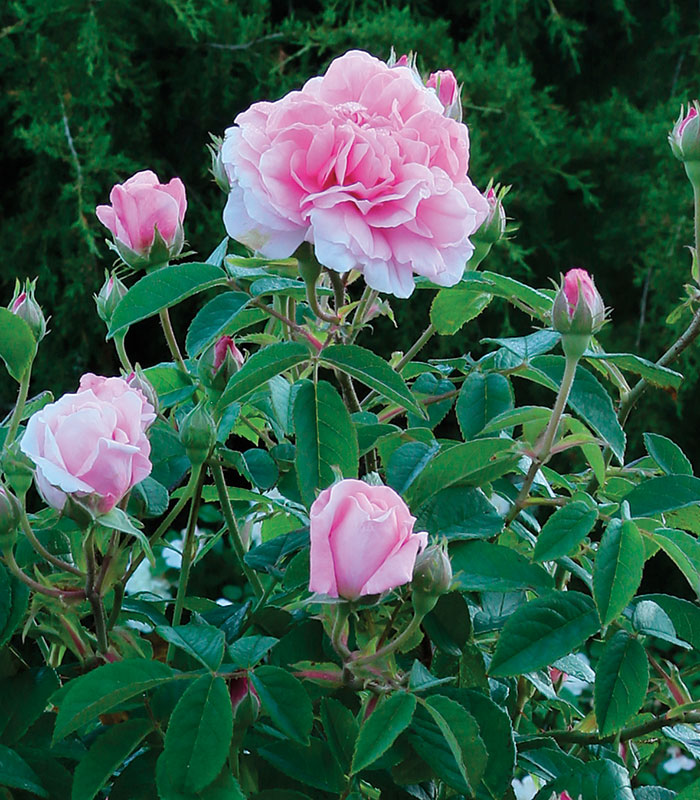 Name: R. 'Ispahan'
Zones: 5–9
Size: 6 feet tall and 4 feet wide
Conditions: Full sun; average, well-drained soil
Key attributes: Heavy fragrance; good for cutting; nearly thorn-free; minimal pruning requirements
This is an antique variety that likely originated in the Middle East, where damask roses (hybrids derived from R. gallica and R. moschata) are cultivated for petal and oil production. The impressive flower display of 'Ispahan' lasts for nearly a month, with the entire bush becoming covered in bright pink blossoms that are deliciously perfumed with the classic "old rose" scent. 'Ispahan' is completely disease-free, vigorous, and tough as nails. It forms a large but well-behaved shrub, with branches that can bend down a bit under the weight of its flowers. Because it is such a shapely shrub, 'Ispahan' is a great addition to a mixed border, where you could underplant it with billowy perennials such as violet-blue catmint (Nepeta spp. and cvs., Zones 3–8).
'Sir Thomas Lipton' rugosa rose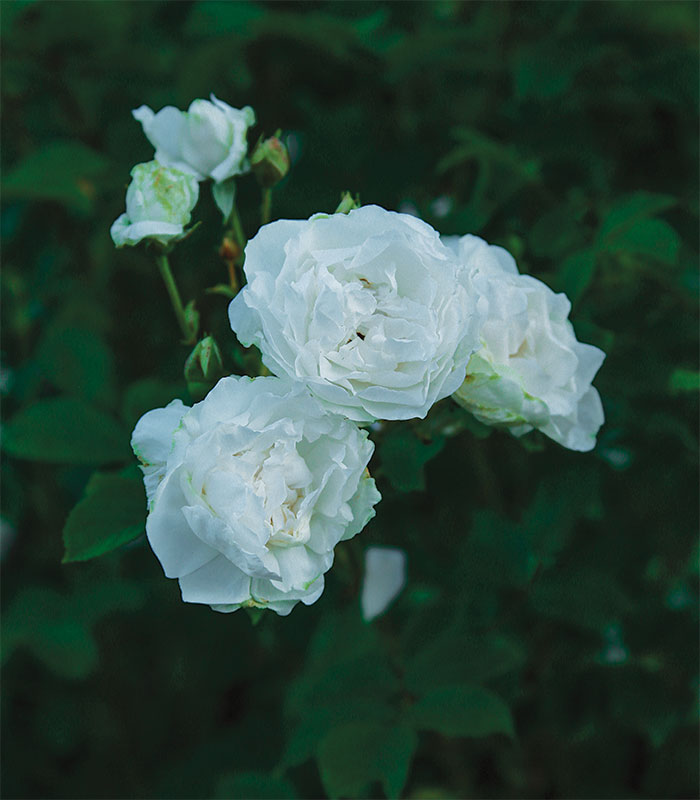 Name: R. rugosa* 'Sir Thomas Lipton'
Zones: 3–8
Size: 6 feet tall and 4 feet wide
Conditions: Full sun; average to poor, well-drained soil
Key attributes: Strong spicy fragrance; perpetual bloom; well-suited for a hedge; exceptional hardiness
'Sir Thomas Lipton' is indestructible—hardy to Zone 3 and completely free of disease. It begins to bloom in early summer, smothering itself in clusters of powerfully fragrant white flowers that are vibrant in daylight and seem to glow in the summer twilight. Most roses reveal their fragrance only at close range, but 'Sir Thomas Lipton' wafts its scent far out into the garden. Once the first flush is over, this shrubby rose takes a short rest and then begins a rebloom that reliably continues up to the first frost. As with all hybrid rugosa roses, 'Sir Thomas Lipton' grows well in lean soil that is on the sandy side. In fact, it can perform poorly in overly rich conditions, so it's best not to fertilize this tough customer. It benefits from a hard pruning in late winter to remove old canes and shorten those that remain. Periodic deadheading of spent flowers keeps the shrub looking good and encourages a strong, consistent rebloom.
---
3 Vigorous Ramblers That Don't Quit
This class of roses is the biggest of the bunch. Most plants reach upwards of 20 (or more) feet tall, and their flower power is unbeatable.
'Paul's Himalayan Musk' rambling rose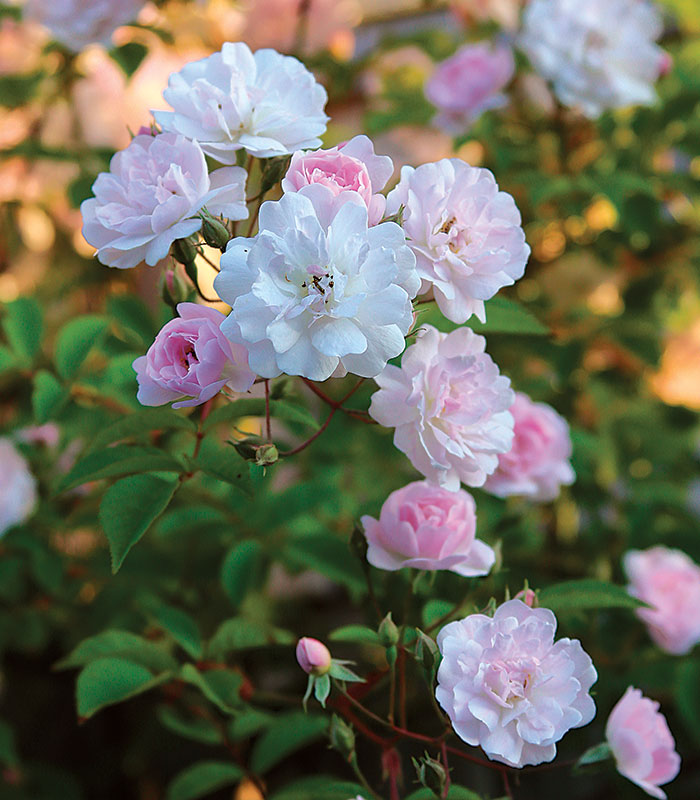 Name: R. 'Paul's Himalayan Musk'
Zones: 4–9
Size: 25 feet tall and 25 feet wide
Conditions: Full sun; average, well-drained soil
Key attributes: Incredible vigor; strong fragrance; perfect health
Best described as a very vigorous rose, 'Paul's Himalayan Musk' can quickly grow to 20 feet high. Although not a repeat bloomer, it is spectacular in late spring when it is smothered in sprays of small, light pink blossoms. When in full bloom, the fragrance produced by what must be thousands of individual flowers is intoxicating. 'Paul's Himalayan Musk' is best used to cover an expansive wall, to grow up into a sizable and strong-limbed tree, or to train along a high fence. Because of its healthy vigor, ease of culture, and magnificence in flower, we have chosen—with no regrets—to replace fussier, disease-prone climbers with this spectacular rambler.
'Albertine' rambling rose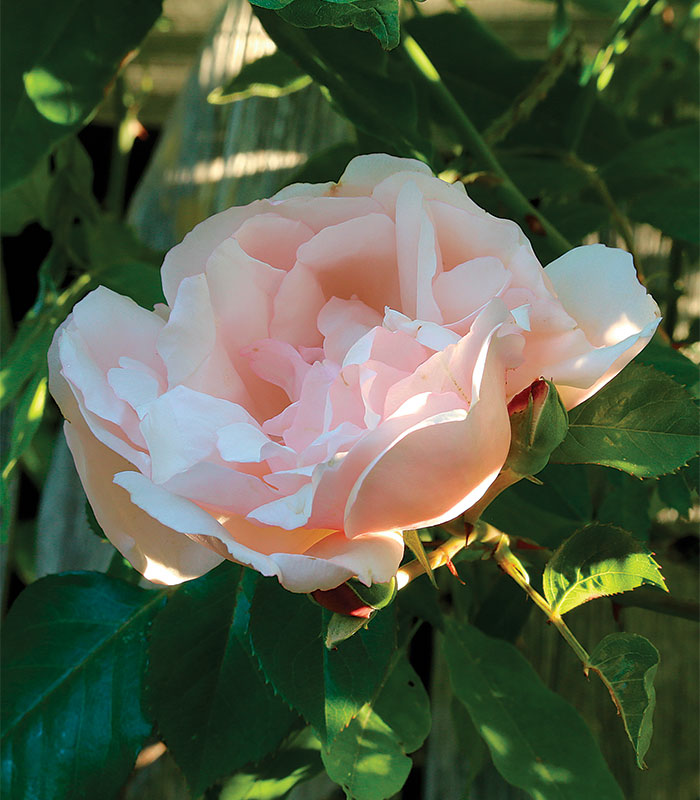 Name: R. 'Albertine'
Zones: 5–9
Size: 10 to 15 feet tall and 15 feet wide
Conditions: Full sun; average, well-drained soil
Key attributes: Extremely fragrant; lengthy bloom period; unique color Seemingly ubiquitous in British gardens but less commonly encountered in the United States, 'Albertine' is far more contained in size than many ramblers. We shied away from this rose at first, put off by reports of it being "prone to mildew" and nervous about how its color (described in some sources as "copper-pink") would blend in with the cooler tones that dominate our June garden. But we've found it to be completely healthy, and its soft, salmon-pink flowers easily integrate with almost any hue. We have interwoven 'Albertine' along a wall with the shell-pink rose 'New Dawn' (R. 'New Dawn', Zones 5–9). 'Albertine' is one of the three most fragrant roses we grow; the scent on a warm June morning is a highlight of the gardening year. Its color shows particularly well against a stone wall or aged cedar shingles.
'Rambling Rector' rambling rose
Name: R. 'Rambling Rector'
Zones: 5–9
Size: 30 feet tall and 25 feet wide
Conditions: Full sun to partial shade; average, well-drained soil
Key attributes: Size (where size is needed); showy hips; perfect health
The largest of the roses featured here, 'Rambling Rector' is a massive plant that can easily climb 30 feet into a supporting tree. This is not a rose for small spaces. In late spring it is covered with clusters of heavily fragrant, single white flowers that are very attractive to pollinators. The blooms will cascade like a fountain over supporting tree branches. A mature specimen of 'Rambling Rector' in full bloom is an impressive sight indeed. This rose produces multitudes of bright red hips, which are incredibly showy from fall into winter and provide an abundant food source for hungry birds.
---
3 Oddballs That Deserve More Love
Sometimes a rose just doesn't fit neatly into any particular box but is still a worthy garden addition. These plants will have garden visitors asking, "What is that beautiful variety?"
Father Hugo rose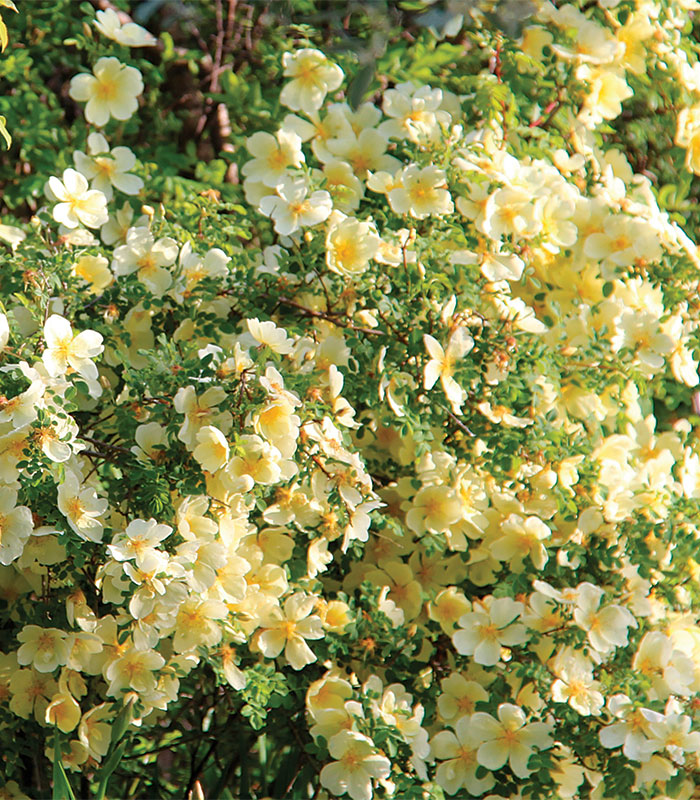 Name R. xanthina f. hugonis
Zones: 4–9
Size: 6 feet tall and 5 feet wide
Conditions: Full sun; average, well-drained soil
Key attributes: Very early bloomer; beautiful foliage; easy culture
Father Hugo rose is valued for its super-early bloom (mid-May on Cape Cod) and soft primrose yellow single flowers that are a perfect color complement to the pastel pinks and blues of the late spring garden. Its scent is light but sweet. Father Hugo is easy to please and tolerant of poor soil and drought. It forms a large, upright, manageable shrub that requires no real pruning and looks great year-round. Its foliage is particularly beautiful—finely cut and fernlike—and always completely healthy. In fall, the leaves turn a warm golden-yellow that contrasts nicely with Father Hugo's purplish-black hips. In winter its bare, reddish-brown canes look handsome in the low winter sunlight.
'Darlow's Enigma' musk rose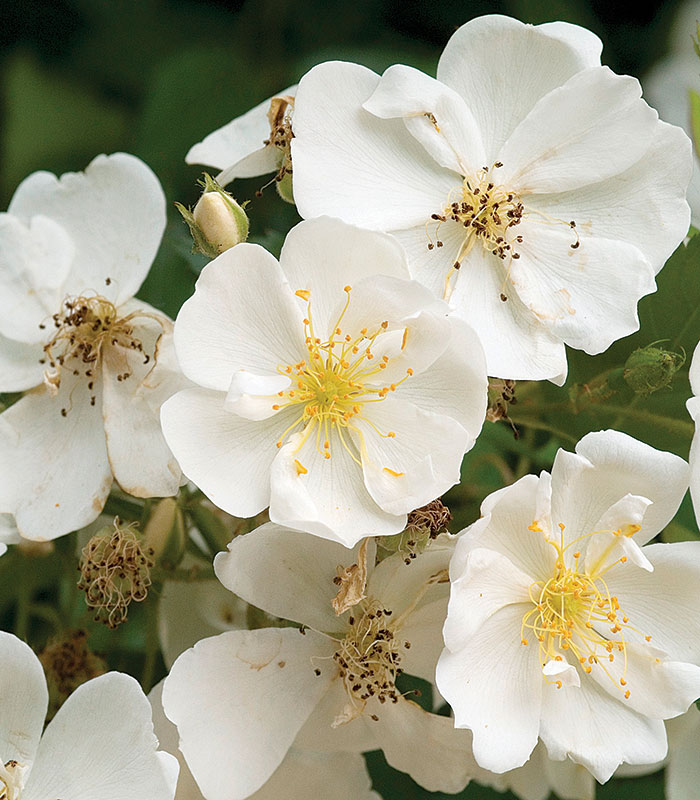 Name: R. 'Darlow's Enigma'
Zones: 5–9
Size: 9 feet tall and 7 feet wide when grown as a shrub, and up to 15 feet tall when grown as a climber
Condition: Full sun to partial shade; average, well-drained soil
Key attributes: Constant bloomer; strong fragrance; shade tolerance; informal habit
'Darlow's Enigma' is a rugged, versatile, relaxed, and natural-looking rose. It bears clusters of small, white, powerfully fragrant flowers with bright yellow centers in great abundance. The bloom show begins in late spring and keeps occurring throughout summer. It can either be grown as a large shrub or trained as a climber. 'Darlow's Enigma' is known to be particularly shade tolerant. We use it as a climber on a north wall, partnered with a trumpet honeysuckle (Lonicera × brownii 'Dropmore Scarlet', Zones 3–9). We also grow it elsewhere as a large shrub, where it thrives under the shade of a mature tree. Its branches form a thick, protective tangle where a pair of catbirds makes a nest every year.
'Prosperity' hybrid musk rose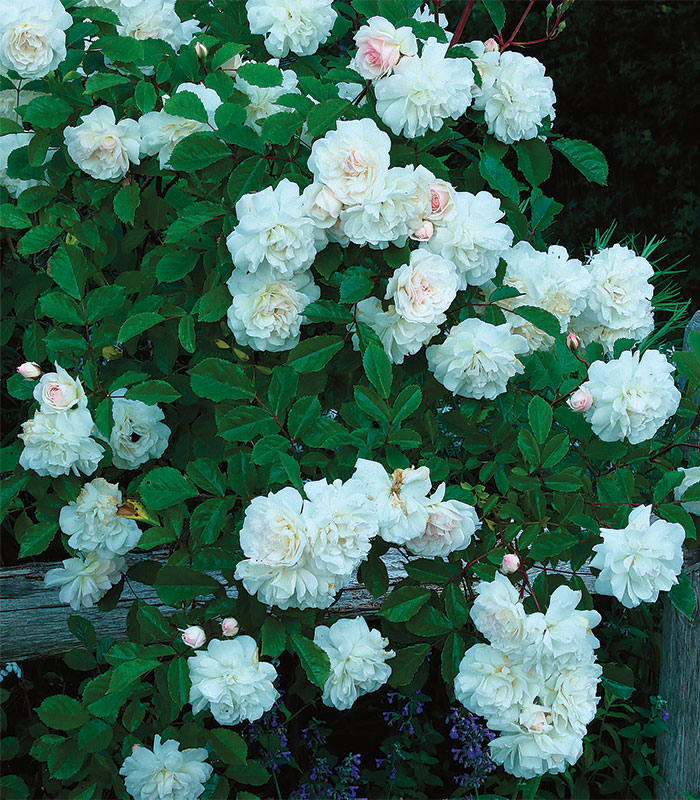 Name: R. 'Prosperity'
Zones: 6–9
Size: 6 feet tall and 5 feet wide
Conditions: Full sun to partial shade; average, well-drained soil
Key attributes: Early bloomer; attractive red spring foliage; white flowers that show well in the evening; steady repeat blooms until frost
Hybrid musk is a class of roses developed in England in the early 1900s that are characterized by their health, heady fragrance, and dependable rebloom. Bred in 1919, 'Prosperity' bears sprays of pure white, semi-double flowers accented by bright yellow stamens that repeat throughout summer and into fall. It forms a medium-size shrub, wide as it is tall, and so is best used at the back of a border, along a fence, or as a stand-alone specimen. The emerging foliage of 'Prosperity' is a beautiful shade of burgundy, which looks great contrasted with the fresh greens of spring. It also comes into bloom on the early side, ushering in the June rose season.
---
A "rambler" and a "climber" aren't the same
It's important to understand the distinctions between these two popular rose categories.
Ramblers are more vigorous than climbers. They grow faster and get much bigger.
Massive ramblers are perfect for covering a wall, climbing into a tree, or being trained along a fence. Want a rose to place on a trellis or a tuteur? A climber is the better choice.
With rare exceptions, ramblers flower just once, while a wide variety of climbers rebloom during the season.
Rambler flowers are smaller than those of climbers, and they are most often carried in numerous clusters.
---
Scott Warner and David Kirchner battle wind, salt spray, and sandy soil in order to garden in North Truro, Massachusetts.
Photos, except where noted: Danielle Sherry
Sources