How-To
How to Build a Cold Frame
Learn the steps in this audio slideshow
Fine Gardening
Learn how to build a cold frame in this slideshow based on the article "How to Build a Cold Frame" by Rob Wotzak, which was featured in Fine Gardening issue 136. A cold frame works like a mini-greenhouse, and it keeps the worst of the cold off of your plants while allowing sunshine in to help them grow. Although not all plants will grow in a cold frame, many cold-hardy varieties such as lettuces, cabbages, kale, and turnips will continue to thrive all winter long. With a cold frame, you can have fresh produce from your own garden throughout the winter months.
See Rob's process as he planned and built his own cold frame, and get some great tips for making your own. Do you have a cold frame? We'd love to feature your work in our Garden Photo of the Day blog. Send a few photos to [email protected], and tell us something about yourself and your building process!
Basic Cold-Frame Construction
Use the schematic below to put together your own cold frame.
Materials needed
I used a 72-inch-long and 36-inch-wide sheet of acrylic for my sash and clear 2×6 cedar for the structure. The cost of cedar is justified by aesthetics; plus, the wood is rot resistant, lightweight, and easy to work with. I attached the 2x6s to 2x2s in the corners, and the sash frame is made out of 1x2s.
Because this simple design requires only a few different lengths of wood, you might want to ask the folks at the lumber yard to make all your cuts to size, which they will often do for free or for a small fee. The only tricky cut to make—and the only one they won't make for you at the lumber yard—is the one to create the triangle-shaped side boards, which are made from one 33-inch-long 2x6 cut on the diagonal.
Read more about building a cold frame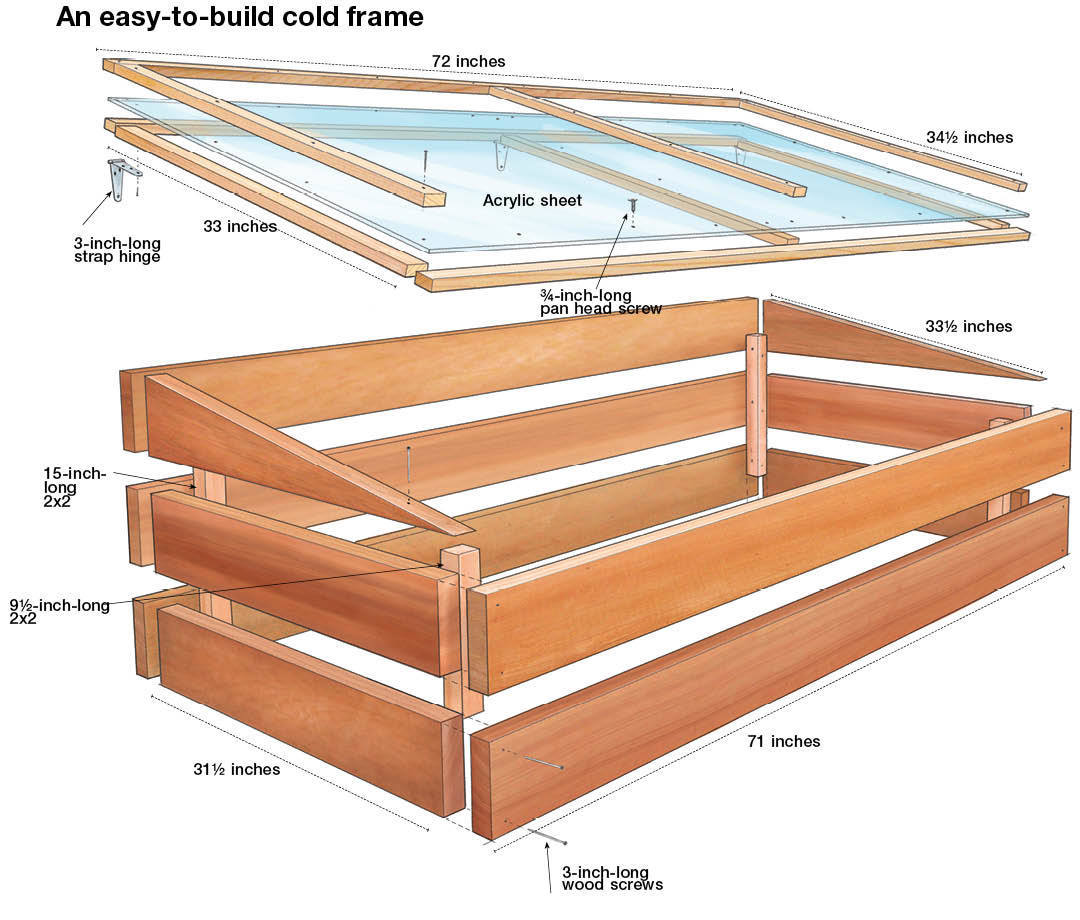 More information on using your cold frame
View Comments