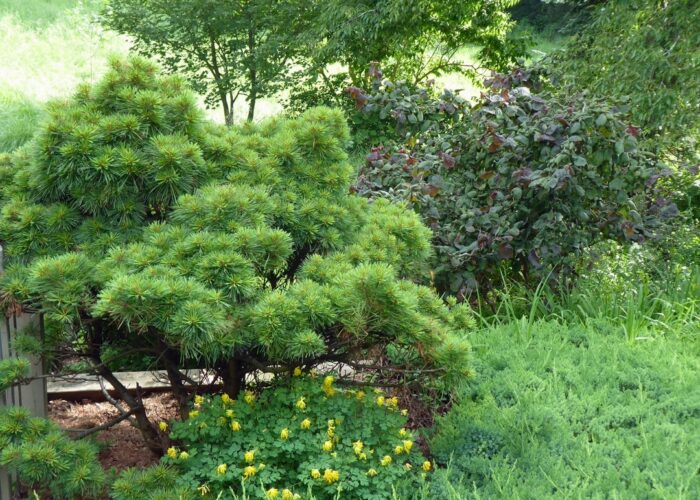 Today Dale Dailey (whom we've visited before: Dale's Garden in 2020) is sharing some special conifers.
Coniferous trees and shrubs have a special place in our garden located near Lansing, Michigan. Fortunately, we have enough space for many varieties of larger conifers around the perimeter of the garden, but I have also integrated smaller and dwarf varieties into our ornamental gardens. Following are a few examples.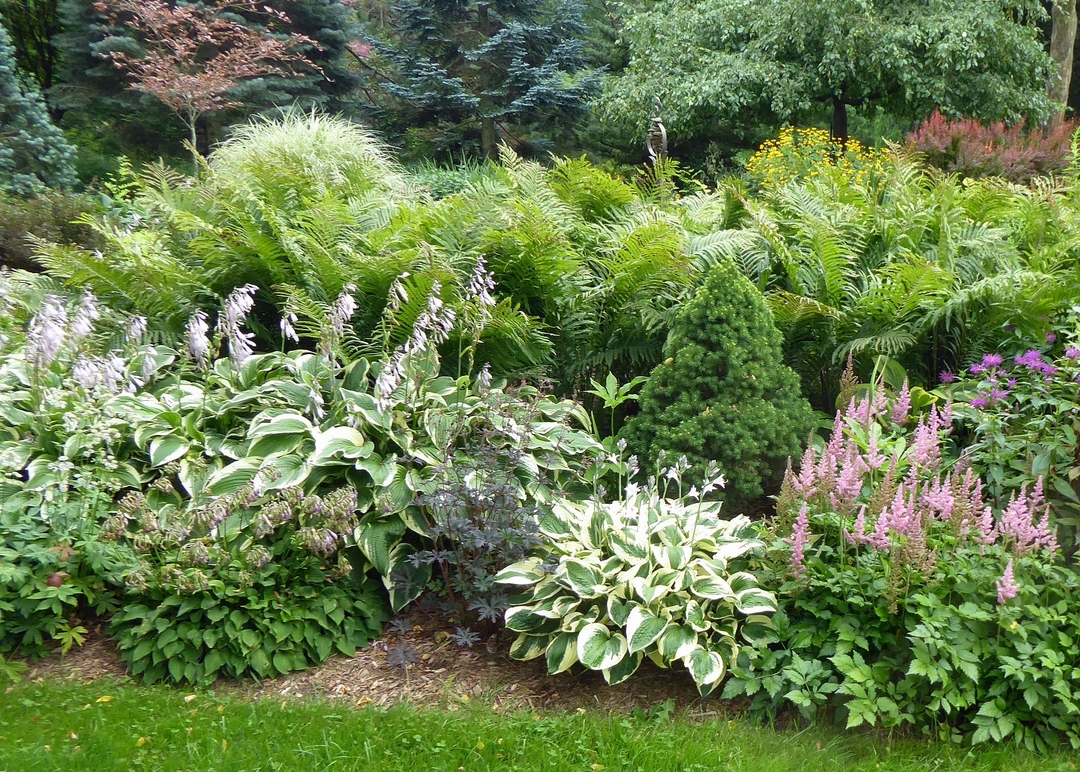 This dwarf Alberta spruce, Picea glauca 'Conica', can work in a variety of settings. Here it provides texture and a bold solid color when surrounded by hosta, astilbe, and large ferns.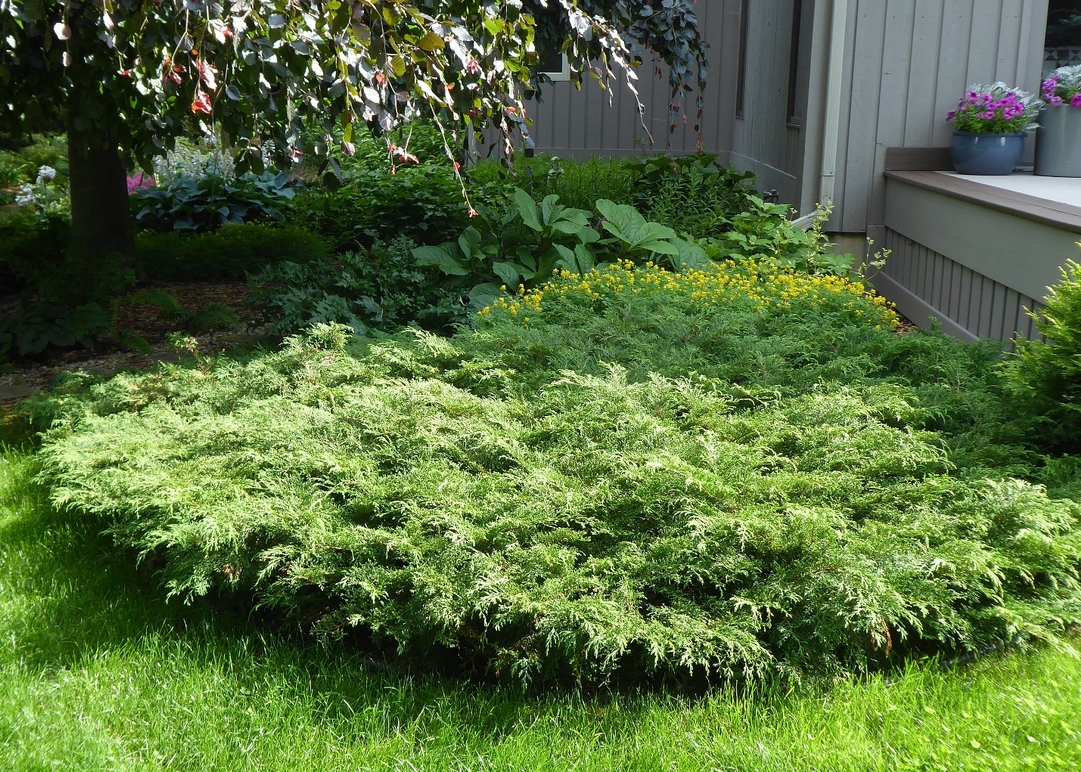 Russian cypress (Microbiota decussata, Zones 3–7), is a little-used but hardy wide-spreading ground-cover evergreen that closely resembles a spreading juniper in shape but with the foliage of arborvitae.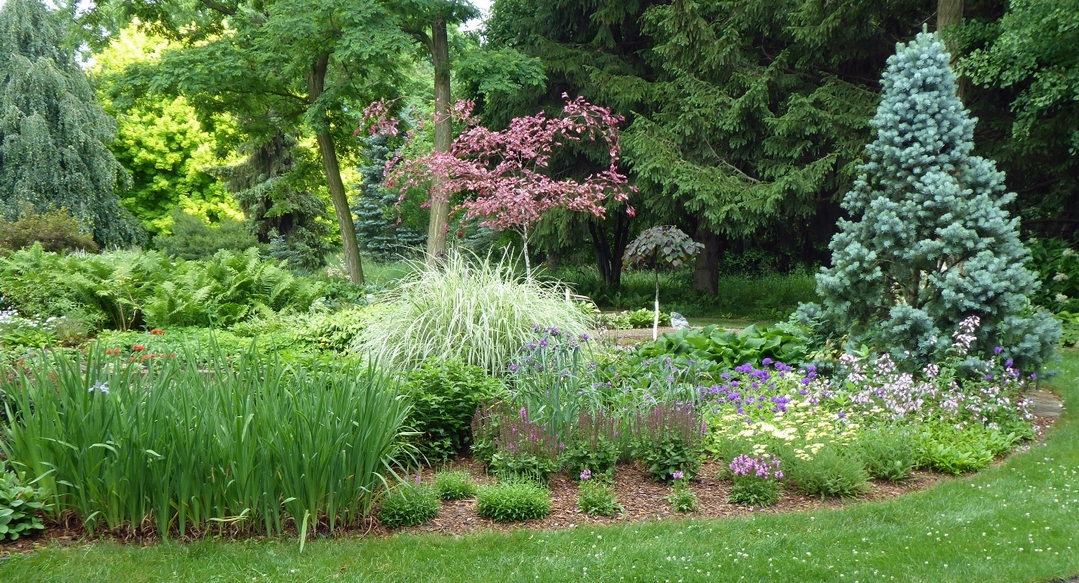 Concolor fir trees are among my favorites. I purchased the compact variety on the right, Abies concolor 'Compacta' (Zones 3–7), about 25 years ago, and it anchors one section of our garden.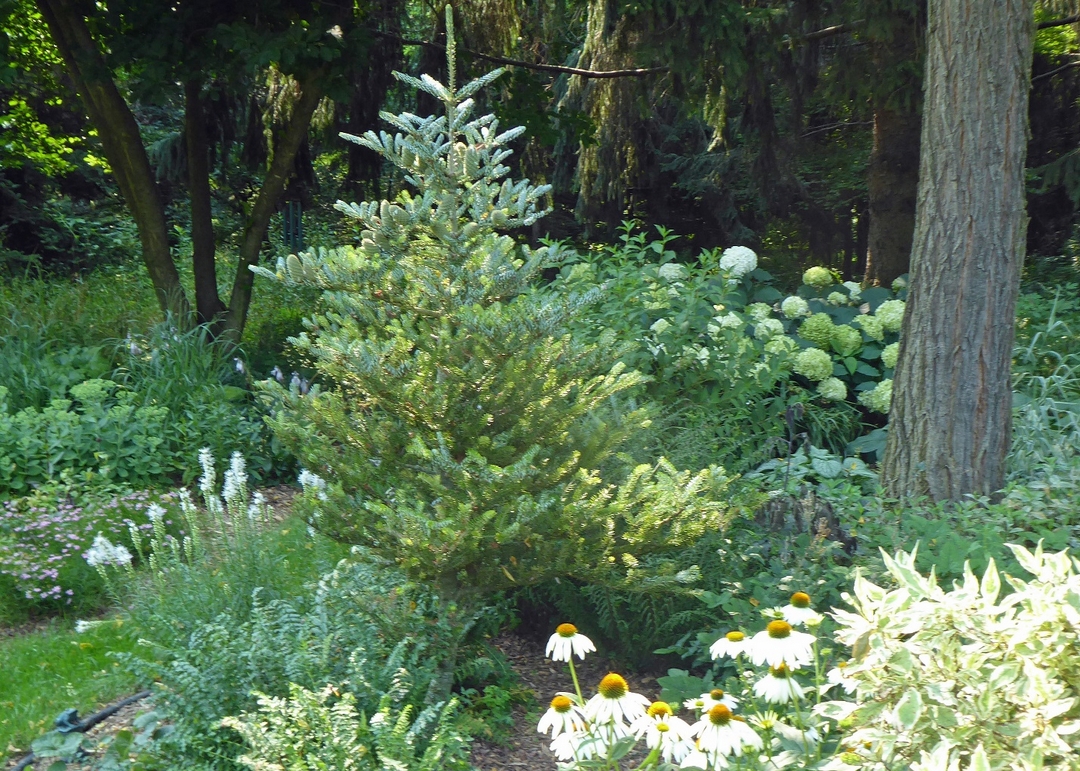 Abies koreana 'Silberlocke' (Zones 5–7) is a slow-growing tree with recurved needles that showcase their silvery undersides. The bright silver color provides an effective backdrop to a garden that features white flowers and foliage.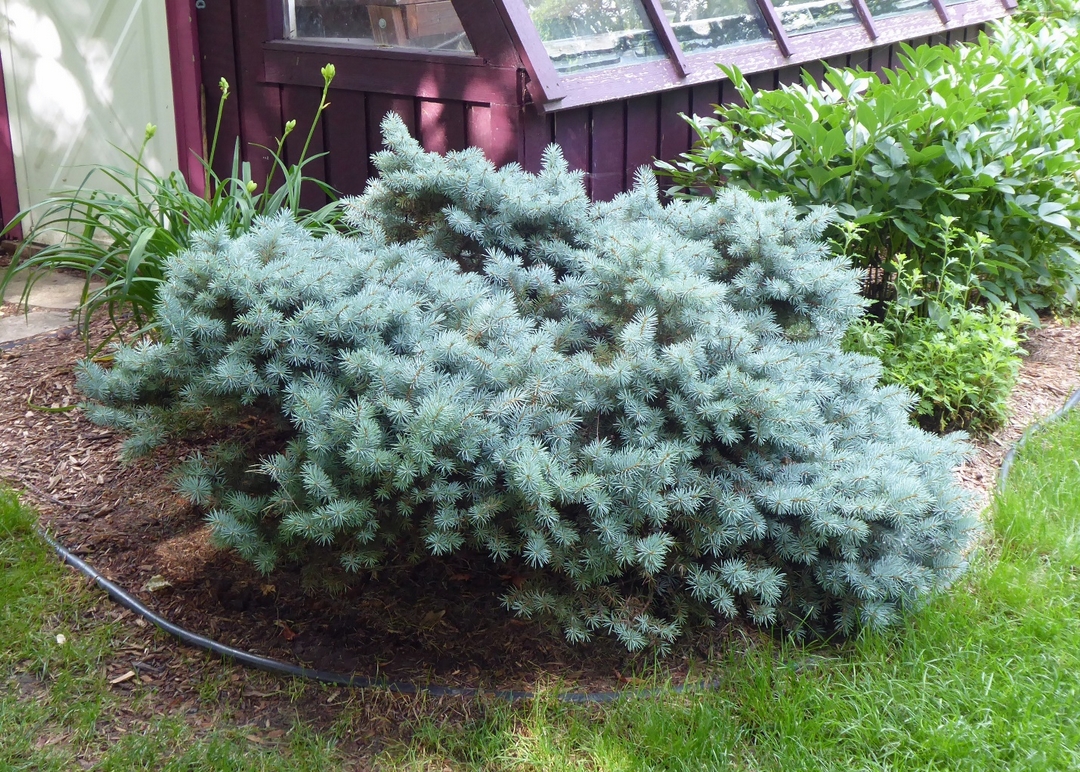 The many varieties of spruce comprise another group that I particularly enjoy. This photo shows a dwarf variety of blue spruce, Picea pungens 'St. Mary's Broom' (Zones 2–7) that I bought many years ago. It does not put up a leader and only grows an inch or two a year. A "broom" or "witch's broom" is a diseased or mutated mass of dense deformed twigs and foliage in a conifer. They are the source of many choice and beautiful dwarf conifers.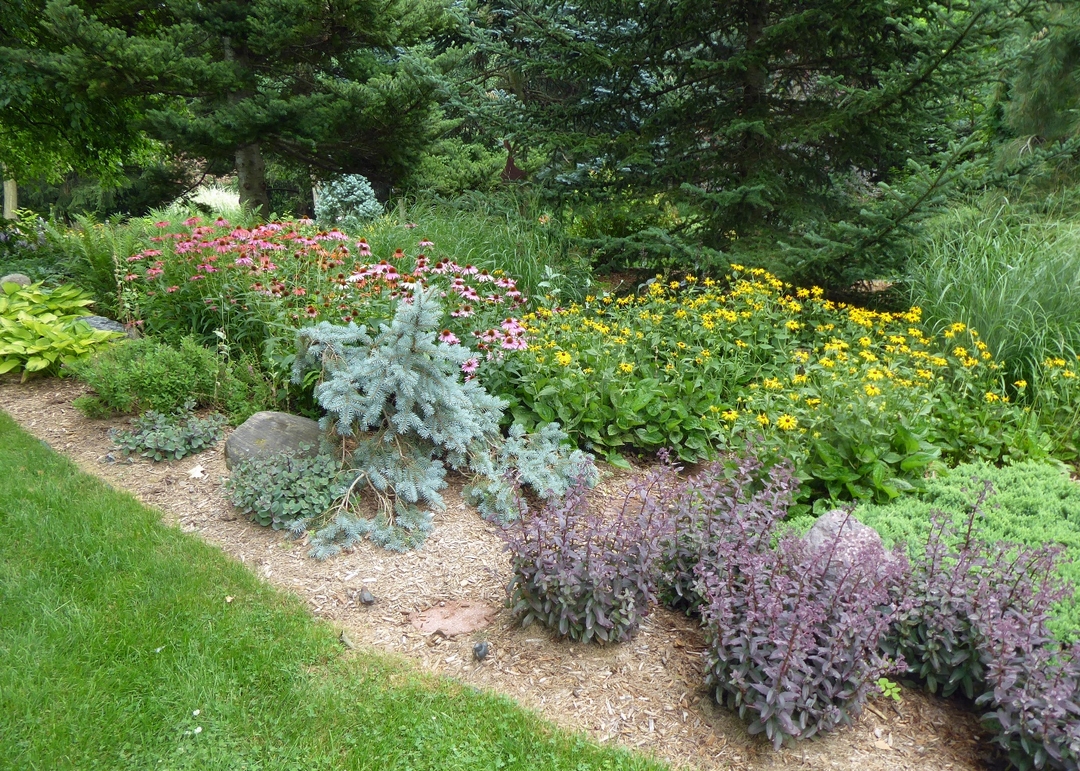 This variation of blue spruce, Picea pungens 'Prostrata', provides a useful separation of colors and textures in a sunny area. It is a rather shapeless plant that sprawls over the ground like a ground cover.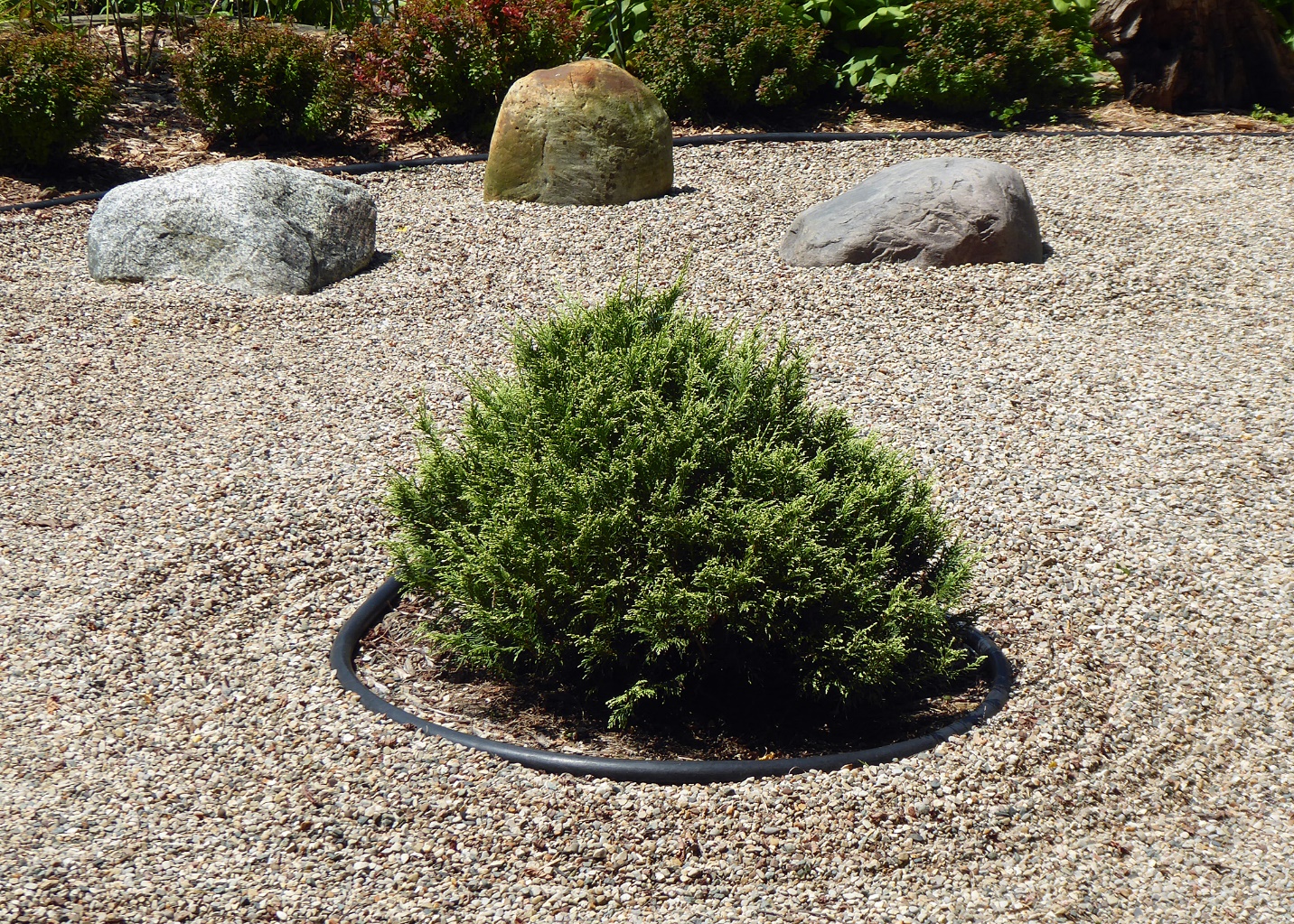 Conifers can serve many functions in a garden. In our Japanese-style garden, this green mound, Chamaecyparis pisifera 'Silver Lode' (Zones 4–8), provides a sense of a wooded island in contrast to the stone islands in the back.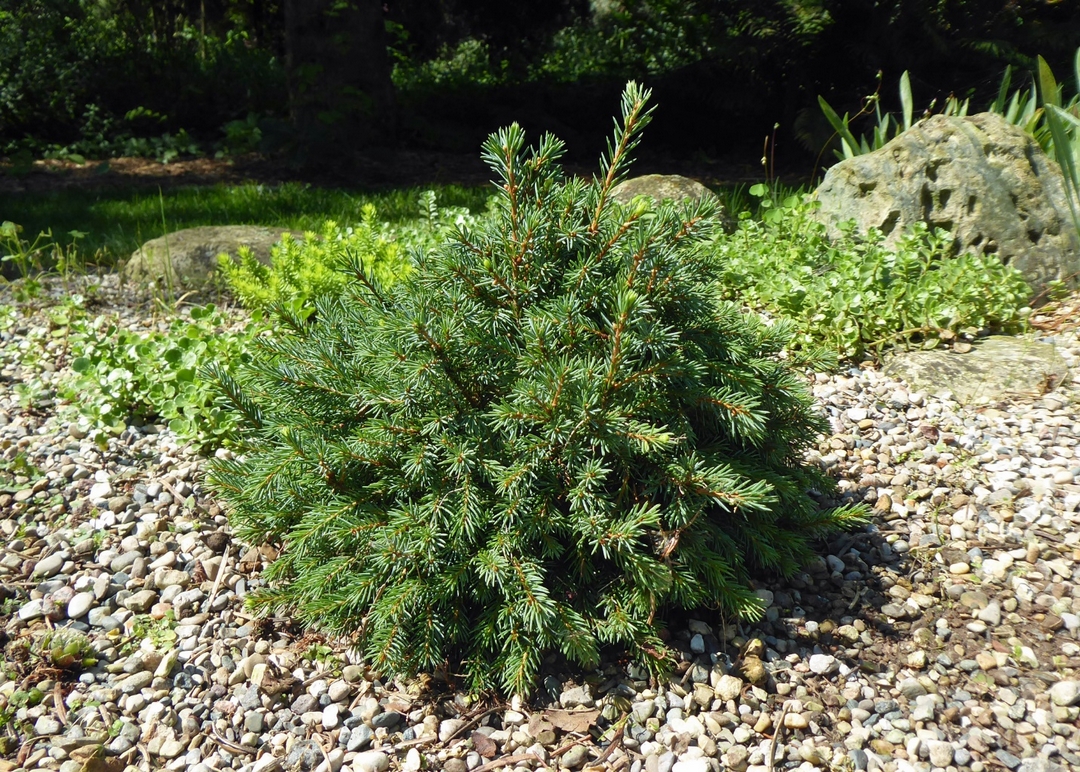 This very small conifer, Picea glauca 'Echiniformis' (Zones 3–6), with the common name of hedgehog dwarf white spruce, has been a feature of our alpine garden for several years. It is an extremely miniature and compact evergreen with short gray-green needles, and it forms a dense, compact mound.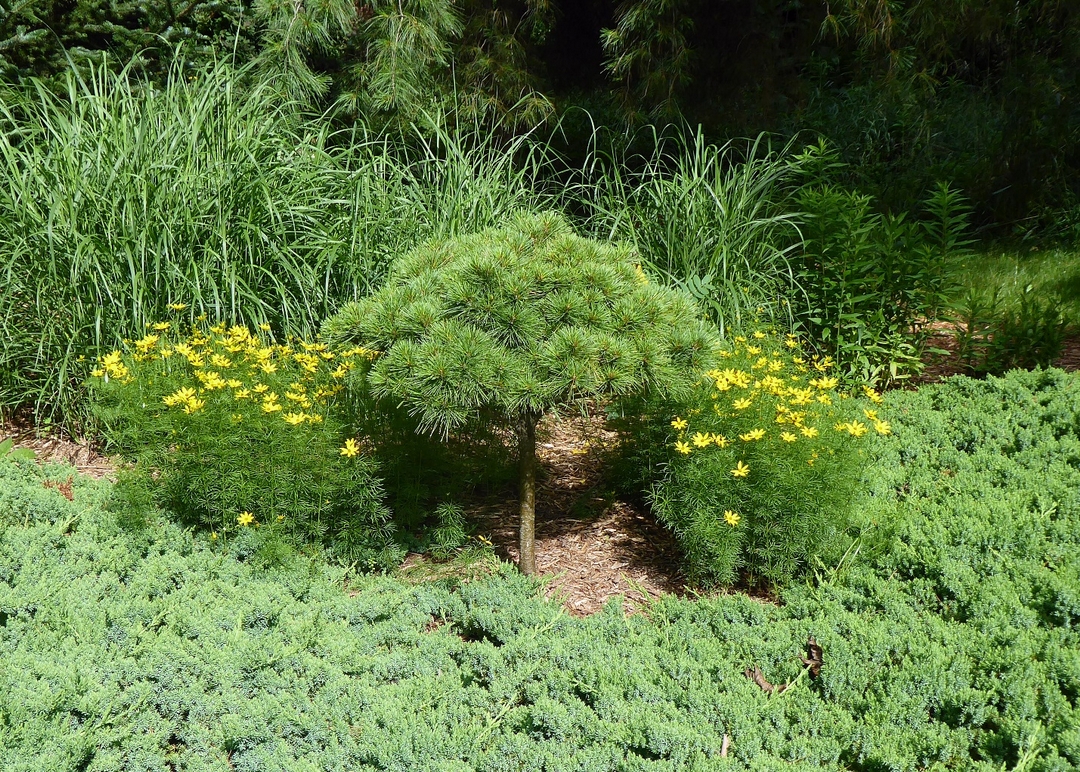 This dwarf white pine, Pinus strobus 'Horford' (Zones 3–8), has been grafted upon a standard to provide an umbrella effect. In the foreground is a creeping juniper, probably Juniperus procubens 'Nana' (Zones 4–9).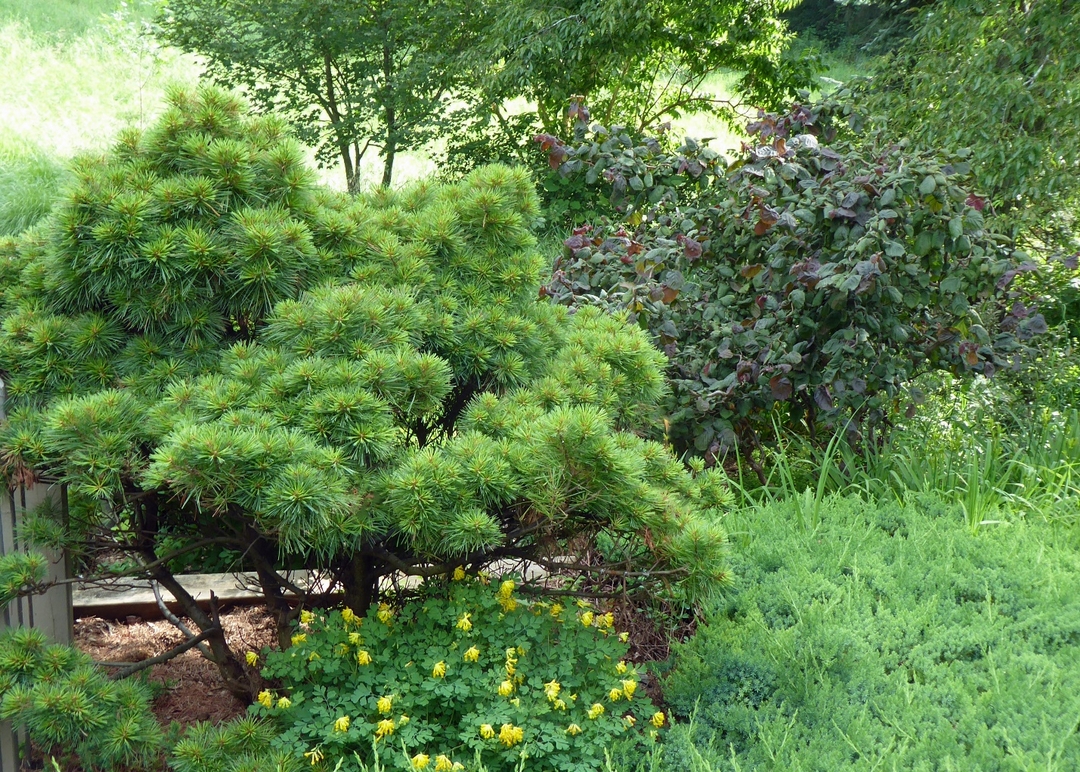 This slow-growing pine has developed a beautiful shape with a little bit of help. Sorry, but I don't know the name of the variety. In the background is a Corylus avellana 'Red Majestic' (Zones 4–8). It is a Harry Lauder's walking stick with leaves that emerge burgundy-red and mature to green—also a great plant.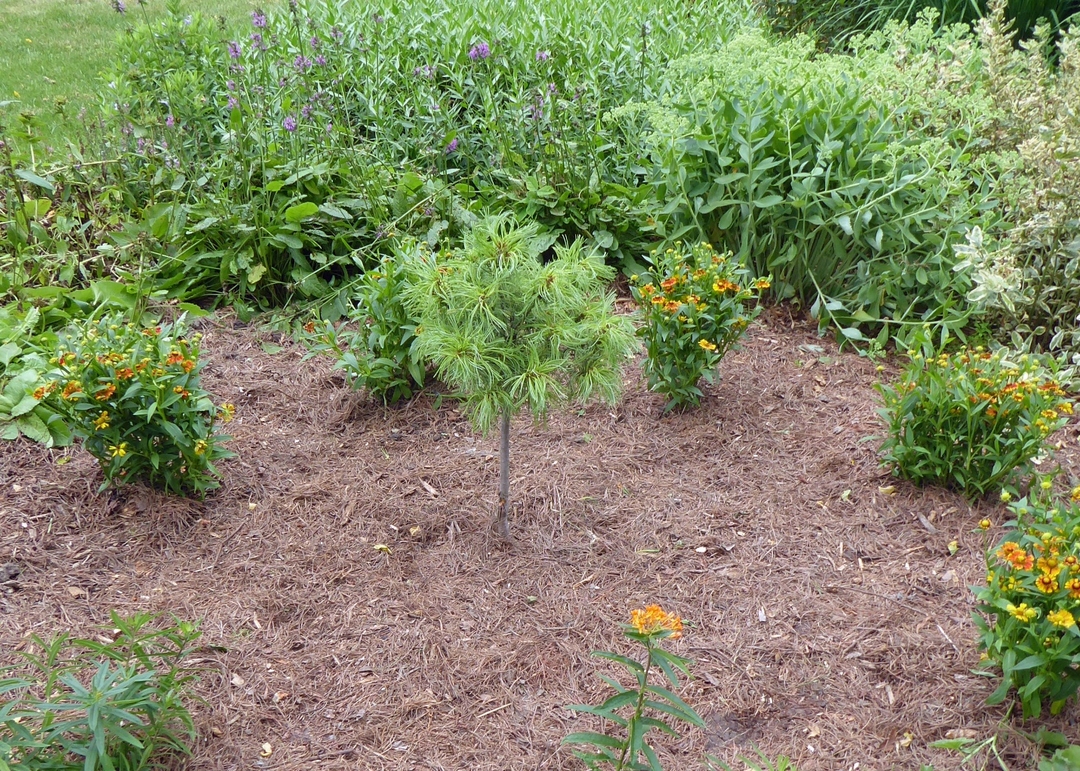 And finally, here is another white pine variety, Pinus strobus 'Tiny Kurls', a tree I purchased recently. It is a dwarf selection of white pine that has a nice globose structure when young and later becomes broadly pyramidal. Its needles are twisted and blue-green—absolutely stunning. My research indicates that after 10 years, a mature specimen will measure 5 feet tall and 4 feet wide. I can work with that.
Conifers that are suitable for gardens may take more time to find, but the search is part of the fun.
Have a garden you'd like to share?
Have photos to share? We'd love to see your garden, a particular collection of plants you love, or a wonderful garden you had the chance to visit!
To submit, send 5-10 photos to [email protected] along with some information about the plants in the pictures and where you took the photos. We'd love to hear where you are located, how long you've been gardening, successes you are proud of, failures you learned from, hopes for the future, favorite plants, or funny stories from your garden.
If you want to send photos in separate emails to the GPOD email box that is just fine.
Have a mobile phone? Tag your photos on Facebook, Instagram or Twitter with #FineGardening!
You don't have to be a professional garden photographer – check out our garden photography tips!
Do you receive the GPOD by email yet? Sign up here.