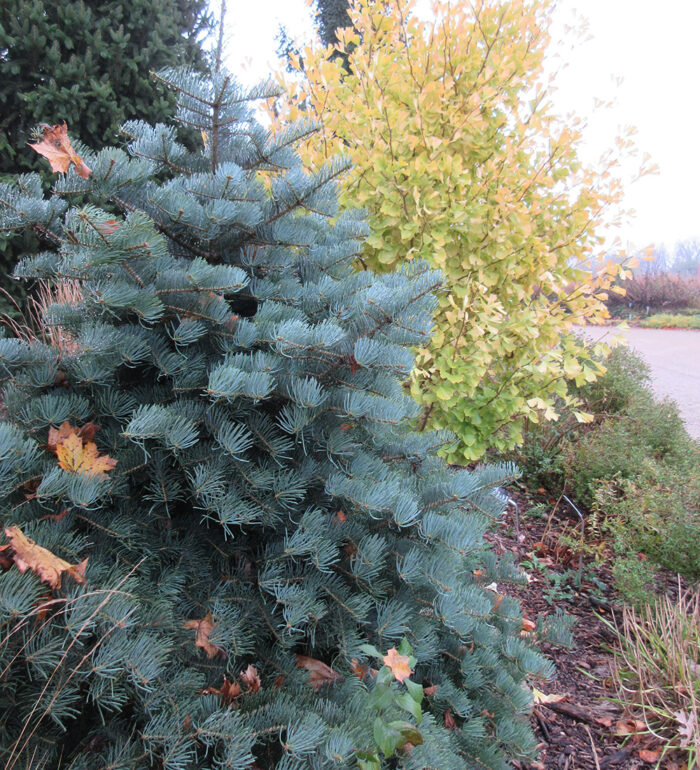 As our Midwest gardens transition to those long winter months, we start to focus on any remaining elements that offer color and texture. Ornamental bark, colorful stems, showy fruits, and textural grasses will certainly add impact to the winter scene. We rely on those hints of interest as the browns, grays, and whites of winter arrive. However, blue conifers in the winter landscape can offer a soothing touch. These dramatic conifers also play a role during the growing season as compositional elements, focal points, and solitary specimens. The winter blues provided by some of these conifers will offer lengthy excitement during even the coldest of months.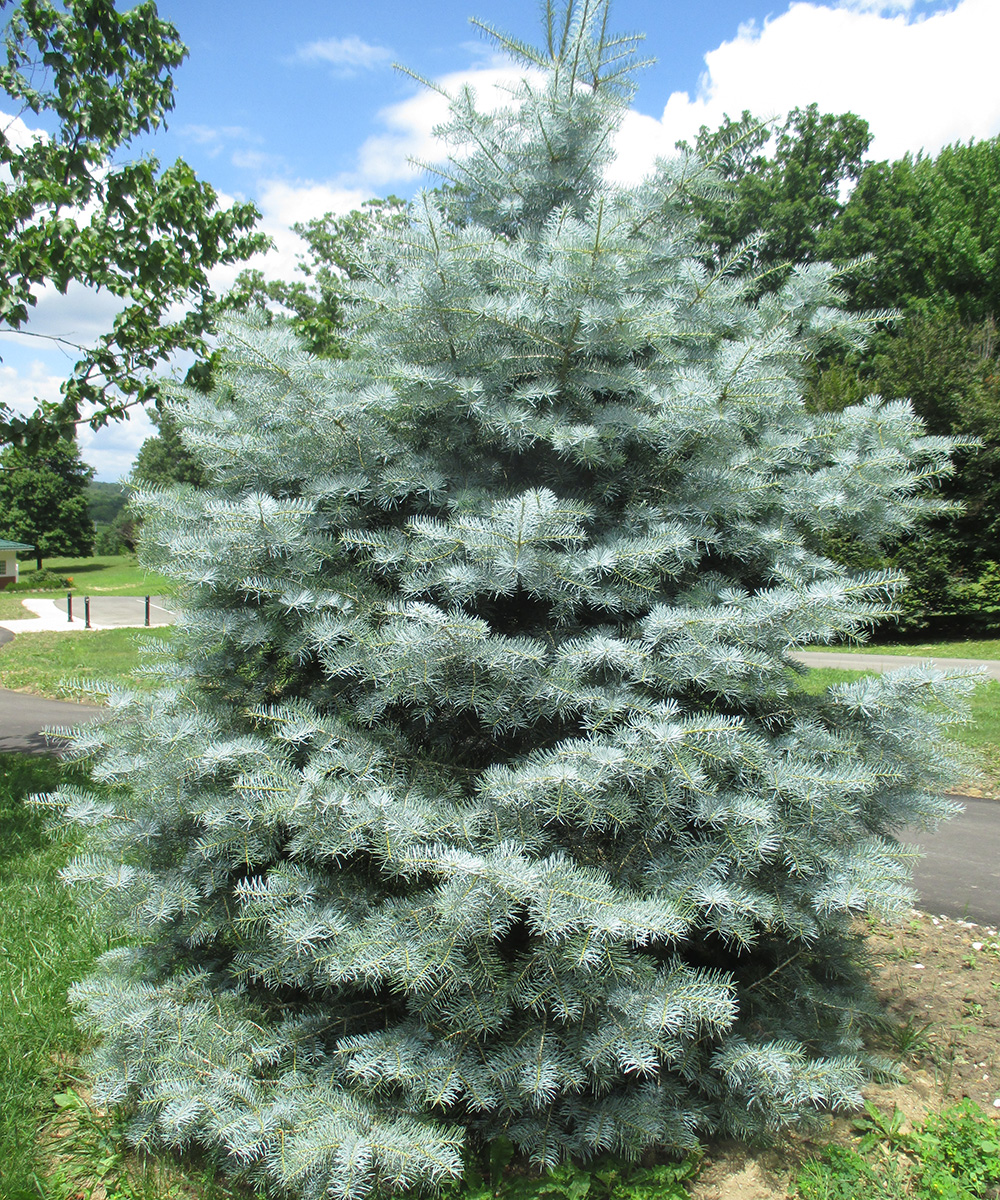 'Candicans' white fir
Abies concolor, Zones 4–9
This selection of white fir is considered by many to be the bluest of any conifer. The 2-inch-long needles are a bright powder-blue. The tree is conical and slow-growing and will brighten any landscape. It grows 30 feet tall in time and takes full sun. For a dwarf selection that offers a similar contribution of blue for a tighter space, try the selection 'La Veta', or explore the myriad other compact forms that are available.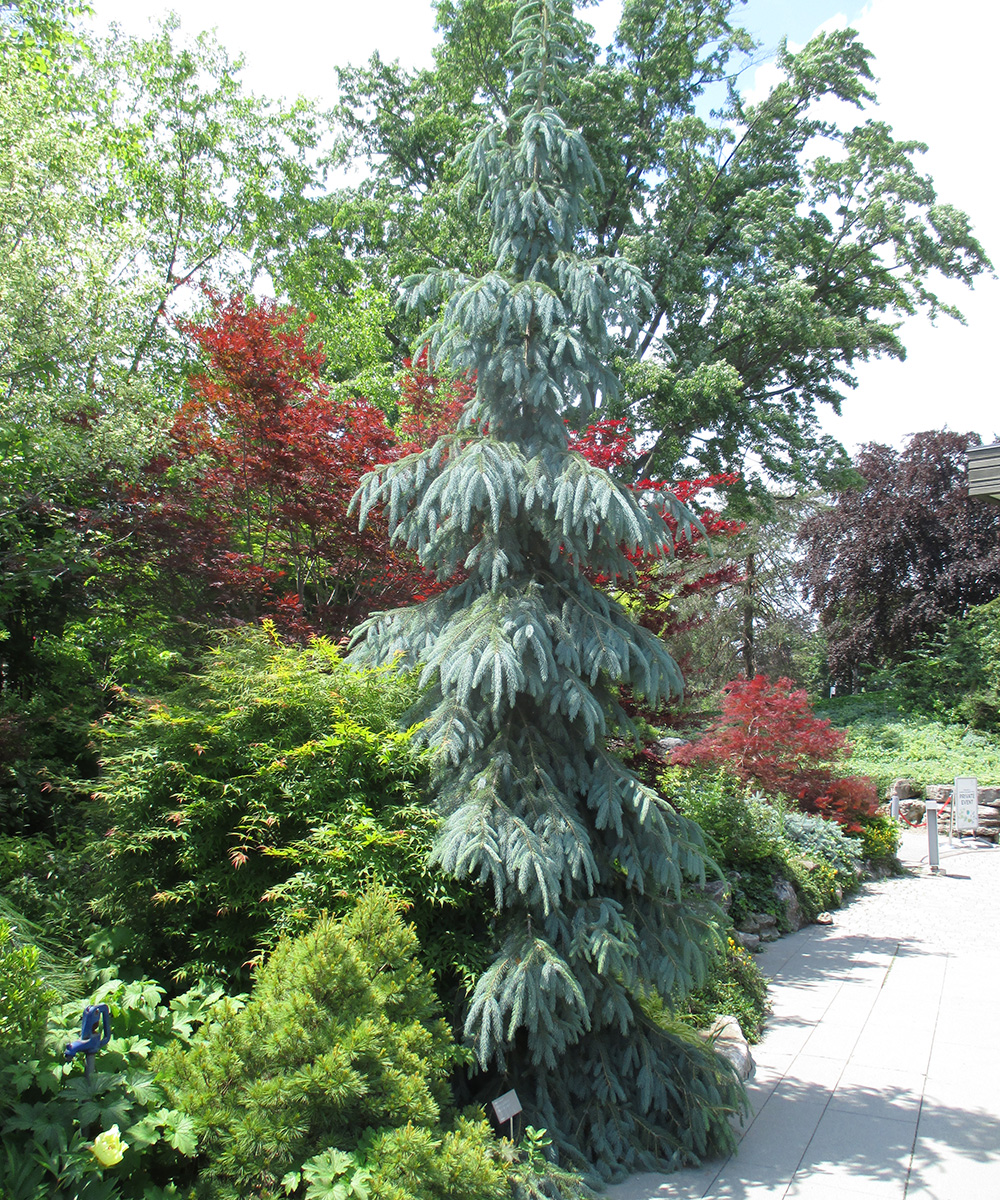 'Bush's Lace' Engelmann spruce
Picea engelmannii, Zones 3–8
'Bush's Lace' has a strong, central leader with weeping branches down the entire trunk. It grows 25 feet tall and can take either full sun or partial shade. The baby blue needles keep their color all year, and the weeping, soft-textured branches contribute stunning architecture.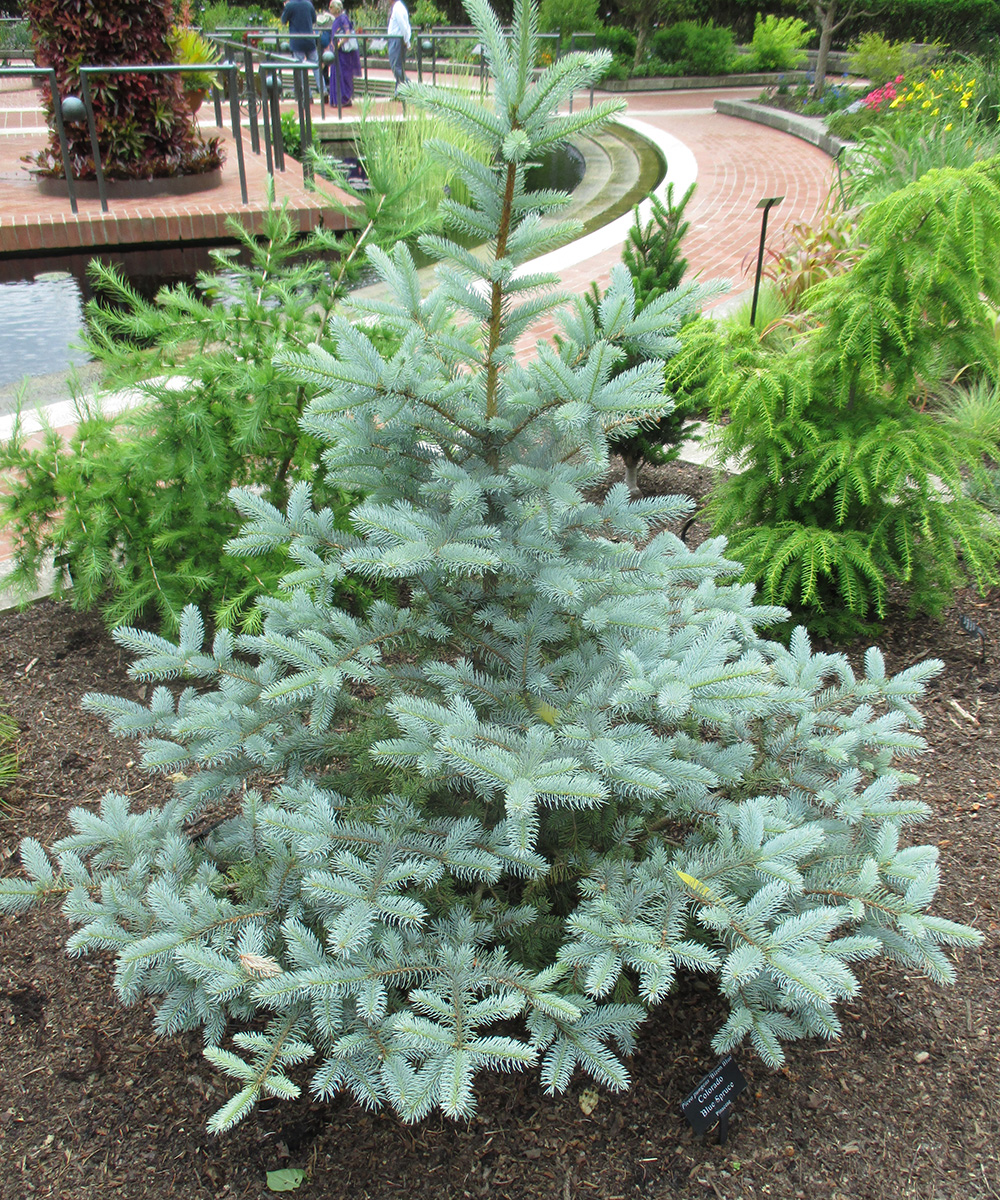 'Bizon Blue' Colorado spruce
Picea pungens 'Bizon Blue', Zones 3–7
This spruce came from Bizon Nursery in Oregon and maintains an intense blue coloration on both new and older growth. The formal, conical shape is charming. 'Bizon Blue' is gaining more popularity for its reliably significant blue coloration. In full sun it will reach 50 feet tall at maturity. If you are looking for a very blue, narrow form of Colorado spruce, try 'Fürst Bismarck'. For a weeping version of Colorado spruce, look for 'Glauca Slenderina Pendula'. These are just three of many cultivars out there for this species, but they have all been recognized for their great shades of blue.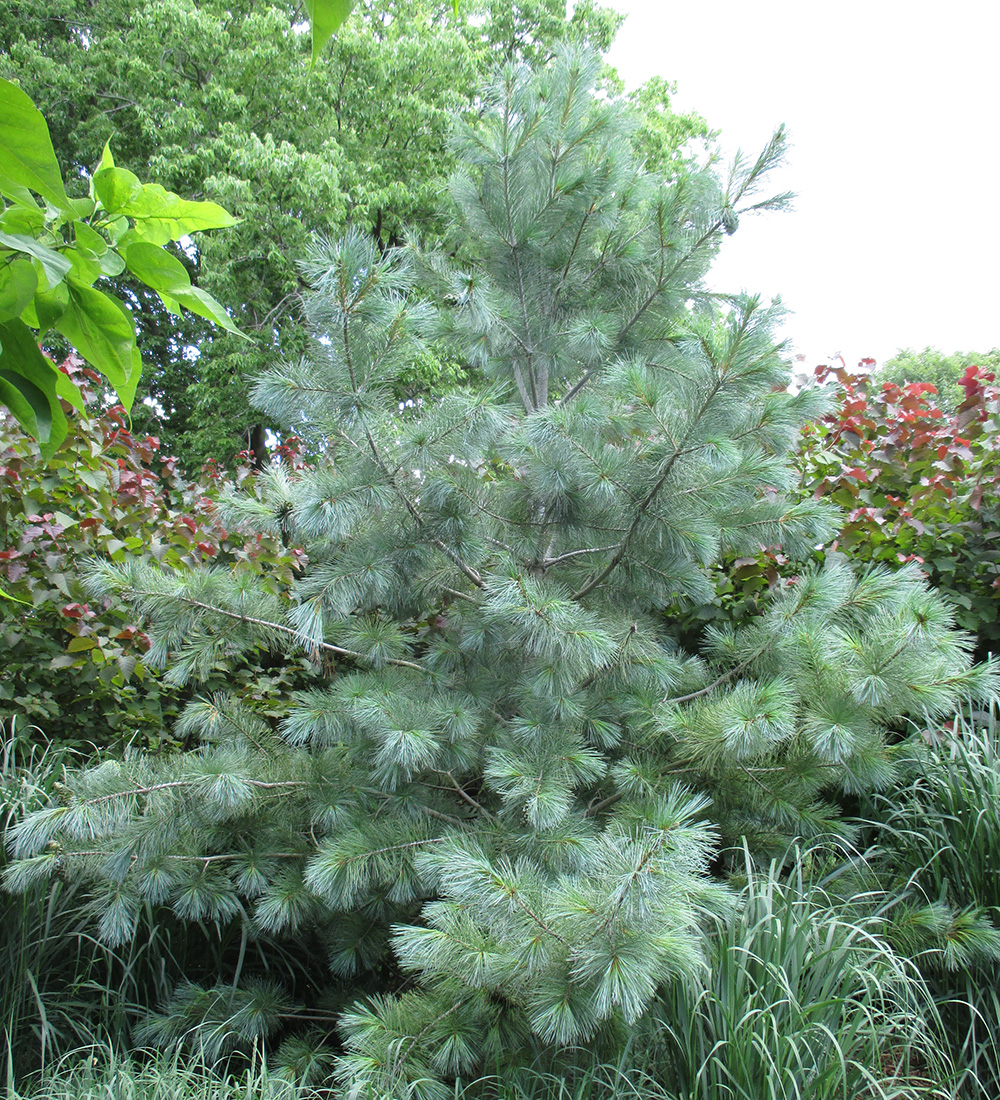 'Forest Sky' pine
Pinus 'Forest Sky', Zones 4–7
This pine is considered by some to be preferable to the native Eastern white pine (P. strobus, Zones 3–8) for garden situations. Notably denser in branching structure and with a tighter form, this hybrid, while slower growing, exhibits less browning of needles. 'Forest Sky' is finding more and more use as an effective accent or specimen tree. It grows 40 feet tall and prefers full sun.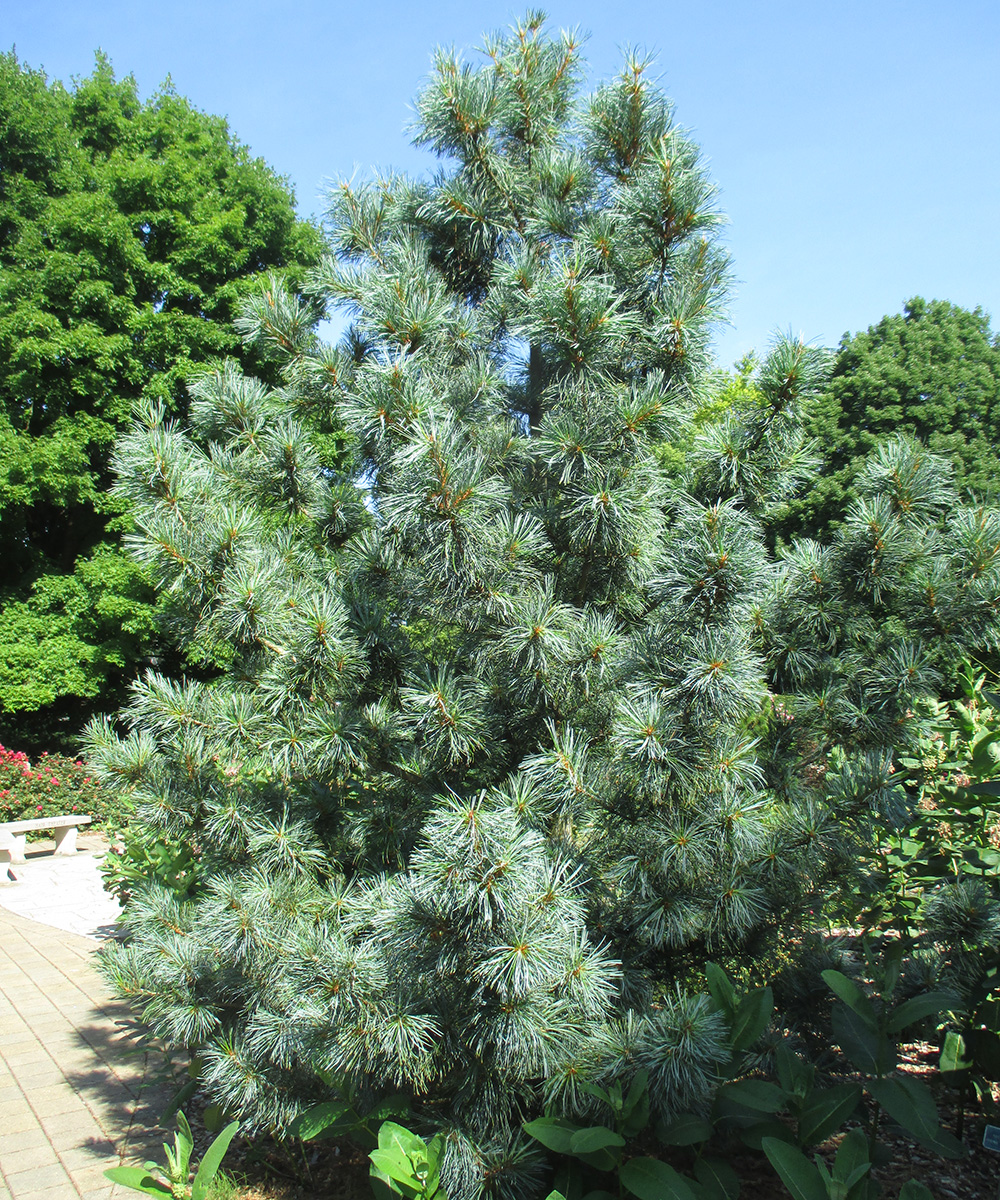 'Morris Blue' Korean pine
Pinus koraiensis, Zones 3–9
The long, silvery, blue-green needles of this variety of Korean pine offer a textural and colorful contribution to gardens. 'Morris Blue' takes full sun and grows 35 feet tall. The tight, dense branching structure, combined with the upright form and extreme hardiness, make this conifer an excellent contributor in all four seasons.
The color blue is frequently associated with a calming, soothing, and relaxing feeling. Blue also seems to recede in a garden composition, offering a sense of openness and expansion. I believe that blue is underutilized in the garden and don't feel that it can be easily overdone. While blue can be provided by flowers and other elements such as containers and garden furniture, the contribution of a blue conifer can create a soothing spotlight. As these plants gain size and prominence, they will continue to be significant sources of winter color and truly offer 365 days of interest. The specimens described above are just some of the many beautiful options that we can find at our local nurseries and garden centers.
—Mark Dwyer, former director of horticulture at Rotary Botanical Gardens in Janesville, Wisconsin, operates Landscape Prescriptions by MD.