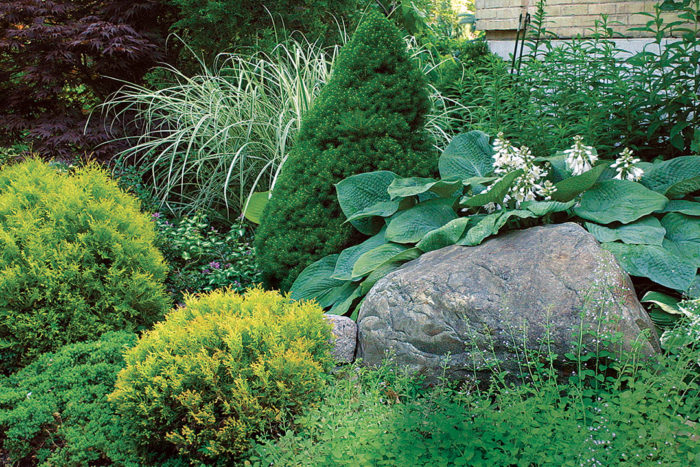 When I started to garden, I initially got hooked on perennials. To make room for as many as possible in my small city lot, I got rid of my front-yard patch of grass and began planting. My entry garden was soon a showcase of color and texture from spring to fall. But something was missing. My garden needed more of a framework, including some vertical accents and year-round plantings.
My tiny lot did not afford much space for full-size trees and shrubs, but I knew I could make room for a few dwarf conifers, which usually don't get taller than 1 to 6 feet in 10 years. Adding some conifers to the mix turned out to be the perfect solution.
Dwarf conifers can serve as versatile plants regardless of how much space you have. Three key ways to use them are as anchors of ever-changing planting vignettes, as vertical elements in a design, and in clusters with other dwarf conifers.
The selection of dwarf conifers available to home gardeners has greatly increased in the past decade. You can find them in shades of green, blue, and yellow and in variegated colors. I find it helpful to choose a conifer based on its color and its habit, whether upright, mounding, or pyramidal (see chart).
Although it may seem more daunting to purchase and plant a conifer than a perennial, don't be afraid to make mistakes. Fortunately, the small size and slow-growth habit of dwarf conifers make them easier to transplant than some woody plants. In fact, gardeners considering a move within 10 years of planting a dwarf conifer would likely be able to pack it up along with their favorite perennials, roses, and household belongings.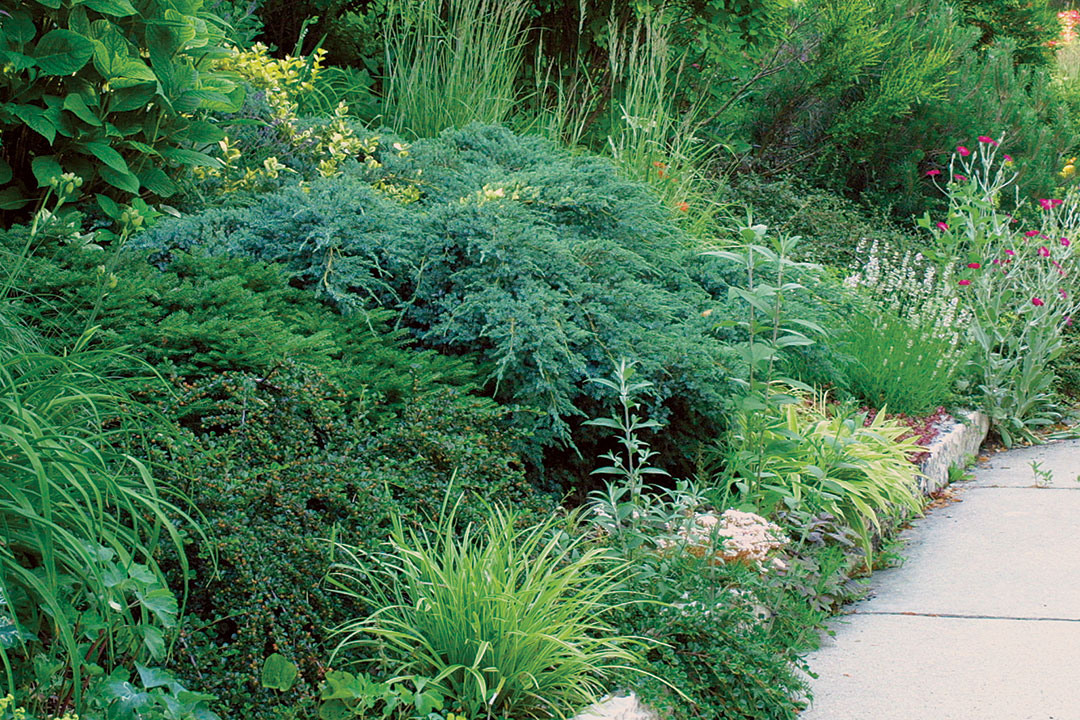 Use small changes to anchor changing vignettes
A planting with year-round appeal is a great way to enhance the entrance to your home. Two avid gardeners I know in Milwaukee, Steve Bialk and Angela Duckert, created just that. A dwarf Alberta spruce (Picea glauca var. albertiana 'Conica', USDA Hardiness Zones 2–6) serves as the central figure in their front-yard vignette, providing soft texture and a pyramidal shape that balance the low heft of a large boulder. In summer, the bold, blue-green leaves of a Hosta cultivar (Zones 3–9) contrast with the spruce's fine needles. Two golden Eastern arborvitae (Thuja occidentalis 'Sunkist', Zones 4–7) and a low-growing juniper round out the scene. Behind the spruce, a variegated miscanthus (Miscanthus sinensis 'Variegatus', Zones 6–9) adds a bright accent with its narrow striped leaves, which repeat the variegation of a deadnettle (Lamium maculatum cv., Zones 4–8). In fall, the hosta turns a beautiful yellow, echoing the color of the arborvitae foliage. The evergreens continue to add colorful structure in winter.I think of dwarf conifers as garden stalwarts. One way to capitalize on these evergreens is to make them anchors in mixed plantings that change from season to season. Compact evergreens provide attractive stability in a bed or border as bulbs, perennials, and annuals come and go. Conifers with all types of contours, from low mounds to pyramids, can be used in this way.
In another mixed planting, a dwarf mugo pine (Pinus mugo subsp. mugo, Zones 3–7), a 'Rheingold' arborvitae (Thuja occidentalis 'Rheingold', Zones 2–7), and a daylily (Hemerocallis cv., Zones 3–10) create an appealing vignette. The green needles of the mugo pine contrast with the color and texture of the apricot-tinged arborvitae. The arborvitae foliage forms a pleasing color harmony with the melon-colored daylily blossoms. The planting is completed by a skirt of the foliage of a bigroot geranium (Geranium macrorrhizum, Zones 4–8).
Dwarf conifers also mix well with roses and deciduous shrubs. In another part of this yard, an established dwarf blue spruce (Picea pungens 'Montgomery', Zones 2–8) serves as the steadfast element of a mixed planting along the corner of a slope. A dwarf Norway spruce (Picea abies 'Mucronata', Zones 3–8) adds textural contrast next to a hardy shrub rose that blooms throughout the summer. The rose's attractive hips add to the winter interest provided by the conifers. A yellow barberry (Berberis thunbergii cv., Zones 5–8) contrasts with the blue spruce and harmonizes with the chartreuse blooms of lady's mantle. Hostas, daylilies, and other perennials provide interesting foliage and seasonal blooms.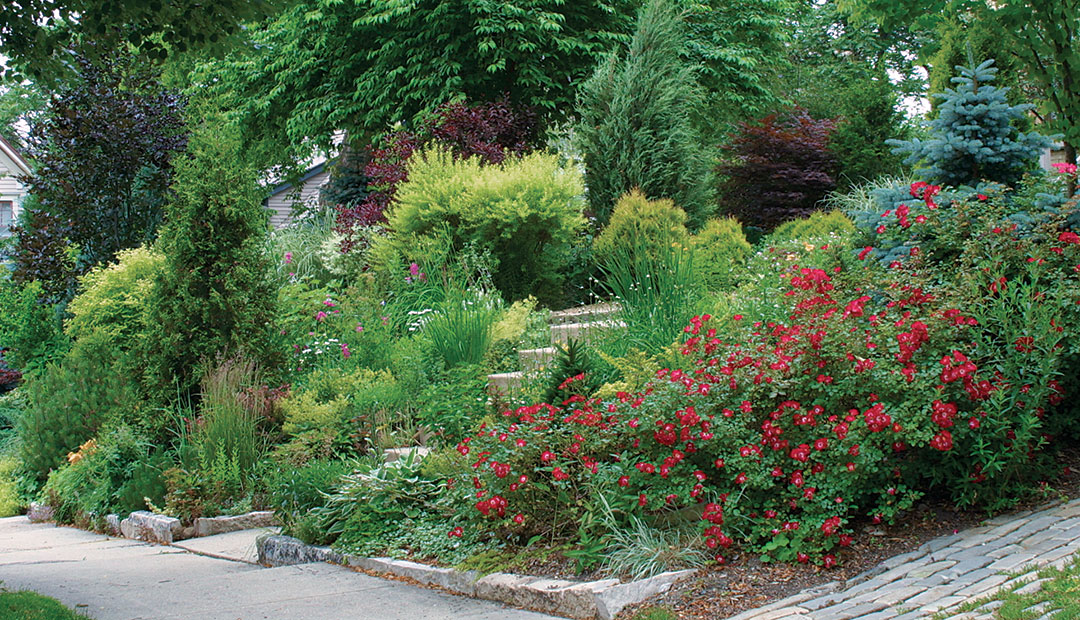 Dwarf conifers can add verticality
A common challenge that gardeners face is finding plants that add height without taking up a lot of space. A dwarf conifer with either a vertical, narrow habit or a pyramidal form can lend height to a combination, serve as a focal point, or add a sense of depth to a small or narrow bed. Good candidates for this type of design include upright and narrow arborvitae, false cypresses, and junipers. Pyramidal candidates include dwarf Alberta spruce and 'Technito' arborvitae (Thuja occidentalis 'Technito', Zones 3–7), a recently introduced smaller version of 'Techny' arborvitae.
As you walk through the Bialk-Duckert yard, the vertical structure provided by dwarf blue spruces and arborvitae helps unify the garden while expanding the sense of space. At one corner of the lot, dwarf conifers provide vertical accents that soften the horizontal impact of a rock wall by creating a sense of scale and balance. An upright, intermediate arborvitae (T. occidentalis 'Yellow Ribbon', Zones 2–7), with intriguing swirls of golden foliage, and a pyramidal dwarf Alberta spruce serve as a visual bridge between mounds of perennials and towering trees in the background.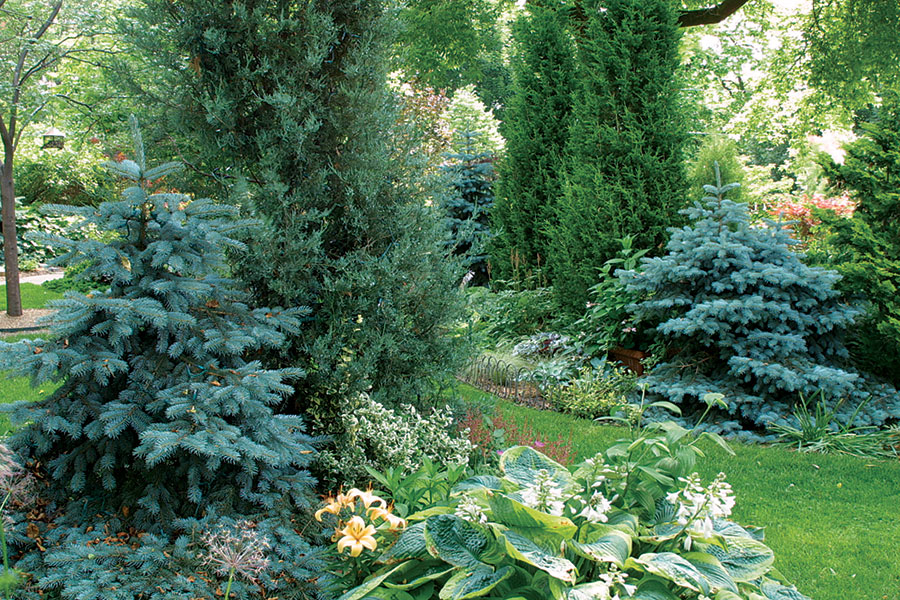 In another area of this garden, a backdrop planting of dwarf Alberta spruce draws attention from a hosta and astilbes in the foreground to create a pleasing sense of depth. The vertical backdrop of trees also helps muffle city noise and blocks the view of nearby buildings.
Cluster conifers for impact
In addition to enhancing mixed plantings, small conifers can be grouped with other conifers in eye-catching ways. A simple combination of two dwarf conifers, such as a 'Fat Albert' blue spruce (Picea pungens 'Fat Albert', Zones 2–8) and a 'Golden Mop' sawara cypress (Chamaecyparis pisifera 'Golden Mop', Zones 4–8), looks more dynamic than a few sheared yews lined up against a house foundation. In a garden with more space, use dwarf conifers to dress up an existing planting of evergreens. Dwarf and intermediate conifers can add color, form, and texture to an otherwise monotonous windbreak of tall conifers such as Colorado spruce and Austrian pines.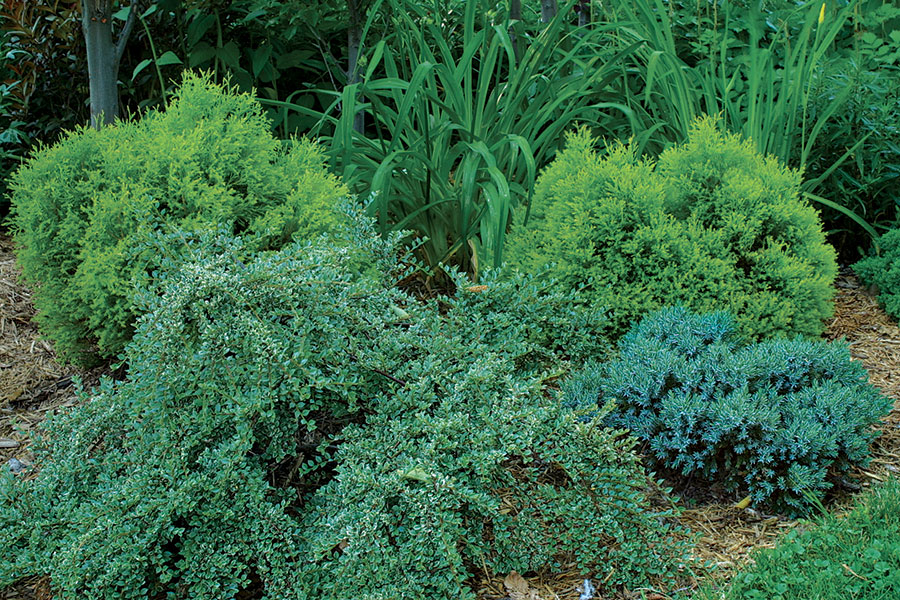 You can also enliven a serviceable evergreen hedge with a colorful companion or two. The broader, branching form of a 'Montgomery' blue spruce (Picea pungens 'Montgomery', Zones 2–8) contrasts nicely with the narrowly upright forms of an array of arborvitae.
One of my favorite conifer groupings is what I call "Rich's Gnome Forest." Rich Eyre planted about 20 green and blue dwarf Alberta spruces close together to create a small-scale forest at his nursery, Rich's Foxwillow Pines Nursery, in Woodstock, Illinois. One of his customers liked the planting enough to emulate it in his own landscape. Surrounded by a ground cover of creeping sedums, this miniature forest always gets a second look from visitors.
Dwarf conifers can be used to control erosion and eliminate the need to mow on a steep slope. Combined with a few weed-suppressing ground covers, a planting of several dwarf conifers can serve as an attractive and low-maintenance design solution.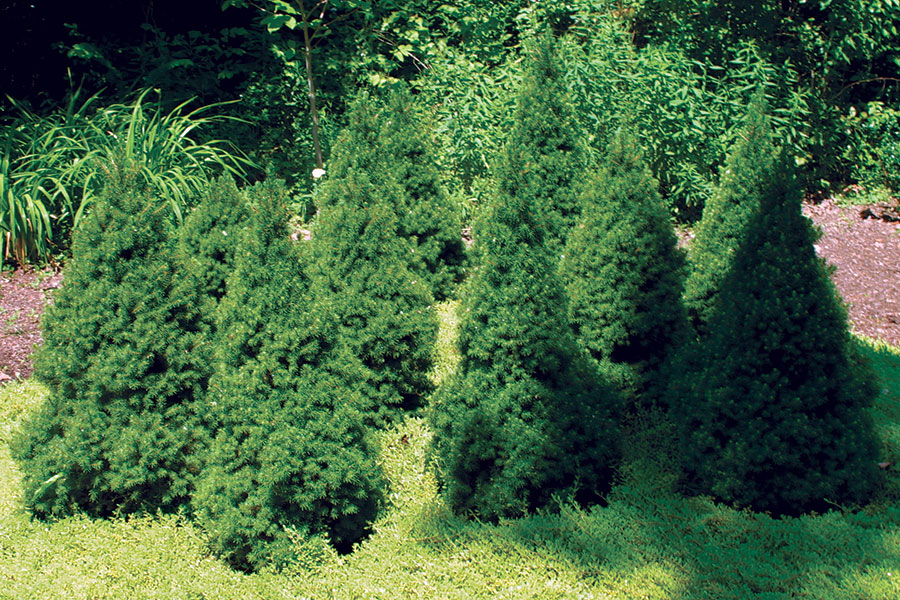 Whether you have a large yard or a postage-stamp city lot, I'll bet you can find space for a few dwarf conifers. I certainly have—about eight and counting. My 'Gentsch's White' hemlock (Tsuga canadensis 'Gentsch's White', Zones 4–8) adds a vertical accent, and its white-tipped foliage brightens a corner of my shade garden. A bird's nest spruce (Picea abies 'Nidiformis', Zones 3–8) provides a year-round anchor for a small grouping of brunnera (Brunnera macrophylla, Zones 3–7), tulips, and annual pentas (Pentas cvs.) near my 'Candymint' crab apple (Malus 'Candymint', Zones 4–8). And the opportunities to include dwarf conifers grow as my garden evolves. You may find, as I have, that your garden will feel richer for their presence.
Outstanding dwarf conifers
The author recommends the following plants for their exceptional traits and versatility within plantings. In general, they grow in average, well-drained garden soil and full sun. The habit illustrations depict the mature form of each plant, and the height is the plant's size after 10 years.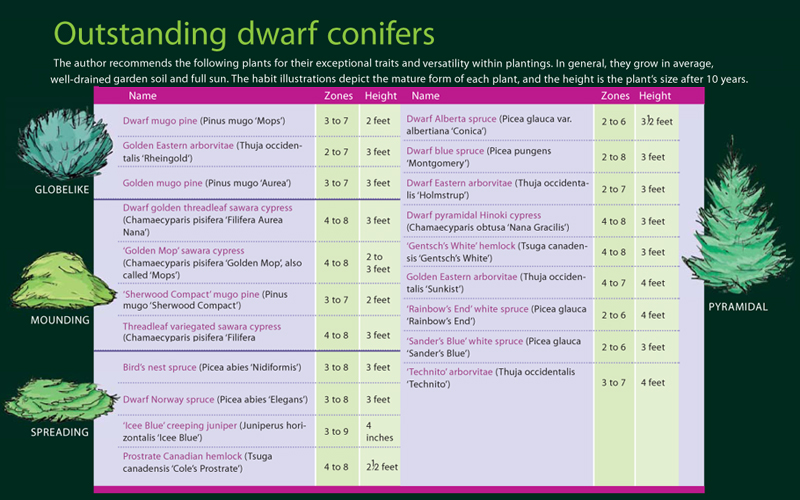 ---
Melinda Myers teaches horticulture in Milwaukee and hosts radio and television shows on gardening.
Photos: Virginia Small