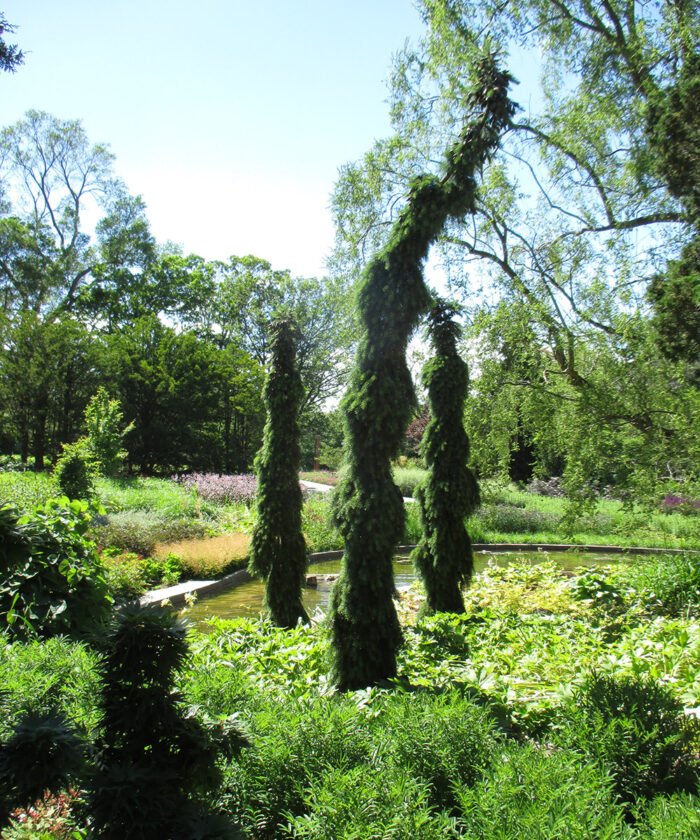 The different forms of otherwise well-known conifers offer gardeners the opportunity to experiment. These conifers can be part of a composition, serve as anchoring components, act as screens, or be distinctive focal points on their own when placed in specific locations. The contributions of tall, narrow columnar conifers are many. In most cases, these selections offer hardiness, durability, and all the value of the original species but in an attractive, slender form. Do consider their growth rates, as some are extremely slow to take off, while others will gain height quickly and perhaps need some pruning and staking to maintain their growth. Here are seven standout columnar conifers for Midwest gardens.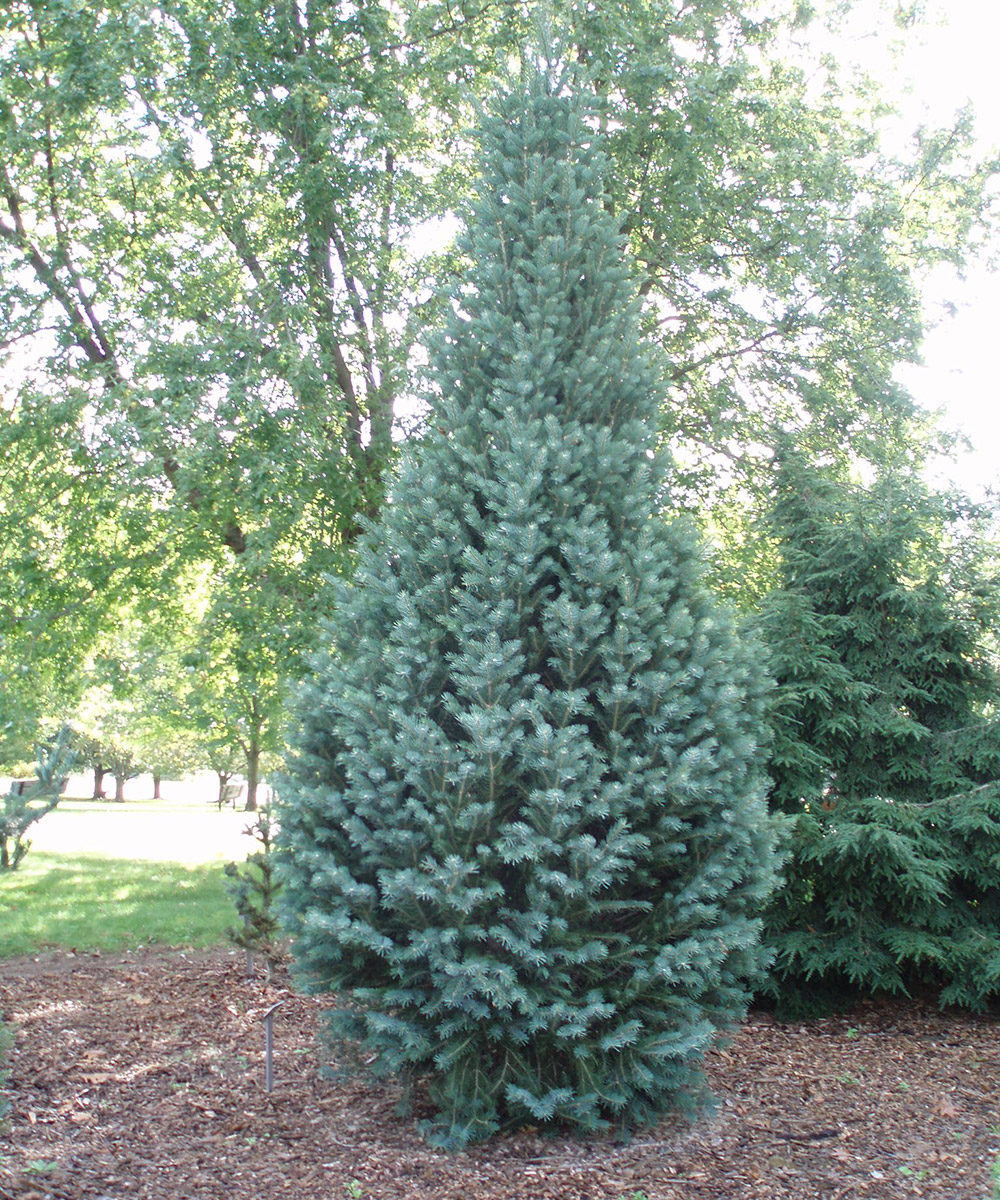 Conical white fir
Abies concolor 'Conica', Zones 4–8
Size: 15 feet tall and 5 feet wide
Conditions: Full sun; well-drained soil
The standard white fir (Abies concolor, Zones 3–7) is a beautiful blue, and this narrow cultivar is no exception. Slow growing at 4 to 6 inches per year, this narrowly conical tree can fit in smaller gardens and landscapes with no difficulty, and the blue-gray foliage is spectacular. Avoid heavy clay soils or poorly drained areas. Ideally, provide slightly acidic soils and some wind protection. This selection is both heat and drought tolerant and looks great 365 days per year. I'm finally seeing this cultivar become more available in nurseries, which is exciting.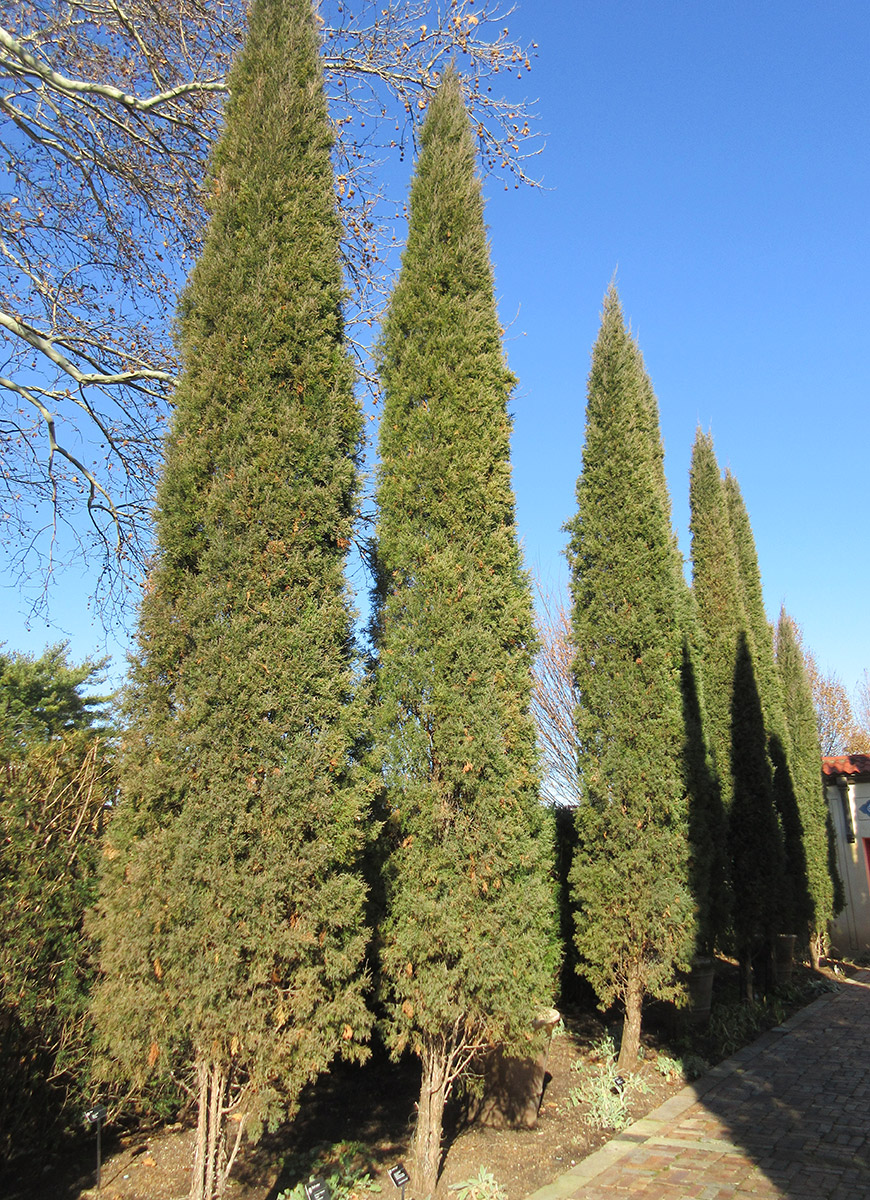 'Taylor' Eastern red cedar
Juniperus virginiana 'Taylor', Zones 3–9
Size: 20 feet tall and 4 feet wide
Conditions: Full sun; well-drained soil
Extremely hardy, this narrow, columnar form of the native Eastern red cedar (Juniperus virginiana, Zones 2–9) is very uniform. Found as a sport in Taylor, Nebraska, in 1978, this selection was released by the Nebraska Statewide Arboretum in 1992. The silvery foliage is showy, disease resistant, and will take on some bronze tones in the winter months. The density of branching and foliage combines with a consistent form to make this a great selection for formal gardens. Keep in mind the ultimate height of this selection at its maturity, although light shearing can keep it at any size. Whatever size you choose, 'Taylor' Eastern red cedar is an exclamation point in any landscape.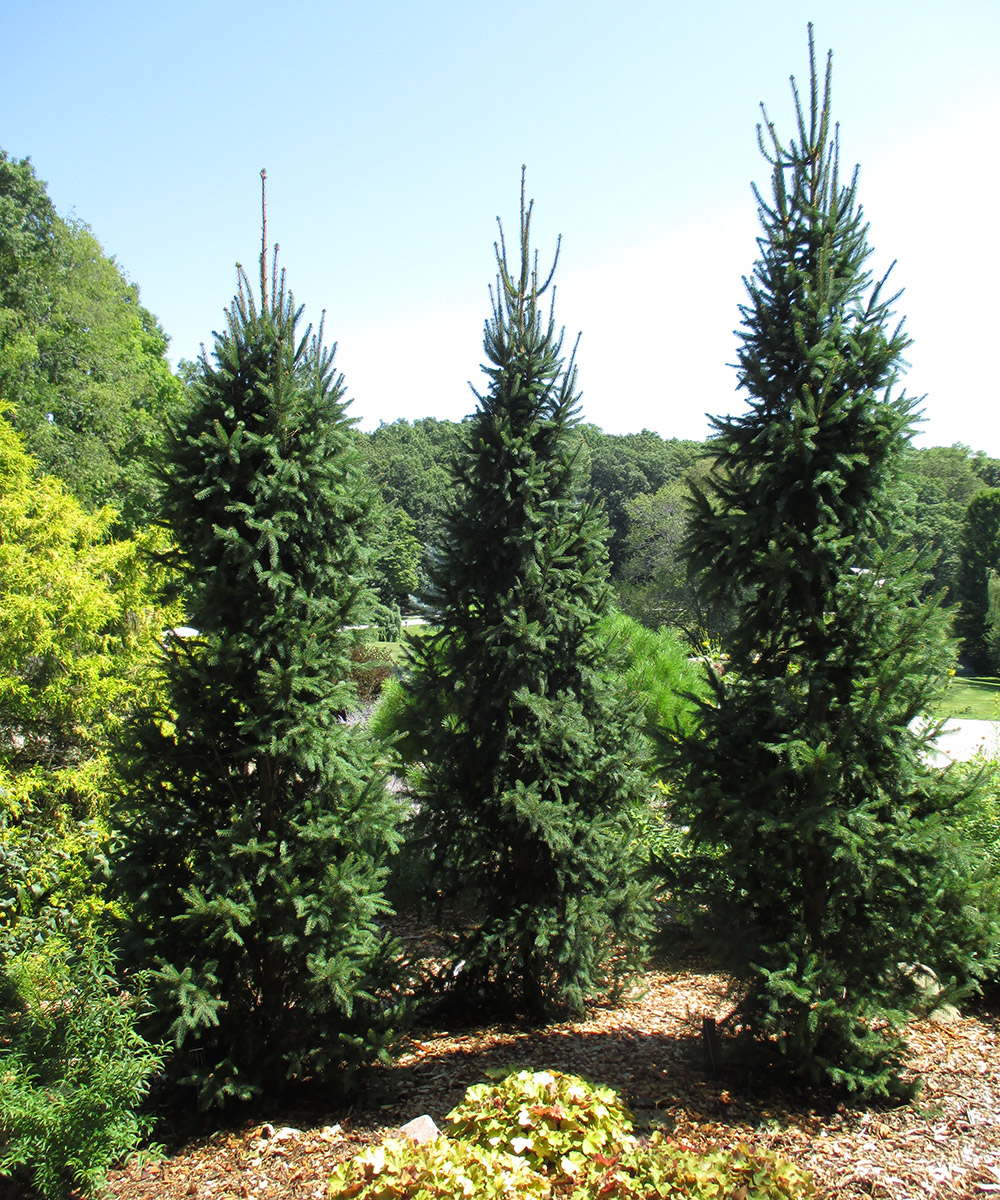 'Cupressina' Norway spruce
Picea abies 'Cupressina', Zones 2-7
Size: 30 feet tall and 6 feet wide
Conditions: Full sun; moist and well-drained soil
This columnar selection of Norway spruce (Picea abies, Zones 2–7) is one of my favorites for a consistently tight form. Fastigiate branches have a strong connection to their central leader, which makes this a durable selection to withstand heavy snow and ice loads. The blue-green coloration is striking on this elegant variety. Select a location with ample sunlight, and provide soil that is slightly acidic, evenly moist, and well-drained. This cultivar ultimately gains some decent size in time, which should be considered when you're choosing where to plant it.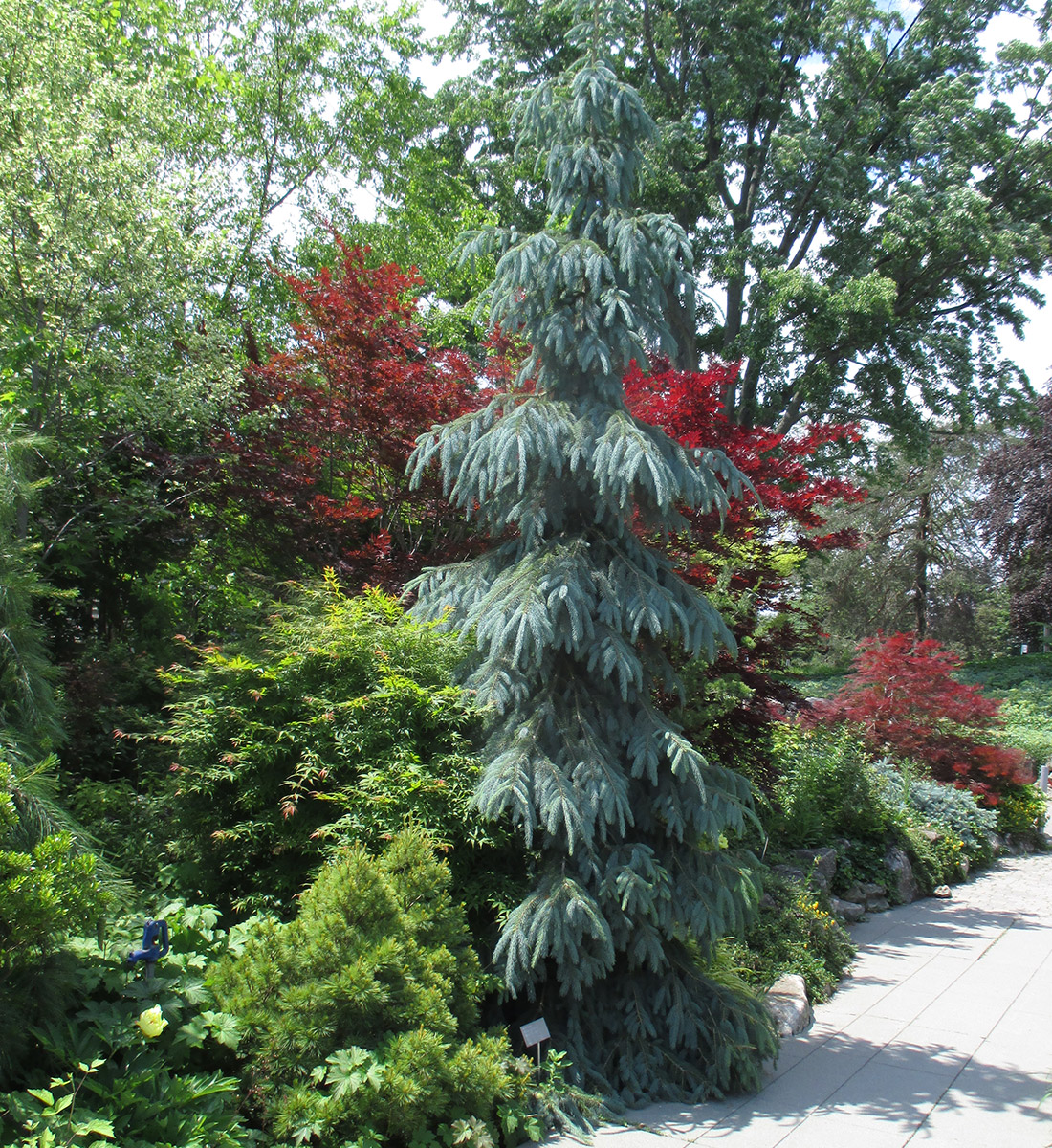 'Bush's Lace' Engelmann spruce
Picea engelmannii 'Bush's Lace', Zones 3–8
Size: 15 feet tall and 5 feet wide
Conditions: Full sun; well-drained soil
The powder-blue coloration of 'Bush's Lace' is striking in the landscape. Of all the selections featured here, this one likely will become the widest in time, just scraping by into the columnar category. However, I thought it was important to share this underutilized selection for its hardiness, coloration, and upright, semi-pendulous form. No two specimens look the same, although most selections are quite narrow in their youth and through middle age. The strong central leader makes this a tough conifer in snow and ice as well.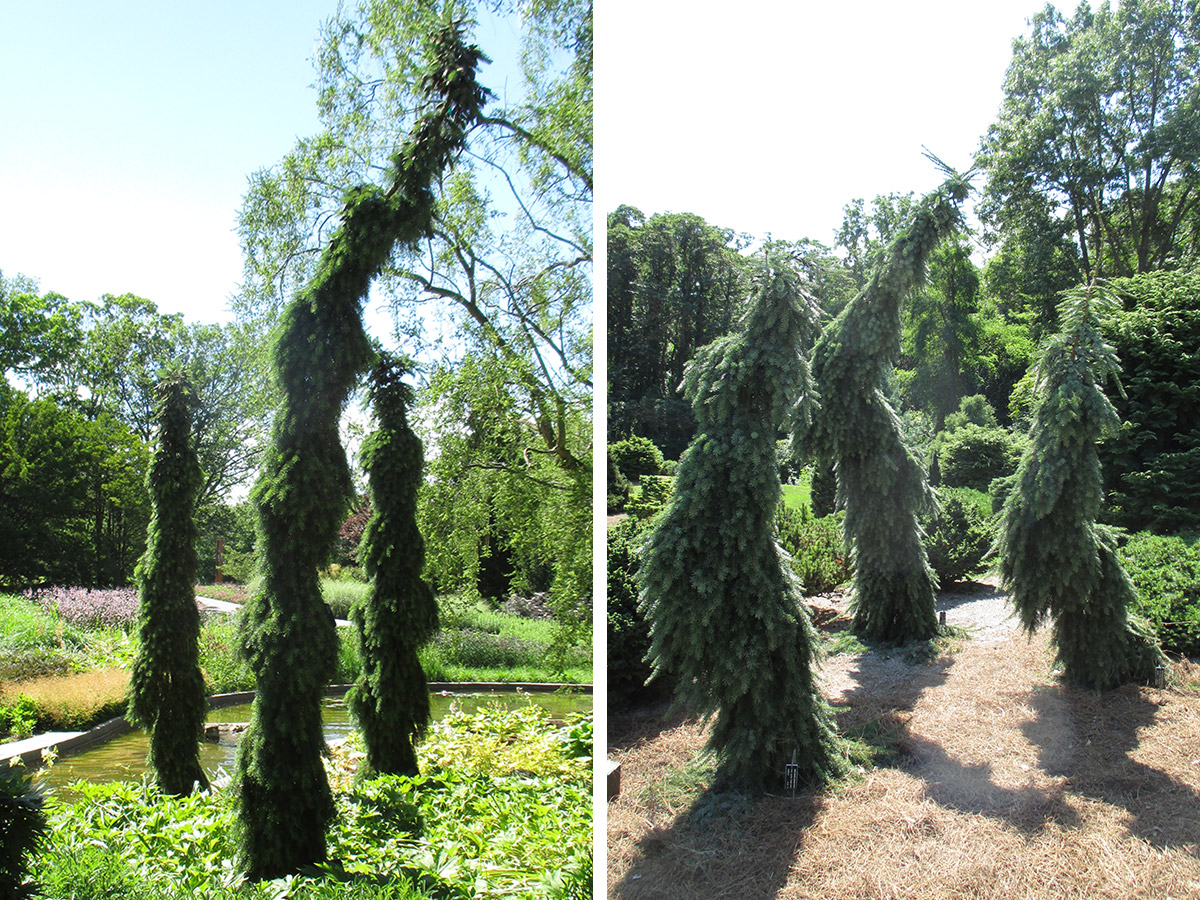 'Pendula Bruns' weeping Serbian spruce
Picea omorika 'Pendula Bruns', Zones 4–8
Size: 15 feet tall and 3 feet wide
Conditions: Full sun; moist, well-drained soil
This is one of my favorite columnar conifers for personality. No two selections of 'Pendula Bruns' are identical, although they will all feature a very narrow, columnar form with strictly weeping branches. The blue-green needles have a nice tone with a silver underside. With time, the central trunk will twist and meander, which creates an irregularly columnar specimen that is an immediate focal point and conversation piece. Judicious staking can help guide this plant over time. Don't worry about hardiness, although moist and well-drained soil is ideal for this species.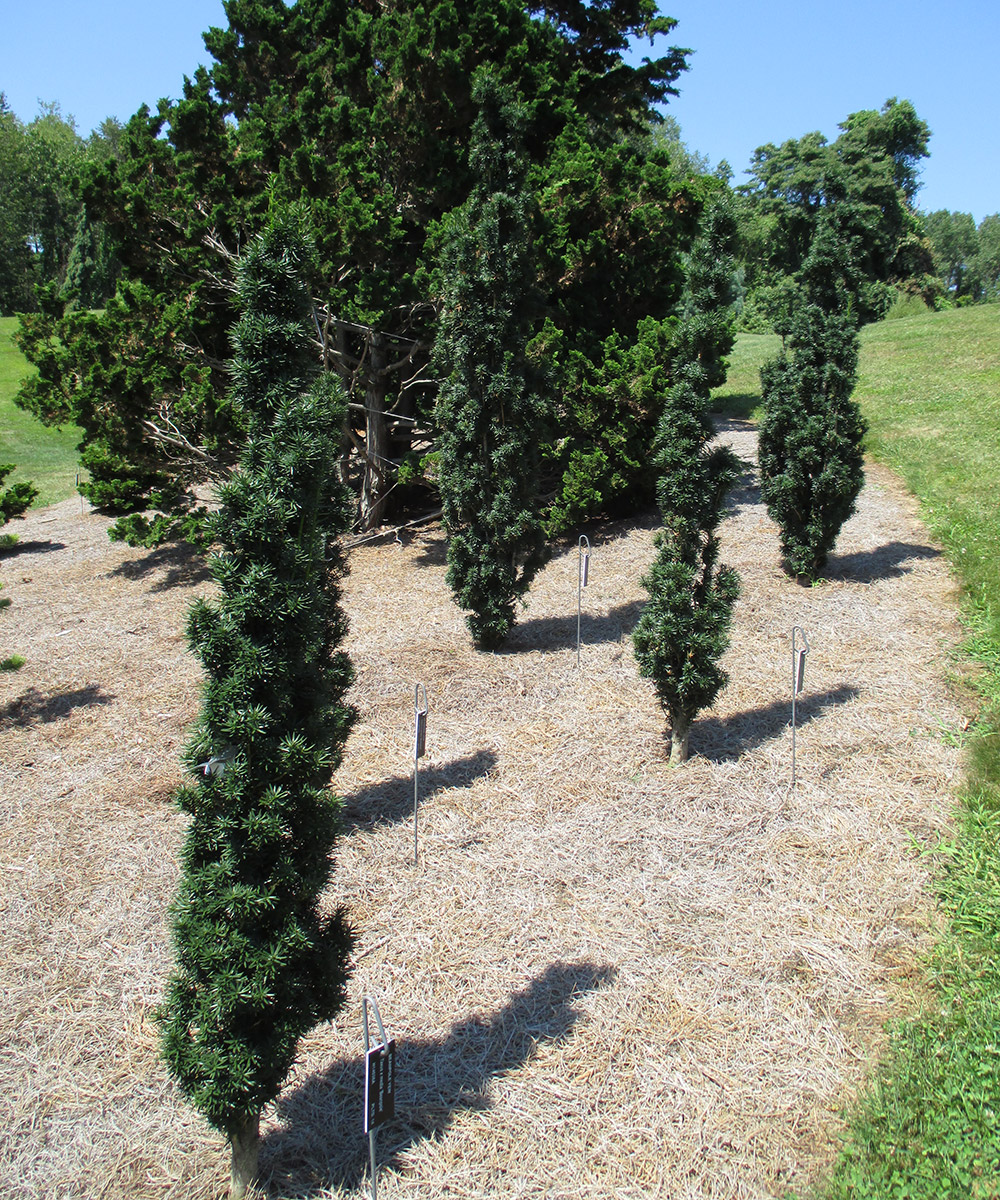 'Beanpole' yew
Taxus × media 'Beanpole', Zones 5–7
Size: 10 feet tall and 5 feet wide
Conditions: Full sun to partial shade; well-drained soil
Yews (Taxus spp. and cvs., Zones 5–8) have a long history in gardens and landscapes as foundation plants due to availability, durability, tolerance to both sun and shade, and ease of shearing and shaping. However, 'Beanpole' yew offers a smaller-scale, more durable yew. It has a narrow, upright, fastigiate form, and while it is slow growing, it will offer a strong vertical component to your garden throughout the year. Be wary of deer and rabbits, particularly during the winter months, and select a location with excellent drainage. There are many other selections of upright yew on the market that are also worthy of consideration.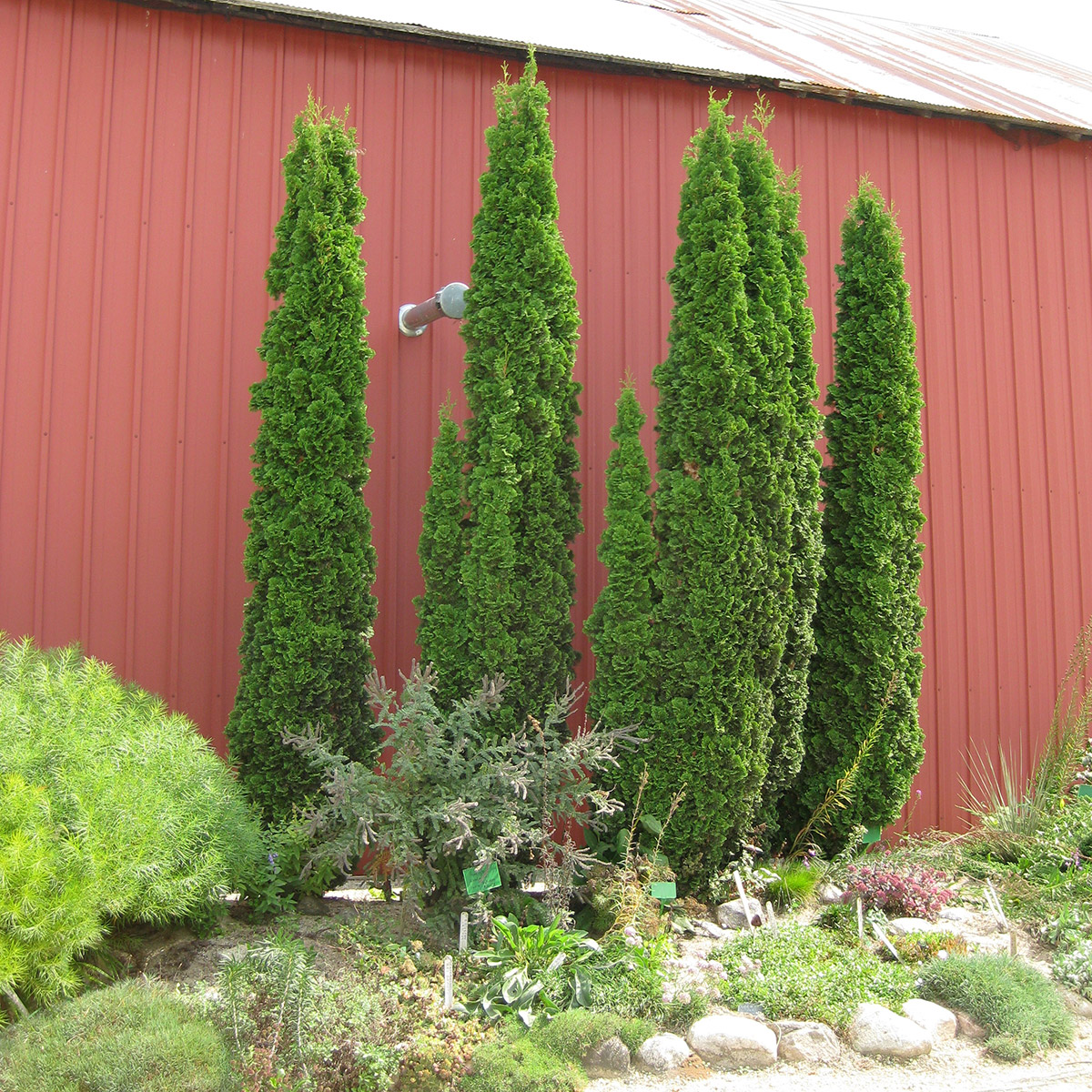 'Degroot's Spire' arborvitae
Thuja occidentalis 'Degroot's Spire', Zones 3–8
Size: 20 feet tall and 4 feet wide
Conditions: Full to partial sun; average to well-drained soil
Eastern arborvitaes (Thuja occidentalis, Zones 2–7) are offered in a wide range of forms and colors, which makes them durable and common in the landscape. Their cold tolerance, density of branching, and hardiness are also impressive. The narrow, columnar forms, like 'DeGroot's Spire', work wonderfully in tandem as hedges and screens, but their value as a single focal point in the landscape can't be understated. 'DeGroot's Spire', while an older variety, is still quite popular as one of the more narrow, columnar selections of arborvitae. There are quite a few narrow selections on the market now, such as 'American Pillar' and North Pole® ('Art Boe'), two excellent selections that both develop a primary central leader. This is helpful in shedding inevitable snow loads. Deer and rabbits can be an issue for this species in general, so consider some protection mechanisms, particularly in winter.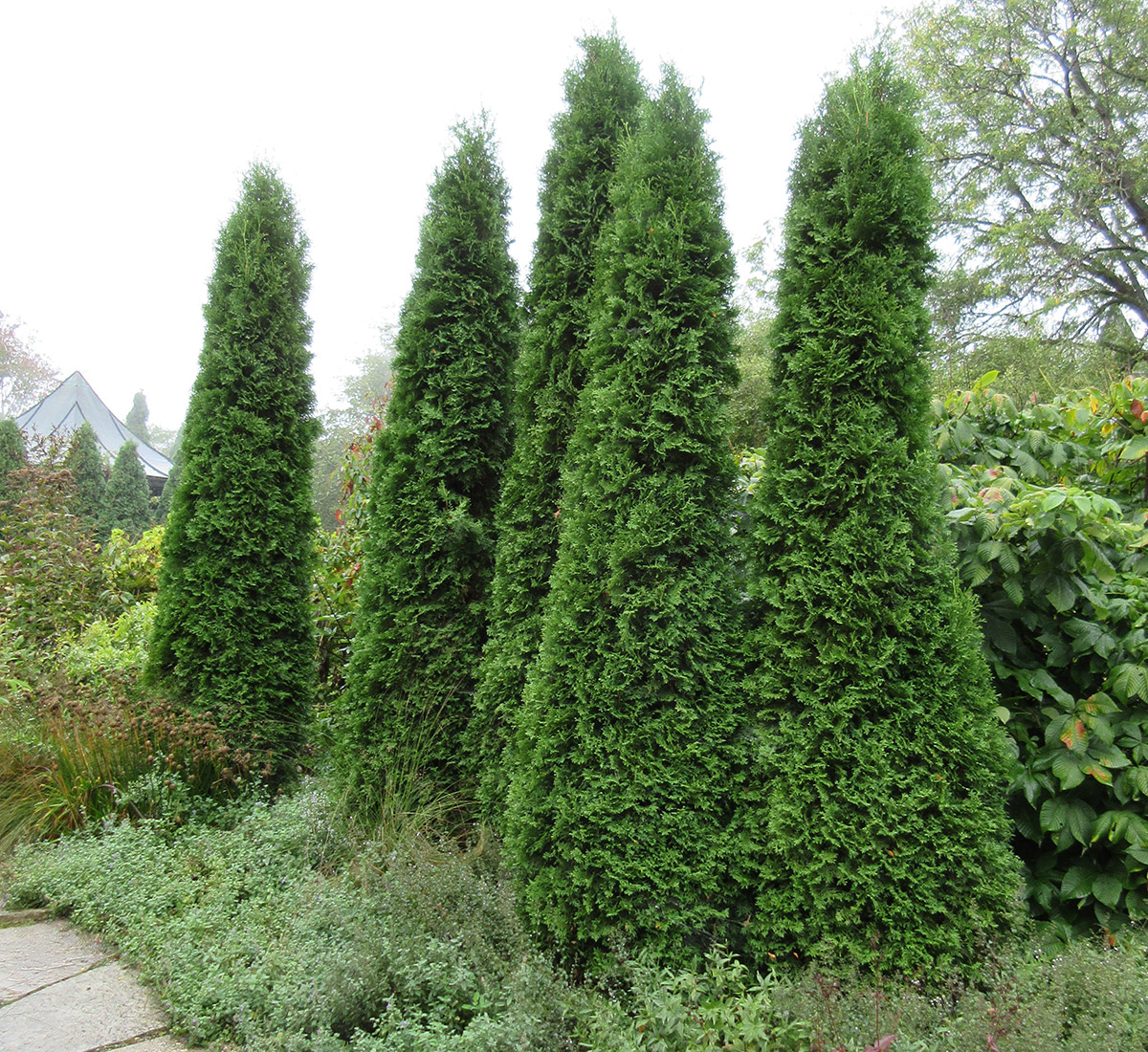 The winter months in the Midwest should still offer color, texture, form, and interest in the garden. While winter colors are usually dependent on colorful bark, stems, and berries, texture from ornamental grasses and the structures of woody plantings can also contribute significantly. The strong form of columnar conifers in the garden, however, will provide a vertical presence to balance out these other elements. They are eye-catching, lend a feeling of formality to a garden, and are efficient in smaller spaces. These selections offer both scale and height while not significantly compromising traditional planting schemes. Interested in investigating other conifers for your region? Check out:
Mark Dwyer, former director of horticulture at Rotary Botanical Gardens in Janesville, Wisconsin, operates Landscape Prescriptions by MD.