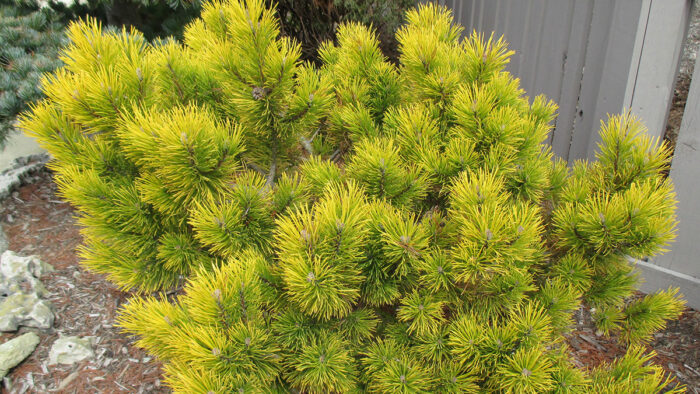 The garden is always transitioning. As gardeners, we are highly tuned into the visual changes that occur in the landscape every day, week, month, and throughout the seasons. We understandably love seeing the progression of flowers, colorful foliage, and other exciting transitions from spring to summer to fall. While most of these garden transformations are recognized and celebrated, those that occur in winter in the Midwest are often overlooked and certainly underappreciated, but there are a number of conifers that change color in winter.
When discussing color and interest over the long winter months in our Midwest gardens, we typically focus on colorful stems, ornamental bark, textural grasses, ornamental fruits, and most importantly, conifers. While many conifers contribute consistent color throughout the year, there are some that become increasingly more interesting and noteworthy in winter. The colder weather encourages a transformative color change that puts these specific conifers front and center. In some instances, these "colorful chameleons" become warm focal points in a desolate landscape that form the perfect foil for these out-of-the-ordinary hues. Here are just a few to consider for your garden.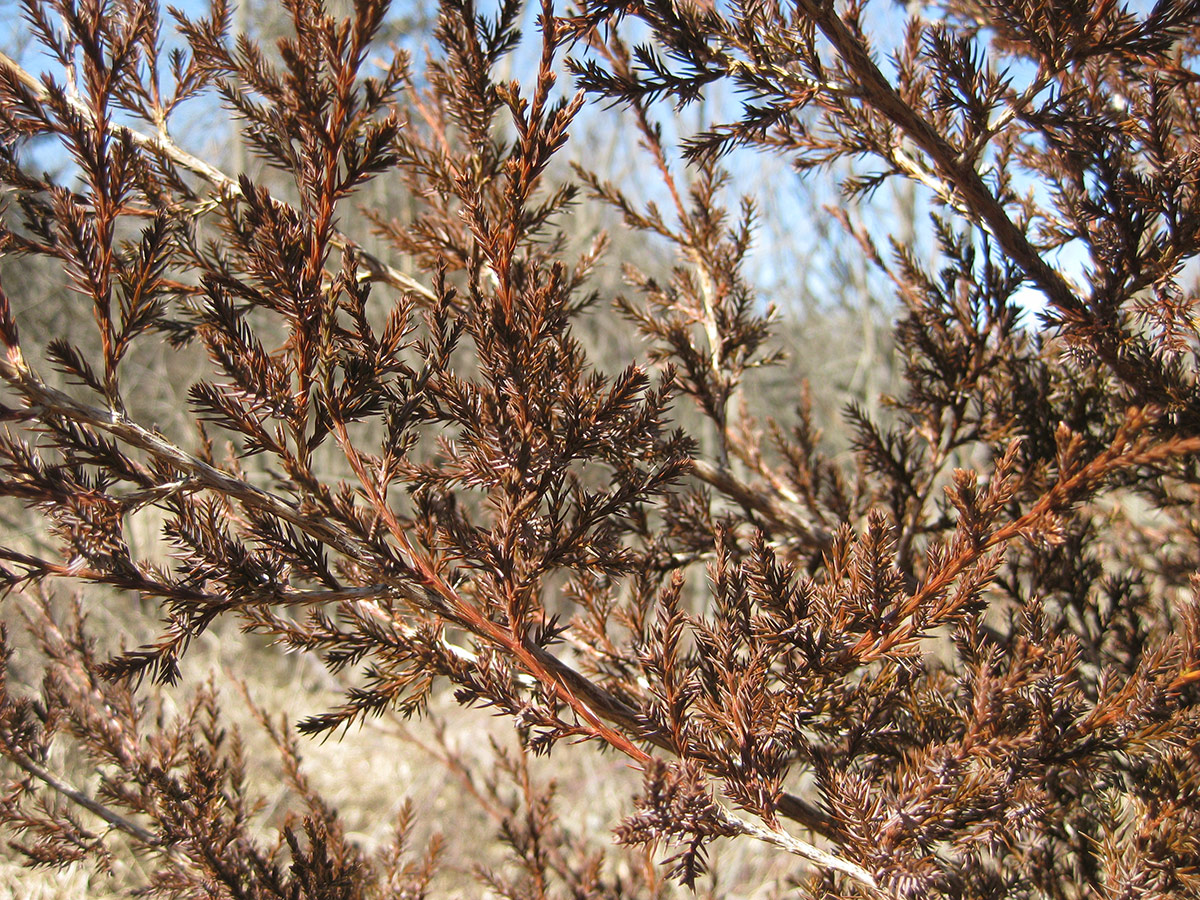 Eastern red cedar produces the best bronze color in its northern range
Our native eastern red cedar (Juniperus virginiana and cvs., Zones 2–9) is a workhorse out in the landscape and is the most widespread native conifer for a reason. There are quite a few cultivated varieties available with a wonderfully wide range of forms and foliage color, from 30 to 65 feet tall and 8 to 25 feet wide. The straight species is known for an annual foliage transition into the colder winter months in its northern range. The blue-green, scalelike foliage gets an amazing reddish-brown (bronzy) tone during the blustery time of year. Not all varieties of this sun-loving conifer exhibit the deep seasonal coloration, but a "winter bronzing" to some degree is common for most.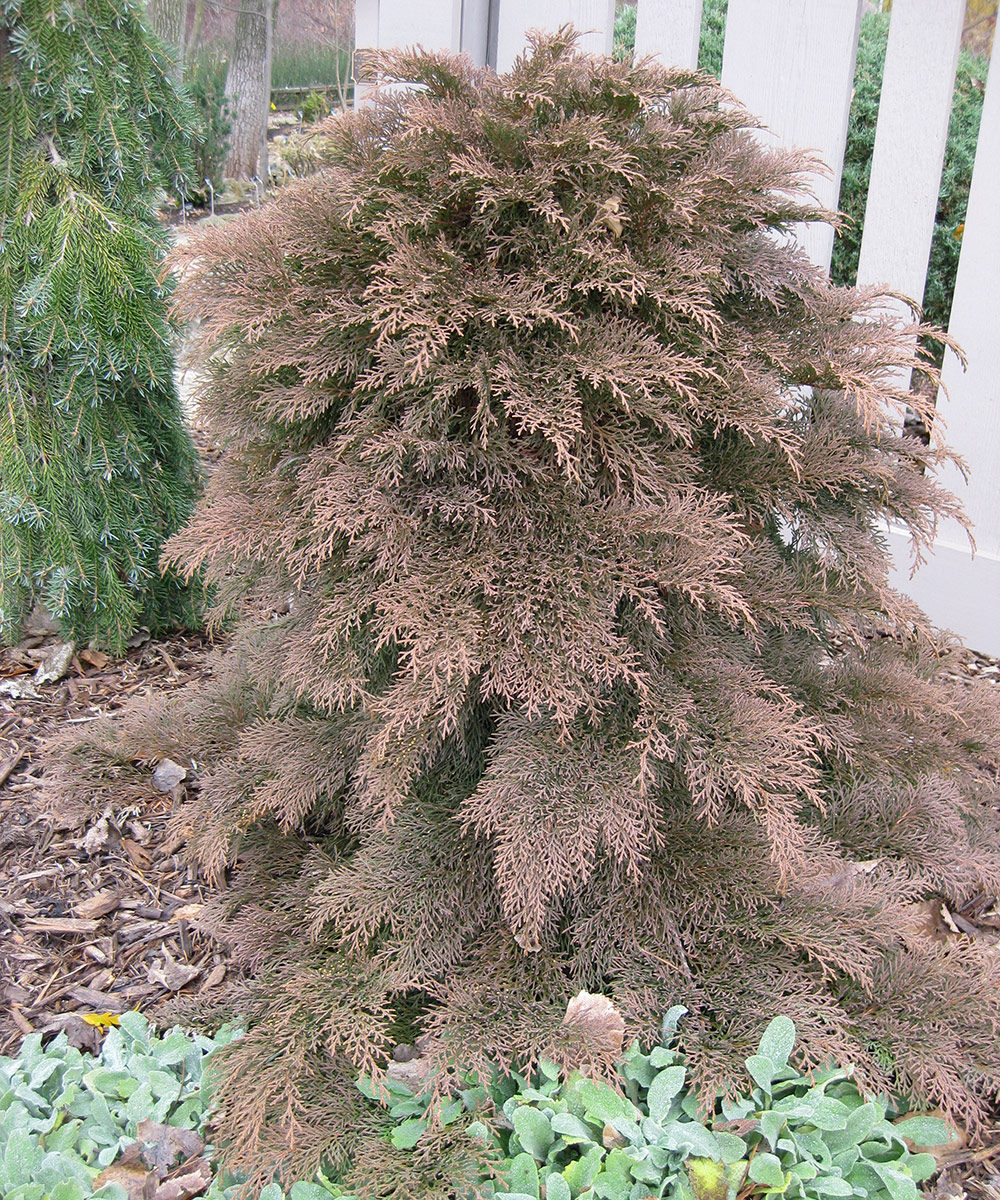 Russian arborvitae is a top-notch low-growing conifer with deer resistance
I've long been acquainted with this feathery, layered conifer, which is an excellent selection for a ground cover that is low and spreading. But in the coldest months of the year in particular, Russian arborvitae (Microbiota decussata and cvs., Zones 2–7) never ceases to amaze me with its attractive texture and winter color transition from green to a coppery bronze. It is indeed a welcome sight in the Midwest winter landscape, ranging in size from 6 to 18 inches tall and 3 to 12 feet wide. Full sun to partial shade and good drainage are vital for this conifer to establish, but additional features of merit include pest, disease, and deer resistance.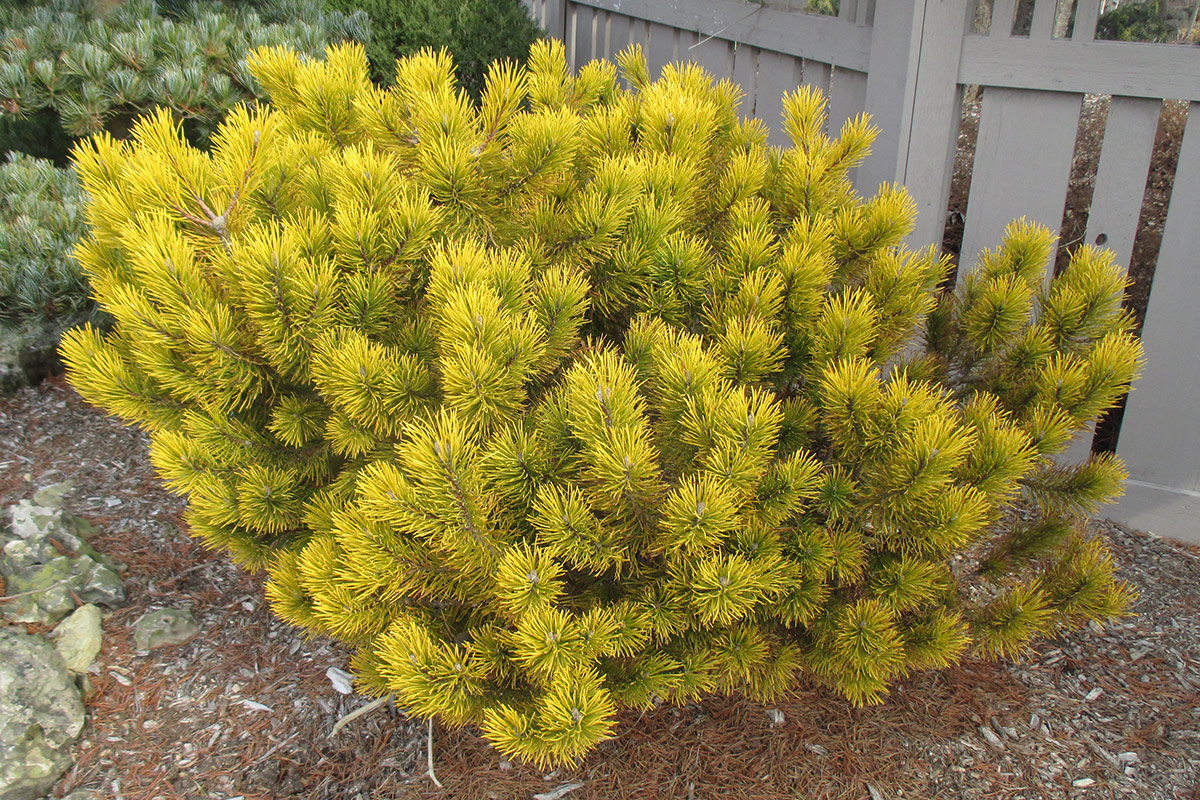 'Carstens' mugo pine provides excellent cool-season color in a compact form
'Carstens' mugo pine (Pinus mugo 'Carstens', syn. P. mugo 'Carsten's Wintergold', Zones 2–7) is a personal favorite of mine with its compact, globose, and slow-growing form that reaches 3 feet tall and wide in time. I've grown this variety for more than 20 years and love watching the summer green needle foliage transition to yellow in fall and then a rich gold in winter. The intensity of the winter coloration is more pronounced in colder years. Well-drained soil is a must for this durable full-sun conifer. The variety 'Winter Sun' (Pinus mugo 'Winter Sun', syn. P. mugo 'Wintersonne', Zones 2–7) is another good one to seek out.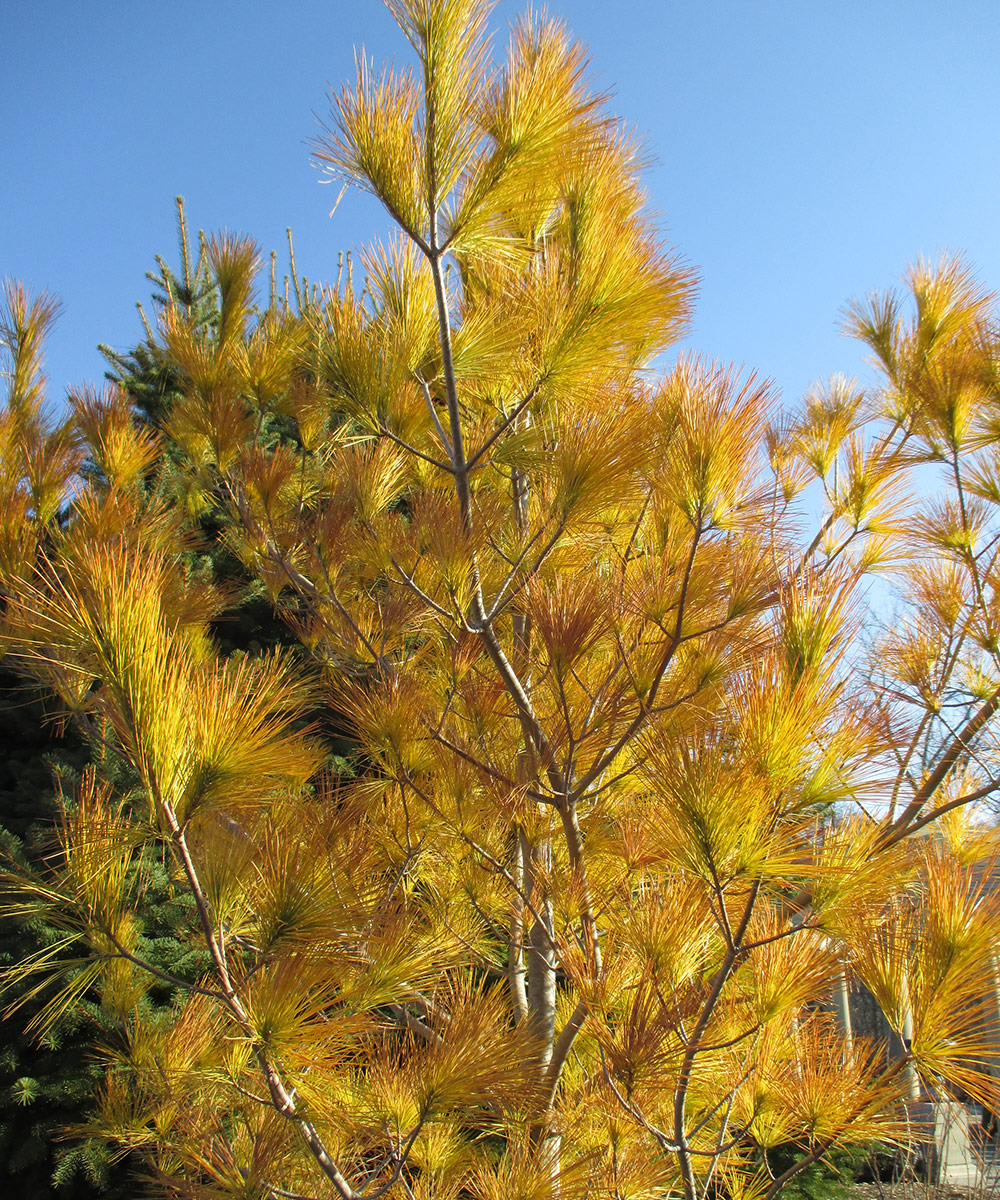 'Hillside Winter Gold' eastern white pine dazzles as a winter specimen
'Hillside Winter Gold' eastern white pine (Pinus strobus 'Hillside Winter Gold', Zones 3–8) is an interesting selection of our native white pine. It goes through an extreme transition of yellowing needles in fall as the temperatures dip, and in the deep cold of winter the transition continues to a golden yellow. The fine texture of this pine is prized throughout the year. It's recommended to have some degree of winter shade on this specimen to minimize needle burn, but regardless, this variety visually reads as a shining beacon in the dormant landscape and will be a full-size specimen in time. When placed in full sun to partial shade and well-draining soil, smaller installed specimens reach 12 to 15 feet tall in 10 years or so but will eventually max out around 30 to 70 feet tall and 15 to 30 feet wide.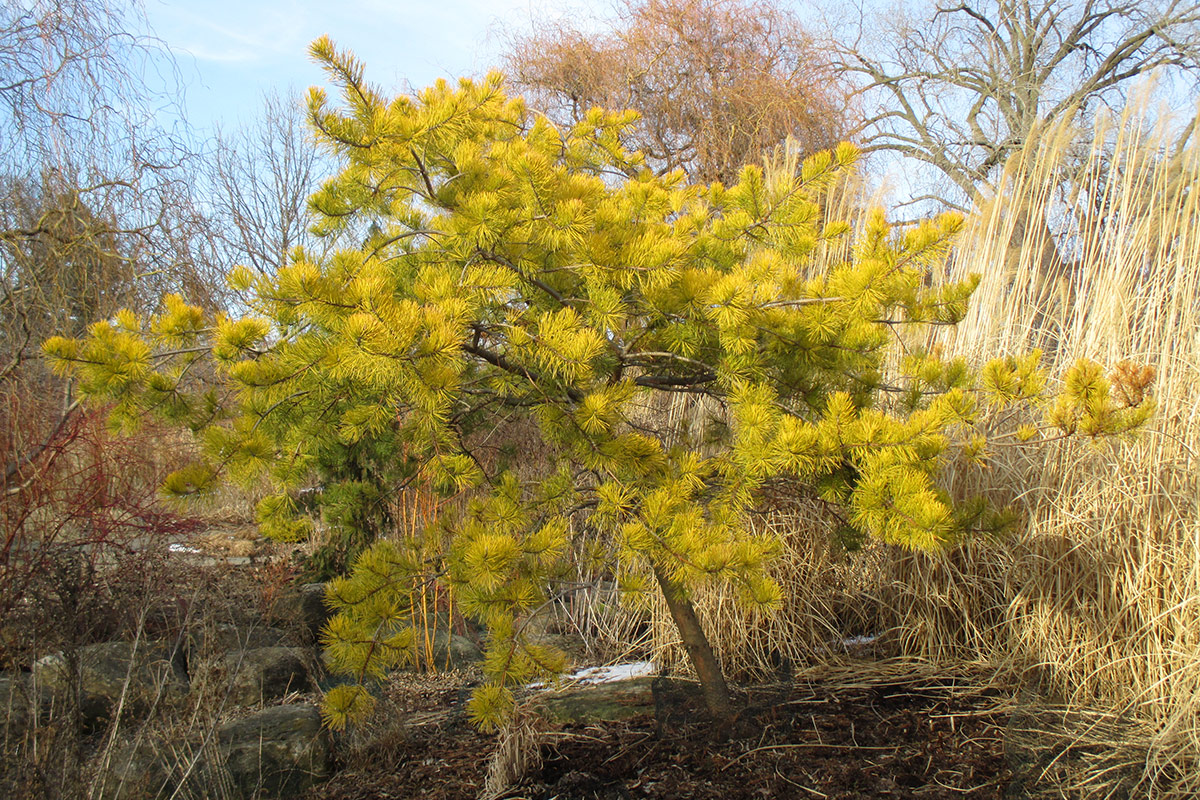 'Wate's Golden' Virginia pine has a great irregular form and golden color
If you have a quirky taste in plants and are looking for something a little unusual, 'Wate's Golden' Virginia pine (Pinus virginiana 'Wate's Golden', Zones 4–8) has an irregular, open, and slightly pyramidal habit that eventually grows to 15 to 30 feet tall and 10 to 20 feet wide. While some have described its form and appearance as scruffy, the two specimens I commonly observe have a lot of great character. The foliage is chartreuse at emergence but becomes increasingly more yellow in late fall and transitions to a brilliant gold in cold winters. While 'Wate's Golden' requires full sun, be wary of winter burn on the needles from exposure to winter winds. Put it in a place where it is shielded from northern and western winds.
—Mark Dwyer is the garden manager for the Edgerton Hospital Healing Garden in Edgerton, Wisconsin, and he operates Landscape Prescriptions by MD.
Photos: Mark Dwyer