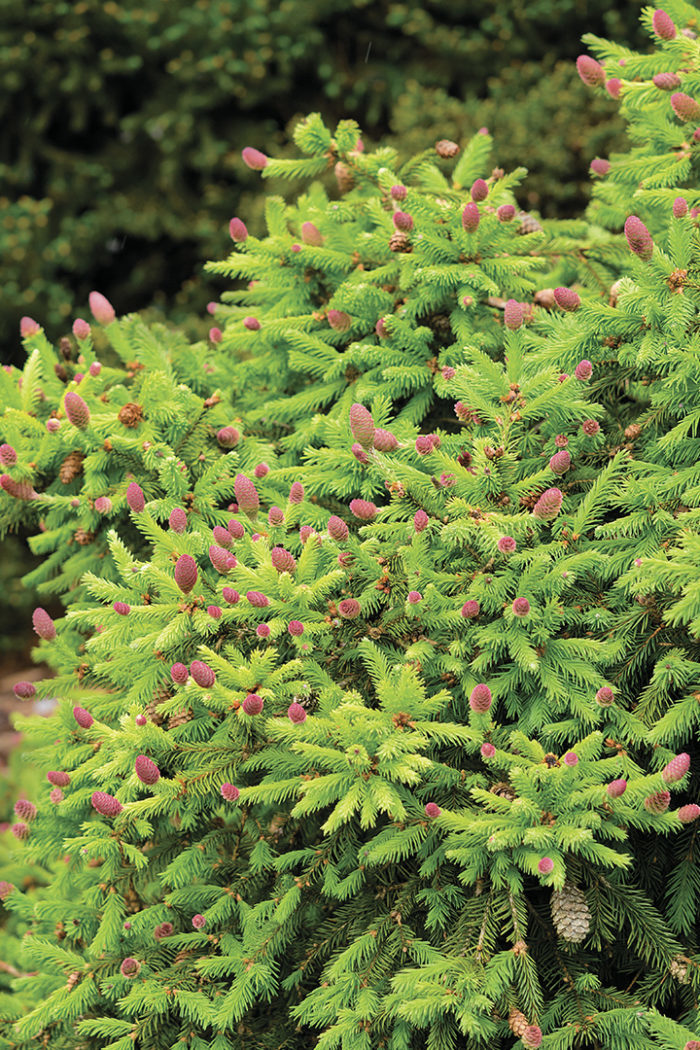 Evergreen conifers provide the bones for any landscape. They offer a variety of colors, textures and habits all year long. While conifers are sometimes relegated to the rear or boundary of a property where they politely screen out nosy neighbors or unkempt yards, these plants can make wonderful additions to all parts of a garden. Unfortunately, many species of pine, spruce, fir, and other evergreen conifers are just too big for today's smaller landscapes. But gardeners, don't despair! An infinite number of smaller, more manageable selections offer the same desirable attributes as their larger cousins. Below are some exciting, versatile introductions that will add year-round interest to any garden.
Colorful Options Abound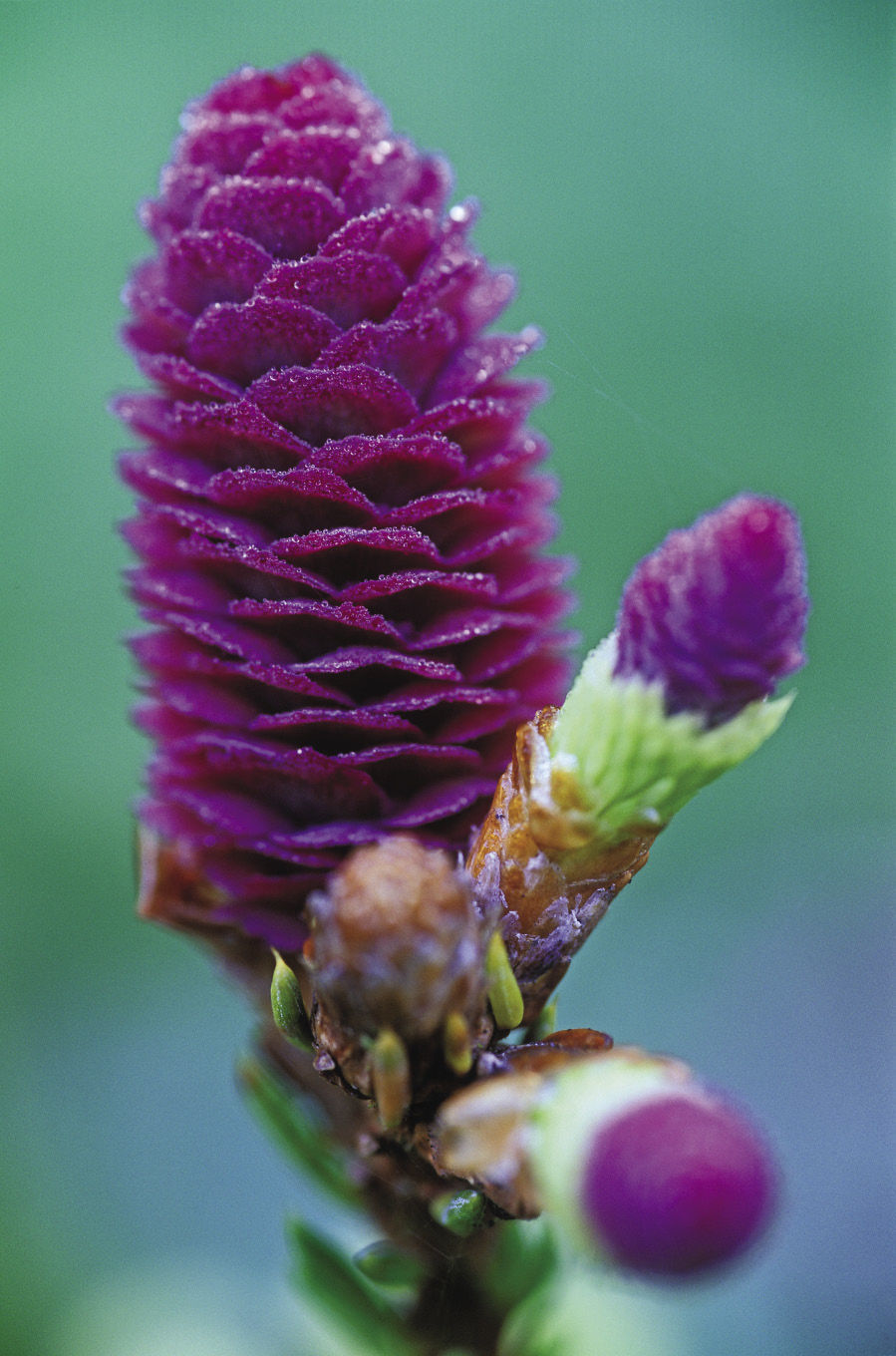 'Pusch' Norway spruce o

f

fers pretty cones on a petite plant
Norway spruce (Picea abies, Zones 3–8) is a staple in the nursery industry, commonly used for screening or delineating property lines. And rightfully so, for they are super-hardy, durable evergreen trees that produce wonderful, attractive cones. But what happens is that the 6- to 7-foot-tall plants we initially install quickly become 60- to 70-foot-tall, thirsty behemoths that are way too big for most landscapes. The adorable, petite selection 'Pusch' (P. abies 'Pusch') is the epitome of "Honey, I shrunk the kids." This little gem is just as hardy as the species and is perfect for the front of a sunny border. Best of all, in spring, virtually every stem is decorated with a miniature red cone that eventually turns a warm tan, providing season-long interest. It is a perfect, whimsical addition to a small, sun-drenched garden.
Zones: 3–7
Size: 2 feet tall and 3 feet wide
Conditions: Full sun; well-drained soil

Upright Japanese plum yew invites eye-level inspection
All too often, garden beds are made up of similar-shaped plants that one's eye tends to quickly scan over. Adding a vertical accent to a bed will break up the monotony, stop the eye, and encourage closer inspection. Many conifers add verticality, but one of the easiest to grow is upright Japanese plum yew (Cephalotaxus harringtonia 'Fastigiata'). Each dark green column is made up of thick, rubbery needles that radiate around the stems to resemble bottlebrushes. As the plants mature, they take on more of an upright, vase-shaped habit. And for those of us who would love to grow yews (Taxus spp. and cvs., Zones 4–9) but know better thanks to Bambi and friends, plum yews are—dare I say it—deer resistant! And if you have a tight space or lightly shaded corner, this plant will rise to the challenge.
Zones: 6–9
Size: 8 to 10 feet tall and 4 feet wide
Conditions: Partial shade; moist, well-drained soil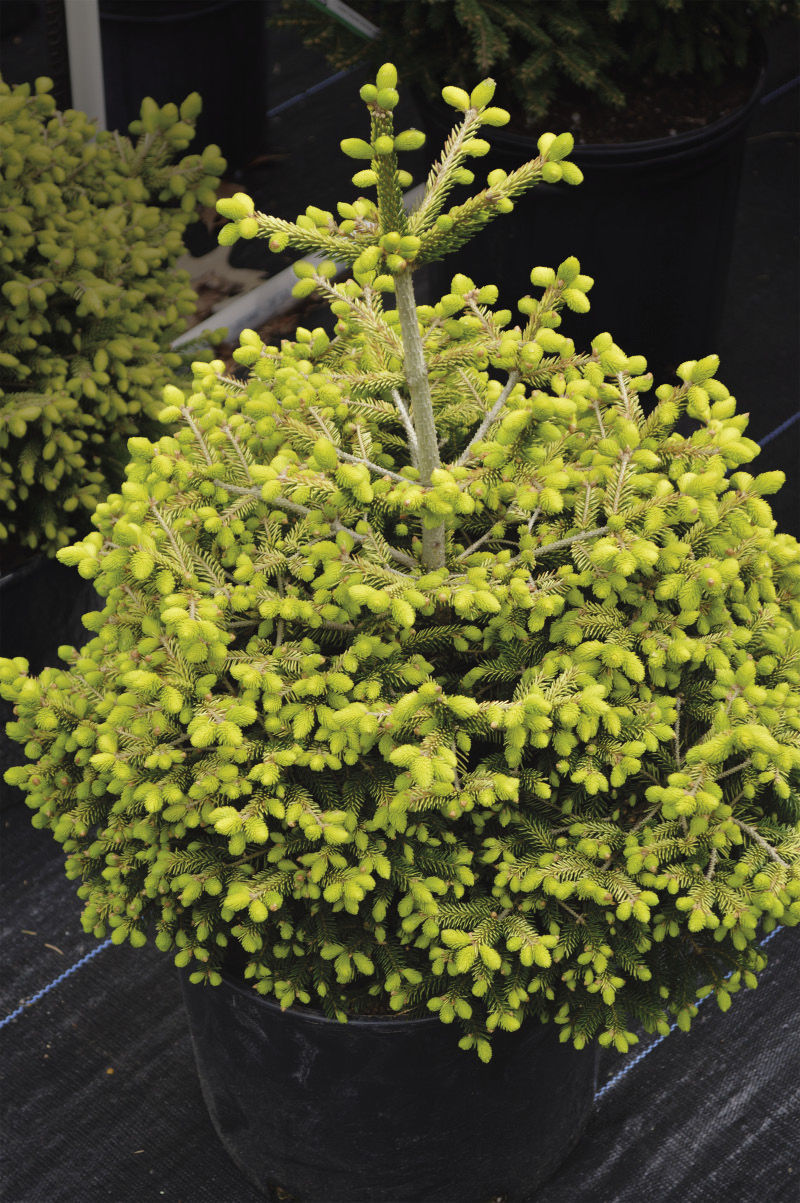 'Firefly' Oriental spruce glows all year long
For those gardeners who enjoy golden-yellow highlights year-round, 'Firefly' Oriental spruce (Picea orientalis 'Firefly' is certain to add a spark to any landscape. 'Firefly', a seedling of the large selection 'Skylands', offers the same brilliant show as its mother, only in a smaller package. And, unlike most kids, 'Firefly' behaves in the garden, becoming a glowing, dense, conical shrub. While its namesake insect uses a twinkling light show to attract mates, 'Firefly' uses its glowing color to charm new admirers.
Zones: 4–8
Size: 6 feet tall and 4 feet wide
Conditions: Full sun; moist, well-drained soil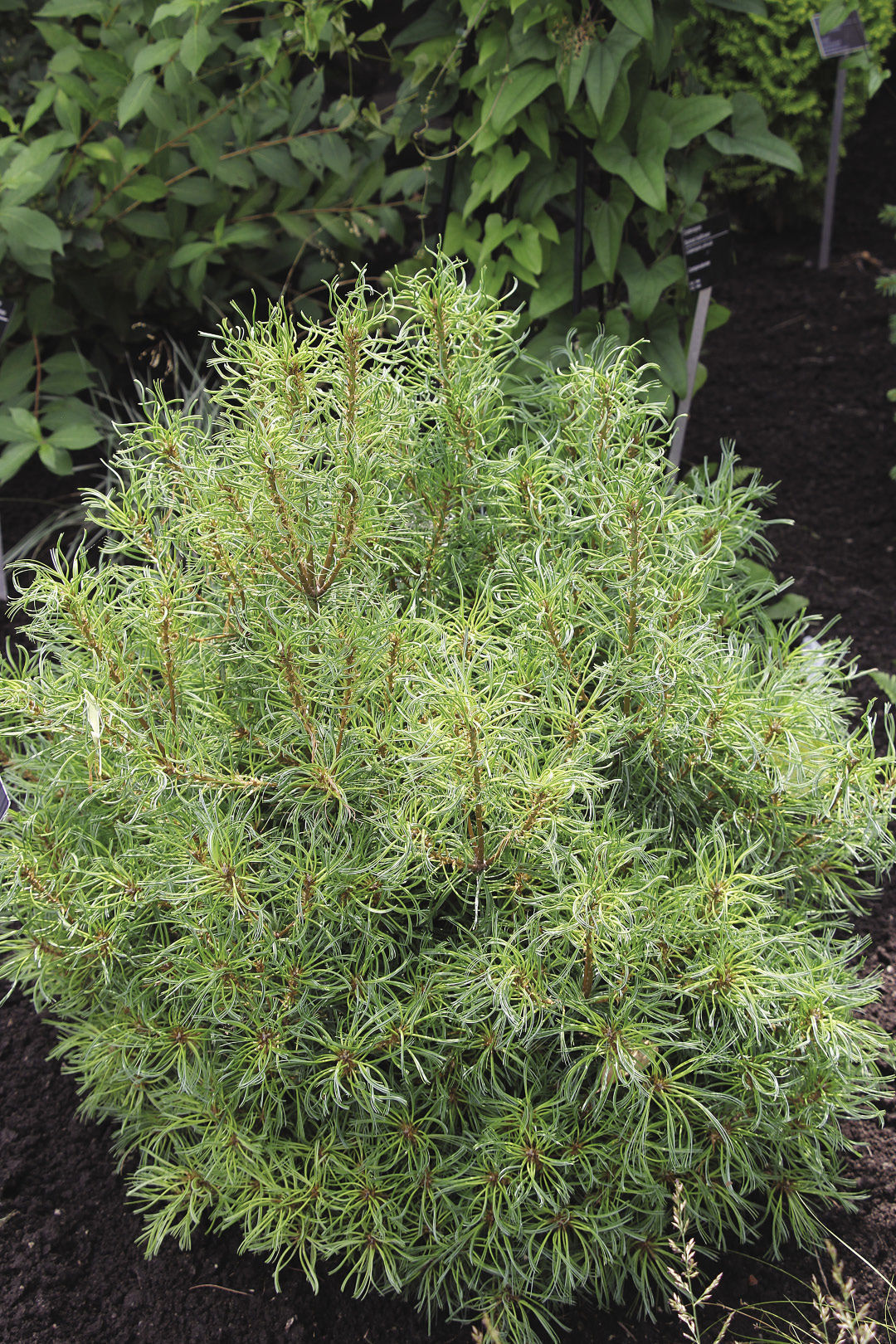 'Mini Twists' Eastern white pine has a unique look
Eastern white pine (Pinus strobus, Zones 3 to 8) is a common evergreen native to the eastern United States and is well known for its many exciting cultivars. 'Mini Twists' (P. strobus 'Mini Twists') is a distinctive dwarf introduction that offers soft, blue-green needles that gracefully twist and curve. These unusual needles provide wonderful textural interest and contrast that draw in any passerby and encourage a brief caress. Older specimens will be dense and take on a globose, somewhat pyramidal form that's perfect for a space-challenged landscape.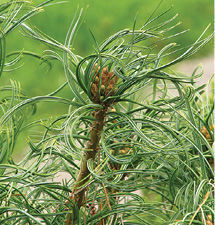 Zones: 2–8
Size: 2 to 3 feet tall and 3 feet wide after 10 years
Conditions: Full sun; well-drained soil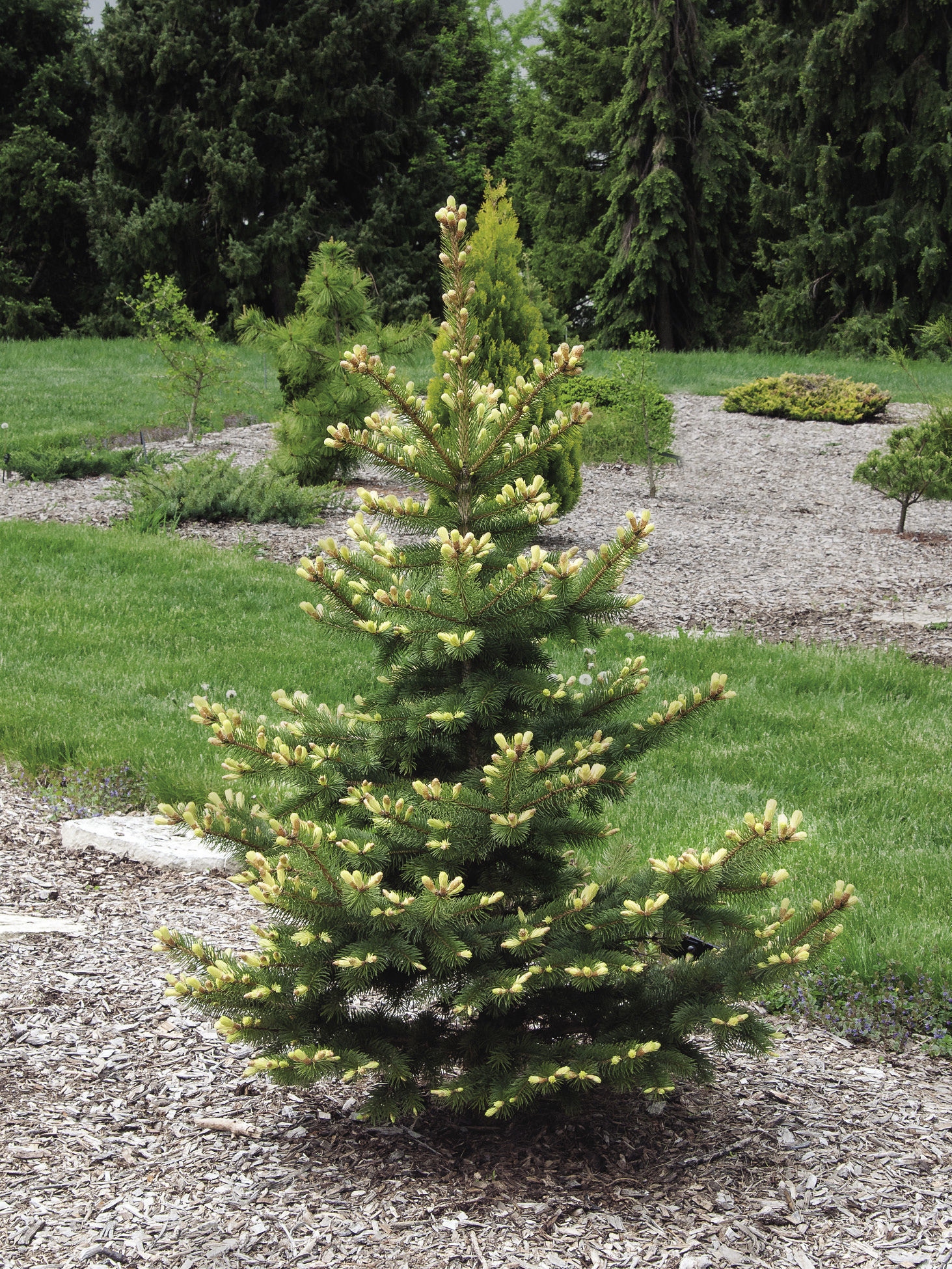 'Gebelle's Golden Spring' Colorado spruce is showiest in spring
Colorado spruce (Picea pungens, Zones 3–8) is generally used for screening or as a slow-growing specimen. People enjoy its "Christmas tree" habit and usually plant them in the front yard and after Thanksgiving will decorate them with festive lights. 'Gebelle's Golden Spring' (P. pungens 'Gebelle's Golden Spring') puts on its own light show each May when the new growth bursts forth a screaming yellow color, stealing the show in the spring garden. This brilliant display will remain effective for several weeks until summer draws close and the needles mellow to blue-green.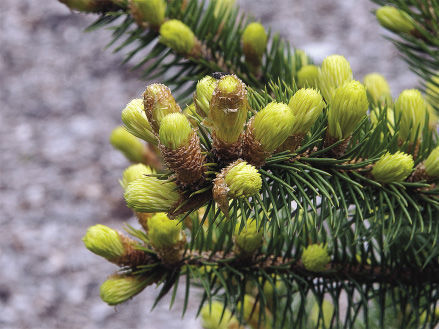 Zones: 3–8
Size: 6 feet tall and 4 feet wide after 10 years
Conditions: Full sun; moist, well-drained soil
'Whipcord' Western arborvitae is as cool to touch as it is to look at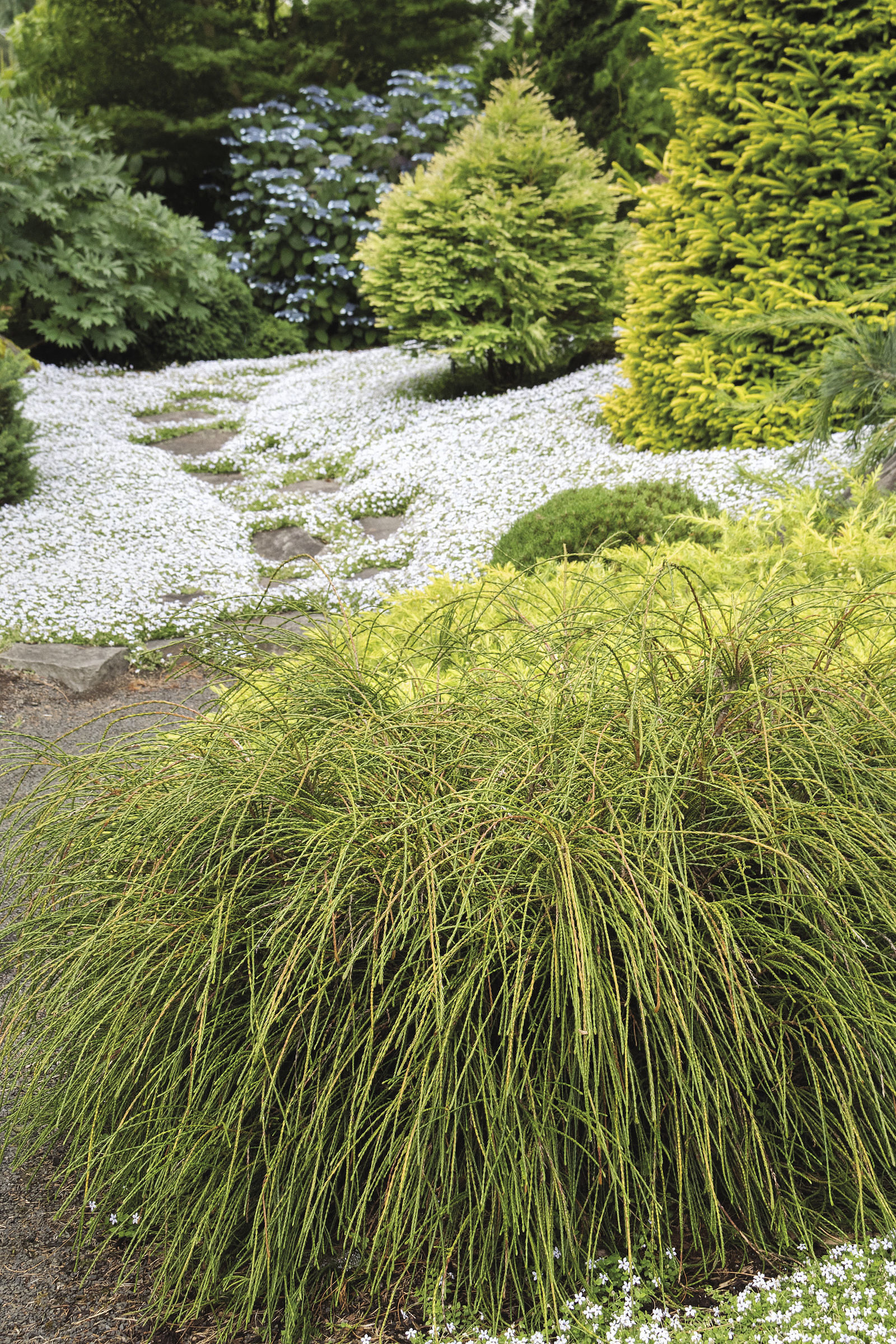 Another "touchy-feely" dwarf conifer is 'Whipcord' Western arborvitae (Thuja plicata 'Whipcord') which features dark green, spaghetti-like, pendulous branches. The effect is reminiscent of a 1960s fiber-optic lamp, with branches exploding dramatically from the center of each plant. This groovy plant forms a dense, rounded mound of arching stems that add a delicate textural contrast to bold-leaved plants. As cold weather sets in, the foliage takes on bronze tones. So let your inner flower child bloom and add this cool cat to your garden.
Zones: 5–7
Size: 3 to 4 feet tall and wide
Conditions: Full sun; moist, well-drained soil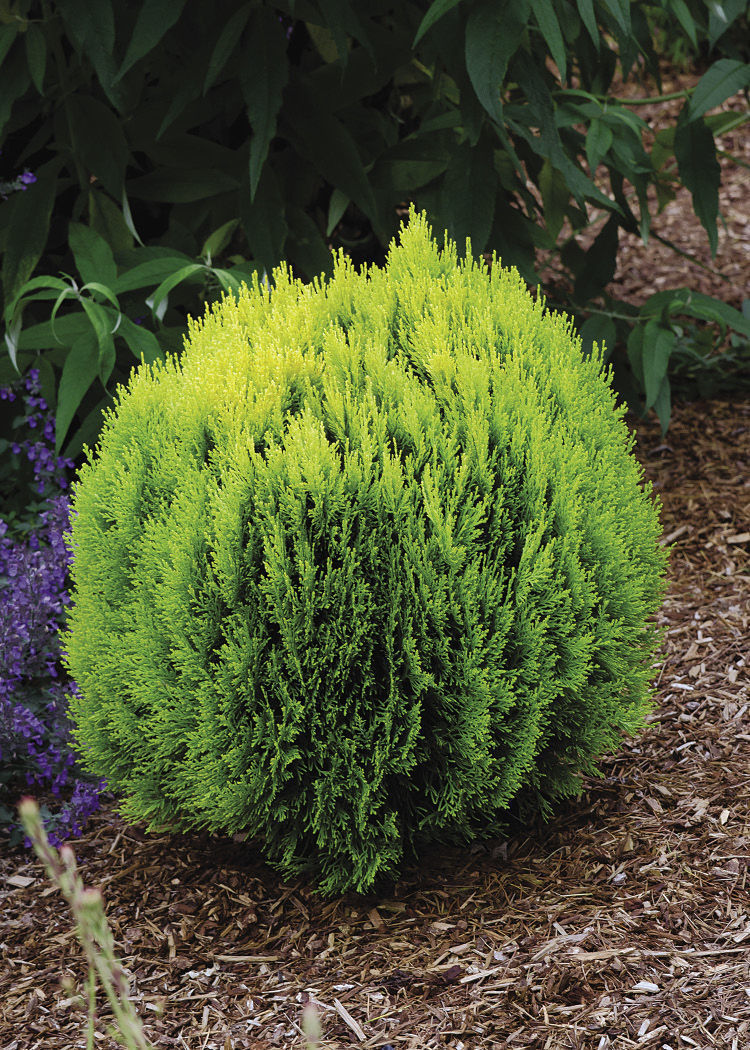 'Morgan' Oriental arborvitae changes its look with the season
'Morgan' Oriental arborvitae (Thuja orientalis 'Morgan') also creates a striking effect. In spring and summer, this upright, columnar conifer produces flat sprays of bright chartreuse foliage that is useful for breaking up a sea of green. As winter approaches, the foliage of 'Morgan' transitions to a rich, rusty orange, adding much-needed color to the dreary winter landscape.
Zones: 5–8
Size: 3 feet tall and 18 to 24 inches wide
Conditions: Full sun; moist, well-drained soil

'Kohout's Icebreaker' is a definite conversation starter
Incorporating plants that act as accents and focal points is a valuable way to draw the eye. Such plants need not be big to be effective, as proven by 'Kohout's Icebreaker' Korean fir (Abies koreana 'Kohout's Icebreaker'), originally discovered as a witch's broom on the larger 'Horstmann's Silberlocke' (A. koreana 'Horstmann's Silberlocke', Zones 5–8). Even though this gem is only the size of a basketball, its shimmering silver color easily grabs the eye and demands notice. Each needle uniquely curves around a stem to reveal its bright silvery underside that sparkles in the sunlight like a mirror ball at a discotheque.
Zones: 5–8
Size: 1 to 2 feet tall and wide
Conditions: Full sun; moist, well-drained soil
---
Identification
You Can't Just Call Them All
"Pine Trees"
 Determining what kind of conifer you are looking at can be tricky, but just take a close look at the foliage. Here is a quick guide.
➨

Pine

(Pinus spp. and cvs., Zones 2–9): Multiple needles emerging from one place on branch, usually in clusters of two, three, or five. To remember: Pine needles come in packages.

➨

Spruce

(Picea spp. and cvs., Zones 2–8): Stiff, prickly needles that are four-sided, so they roll easily between your fingers. To remember: Spruce is square and sharp.

➨

Fir

(Abies spp. and cvs., Zones 3–8): Needles are softer and two-sided, so they don't roll as easily. Often they have distinctive white lines on the undersides of the needles, are arranged comblike on branches, and have a pleasant, citrusy fragrance when crushed. To remember: Firs are flat and friendly to the touch (sort of).
---
Andy Brand is a horticulturist and the nursery manager at Broken Arrow Nursery in Hamden, Connecticut.
Photos: Steffen Hauser/botanikfoto/Alamy Stock Photo; Richard Bloom; courtesy of Adam Wheeler/Broken Arrow Nursery; millettephotomedia.com; Doreen Wynja; Steven Cominsky
---
Sources
Broken Arrow Nursery, Hamden, CT; 203-288-1026; brokenarrownursery.com
Conifer Kingdom, Silverton, OR; 503-874-4123; coniferkingdom.com
Gossler Farms Nursery, Springfield, OR; 541-746-3922; gosslerfarms.com
Klehm's Song Sparrow Farm & Nursery, Avalon, WI; 608-883-2356; songsparrow.com