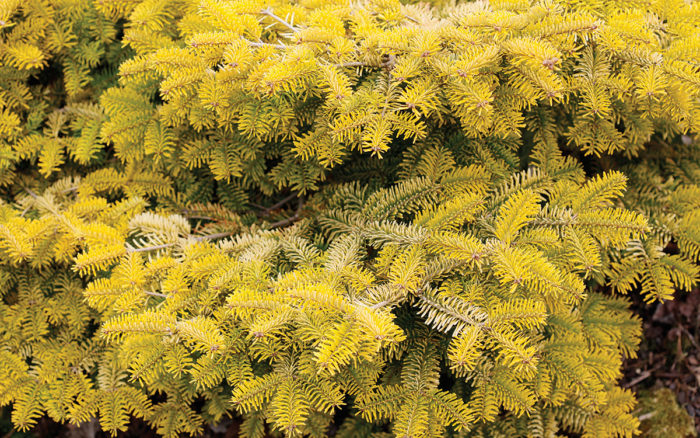 See regional picks for conifers, and read the article by Andrew Brand for even more ideas.
"Evergreen conifers provide the bones for any landscape. They offer a variety of colors, textures and habits all year long. While conifers are sometimes relegated to the rear or boundary of a property where they politely screen out nosy neighbors or unkempt yards, these plants can make wonderful additions to all parts of a garden." Read more Conifers for Any Size Landscape.
---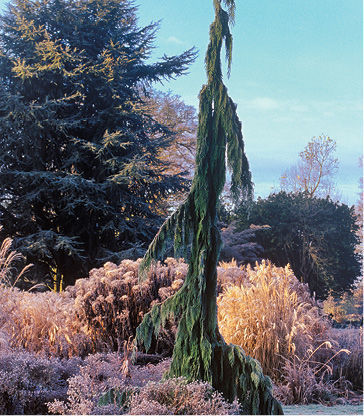 1.
'Green Arrow' Alaskan Cedar
Name:
Cupressus nootkatensis
'Green Arrow'
Zones: 4 to 8
Size: 1 foot wide and 15 feet tall in 10 years
Conditions: Full sun; well-drained soil
This selection of a western North American native is an unusual conifer that has undergone numerous name changes. 'Green Arrow' Alaskan cedar forms a strong leader with equally strong weeping side branches, forming a lazy exclamation point in the garden. Occasionally, a side branch will form, becoming a droopy arm arching down from the central trunk. These can be left to add to its striking sculptural qualities or pruned off to accentuate the narrow shape. This easy-to-grow conifer will fit neatly into nearly any space and, once established, is tolerant of drought conditions. Twenty-year-old plants would be about 20 to 25 feet tall and 2 feet wide, developing a spreading skirt of evergreen branches around the base.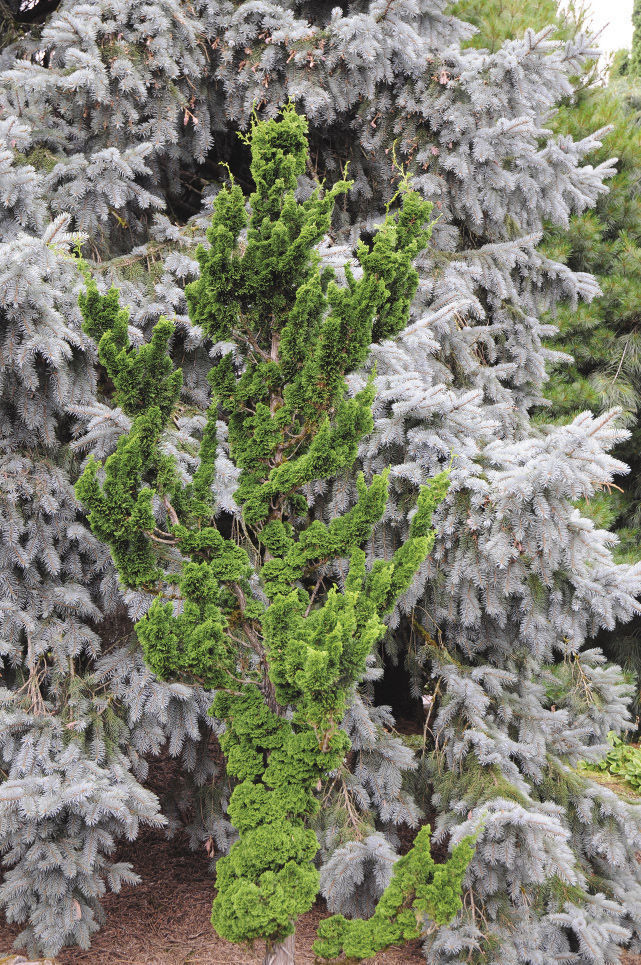 2.
Twisted Hinoki Cypress
Name:
Chaemacyparis obtusa
'Spiralis'
Zones: 4 to 8
Size: 4 to 5 feet tall and 2 to 3 feet wide in 10 years
Conditions: Full sun to partial shade; well-drained soil
The more this conifer matures, the more beautiful it becomes. It can grow as a single-trunked specimen or have multiple upright trunks, ultimately forming a slightly more-broad-than-tall evergreen tree. Each main trunk will have occasional spiraling side branches that give the feel of a much older, well-weathered tree. As this tree, grows it will become a living sculpture with the elegant, windswept, twisting branches that mark a mature specimen. The soft foliage is dark green and fan shaped, with bright-green new growth in midspring. Its slow-growing habit makes it perfect for containers and small urban gardens. It is easy to tip-prune side shoots to keep a nearly columnar specimen.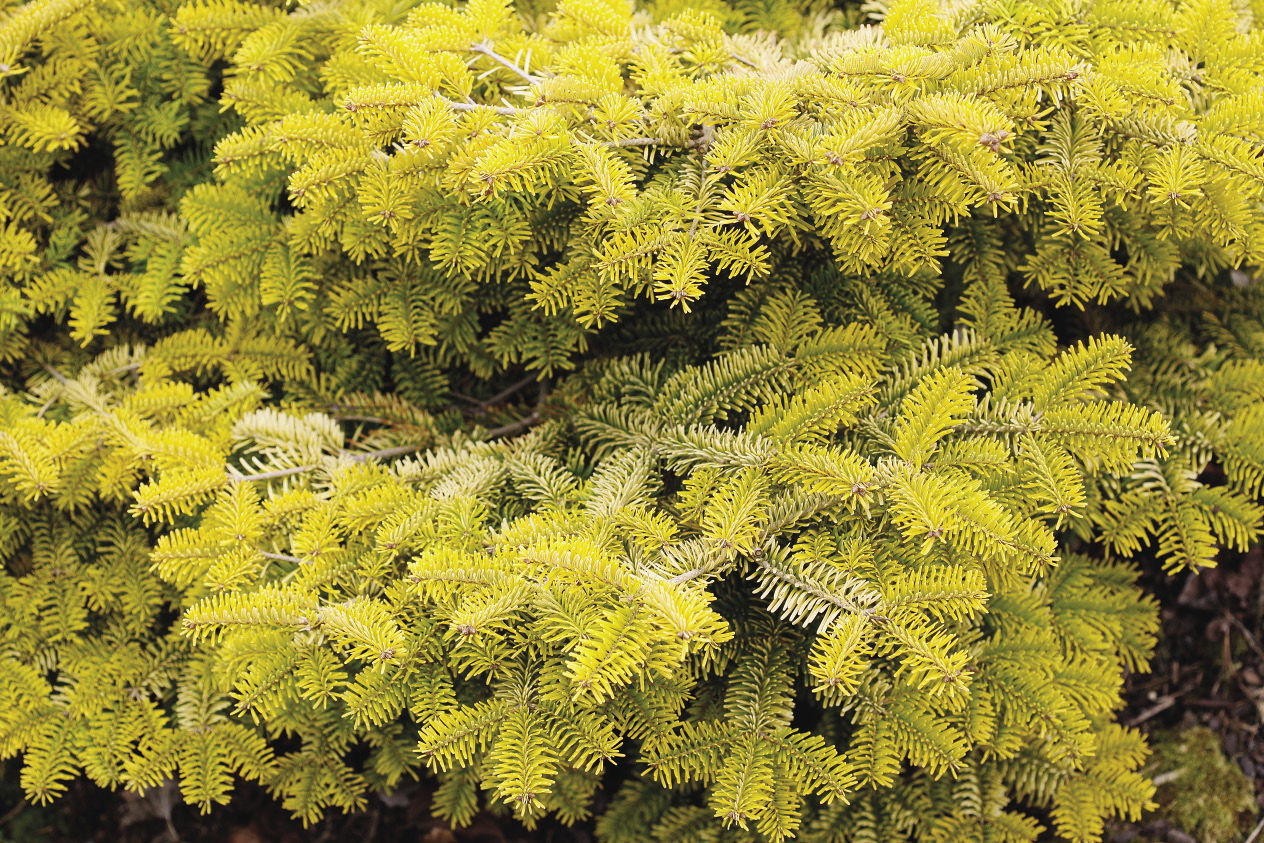 3.
'Golden Spreader' Nordmann Fir
Name:
Abies nordmanniana
'Golden Spreader'
Zones: 5 to 8
Size: 2 to 3 feet tall and wide in 10 years
Conditions: Full sun to partial shade; well-drained soil
Few conifers can capture one's attention like the 'Golden Spreader' Nordmann fir can. This soft-needled evergreen is hardly green at all! The new growth is a shocking acid yellow that deepens to gold and chartreuse by midsummer. This glowing ball of color is excellent as a focal point. Young plants are typically rounded, but, as they mature, a compact central leader develops, forming a pleasantly chubby, cone-shaped shrub with densely layered branches. The brightest color is in full sun, where it is surprisingly resistant to burning in summer. In open shade, chartreuse tones will dominate.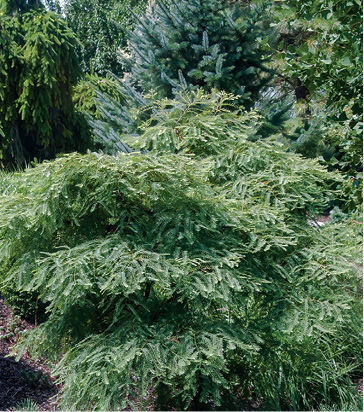 4.
'Miss Grace' Dawn Redwood
Name:
Metasequoia glyptostroboides
'Miss Grace'
Zones: 5 to 9
Size: 3 to 4 feet tall and 4 to 5 feet wide in 10 years
Conditions: Full sun to partial shade; tolerates almost any soil condition
The history and mystery surrounding the discovery of the dawn redwood are reasons enough to love this unusual deciduous conifer, but the small size and charming habit of the weeping 'Miss Grace' makes it possible to fit this tree into almost any garden. 'Miss Grace' is not a strong weeper; rather, it has elegantly arching branches that form a sophisticated layered mound. The bright-green, soft-to-the-touch foliage emerges in spring from a handsome framework of branches and holds its fresh color through the growing season. In autumn, the green is replaced by rusty orange hues until the foliage drops.
---
Richie Steffen is the director/curator of the Elisabeth C. Miller Botanical Garden in Seattle.