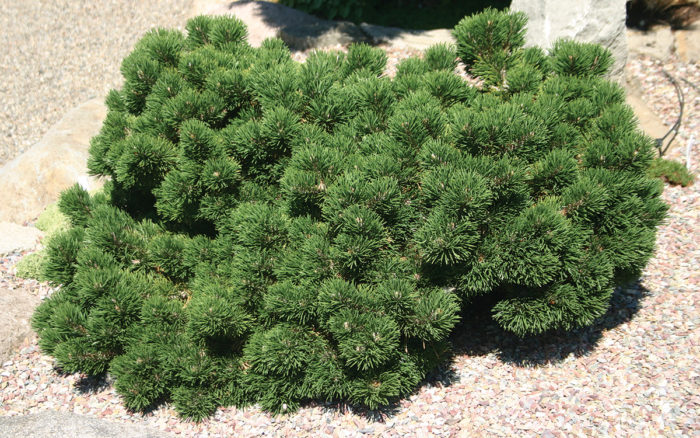 See regional picks for conifers, and read the article by Andrew Brand for even more ideas.
"Evergreen conifers provide the bones for any landscape. They offer a variety of colors, textures and habits all year long. While conifers are sometimes relegated to the rear or boundary of a property where they politely screen out nosy neighbors or unkempt yards, these plants can make wonderful additions to all parts of a garden." Read more Conifers for Any Size Landscape.
---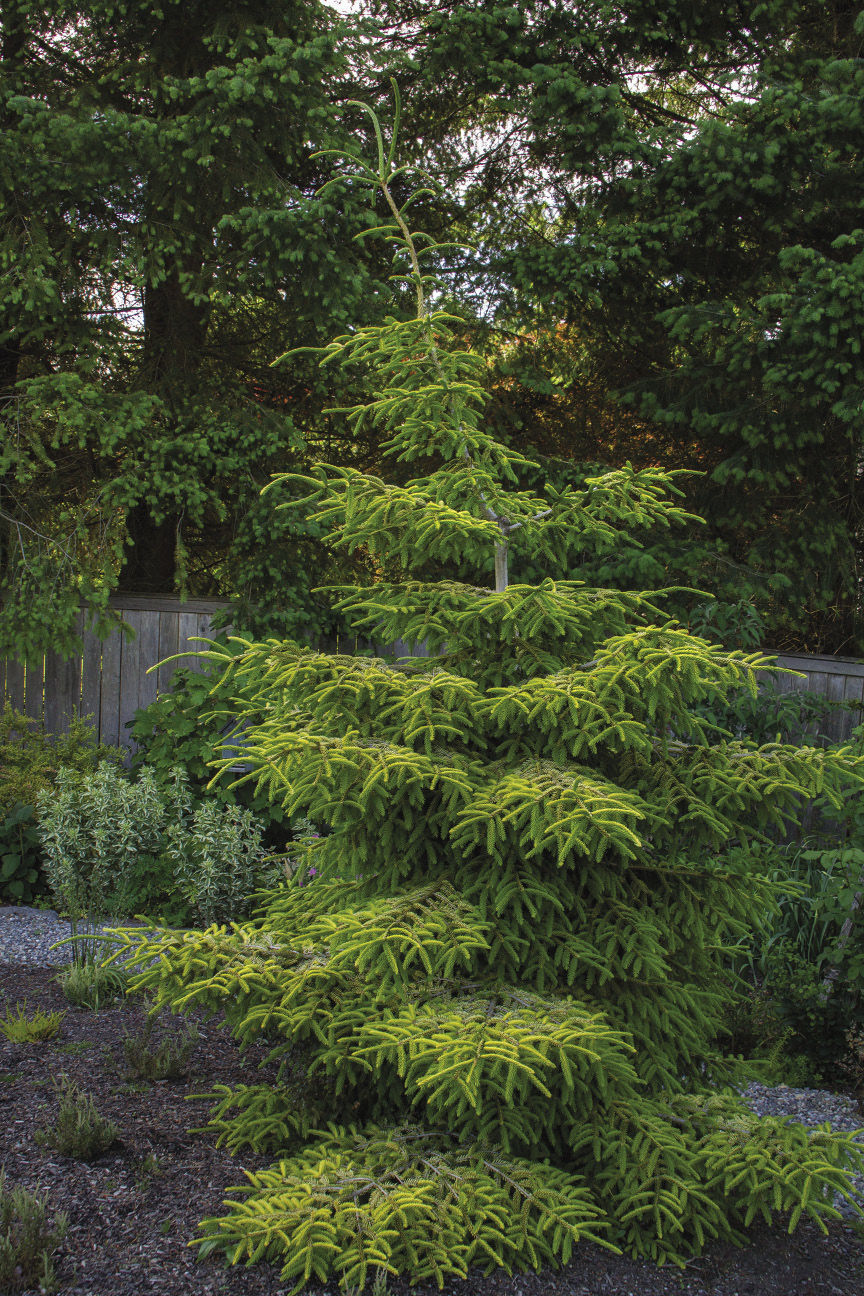 1.
'Skylands' Oriental Spruce
Name:
Picea orientalis
'Skylands
'
Zones: 4 to 7
Size: 10 to 20 feet tall and 6 to 12 feet wide
Conditions: Full sun to partial shade; well-drained soil
Plant this slow-growing, midsize beauty, and you'll think you've struck landscape gold. The shortest needles of this spruce are bright gold upon spring emergence. Site 'Skylands' out of scorching midday summer sun, or it can burn and develop browning. If given too much shade, the golden color will soften to lime. Adhering to that admittedly tricky siting caveat will reward you with gold all year long. It's a dandy specimen that, if placed out of unbridled winter wind, will give you a medium-height focal point but a narrow footprint. 'Skylands' tolerates dry conditions and lean soil, and deer tend to leave it be. At maturity, this stunner dons narrow purple cones that age to brown.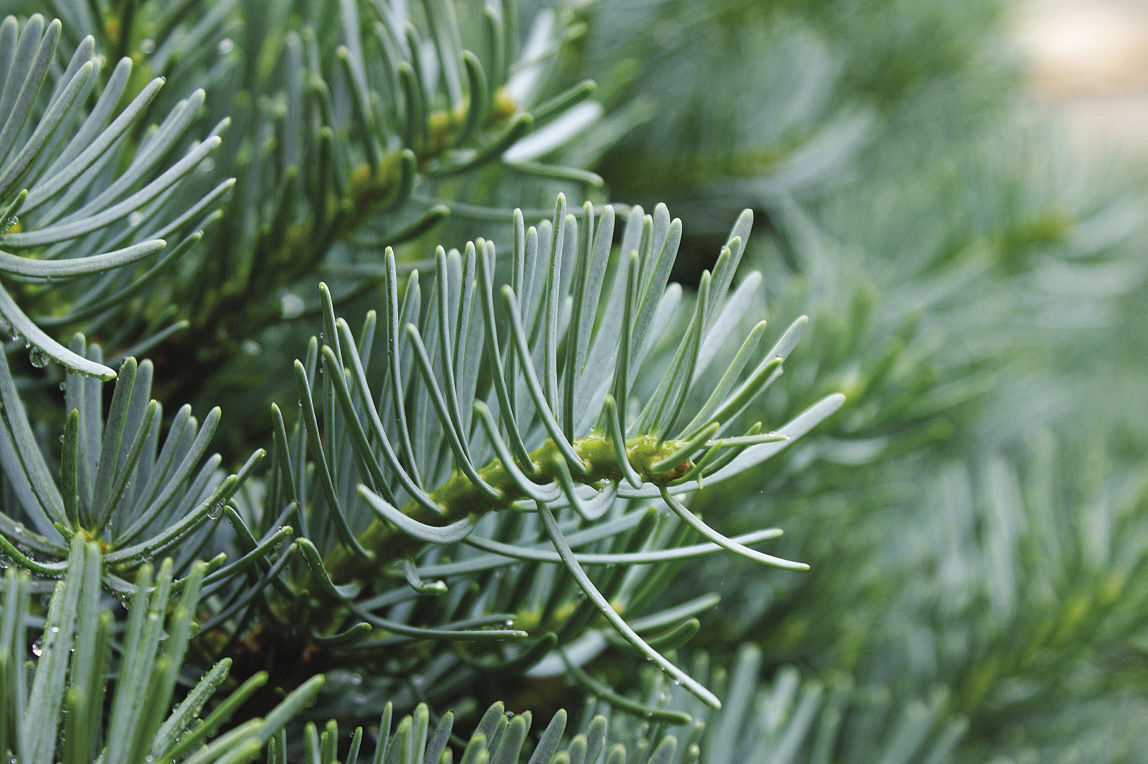 2.
Compact White Fir
Name:
Abies concolor
'Glauca Compacta'
Zones: 4 to 7
Size: 6 feet tall and 3 feet wide
Conditions: Full sun; well-drained soil
For those shopping for a little blue "something" for the landscape, look no further than this fir. The striking, upturning needles rival the strong coloration of the best blue spruces, but, unlike spruces, they are soft to the touch. My compact white fir is 4 years old and already has a very dense silhouette. This little cutie grows only 4 inches per year and tolerates drought, heat, salt, and air pollution, so it's a hands-off, no-maintenance garden proposition. That means little or no watering once it's established, too. I've planted mine in a mixed border, where it quietly shines (without being bothered by deer) until its neighbors make their fall exit and this charming fir takes center stage for winter.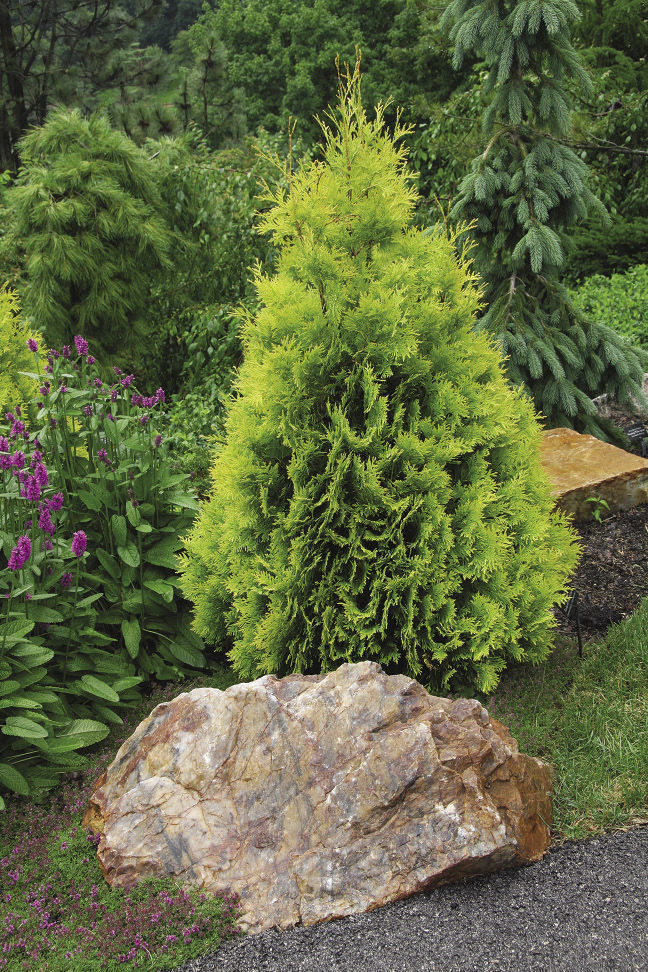 3.
'Yellow Ribbon' Western Arborvitae
Name:
Thuja occidentalis
'Yellow Ribbon'
Zones: 2 to 7
Size: 10 feet tall and 3 to 4 feet wide
Conditions: Full sun to partial shade; moist soil
Yellow and gold are easy to overdo. The medium hue of 'Yellow Ribbon' throughout the growing season, however, is just right. It has the typical arborvitae fernlike sprays that are bright yellow, gradually softening to lime as you move to the interior of the plant. Give it the full sun it likes, and the color will stay with you all year long, although perhaps bronzing at the tips in winter. 'Yellow Ribbon is tolerant of alkaline soils, loves summer humidity, and responds gratefully to supplemental water, although that's not a necessity once established. Beware of ravenous deer who love to snack on its lush branches during a snowy winter.
4.
'Jakobsen' Mugo Pine
Name:
Pinus mugo
'Jakobsen'
Zones: 3 to 7
Size: 3 feet tall and 5 feet wide
Conditions: Full sun to partial shade; well-drained soil
If you love the artistic structure of bonsai but find the pruning intimidating, seek out 'Jakobsen' mugo pine. Even when young, this plant carries short, tightly clumped, somewhat twisted, dark-green needles at the end of thick branches. The foliage curves upward just at the tips, so the internal structure of the branches is always on display. The overall effect is an open, undulating silhouette that contrasts sharply to the predictable mushroom profile that screams, "Mugo pine!" Like its pine cousins, 'Jakobsen' weathers acidic or alkaline soil, wind, drought, and heat with few cares and little maintenance. Deer stay away, too. If improperly sited, pine needle scale and sawfly could be pests to watch for.
---
Tony Fulmer is chief horticulture officer at Chalet, a specialty nursery in Wilmette, Illinois.