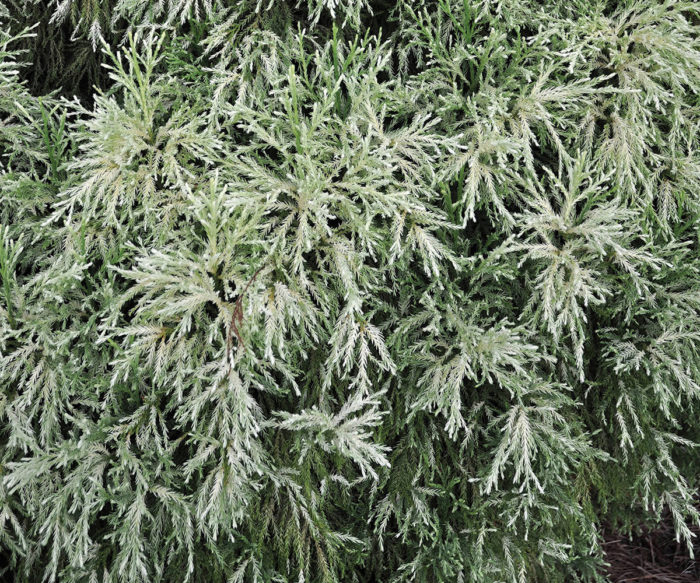 See regional picks for conifers, and read the article by Andrew Brand for even more ideas.
"Evergreen conifers provide the bones for any landscape. They offer a variety of colors, textures and habits all year long. While conifers are sometimes relegated to the rear or boundary of a property where they politely screen out nosy neighbors or unkempt yards, these plants can make wonderful additions to all parts of a garden." Read more Conifers for Any Size Landscape.
---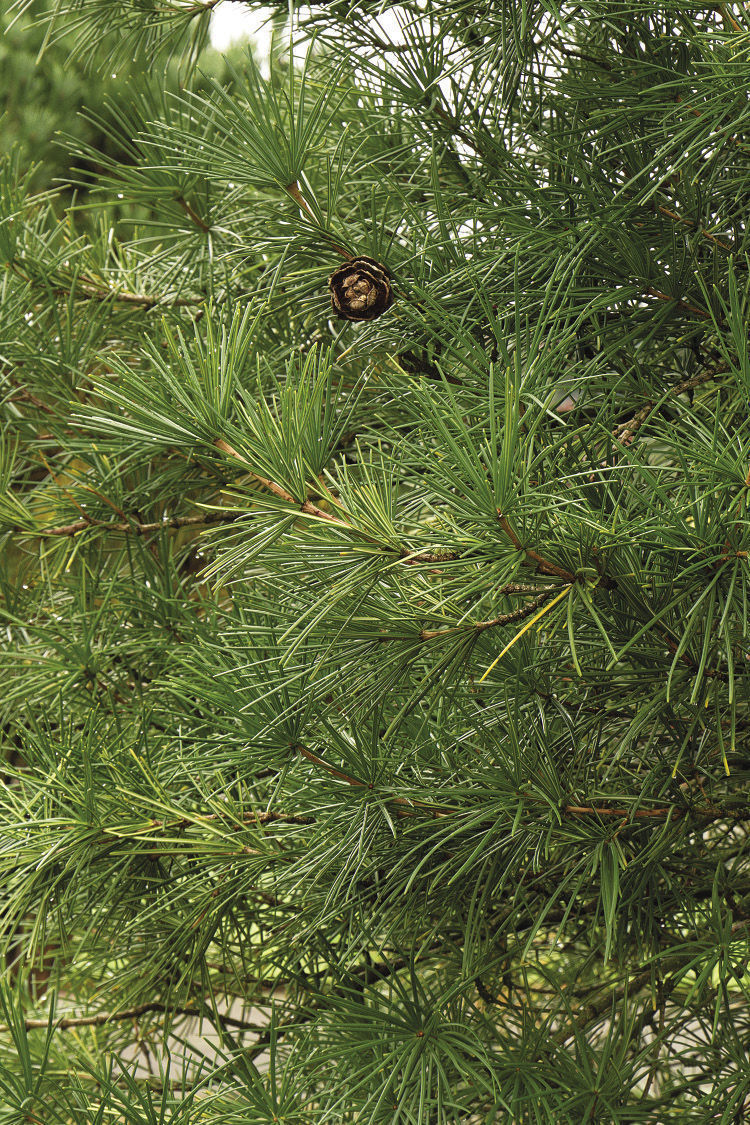 1.
'Wintergreen' Umbrella Pine
Name:
Sciadopitys verticillata
'Wintergreen'
Zones: 5–8
Size: 25 to 30 feet tall, 15 to 20 feet wide
Conditions: Full sun; best in moist, rich, acidic, well-drained soil
While umbrella pine can grow up to 30 feet tall at maturity, most gardeners get to enjoy the smaller-sized version of this living fossil because it grows so slowly. Our 11-year-old specimen has developed into a perfectly symmetrical teardrop shape, 6 feet tall by 5 feet wide, with foliage so dense, you can't see through it. This cultivar's large, glossy needles remain dark green throughout winter. Umbrella pine is native to the humid and rainy cloud forests of Japan, so it isn't going to like drought or drying winds. It's perfect as a no-maintenance specimen plant in a spacious mixed border. Who wouldn't want the only member of the Sciadopityaceae family growing in their garden?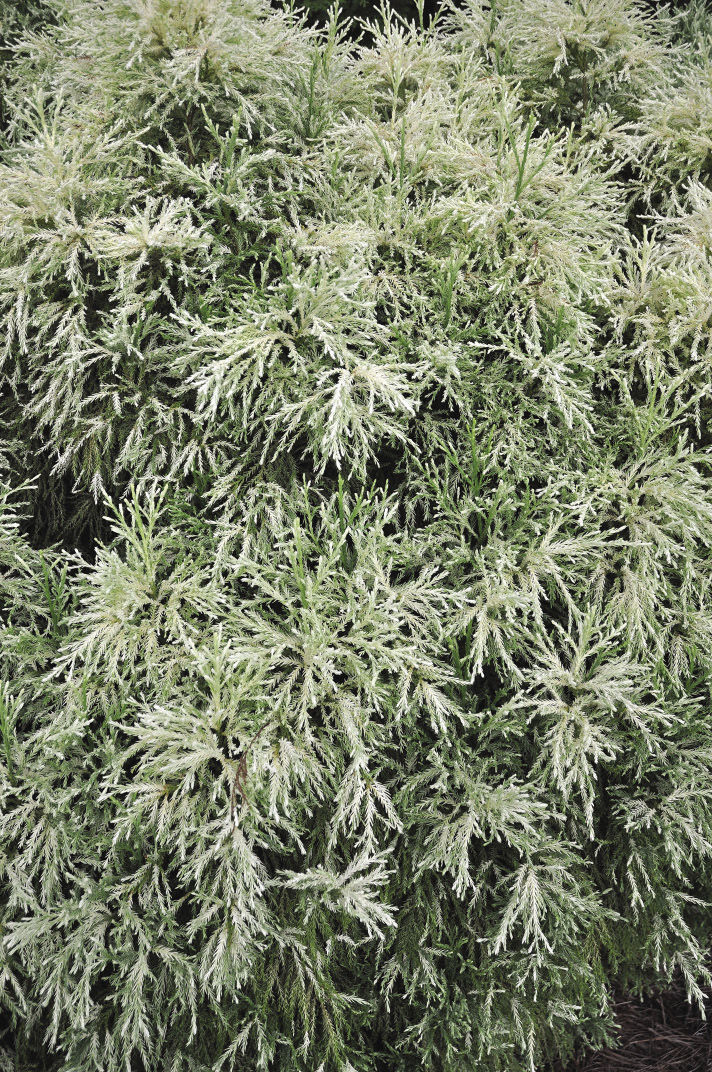 2.
White Tip Japanese Cedar
Name:
Cryptomeria japonica
'Knaptonensis'
Zones: 5–8
Size: 4 to 6 feet tall, 2 to 3 feet wide
Conditions: Full sun with afternoon shade; average to slightly moist, well-drained, acidic soil
This conifer is hard to ignore, with new foliage that emerges a brilliant pure white. Our 11-year-old plants are 6 feet tall with an upright, semi-columnar shape and a tight, compact growth habit. The white variegation atop lime-green foliage turns a creamy color in the summer heat but changes back to white in the cooler months of fall. These deer-resistant plants appreciate regular watering during our hot summers, and a layer of pine straw or bark mulch, but they don't require any other maintenance. The most important consideration is providing afternoon shade, so we have ours planted on the east side of a tall juniper that blocks the western sun.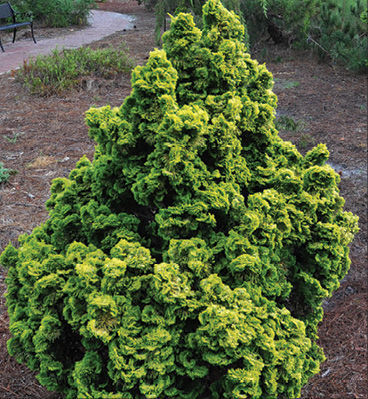 3.
Golden Dwarf Hinoki Cypress
Name:
Chamaecyparis obtusa
'Nana Lutea'
Zones: 4–8
Size: 4 feet tall and 3 feet wide
Conditions: Full sun to light shade; sandy to clay, well-drained soil
The lemon-gold foliage of this slow-growing conifer may be the best reason to grow it—but not the only one. I love the way this plant feels; its soft and springy branches are unlike most other prickly conifers. I also like how easy it is to care for. We haven't pruned or fertilized this plant since it was installed 14 years ago, and its foliage seems unaffected by our hot and humid climate. It even shows a great degree of drought tolerance, once established. Give it some space; good air circulation and exposure to sunlight on all sides will prevent thinning foliage and brown tips.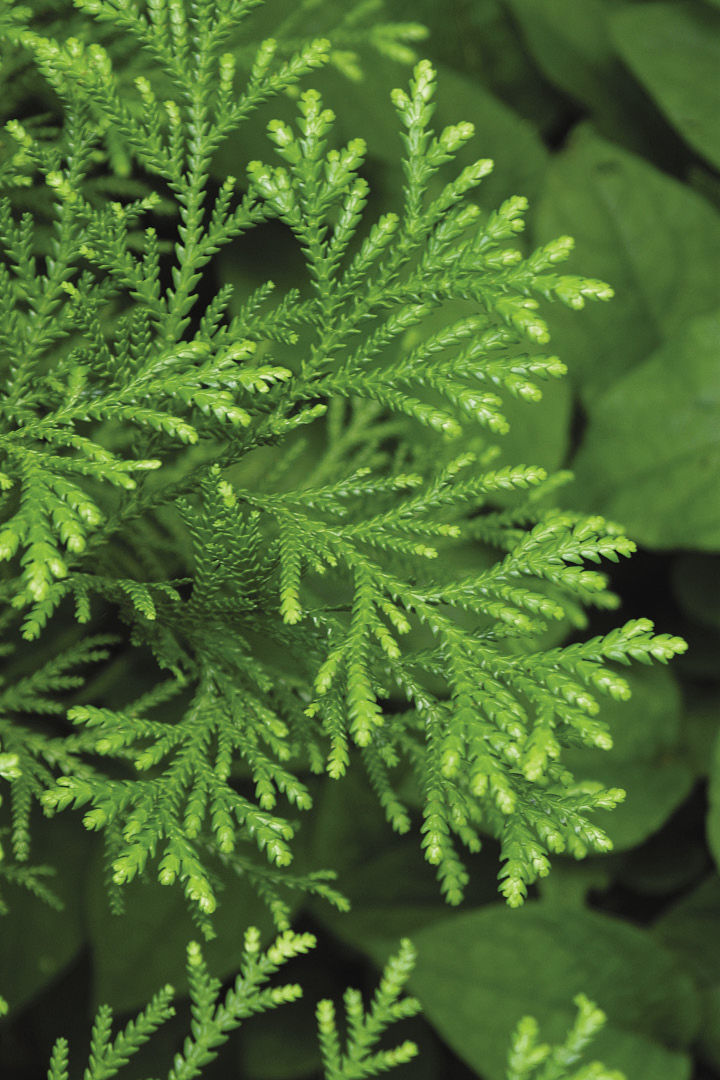 4.
Dwarf Elkhorn Cedar
Name:
Thujopsis dolabrata
'Nana'
Zones: 5–9
Size: 3 feet tall and 4 feet wide
Conditions: Full sun to light shade; average, well-drained soil
Dwarf elkhorn cedar satisfies two requirements for Deep South gardeners: It will grow in dry shade under live oaks, and deer won't eat it. This bun-shaped mounding plant is remarkably durable and will grow in most soils, sun or shade, as long as there is good drainage. A slow growth rate and a dwarf habit eliminate any need to prune this spreading plant to keep it looking good. When used as a ground cover, it grows tall and dense enough to crowd out most weeds with only the occasional tree seedling poking through. This plant's thick, flat sprays have an interesting forking pattern that resembles elk horns or antlers, contributing to its common name. I've always thought it looks like spike moss (Selaginella spp. and cvs., Zones 7–10) on steroids.
---
Philip Schretter directs the development of the Armstrong State University Arboretum in Savannah, Georgia.