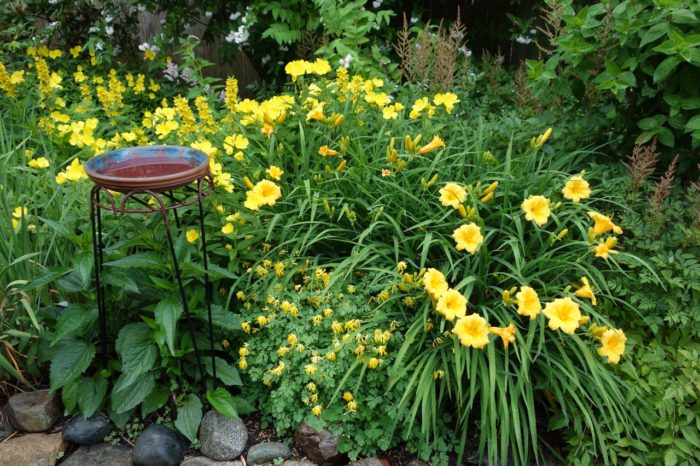 Today we're exploring color in Barbara Owen's garden in Wellesley, Massachusetts.
I enjoy starting my morning with the beautiful photography, plants, and garden design in GPOD. I've shared before, but this time I was thinking about color. I've always loved working with color, whether it was choosing yarn for a sweater, fabric for a quilt, or flowers for the garden. My favorite colors for a long time have been reds, oranges, and yellows, but I've been learning to include magenta, pink, white, and a bit of blue.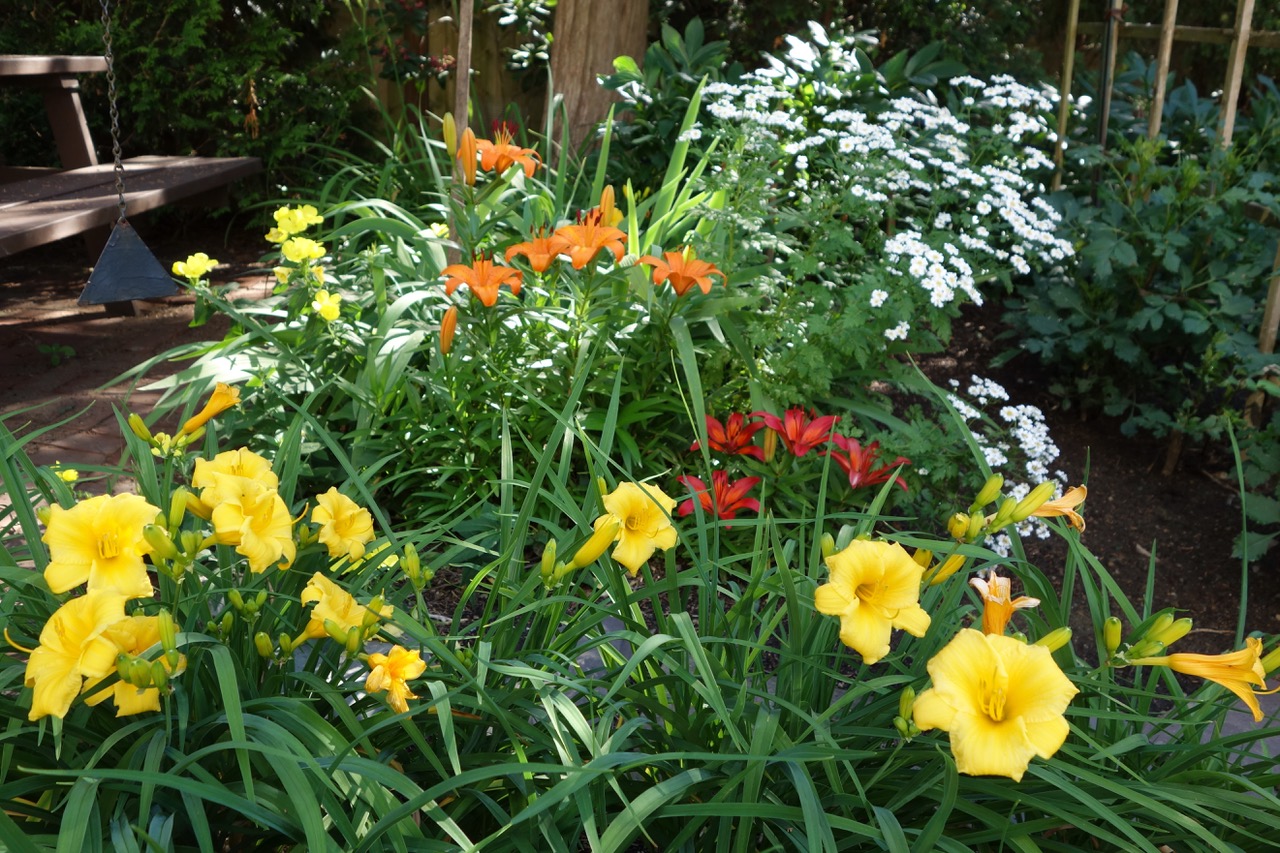 Much of my garden is built around ordinary, sturdy, and reliable perennials and annuals in my favorite colors. I was especially happy to see these red and orange daylilies (Hemerocallis hybrids, Zones 4–10) reappear this summer after being eaten by rabbits for several seasons.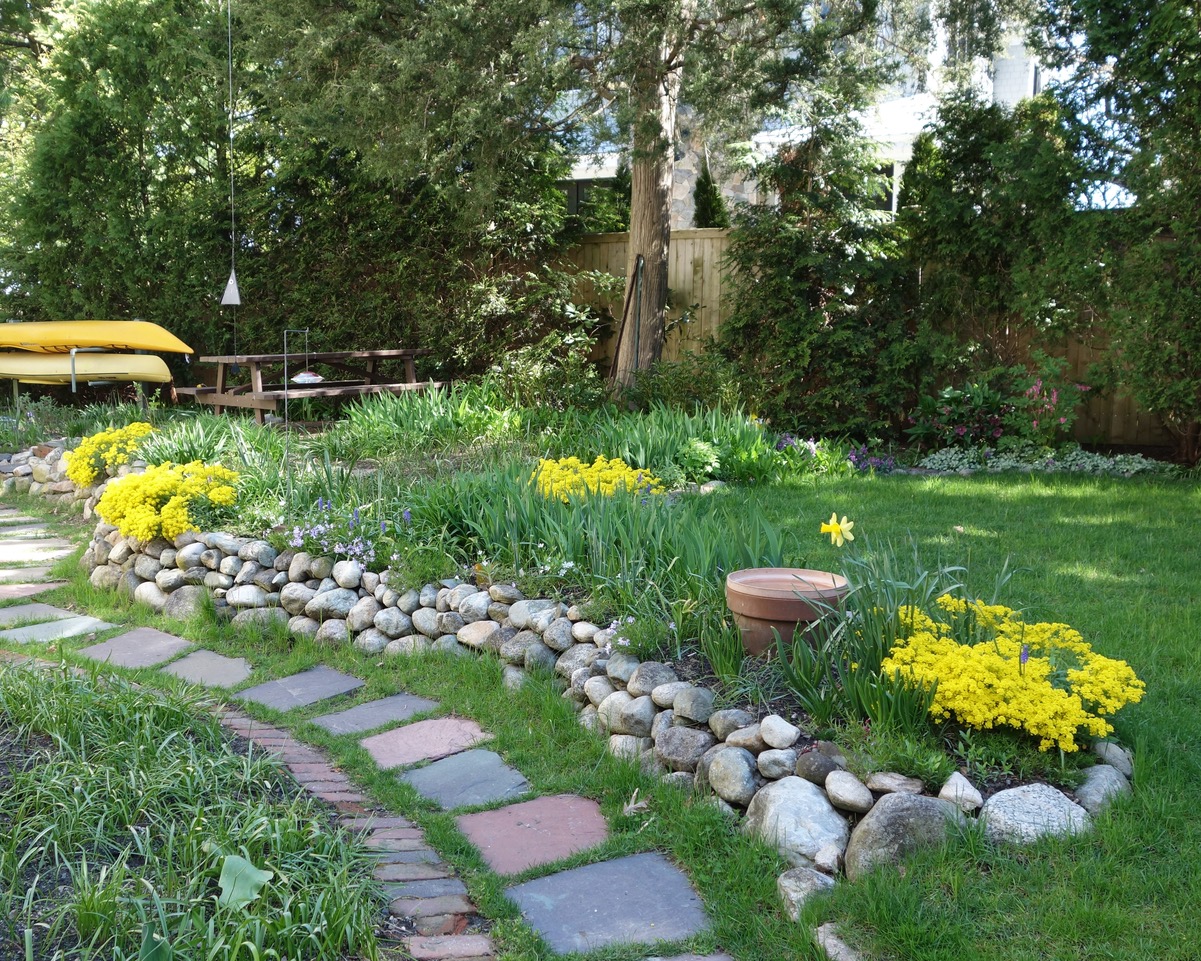 I enjoy planning for the color schemes in different areas of my garden to evolve through the seasons. In spring, I like to focus on sunshiny yellow, pink, white, and blue. Here, the alyssum (Aurinia saxatilis, Zones 4–9) and slowly appearing daffodils (Narcissus hybrids, Zones 3–8) will fill this area with bright yellow, to be followed by yellow/purple iris and blue woodland phlox.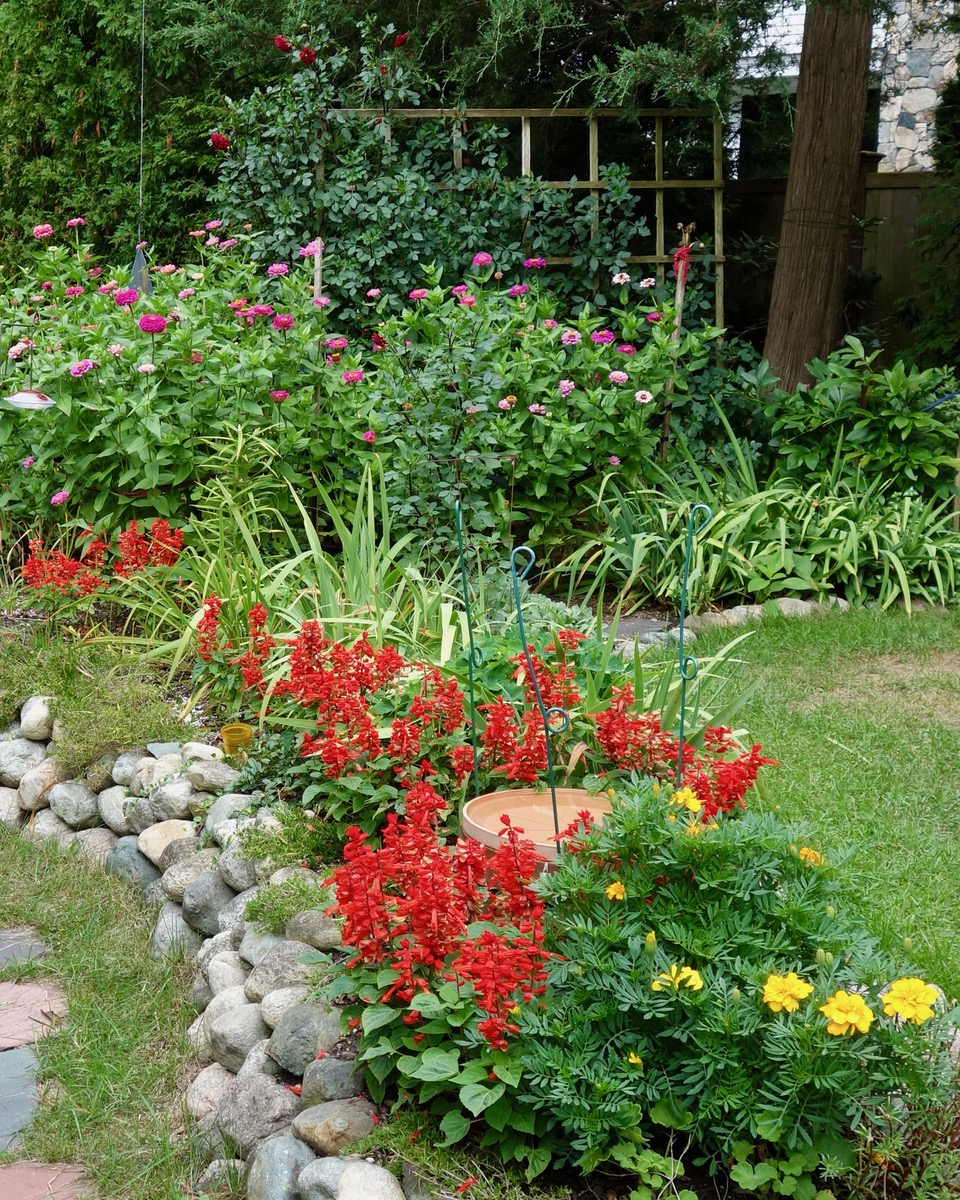 This past summer, four groups of daylilies were joined by red salvia (Salvia splendens, Zones 9–11 or as an annual)—some purchased seedlings as well as some that reseeded from the previous summer)—exuberant zinnias (Zinnia elegans, annual) from last year's seeds, and red dahlias (Dahlia variabilis, Zones 8–9 or as a tender bulb) that were a gift from a friend over twenty years ago. The dahlias need to be dug every fall, but when they reach 6 feet tall and are covered with blossoms, they are worth it! This area is often accented by bumblebees; monarch, painted lady, and tiger swallowtail butterflies; goldfinches nibbling on the zinnias; robins splashing in the bird bath; and hummingbirds enjoying the feeder as well as the flowers.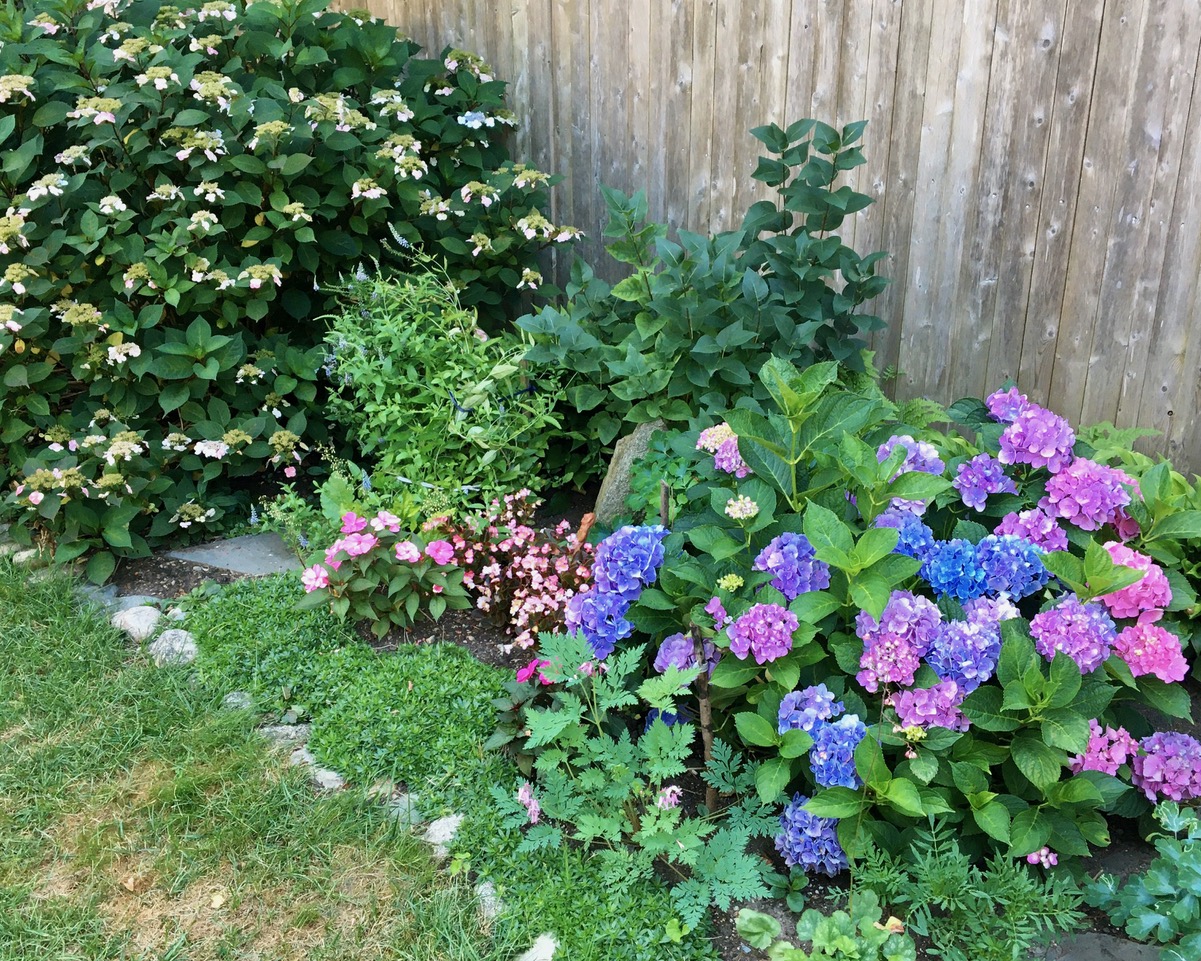 In spring, summer, and fall, this area takes its color scheme from an anonymous hydrangea (Hydrangea macrophylla, Zones 6–9) that was a gift many years ago. It blooms white with pink and blue, then the colors become more intense. That's a 'Lady in Red' hydrangea (Hydrangea macrophylla 'Lady in Red', Zones 6–9) in the background, which I bought after reading about it in Fine Gardening.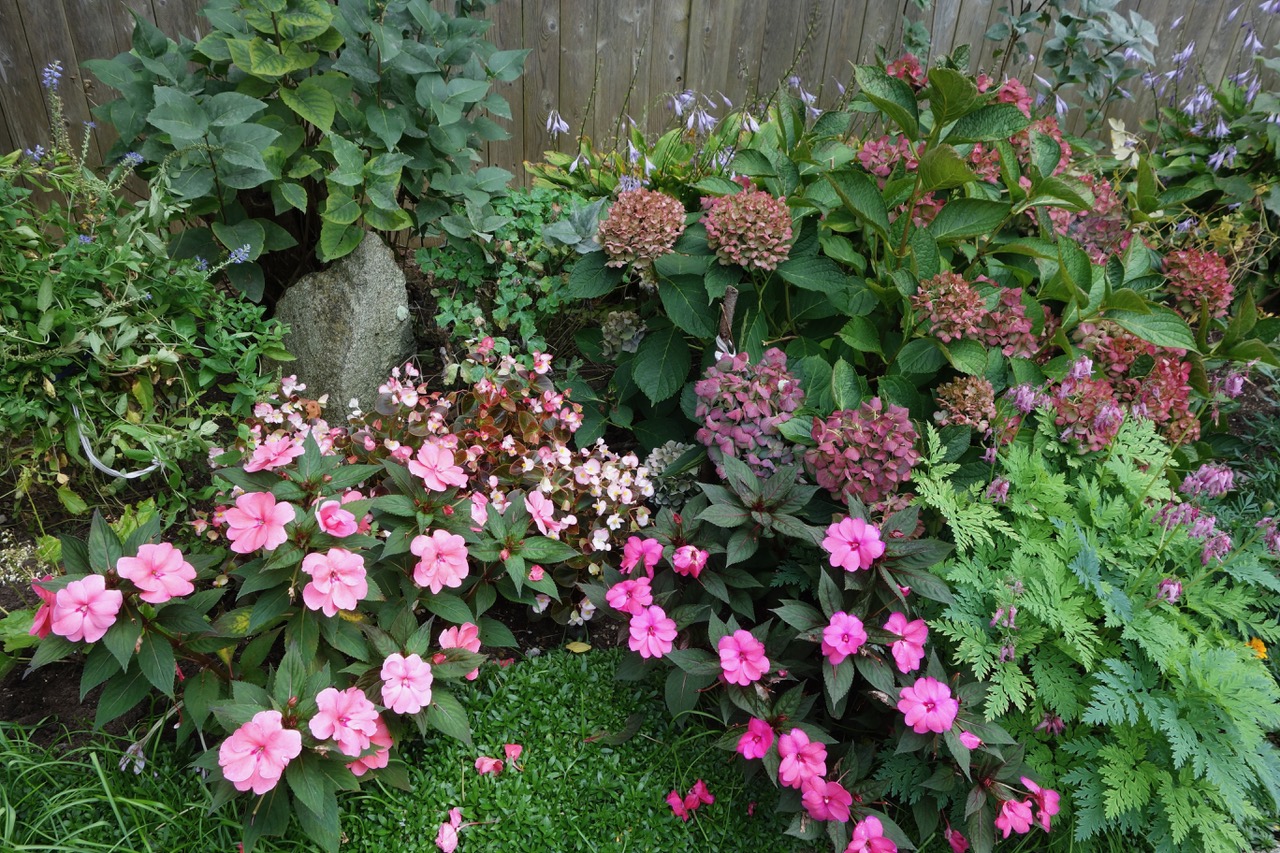 In fall, the hydrangea blossoms turn a rich rusty rose, complementing a nearby Japanese maple (Acer palmatum, Zones 5–9) as well as its companions here.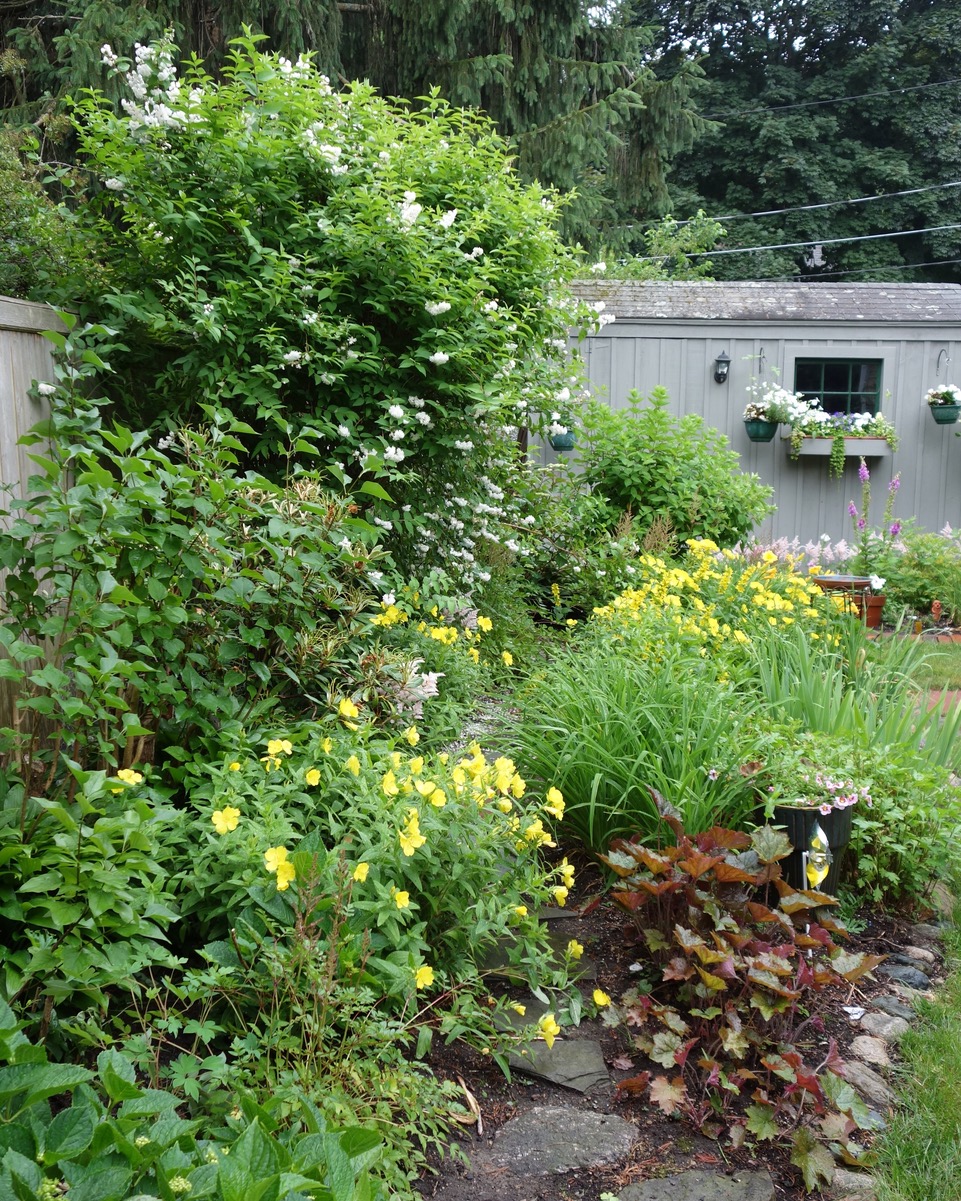 Farther along the border is an area that gets midday to late afternoon sunshine. Next to the fence on the left are deutzia bushes (probably Deutzia × magnifica, Zones 5–8), which are covered with small white blossoms when in bloom. These were all grown from cuttings from a neighbor.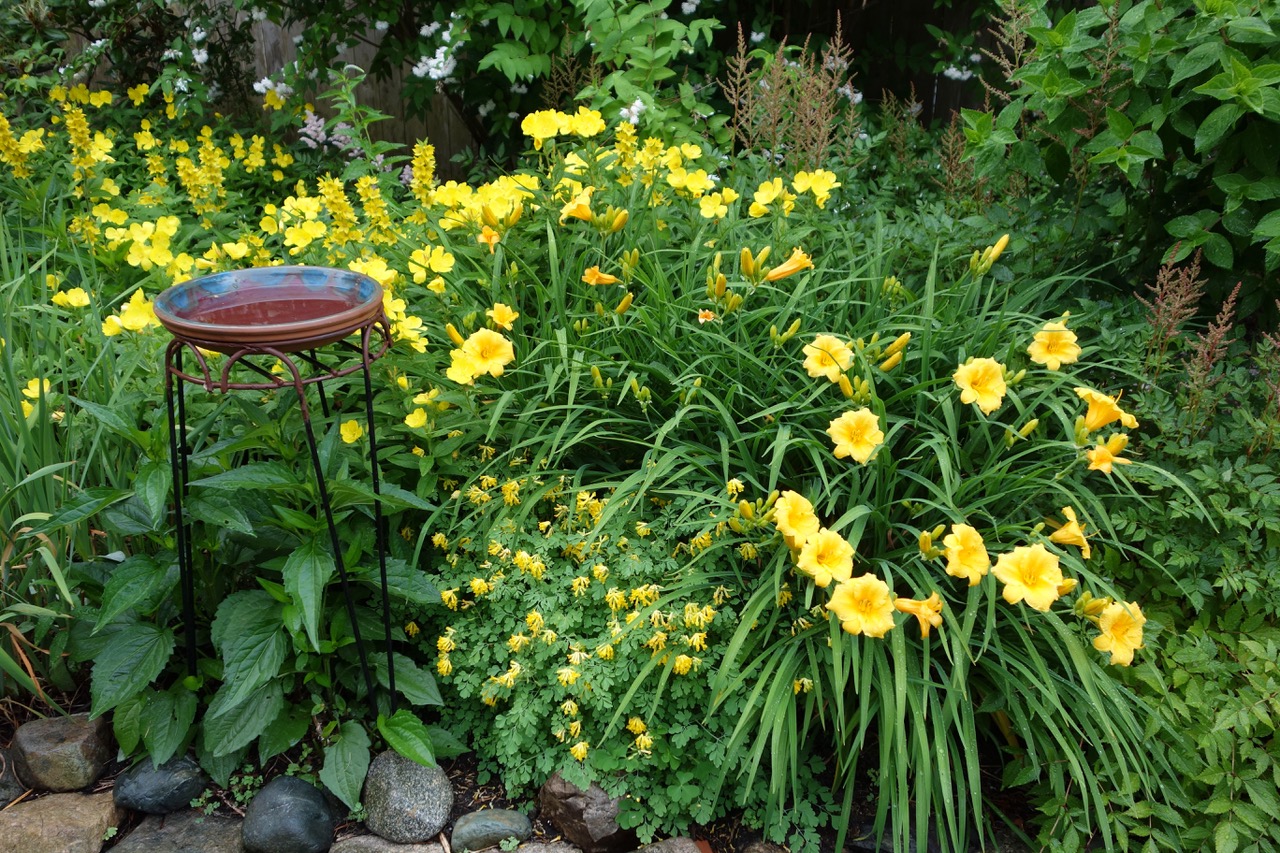 The main color here throughout the seasons is yellow. It comes from 'Butter and Sugar' Siberian iris (Iris 'Butter and Sugar', Zones 3–8); daylilies 'Irish Elf', 'Stella de Oro', 'Miss Amelia', and another yellow daylily whose name I've forgotten; yellow primroses (Oenothera species) transplanted many years ago from my parents' garden; and yellow loosestrife (Lysimachia punctata, Zones 4–8) from a neighbor.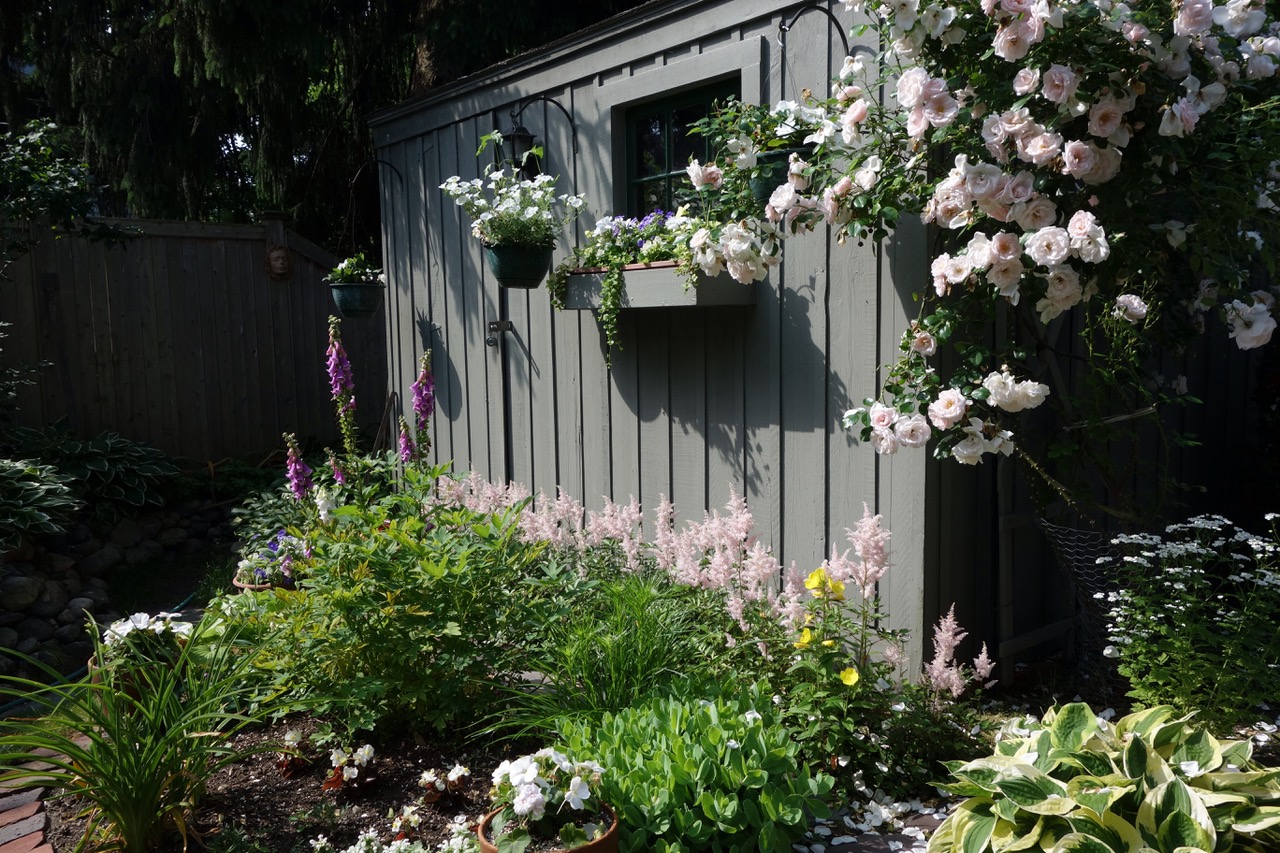 The area around the shed began as a "moon garden", mostly white to show up in the shade of a large sugar maple and to be visible from our nearby screen porch, where we spend every evening during the summer. I used a green-and-white hosta, a blue-and-green hosta, and 'Twilight' and 'August Moon' hostas, as well as white astilbe, begonias, and impatiens. The maple is now gone, and in the bright sunshine I've adapted the white color scheme to include yellow marigolds from saved seeds, blue browallia (Browallia speciosa, Zones 9–10 or as annual)—I buy a four pack and make lots of cuttings—and a very light pink 'New Dawn' climbing rose. I fill the hanging baskets and window box on the shed with white and yellow annuals.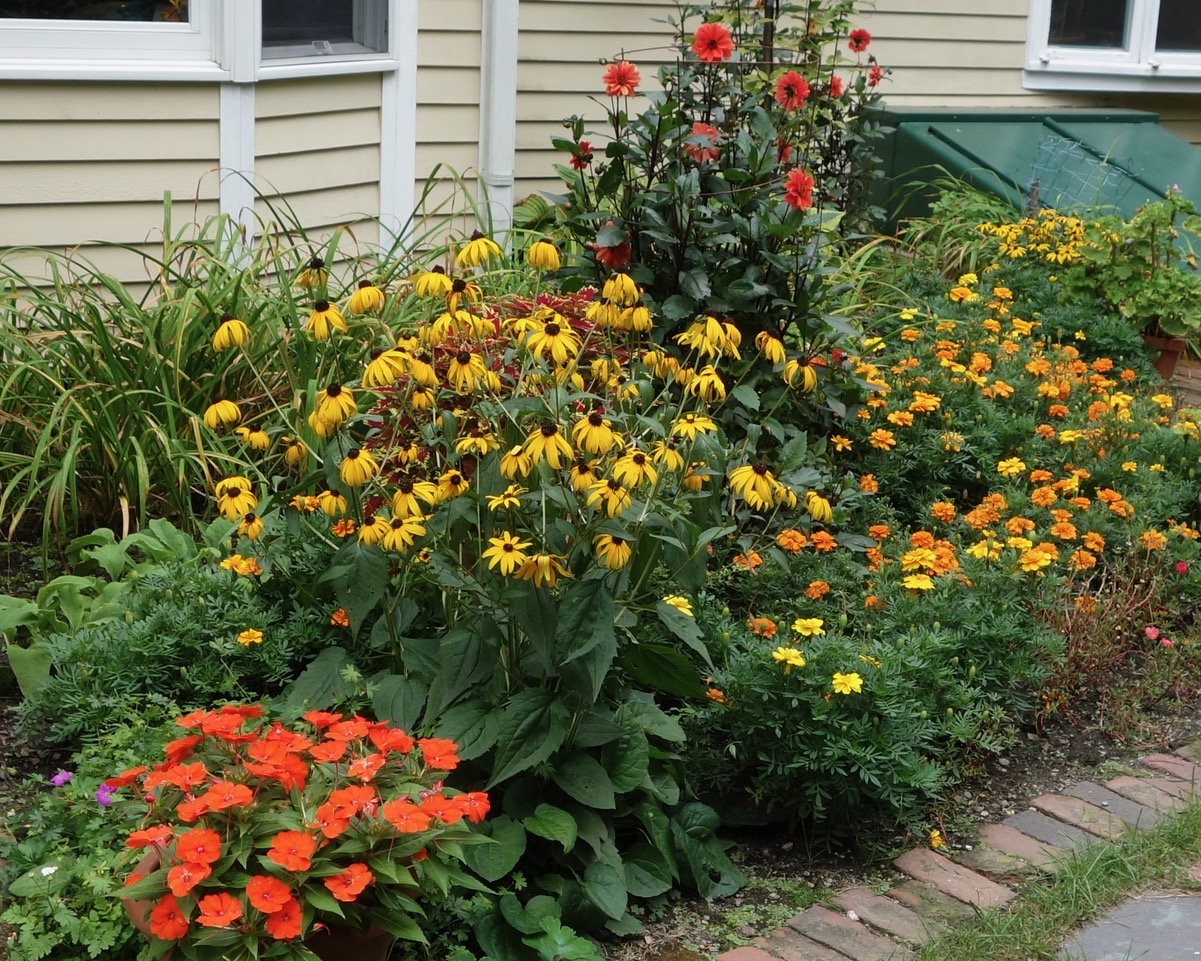 Completing the circle of our backyard, we're back to red, orange, and yellow again with more marigolds, 'Goldsturm' rudbeckia (Rudbeckia fulgida var. sullivantii 'Goldsturm', Zones 3–9), orange dahlias, rusty maroon coleus, a red-orange New Guinea impatiens (Impatiens hawkeri, Zones 10–11 or as an annual) and pots of geraniums (Pelargonium hybrids, Zones 9–11 or as annuals), all reliable plants and not munched on by our prolific rabbit population. I have to laugh at myself when I think of planning the color combinations at the beginning of the season and look at all the yellow marigolds I randomly popped into open spaces. But the yellow looks cheerful in the sunlight or rain and ties everything together.
Here's a last look before we leave the garden.
Have a garden you'd like to share?
Have photos to share? We'd love to see your garden, a particular collection of plants you love, or a wonderful garden you had the chance to visit!
To submit, send 5-10 photos to [email protected] along with some information about the plants in the pictures and where you took the photos. We'd love to hear where you are located, how long you've been gardening, successes you are proud of, failures you learned from, hopes for the future, favorite plants, or funny stories from your garden.
If you want to send photos in separate emails to the GPOD email box that is just fine.
Have a mobile phone? Tag your photos on Facebook, Instagram or Twitter with #FineGardening!
You don't have to be a professional garden photographer – check out our garden photography tips!
Do you receive the GPOD by email yet? Sign up here.