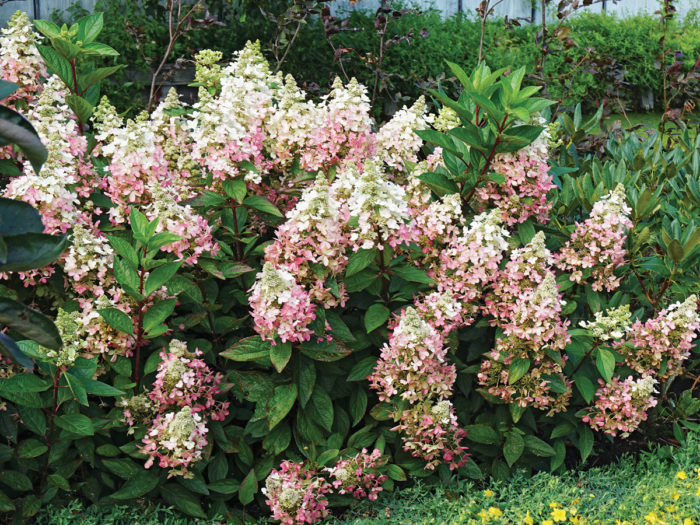 If you grew up on the East Coast as I did, you know that hydrangeas are an iconic plant. I dare anyone to visit Cape Cod in the summer and not swoon when they see those billowy blue blossoms spilling over white picket fences. It was only when I started traveling around North America that I realized tons of gardeners from places outside the East adore hydrangeas as well. In the Pacific Northwest, they can't get enough of panicle hydrangeas. In northern Michigan, it's the cold-hardiness of smooth hydrangeas that makes gardeners giddy. And even folks in the Deep South do everything they can to provide enough shade for their bigleaf hydrangeas to truly shine.
Plant breeders have seized on this popularity and introduce scores of new hydrangeas every year. Unfortunately, not all hydrangeas are created equal. Some struggle in zones where they are allegedly hardy, and others never quite live up to their blooming potential. Sadder still is that among the dozens of new selections released each year, there are some solid varieties that are largely ignored because the advertising campaign wasn't as big or bold as that of a different cultivar released at the same time. The following are a few recent hydrangea varieties that have wowed us here at Fine Gardening. They may not all be brand-new, but we're guessing that most will be unfamiliar. All of them, though, are certainly worthy of a little love.
Where are they from?
Hydrangeas, which prefer partial shade and moist, well-drained soils, are native to southern and eastern Asia and the Americas, depending on the species. The following is a breakdown of common species and where they originate.
• H. anomala: Japan, Korea, Taiwan
• H. arborescens: Eastern United States
• H. aspera: The Himalayas, across southern China to Taiwan
• H. macrophylla: China, Japan, Central and South America, Mexico
• H. paniculata: Eastern and southern China, Japan
• H. quercifolia: Southeastern United States
• H. serrata: Japan, Korea
See hydrangeas for 
---
Strong contrasts set this one apart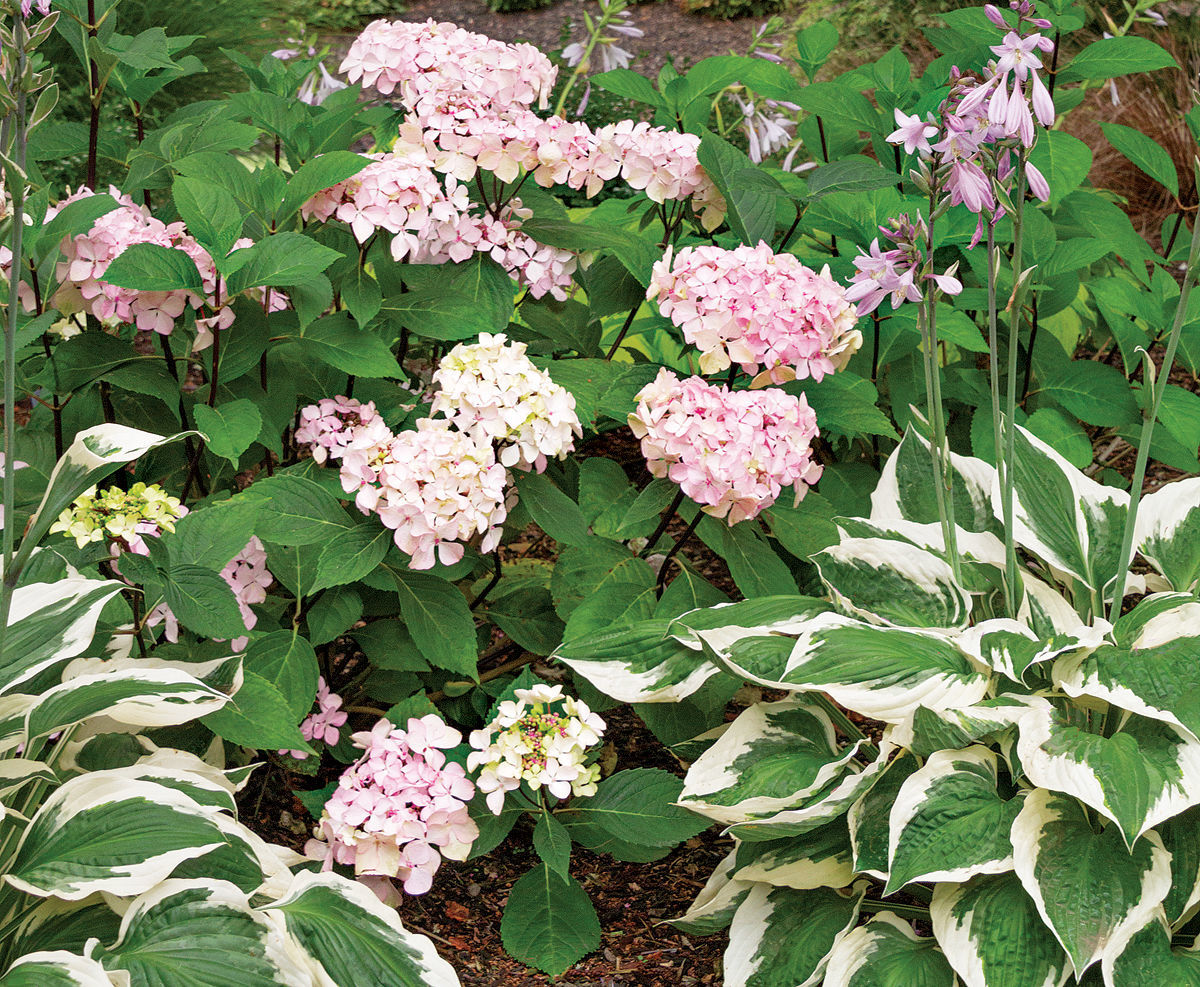 Name: Midnight Dutchess® bigleaf hydrangea (H. macrophylla 'HYMMADII')
Zones: 6–9
Size: 3 to 5 feet tall and wide
It was hard to categorize this hydrangea as noteworthy for its foliage or for its flowers because it is really the combination of its black stems and pastel pink blooms that makes it so striking. The stems are superstrong too, holding the oversize blooms upright even in heavy rains. The dark purple stems contrast brilliantly with the bright green leaves as well, giving this shrub interest even when not in bloom.
---
Learn more: Designing With Hydrangeas
---
Superb selections for foliage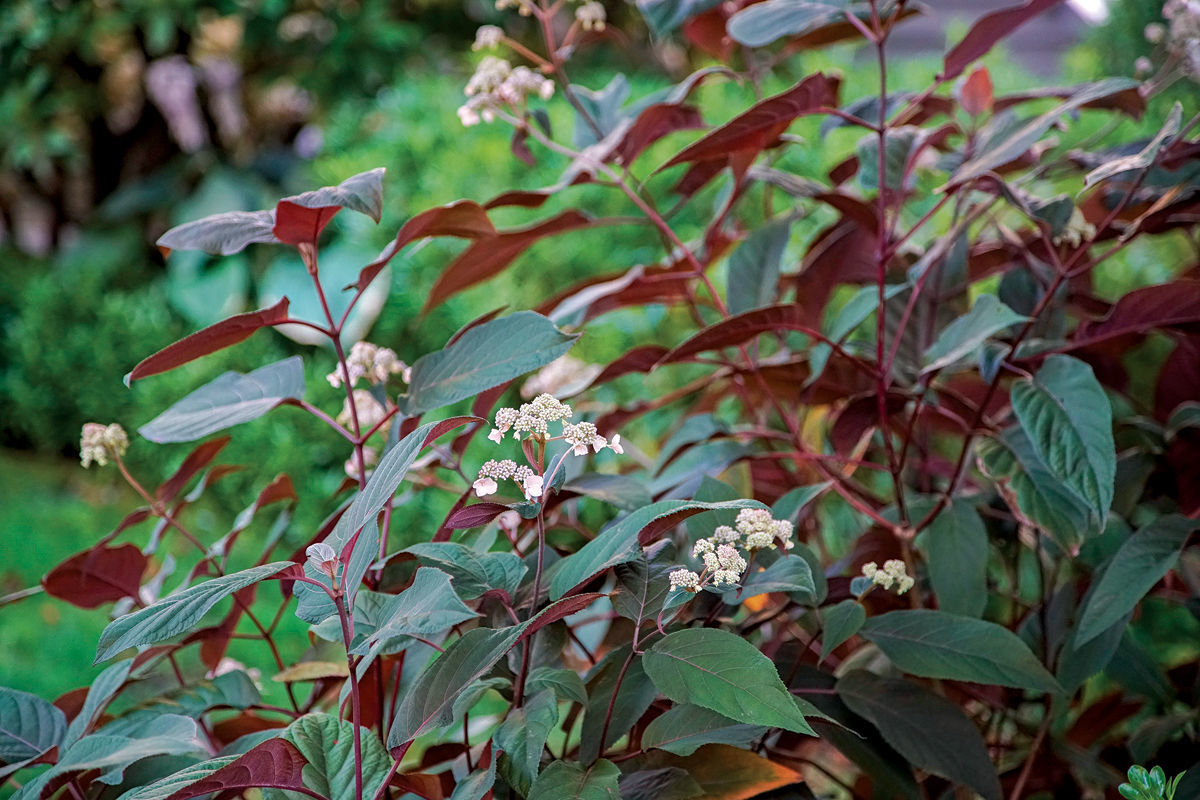 The award for most unique goes to this red-leaved wonder
Name: 'Burgundy Bliss' rough leaf hydrangea (H. aspera var. villosa 'Burgundy Bliss')
Zones: 6–9
Size: 6 feet tall and wide
If you walked past this plant, you likely wouldn't think it's a hydrangea at all. Its long leaves have more of a viburnum feel to them than anything related to a hydrangea. Regardless, the dark red velvety foliage is described as "rich and sexy" by Broken Arrow Nursery, and we couldn't agree more. 'Burgundy Bliss' sizes up slowly, transitioning from a lanky multistem specimen to a bulky and impressive shrub in a few years. The fuzzy, lavender lacecap blooms are a welcome sight in midsummer.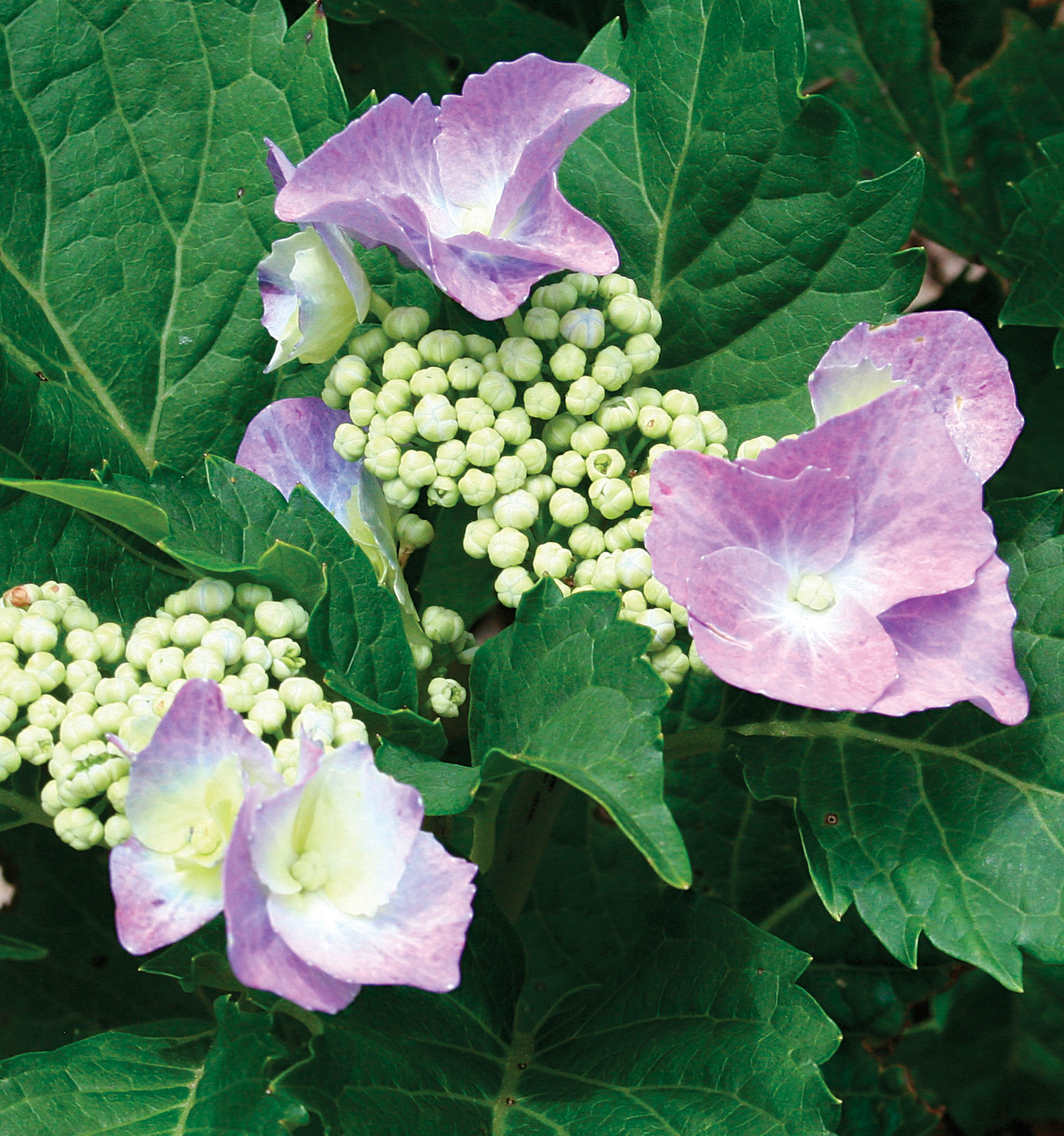 It's got undeniable texture
Name: Cabbage Patch™ bigleaf hydrangea (H. macrophylla 'sPg-3-009')
Zones: 6–9
Size: 4 to 6 feet tall and wide
This hydrangea looks like it might be a better fit for the vegetable garden; the ruffled foliage, however, adds incredible texture to ornamental beds. A knock against many bigleaf hydrangeas is their tendency to look like nondescript green blobs when not in bloom. This isn't the case with Cabbage Patch™. The blousy, lacecap blooms that appear in midsummer are a nice bonus.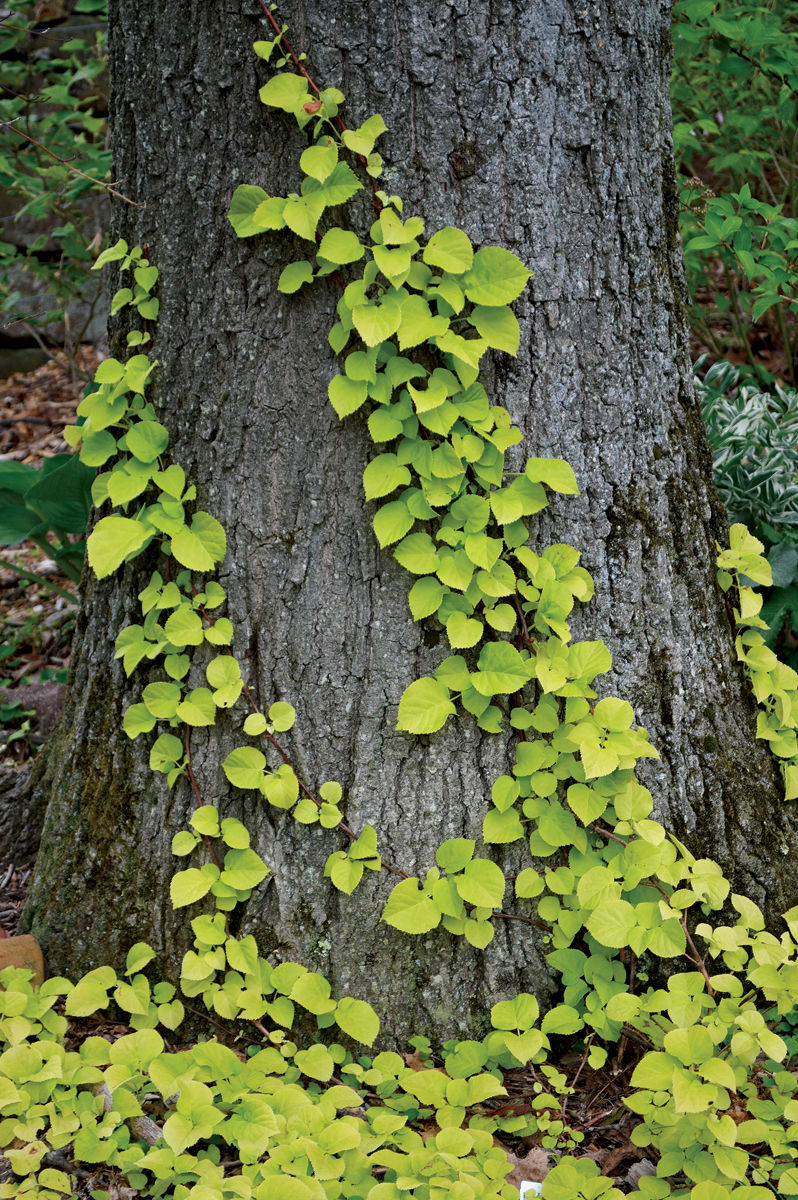 This vine will light up the darkest of spots
Name: 'Sutter's Mill' climbing hydrangea (H. anomala ssp. petiolaris 'Sutter's Mill')
Zones: 4–8
Size: Climbing 15 to 25 feet tall
Climbing hydrangeas have long been valuable assets in the shade. Largely disease free, they tolerate dry conditions once established and don't mind root competition. This variety will surely glow in low light given its soft yellow foliage. Unlike other chartreuse plants, 'Sutter's Mill' is reported to be scorch resistant, so some dappled sun won't cause it to look unsightly. Lacy white flowers are the cherry on top in early summer.
A smooth hydrangea with a surprise underneath
Name: 'Samantha' smooth hydrangea (H. arborescens subsp. radiata 'Samantha')
Zones: 4–9
Size: 3 to 4 feet tall and 5 to 6 feet wide
The hugely popular 'Anabelle' smooth hydrangea has long been a favorite of gardeners from coast to coast—and with good reason. It's a cold-hardy, reliable bloomer, with no pest or disease problems worth mentioning. 'Samantha' takes all of these good attributes and ups the ante with leaves that sport a bright silvery-white underside. With a slight breeze, it will look like a swarm of white butterflies has landed on your shrub. In mid to late summer a plethora of white snowball-like blooms show up to join the party.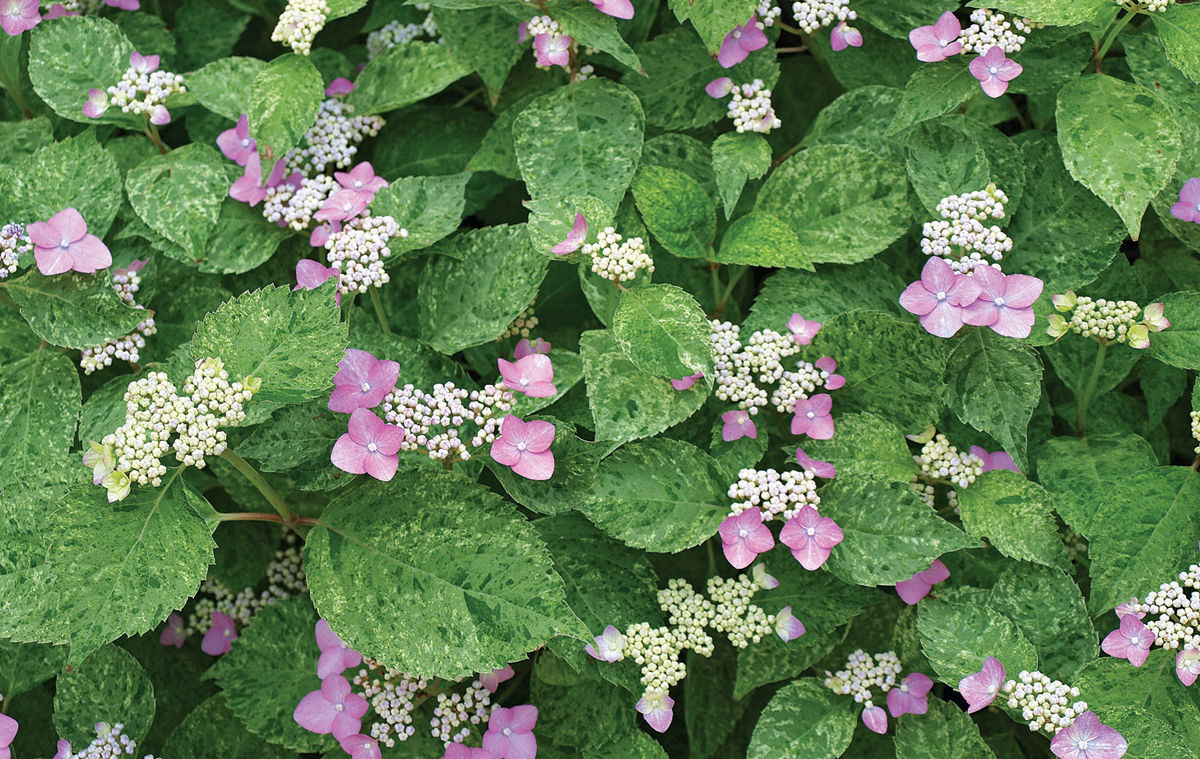 Speckled foliage on a cold-hardy section
Name: Variegated mountain hydrangea (H. serrata 'Kokonoe-yama')
Zones: 5–9
Size: 2 feet tall and 3 feet wide
If you live in Zones 5 or 6, mountain hydrangeas are a better bet than bigleaf types for guaranteed blooms. They have good cold tolerance, and their buds generally break later than other varieties. Take these great traits, add unique speckled foliage, and you have 'Kokonoe-yama'. The mottled white, yellow, and sea green leaves make this option a stunner even when it's not adorned with its delicate lacecap flowers. Some say that from a distance, this dwarf shrub appears to shine silver thanks to its variegation.
Interesting options for habit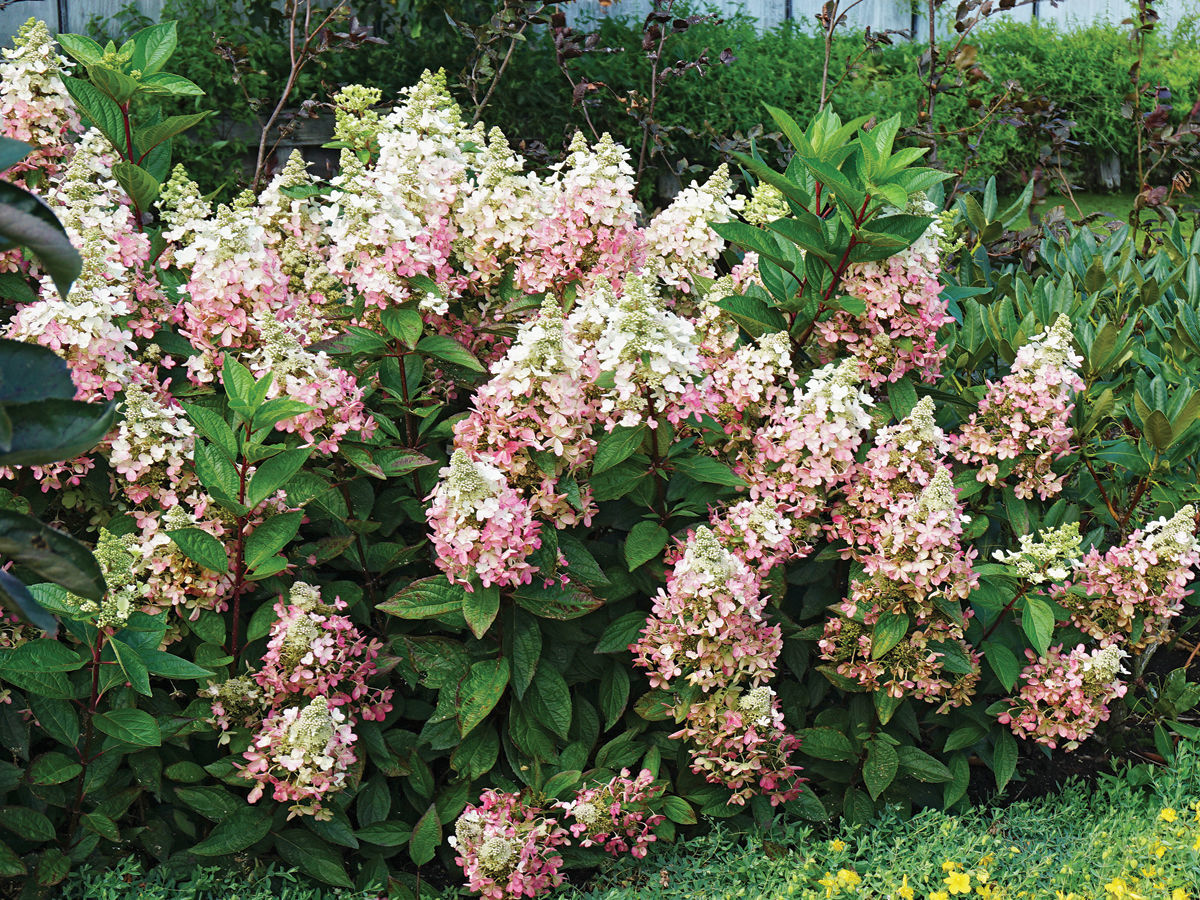 It's a short, sweet, blooming machine
Name: Lavalamp™ Flare panicle hydrangea (H. paniculata 'Kolmavesu')
Zones: 3–8
Size: 2 to 3 feet tall and wide
There have been a slew of dwarf panicle hydrangea introductions recently. But the one thing most of them are lacking is full-size flowers. That isn't the case with Lavalamp™ Flare. These flowers are big—8 to 9 inches long, in fact—and they sit neatly atop the short compact plants. Like all panicle hydrangeas, this newer variety can tolerate full sun to partial shade and lean soils. It can also be pruned judiciously each spring, since it flowers off of new wood.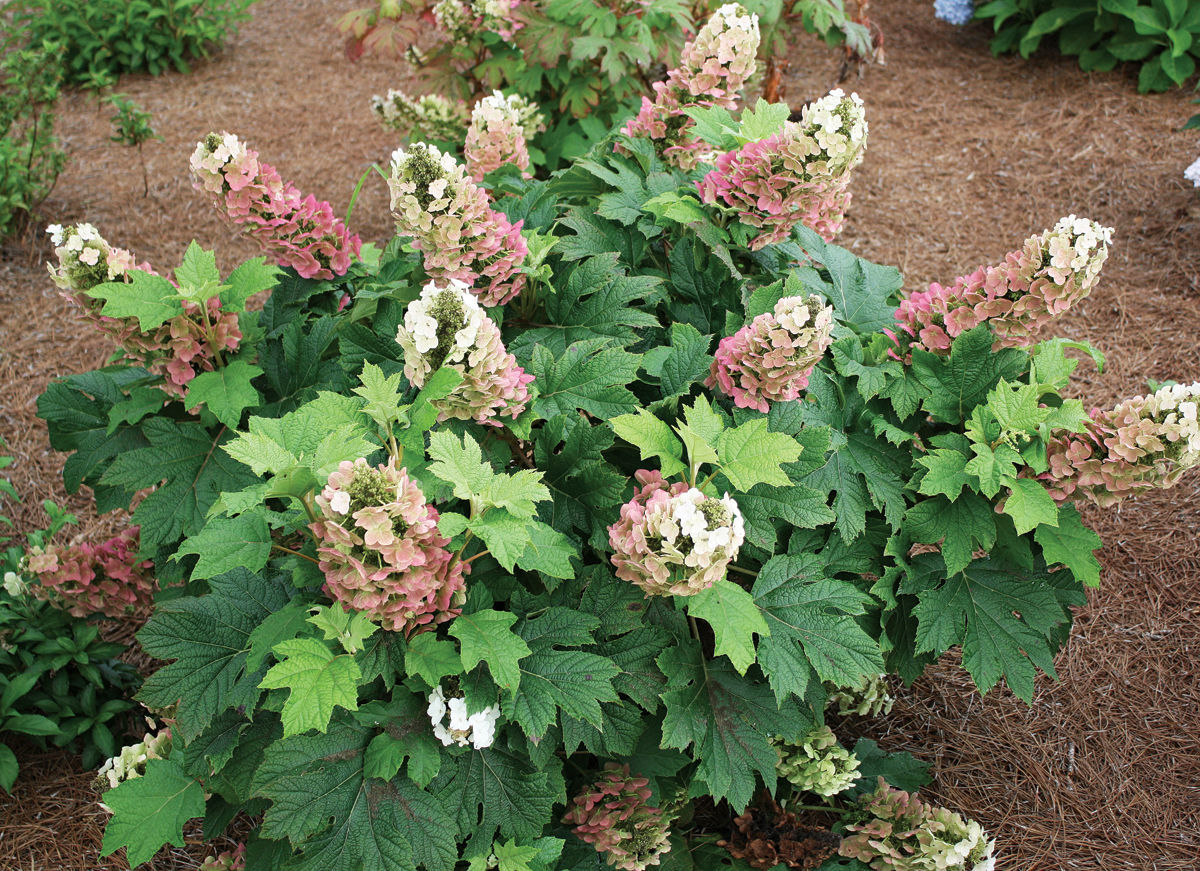 A better form for a four-season stunner
Name: Jetstream™ oakleaf hydrangea (H. quercifolia 'PIIHQ-I')
Zones: 5–8
Size: 5 to 6 feet tall and 4 to 5 feet wide
If it were possible for me to pick a favorite hydrangea of this bunch, Jetstream™ might be it. Oakleaf hydrangeas truly are four-season stars. They have luscious, large, textured leaves in spring, gorgeous panicles of white flowers in summer that eventually transition to pink, stunning foliage color in fall, and peeling silver-and-cinnamon bark in winter. The only issue is that they tend to have a sprawling, unkempt habit. Jetstream™, however, sizes up and fills in quickly, sporting a tight compact habit. Unlike recent introductions that are true dwarf plants, Jetstream™ is full size. In short, it is large but is in charge of its silhouette.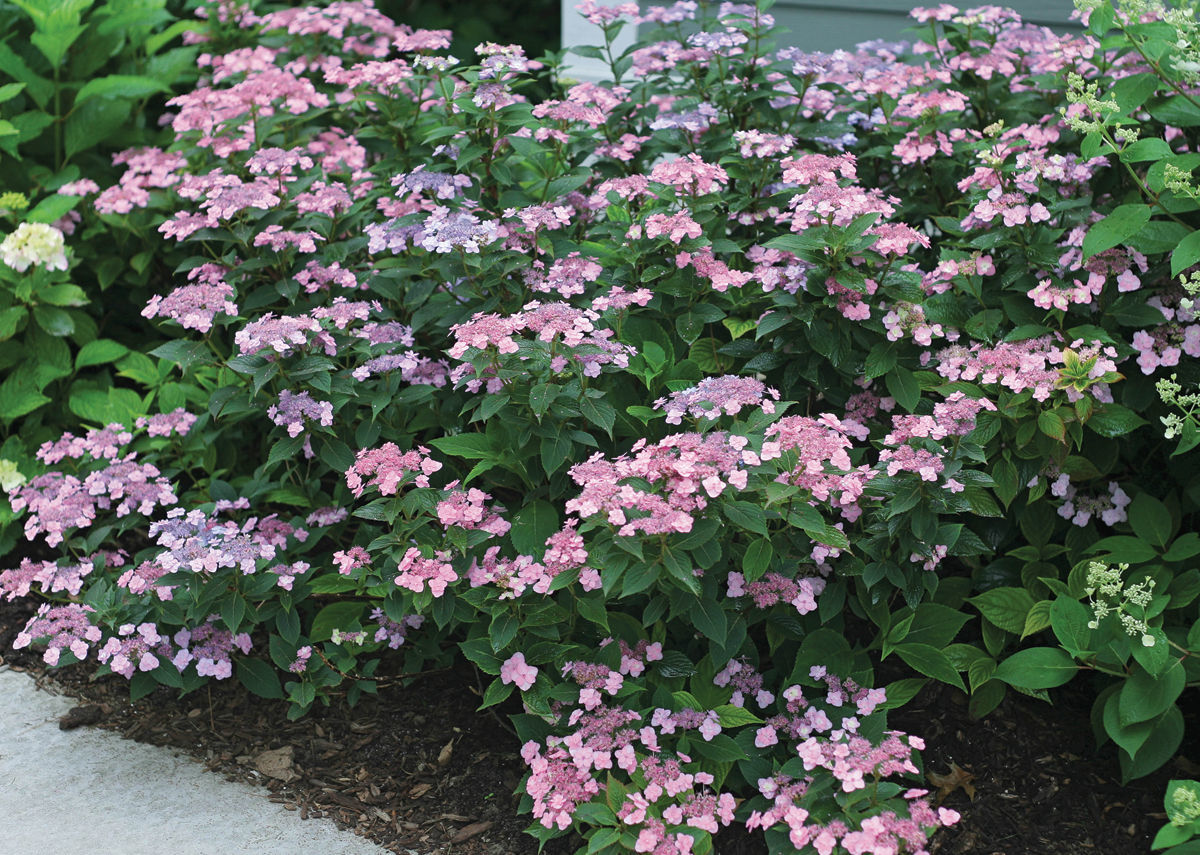 This tiny treasure takes toughness to the next level
Name: Tiny Tuff Stuff™ mountain hydrangea (H. serrata 'MAKD')
Zones: 5–9
Size: 2 feet tall and wide
This hydrangea is so petite you might just think it's a perennial. Because it's a mountain hydrangea, its flower buds break later in spring, which means they are more likely to bloom even with cooler than expected weather in April. The short, ultracompact habit of this variety makes it the perfect plant for tucking into almost any partial shade nook. The lacecap flowers are abundant, albeit small, and seem to keep showing up throughout the summer and even into fall. It's hard to imagine a spot where this little cutie wouldn't look good.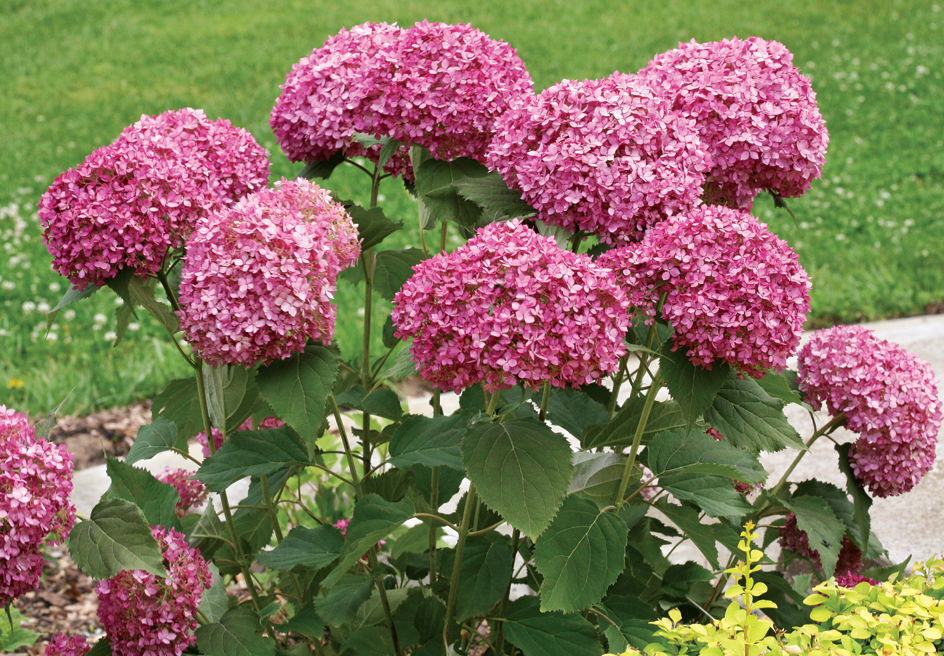 A familiar variety gets a pint-size makeover
Name: Invincibelle Mini Mauvette® smooth hydrangea (H. arborescens 'NCHA7')
Zones: 3–8
Size: 3 feet tall and wide
It has been several years since Invincibelle® Spirit smooth hydrangea hit nursery shelves. Given its tremendous popularity, it comes
as no surprise that the company responsible has introduced a number of iterations of that original plant. One of the latest is Invincibelle Mini Mauvette®, a purple-bloomed, miniature version of Invincibelle® Spirit. This variety is just as cold hardy as other smooth hydrangeas and enjoys more shade than sun. Its long flower stems also make it a good candidate for cut arrangements.
---
Learn more: Hydrangea Myths Dispelled
---
Noteworthy choices for flowers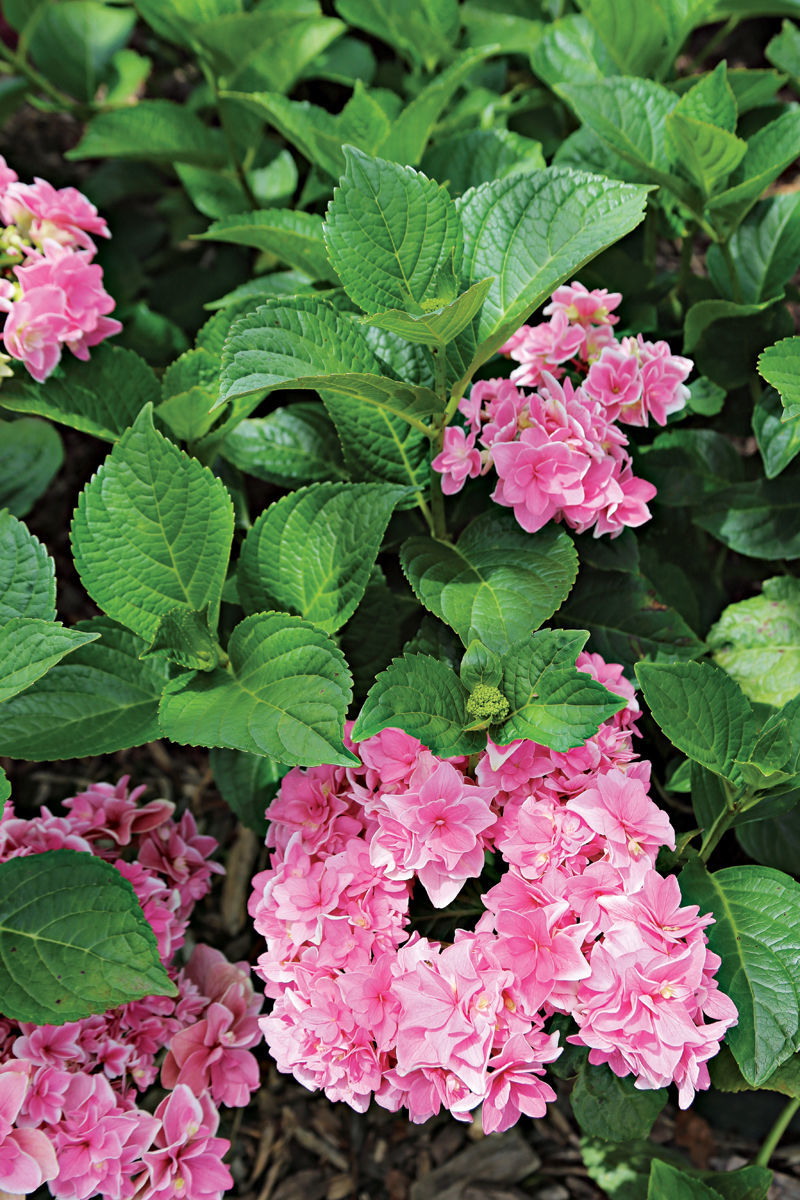 These blossoms look like clusters of pink shooting stars
Name: Rosy Splendor® bigleaf hydrangea (H. macrophylla 'Tinkerbell')
Zones: 6–9
Size: 4 to 5 feet tall and wide
If a Disney fairy was responsible for breeding hydrangeas, we could easily see this cultivar being the end result. Rosy Splendor® sports large lacecaps of pink stars, giving them a fuller than normal appearance. The edges of each floret sometimes look like they've been outlined in white. Reblooming isn't unheard of on this cultivar, a fairytale attribute if ever there was one. The plant can flop a bit under the weight of the blossoms, so you can either live with that or attempt to stake the plant for support.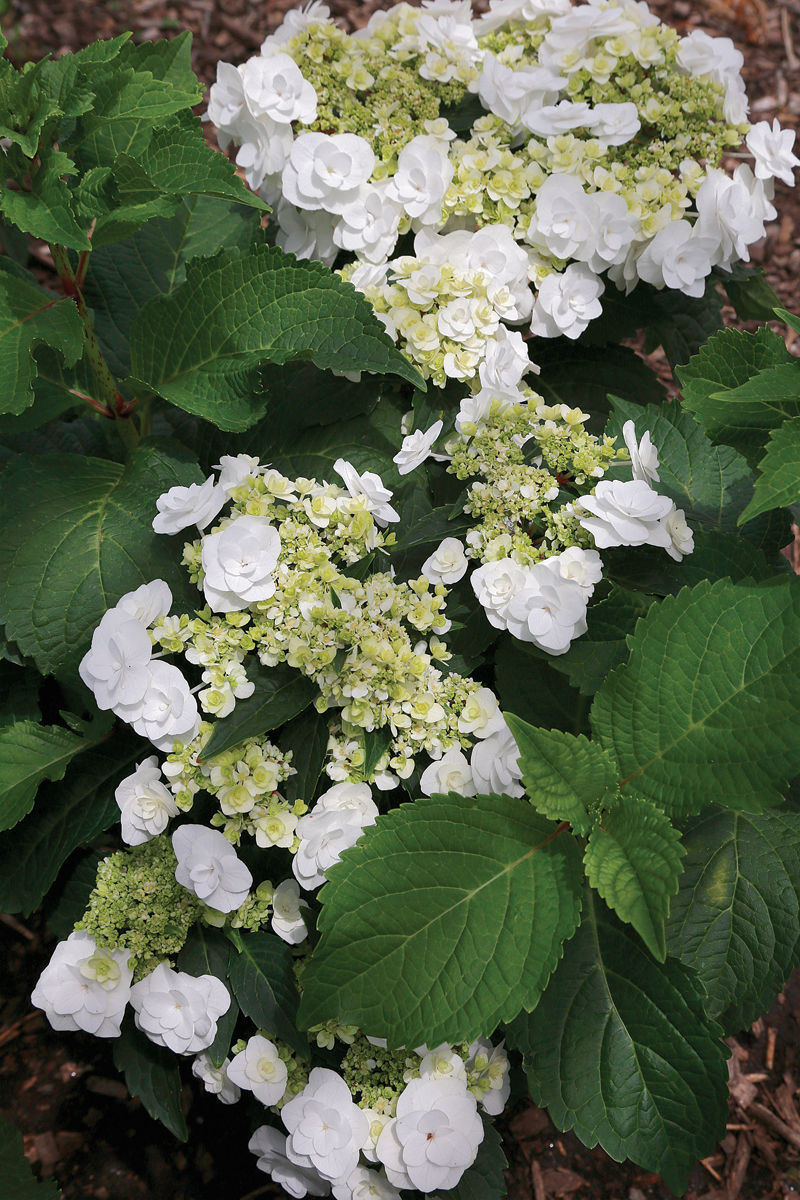 An appropriate name for an elegant and timeless variety
Name: Double Delights™ Wedding Gown bigleaf hydrangea (H. macrophylla 'Dancing Snow')
Zones: 5–9
Size: 2 to 3 feet tall and 3 to 5 feet wide
We can all agree that hydrangeas are definitely pretty when in bloom, but this variety is more than that—it is elegant. The combination of sterile and nonsterile flowers that make up each bloom gives Double Delights™ Wedding Gown a sophisticated look that would be worthy of any bridal bouquet. The strong stems also help hold those blossoms upright, despite their large size. This shrub tends to spread out quickly, so be sure to give it room.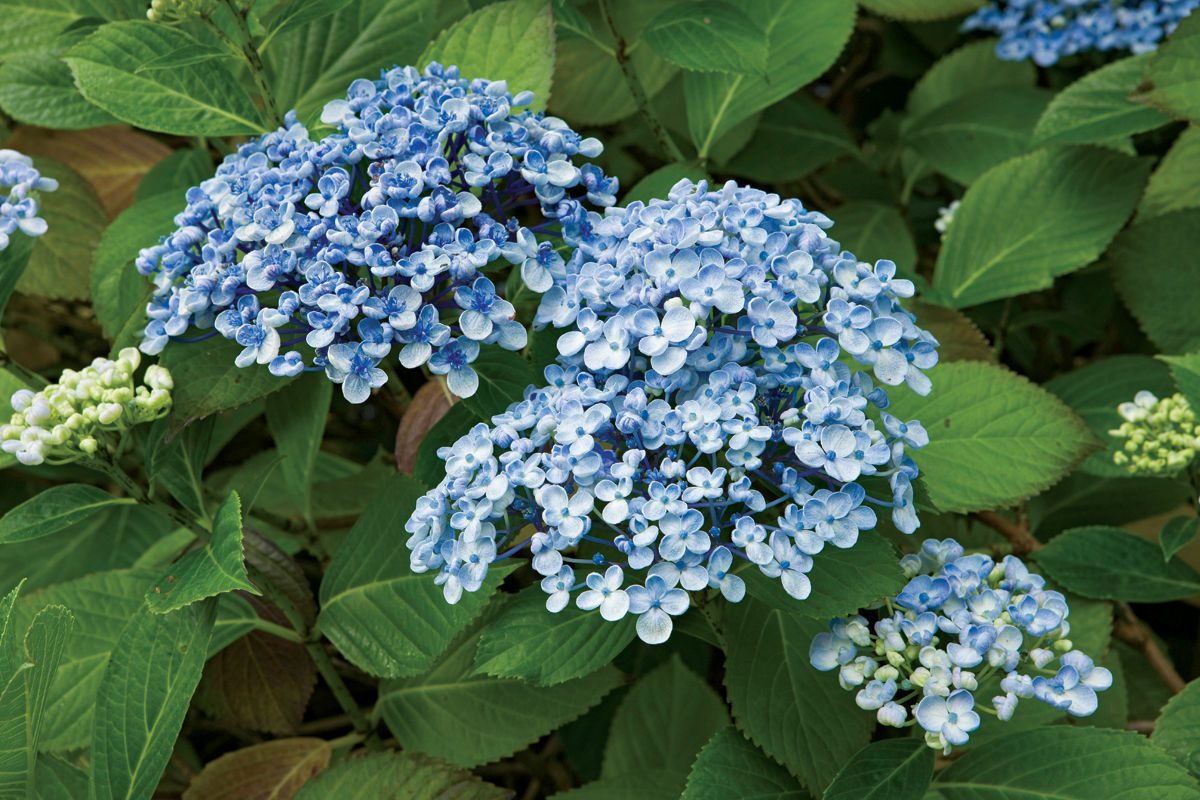 Rubbery blossoms may not sound appealing, but they are
Name: 'Ayesha' bigleaf hydrangea (H. macrophylla 'Ayesha')
Zones: 6–9
Size: 6 feet tall and wide
Why don't more people grow this variety? It's not a "new" cultivar, having been available for several years. But for some reason, it is not well known in the United States. Upon first glance, the flowers look like those from an ordinary bigleaf. A closer inspection, though, shows that they are thicker and waxier and have an almost rubbery feel. Each small floret also looks like it has been painted with a watercolor brush. Add to that a slight fragrance (a rarity for hydrangeas), and you have a winner.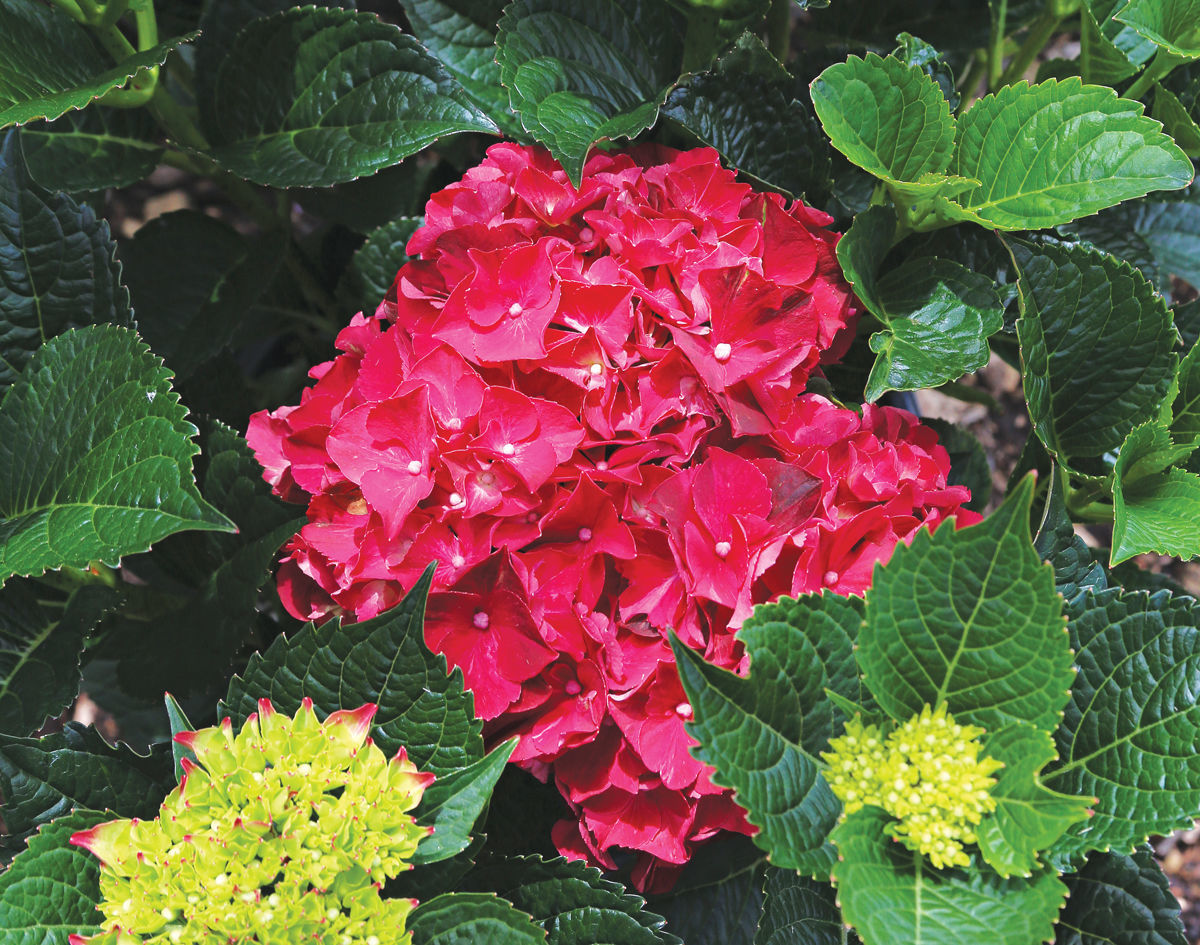 As close as you'll get to a true red hydrangea
Name: Magical® Ruby Red bigleaf hydrangea (H. macrophylla 'KOLMARU')
Zones: 5–9
Size: 3 feet tall and 2 to 4 feet wide
Perhaps it's because I love ruby gemstones, but this new cultivar caught my eye immediately at a hydrangea trial garden. The foliage is a deep forest green, the perfect backdrop for the dark pink (nearly red) blooms. The combination of flowers with foliage is eye-catching, and although the blooms eventually bleach out a bit in the sun, they are still alluring.