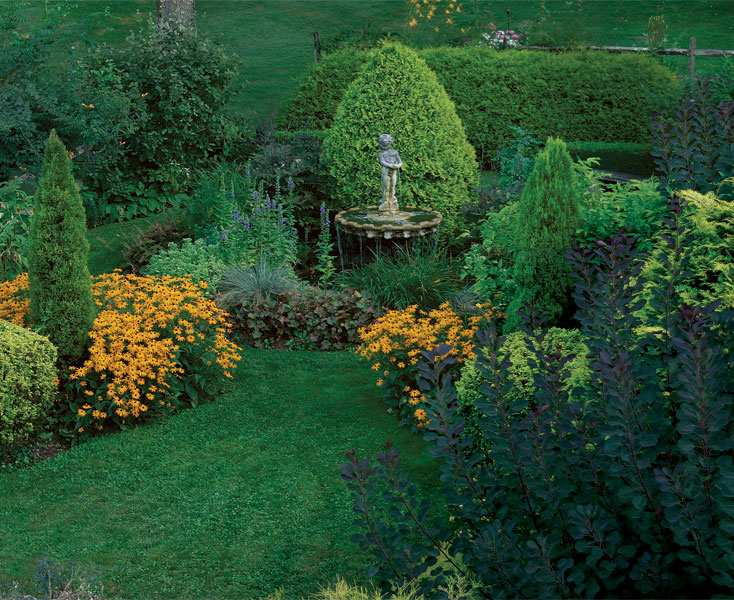 When we built an addition to our 18th-century clapboard house and I looked out our new bedroom window, I recognized an opportunity to create a garden viewed from above that would offer cheer in every season and extend visual interest into the evening. It was a perfect spot for a moon garden: a garden of white flowers and foliage designed to be visible all evening. But because all good gardeners extract ideas from visits to great gardens and adapt them to their own landscape, I am not afraid to admit that I shamelessly stole the idea of using yellow-foliaged evergreens (or should they be called "evergolds"?) for my "moon" garden from a visit to Crathes Castle in Scotland.
The extensive gardens there are all magnificent, but I was captivated by one special space called the Golden Garden. As I entered this garden room sur­rounded by beautiful yellow and gold conifers, I felt as if I had walked into warm sunshine right out of the gray Scottish mists. My farmhouse is no castle and our Connecticut climate is less than ideal, but this was a clear case where inspiration presented the perfect design solution.
Most of the conifers with standout shapes and glowing foliage at Crathes Castle wouldn't survive our winters, so I selected hardy substitutes: species and cultivars that would brighten the scene well into the evening and warm the cold, dark season with a consistent backbone of glowing shrubs arranged in a distinctive plan.
A visible design extends the day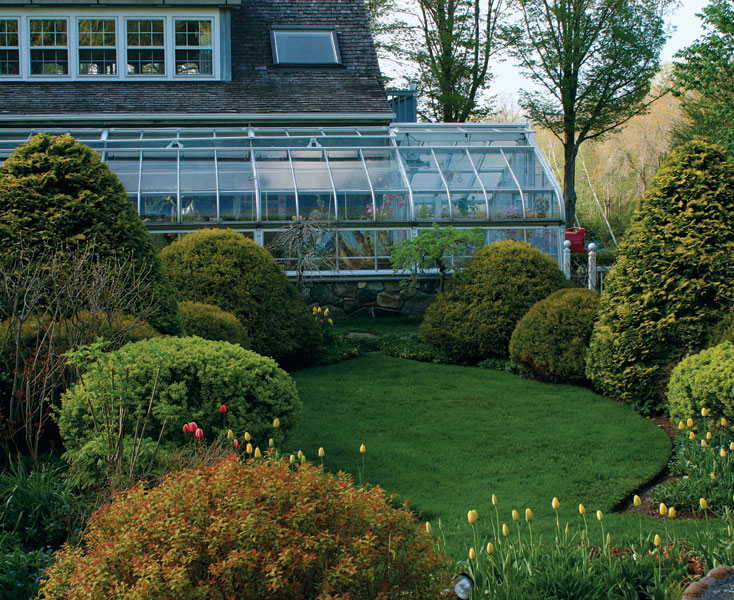 The area where I planned to build this garden allowed for a symmetrical design with ample space defined on one side by the straight stone wall of my rose garden. A split-rail fence runs at right angles from this wall, and a young oak tree stands near it, aligned with the end of our house. A new section of split-rail fence ties the oak tree to the corner of the house, creating a rectangle roughly 75 feet long and 30 feet wide.
I considered planting along the outer edges of this space, but I decided it would be more interesting to divide it into two distinct areas to create the illusion of a larger space. A walk through intimate yet connected areas also adds the sense of journey and drama that enhances an outdoor experience.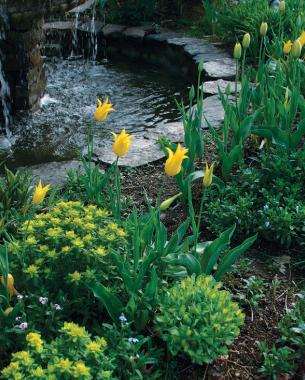 Because this garden would be viewed daily from my bedroom window, usually at dusk or dawn, I wanted to include a unique geometry recognizable from above and in low light.
My friend, landscape archi­tect Wallace Gray, inscribed a lovely figure eight within the rectangular space. Rather than filling the figure with lawn surrounded by perimeter plantings, he suggested planting the two halves as opposites: the bottom half nearest the house as a central lawn surrounded by plantings, the other half as a narrow grass path running around the edge of a central bed. With a fountain installed within the top half of the figure eight, the final form consisted of an oval lawn at one end and a round outline of the fountain pool at the other.
I was confident that such a definitive design viewed from below or above would stand out at any hour and in every season.
A twist on tradition
Instead of sticking with the classic elements of a moon garden, I made the follow adaptations to ensure my space was what I wanted.
White isn't always right.
Silver and white are the classic colors for a moon garden. Many white plants bloom briefly, however, and are often less hardy than the golden plants I have chosen. By shifting the main color of my garden to gold, I have greatly increased my plant palette with a full sequence of blooms and leaves from spring through fall.
A view exists from inside and out.
Moon gardens are traditionally places to sit and enjoy the transition from day to night. I experience my moon garden from above, looking out my bedroom window, so the bold forms of my "evergolds" provide standout structure whenever I look down on this glowing outdoor room.
Sound can replace scent.
Many night-blooming plants common in moon gardens are wonderfully fragrant. Because evening scents are difficult to fully appreciate from my bedroom window, I've added the music of a small fountain as a layer of sensory interest.
Strong shrubs anchor the plan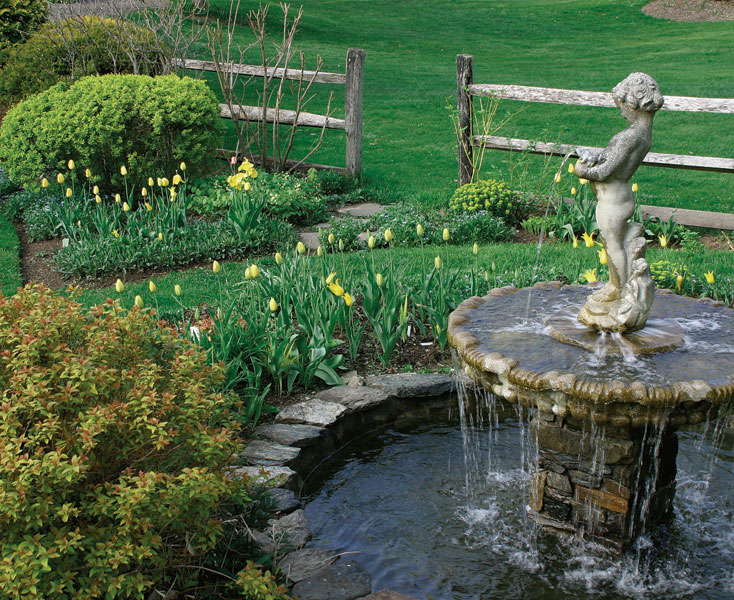 I call this garden my "moon garden" because I most often view it by the light of the moon. Perhaps it should have been called the "sun garden" with its shades of chartreuse, yellow, and gold. When I awake in the morning, the golden foliage evokes the sun, a particularly pleasing effect during the dark days of winter.
Golden evergreens provide the backbone of this garden because they hold their foliage and form all year long. Two tall, beautifully textured Hinoki cypress (Chamaecyparis obtusa 'Crippsii', USDA Hardiness Zones 4–8) anchor the oval lawn, flanked on either side by lower-growing arborvitae (Thuja occidentalis 'Rheingold', Zones 2–7), which turn a lovely bronze color in winter. A large, conical arborvitae (Thuja occidentalis 'Degroot's Emerald Spire', Zones 2–7) highlights the fountain focal point. A hedge of gold-thread sawara cypress (Chamaecyparis pisifera 'Filifera Aurea', Zones 4–8) forms a soft curve and enhances the intimacy of this garden room. Two more sawaras announce the entrance to the garden with their striking, threadlike foliage.
Height adds interest to any garden by drawing the eye up from the horizon, so each year, I transplant two columnar golden Monterey cypress (Cupressus macrocarpa 'Goldcrest', Zones 7–11) at the waist of the oval to punctuate its geometry. Even though they are not hardy in my climate, their contribution to the design is so vital I don't begrudge digging them out each year to be overwintered indoors.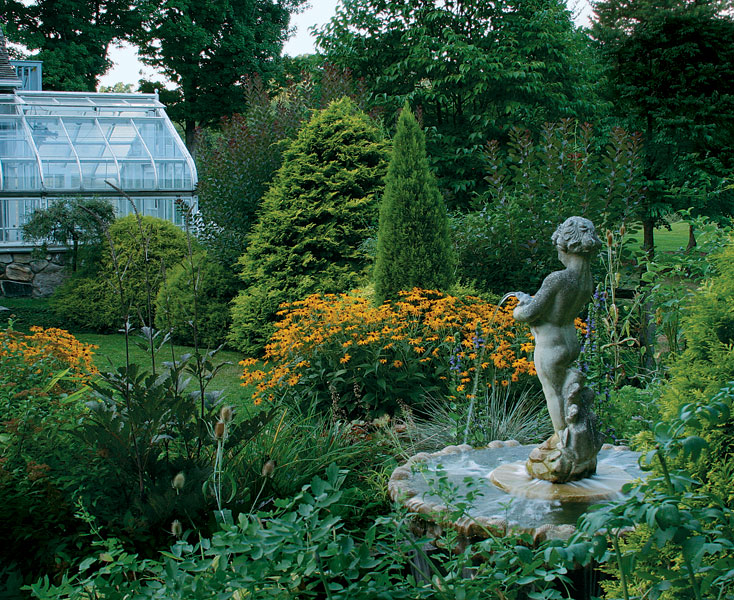 To add even more glowing color, I use yellow and gold perennials such as lily-flowered 'West Point' tulips (Tulipa 'West Point', Zones 4–8), which emerge in early spring around the fountain, and the strawberry-like flowers of waldsteinia (Waldsteinia ternata, Zones 3–8), which fill in beneath the shrubs in late spring. The ever-reliable 'Stella de Oro' daylily (Hemerocallis 'Stella de Oro', Zones 3–10), which reblooms after spring, is joined by the golden blooms of black-eyed Susan (Rudbeckia fulgida var. sullivantii 'Goldsturm', Zones 4–9) as summer turns to fall. I balance all of these yellows with other colors—especially their complementary color, purple—to create a vibrant scene throughout the season.
When visitors enter the moon garden at night, the borders shine brightly, extending the evening by an hour or more. Even in the depths of winter, the bright bones of my evergolds gleam. Best of all, from my bedroom window, this garden graces my eyes every evening before I slip off to sleep and again in the morning when I awake.