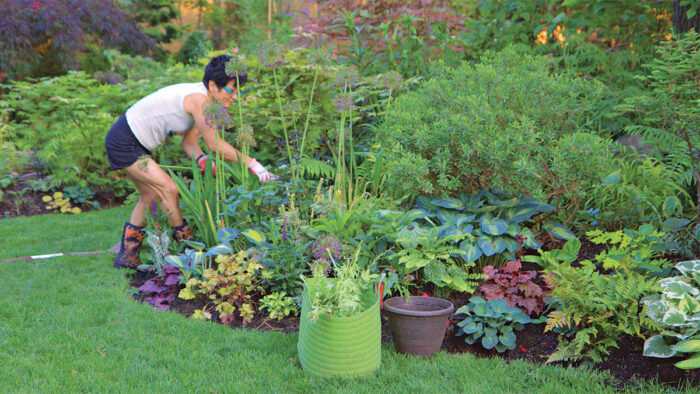 If you need some ideas for plants that thrive in dappled sunlight, check out these options from expert gardener Mary Gore. She has created an amazing garden in the shade with these plants playing key roles. Click here to see her garden.
1. 'High Noon' tree peony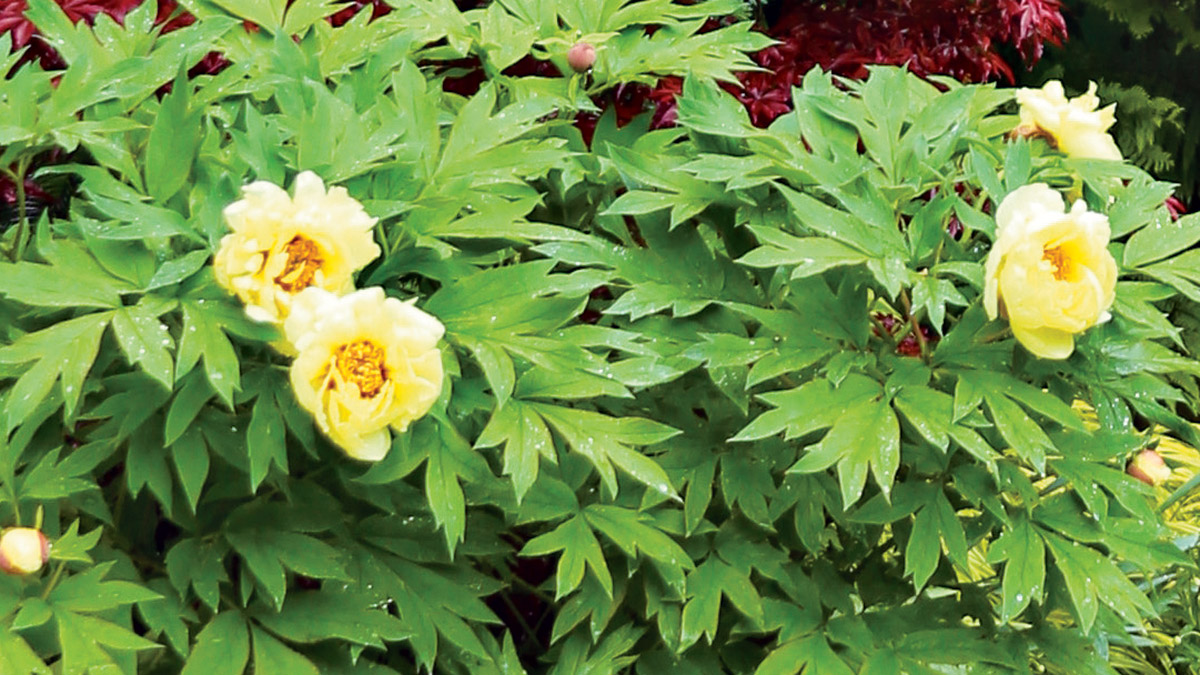 Name: Paeonia suffruticosa 'High Noon'
Zones: 4–8
Size: 4 to 5 feet tall and wide
Native range: China
Golden yellow blooms with subtle red flares embellish a mass of medium-green foliage that looks great even after the flowers finish.
2. 'Miranda' climbing hydrangea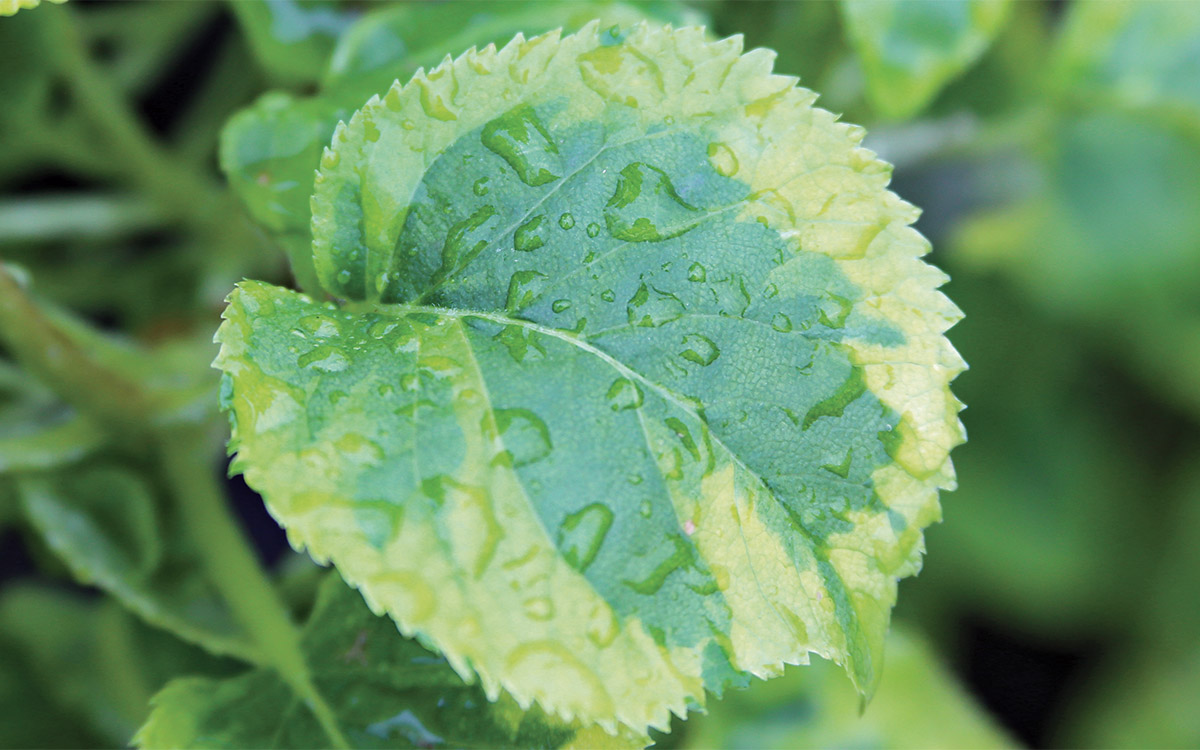 Name: Hydrangea petiolaris 'Miranda'
Zones: 4–8
Size: Up to 60 feet tall and 3 to 4 feet wide
Native range: Japan, Korea, China
With dark green leaves edged in flashy gold, this plant is perfect for adding an eye-catching vertical element in partial to full shade.
3. 'June' hosta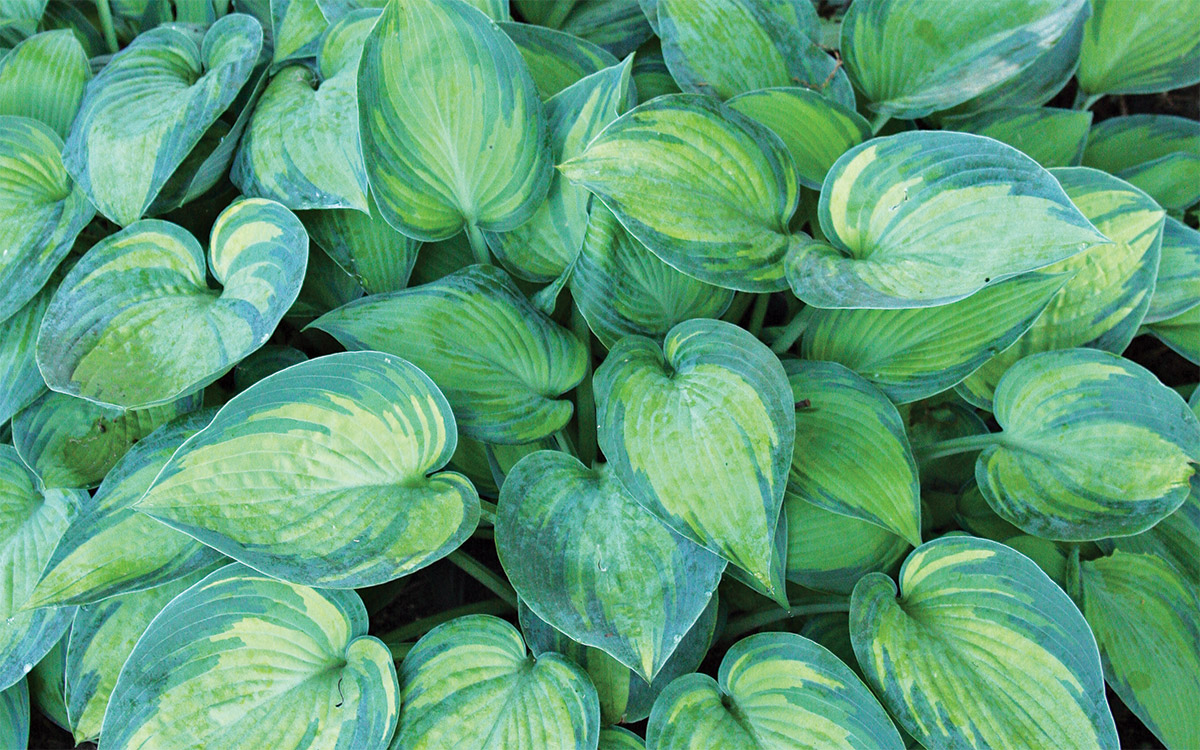 Name: Hosta 'June'
Zones: 3–8
Size: 16 inches tall and 2 to 3 feet wide
Native range: Hybrid of Asian species
Lovely blue leaves with brushstrokes of chartreuse and yellow add an artistic element to any shady bed.
4. Abyssinian banana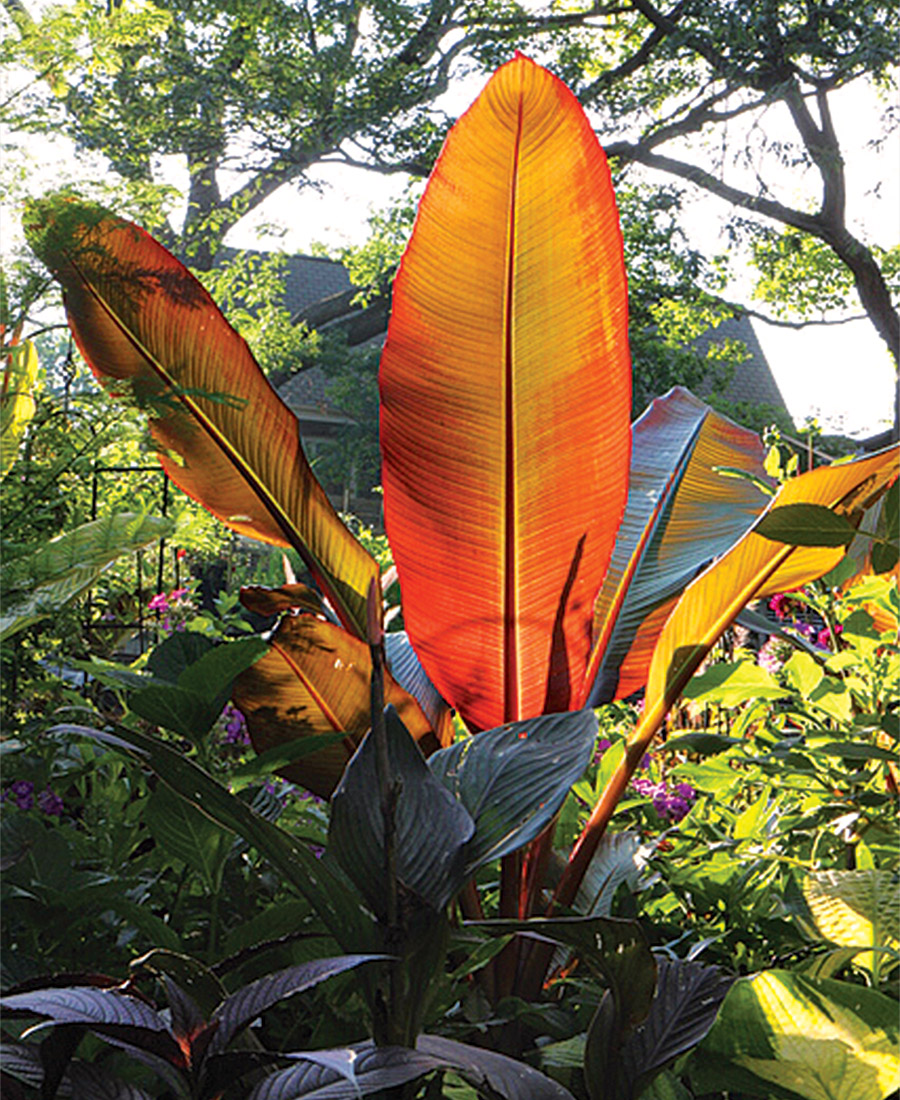 Name: Ensete ventricosum
Zones: 10–11
Size: 8 to 10 feet tall and 6 to 8 feet wide
Native range: Eastern Africa
Also called red banana, this tropical delight adds lots of drama and warm color wherever it is planted.
5. Sedona Sunset™ coleus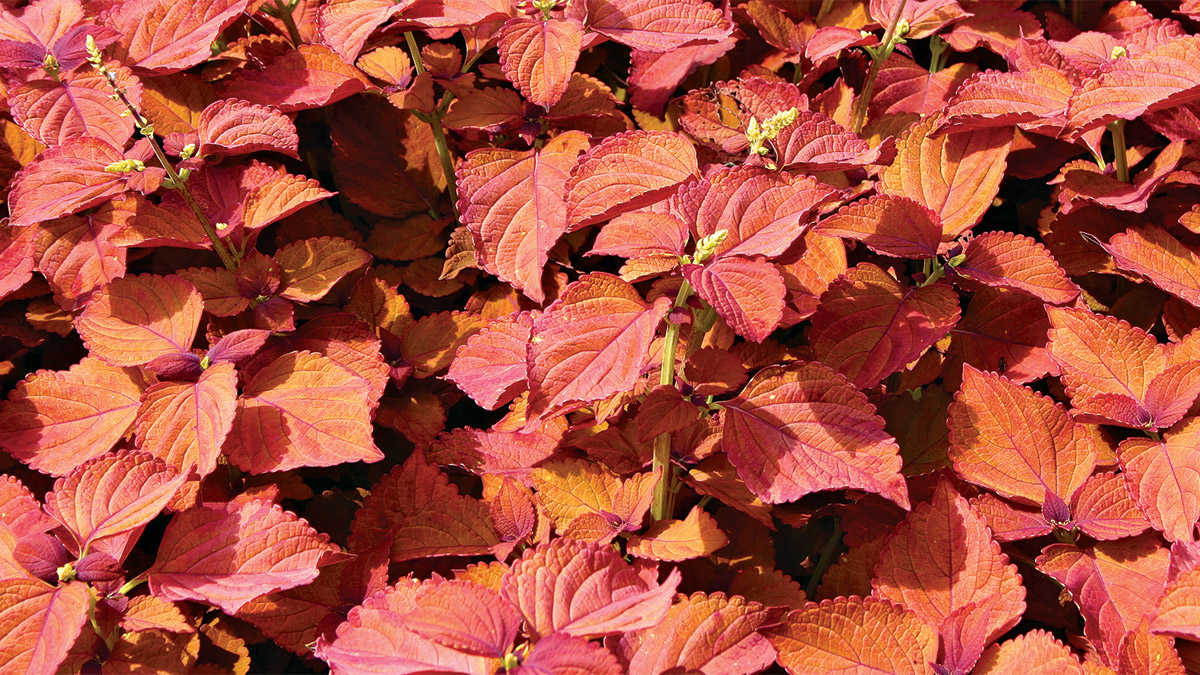 Name: Plectranthus scutellarioides cv.
Zones: 10–12
Size: 1 to 3 feet tall and wide
Native range: Hybrid
The rusty orange color of this coleus is an excellent accent for red-leaved Japanese maples. Used as an annual, it provides bursts of reliable, long-lasting color at ground level.
6. 'Aureola' Japanese forest grass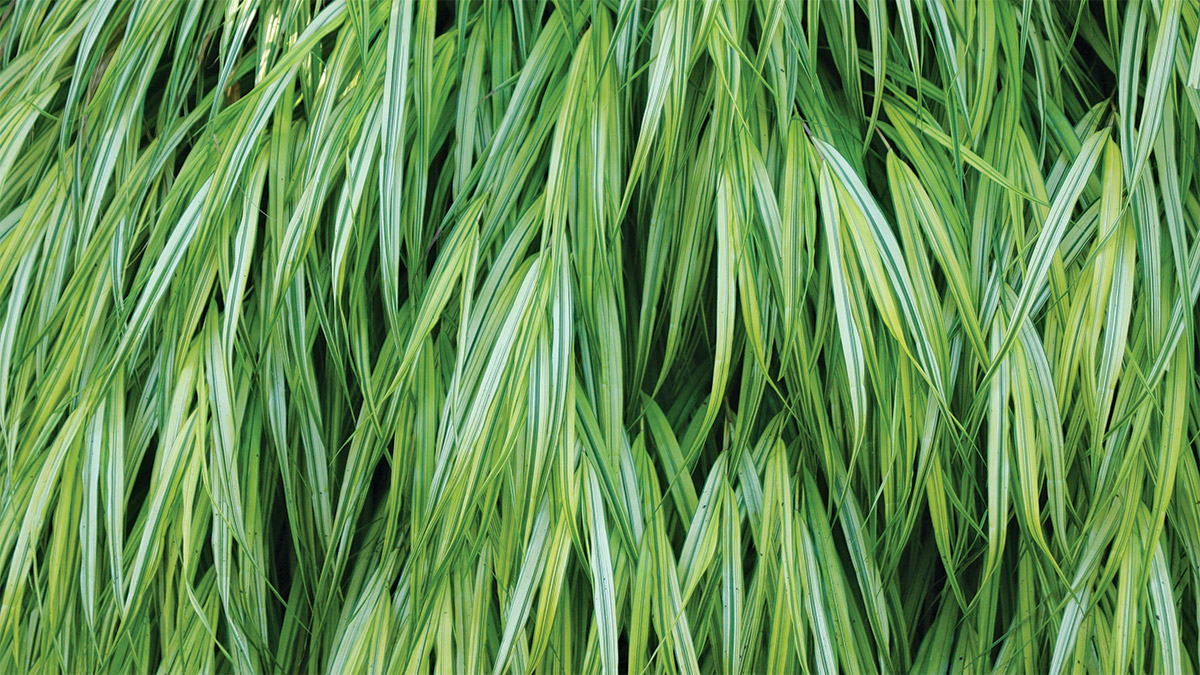 Name: Hakonechloa macra 'Aureola'
Zones: 5–9
Size: 12 to 18 inches tall and wide
Native range: Central Japan
Brilliant color makes this lovely grass stand out from a distance, and in autumn its yellow-striped leaves take on tints of pink and orange.
7. Shirazz™ Japanese maple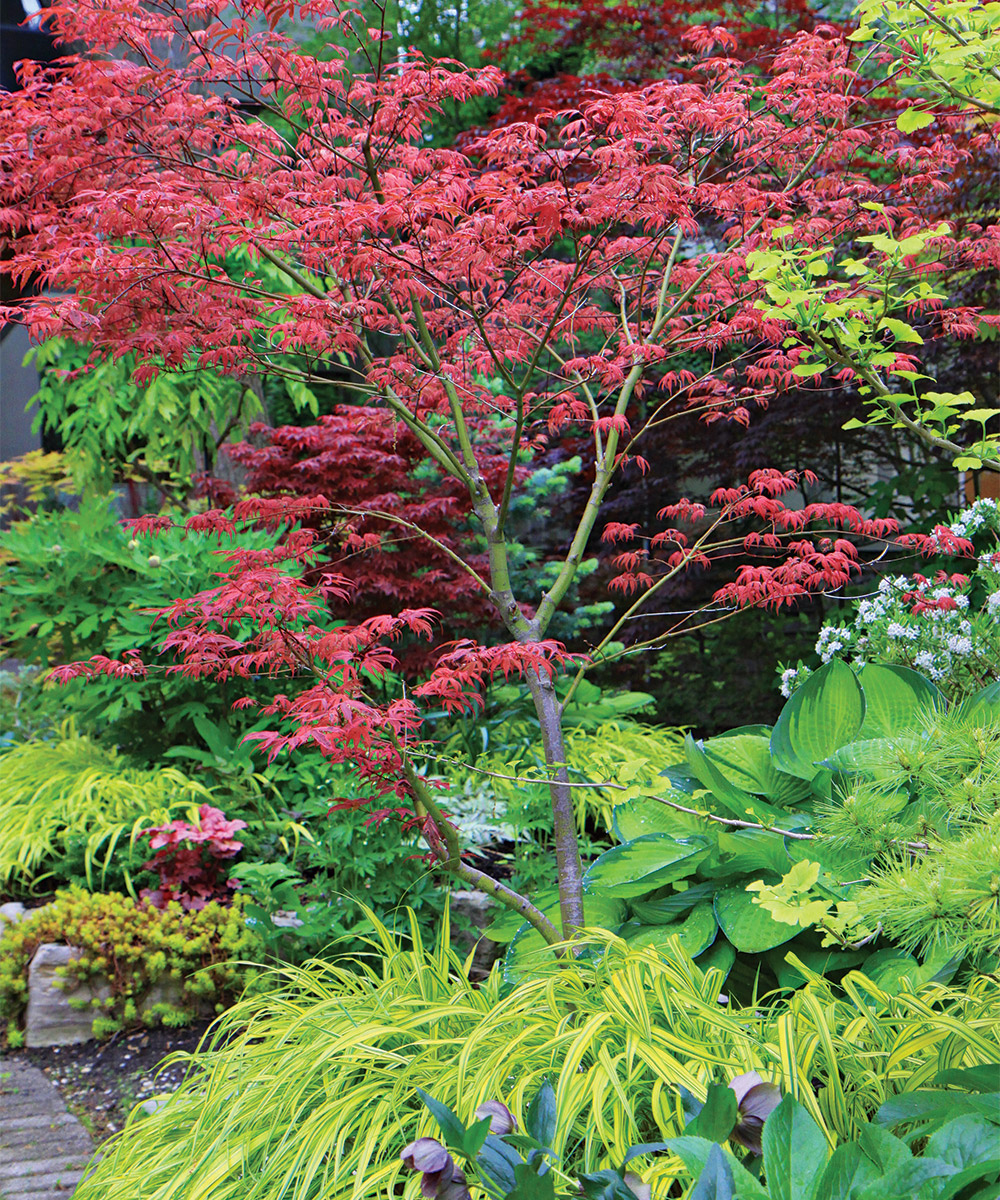 Name: Acer palmatum 'Gwen's Rose Delight'
Zones: 5–8
Size: 10 to 15 feet tall and wide
Native range: Japan, Korea, China
The leaves of this variegated Japanese maple emerge crimson-pink, then age to a charming mix of pink, green, and white. Even after its scarlet fall foliage drops, its arching branches add elegance to the winter garden.
---
Mary Gore is an accountant who gardens in The Beaches neighborhood of Toronto.