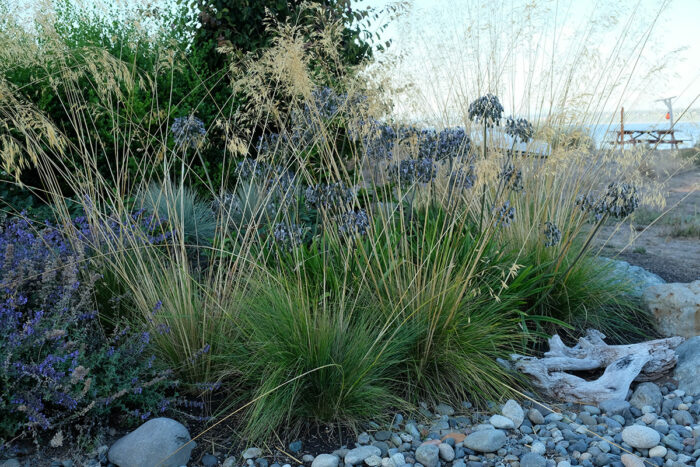 When sitting outside in summer, I often appreciate the grasses planted in my garden. I fell in love with grasses several years ago and enjoy adding them to perennial and shrub beds, shade gardens, and even lemon grass (Cymbopogon citratus, Zones 8–11) in vegetable gardens every chance I get. We've had some of the hottest days on record in the PNW in recent years. Many plants are showing their displeasure by wilting and crisping their leaves. Heat-tolerant grasses, however, are basking in the sunshine and loving the higher temps.
Many grasses are from prairie and mountain states where the temperatures regularly get above 90°F. Drought tolerant and tough in wind, they thrive. The rain and cold springs in our area usually present the biggest obstacle to growing big healthy grasses, but with the summer heat that seems here to stay, I'm seeing them reach their full glory.
My favorite grasses have changed over the years. I started out with simple, common grasses that many times turned weedy and looked ragged after a couple of years. With more study and more exposure to gardens that featured a better cut of grasses, the palette I use now is more exciting and more durable.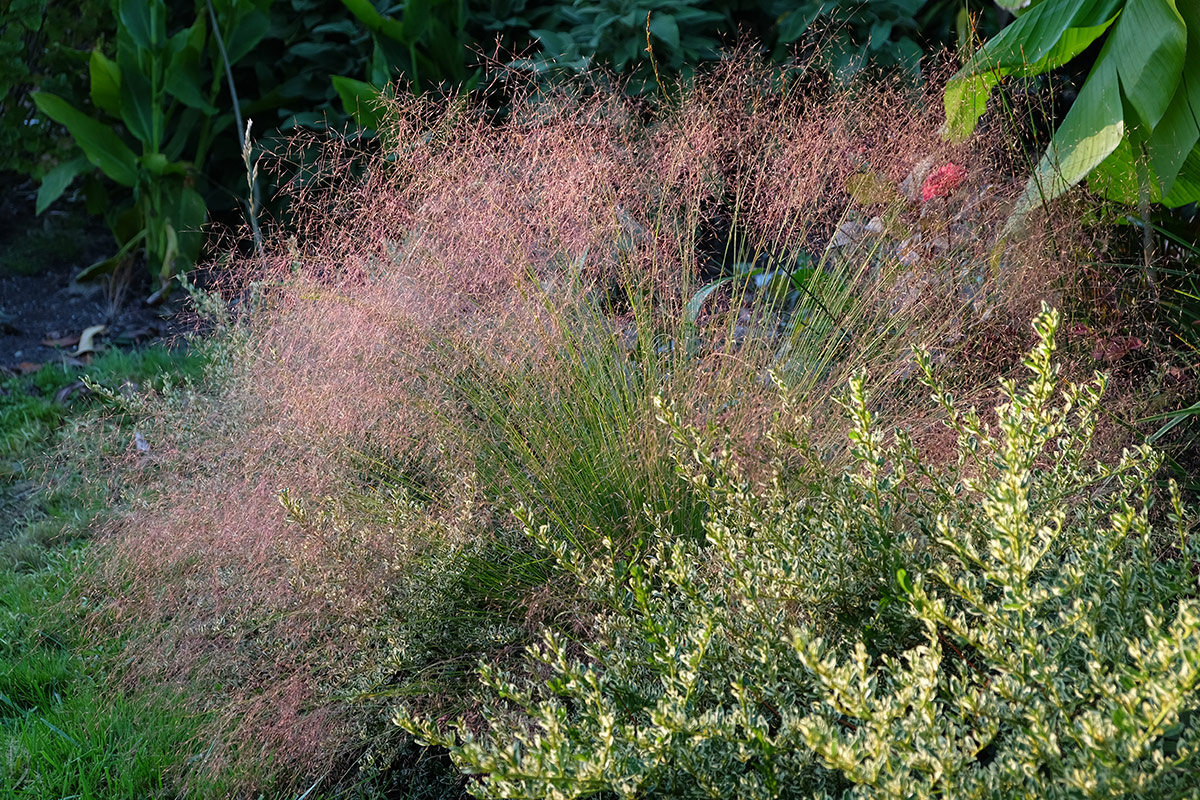 Pink cloud muhly grass offers a reliable puff of color late in the season
A visit to the Chicago Botanic Garden gave me the opportunity to see trials of muhly grasses (Muhlenbergia spp. and cvs., Zones 5–10). Several varieties were under evaluation there, and I was surprised to see that many of them are hardy in my area, although I had never heard of them. Two years ago, I planted pink cloud muhly grass (Muhlenbergia capillaris, Zone 5–9). It is a fluffy, puffy mount of color, waving in the wind in late summer and fall. I've added several more to the main grass garden since, including the selections 'White Cloud', 'Fast Forward', and 'Autumn Embers'. They are all a little bit different and not so pink, but they reliably grow to around 2 to 4 feet tall and 2 to 3 feet wide. They prefer full sun and well-drained soil.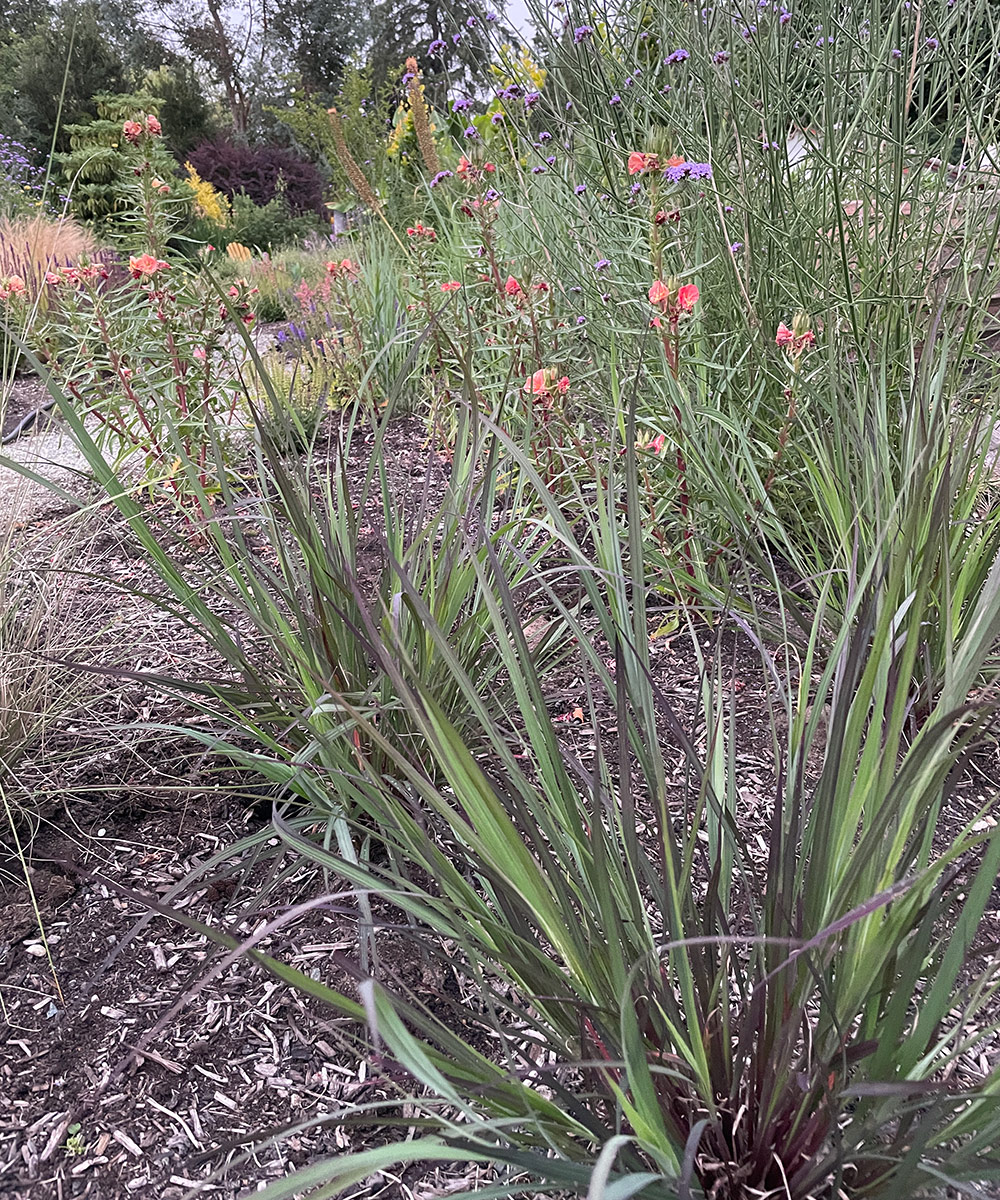 'Blackhawks' big bluestem stands tall and puts on a great summer show
'Blackhawks' big bluestem (Andropogon gerardii 'Blackhawks', Zones 3–9) can be a great vertical accent in a grass border or along the back edge of a bed. It can reach up to 60 inches tall but stays narrow at 24 inches wide. The dark green/purple leaves are stunning all summer. In the center, the red/black leaf is held stiffly while sporting a tall, dark inflorescence. Drought tolerant, it grows well in full sun and in any, even poor, soil. I love the contrast between the orange 'Forncett Furnace' dahlia (Dahlia 'Forncett Furnace', Zones 7–10), and 'Sunset Boulevard' evening primrose (Oenothera versicolor 'Sunset Boulevard', Zones 4–9).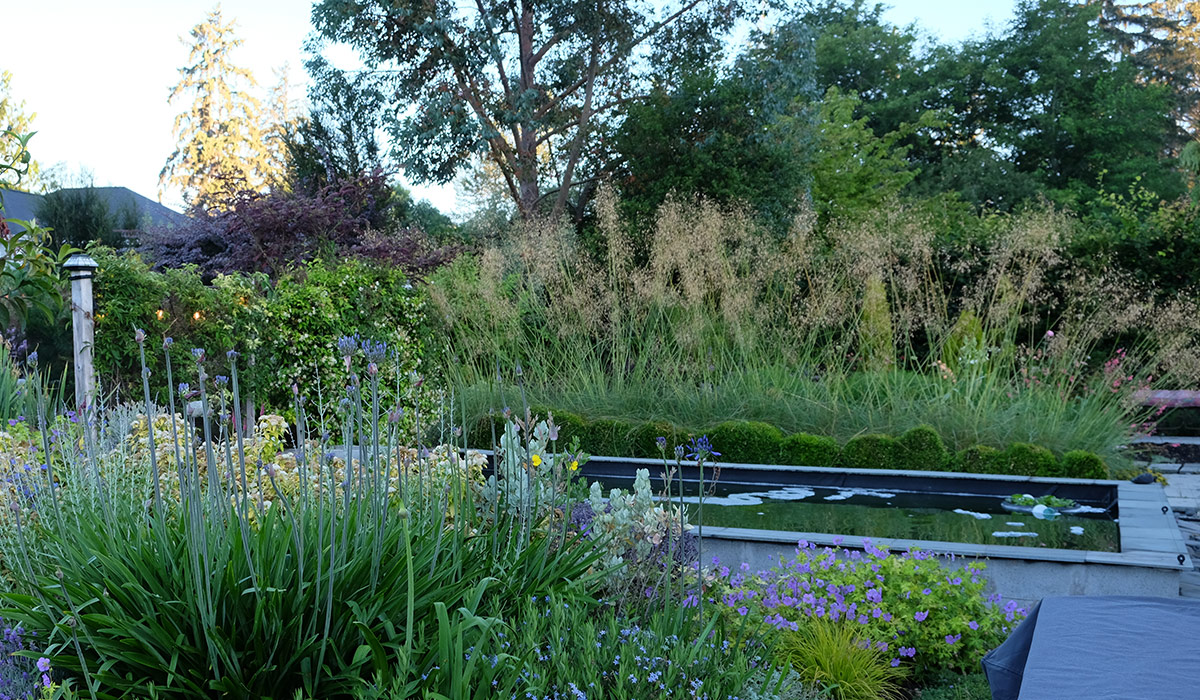 Giant feather grass is a must-have with early blooms in June
Giant feather grass (Stipa gigantea and cvs., Zones 6–9) is my "can't live without" grass. It is evergreen with a relatively low (4 to 6 feet tall) grass with 18- to 24-inch base that is a lovely shade of blue green. It holds its place well in the garden throughout the year without being overwhelming, but the real show starts when the blooms come out in June. The dangling flowers are fine textured with yellow flags and can reach up to 6 feet tall. Dancing in the wind, they create a buff-colored screen as the fall progresses. Birds are happy to feast on the seeds—so very little is left to reseed on the ground. I usually cut the entire grass back to a clump about 2 feet wide and high in the spring. This helps with cleaning up and weeding around the clumps, and the ragged leaves from the winter are tidied. Full sun as well as regular water is appreciated, so growing it singly, in a perennial bed, en masse, or next to hedging where it can get irrigation when needed are good practices.
Helpful hints for caring for grasses
A hedge trimmer is the best tool for quick and easy cutting back. Even smaller grasses can be cut down with a fast attack.
Leave seed heads on to feed the birds in the late fall and winter.
Watch for seedlings in the spring. Some grasses create seedlings that can be dug and potted up to give away or replanted to increase the number in the garden.
Use grasses as fillers for blank spaces in the garden left by spring bulbs. If a grass is winter dormant, intermingle bulbs of the same or larger sizes. If it is evergreen, plant it in front of the bulbs to screen the dying leaves.
—Susan Calhoun is the owner of Plantswoman Design in Bainbridge Island, Washington.
Photo: Susan Calhoun