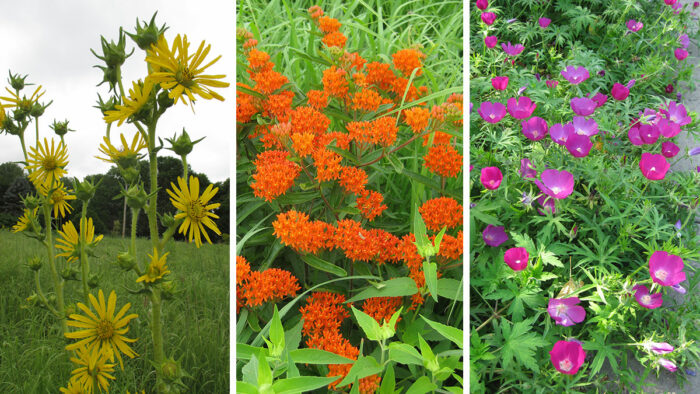 While the warm days of summer bring out some of the best in our gardens, challenges to our plantings may be exacerbated by both lengthy stretches of drought and prolonged periods of intense heat. Plants with resistance to drought certainly should be on our radar for their adaptability in our hot summers, although heat tolerance, while related, is sometimes hard to determine. Of course, our native plantings have inherent toughness in our climate, and those with significant root systems and adaptability to drought lend themselves to shrugging off the hottest of summers.
With wide fluctuations in our local and regional climates in recent years, we're seeing the extremes of both heat and cold over successive seasons. Selecting perennials for toughness in our increasingly hot growing seasons makes sense, as we still expect performance, beauty, and longevity. Here are five tough perennials that make my cut for heat tolerance and drought tolerance too.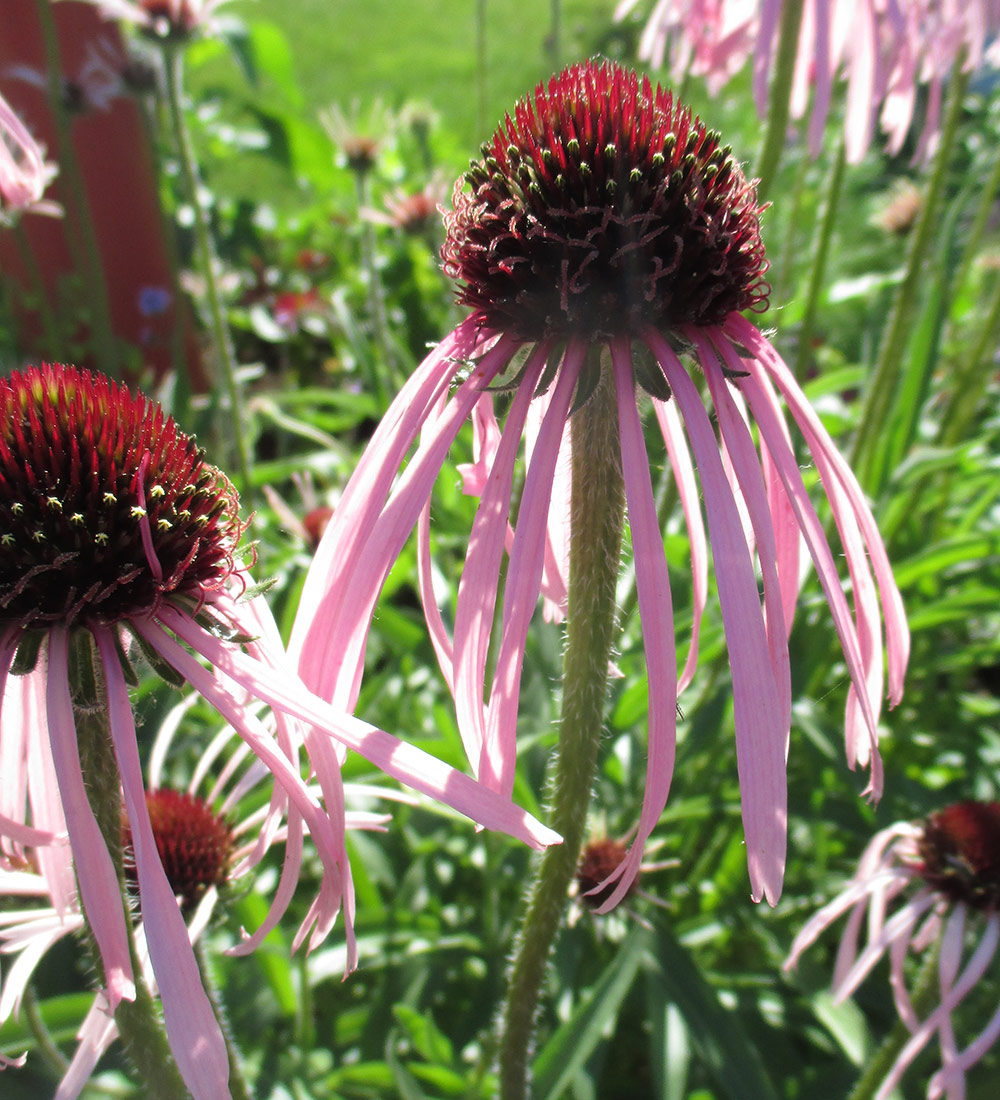 Pale purple coneflower delivers pollinator-friendly blooms and stands up to heat
Echinacea pallida and cvs.
Zones: 3–10
Size: 24 to 48 inches tall and 12 to 18 inches wide
Conditions: Full sun; well-drained soil
I always enjoy seeing the elegant, drooping, lavender rays (like "tassels") of native pale purple coneflower in summer. The large, spiny, cone-shaped center later provides seeds that appeal to birds. Adaptable in a wide range of soils, this species does not thrive in poorly drained soils. Attractive to bees, butterflies, and hummingbirds, it is a solid performer that shrugs off heat, drought, and humidity.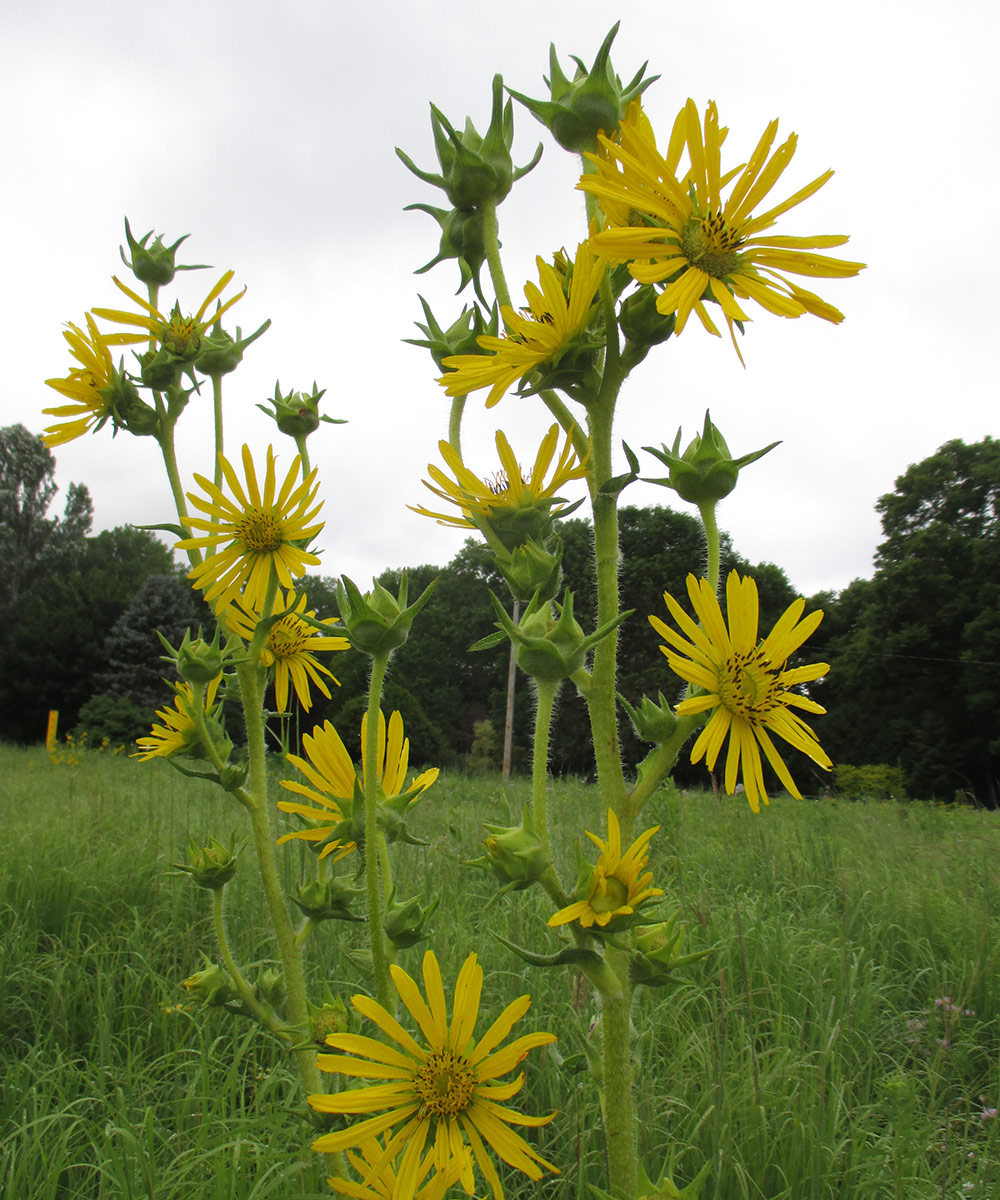 Compass plant is an excellent back-of-the-border perennial with yellow blooms
Silphium laciniatum
Zones: 4–9
Size: 5 to 9 feet tall and 2 to 3 feet wide
Conditions: Full sun; average, well-drained soil
The deeply cut foliage of compass plant is thought to orient itself (mostly) to the north and south to avoid the noonday sun. The 4- to 5-inch-wide, yellow, sunflower-like blooms are numerous, long-blooming, and attractive to pollinators and birds later in the season (due to its nutritious seeds). Extremely adaptable, and drought and heat tolerant, this species can be quite tall in the landscape, and it shines in combinations with native grasses and other native perennials.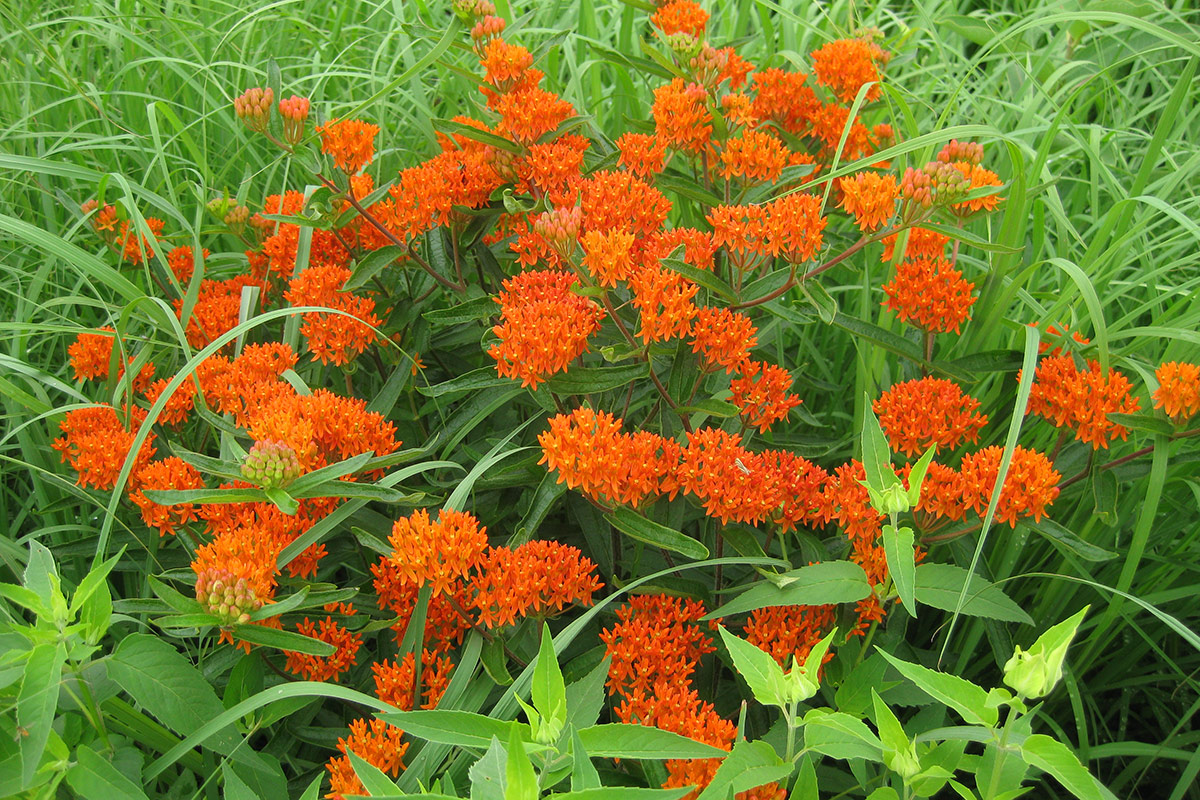 Butterfly weed provides bright flowers for bees, butterflies, and hummingbirds
Asclepias tuberosa and cvs.
Zones: 3–9
Size: 18 to 36 inches tall and 12 to 18 inches wide
Conditions: Full to partial shade; average, well-drained soil
The brilliant orange (yellow selection too), multiblossom heads of this summer-blooming, native perennial offer color from late June until August in the Midwest. A low-maintenance species, butterfly weed is a nectar source for many pollinators and attracts a wide range of butterflies and hummingbirds. Once established, this stalwart perennial handles heat and drought with no problem and is rarely bothered by deer.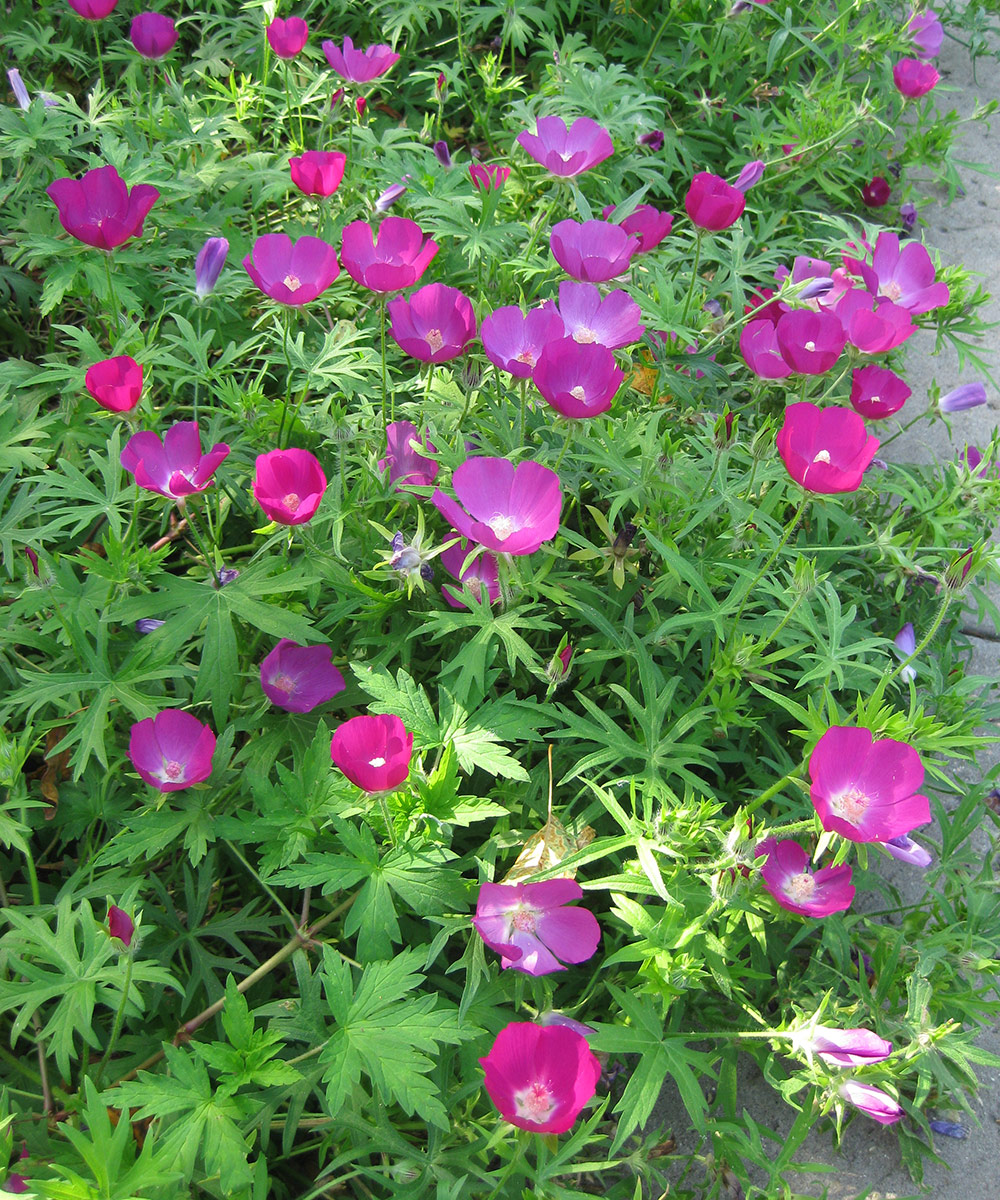 Purple poppy mallow is an excellent low-growing perennial with cheerful summer blooms
Callirhoe involucrata
Zones: 4–8
Size: 12 inches tall and 12 to 36 inches wide
Conditions: Full sun; well-drained soil
Also called wine cups, this scrambling perennial features strongly lobed foliage and copious bright magenta flowers with a white base/center. Flowering is heavy in early summer and continues sporadically into fall. While staying fairly short as a mat-forming native, it will trail up to 3 feet or so and looks great coming over a wall and in both formal and informal gardens. Good drainage is essential for this pollinator-friendly species that I've never seen flag in the heat.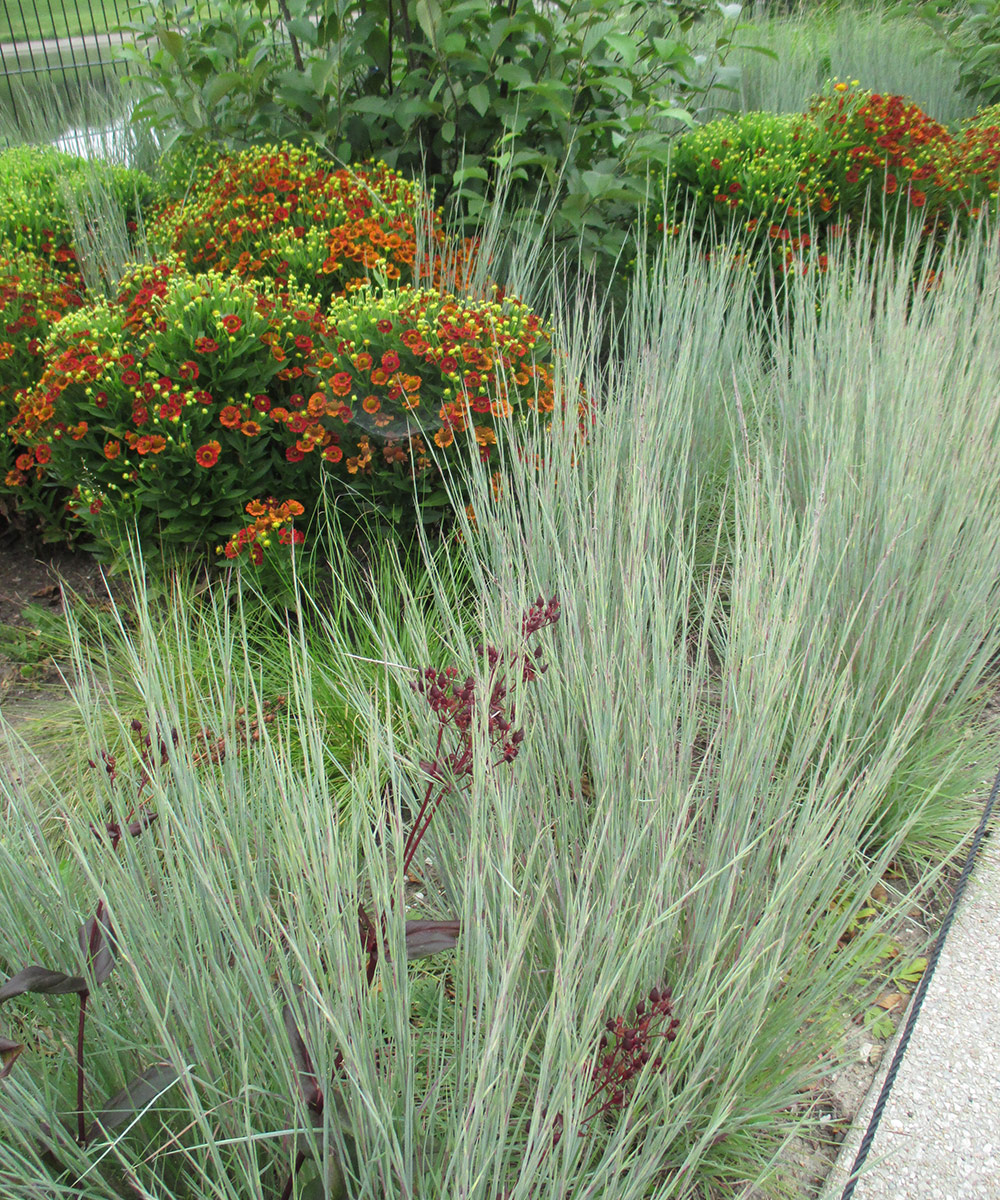 Little bluestem is a must-have grass with blue foliage and intense fall color
Schizachyrium scoparium and cvs.
Zones: 3–9
Size: 24 to 48 inches tall and 18 to 36 inches wide
Conditions: Full sun; well-drained soil
This highly ornamental native grass has many varieties to choose from with various heights. Typically, though, they include an intense blue foliage coloration and/or a more intense, mahogany-red fall color. Fluffy white seed heads also add interest late in summer and fall. With a wide distribution, history of drought tolerance, and adaptability in a wide range of soils, this deer-resistant grass should be on your short list of must-haves for heat and drought tolerance.
—Mark Dwyer is the garden manager for the Edgerton Hospital Healing Garden in Edgerton, Wisconsin, and he operates Landscape Prescriptions by MD.
Photos: Mark Dwyer