Kitchen Gardening
Garden Supplies on the Cheap: Your Home Edition
Here's a cool list of garden supplies you likely have at your house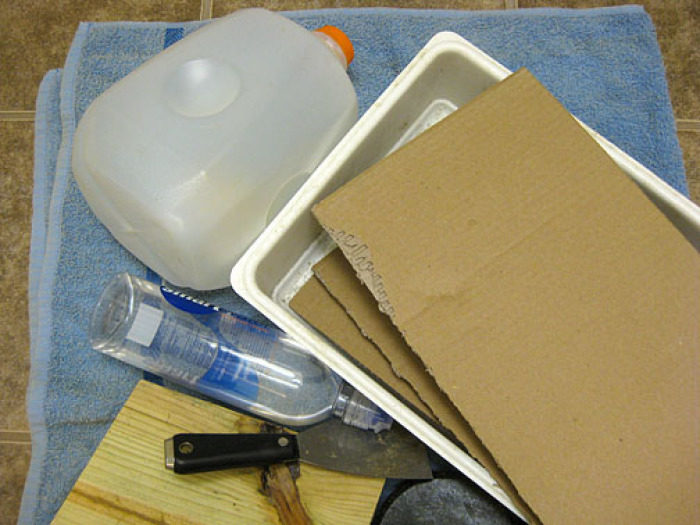 While walking around the house yesterday, I wondered what kinds of things I could use in my Victory Garden that I already had at home. This could be a tool, a container, or just about anything. We green thumbs have such a huge selection of products available to us, both in local stores as well as online. So here it goes—my unabridged list of stuff (I mean garden supplies) that I found at home, and what those items could be useful for.
Wait, wait—there's more. See Garden Supplies on the Cheap: Thrift- and Dollar-Store Edition.
• Empty gallon water containers make great frost or wind protectors. See my article on these from last year.
• Empty water bottles can be used as "watering cans" for transplants.
• Used containers (washed, of course) such as plastic/styrofoam cups, egg and milk cartons, and small boxes are great for seed starting.
• Old sheets, blankets, towels or throws make great frost- or wind-protection screens.
• Coffee cup "sleeves" make great cutworm collars. Compost them when they're no longer needed.
• Cardboard boxes cut into rectangles can also be used for cutworm collars. Also, large boxes can be opened up and laid down as a weed-proof foundation prior to laying down mulch
• Plastic baggies can be used to store seeds, soil mix, packets, small tools, etc.
• Old pairs of nylons can be cut up to secure tomato or pepper branches to their supports. They can also be used to strain compost or pepper tea.
• Old or worn-out shirts make great cleanup rags while doing tune-ups on gas-powered lawn and garden equipment.
• Old toothbrushes are very nice to have when servicing lawn and garden equipment.
• Toilet paper put in the trench you make in the soil to sow tiny seeds simulates a seed tape.
• Old kitchen knives kept near the compost pile can be used to cut up plant matter into smaller pieces.
• Broken or old broom handle can be used as a guide for making straight rows or aligning transplants.
• Rocks, scrap lumber, or other small but heavy objects can be used to hold down tarps, fabric, row covers, etc. I have the discs from an old iron barbell set that do this wonderfully.
• Shoebox or recipe card holder makes for a great seed packet holder/organizer.
See more creative recycling ideas:
• Old Bedsheets Make Great Tomato Ties
• Use Stockings as Plant Ties
• Shield Your Seedlings from Cutworms
• Free Coffee Grounds for Your Plants
• Save Recycled Containers for Starting Spring Seed
• Water Container Frost Protection
View Comments