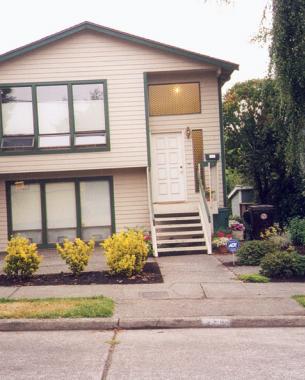 Lynn Ernst and Jonathan Bachman finished remodeling their Seattle home in 2002, but their front yard still needed plenty of work. At least that's what Lynn's mother thought when she sent her daughter a clipping from the April 2002 issue of Fine Gardening. That month's cover featured an imaginary garden I had designed for a foldout display of front-yard gardens by landscape professionals across the country. My plan treated the front yard not as just a charming stage set for the home but as a friendly, useful space, free of high-maintenance lawn and full of inviting color, scent, and texture. Lynn and Jon found it intriguing and soon invited me to come and look at their front yard.
What I found when I arrived was certainly not pretty. When the couple first moved in, their entire front yard was covered with a concrete slab and surrounded by a wooden fence. The slab and fence were gone, but in their place sat a huge pile of rubble. As Lynn sheepishly apologized for the mess, I saw the opportunity to start from scratch and make exactly the yard they needed.
Because the front yard is their largest outdoor space, Lynn and Jon hoped to eke every bit of use they could out of it. There was no room for purely decorative foundation plantings or an empty lawn. They wanted, instead, an intimate, comfortable space where they could chat with neighbors, read, or simply watch the hummingbirds come and go.
Designing the new yard was a balancing act. It would have to welcome visitors and neighbors without putting Lynn and Jon on public display. Neither cared to spend more time than necessary on maintenance, and we all agreed to keep the yard's environmental impact to a minimum. That meant no lawn to mow or suck up chemicals and water. As the home's public face, the yard would also need to look appealing year-round. That's an awful lot to ask of a space that measures only 24 feet by 40 feet.
An efficient, informal solution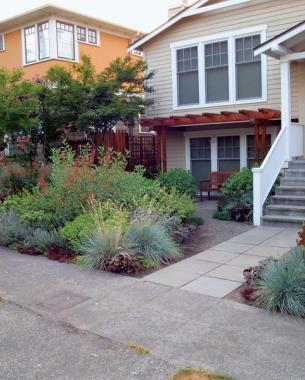 My imaginary yard appealed to Lynn and Jon for its efficient use of space and casual style, but as a designer, I know better than to build a make-believe plan in my clients' real-world yard. Soil, lighting, moisture, and exposure make each plot of land unique, even in an urban environment. Every family has its own needs and preferences, from storage for trash receptacles to plant allergies or favorite colors. Rather than force the preexisting plan onto the lot, I developed an all-new design based on the same principles as the imaginary plan but tailored to the owners' location and lifestyle.
The layout for the new yard follows common-sense traffic patterns. A broad, straight path leads from the sidewalk to the front porch, while less-formal paths break off toward the backyard, utility meters, and storage areas for trash and recycling. The paths are paved in dry-set stone and compacted gravel, which offer firm yet comfortable footing. A casual seating area with a wooden bench nestled beneath a clematis-draped arbor alongside the porch offers shade, shelter, and privacy from street traffic. Discreet path lighting makes the yard easy to navigate during long winter nights.
Unlike most front yards, this garden has become an inviting outdoor extension of the house. Neighbors do indeed linger to chat, and Lynn's book club gathers in the yard on summer evenings. Spending time in the front yard has even awakened a dormant gardening bug in Lynn, who has been busily planting the rest of the property with marvelous results.
Make a front yard functional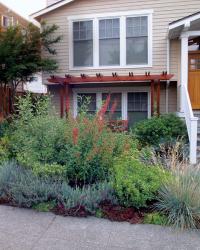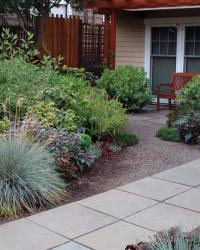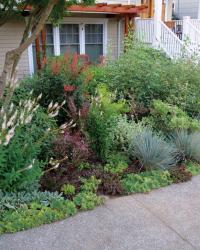 When I design a front yard, I try to make it a space where people will linger and enjoy themselves, not just look at and hurry through. Lynn and Jon's property might not look anything like yours, but you can adapt some important features to make the most visible part of your property comfortable and inviting.
Inviting atmosphere and a place to meet and greet
Front yards can be great places to mingle, so I usually avoid barricade fences or huge, imposing hedges. Instead, I make sure every yard includes at least one or two comfy spots for friends and neighbors to gather and chat. In the photo above, the wide path and stairs invite people in.
Paths that are adequately wide and offer secure footing make any yard more gracious and inviting, but if they don't go where they're needed, nobody will use them. If people are wearing ruts in your lawn, you need to redesign your paths.
Private spaces
Being sociable is one thing, but nobody wants to live their whole life on public display. I like to carve a bit of intimate, private space in a front yard, even if it's only a shaded nook with a simple bench.
Interesting plantings and reduced maintenance
Inventive plantings help create an engaging front-yard atmosphere. Lively combinations of color, form, and texture can lift your mood, while soft tones and sweet fragrances evoke serenity.
If you're really going to enjoy your yard, you can't spend all of your time mowing, watering, or clipping. An enjoyable yard is easily maintained, with no more lawn than needed, easy-care ground covers, and plants that thrive without extra coddling.
Plantings for a casual yet orderly feel
In place of a fence, I created a casual grouping of broadleaf evergreens, deciduous shrubs, tall perennials, and grasses that separates the yard from the sidewalk. These plantings were designed to mature at eye level—tall enough to provide privacy but remain in scale with the small space. While the plantings clearly define the yard's boundaries, they still allow for casual conversations with passersby.Lynn and Jon preferred an informal yard but still wanted a sense of calm and order. While the plan and plantings are asymmetrical, the repetition of colors, forms, plants, and building materials throughout the scheme establish visual equilibrium and a purposeful air.
To reduce maintenance, I carefully chose plants to suit the growing conditions: dark, wet winters and dry summers with cool nights and a potentially scorching afternoon sun. Since Lynn and Jon like light, soft colors, I used plenty of gray, gold, cream, and white-variegated foliage to keep the yard looking light and airy. The color palette is gentle and subdued, but a great variety of form and texture keeps the plantings lively. Using foliage as the primary source of color helps maintain the yard's appeal during the long, dark Seattle winter.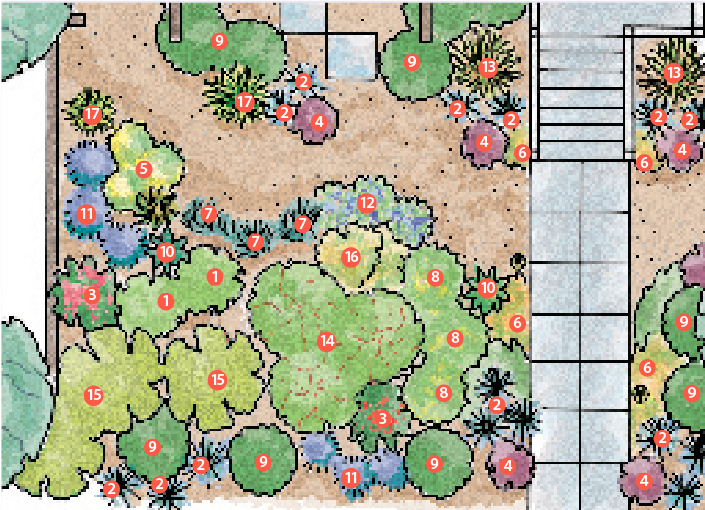 Blue mist shrub

(Caryopteris

3

clandonensis 'Worcester Gold', USDA Hardiness Zones 6–9)

Blue oat grass

(Helictotrichon sempervirens, Z 4–9)

Cape fuchsia

(Phygelius

3

rectus, Z 8–9)

Coral bells

(Heuchera cv., Z 4–8)

Coreopsis

(Coreopsis verticillata 'Moonbeam', Z 3–9)

Creeping sedum

(Sedum rupestre, Z 6–9)

Dwarf bamboo

(Pleioblastus argenteostriatus, Z 7–11)

False holly

(Osmanthus heterophyllus 'Goshiki', Z 7–9)

Japanese mock orange

(Pittosporum tobira 'Variegata', Z 9–10)

Jerusalem sage

(Phlomis russeliana, Z 4–9)

Lavender

(Lavandula 'Goodwin Creek Grey', Z 7–9)

Moroccan sea holly

(Eryngium variifolium, Z 5–9)

New Zealand flax

(Phormium tenax cv., Z 8–11)

Variegated redtwig dogwood

(Cornus alba 'Elegantissima', Z 2–8)

Wintercreeper

(Euonymus fortunei cv., Z 5–9)

Yarrow

(Achillea 'Moonshine', Z 3–8)

Yucca

(Yucca filamentosa 'Bright Edge', Z 4–11)