Kitchen Gardening
Plant a Fall Lettuce Garden
Lettuce is a cool-weather lover that grows well in both spring and fall gardens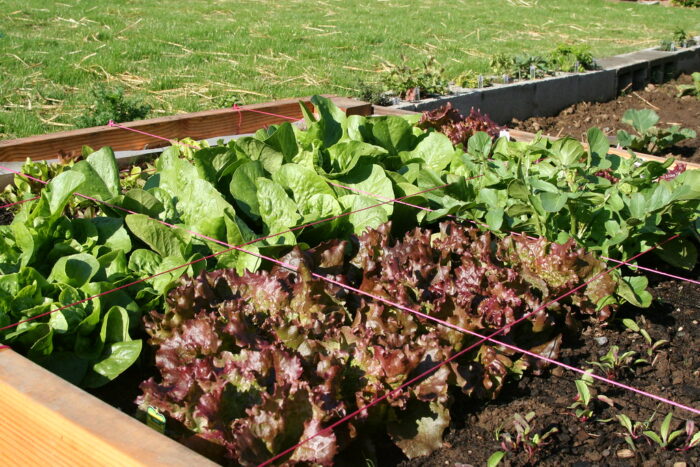 Lettuce is a cool-weather lover that grows well in both spring and fall garden. In fact, when I plant lettuce in my fall garden, I can often take it all the way through the winter. And yes, I can read your mind and I hear you mumbling "Easy for you to say, Native Californian, some of us gardeners have real weather to contend with!" That may be so. Some of you have some incredibly low temperatures. Still, many of you have have winter weather that can be dealt with.
Believe it or not, those of us that living in Northern California see some very low temps that dip below freezing. We also get hail and snow. Yes, snow. Maybe not Minnesota-type snow, but I promise it's not the stuff that gardens are made of!
I use a cold frame, hoop house, or unheated greenhouse to grow my fall-through-winter lettuce—and you may be able to do the same. Even if you can't grow it in the deep winter, you can still plant in late summer and have many a lettuce harvest in fall. They also grow well planted in containers that are placed in a protected area.
This annual plant that belongs to the sunflower family and that fact alone makes me feel cheery inside. They can be directly seeded (my favorite way to plant lettuce for fall) or started weeks early indoors (my preferred technique for spring). Plant them in loose, well-drained soil and keep them evenly watered. It can be grown in any growing zone, although like all vegetables there will be varieties that perform optimally in your area. Ask your cooperative extension office which varieties enjoy your area, ask a local nursery, ask your neighbors or community gardens.
Lettuce one of my favorite crops to use for succession planting because it comes to harvest so quickly. Depending on the variety, you can go from seed-to-salad in a month. Imagine the bounty when you stagger your harvest by planting seeds row-by-row at one week intervals.
| | |
| --- | --- |
| It's hard to resist the lovely butterhead lettuces. Photo: photofarmer under the Creative Commons Attribution License 2.0 | Here's 'Speckled Bibb'. Photo: sleepyneko under the Creative Commons Attribution License 2.0 |
Lettuce Types
Before choosing your varieties, you should know that there are four basic lettuce "types" to choose from. Keep in mind that the type of lettuce will determine how you harvest them. When you grow head lettuces, the entire lettuce head is harvested when it's mature. Romaine and loose leaf types can be harvested slowly by picking the outer leaves of the plant while the center leaves are left to grow.
Butterhead, Boston, or Bibb varieties produce leaves that form loose heads. Examples of butterhead lettuces are 'Buttercrunch' and 'Speckles'.
Romaine or Cos lettuce has upright leaves that tolerates a fair amount of heat. It's the lettuce with the most nutrition. Examples of Romaine lettuces are 'Rouge d'Hiver' and Little Gem'.
Loose leaf lettuces don't make a head, but rather a rosette shape. It can take some heat. Examples of loose leaf lettuces are 'Black-seeded Simpson' and 'Oakleaf'.
Crispheads, icebergs, and Batavians need the weather to stay cool in order to form proper heads. Examples of crisphead lettuces are 'Summertime' and 'Nevada'.
Favorite Fall Lettuce Varieties
I love to mix up lettuce textures and flavors—and I adore the heirloom varieties. Believe it or not, lettuces come in a wide variety of all three. Some of my favorites are:
'Mascara'—loose leaf
'Drunken Woman Frizzy-Headed'—loose leaf
'Rouge d'Hiver'—romaine
'Merveille des Quatre Saisons'  (Marvel of Four Seasons)—Bibb
'May Queen'—butterhead
'Speckled Bibb'—butterhead
'Grand Rapids'—loose leaf
'Black-seeded Simpson'—loose leaf
View Comments