Kitchen Gardening
How to Grow Delectable Lemon Basils
Rich soil and sunny spaces yield the best flavor from these herbs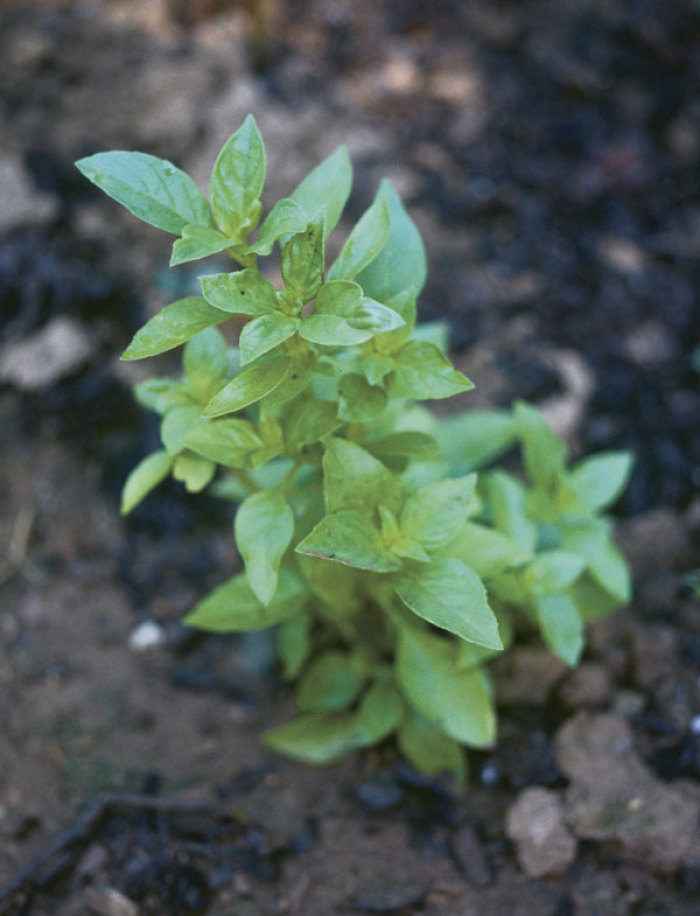 Having fallen in love with basil in Italy more than 25 years ago, I did not hesitate when friend and fellow herb grower Tom DeBaggio asked me if I would write a book on basil with him. The project was bigger than we anticipated—we grew more than 93 types of basil, and it was a summer of intense fragrance and flavor. I had always thought 'Genoa Green' was my first choice among family members, but that summer of basil changed my mind, and the lemon basils are now high on my list of favorites.
Lemon basil has a flavor all its own
Basil is the ultimate summer herb; it evokes warm sunny days, luscious fragrances, and mouthwatering food combinations. Its inimitable scent and flavor make me want to put together endless variations of basil with garden-ripe fruits and vegetables. The lemon basils have a predominant flavor characteristic of citrus, like the flower essence of lemon or orange blossoms, the aroma or taste of the juice from the fruit, or the heavy citrus oil and zest. The lemonlike aroma and taste in these basils is due to a high content of citral and the flowery fragrance of linalool. The bright, fresh, lemony sweet scent and taste make them a perfect match for seasonal fruits and garden produce.
Lemon basil (Ocimum basilicum var. citriodorum) is offered by many seed companies. In 1940 the United States Department of Agriculture obtained seed for lemon basil from Thailand. Gertrude and Philip Foster were the first to introduce it from their Laurel Hill Herb Farm in New Jersey. Nearly two decades ago, Park Seed began selling lemon basil by mail order. This "common" lemon basil has smaller leaves than the named lemon basils. The aroma has lemon first, very similar to lemon balm, with basil overtones; spice and mint come through, with a little anise and a hint of musk. It has a strong, lemon oil flavor, with not many other elements except for a hint of mild green tea and a little mint. These plants have tall flower spikes, with small white blossoms.
Interesting lemon basil varieties to try
The following lemon basils are all named varieties I have grown for years and will continue to grow for their intoxicating fragrance and superb flavor. 'Mrs. Burns' is the largest of my lemon basils, with leaves about 3 inches long and plants reaching about 36 inches high. Barney Burns, one of the founders of Native Seeds in Tucson, Arizona, helped to introduce this seed. His mother grew it for more than 30 years, and she had obtained the seed from a neighbor in New Mexico who had grown it since the 1920s. To my nose and palate, it has the strongest aroma and flavor of lemon oil of all the lemon basils. The lemon scent is powerful, resinous, and oily, followed by spicy cinnamon, with a strong floral note. It has a concentrated lemon oil taste, with mild spice and mint. The white flowers are tinged with pink.
| | |
| --- | --- |
| | 'Mrs. Burns' has a concentrated lemon flavor, with a bit of spice and mint. |
'Sweet Dani' basil was recently introduced by James E. Simon and Mario Morales, plant scientists and basil experts at Purdue University. It was an All-America Selections winner in 1998. Dr. Simon named the plant after his daughter, Danielle. This is a handsome plant, with bright green leaves larger than common lemon basil's. The plant doesn't get quite as tall as 'Mrs. Burns'. It's a great variety, with a very sweet perfume similar to lemon balm's; its citrus scent is followed by mint, spice, and hyacinth. It has a strong, resinous, lemon-oil flavor, with floral overtones followed by mint and cinnamon, with no anise.
'Maenglak Thai' lemon basil has a more complex aroma than other lemon basils. Lemon is followed by spice, with a touch of musk, then clove and cinnamon; there is barely a hint of camphor, some anise, and mint. It has a pleasant, oily lemon flavor that is flowery, just slightly hot and spicy, with a little bit of bitterness afterward. 'Maenglak Thai' is good used in stir-fries, soups, and salads where you want strong flavor, rather than in desserts or beverages.
Give plants sun and warmth from seedling to maturity
Growing lemon basil is no different from growing Italian green basil; in other words, it's not difficult. The little effort it requires is certainly worthwhile. If you use the following instructions, you should have healthy, strong plants.
Sow basil seed indoors, four to six weeks before transplanting. This method gives you a head start, because direct-sowing in the garden requires temperatures above 65°F. Basil seeds need warm air and soil temperatures to germinate. If your spring is wet and damp, seeds may rot in the soil, or they may take twice as long to germinate. Starting seeds indoors means earlier-maturing plants and additional harvests. But you must provide the conditions basil needs to germinate and grow.
Indoors, it's easy to provide warmth, but natural light is not enough to develop sturdy seedlings. Use a fluorescent light fixture with ordinary cool white or warm white tubes (special grow lights are not necessary), a 24-hour timer to turn electricity on and off, and a sheet of plastic to cover the area where the pots or flats will sit. The best place for germination is one with a daytime temperature of at least 65°F and a nighttime temperature of no less than 50°F—the warmer the better.
Attach the light fixtures to chains that will allow you to adjust the distance between the light and the plants as they grow—2 to 3 inches is about right. Plug a timer into the light fixture and set it so the seedlings will receive 16 hours of light daily.
Flats or partitioned plastic pots 1½ to 2 inches deep with drainage holes are best for starting seedlings, but any container that is not too deep and has drainage holes can be used, provided it's been sterilized. Keep in mind that about 400 seedlings can be started in a 10-inch by 20-inch flat and about 50 seedlings can be started in a 5-inch by 5-inch flat. A soilless mix of equal parts sphagnum peat and perlite or vermiculite is an excellent medium for starting seeds. Fill your containers, and moisten the medium enough so that it turns dark but is still crumbly.
Sow seeds a seed width apart in rows 1 to 2 inches apart. It is not necessary to cover the seeds with medium when they are sown indoors. Water gently so the seeds don't wash out of place. Cover the container with plastic wrap, or put it in a transparent freezer bag.
Place the container in a warm spot, but do not allow the sunlight to hit the seeds or it can cook them in the plastic. Check the seeds every day; as soon as the first sprout of life is evident, remove the plastic cover and place the container under the grow lights. Don't water the first day.
In fact, be careful not to overwater basil seedlings. Allow the growing medium to dry out between waterings but not become so dry that the plants are stressed. The growing medium will change color from dark to light, which should indicate to you when to water. It is best to water at the beginning of the light-colored soil cycle, rather than toward the end, when droopy leaves are a clear message that seedlings are in dire need.
Feed with a solution of liquid fertilizer once a week. When the seed­lings have developed their first set of true leaves, two to three weeks after germination, they will be ready to transplant into 2- or 2½-inch pots. Afterward, follow the same procedure for light, water, and fertilization for two to three weeks. When you're a couple of weeks away from frost-free weather, begin hardening off the seedlings to prepare them for transplanting.
| | |
| --- | --- |
| Lemon basil will do well in a pot. When potting up a young plant, gently loosen the roots to stimulate growth. Photo: Scott Phillips | Place the plant in a pot a bit larger than its previous accommodations, and add soil. Photo: Scott Phillips |
| Press firmly to eliminate air pockets and water thoroughly. Keep an eye on the soil; water when dry, not overdry. Photo: Scott Phillips | Placing a plastic pot inside terra-cotta looks pleasing, while keeping the plant from drying out too quickly. Photo: Scott Phillips |
Ease seedlings outside to toughen cell structure
Hardening off gives tender leaves a transitional period when they go from manipulated light and heat to the wild fluctuations of the weather. Strong, hot sun or unexpected cold are harsh conditions for lemon basil seedlings to handle without a transition. Cold frames or row covers help. Don't initially expose plants to full sun; keep them in a sheltered area or drape a row cover over them, or if they're in a cold frame, shade the top. After a week or so, plants should be moved into a spot with full sun.
Cold frames are great nurseries because temperatures inside are generally warmer and can be adjusted by raising or lowering the top of the frame. Leave plants in the cold frame for increasing periods of time, but be sure to bring them in if temperatures fall below 50°F. Once seedlings have hardened off for a week, and if the weather is settled and not too cold, you can leave plants in the frame overnight.
For an extra dose of TLC, consider covering the basil bed with a sheet of black plastic prior to planting. This will warm up the soil, provided you have sun.
You can plant your lemon basil seed­lings at about the same time you set out your tomatoes—after all danger of frost is past. In my Maryland climate, that's around May 15. Don't rush to set them out; wait until nighttime temperatures are above 50°F regularly. Being heat lovers, they'll just sit and sulk if the weather is cool.
To transplant seedlings, set them about a foot apart in a site with full sun. Lemon basil likes a pH that's close to neutral, so it's helpful but not essential to know what you're working with. Whatever your pH, enrich soil with humus when planting. Water plants in with fish emulsion, liquid seaweed, or other organic fertilizer. Keep an eye on weather conditions during the first couple of weeks basil is in the ground, and be ready with a row cover if temperatures plummet.
Treat all basils alike
Treat lemon basil just as you treat regular basil. It's a good idea to fertilize every two weeks, but I must admit I often get to it only once a month. Still, a good dose of nutrients every couple of weeks will reward you with luxuriant growth.
Like many plants, lemon basil will produce both vegetative and floral growth. The appearance of flowers signals the later stages of an annual's life cycle, and pretty as they may be, flowers aren't what it's all about. To keep plants producing those flavorful leaves, you need to prevent flowering. After plants have been in the ground for about a month, cut stems back just above the second set of lower leaves. You may feel you're massacring your plants, but you'll have lots of leaves for cooking and the plants will bounce right back. I nip plants when I put them in the ground, and once a month thereafter. In a long growing season, this practice may extend into autumn.
If you'd like to save lemon basil seeds, let the plants flower and develop seed heads. Harvest the seed heads before the seeds start to drop, which happens when the heads turn from green to brown. Spread them in a basket or on a tray in a place with good air circulation and out of direct sun. When saving seed, though, keep in mind that if there are other basils around, you may come up with something new or unexpected because of cross-pollination. You can also dry lemon basil leaves using the method described for seeds. Store the dried leaves in a cool, dry spot.
Haven't yet decided whether to try lemon basil? Think of Tuscan hills, fresh pasta and tomatoes, warm coastal villages with just-caught fish garnished with lemon slices. Just think of the seductive bouquet of basil, overlaid with a sparkle of lemon.
Lemon basil is best used fresh in salads, vinaigrettes, cheese or egg dishes, beverages, ice creams, sorbets, fruits, summer vegetables, seafood, and poultry. It is excellent in baked goods—cookies, cakes, muffins, and scones—which seem to capture its essence. Otherwise, cook it briefly or add it fresh as a garnish. I like to shred the leaves crosswise into a chiffonade rather than always chopping them; it's a nice texture, looks attractive, and offers just the right bite full of lemony basil flavor. Basil leaves have a tendency to turn dark once they are cut, so prepare them at the last minute.
Using a little more or less fresh lemon basil will not make much difference to a dish in most cases. However, you need to be careful when substituting dried basil in a recipe that calls for fresh. When substituting any dried herb for fresh, the ratio is about one to three. For example, in a vinaigrette that calls for 3 tablespoons of fresh lemon basil, you would use 1 tablespoon dried. It is always a good practice to season lightly, taste, and then add more if necessary.
Dry basil leaves whole, then crumble them into your preparation as needed. Whole leaves retain their essential oils and fragrance longer than crushed leaves, so they contribute a bright, pungent flavor to your dish.
Photos, except where noted: Renée Comet
This article originally appeared in Kitchen Gardener #20.
View Comments