Southwest Regional Reports
Tips for Growing Vegetables in the Hottest Regions
Special care and techniques yield bountiful harvests in the warmest of desert summers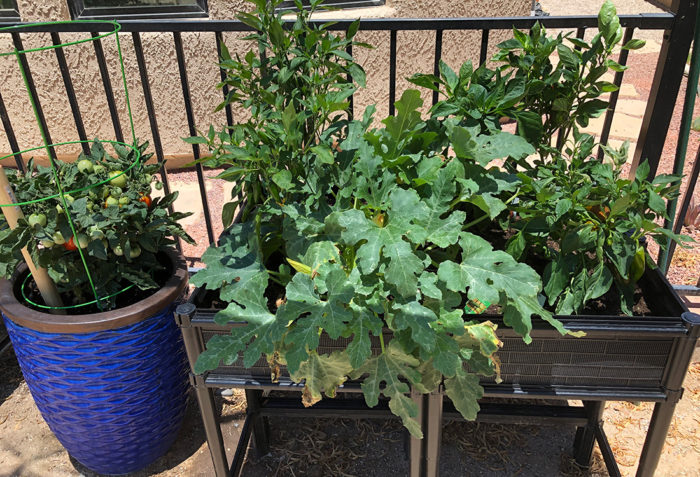 Growing your own food is nothing new. The idea of providing fresh, organic fruits and veggies for your family has become a popular ideal for many. Growing vegetables even in the most temperate climates can be tricky, so growing them in the desert is not for the faint of heart. But after mastering the learning curve, you too can have a flourishing veggie garden of your own. Here are some tips for expert desert veggie gardening.
1. Make sure your veggie garden doesn't get too much sun
Location, location, location. Finding the right spot to plant your garden is very important. Whether you're using containers, a raised garden bed, or planting directly into the ground, make sure the area will receive the right amount of sunlight. This will make or break your garden. Ideally, you want an area that has full sunlight in the morning hours with some afternoon shade. Typically, 6 to 8 hours of sunlight is the sweet spot for most vegetable gardens. We found that our garden wasn't getting as much shade as it needed in the afternoon, so we created a makeshift shade cloth tent, which has led to a drastic increase in moisture retention. Now there's no more wilting.
2. Use good soil and compost
Using a high-quality soil can make all the difference for a happy garden. Veggies will thrive off the nutrients from rich soil. We recently used an organic vegetable soil for our raised gardens. That, along with a layer of organic mulch, greatly helps retain moisture here in the desert.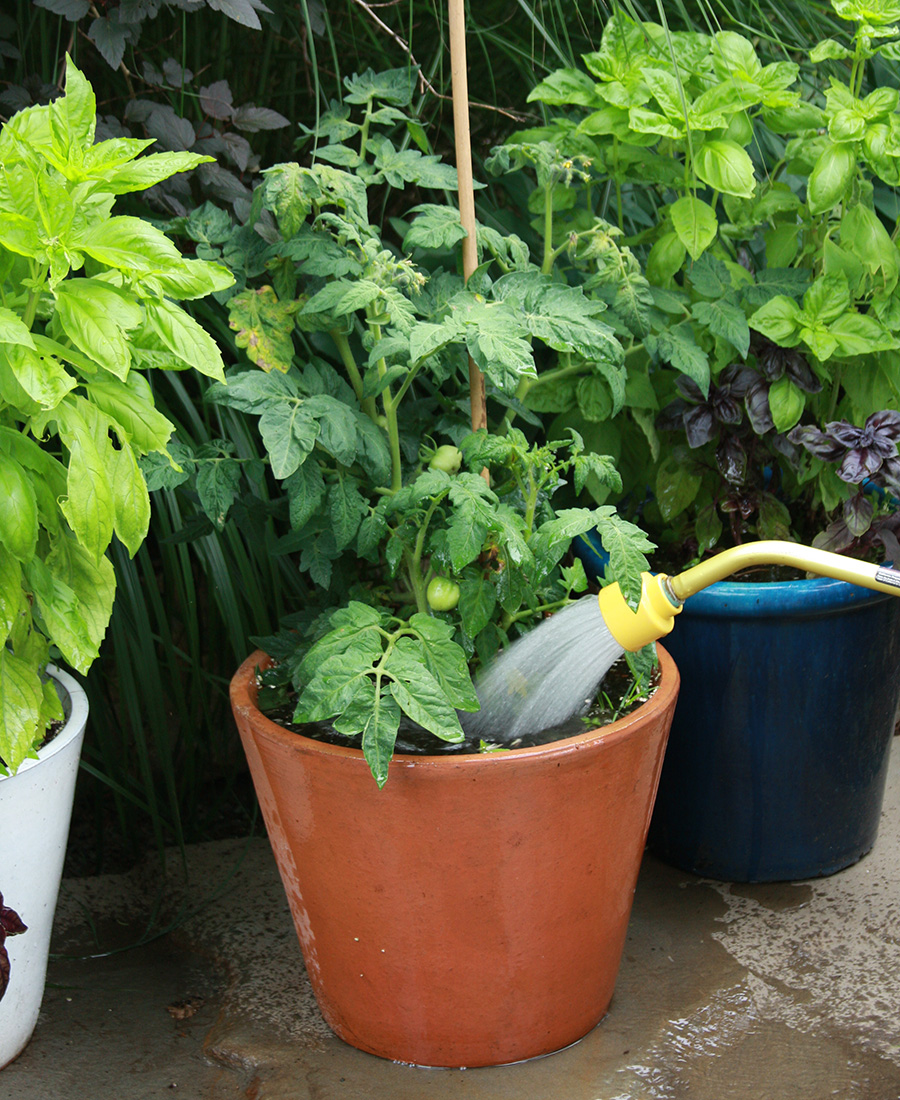 3. Make sure plants get enough water
Watering your vegetable garden can be both therapeutic and exhausting. If you have the means to irrigate your vegetable garden or containers, we highly recommend it. Missing one watering here in the desert can be enough to lose your plants. We have our veggies on a daily drip during the summer. It runs for about 30 to 40 minutes every morning. Our raised beds and container gardens are all happy and producing. If we have some wildly hot days, we supplement with hand watering in the evening to give the plants a bit of a boost.
4. Plant the right veggies at the right time
Knowing what to plant and when is also key in creating a thriving vegetable garden. There are numerous resources here in the Southwest that break down the exact date ranges and elevations ideal for vegetable planting. One of our favorite resources is the University of Arizona. The College of Agriculture and Life Sciences Cooperative Extension publishes articles and booklets with amazing detail and explanations on all topics related to gardening in the Southwest. You can check them out here. If we're ever in doubt, we always look to them for a reliable answer.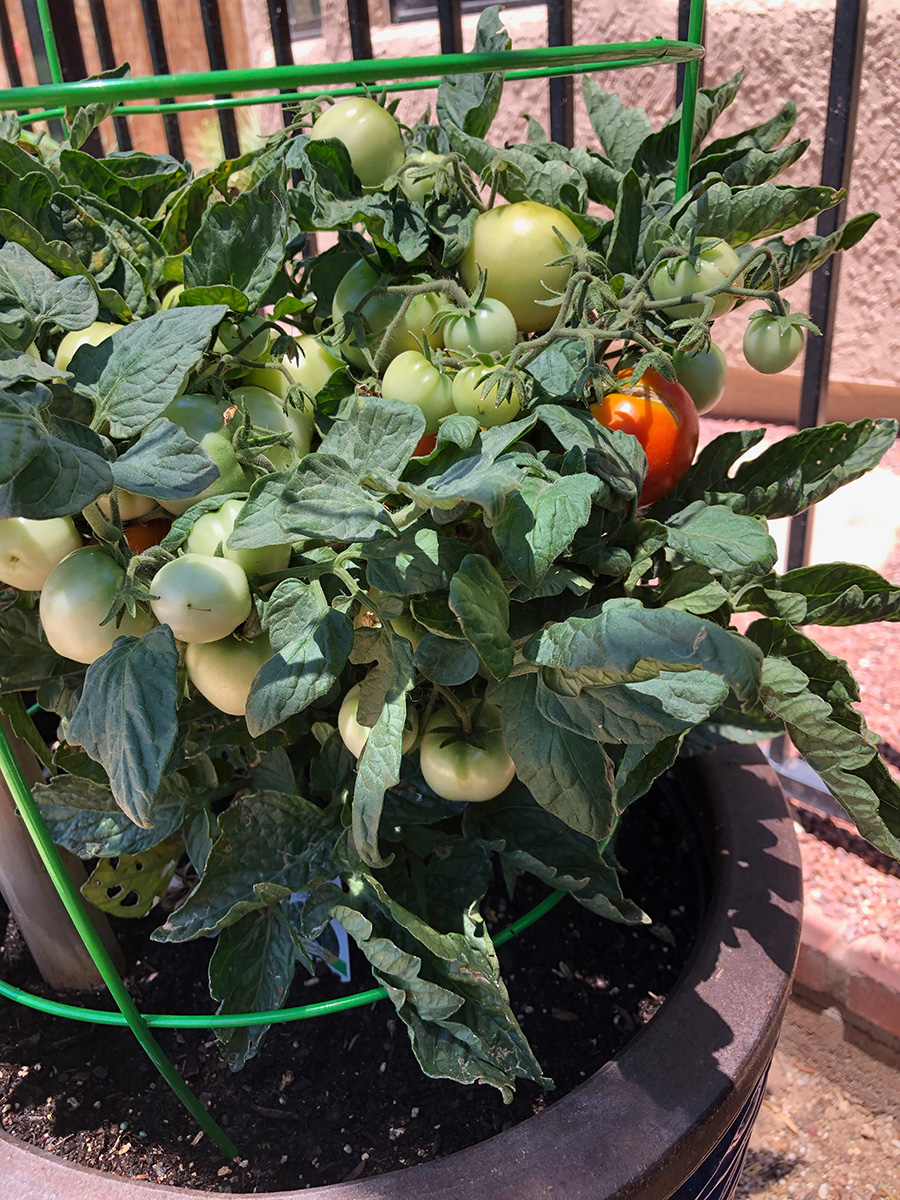 5. Start small
If you're completely new to growing fruits and vegetables in the desert, start off simple. Learn how they grow, how they spread, and when they fruit. Tomatoes are a great starter veggie. Herbs are also fairly hardy and easy to grow, along with peppers and squash. Make sure you're allowing enough space between your plants so they can all grow freely and without stress. Don't feel like you need to start off with a 100-square-foot garden. Gain momentum over the months and/or years. Once you've got the hang of it, then go wild!
6. Be on the lookout for pests
Pests can be one of the hardest parts of growing fruit and vegetables. One day the plants are healthy, and the next it seems like they're infested. Learn about common pests in your area, and be ready for them. The warmer it gets, the more likely pests will become an issue. Keep a close eye on your plants so that if pests do become an issue, you can catch them quickly before they do too much damage.
Growing fruits and vegetables can be super rewarding for the whole family. Kids love being able to help plant, water, and especially pick the produce. Get everyone involved. Cultivating an appreciation for gardening and growing your own food will be a lifelong lesson in care, resilience, and gratitude. Enjoy your gardens! We hope they are bountiful and wildly delicious.
—Sheila Schultz and Laurel Startzel are a mother-daughter duo who founded Denver Dirty Girls Container Gardening while living in Denver and have continued their business since moving to Tucson, Arizona.
View Comments