Kitchen Gardening
Unusual Herbs With Excellent Flavor
Expand your culinary palate with these lesser-known options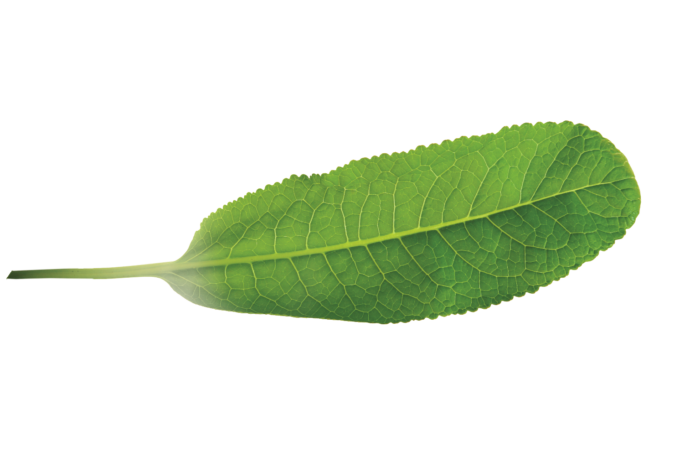 "Herbs are weeds." Because I own a nursery that specializes in this special breed of plants, I've heard that phrase come out of the mouths of my customers, friends, family—heck, even my own staff. But herbs are the tastiest, most attractive-looking "weeds" you'll ever come across, and that is why gardeners love them.
Most of the time, I am asked by my customers where the parsley, dill, rosemary, or thyme is. Don't get me wrong: They are the bread and butter of our farm. But my interest is truly piqued when customers ask, "Excuse me, Anne, but could you show me some unusual culinary herbs?" I stop what I'm doing and dash to the rescue, eager to help find a new and different option for gardeners who want to expand their boundaries and their palates. These mystery herbs have pizzazz. They have a vibrant taste and are easy to grow in full sun and well-drained soil. So let me take you outside the (basic herbal) box and introduce you to some plants you might have never thought to try and will certainly never see at your local grocery store.
Horseradish is an herb unlike any other
Name:

Armoracia rusticana
Zones: 3–10
Size: 2 to 3 feet tall and wide
Some say that they will never grow this herb because it can be aggressive, but those people have never tasted the joys of fresh horseradish grated on top of a delicious steak. When you're planting this herb from a piece of root (available at many nurseries), make sure that it is firm, not squishy and soft. Give horseradish some room to grow because its large leaves (photo above) can overtake wimpier neighbors. The plant should be in the ground two years before harvesting any portion of the prized root. Dig out the plant after a killing frost, pulling out all the roots. Set aside a small portion of the root to be replanted immediately. The rest can be mixed with a bit of salt and vinegar in a food processor and then held in the refrigerator. Unpeeled whole horseradish roots will keep well in the crisper bin.
Palate pleaser: This stuff is powerful, so use it sparingly—even a little bit will clear your sinuses in a jiffy. Add the processed root to dips that have garlic. It's also wonderful added to eggs or freshly grated onto beef.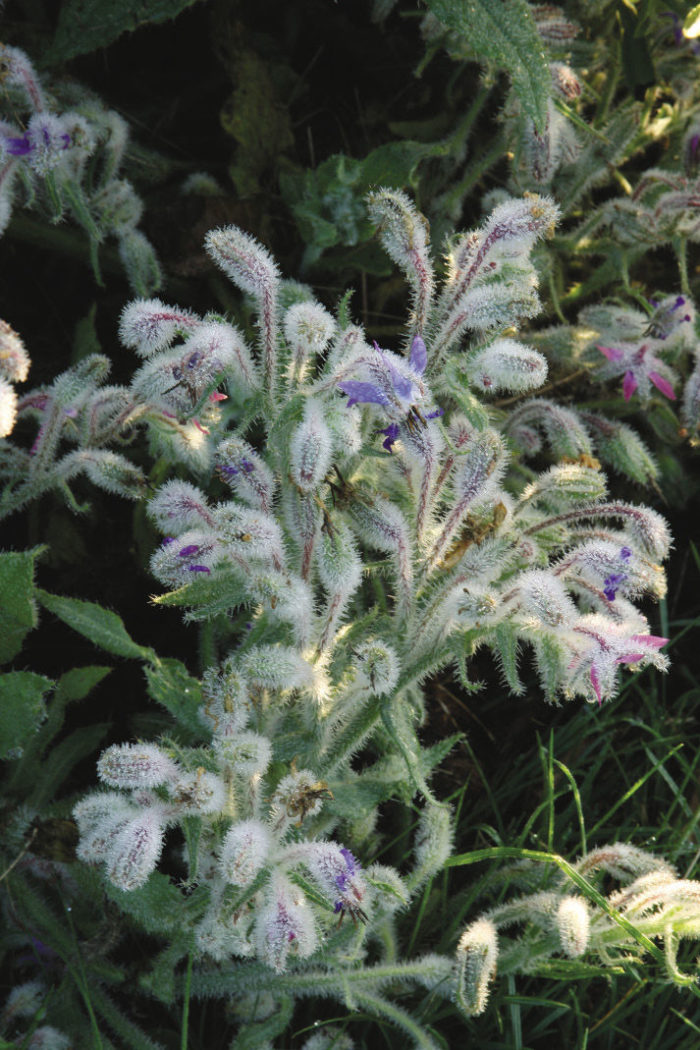 Borage looks weird but tastes like cucumber
Name:

Borago officinalis
Zones: Annual
Size: 2 feet tall and wide
This underappreciated annual herb is a gem. It prefers warm temperatures, so direct-sow the seed or place transplants into the garden when nighttime temperatures are consistently above 50°F. The true blue flowers are suspended from furry stems and nod slightly when a light wind blows. Although borage isn't extremely tall, it is top heavy and may need some pruning if it rains too much. This herb is a self-sower, so once you plant it, you will never have to plant it again—unless you move.
Palate pleaser: Use the new leaves and flowers, which have a delicate cucumber flavor, as a garnish—in salads, in drinks, or frozen in ice cubes.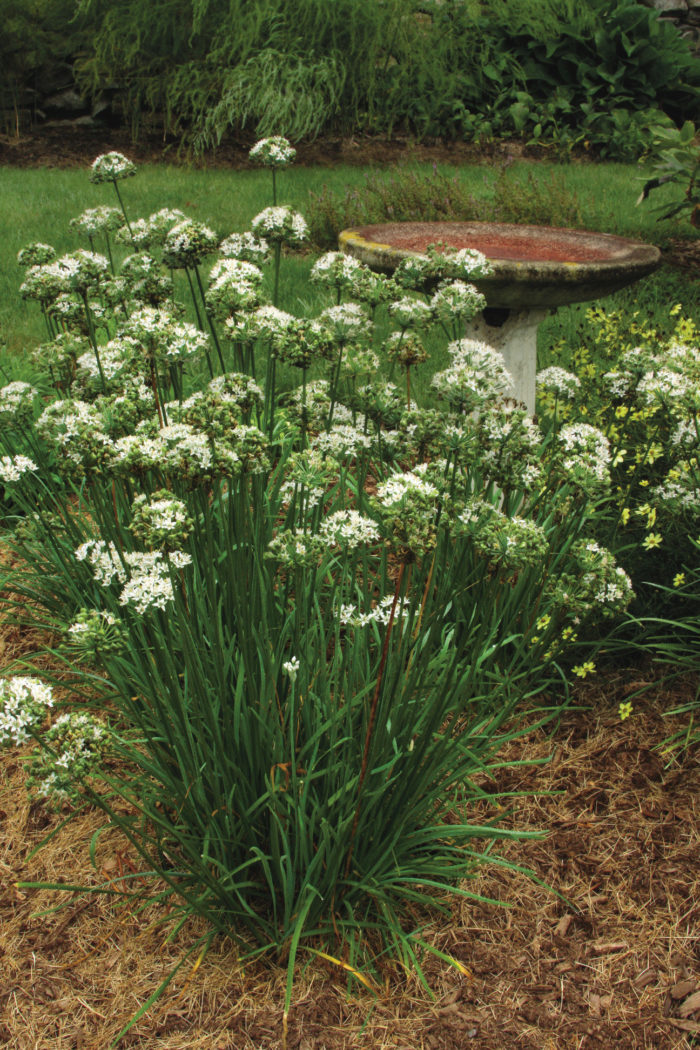 Garlic chives pack a pungent punch
Name:

Allium tuberosum
Zones: 4–8
Size: 18 inches tall and wide
With their flat, wide leaves, garlic chives are slow to emerge in spring. They're my favorite culinary allium because they have a wonderful garlic flavor, a beautiful green color, and showy white flowers in summer. The cut flowers hold well in bouquets. The one thing you should look out for is its ability to send seeds all over the garden. As the flower heads begin to decline, get out there with your scissors and cut the flower heads off. Buy this herb as a transplant, or because it divides easily, encourage a friend who has it to give you a hunk.
Palate pleaser: The leaves can be chopped and used fresh or dried in soups, salads, and marinades to add some garlicky onion flavor. The flowers are also good as a garnish.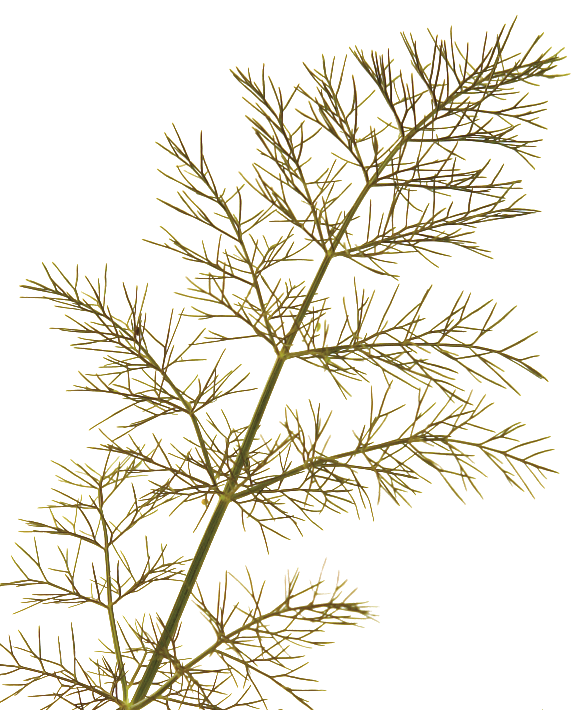 Bronze fennel has bold coloring and a bold taste
Name:

Foeniculum vulgare

 '
Purpureum'
Zones: 4–9
Size: Up to 6 feet tall and 1 to 2 feet wide
Even though this is listed as a perennial in my Zone 6 garden, the root sometimes disappears as a victim of New England winters. Babies will appear in spring, however, as long as the seeds are allowed to drop the previous year. The lacy bronze foliage of this fragrant herb makes a statement of contrast against most other garden companions, especially when the herb's bright yellow flowers begin to bloom. Bees and butterflies flock to this plant when it's in flower. The stems or foliage are gorgeous in cut-flower arrangements. All fennels are easily grown by seed.
Palate pleaser: The chopped, anise-flavored leaves can be added to soups, salads, and stews. Harvest the seeds, then add them (whole or ground) to tomato sauces or use them in a rub for meats.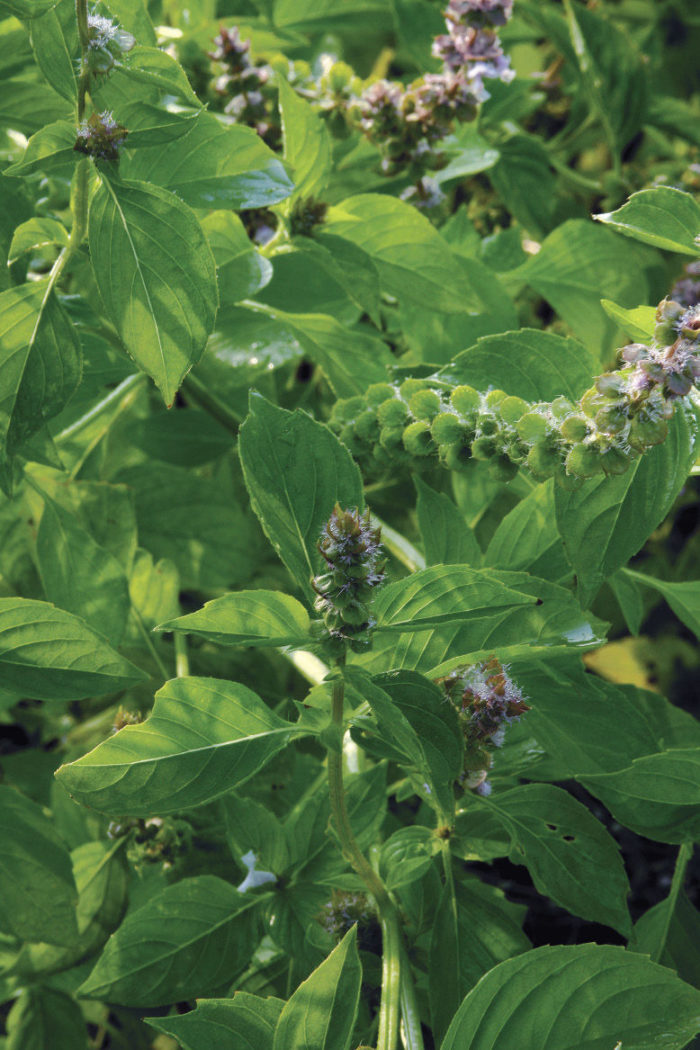 The flavor of 'Mrs. Burns' lemon basil puts others to shame
Name:

Ocimum basilicum

'Mrs. Burns'
Zones: Annual
Size: 3 feet tall and 18 inches wide
There are lots of lemon basils to choose from, but 'Mrs. Burns' has not only all the spiciness of regular basil but also larger leaves and an excellent lemon flavor. This herb can get more than 3 feet tall and is topped off with spires of pink flowers in summer. Cut off the flowers for increased leaf production. Basils require warm temperatures (consistently above 50°F), so I recommend not planting any until June if you live in Zone 7 or cooler. You can buy transplants, seeds, or some of both; using a mix of transplants and seeds gives you a little fresh basil today and lots more in six weeks or so.
Palate pleaser: Use lemon basil with fish, chicken, and vegetables (espe­cially asparagus, broccoli, and zucchini) and in any pasta dish. Its spicy lemon flavor shines through when the herb is used fresh.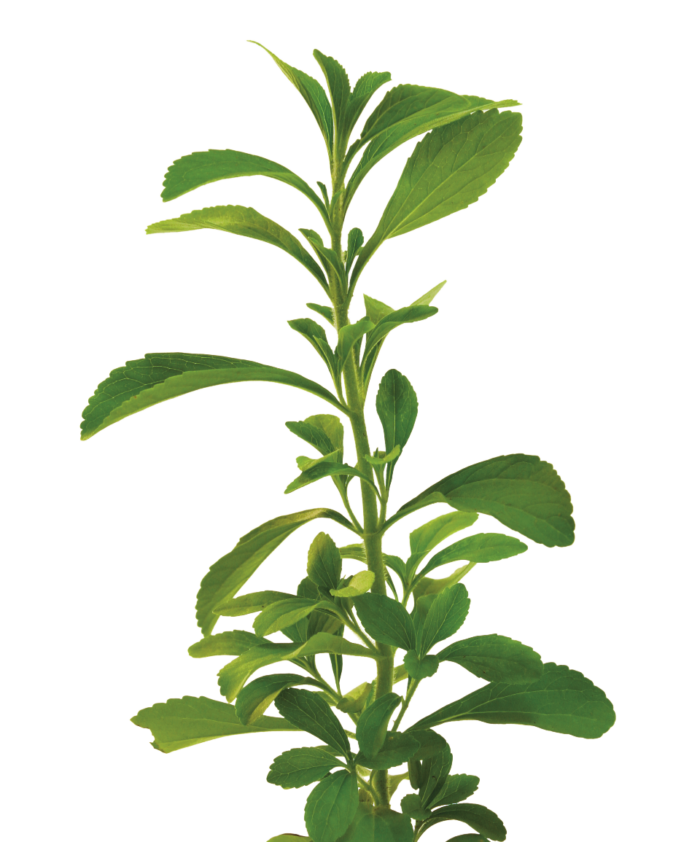 Stevia is the sweetest herb of all
Name: Stevia rebaudiana
Zone: 11
Size: 2 feet tall and wide
The leaves of this tropical plant are sweeter than sugar. Because stevia loves warm weather, it must be planted when temperatures are 50°F or higher—day and night. Be sure to cut off the white flowers to encourage this herb to make more sweet leaves. You can plant stevia in a pot and then bring it inside if you live in a cool zone. But if you really want to harvest lots of leaves, plant it directly in the garden.
Palate pleaser: Steep the foliage in water, then freeze the strained liquid in ice-cube trays to use in tea or lemonade. Stevia leaves can be dried as well, and added to a brewing pot of tea or coffee.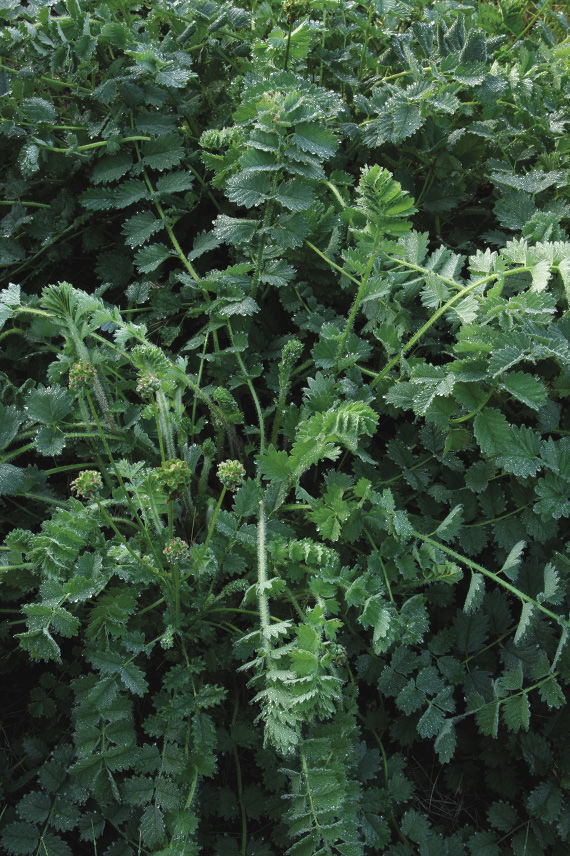 Salad burnet has a refreshing crunch
Name:

Sanguisorba minor
Zones: 4–8
Size: 1 foot tall and up to 2 feet wide
This is one of the earliest and hardiest culinary herbs out there. The plant is not very big, stretching only to a foot tall when in flower. Its tiny ruffled foliage has a delicate cucumber scent and flavor. Salad burnet is neat and tidy, making it perfect to place at the edge of a garden. Its unique, geometric flowers are the icing on the cake. I love this plant in the ground or in a container.
Palate pleaser: Add the leaves to salads for a refreshing tang, or use them as a garnish.
Flavor Tip:
Use them sparingly
The intensity of herbs can vary greatly. Temperature, moisture (too much or too little), flower production, and pruning will change the amount of oils in your plants. The oils dictate the intensity of an herb's flavor, so use them sparingly in a dish at first; you can always add more. And remember: dried herbs have a more intense, concentrated flavor.
---
Recipe:
A sugar substitute
that's calorie-free
This infusion of stevia and anise hyssop is a sweet con­coction that is flavorful and light, not syrupy.
For the infusion
1 cup water
3 to 4 stems anise hyssop
2 to 3 stems stevia
Bring the water to a boil, then add the fresh herbs. Allow them to steep until cool. Strain, and refrigerate for up to five days, or freeze to use later.
| | |
| --- | --- |
| Make a dessert. Pour some of the infusion onto fresh summer fruit (berries, peaches, nectarines, or melon). Add a dollop of whipped cream, and garnish with a sprig of stevia. | |
---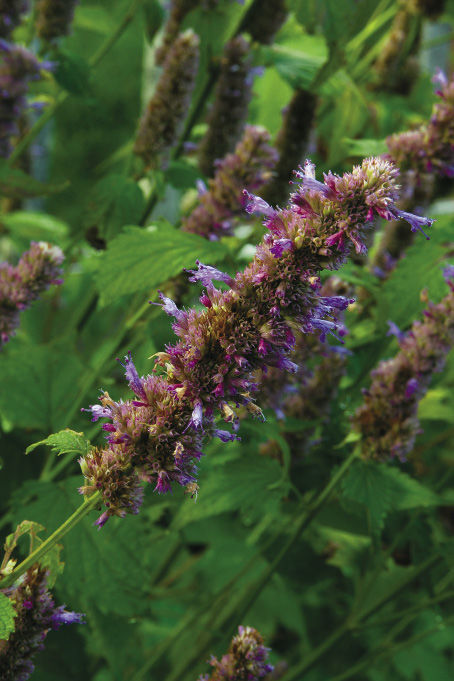 Anise hyssop is as pretty as it is tasty
Name:

Agastache foeniculum
Zones: 4–11
Size: 3 to 5 feet tall and 1 foot wide
This anise-scented perennial has long, showy purple flowers that keep coming throughout most of the summer. Bees love it almost as much as you will. The flower stems go to seed quickly in fall—and that is not necessarily a bad thing. Volunteers can be pulled easily and transplanted. If you are going to eat this plant, make sure you buy it as an herb; many nurseries carry it as an ornamental perennial, so you run the risk of it being treated with chemicals that you wouldn't want to ingest. Anise hyssop is easily grown from seed.
Palate pleaser: The leaves have a natural sweetness and can be steeped in warm honey and served with raspberries or any other delightful summer fruit.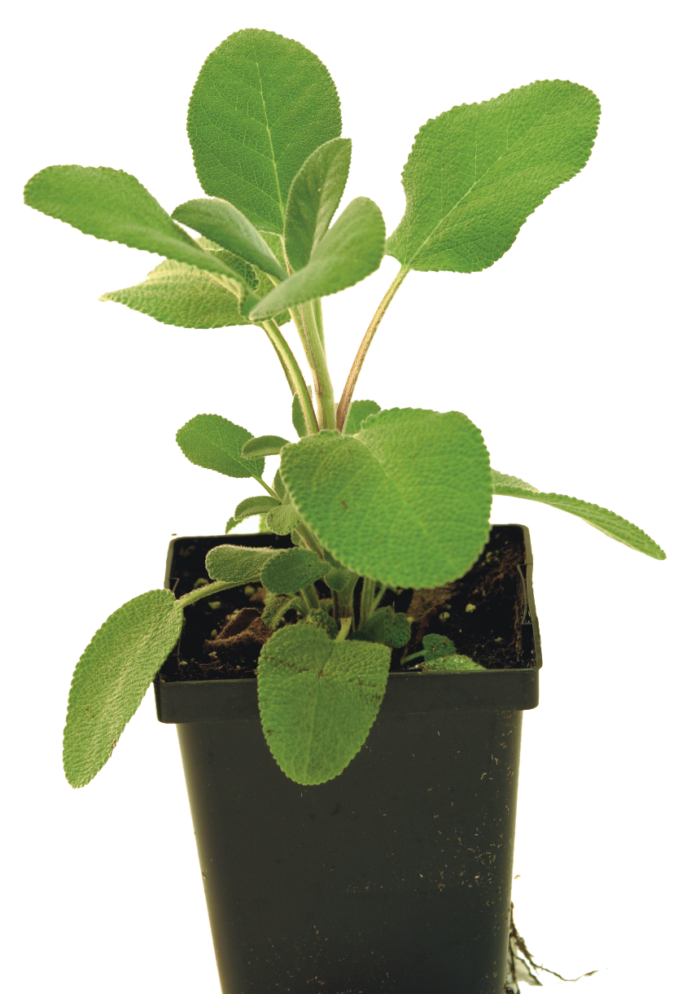 Big velvety leaves set 'Berggarten' sage apart
Name:

Salvia officinalis

'Berggarten'
Zones: 4–10
Size: 18 to 24 inches tall and wide
This is my favorite sage because of its wide but dig­nified girth. It doesn't bloom readily, but with this foliage, who cares? Eating the substantial leaves is a pleasure because they aid in digestion. The whole stem can be used in ornamental bouquets or as a garnish for the Thanksgiving bird. Like most sages, 'Berggarten' hates wet feet.
Palate pleaser: Roll a piece of goat cheese in finely chopped sage leaves, then secure the cheese with a toothpick and deep-fry.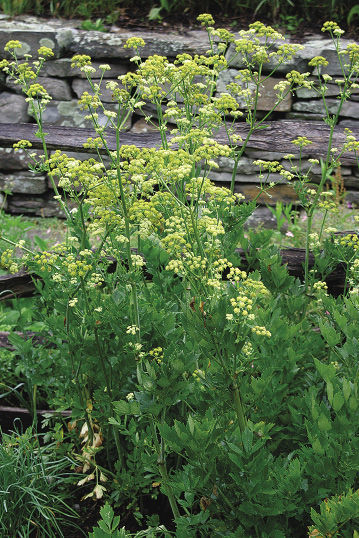 You'll love lovage for its supersize
Name:

Levisticum officinale
Zones: 5–8
Size: Up to 6 feet tall and 3 feet wide
This perennial has some serious mass. It is a hollow-stemmed herb that dates back to ancient Rome, where it was reportedly used to make love potions (hence its common name). Lovage takes one to two years to get going, but once it's established, watch out because its size can be overwhelming. Cut the flower heads off to keep the plant producing leaves. Buy lovage as a transplant—and remember, you only need one.
Palate pleaser: Use the young leaves, which taste like a combination of celery and parsley, in salads. The hollow stems can be cut and used as straws in a bloody Mary. Sautéed foliage and stems can be added to soups.
---
Anne Duncan and her husband own the Salem Herbfarm in Salem, Connecticut.
Photos: Danielle Sherry; Steven Cominsky; Scott Phillips; Michelle Gervais
View Comments