Kitchen Gardening
Unique Varieties of Common Herbs
These prettier versions of familiar herbs don't sacrifice taste for looks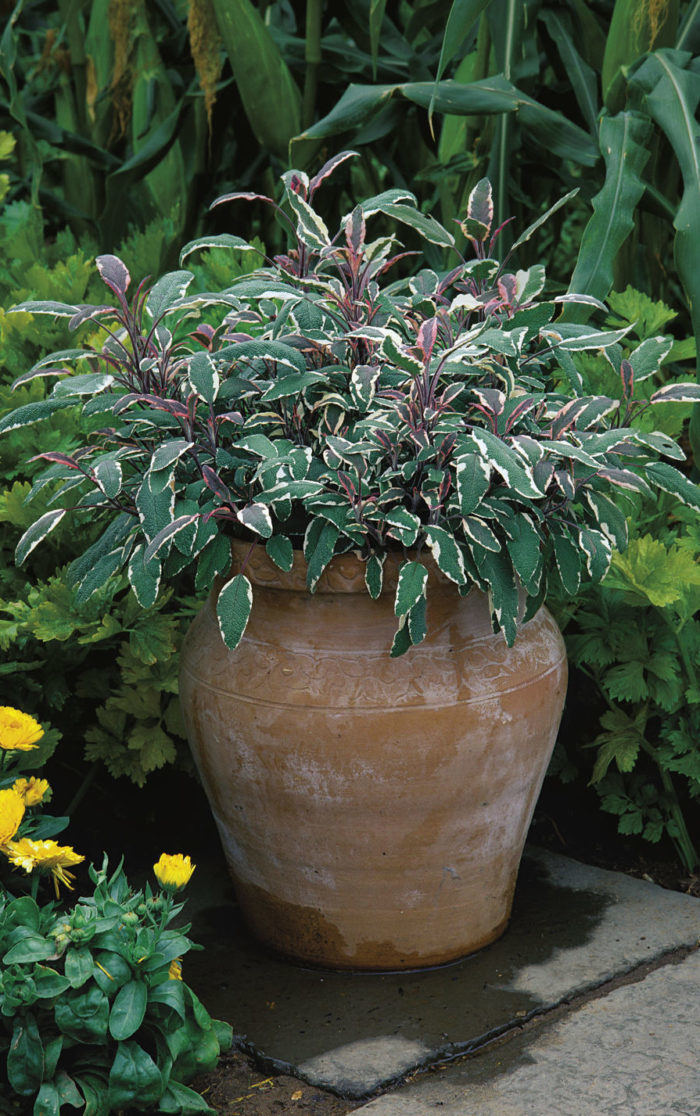 Ask most gardeners what their gateway plant was and I bet they'll say it was something edible. There's something about growing your own food that brings newbies over to the green side. My starter plant? Basil. I was tired of buying sad, wilted, yellowing leaves jammed into tiny plastic containers at the grocery store—and paying too much for them. There had to be a better way. That spring, I bought a terra-cotta pot and a little sweet basil plant, and I parked the planting on the sunny front stoop of my apartment. The rest is history.
Twenty years later, I'm still growing basil, along with other culinary herbs and (what sometimes seems like) a gazillion other plants. The only change is that my objective has evolved. I not only enjoy growing plants that I can eat, but I also want them to look great. I've lately been able to accomplish both—by planting culinary herbs with ornamental attributes. Sure, the originals still make it into my lineup for their hallmark flavor, but fun, funky versions of common herbs add a nice ornamental and tasty kick to the mix. Their good looks work well in containers, beds, and borders, mingling with other edibles or with plants that are there purely for show. Here are some of my favorites.
'Tricolor' sage is pretty and party colored
Name:

Salvia officinalis 'Tricolor'
Zones: 6–9
Size: 12 to 18 inches tall and 1 to 2 feet wide
Conditions: Full sun; moderately moist to dry, fertile to lean, well-drained soil
Long prized for its ability to spice up and naturally preserve poultry, fish, and meats, common sage (S. officinalis, Zones 5–8) is a perennial subshrub with thick gray-green leaves that offer a unique bitter, lemony flavor. 'Tricolor' supplies the same flavor but with leaves decorated with splashes of cream along the edges and a flush of purple. I love 'Tricolor' sage because its coloring makes it easy to create pleasing plant combos. Last year, I combined it with Senorita Blanca™ spider flower (Cleome 'USCLESNABL', annual), with its white blooms with purple shading throughout summer; it's a sterile cleome—not one seedling showed up in the garden this year. Deep purple- or burgundy-leaved companions, like purple basil selections (Ocimum basilicum cvs., annual), add a nice dark contrast. No matter what you pair with this sage, be sure to plant it in a spot with good drainage; too much moisture—especially over winter—will kill it. This species is, in fact, fairly tolerant of drought conditions and poor soil.
Variegated lemon thyme is tough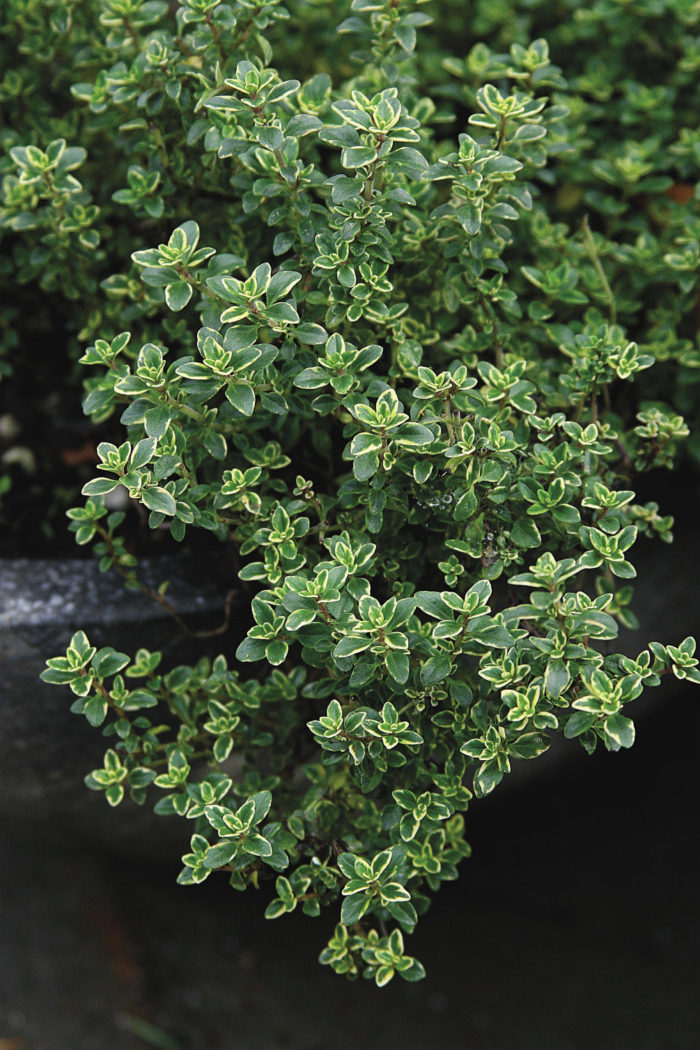 Name: Thymus
×

citriodorus 'Variegatus'

Zones: 6–9

Size: 8 to 10 inches tall and 1 foot wide

Conditions: Full sun; moist to dry, lean, well-drained soil
Lemon thyme (T. × citriodorus, Zones 6–9) is tough. Last spring, I found a plant at the base of my stone wall that had a fallen rock the size of a cantaloupe sitting on it. I removed the rock, and within a month, the smashed plant was flourishing. Although lemon thyme is great along bed edges and walkways, I especially like growing the cultivar 'Variegatus' in containers. Its tiny leaves are rimmed in gold and look great spilling over the edge of a pot or a walkway. It has the same strong lemony scent and pleasant flavor as lemon thyme, and it's used in all sorts of foods—from breads to vinegars to meat dishes.
To add textural contrast, combine 'Variegatus' with plants that have larger leaves; that shouldn't be hard to do because its leaves are about the size of your pinky fingernail. Another great companion is 'Oranges and Lemons' blanket flower (Gaillardia 'Oranges and Lemons', Zones 5–9), which has long strappy leaves and nice peachy-orange-and-yellow blossoms throughout summer that nicely echo the thyme's gold variegation. Purple-flowering annuals, like angelonia (Angelonia angustifolia cvs., annual), also make attractive bedfellows. Remember that thymes are perennial subshrubs. Hold off pruning plants until after the first flush of growth in spring; too early can be detrimental.
Trailing rosemary cascades down pots and walls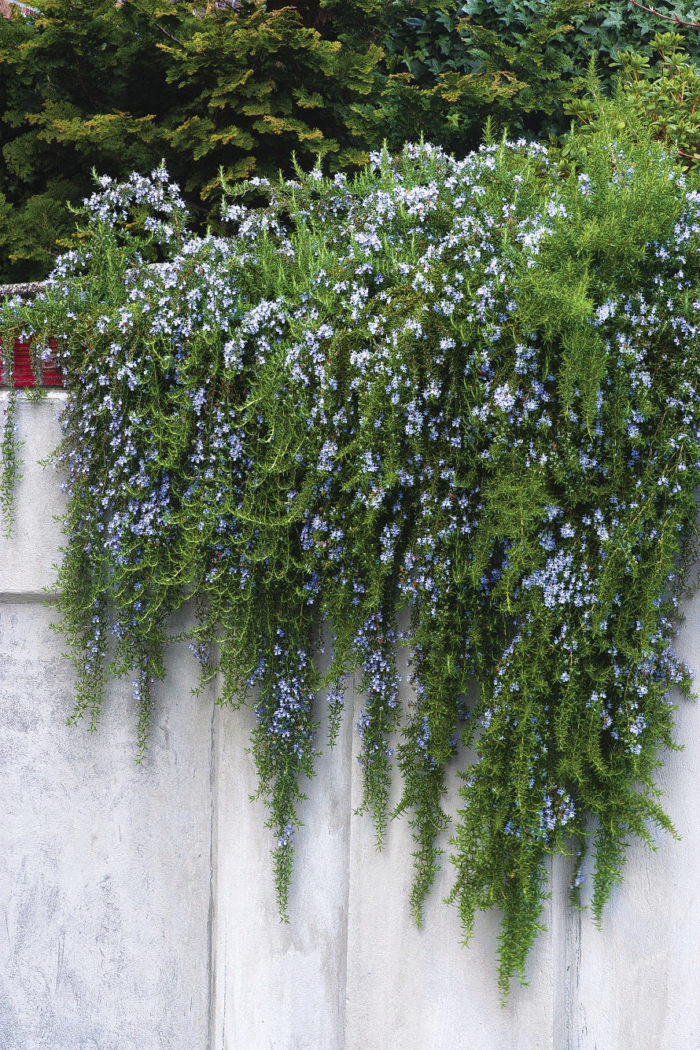 Name: Rosmarinus officinalis 'Prostratus'
Zones: 8–11
Size: 18 to 24 inches long and wide
Conditions: Full sun; moderately moist to dry, well-drained soil
Rosemary (R. officinalis and cvs., Zones 8–11) is a plant that I can't resist touching when I walk by. Its aromatic leaves are intoxicating, with a delicious piney, sweet flavor to match. Rosemary is a go-to herb for meat lovers, but it's also a welcome addition to food dishes of all kinds.
The plant wizards haven't played much with the look of rosemary's needlelike leaves; they've mostly concentrated on plant performance and hardiness. One atypical option is trailing rosemary. As its name suggests, the plant trails across the ground or over the edge of containers and walls. It's a fantastic spiller that pairs well with other herbs, such as the aforementioned 'Tricolor' sage. Try small airy grasses, like Mexican feather grass (Nassella tenuissima, Zones 7–11), as a soft contrast in beds or containers.
In areas where trailing rosemary is a hardy shrub, the cascading branches can grow to be several feet long. Hold off on pruning until just after plants have flowered in early summer. Like upright rosemary, trailing rosemary requires good drainage.
'

Red Rubin' basil turns down the lights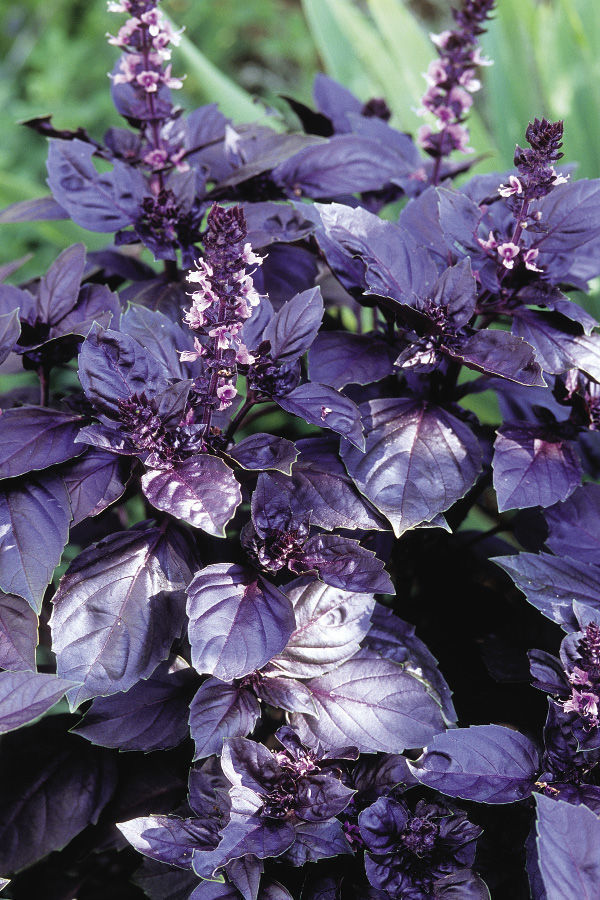 Name:

Ocimum basilicum var. purpurascens 'Red Rubin'
Zones: Annual
Size: 12 to 18 inches tall and wide
Conditions: Full sun; moderately moist, fertile, well-drained soil
Mm, sweet basil—my all-time favorite herb to grow in the garden. It's fantastic in all sorts of food, from sauces to side dishes, although it's probably most famous as the main ingredient of pesto.
Common sweet basil (O. basilicum cvs., annual) has bright green leaves. A number of cultivars, however, sport a deep purple-red color. Of these, 'Red Rubin' has been a vigorous performer for me. Others, like 'Osmin' and 'Purple Ruffles', seem to be more susceptible to botrytis rot and have petered out in my garden. 'Red Rubin' and other purple-red plants have a milder flavor than traditional green basil, but they still make a good addition to salads and vinaigrettes.
The dark leaves of 'Red Rubin' complement any planting. It helps to make the flowers of other plants pop—particularly the yellows of plants like black-eyed Susans (Rudbeckia spp. and cvs., Zones 3–11) and the blue-green foliage of plants like blue fescue grass (Festuca glauca and cvs., Zones 4–8). A word to the wise: Give your basil a little elbow room. To prevent disease problems, give plants good air circulation and water them at the base (not on their leaves). Also, stay on top of deadheading; basil leaves begin to taste bitter when plants are allowed to flower.
Variegated pineapple mint is fruitier than the old standby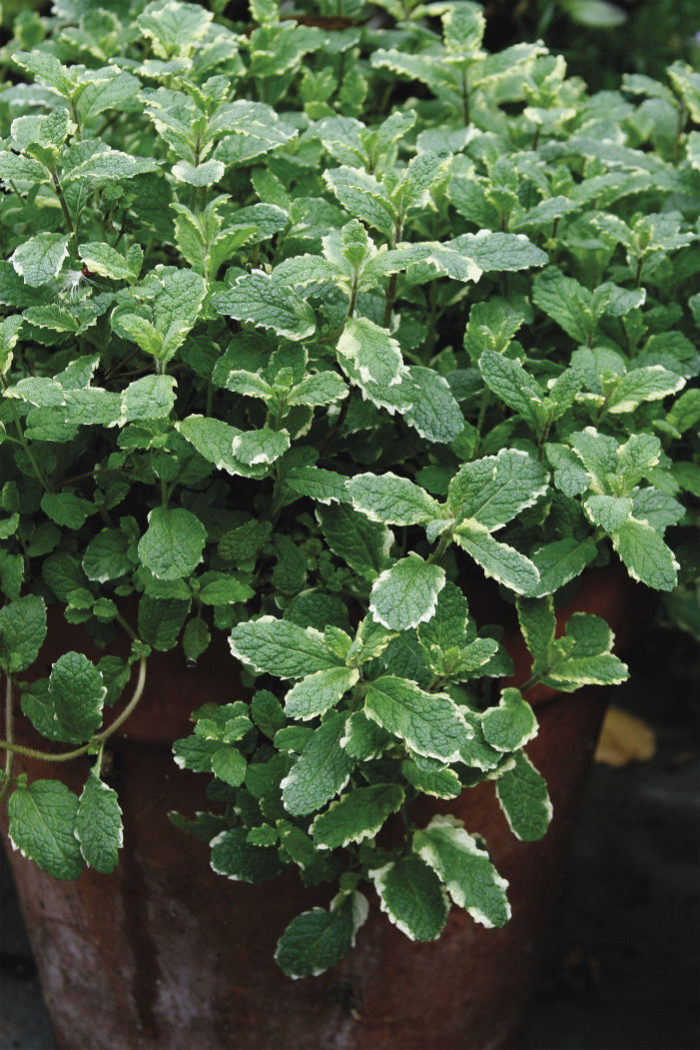 Name: Mentha suaveolens 'Variegata'
Zones: 6–9
Size: 18 to 24 inches tall and wide
Conditions: Full sun to partial shade; moist, fertile, well-drained soil
What is summer without mint (M. spicata and cvs., Zones 3–7)? It adds a sweet and refreshing flavor—just when you need it—to teas and desserts. It's easy to grow; most of the time, you can just plant and go. But don't turn your back on mint or your entire garden will be filled with it. I always grow it in a container all its own, where I can harvest it quickly and it remains well behaved.
For a taste of something different, look to variegated selections. I've found variegated pineapple mint to be a welcome addition to my potted patio garden. The small crinkly leaves with frosted white edges have a bit of a fruity flavor to them and complement any number of potted neighbors. Last summer, I had my pot sitting near Superbells® Pomegranate Punch calibrachoa (Calibrachoa 'USCAL08501', annual) and Superbena® Violet Ice verbena (Verbena 'RIKAV18302', annual), which added low-maintenance vibrant splashes of red and purple flowers, respectively, to the scene.
Variegated oregano is dipped in cream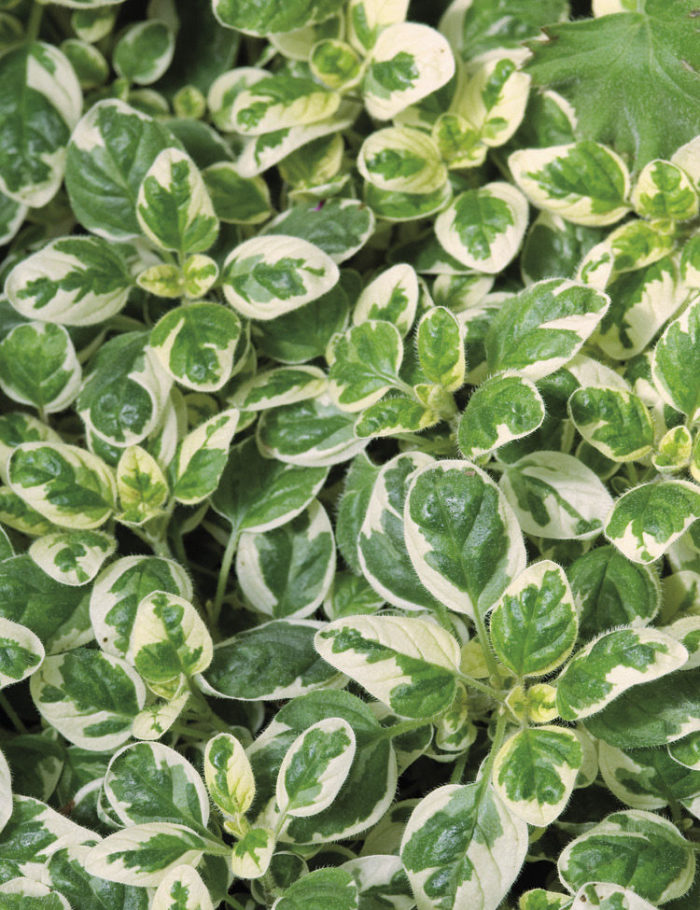 Name:

Origanum vulgare 'Variegatum'

Zones: 4–9

Size: 4 to 6 inches tall and 1 foot wide

Conditions: Full sun; moderately moist to dry, average to lean, well-drained soil
If you've ever dined on Italian cuisine, you've likely had oregano (O. vulgare and cvs., Zones 4–9). This herb is a staple seasoning for tomato-based recipes and pizza, but its distinctive peppery flavor is also great in any number of meat and vegetable dishes. In the garden, variegated oregano gives plantings a new twist on an herbal favorite with its attractive pale yellow leaf margins. The leaves are slightly less peppery than common oregano but are still flavorful and a worthy culinary ingredient.
The yellow tones of variegated oregano call out for a yellow-flowering companion. 'Lemon Gem' marigold (Tagetes tenuifolia 'Lemon Gem', annual) is a wonderful little plant with single yellow blooms, which are about the size of a quarter. It has culinary uses of its own: It's often harvested to make tea. Yarrow (Achillea spp. and cvs., Zones 3–9) also makes a good neighbor, with a nice range of flower colors to choose from in summer, including white, red, and yellow. Oregano is happy to be on the dry side and in rocky soil.
---
Three ways to preserve herbs
There are several ways to preserve these herbal beauties so that their culinary flavor can be enjoyed throughout the year.
1. Drying. Drying is often the preserving method of choice because it is quick and easy, and some herbs, like oregano, are more flavorful when dried. Herbs can be hung to dry, laid out on a drying screen, or dried in an oven or dehydrator. After drying, store the leaves in a glass jar in a dark, dry, cool place.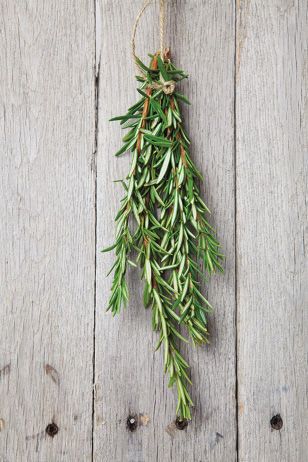 2. Freezing. Say "Freeze!" Freezing often delivers the same flavor as fresh—the leaves just take a beating and lose their crispness. Fresh, chopped leaves can be frozen directly in freezer bags, in ice-cube trays (with water), or as a paste (herbs mixed with olive oil) stored in a freezerproof container.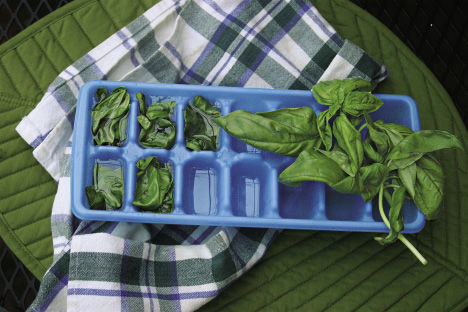 3. Adding to vinegars. This is for all you salad lovers out there. Adding herbs to vinegar is a great way to continue to enjoy your herbal bounty. Wine vinegars work well with herbs without overpowering them. Choose a white-wine vinegar if seeing the color of the herb, such as 'Red Rubin' basil, is important to you. There are many recipes out there for making your own herbal vinegar, but here are the basics: Clean the herbs, add some vinegar, store in a jar for two to four weeks (shaking daily and occasionally checking for taste), strain into a new clean jar, and enjoy.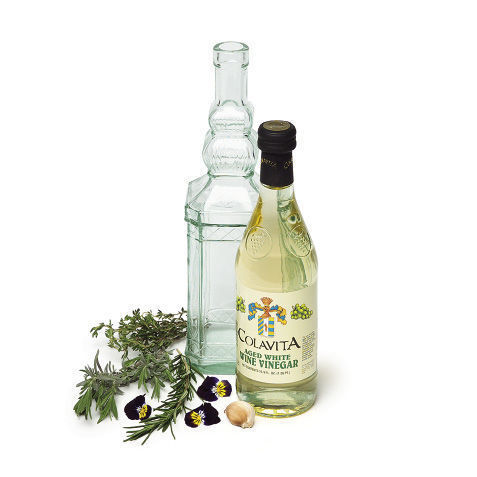 ---
Jennifer Benner, horticulturist and coauthor of The Nonstop Garden, is an avid herb gardener in northwestern Connecticut.
Photos, except where noted: Jennifer Benner, Clive Nichols/gapphotos.com, doreenwynja.com, Bill Johnson, Brenda Carson/dreamstime.com, Danielle Sherry, Scott Phillips, millettephotomedia.com
View Comments